A classic French dish, Quiche Lorraine is a rich and flavorful custard featuring cheese and bacon in a crisp and buttery pastry. Breakfast, lunch, or dinner; this meal will have everyone coming back for more, no matter what time of day.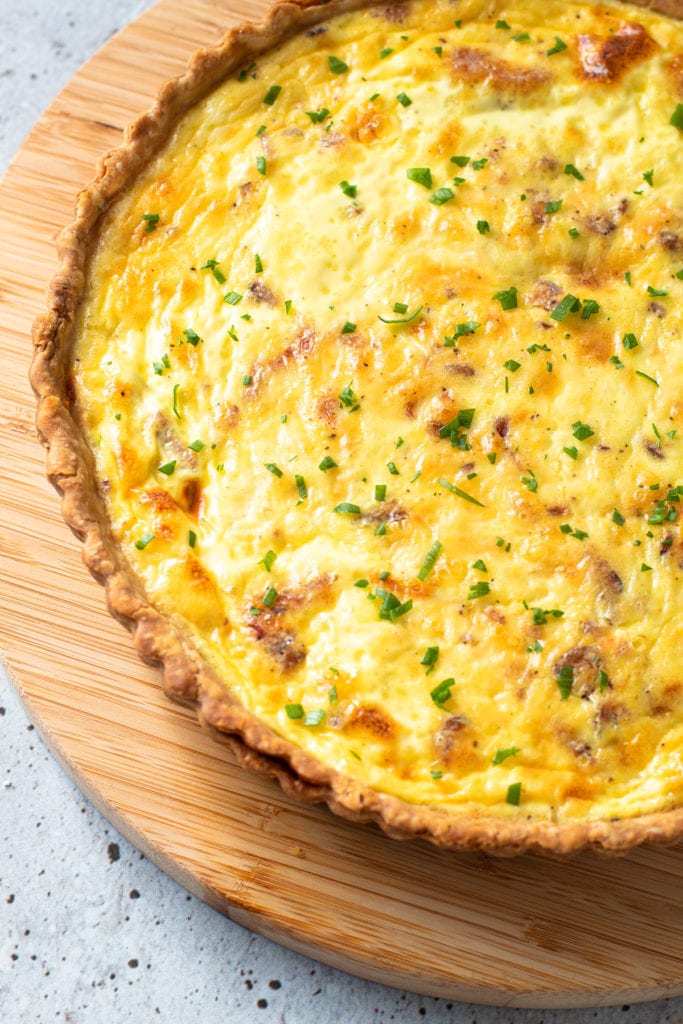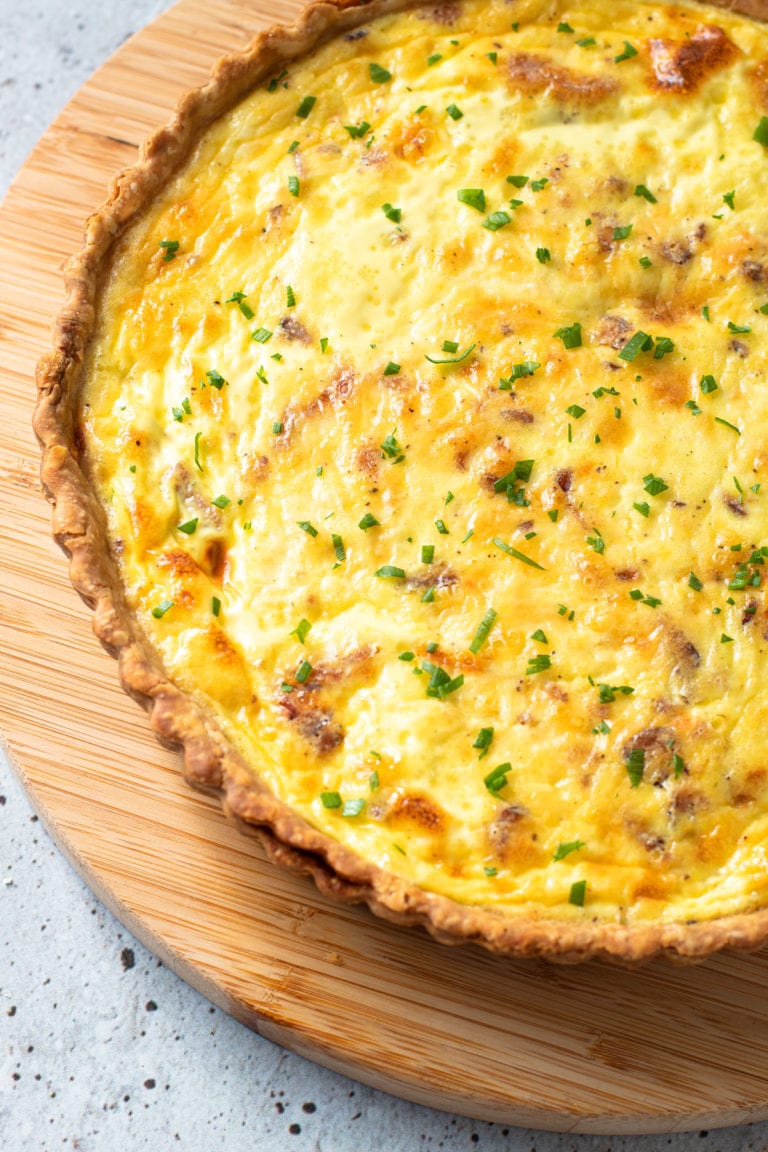 Classic Quiche Lorraine Recipe
When most people think of quiche, chances are great that Quiche Lorraine is the first one to come to mind. This quiche is a classic French dish that has stayed popular in the US since being introduced to a hungry American audience in the 50's.
If you have not tried it, you are missing out. It's a classic for a reason: the rich custard base is spiked with bacon and cheese, held together by a crisp and buttery pastry that provides the perfect textural contrast. All of the flavors come together nicely to create something truly greater than the sum of its parts.
It's perfect to serve for a lazy Sunday brunch, yet fancy enough to serve at a party.
What is a Quiche Lorraine made of?
One of the great things about making a Quiche Lorraine is that it does not come with a long or fussy list of ingredients needed to make it. Aside from the butter, flour, and water needed to make the pastry crust, here is what you need to make a Quiche Lorraine:
thick-cut bacon (though regular bacon will do fine in a pinch)
eggs
half and half
salt + black pepper
ground nutmeg
shredded gruyere or swiss cheese
The full details and recipes are listed below!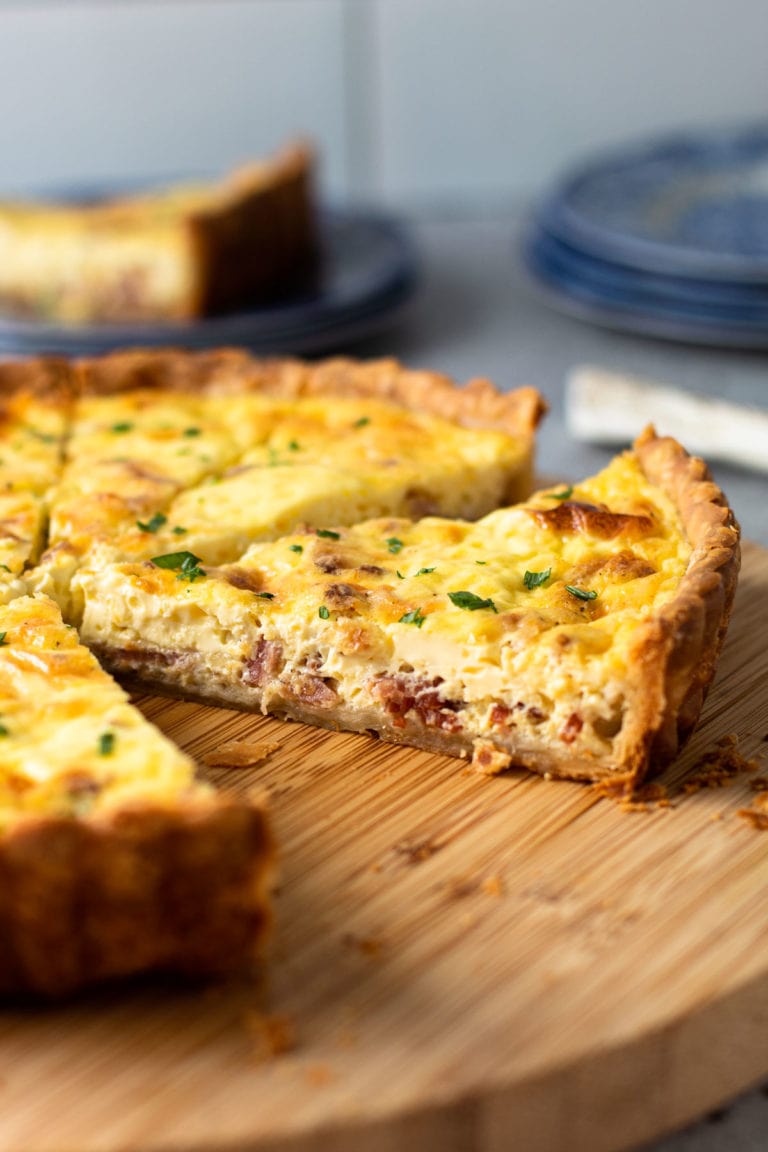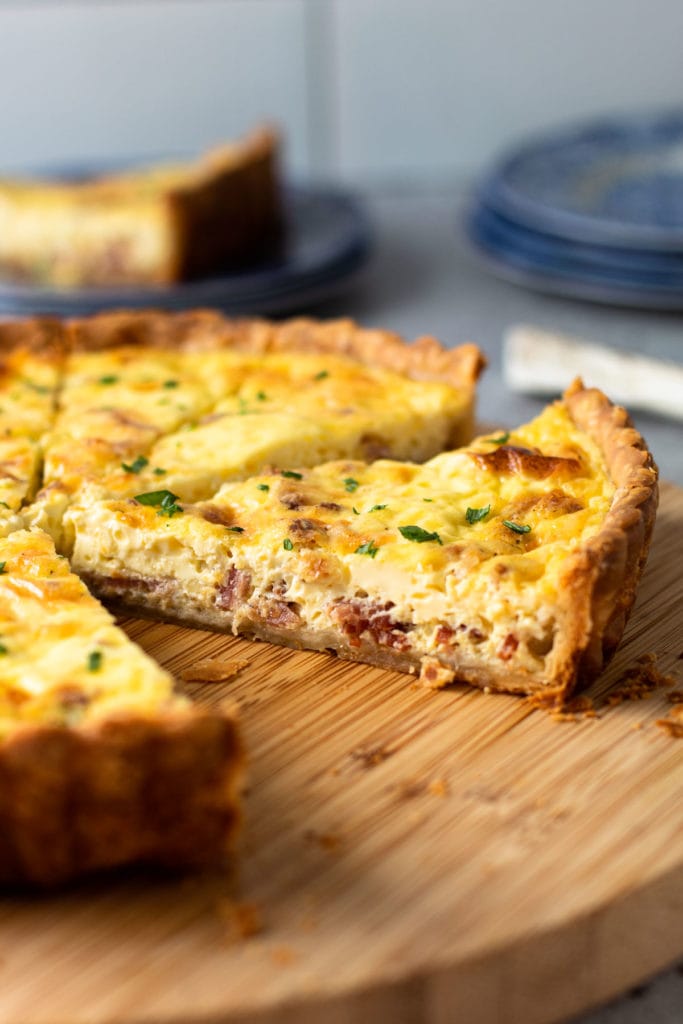 The Pastry for Quiche Lorraine
True to its French heritage, this quiche relies on a french pastry for the crust. Pâte Brisée (pronounced pat bree-ZHAY) simply put, is buttery pie dough. However, it's not quite the same as the flaky pie dough we come to think of here in the US.
This standard French-style pie crust is a bit more sturdy, with tighter "crumb" to it, and resembles what they call a shortcrust pastry across the pond in the U.K. The butter is worked into the dough just a bit more, and a final blending of the fat into the flour is performed at the end using a french technique known as fraisage. This final blending results in crumbly and flaky pastry, which is incredibly delicious. It makes the perfect vessel to hold this creamy quiche thanks to its sturdiness and crisp nature. It makes for the perfect textural contrast next to the creamy quiche.
I've dedicated a whole recipe with lots of tips and tricks for making pâte brisée if you want to learn more about that. But, everything you need to know to make this pastry is written in the instructions below.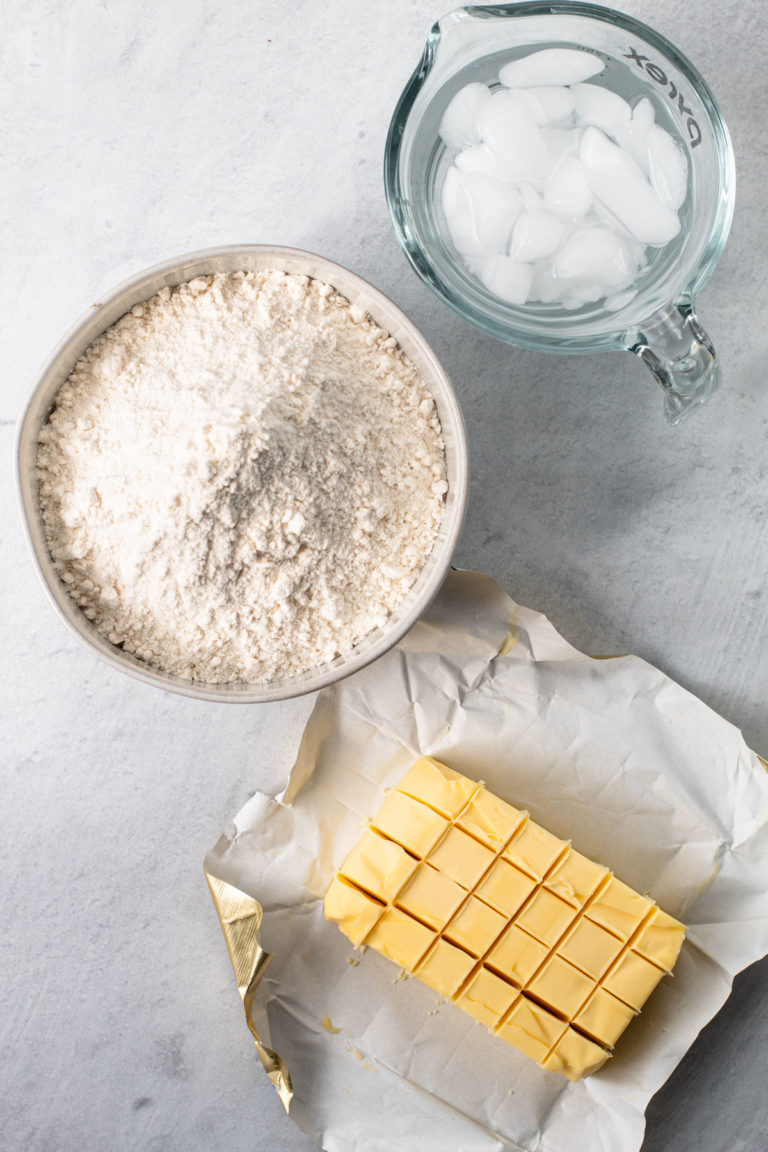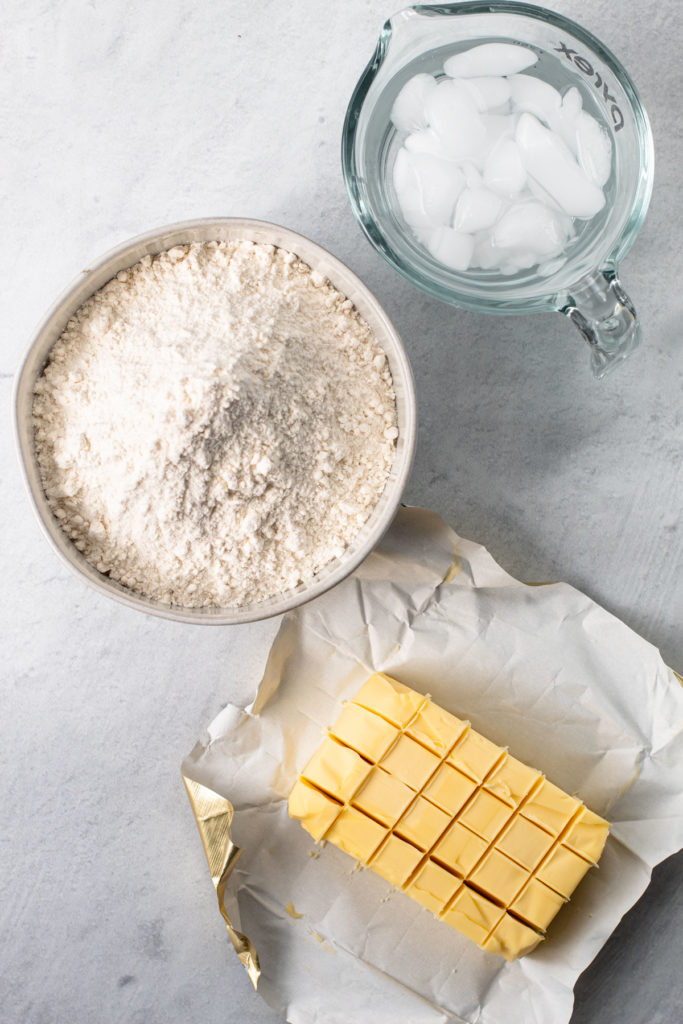 Blind Baking a Quiche Crust
Nobody wants a soggy bottom, so it's a good move to blind bake the pie pastry for this recipe. Blind baking or parbaking simply means you cook the pie crust first before you add the filling.
It's always a good idea to blind bake a quiche crust. This is especially true for one baked in a thin tart pan because the eggs will be cooked in a lower oven temperature and a shorter amount of time than you would need to fully cook the pie crust.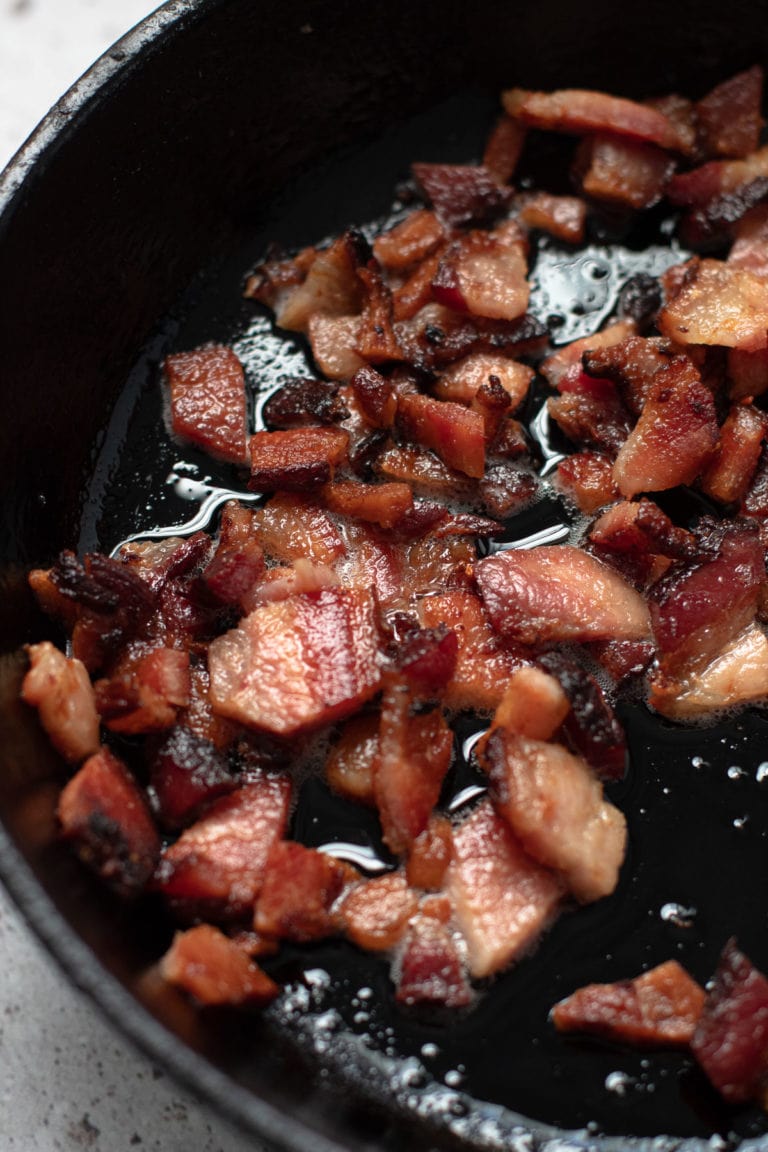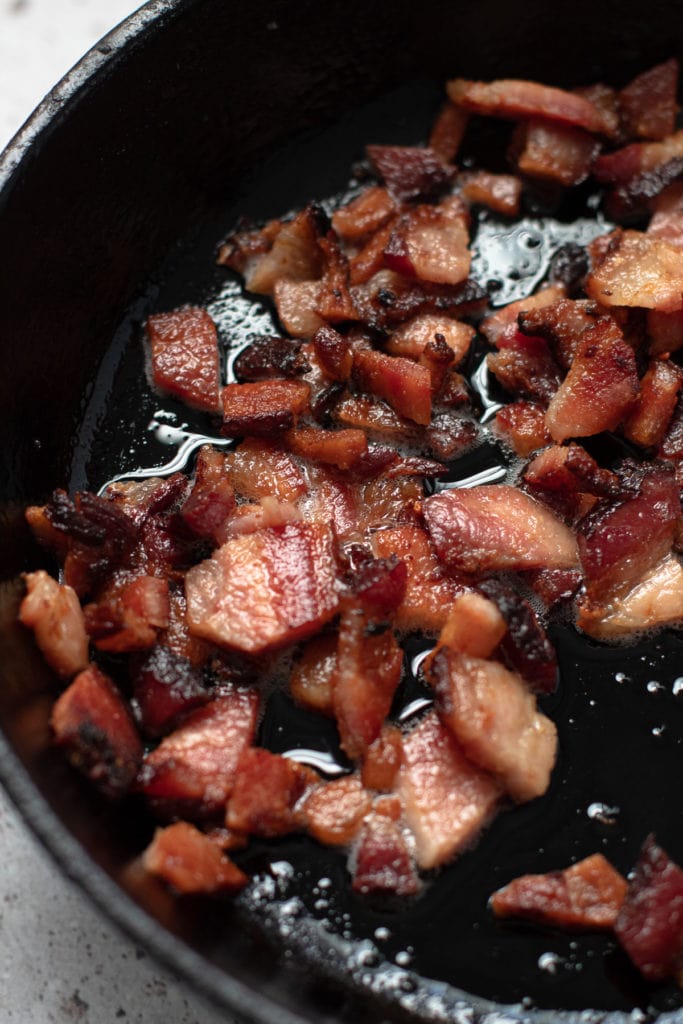 How to Tell When the Quiche is Done
A classic Quiche Lorraine has a set filling, with some light brown speckles all over the top of the custard. It cooks quite quickly, so you'll want to check on the pie starting at 35 minutes.
You'll know the quiche is done when the filling has completely puffed up, and the top has started to turn golden.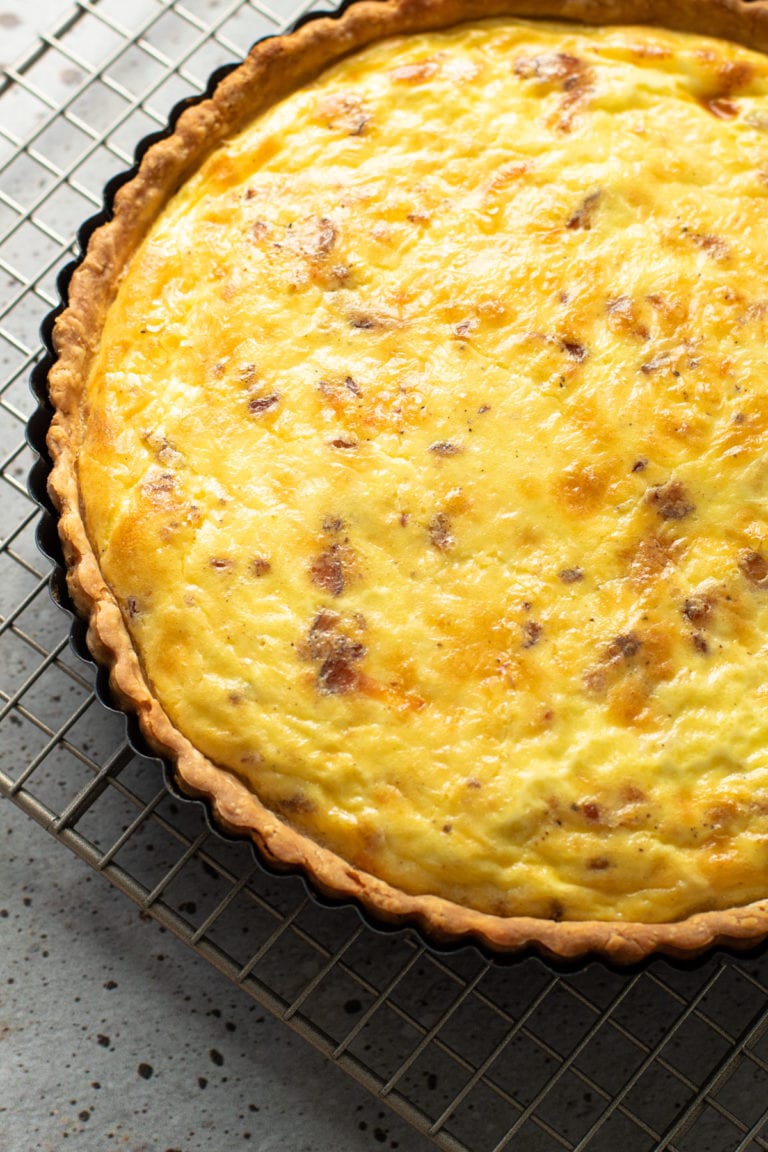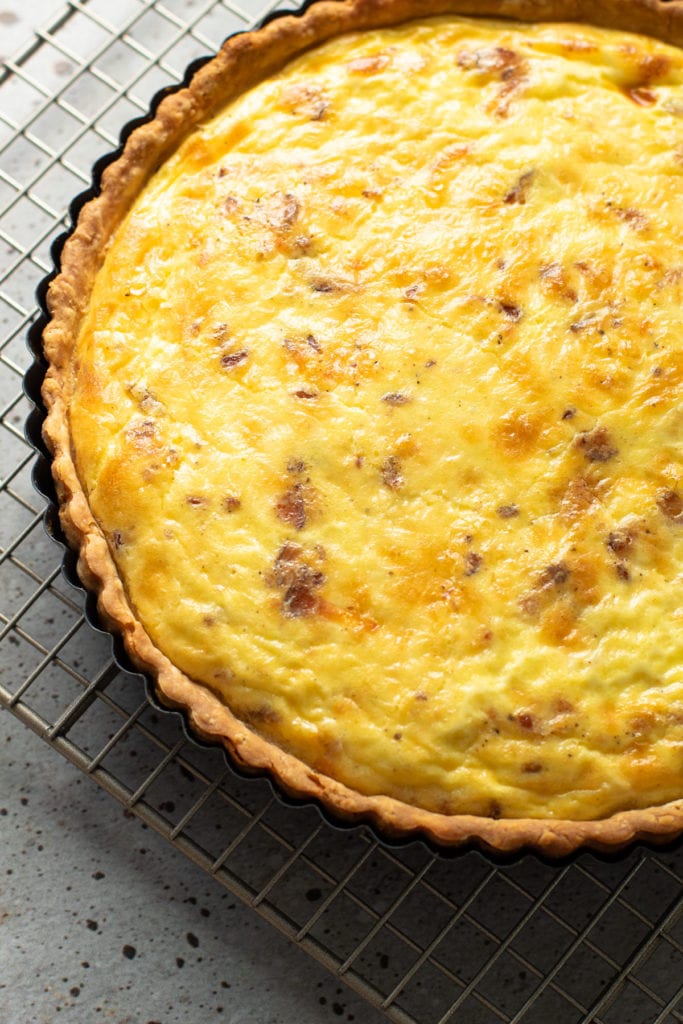 How to Serve Quiche Lorraine
Quiche, whether served at breakfast or lunch (or dinner!) should be served either warm or at room temperature. Pair it with a green salad with a bright dressing for the perfect meal.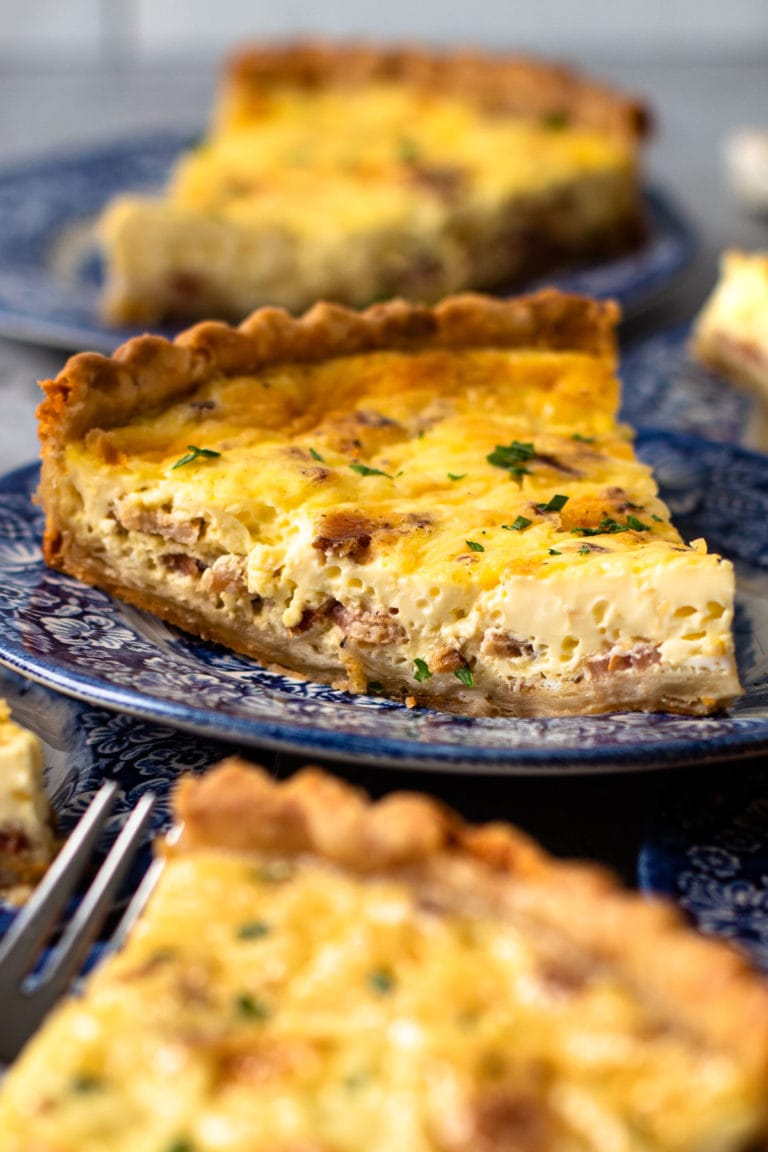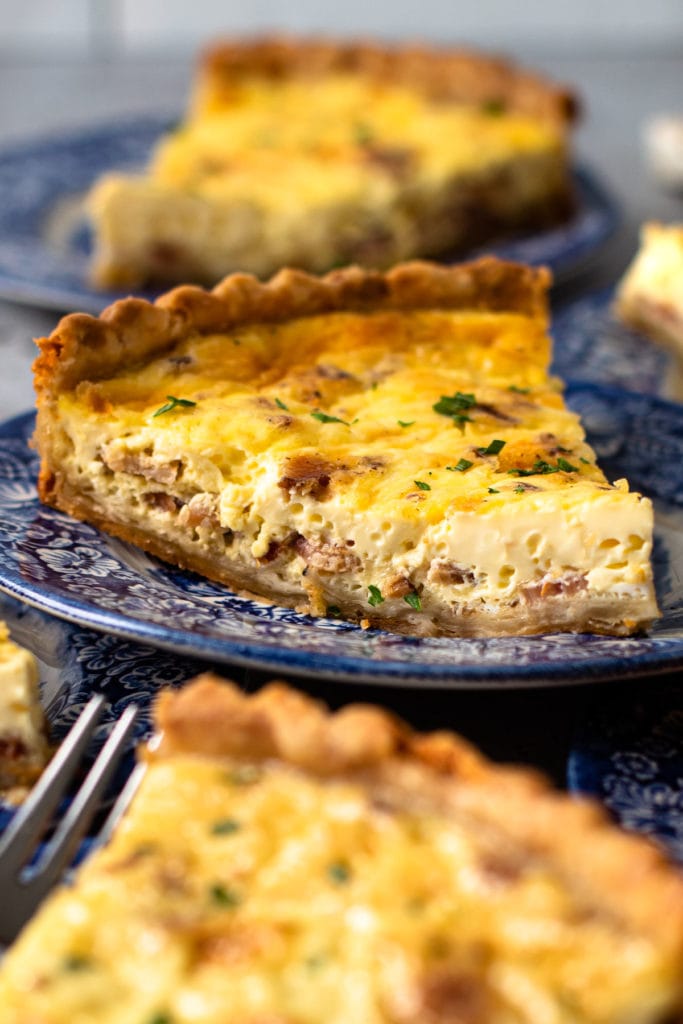 Can Quiche be Frozen?
Like many pies, a quiche is at its absolute best when fresh. However, a quiche is fine to be frozen. Let it cool completely, before storing it in the freezer wrapped twice in plastic wrap.
Thaw overnight in the refrigerator and then place the defrosted quiche back in the 350ºF oven to warm back up. The quiche filling should reach an internal temperature above 160ºF.
Looking for more quiche recipes? Check these out:
I am so honored when you make a recipe from my site! If you make this Quiche Lorraine, please leave a comment and a star rating with your experience! If you have any questions about this recipe, feel free to comment here, too!
Print
Quiche Lorraine
A classic French dish, Quiche Lorraine is a rich and flavorful custard featuring cheese and bacon in a crisp and buttery pastry. This recipe calls for a 9" tart pan. If you wanted to bake this in a regular pie dish, you can, however the custard filling will be rather thin.
Author: Kelli Avila
Prep Time:

00:30

Cook Time:

01:05

Total Time:

1 hour 35 minutes

Yield:

6-8 Slices

Category:

Quiche

Method:

Bake
For Páte Brisée:
1

-

½

cups (

180 grams

) all-purpose flour

½ cup

(

113 grams

) cold salted butter, diced into ½" pieces

¼ cup

(

85 grams

) ice water
For Quiche Filling:
8 ounces

(

226 grams

) thick cut bacon (about 6 pieces)

3

large eggs

1

-

½

cups (

335 grams

) half and half

⅛ teaspoon

kosher salt
Pinch ground black pepper
Pinch of nutmeg

½ cup

(

60 grams

) shredded gruyere or swiss cheese
Instructions
Make the Pâte Brisée:
Add the flour and the butter to a large bowl. Toss in the cold butter pieces and coat with flour. Using your fingertips, start working the butter into the flour. Continue until the butter is broken down into small pieces, no bigger than the size of a pea.
Drip the ice water around the edge of the bowl, and use a rubber spatula to make sure the dough is largely hydrated. If there is enough water the dough should easily squeeze together with your hands. If needed, you can drip in more water into any dry spots (especially check the bottom of the pile), just enough to bring the dough together.
Empty the dough mixture onto a large work surface to prepare to fraisage the dough for the final blend of butter and flour. Spread the mixture out into a horizontal line in front of you. Taking the heel of your hand, rapidly press the dough onto the board and streak it forward about 3-5 inches into a thin line. Repeat this process until most of your dough has been worked.
Using a bench scraper, gather the dough into a pile. Place the dough into plastic wrap and wrap tightly. Using a rolling pin, roll the wrapped dough out until it stretches to the corner of the plastic wrap. Refrigerate for at least 2 hours, or up to two days.
Blind Bake the Crust:
Preheat oven to 425ºF with an oven rack set in the lowest rack and one in the middle rack.
Remove the pate brisee from the refrigerator and let it sit for about 5 minutes, so it is easier to roll.
Roll out the pie dough to an 11″ circle and line a 9" tart pan with a removable bottom. Prick the bottom of the dough all over with a fork. Place the pie in the freezer for 10 minutes.
Once chilled, line the pie dough with a parchment round piece of paper and then add pie weights (or dry rice or beans or lentils) to fill, making sure to push the pie weights to the edges, too.
Bake for 20 minutes, then remove from the oven and carefully remove the parchment and pie weights. Return to the oven and bake for an additional 5-7 minutes.
Make and Bake the Filling:
Place the blind-baked tart crust on a rimmed baking sheet until ready to use and lower the oven temperature to 375ºF.
Dice bacon to 1" pieces, and cook in a skillet until crispy. Drain the cooked bacon on paper towels.
Crack eggs into a large bowl, and whisk together with the half and half, salt, pepper and nutmeg.
Sprinkle the drained bacon and the cheese evenly over the baked tart crust. Carefully pour in the egg mixture, taking care not to overfill it. You may have some egg mixture left over, depending on if you crust shrank at all during the blind bake.
Bake the quiche in the middle oven for 35-40 minutes, or until the top has fully puffed up and is lightly brown all over.
Let the quiche sit for 5-10 minutes before slicing it.
Serve the quiche warm or at room temperature.
Notes
Check out this Pâte Brisée recipe to learn more about making this classic French pastry.
If you can't get salted butter, add ¼ teaspoon kosher salt to the flour mixture when making the pâte brisée.
Quiche can be frozen for up to 3 months.
Make it gluten-free by using this Gluten-Free Pie Crust.
Keywords: Quiche Lorraine
Some of the links on this page may be affiliate links. Everyday Pie is a participant in the Amazon Associates Program. As an Amazon Associate I earn from qualifying purchases, at no extra cost to you.