This Pizza Rustica recipe has a creamy ricotta filling studded with Italian deli meat and cheeses, all baked together inside of a buttery double crust. Typically served on Easter, but not exclusively, this Savory Ricotta Pie is sure to be the star of the show at any meal.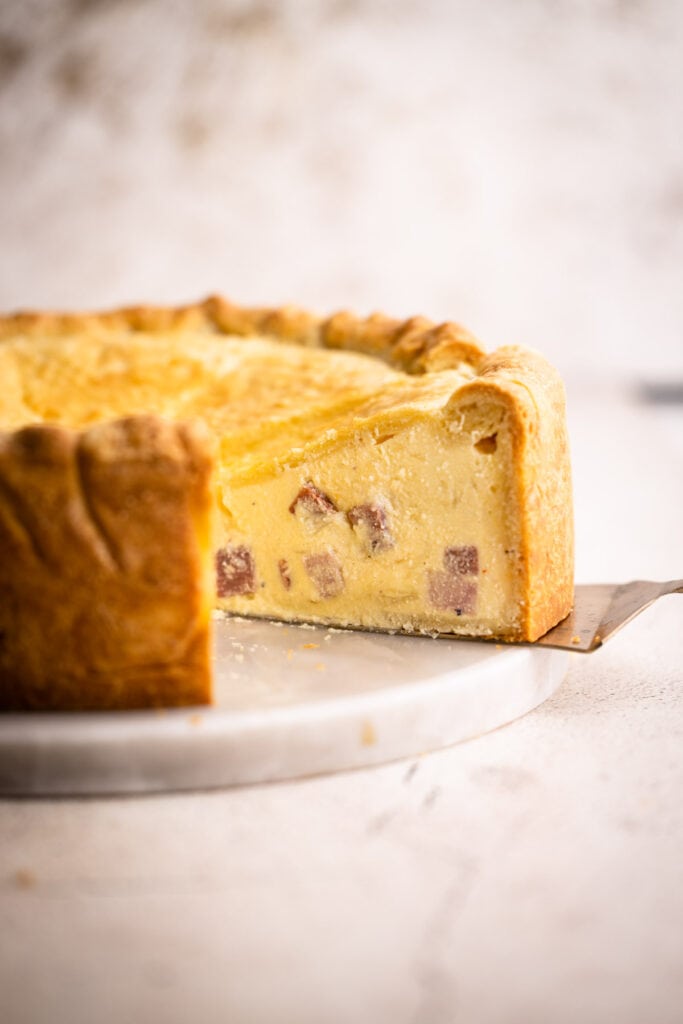 Savory Ricotta Easter Pie
No Easter season is complete without eating Pizza Rustica in my Italian-American family. But, be warned: This Savory Ricotta Pie is not for the faint of heart. This oversized pie is stuffed with three different types of cheese and tons of Italian meats. It's traditionally eaten at room temperature or cold, but my own family enjoys it warm from the oven as well.
There is room to customize the filling based on what you like or have on hand.
While the pie is traditional for Easter, it will most certainly be welcomed any time of year.
So, let's get to making it, shall we? The text below offers tons of tips and helpful notes, or you can scroll to the bottom to grab the recipe and get started!
What's in a Name?
Before I get into it, I should probably say that this recipe is known by many names. Here are just a few of them:
torta salata
Italian Easter pie
savory ricotta pie
pizza ripena
pizza gaina
pizza chiena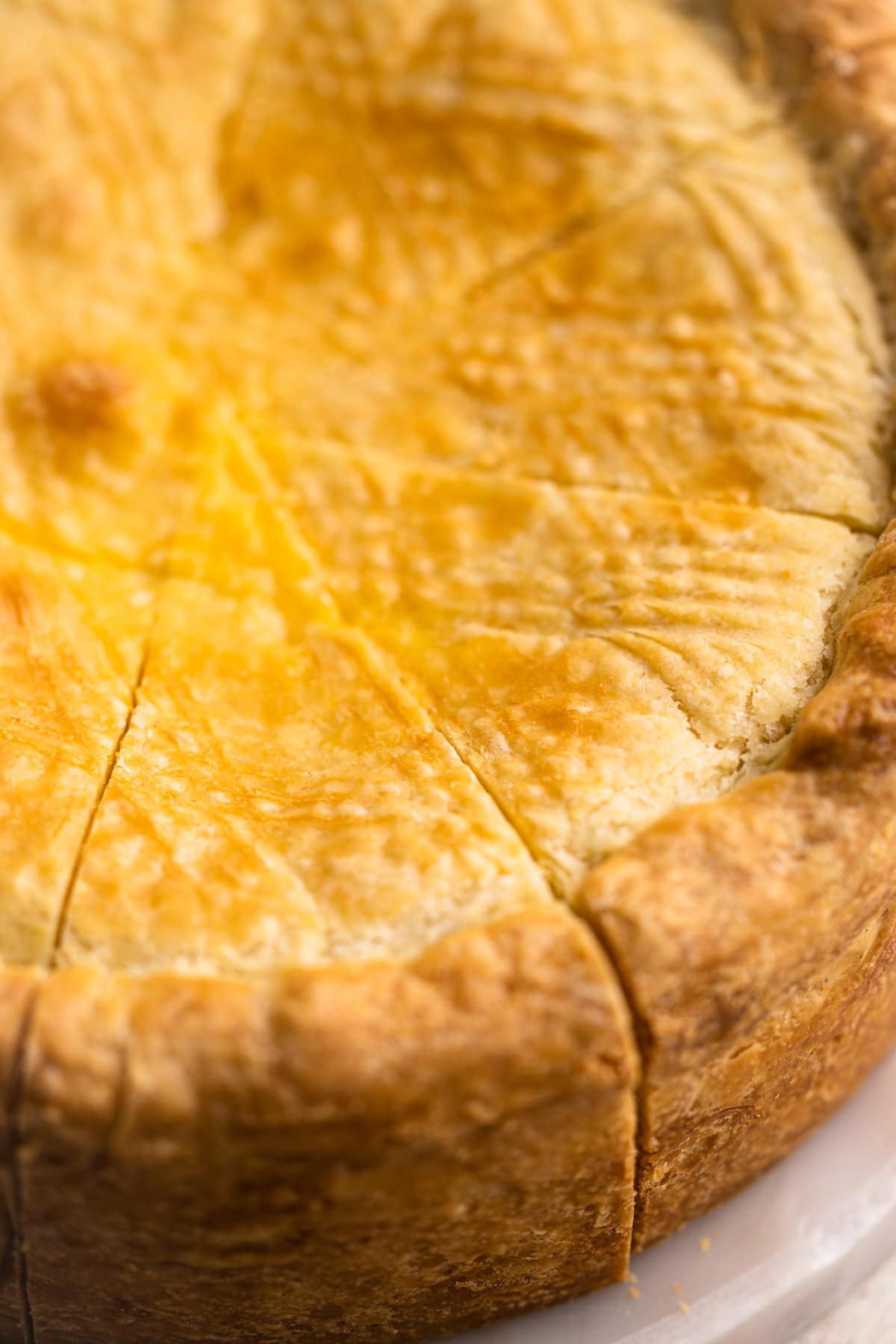 Ingredients Needed
Here is an overview of the ingredients needed for this recipe. The full recipe is listed below in greater detail.
all-purpose flour
butter
eggs
Italian deli meats
ricotta cheese
mozzarella cheese
provolone cheese
sugar
salt
baking powder
Tools Needed
Here is a list of some of the primary tools I use in this recipe. You won't necessarily choose to use them all, but they are exactly what I used. Any links may contain affiliate links.
food processor (to make the pie dough)
rolling pin
kitchen essentials: baking scale, bowls, whisks, measuring cups, etc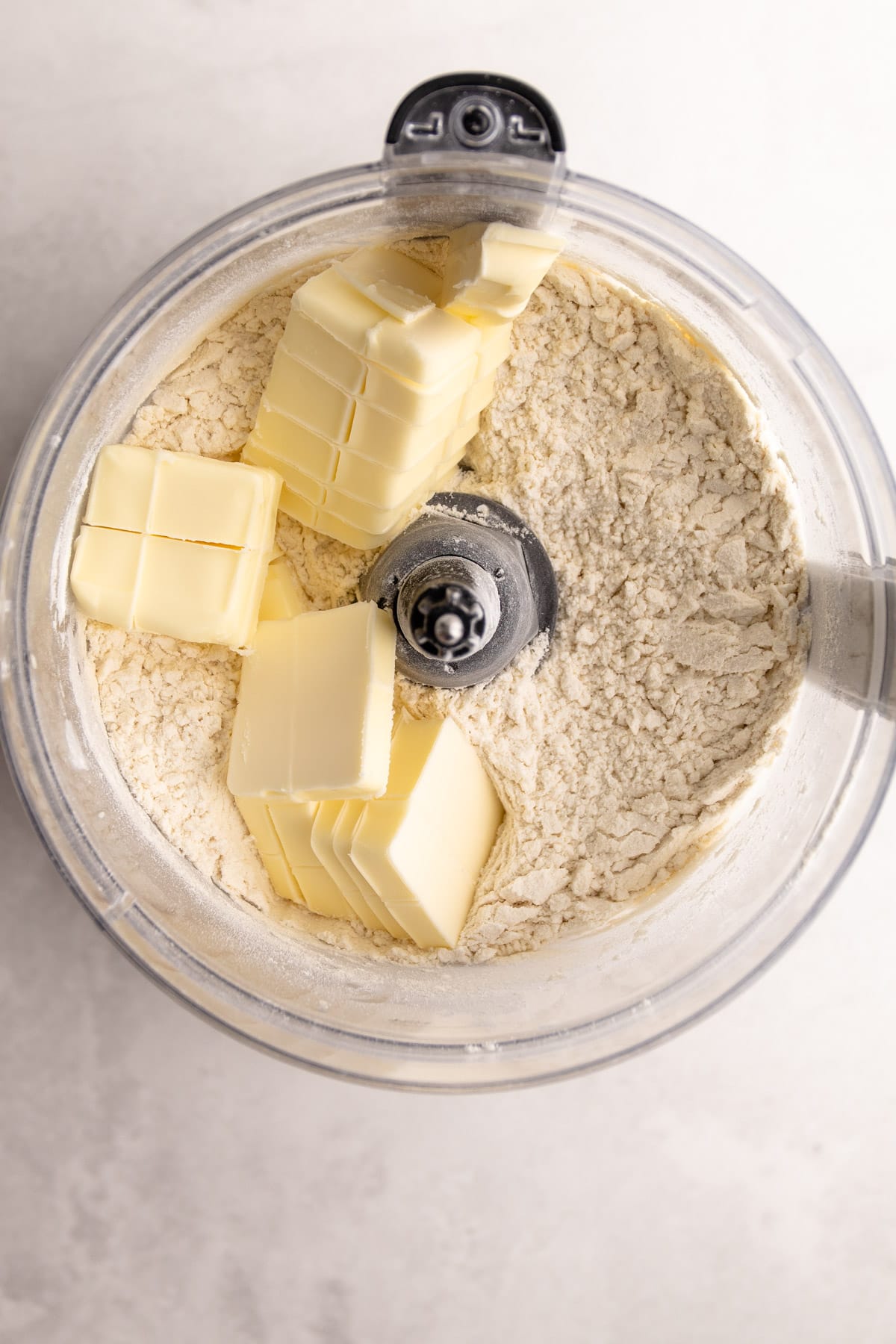 Making the Pie Crust
Pasta Frolla is an Italian shortcrust pastry. It's easy to make, tastes amazing and because of the lower water content, it can be made and rolled out right away! The dough will be soft, but it's quite easy to work with right after being made.
Pasta Frolla is made in the food processor, and it takes about 5 minutes to throw together.
It can be made and kept in the refrigerator up to 2 days ahead of time or frozen for up to 3 months.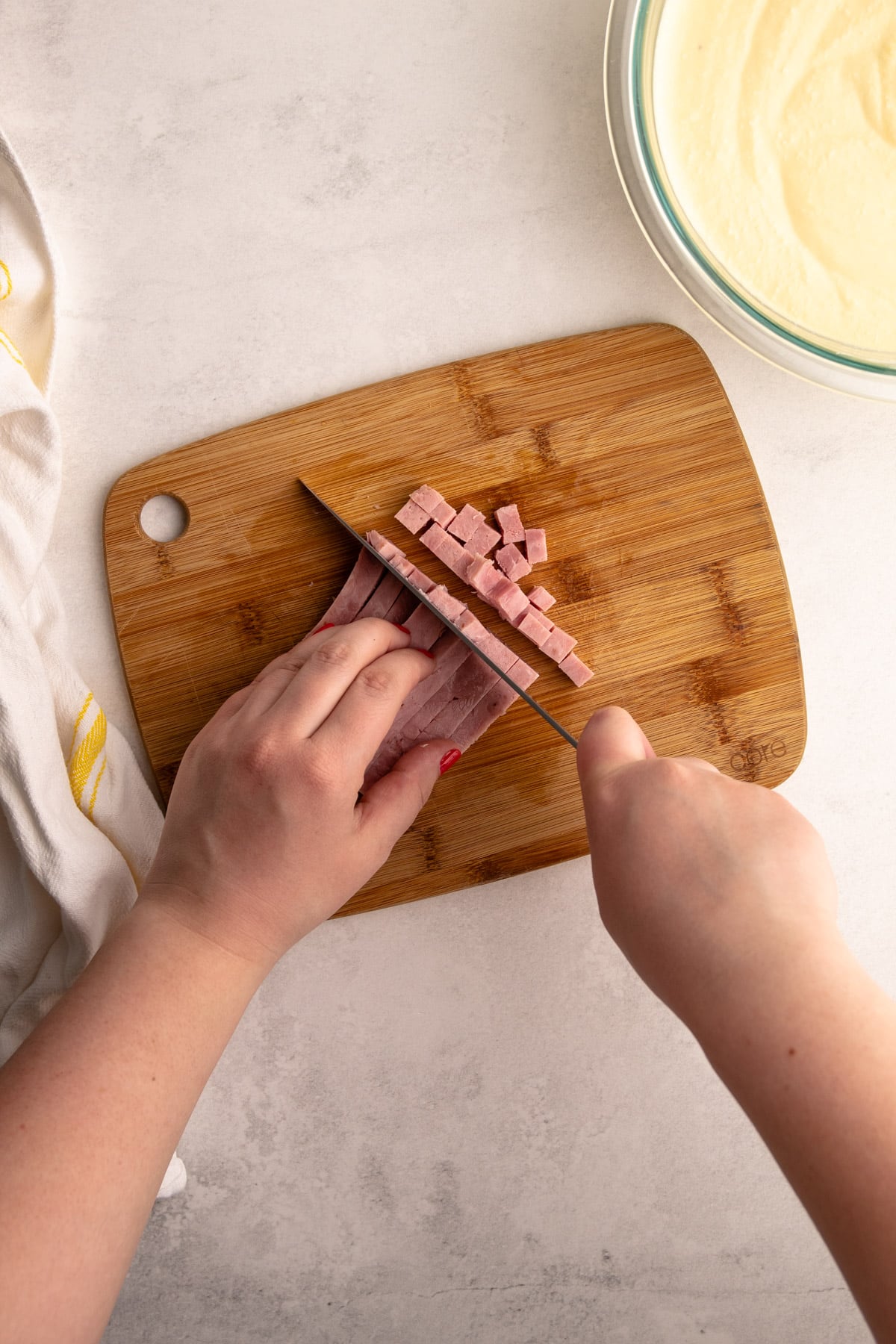 Let's Talk About That Ricotta Filling
If you use a lower quality (read: cheap) ricotta, you will likely have ricotta that hasn't been strained very well. In general, ricotta has a grainy texture to it; after all, it's made of curds, which are coagulated milk solids. However, lower-quality ricotta that isn't well strained will have more defined grains which may be less than ideal for this pie. So I'd recommend straining the ricotta overnight, or at least for a few hours. Check on the notes in the recipe for how to do this.
This filling contains just a few ingredients, but it is pretty magnificent. You'll notice there is no added salt in the filling, and that's because the addition of the Italian deli meats and cheese should add a nice savory note to the finished product.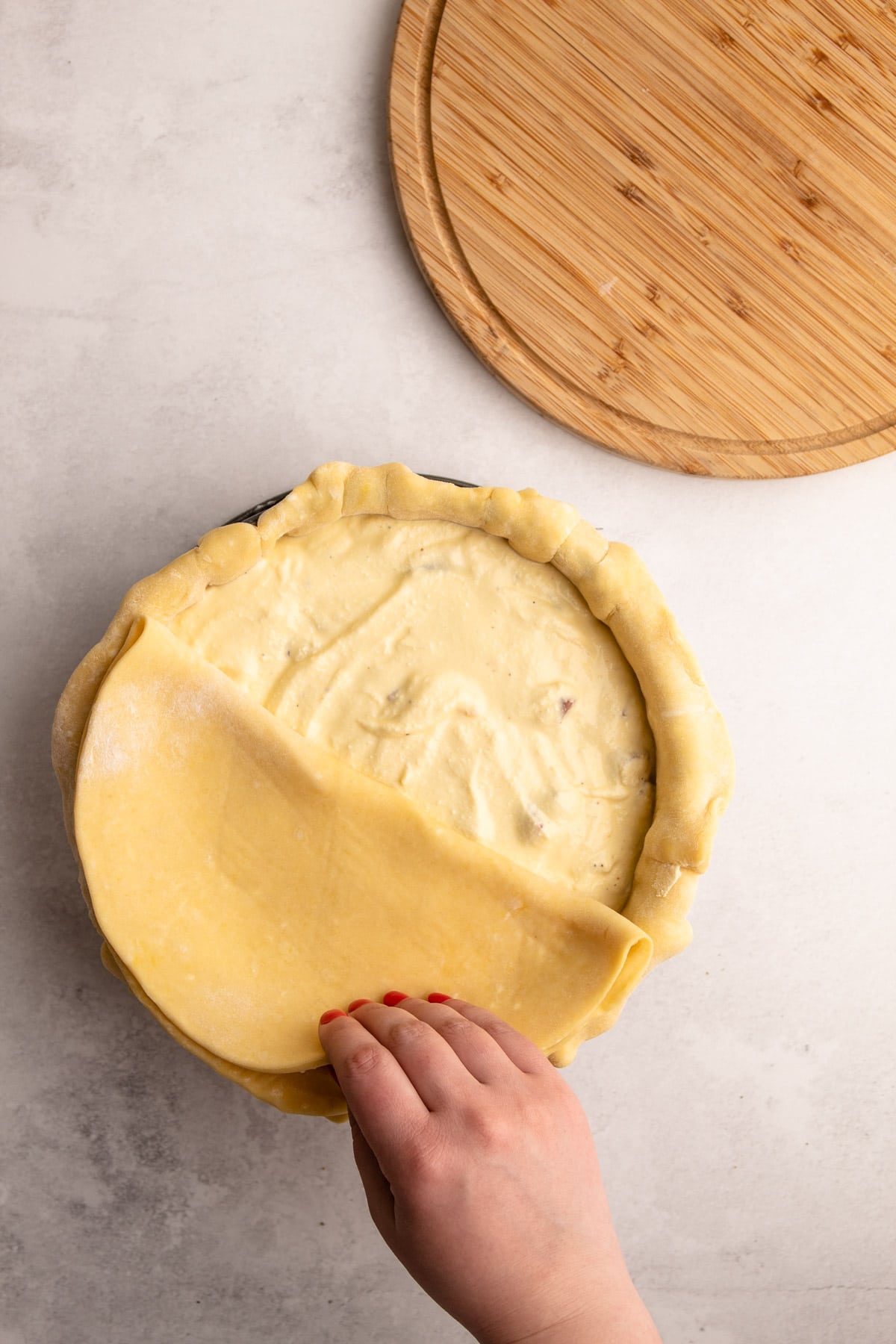 Customizing the Add-ins
The recipe calls for one and a half cups of Italian deli meats. You can use any that you and your family enjoy. Here are some suggestions:
ham
salami
pepperoni
sopprasata
mortadella
prosciutto
cooked italian sausage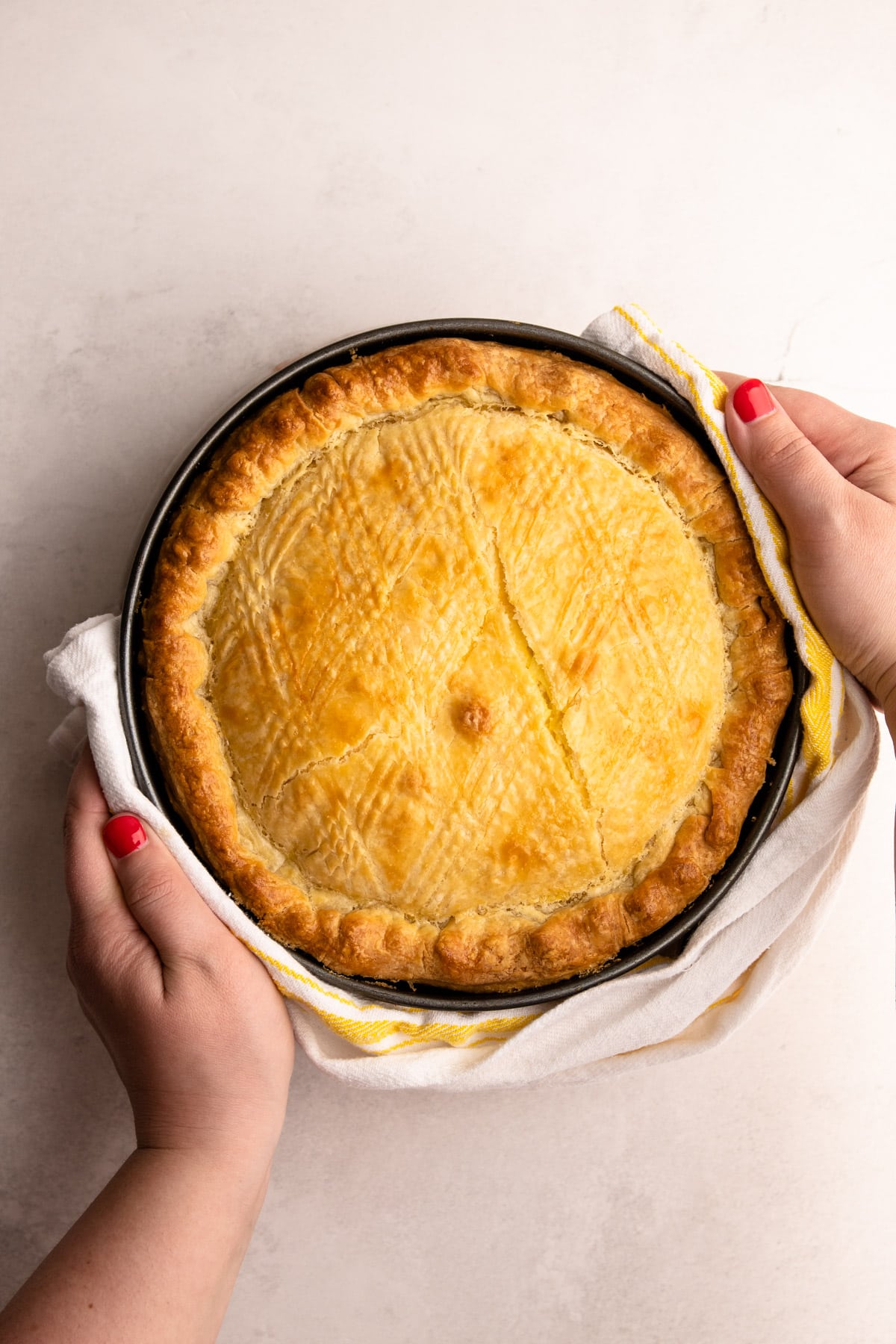 How to Best Assemble the Pie
The ricotta filling puffs up and expands in the crust when this pie is baking.
This double-crust pie has a decorative fork-lattice design on it. The scoring on the pastry isn't just decorative; it serves a purpose. The scoring of the pastry directs the pastry where exactly to crack during the expansion of the ricotta. Then, once the pie cools down and sinks back, you can hardly tell there was any cracking.
Take your time scoring the pastry with the fork, as this makes a difference in guiding the pastry to break in those weak points as the ricotta expands.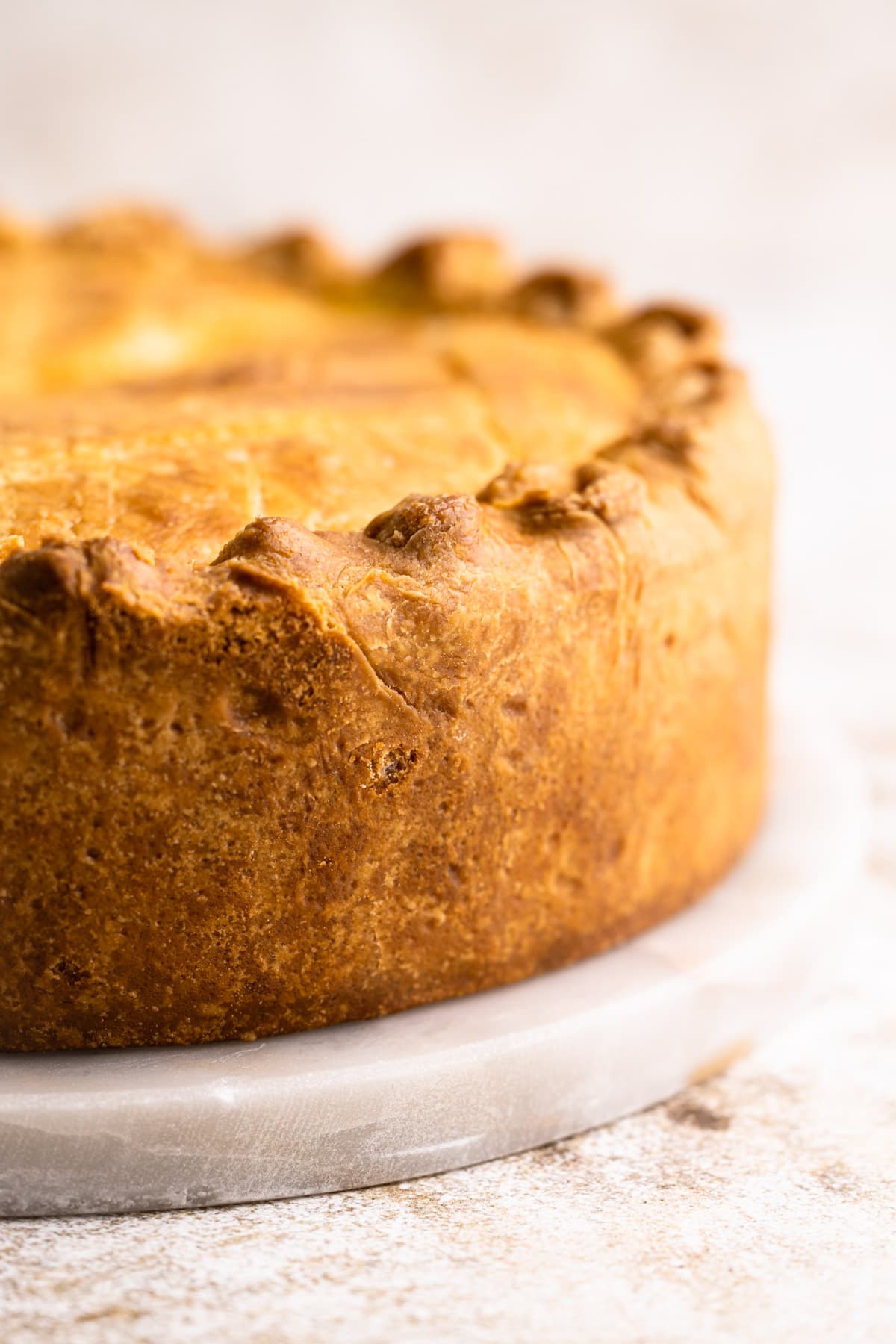 How to Tell When It's Fully Baked
It is fully baked when the pie has puffed throughout and the filling feels set. The internal temperature of the pie should be pretty close to 160ºF. A little less than that is ok, as it will continue to cook as it rests. The crust should also be fully baked and light golden brown throughout.
When the pie cools, it will shrink back down and the cracks should be unnoticeable. However, a little cracking is normal!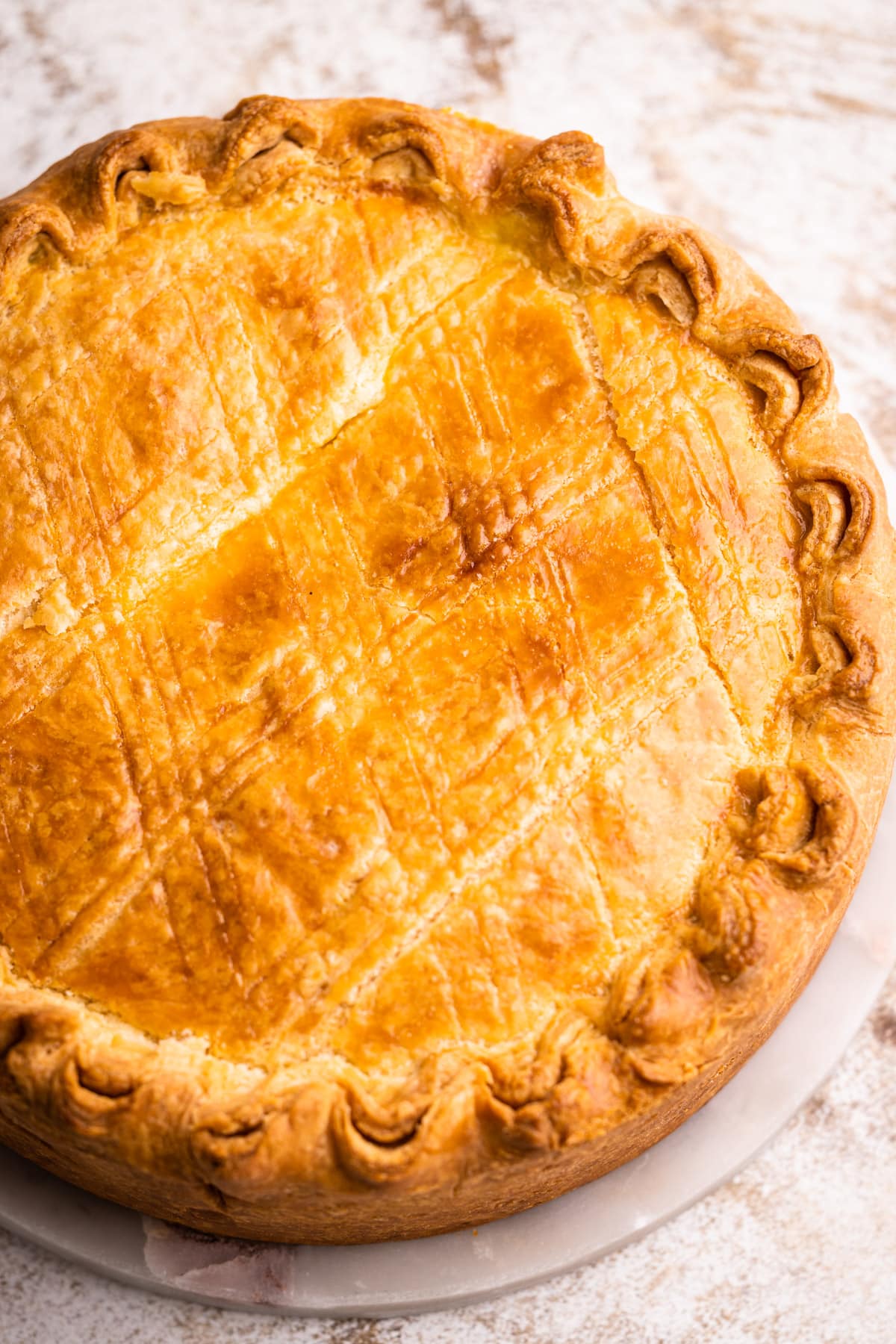 Steps to Make in Advance
As with all pies, you can make some components ahead of time.
The pie crust can be made up to 2 days ahead of time. If you chill it before you roll it out, make sure to let it warm up enough before attempting to roll it out.
The filling cannot be prepared ahead of time.
The entire pie can be assembled and baked up to two days in advance. Store the pie in the refrigerator and let it come close to room temperature before serving. It can be served directly from the refrigerator if you desire, but traditionally it is served closer to room temperature.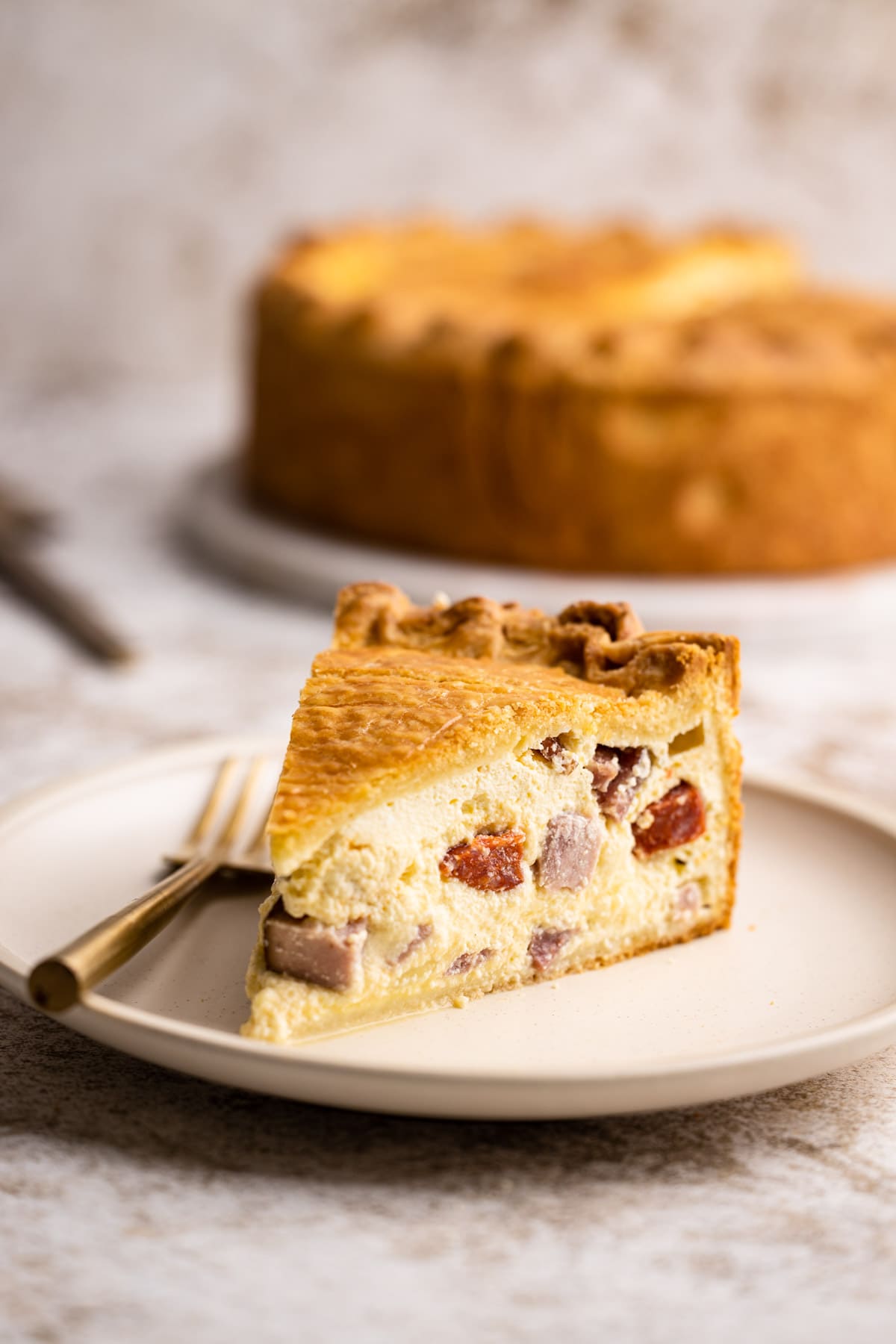 Serving Pizza Rustica
This pie is traditionally served cold, or at room temperature. You can serve it warm if you'd like, but the whole pie needs to cool for at least two hours before slicing into, or else it won't be fully set.
Watch It: How to Make Italian Easter Pie
More Easter Pies
I am so honored when you make a recipe from my site! If you make this Italian Easter Pie, please leave a comment and a star rating with your experience! If you have any questions about this recipe, feel free to comment here, too!
Print
Full Recipe
Pizza Rustica (Italian Easter Pie)
This Pizza Rustica recipe has a creamy ricotta filling studded with Italian deli meat and cheese all baked inside of a crumbly Italian pastry. Typically served on Easter, but not exclusively, this Savory Ricotta Pie is sure to be the star of the show at any meal.
Author: Kelli Avila
Prep Time:

00:25

Cook Time:

00:50

Total Time:

1 hour 15 minutes

Yield:

Serves 8-10

Category:

Savory Pie

Method:

Bake

Cuisine:

Italian
Savory Pasta Frolla:
3 cups

(

360 grams

) all-purpose flour

1 teaspoon

granulated sugar

1 teaspoon

salt

½ teaspoon

baking powder

1 cup

(

226 grams

) cold unsalted butter, diced

¼ cup

water

3

large eggs
Ricotta Filling:
32 ounces

(

905 grams

) whole-milk ricotta, strained if very watery (see notes)

8

large eggs

1 cup

shredded mozzarella

1 cup

diced hard provolone cheese

1

-

½

cups diced italian deli meats (ham, salami, soppressata)
Instructions
Preheat the oven to 375ºF
Add the flour, sugar, salt and baking powder to the bowl of a food processor, and pulse until well combined.
Add in the butter and pulse 5-7 times, or until the butter is broken down into tiny pebbles.
With the motor running, add in the water and eggs and let the dough process until it forms together into a cohesive ball around the blade, about 1 minute.
Transfer the dough to a work surface dusted with flour. Divide the dough into two pieces, about ⅔ and ⅓ each.
Roll out the larger piece of the dough to a rough 15″ circle and place inside of a 9″ springform pan, letting a little of the pastry hang over the edge of the pan.
Roll out the other piece of the dough to a rough 10-inch circle. Place the pie dough on a flat surface (such as a sheet pan) that can fit in your refrigerator. Cover, and transfer the pie dough to the refrigerator to chill.
Meanwhile, make the filling: Add the (strained) ricotta and the eggs to a large bowl. Whisk together until well combined. Fold in the mozzarella, provolone, and deli meats.
Transfer the filling to the springform pan and smooth it over.
Remove the rolled-out top crust from the refrigerator. Score the top crust with the fork in a lattice pattern by evenly pressing and dragging the fork on the pastry. You want to get a good score on it, but make sure not to cut through the pastry.
Transfer the top crust pastry on top of the ricotta filling. Crimp the edge of the dough together to seal the pie. Cut off any excess.
Whisk together an egg with a bit of water to make an egg wash. Brush the egg wash on the top crust. Cut a few small slits in the top of the pie directly along the lines left by the fork.
Bake the pie on a rimmed baking sheet in the middle part of the oven for 50-60 minutes, or until the top is golden and shiny and the filling has set and puffed up throughout.
Let cool for at last 2 hours. Serve at room temperature or cold.
Notes
This pie requires a 9" springform pan. Alternatively a 9.5 or 10" pie plate will also work, though you might not be able to fit all the filling.
Use whatever deli meats you like for this pie. You can also use cooked Italian sausage as well.
Sometimes it can be difficult to tell if your ricotta needs to be strained if you've never baked with it before. A good rule of thumb is that unless you are buying a local or higher-end brand you likely should strain it. I like Calabro brand, and find that it does not need to be strained. If you aren't sure, you can go ahead and strain it anyways. To strain ricotta, place a fine-mesh strainer over a bowl. Line the fine mesh strainer with two layers of cheesecloth. An alternative to this is to use a nut milk bag if you have one of those. Place the ricotta in the cheesecloth and smooth the ricotta over to get a flat surface. Transfer the ricotta to the refrigerator to strain for about 8 hours or overnight. Discard any liquid left at the bottom of the bowl. Then the ricotta is ready to use.
Keywords: Pizza Rustica, Italian Easter Pie
Some of the links on this page may be affiliate links. Everyday Pie is a participant in the Amazon Associates Program. As an Amazon Associate I earn from qualifying purchases, at no extra cost to you.