This Pistachio Pie with Mascarpone features a tangy baked custard with pistachio crumbs inside of a crunch salty pretzel crumb crust. It's a wonderful blend of flavors and textures and is a show stopping pie to serve for dessert.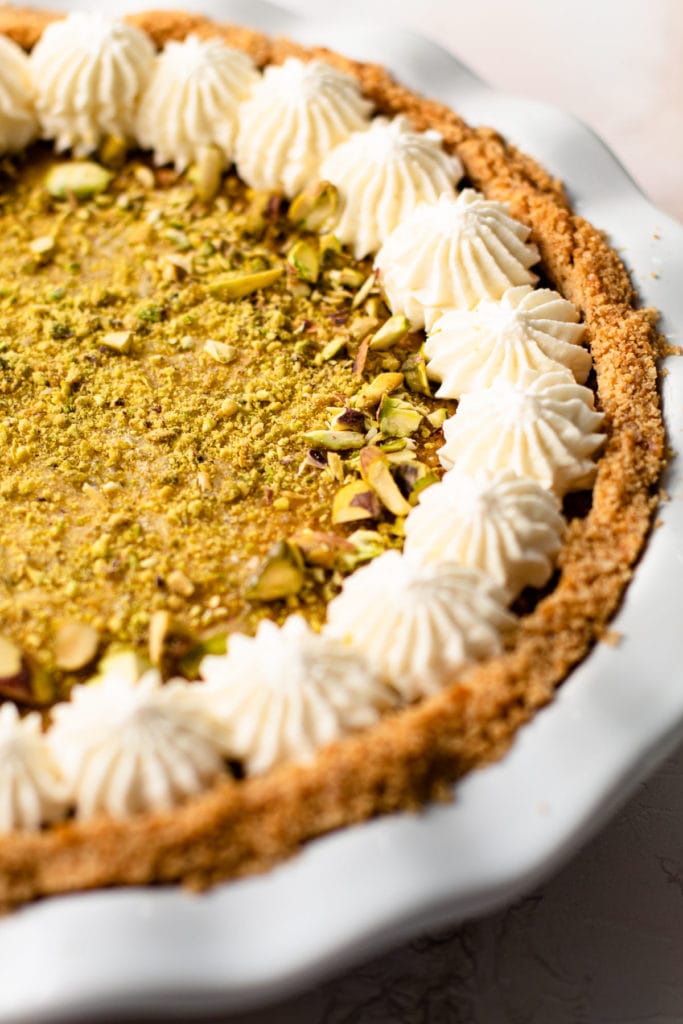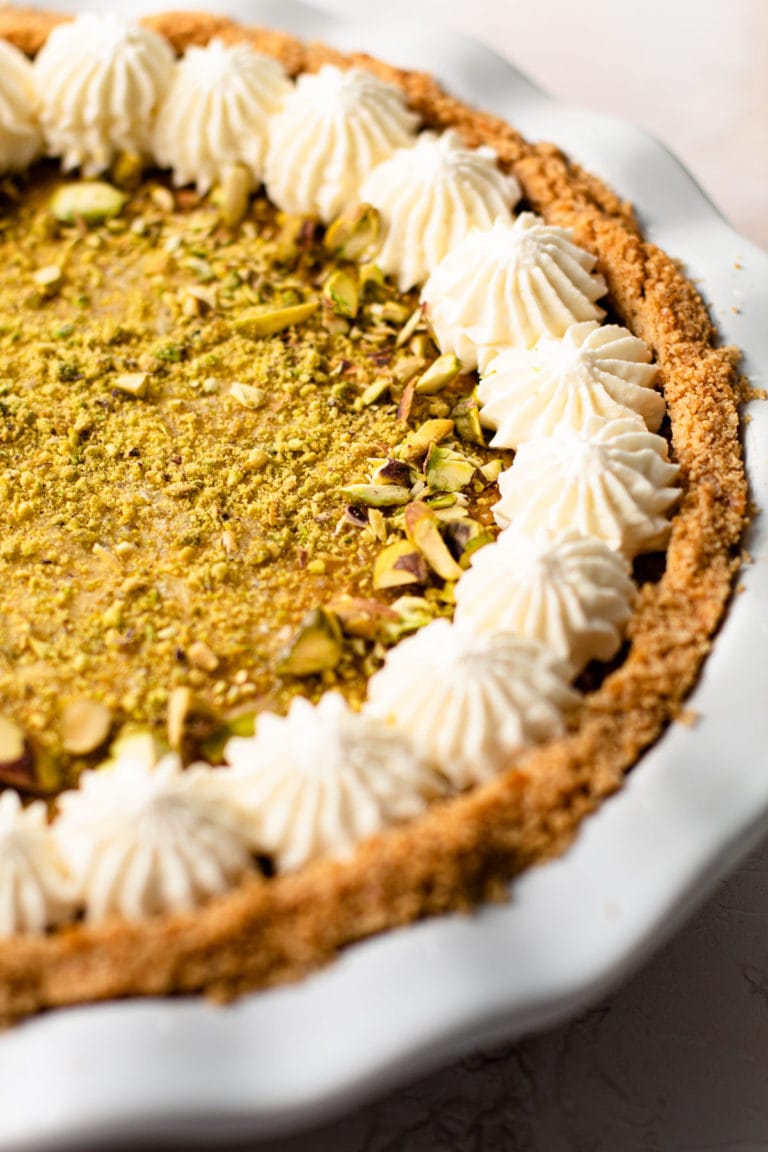 Pistachio Pie Recipe
I know when most people think of pistachio pie, they think of some jello pudding mix with some frozen whipped topping on top. Now I'm not knocking that, if that's your thing. But think of this Pistachio Pie with Mascarpone as a grown up version of that.
Tangy mascarpone and pistachio baked into a custard and made in the best crunchy, salty and sweet pretzel crumb crust. It's just so good!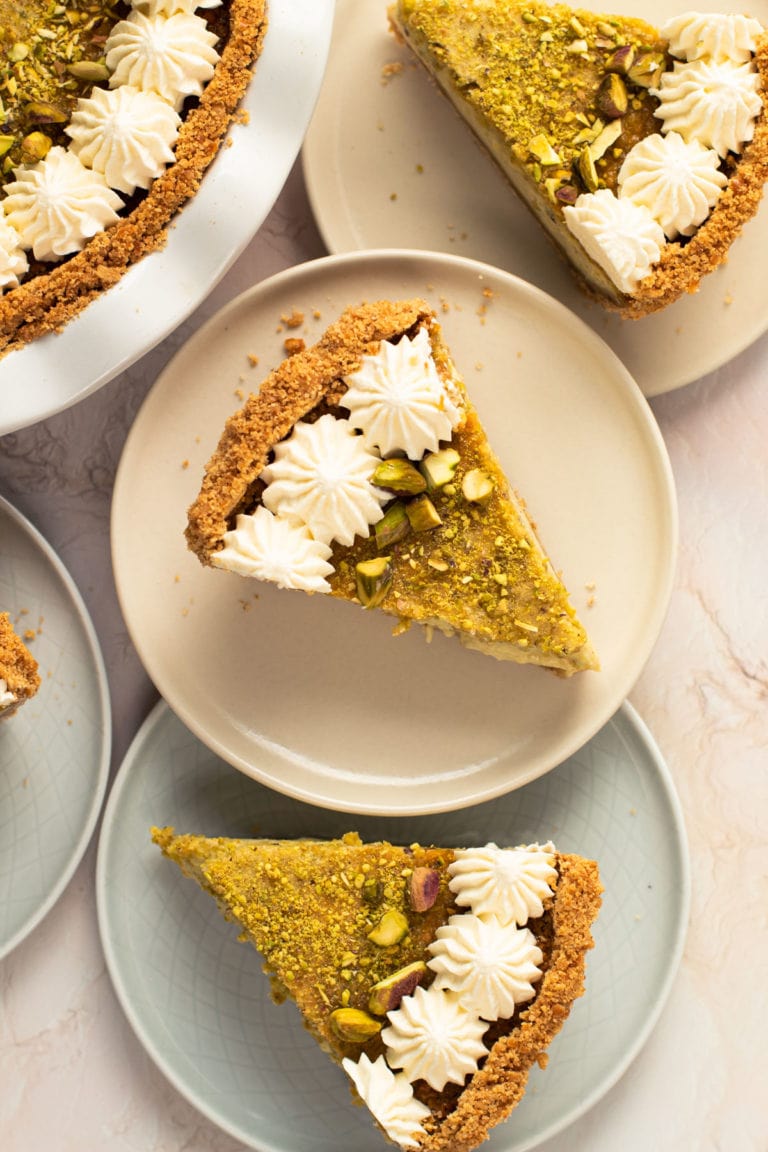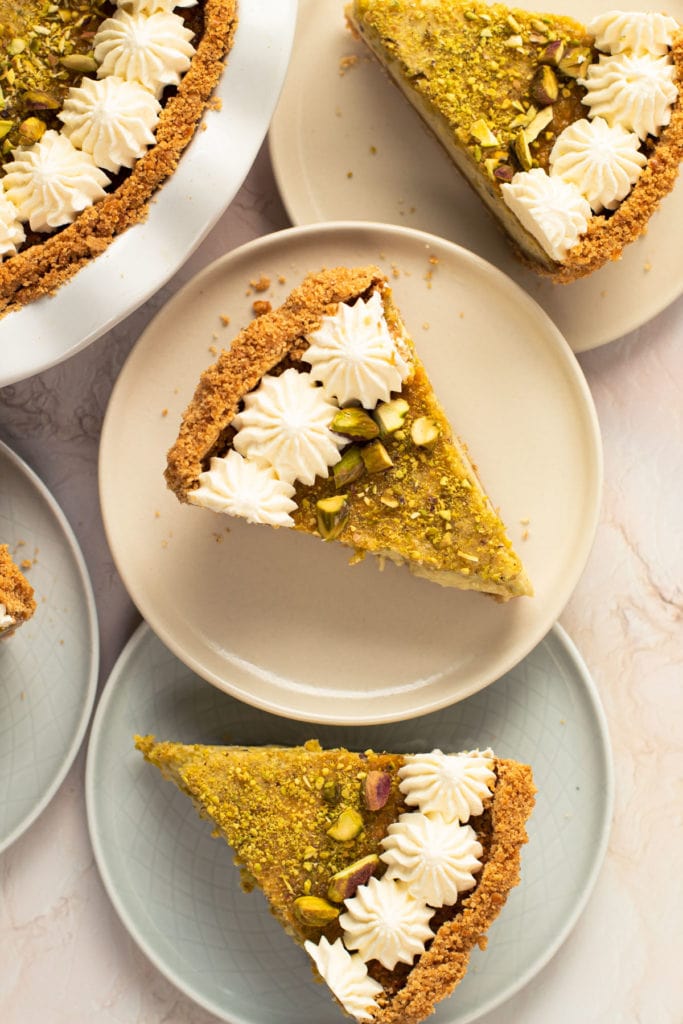 What Makes this Pie Special
The flavor that really ties it all together is minuscule in quantity but is what truly makes it feel like pistachio: almond extract! Sometimes in baking we tend to associate one flavor with another because they're so often paired together, and that is the case here.
Without almond extract it just doesn't feel like "pistachio" so definitely don't skip out on that ingredient. But beware, a little goes a long way. This recipe calls for only ½ of a teaspoon, but don't be tempted to add anymore. It will overpower the pie.
The mascarpone adds a really luxurious feel to the whole pie, making it dense with almost a cheesecake feel. You can find mascarpone at most grocery stories now. I think in a pinch you could substitute cream cheese in equal quantities, but you'd have to make sure it was at room temperature first in order to be able to mix it together well.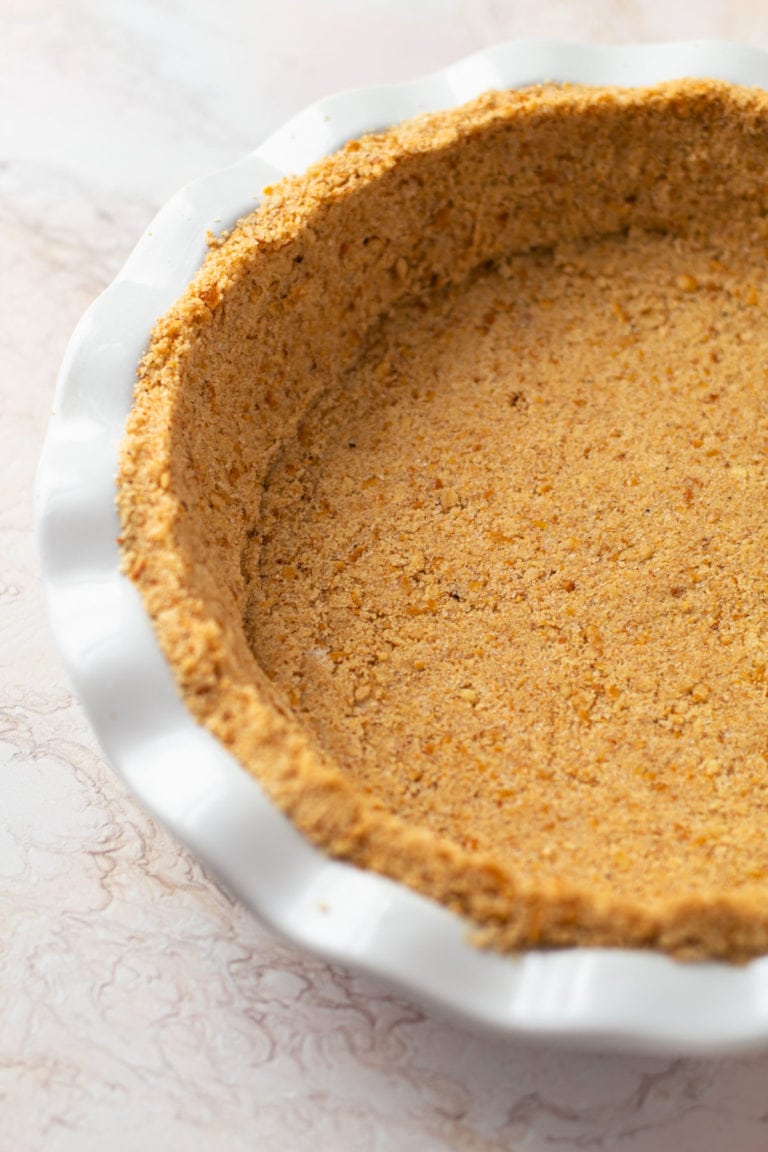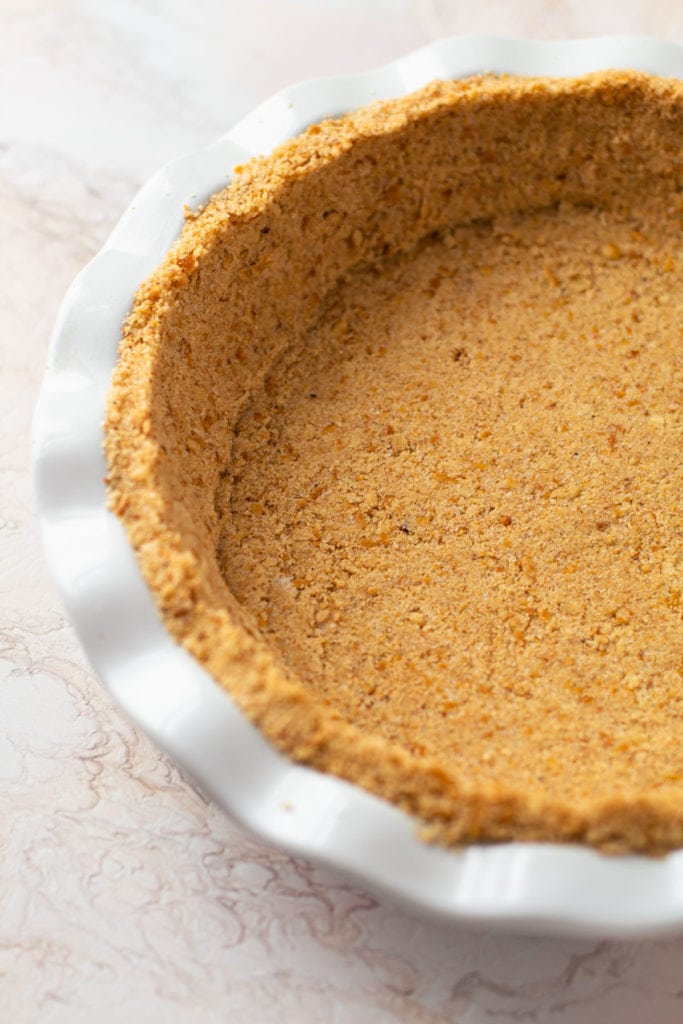 Using Pretzels as a Pie Crust?
This crunchy, salty and sweet pretzel pie crust makes this pistachio pie feel revolutionary! But best of all, like most crumb crust recipes it's so simple to put together. Simply grind up some pretzels, mix it together with a touch of sugar and melted butter and you've got yourself an easy pie crust that won't disappoint.
The one caveat that I found is that not all pretzels are created equally, so depending on the brand and type of pretzel you use, you may have to add in a little bit more (or less) butter to make the crumbs easy to pack in to the pie plate.
What you need to know is that the crumbs shouldn't be so dry or so wet that it's difficult to evenly spread and pack into the plate. Crumbs too dry? Add in more butter. Crumbs too wet? Add in more ground up pretzels. Simple as that!
Check out this post for for more info about making a crumb crust from pretzels. Though, most everything you need to know is right here in the recipe.
Tips for Making Pistachio Custard Pie
This pie isn't difficult to make since it's essentially just whisking together the filling ingredients. However, here are a few tips to make sure you make the best eggnog custard pie possible!
Get those ingredients to room temperature. This custard filling comes together best when the ingredients are close to room temperature, so go ahead and grab them out of the fridge about an hour before you plan to bake--especially the mascarpone.
To increase your chances of getting a smooth custard, let the filling sit at room temperature for 15 minutes. The recipe below doesn't call for that, for lack of streamlining it, but this is a recommended step that can reduce the number of air bubbles in your finished custard.
Don't overcook it: The custard should be set about 2-½″ from the outside, but still wobbly in the middle.
Let it cool before slicing: Custard pies finish setting and firming while they cool. Go hands-off and let the refrigerator work for you. If you try to cut it before it has completely chilled, you could end up with custard soup.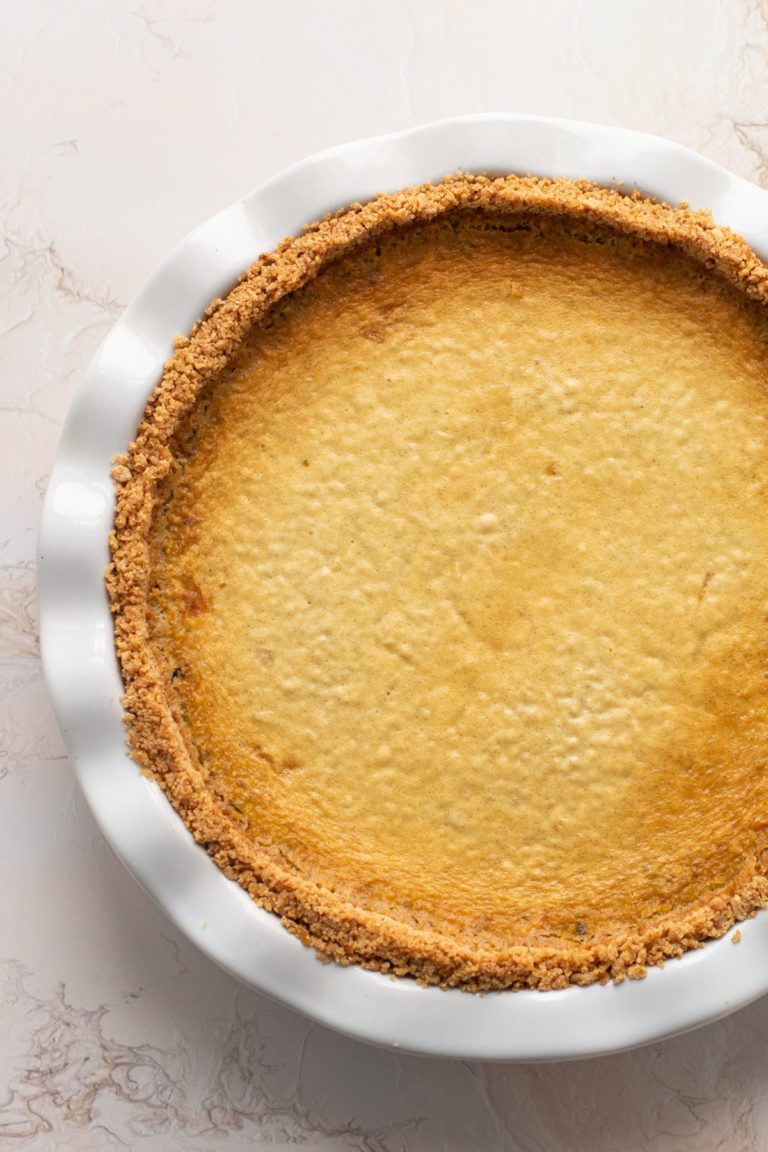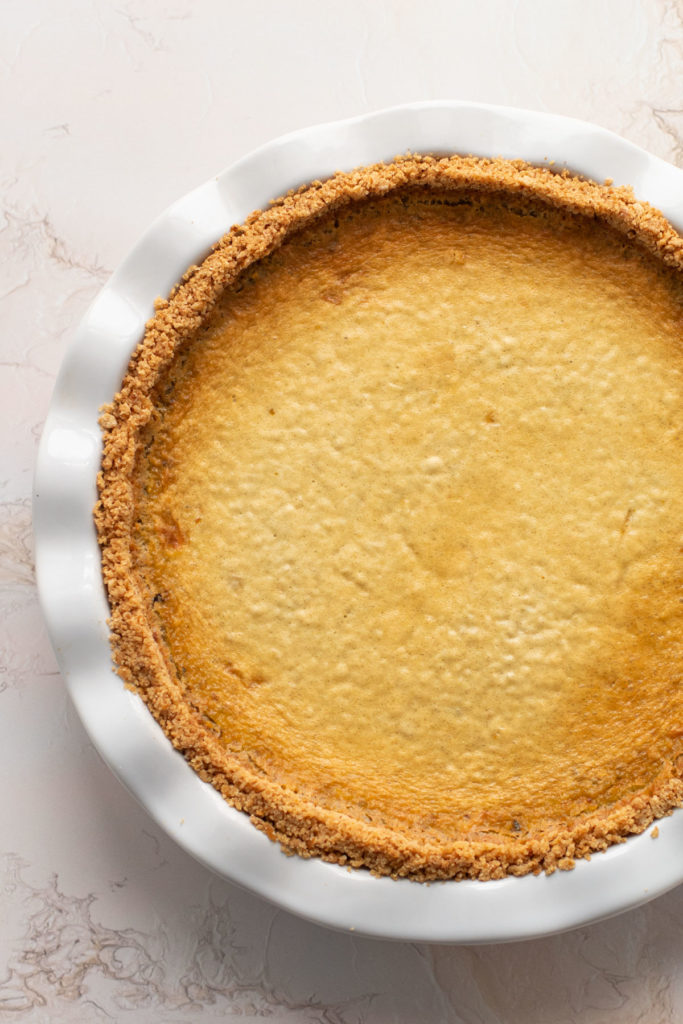 How to Decorate and Garnish this Pistachio Pie
There are a few options on how to decorate this pie! Whenever you decorate your pie, it's always helpful to create a presentation the reflects the ingredients that will be in your pie. For this, it's obvious to use additional pistachios! You can chop up some pistachio and place around the edges of the pie, and leave the mascarpone filling exposed.
Or you could cover the top of the pie with additional ground pistachio, and do some decorative piping with whipped cream around the edges. Either way the additional crunch of the pistachios on top of the pie adds another layer of flavor and texture that is wonderful.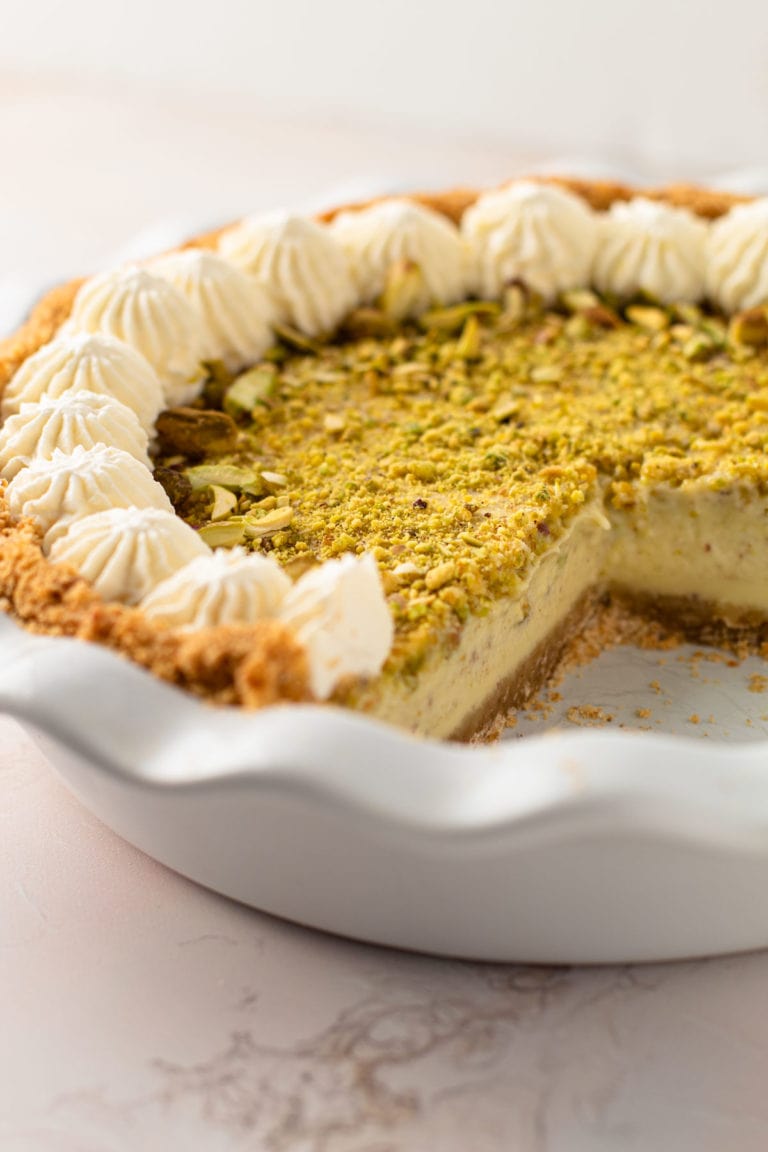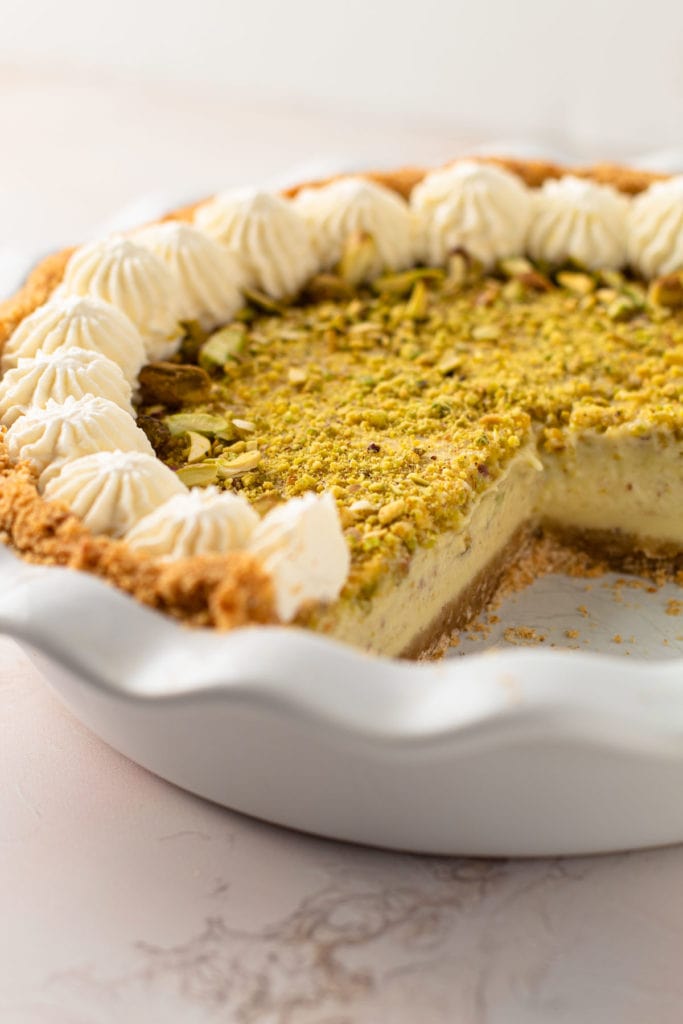 Make-Ahead Tips
The pretzel crust can be made and blind-baked up to to 1 day ahead of time.
The filling can be whisked together up to 1 day ahead of time, but I recommend the filling is taken out of the refrigerator for at least 2 hours before attempting to bake, to avoid the filling going from the cold fridge to the hot oven.
The pie in its entirety can be made 1-2 days ahead of time, though it may be able to stay up to 3 days ahead of time. Store the pie in the refrigerator.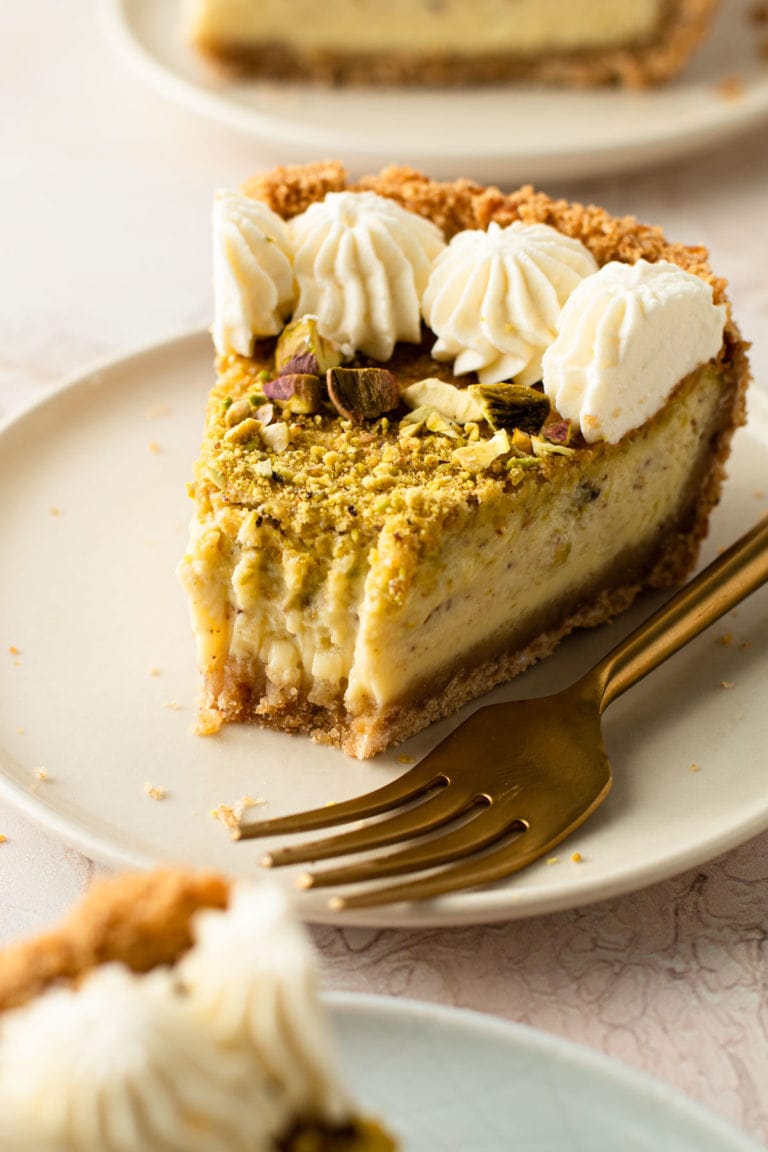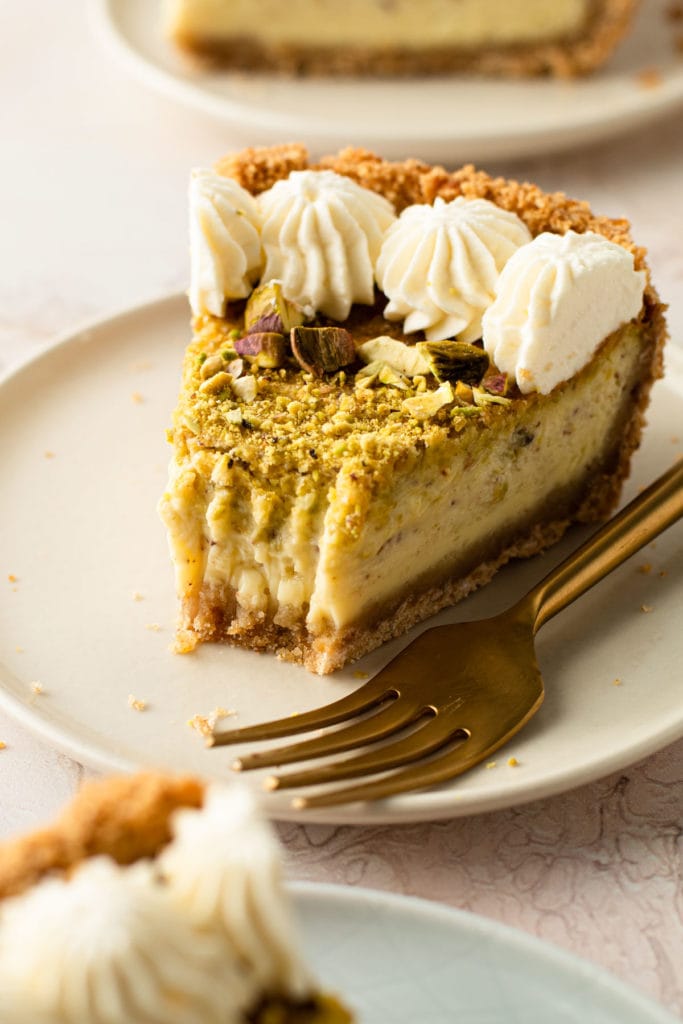 More Sweet Pies
I am so honored when you make a recipe from my site! If you make this Pistachio Mascarpone Pie, please leave a comment and a star rating with your experience! If you have any questions about this recipe, feel free to comment here, too!
Print
Full Recipe
Pistachio and Mascarpone Pie
This Pistachio Pie with Mascarpone features a tangy baked custard with pistachio crumbs inside of a crunch salty pretzel crumb crust. It's a wonderful blend of flavors and textures and is a show-stopping pie to serve for dessert.
Author: Kelli Avila
Prep Time:

00:15

Cook Time:

00:52

Total Time:

1 hour 7 minutes

Yield:

Serves 8-10

Category:

Custard

Method:

Bake

Cuisine:

Sweet
For Pretzel Crust:
1

–

½

cups (6 ounces) pretzel crumbs

8 tablespoons

(

112 grams

) unsalted butter, melted (more as needed)

⅓ cup

(

70 grams

) granulated sugar
For Pistachio Filling:
½ cup

(

60 grams

) shelled unsalted pistachios

8 ounces

(

226 grams

) mascarpone, at room temperature

¾ cup

(

150 grams

) granulated sugar

4

large eggs, at room temperature

1 cup

(

230 grams

) whole milk

½ teaspoon

almond extract
Chopped pistachio, for garnish
Whipped Cream, for garnish
Instructions
Make the Crust:
Preheat the oven to 350ºF.
Mix together pretzel crumbs, melted butter and sugar in a bowl. The mixture should be moist enough that when you squeeze it, it forms a clump, but not so wet that it sticks to your hands. See note below for troubleshooting.
Pour the crumbs into a 9" pie plate and start pressing the ingredients up the sides of the pie plate to form the edges first. Once the edges are formed, work the crumbs down to evenly distribute into the bottom of the pie plate and stamp it down.
Bake in the preheated oven for 10-12 minutes, until lightly golden and fragrant.
Make and Bake the Filling:
Place pistachios in a food processor and pulse until they are finely ground, about 10 pulses. Set aside.
Add mascarpone and sugar to a large bowl and whisk together until smooth. Add in eggs, milk, almond extract and ground pistachios and whisk together until smooth.
Pour into the prepared pretzel crust and bake for 45-55 minutes, or until the outer 2-½" of the pie is set and puffed, and the center is still slightly wobbly. The edges may be golden.
Let cool almost completely on a rack before placing in the refrigerator to set overnight, or at least 8 hours.
Garnish the top of the pie with additional pistachio, and piped whipped cream, if desired, and serve cold. Pie will keep for 2-3 days in the refrigerator.
Notes
I have tested two different brands of pretzels (Trader Joe's and Whole Food's 365) and two different shapes (the typical twists and the stick pretzels). I have found that they can vary in terms of how much butter they will need. If your pretzel crumbs feel really dry, add in more butter. And to the contrary, if they feel too wet to form into a crust, add in more pretzel crumbs to balance out the mixture. It should be the consistency of wet sand, and easy to form into a crust.
Some of the links on this page may be affiliate links. Everyday Pie is a participant in the Amazon Associates Program. As an Amazon Associate I earn from qualifying purchases, at no extra cost to you.