A creamy ricotta filling with a hint of lemon and almond is baked inside of a sweet Italian pie pastry. Typically served on Easter, but not exclusively, this Ricotta Pie is sure to be the star of the show at any meal.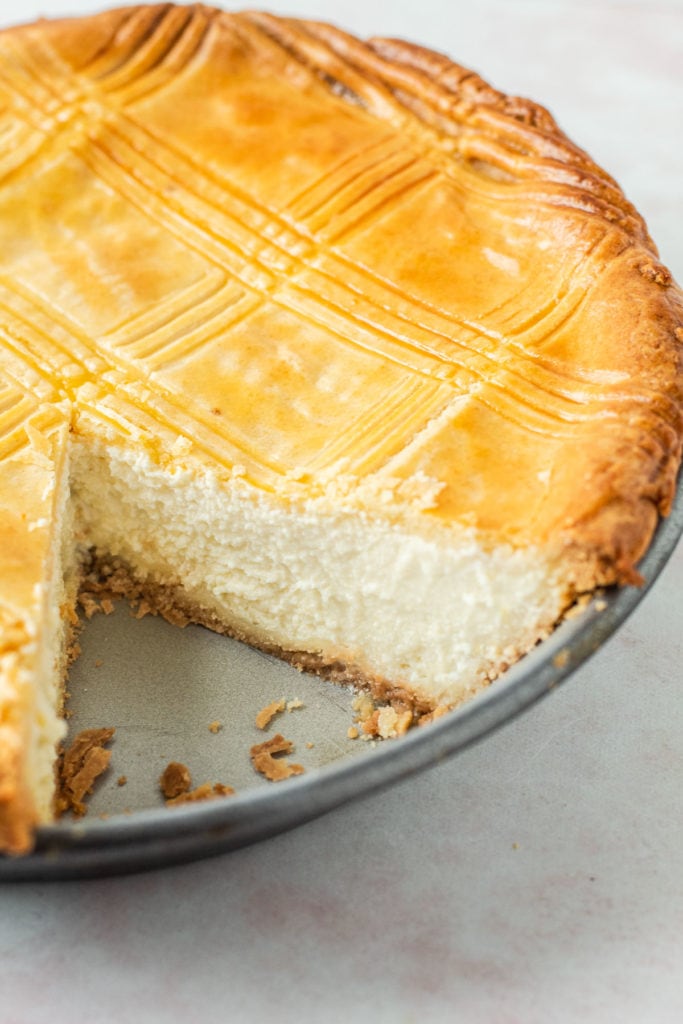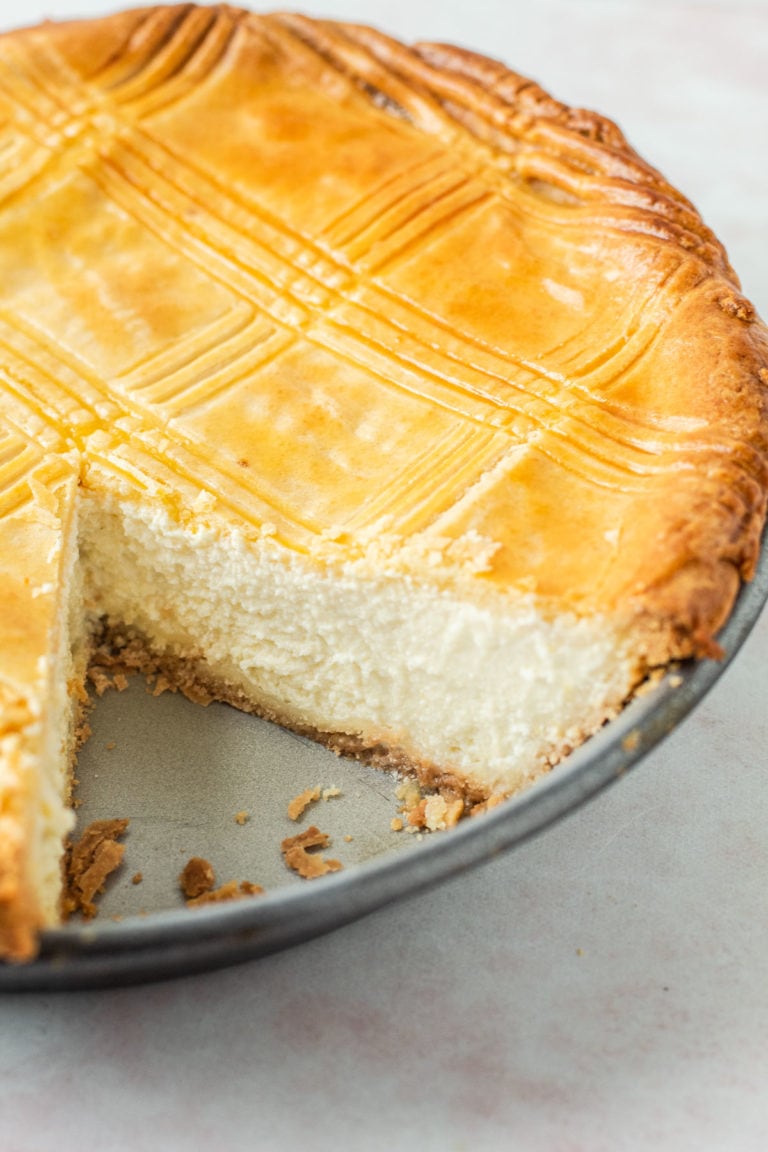 Sweet Italian Ricotta Pie
Nothing screams Easter in my family quite like a Sweet Ricotta Pie. With its lemon-scented Italian pie pastry (also known as Pasta Frolla) and its creamy ricotta cheese filling, it's a simple pie, but one everyone will absolutely love.
My grandfather tells stories of watching his grandmother make it (she immigrated here from Italy and made everything from scratch), but for as long as I can remember, he always bought one at the bakery for our Easter table. This year, I thought it was time to come up with my own family recipe since I don't have access to the one my own great-great-grandmother used to make.
My Papa walked me through his memory of the pie he used to watch her make, and I too added in my own twists to make it something special.
What results is a creamy pie, with understated flavors of lemon and almond, that is so lovely. While the pie is traditional for Easter, it will most certainly be welcomed any time of year.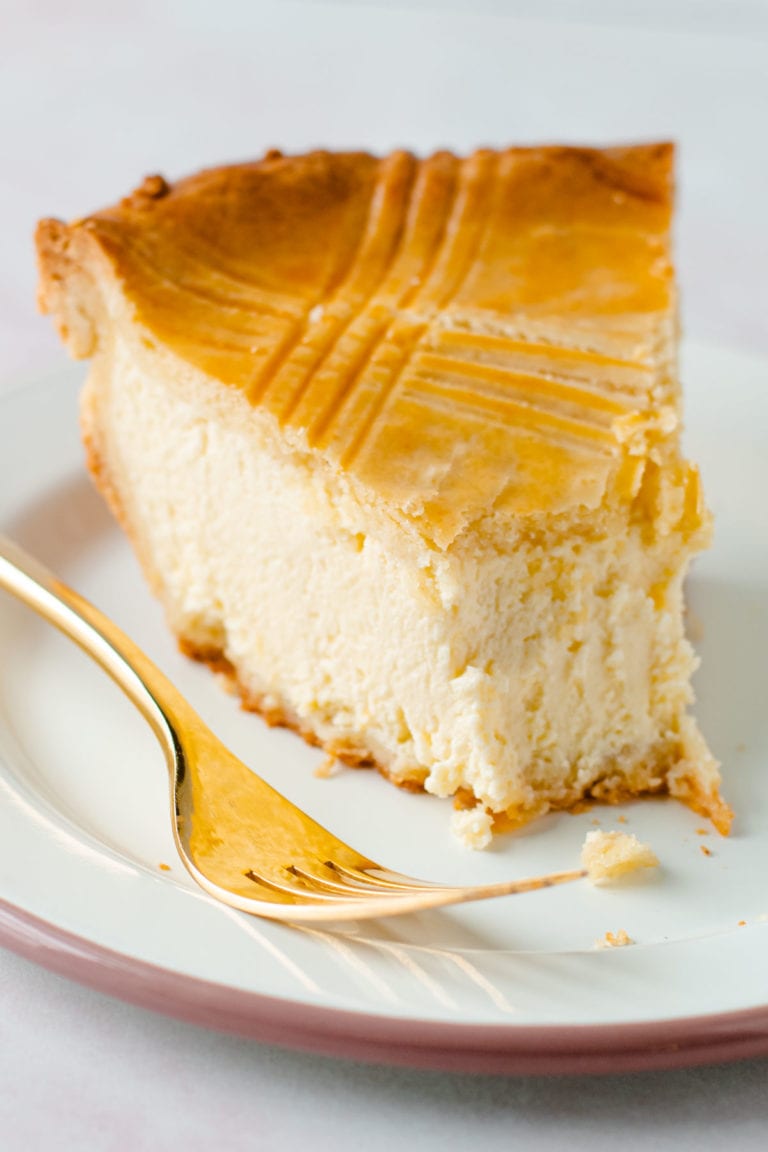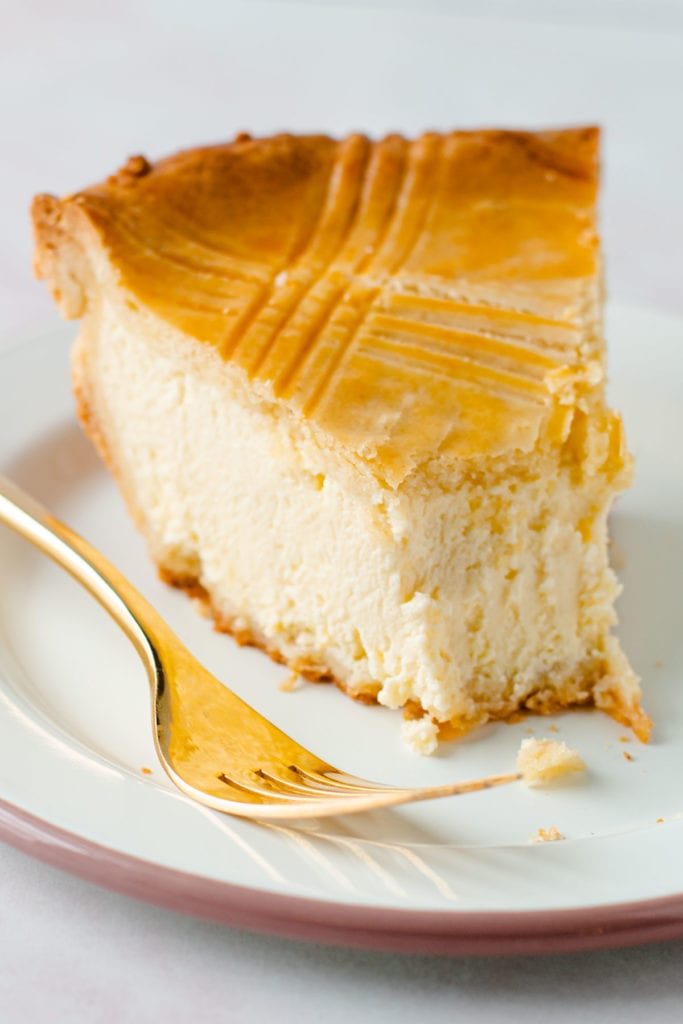 Let's Talk About That Ricotta Filling
Before we get into some details and tips for making it, I really wanted to address the texture of a ricotta pie.
First, let's talk about what ricotta is. Modern-made ricotta is a cheese that is produced simply by adding acid into milk, heating it, and "breaking it" so that the milk separates into curds and whey. The whey is strained out from the curds, and what you are left with is fresh ricotta. The longer you strain ricotta, the drier the ricotta is. This information is important for a few reasons.
If you are using a lower quality (read: cheap) ricotta, you likely have ricotta that hasn't been strained very well. If you don't take the additional step to strain it at home overnight, you may be left with a watered-down filling that is a bit too soft.
Additionally, the texture of your pie may be a bit off. In general, ricotta has a grainy texture to it; after all, it's made of curds, which are coagulated milk solids. But lower-quality ricotta that isn't well strained will have more defined grains which may be less than ideal for this pie.
In the recipe, I'm offering a few tips for how to combat this. In addition, if you wanted a very smooth filling, without the defined grainy texture, I'm sharing how to whip it in the notes of this recipe to get it to be a bit more creamy.
I am including this in the notes as opposed to a mandatory instruction because I find that ricotta with a small grain has a lovely texture and is quite appealing in this pie. However, speaking from experience, I do know that when some people try this pie, they are surprised by the grain of the ricotta. That's why I made mention of it here.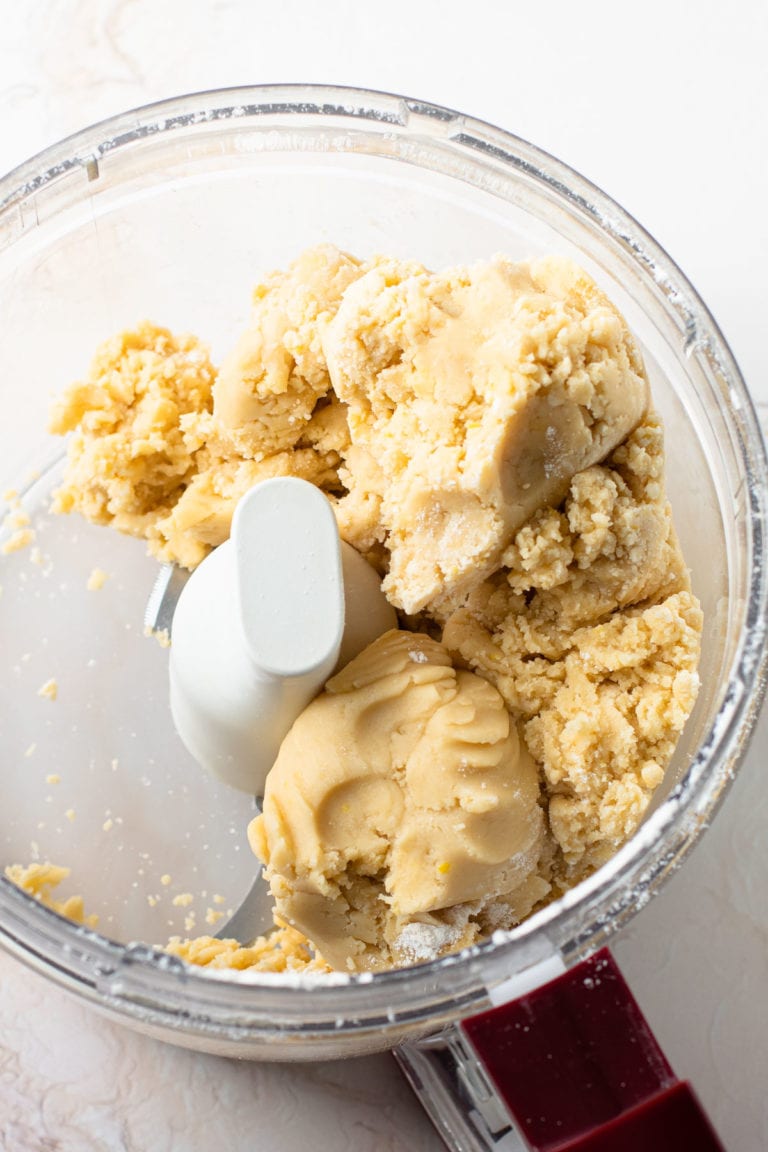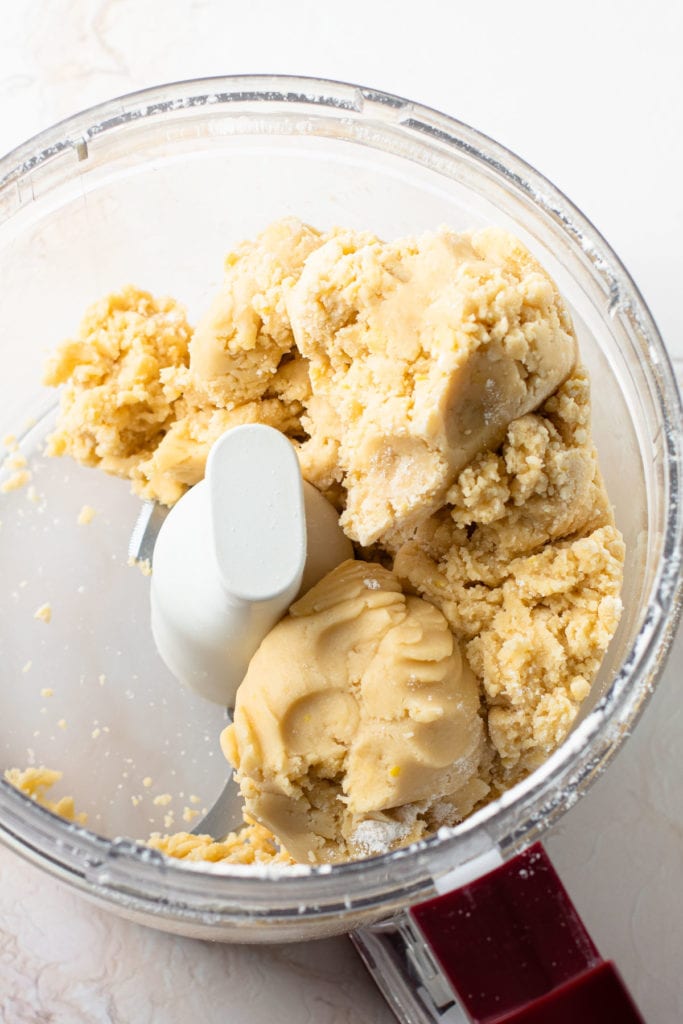 Making Pasta Frolla
Pasta Frolla is an Italian shortcrust pastry. It's easy to make, tastes amazing and because of the lower water content, it can be made and rolled out right away! The dough will be soft, but it's quite easy to work with right after it's been made.
However, I do recommend freezing the pie dough briefly before it is blind-baked, to ensure it doesn't slide into the pie plate. And yes, you do need to blind bake this pie. If you don't, the bottom pastry won't bake through, and nobody wants a soggy bottom.
Pasta frolla is made in the food processor, and it takes all of about 5 minutes to throw together.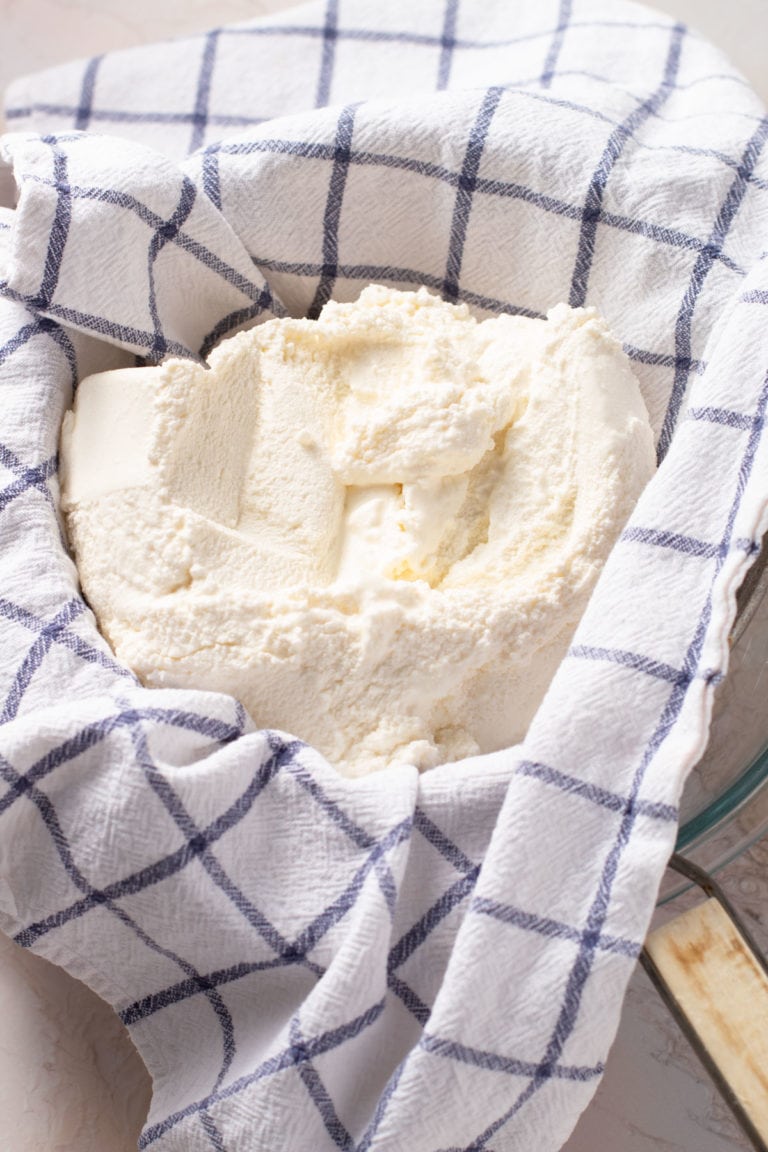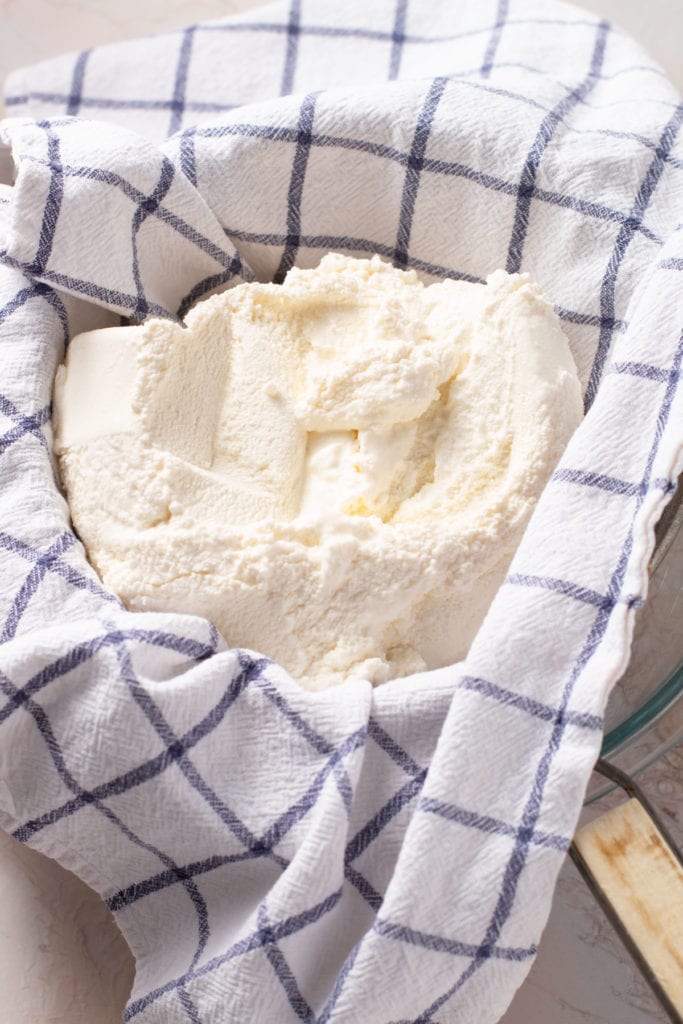 Making the Ricotta Filling
This filling contains just a few ingredients, but it is pretty magnificent. Ricotta is the star of the show of course. In case you missed it, up above I talk about the need to strain ricotta if you are using an inexpensive brand. Also, check out the notes in the recipe for tips on how to do this.
If you don't need to strain the filling, it's very easy to mix it together all in one bowl. The filling can be made in between the making and baking of the pie.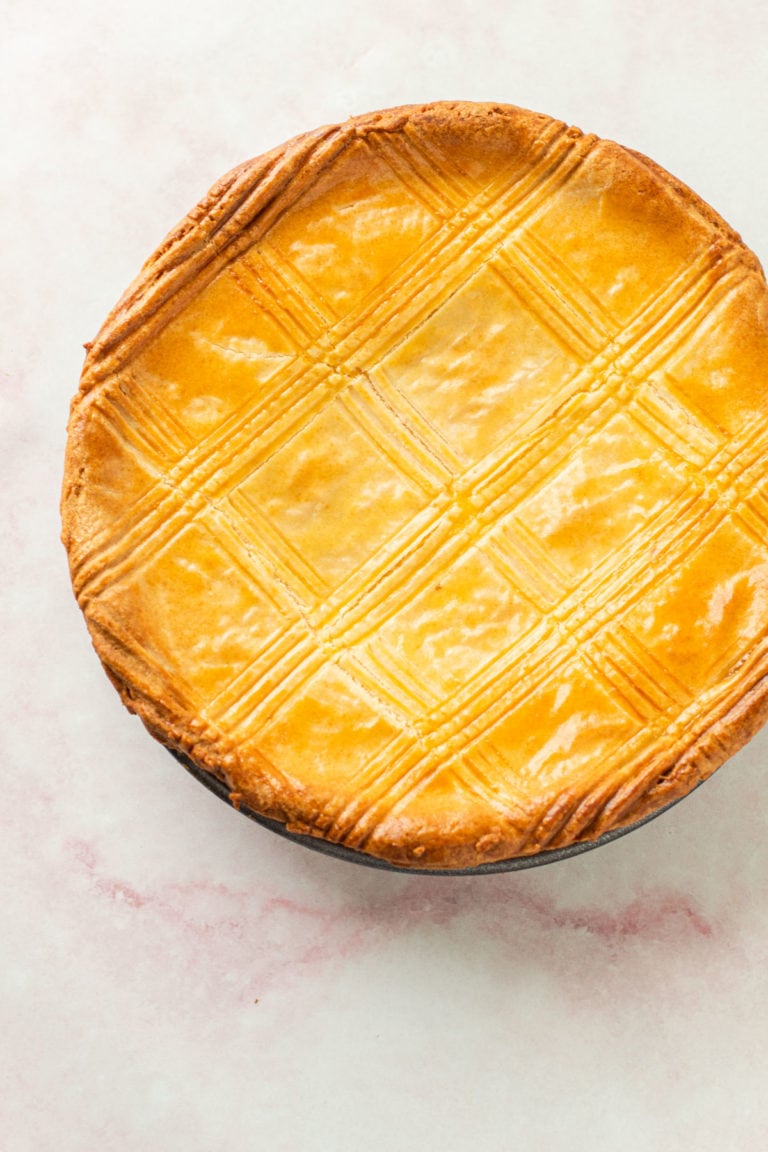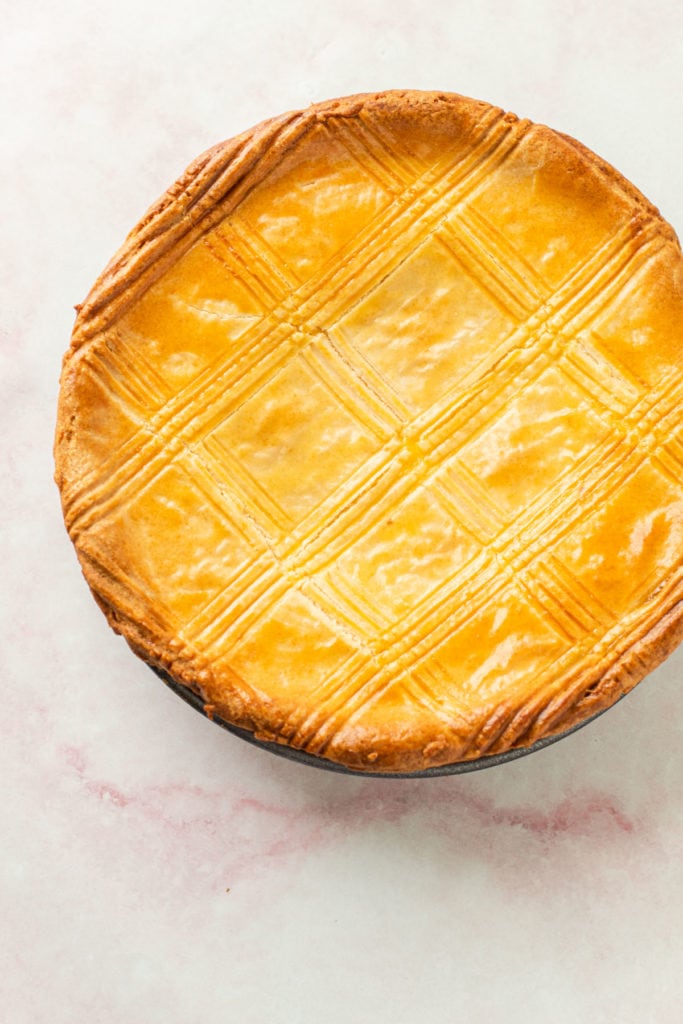 Options for the Top Pie Crust
There are two options for the decorative top crust. It may be a little obvious that I have a clear preference for which one is best. But first, let me explain that when this pie is baked, the ricotta filling puffs up and expands in the crust.
One option is to make a lattice top on the pie. It presents as a pretty pie (keep scrolling below the recipe and I've included a photo of a lattice top for this pie). If you do make a lattice, you might end up with a few broken lattice strands due to the expansion of the ricotta filling. You can dust the pie with a layer of powdered sugar to distract for some of the cracks, while still showcasing the lattice top.
Or, the better alternative is to make this a double-crust pie with a decorative fork-lattice design on it. Only, the scoring on the pastry isn't just decorative, it serves a purpose. The scoring of the pastry directs the pastry where exactly to crack during the expansion of the ricotta. Then, once the pie cools down and sinks back, you can hardly tell there was any cracking at all.
I definitely recommend using the double crust. Take your time scoring the pastry with the fork as this makes a difference and guiding the pastry to break in those weak points as the ricotta expands.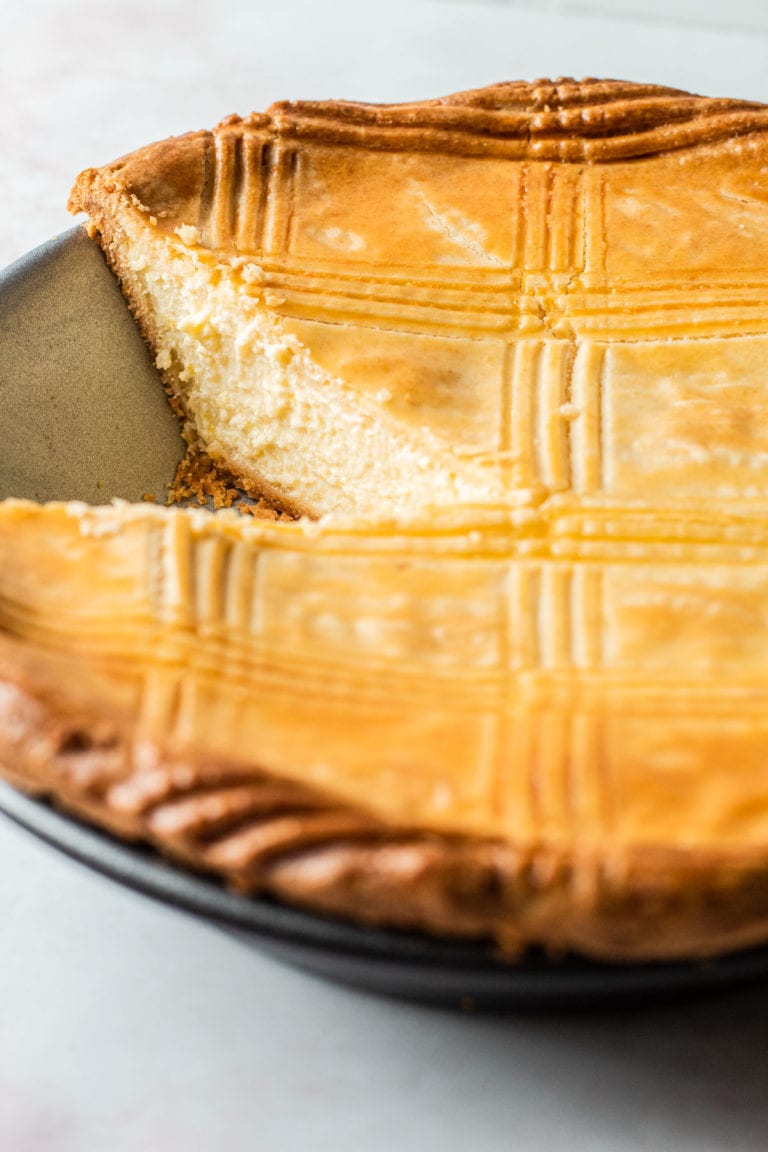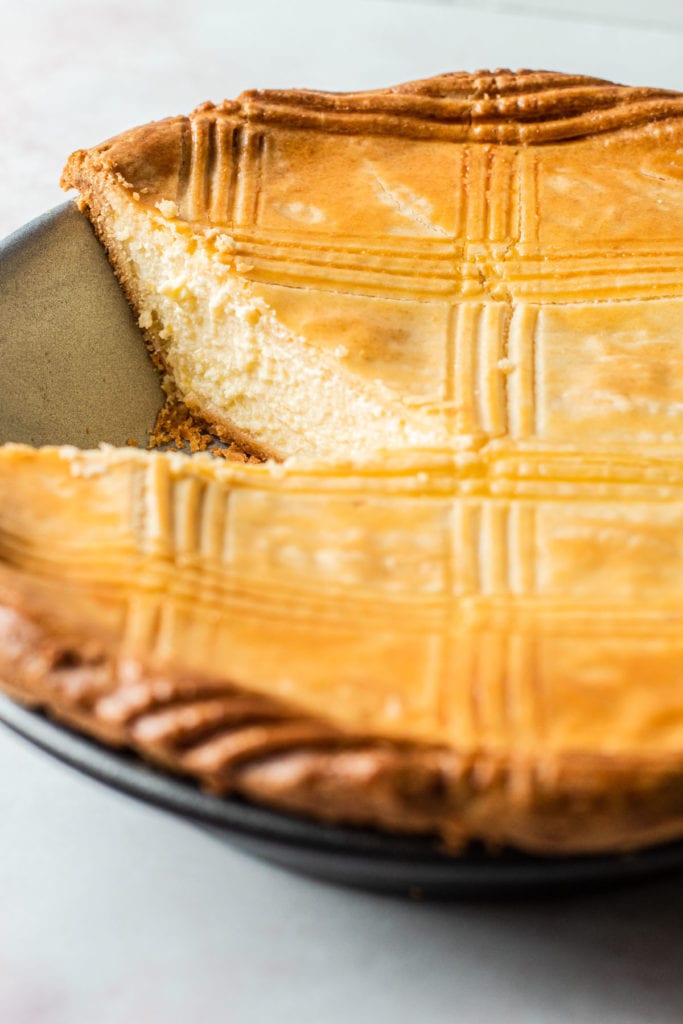 How to Tell When It's Fully Baked
Like other custard pies, this Ricotta Pie can be tricky to tell when it is fully baked. A custard pie will still be a bit jiggly in the center when it is fully cooked, but it will fully set up after it is cool. This filling will also puff up quite a bit as it cooks.
It is fully baked when the pie has puffed up nearly throughout, about 2-½ inches inward from the edge of the pie. It's hard to tell how the filling is underneath the double crust, but look for the crust to begin showing signs of cracking around the edges, hopefully along the lines of the fork marks, and to have puffed up nearly throughout the whole pie. The crust should also be fully baked and light golden brown throughout.
I have found that I can minimize the cracks if I pull the pie out of the oven when the filling has nearly puffed up throughout, with just a small portion in the center that hasn't yet risen.
When the pie cools, it will shrink back down and the cracks should be unnoticeable. However during the extensive testing process I had one rogue pies that had larger cracks. If all else fails, you can always cover it with dusting of powdered sugar!
Steps to Make in Advance
As with all pies, you can make some components ahead of time.
The pie crust can be made up to 3 days ahead of time. If you chill it before you roll it out, make sure to let it warm up enough before you attempt to roll it out. The recipe instructs you to roll it out directly after it is made because it is quite hard when it is chilled, so you will have to adjust for that if you are making it ahead of time.
The filling cannot be prepared ahead of time.
The entire pie can be assembled and baked up to three days in advance. Store the pie in the refrigerator and let it come close to room temperature before serving. It can be served directly from the refrigerator if you desire, but traditionally it is served closer to room temperature.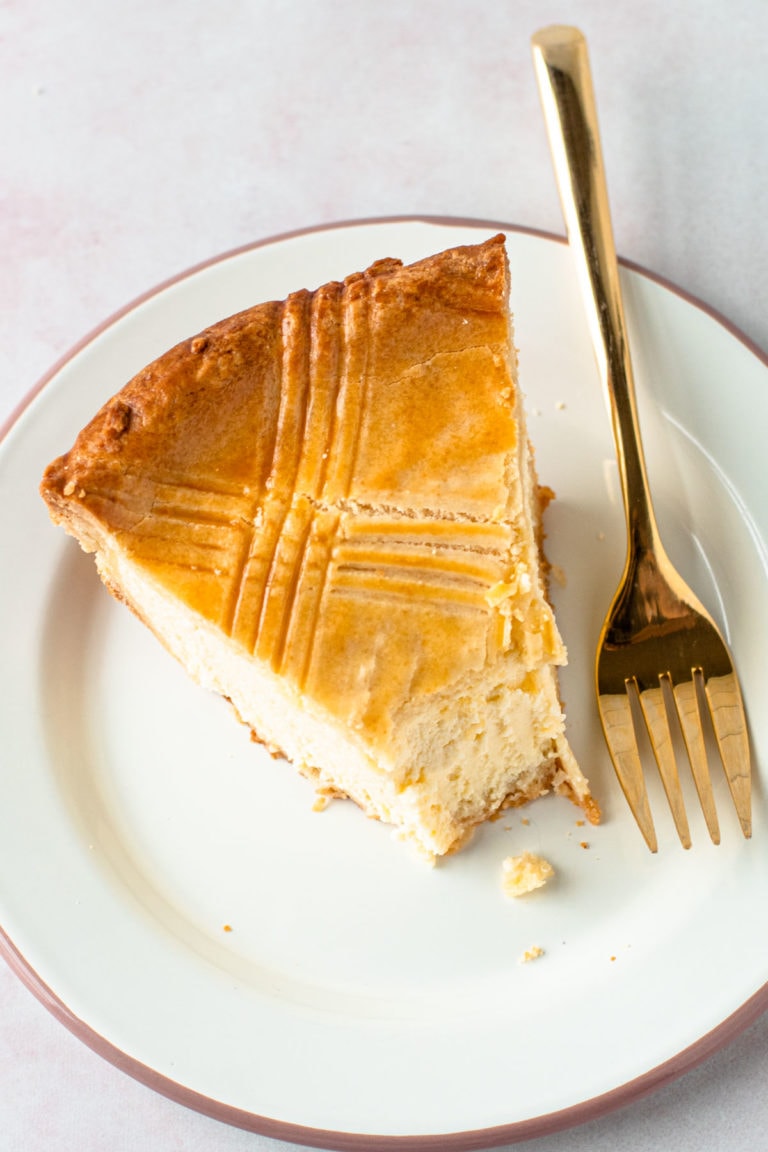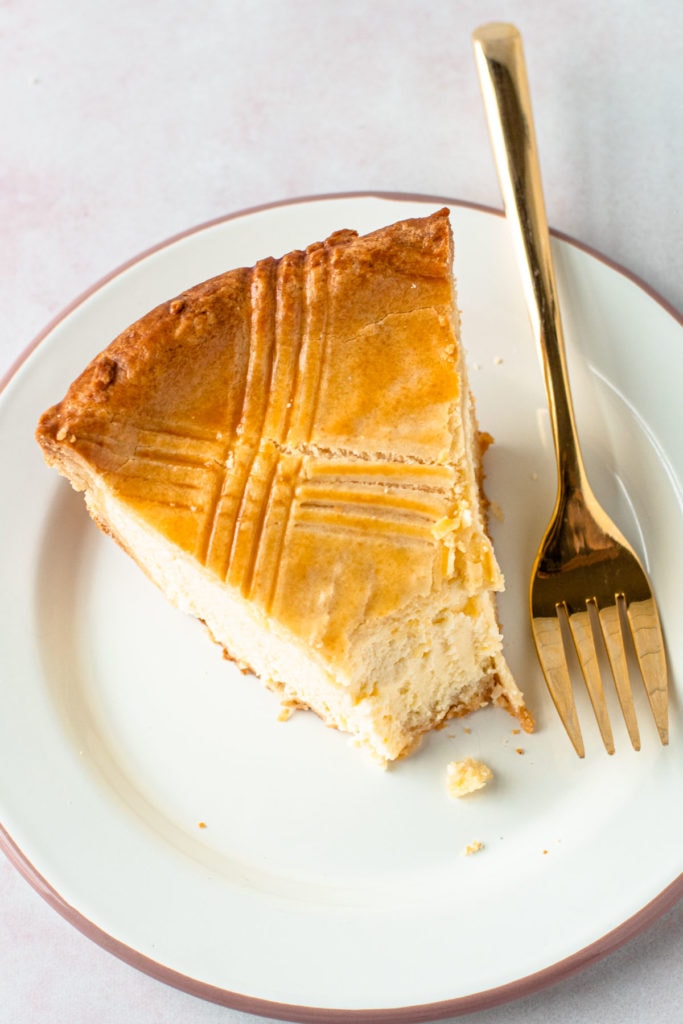 More Sweet Pie Recipes:
I am so honored when you make a recipe from my site! If you make this Sweet Ricotta Pie, please leave a comment and a star rating with your experience! If you have any questions about this recipe, feel free to comment here, too!
Print
Ricotta Pie
A creamy ricotta filling with a hint of lemon and almond is baked inside of a sweet Italian pie pastry. Typically served on Easter, but not exclusively, this Ricotta Pie is the star of the show at any meal. The ricotta typically needs to be strained, so prepare ahead of time since this process takes at least 8 hours in the refrigerator or overnight. Please also note this pie requires a 9" deep-dish pie pan.
Author: Kelli Avila
Prep Time:

00:25

Cook Time:

01:15

Total Time:

01:40

Yield:

Serves 8

Category:

Sweet

Method:

Oven

Cuisine:

Italian
Pasta Frolla:
3 cups

(

360 grams

) all-purpose flour

½ cup

(

60 grams

) powdered sugar

½ teaspoon

baking powder

1 teaspoon

lemon zest

½ teaspoon

salt

1 cup

(

226 grams

) unsalted butter

2

large eggs
Ricotta Filling:
32 ounces

(

905 grams

) whole-milk ricotta, strained if very watery (see notes)

¾ cup

(

150 grams

) granulated sugar

4

large eggs

1 teaspoon

lemon juice

1 teaspoon

lemon zest

⅛ teaspoon

almond extract
Egg wash, for assembling
Instructions
Preheat the oven to 375ºF
Add the flour, powdered sugar, baking powder, lemon zest and salt to the bowl of a food processor, and pulse until well combined.
Add in the butter and pulse 5-7 times, or until the butter is broken down into tiny pebbles.
With the motor running, add in the eggs and let the dough process until it forms together into a cohesive ball around the blade, about 1 minute.
Transfer the dough to a work surface dusted with flour. Divide the dough in half.
Roll out half of the dough to a rough 11″ circle and place inside of a 9″ deep-dish pie plate, tucking the ends of the pastry underneath themselves to form an edge. Pierce the bottom of the pastry multiple times with a fork to allow the steam to escape when baking. Place the pastry in the freezer to chill while the oven preheats, or at least 10 minutes.
Roll out the other half of the dough to a rough 10-inch circle. Place the pie dough on a flat surface (such as a sheet pan) that can fit in your refrigerator. Cover, and transfer to the refrigerator to chill.
Remove the bottom crust from the freezer and line the pastry with a round piece of parchment paper and then add pie weights to fill (or dry rice or beans or lentils), making sure to push pie weights up against the edges. Bake for 20 minutes on the lower rack, then remove from the oven and remove the parchment and pie weights. Return to the oven and bake for an additional 5 minutes.
Remove from the oven and let cool for about 15 minutes.
Meanwhile, make the filling: Add the (strained) ricotta to a large bowl. Whip it with a whisk for 30 seconds until lightened. Add the sugar, eggs, lemon juice, lemon zest, and almond extract and whisk together until well combined.
Transfer the filling to the slightly cooled pie shell.
Whisk together an egg with a bit of water to make an egg wash.
Remove the rolled-out top crust from the refrigerator. Score the top crust with the fork in a lattice pattern by evenly pressing and dragging the fork on the pastry. You want to get a good score on it, but make sure not to cut through the pastry.
Brush the egg wash on the top crust as well as on the edges of the baked bottom pie crust (this will help the top crust seal to the edges). Transfer the top crust pastry on top of the ricotta filling. Seal the top crust into the edges, and cut off any excess dough.
Bake the pie on a rimmed baking sheet in the middle part of the oven for 40-50 minutes, or until the top is golden and shiny and the filling has just nearly puffed up throughout, leaving just a small portion in the middle that has not risen.
Let cool for at last 2 hours. Serve at room temperature or cold.
Notes
This pie requires a 9" deep-dish pie plate. I used this metal deep-dish pie plate (affiliate link) because I like the conduction of heat to ensure a crisp crust for this pie. If you do not have a 9" deep-dish pie plate, you will not be able to use all of the filling. Set the filling aside and you can even bake it in a ramekin to have a ricotta custard. Just make sure not to try to use up all the filling in a regular-sized pie plate because the pie could overflow. Alternatively a 9.5 or 10" pie plate will also work.
The filling for this pie can also be made with an electric mixer if you don't want to do it by hand.
Sometimes it can be difficult to tell if your ricotta needs to be strained if you've never baked with it before. A good rule of thumb is that unless you are buying a local or higher-end brand you likely should strain it. I like Calabro brand, and find that it does not need to be strained. If you aren't sure, you can go ahead and strain it anyways. To strain ricotta, place a fine-mesh strainer over a bowl. Line the fine mesh strainer with two layers of cheesecloth. An alternative to this is to use a nut milk bag if you have one of those. Place the ricotta in the cheesecloth and smooth the ricotta over to get a flat surface. Transfer the ricotta to the refrigerator to strain for about 8 hours or overnight. Discard any liquid left at the bottom of the bowl. Then the ricotta is ready to use.
My Italian great-grandmother whipped her ricotta like it was heavy cream before she made this recipe. This results in a smoother final texture of the pie. I prefer the more natural feeling of the ricotta in this pie, so I don't call for it in this recipe, and instead just whisk the ricotta together briefly before adding in the remaining ingredients. But if you'd like a smoother final texture, whip the ricotta until it has reached a consistency of thickened heavy cream before moving on to adding in the additional ingredients. I found using an electric mixer makes quick work of this.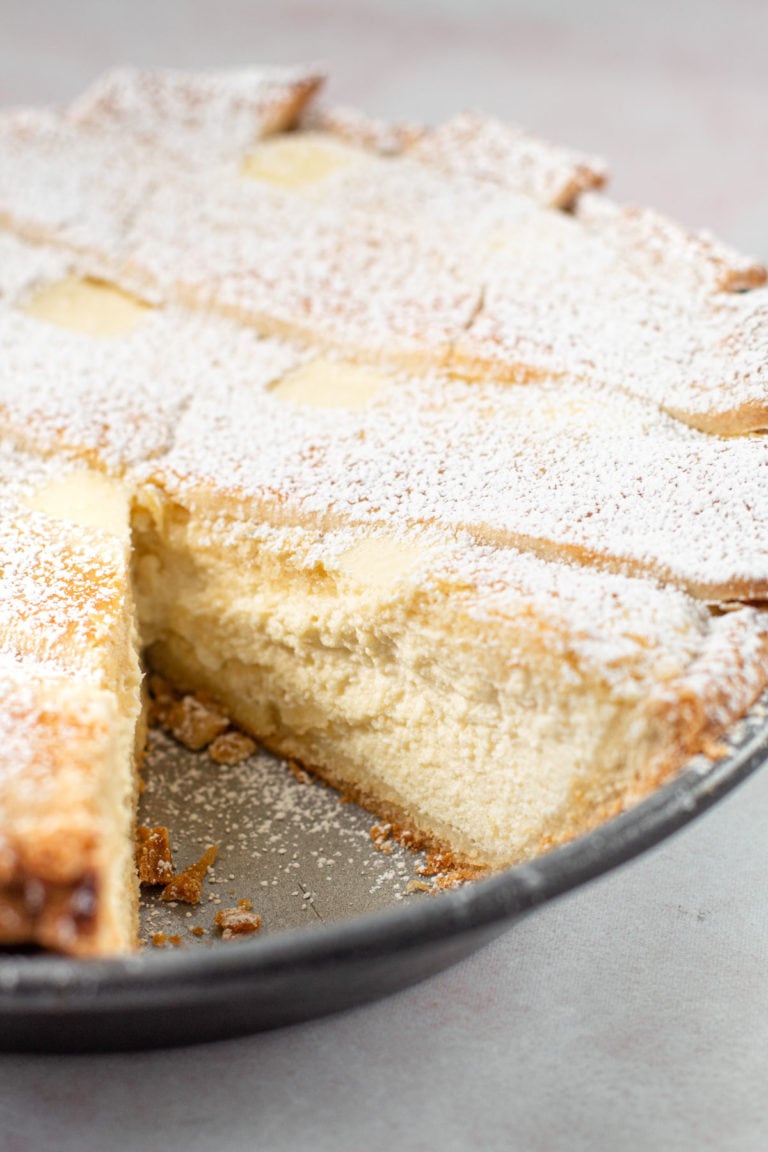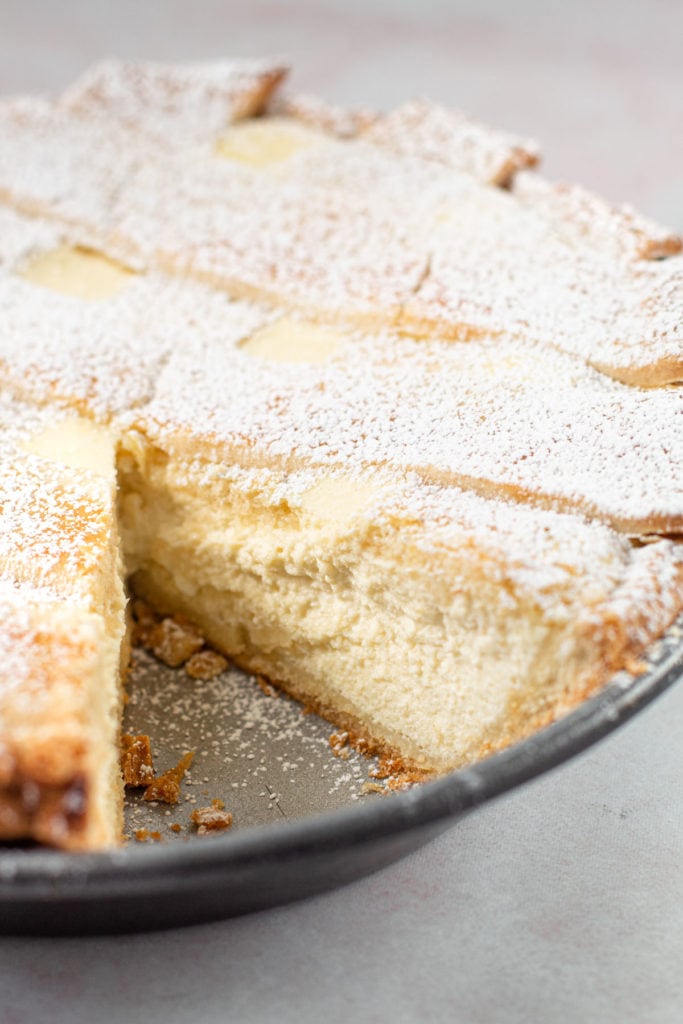 Some of the links on this page may be affiliate links. Everyday Pie is a participant in the Amazon Associates Program. As an Amazon Associate I earn from qualifying purchases, at no extra cost to you.