A perfect Banana Cream Pie has homemade vanilla pudding, studded with fresh banana, topped with silky whipped cream and tucked inside of a vanilla wafer and walnut crust. It turns this pie into a cross between a banana cream pie and banana pudding, and it's exactly what you should be eating right now.
Banana Pudding Pie
When you are in need of some comfort food, head to the fridge and the pantry and get to baking! This Banana Cream Pie is just what is called for when you are feeling like being wrapped up in the security of something delicious. And truly, it's not that hard to make either. Yes, there are three components to put together--the crust, the pudding and the whipped cream--but the end result is worth the effort!
Definitely don't take any shortcuts on this one because homemade vanilla pudding is worlds away from anything you can get out of a box. The pudding is so silky and is studded with fresh bananas with piles of whipped cream and more fresh bananas--and it's simply amazing.
So, let's get to making it, shall we? The text below offers tons of tips and helpful notes, or you can scroll to the bottom to grab the recipe and get started!
Ingredients Needed
Here is an overview of the ingredients needed for this recipe. The full recipe is listed below in greater detail.
bananas

sugar

cornstarch

salt

eggs and egg yolks

whole milk

unsalted butter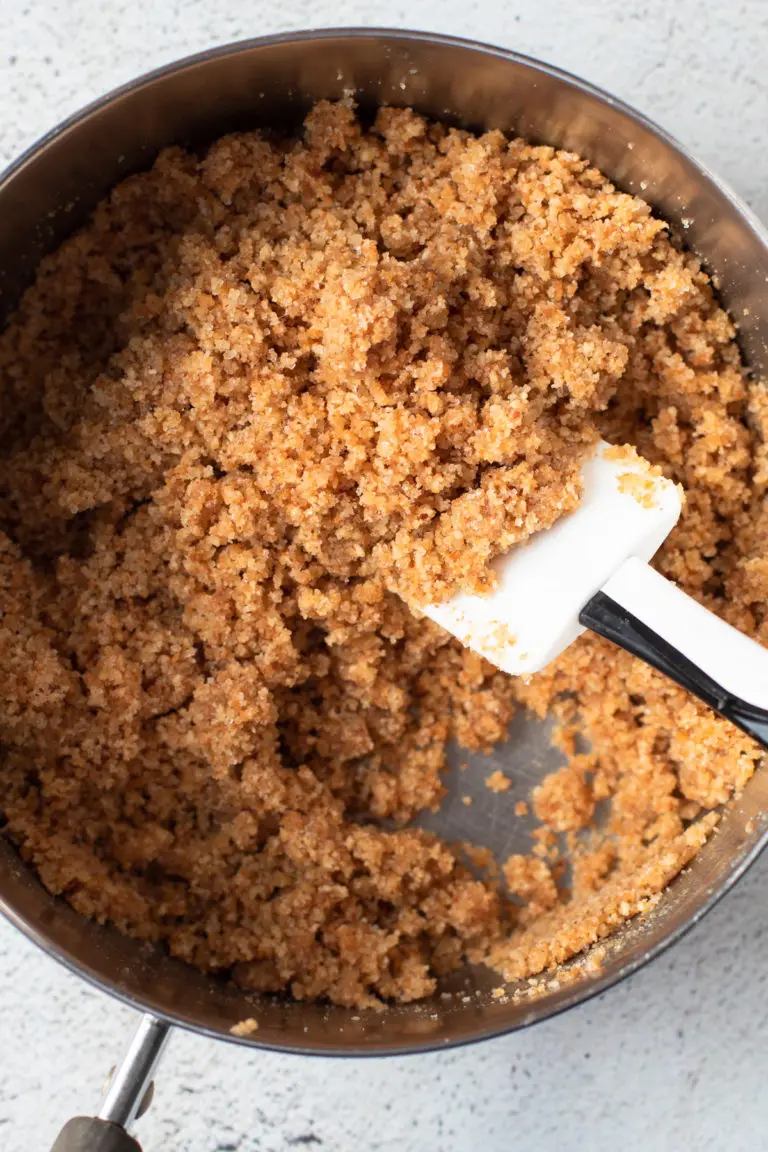 Pie Crust Options
There are a few crust options for this pie. My first choice for this is a Vanilla Wafer and Nut Crumb Crust. It's so delicious and makes this pie taste like a cross between banana cream pie and banana pudding. Plus, choosing a crumb crust option will make this pie easier to make!
A Pâte Sucrée is a just sweet pie crust that is very stable and also a great choice for this pie. If you are looking for a really neat slice, choose this one.
A final option is to make it in a Graham Cracker Crumb Crust. It's a classic and will fit in nicely here.
Need this to be gluten-free? Make this basic gluten-free butter pie crust. Just be sure to fully blind bake the crust.
How to Make the Vanilla Pudding
The vanilla pudding is the backbone of this recipe! And, if you've never made homemade pudding before, let me tell you that it is really simple and so delicious. The pudding is made in one pot and doesn't require any tempering of the eggs. You start by whisking together the sugar, cornstarch and egg yolks and then, add in the milk.
The whole mixture is cooked over medium heat, while you alternate between whisking and using a rubber spatula to scrape up any thickened bits from the bottom. What makes this work is that the egg yolks are slowly heated with all of the ingredients at once so they don't scramble. The added cornstarch helps to stabilize the egg yolk mixture too, in addition to thickening the pudding. Once you've cooked the pudding, strain it, and whisk in the butter and vanilla extract.
A few tips on making the pudding:
Be sure to have a rubber spatula and a whisk handy. I use both to make sure the the mixture cooks evenly. I swap between using them while I'm cooking the pudding to be certain I'm getting all the mixture out of the crevices of the pot, while whisking to ensure a consistent cook.
Don't walk away from the pudding. It takes no more than 10 minutes to cook. Also, it's super important to stir almost constantly in the beginning when you are cooking to ensure no egg yolks get stuck to the bottom of the pot and scramble.
Strain the pudding to get rid of any small bits of cooked eggs you might have. It makes the final pudding so smooth.
Be sure to put the cooked pudding directly into the prepared pie crust. It will set pretty firm; therefore, you want to make sure the pudding does so inside of the pie crust instead of in a bowl. If you whisk it after it's been cooled, it has the potential to break down some of the structure of the pudding. That will make serving the pie difficult because the pudding could be loose.
Assembling the Pie
Once the pudding is made, the bananas will be immediately folded into the warm pudding mixture and placed directly in the pie crust.
Then, the pie has to cool. It must be cooled completely before topping it with whipped cream.
Once it has chilled, go ahead and get creative when topping it with whipped cream! You can just place it on top, or you can pipe it or swirl it on! You can also decorate with additional bananas, just be sure to only place them on right before serving, as they will brown quickly.
More cream pie recipes:
---
I am so honored when you make a recipe from my site! If you make this Banana Cream Pie, please leave a comment and a star rating with your experience! If you have any questions about this recipe, feel free to comment here, too!
Print
Banana Cream Pie
Comfort food at it's finest, this Banana Cream Pie is everything you want it to be. Homemade vanilla pudding is studded with fresh banana, topped with silky whipped cream and tucked inside of a vanilla wafer and walnut crust. It turns this pie into a cross between banana cream pie and banana pudding, and it's exactly what you should be eating right now.
Author: Kelli Avila
Prep Time:

00:25

Cook Time:

00:30

Total Time:

55 minutes

Yield:

8-10 servings

Category:

Cream Pie
For Vanilla Wafer Crust:
6 ounces

(

170 grams

) vanilla wafers (about 27 cookies)

½ cup

(

2 ounces

;

55 grams

) unsalted nuts (see note), optional

4 tablespoons

(

56 grams

) unsalted butter

¼ cup

(

50 grams

) granulated sugar
For Banana Pudding Filling:
½ cup

(100 grams) granulated sugar

¼ cup

(30 grams) cornstarch

pinch salt

2

egg yolks

2

large eggs

3 cups

(680 grams) whole milk

2 teaspoons

vanilla extract

2 tablespoons

(30 grams) butter

3

bananas, peeled and sliced
For Stabilized Whipped Cream:
2 tablespoon

s (

30 grams

) cream cheese, softened

¼ teaspoon

vanilla extract (optional)

1 cup

(

230 grams

) heavy cream
Instructions
Preheat the oven to 350ºF.
Place vanilla wafers and nuts (if using) in a food processor and process until fine crumbs form.
Melt butter in a medium pot. Add vanilla wafer crumbs and sugar to the pot and mix together until completely combined.
Pour the crumbs into the pie plate and start pressing the ingredients up the sides of the pie plate to form the edges first. Once the edges are formed work the crumbs down to evenly distribute into the bottom of the pie plate and pack it down into an even layer.
Bake in the preheated oven for 10 minutes, until lightly golden and fragrant.

Meanwhile, make the puffing: Whisk together sugar, cornstarch, and salt in a medium saucepan. Whisk in yolks, eggs and milk until fully combined. Turn on the heat to medium and cook the mixture, whisking constantly, and occasionally taking a spatula and scraping up any thickened pudding in the edges of the pan. Cook until the pudding has completely thickened and large bubbles are forming and popping, about 8 minutes.

Remove from heat; immediately pour through a fine mesh strainer into bowl, using a spatula to push all the pudding out while leaving behind any bits of cooked egg. Whisk in the butter and the extract until fully combined. Mix the

sliced bananas into the pudding and pour the pudding into the prepared pie crust and smooth over the top. Let cool at room temperature before chilling in the refrigerator for at least 3 hours or overnight.

Make the whipped cream: Add the softened cream cheese to the bowl of an electric mixer. Using the whip attachment, briefly beat the cream cheese until it has lightened. Add the vanilla extract and cream and whip until medium soft peaks have formed, scraping down the bowl as needed.

Place whipped cream on top of the pie. Using an offset spatula spread the cream evenly on top of the pie, or as desired. Garnish the pie with additional banana pieces.

Serve immediately or keep chilled until ready to serve, up to 1 day.
Notes
There is no sugar added to the whipped cream because this pie is already pretty sweet, and the unsweetened cream is just right here! Want to skip the stabilized whipped cream, and just make traditional whipped cream, check out this recipe.
Have a question or looking for tips? The text written above the recipe is always a great first place to start! There are always loads of explanations, tips and technical advice shared before the recipe.
Keywords: Banana Cream Pie
Some of the links on this page may be affiliate links. Everyday Pie is a participant in the Amazon Associates Program. As an Amazon Associate I earn from qualifying purchases, at no extra cost to you.