Made using simple ingredients, this Vanilla Bean Panna Cotta is an elegant yet easy-to-pull-off dessert. This classic Italian custard, made without eggs, uses gelatin to achieve that creamy, beautiful texture. New to gelatin? Don't worry, this Perfect Panna Cotta recipe has everything you need to know.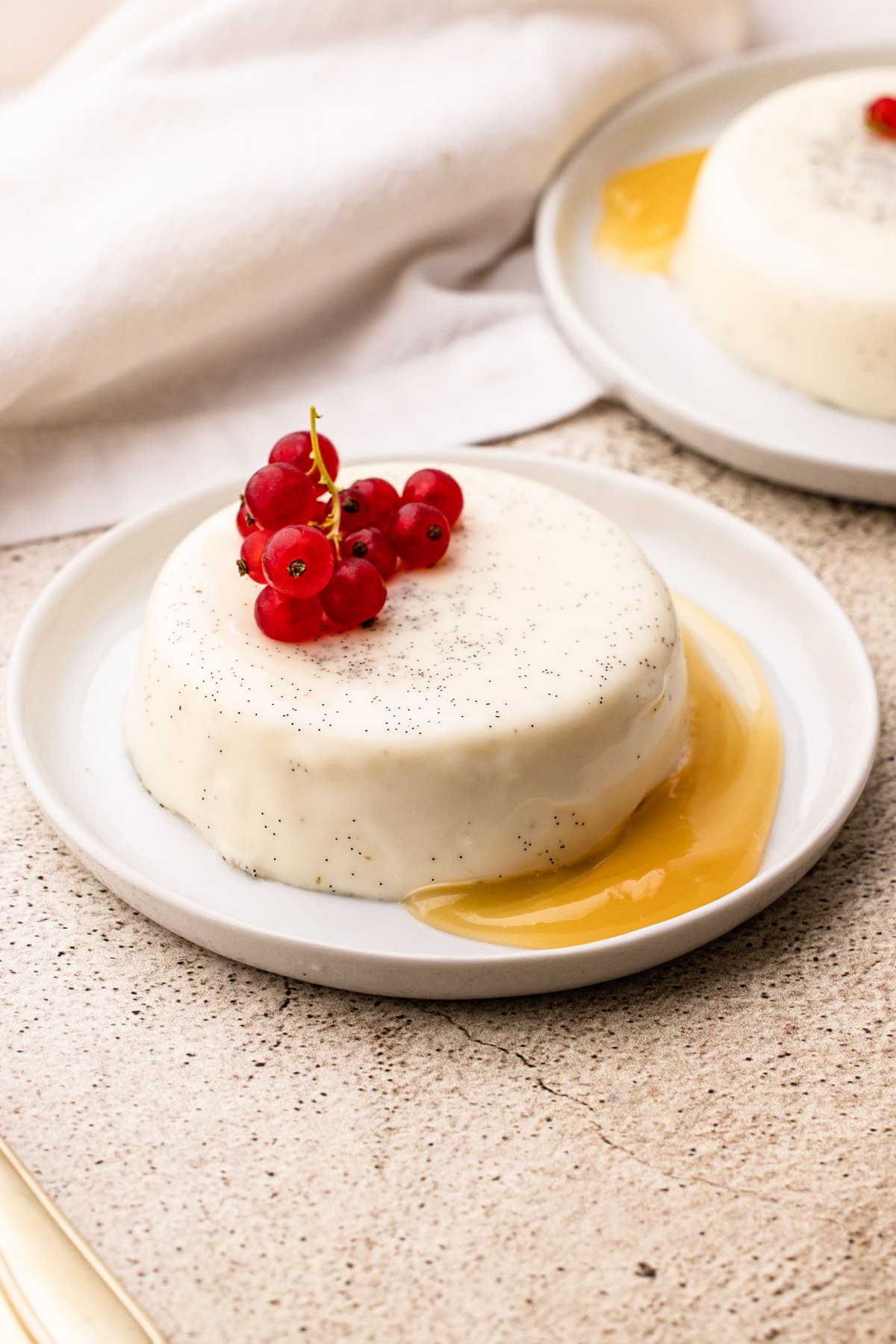 Panna cotta, a dessert usually associated with high-end dining crafted by pastry chefs, has a delightful secret: it's incredibly simple to recreate at home. This no-bake Italian custard is unencumbered by eggs or heat from the oven, resulting in an amazingly creamy texture and super vibrant vanilla bean flavor.
This panna cotta recipe is extra decadent and achieves the perfect consistency thanks to a special ingredient and proper preparation technique. Think "vanilla" is bland or boring? You won't after tasting this.
Panna cotta is versatile and can be dressed up (maybe with some lemon curd, or strawberry pie filling or caramel) for an elevated after-dinner sweet or kept simple and cozy for an everyday dessert.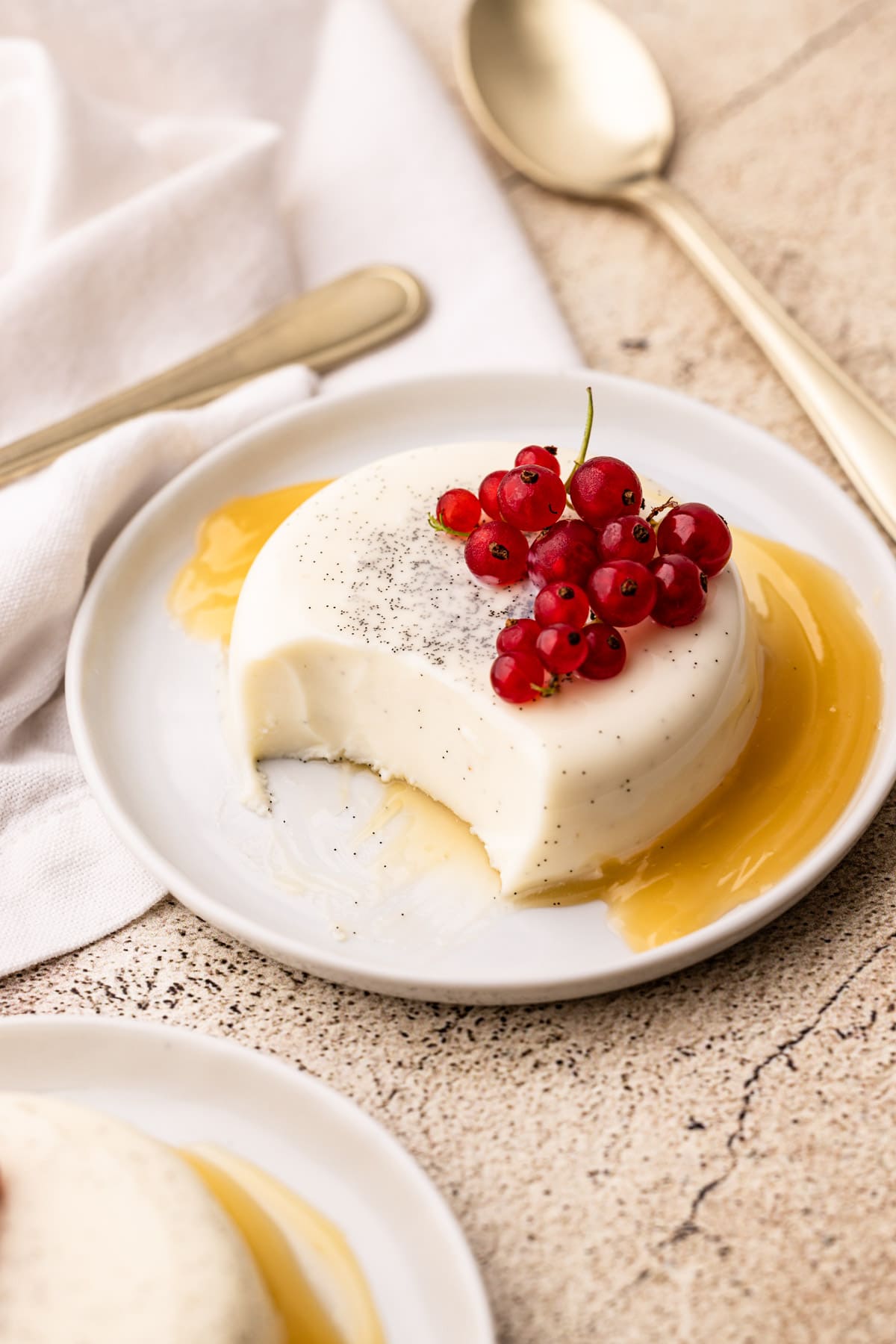 So, let's get to making it, shall we? The article below is jam packed full of useful information. You can jump around using the menu below, or skip to the end of the article for the full recipe.
Jump to:
What is Panna Cotta?
Panna cotta is a classic Italian dessert known for its creamy and silky texture. The name "panna cotta" translates in English to "cooked cream." It's very similar to an American-style custard, except unlike a custard, panna cotta doesn't contain any eggs; instead, it's set with gelatin. This results in a dessert with a creamy, firm-yet-delicate consistency, and is typically served chilled.
It can be served as a molded dessert or in a bowl (like pudding). We'll dive into the details of this later in the article.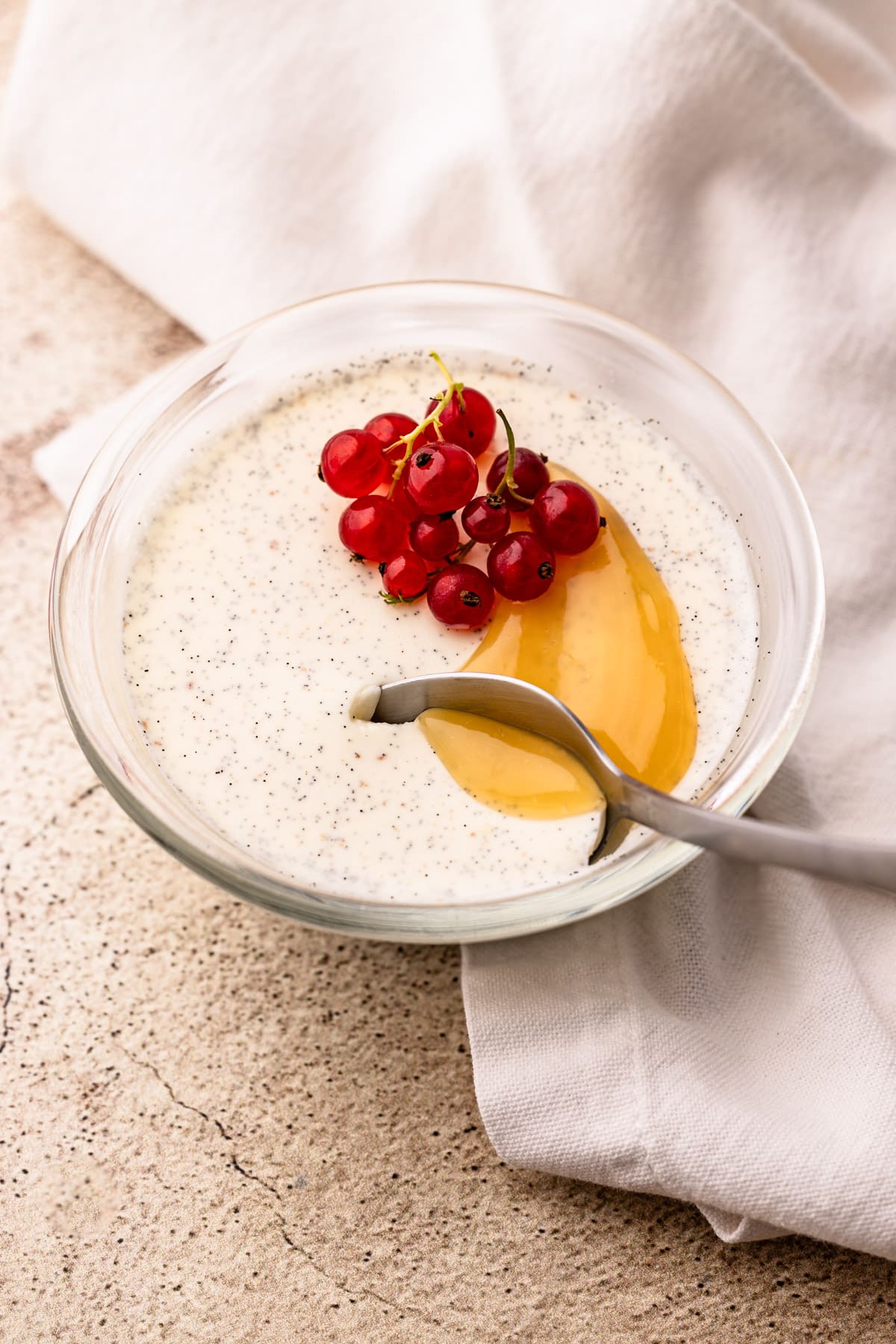 Behind the Scenes of the Development Process
I have a confession to make: I used to think I hated panna cotta. Many times it was on the menu of the restaurants I was cooking in, and I'd always get annoyed for those weeks when I'd have to churn them out, even if they were simple to prepare. But it turns out I just wasn't making a version that I liked.
Then I made this Key Lime Pie recipe, which essentially has a panna cotta filling, except I developed the recipe to avoid the things I disliked most about typical panna cotta. After that, the floodgates were opened to the possibility of other panna cotta desserts. And after I published this Vanilla Bean Ice Cream (which isn't like any other vanilla bean ice cream I've ever had) I knew I needed to flavor my first panna cotta recipe using vanilla bean.
So you might be wondering: what makes this recipe different? And it all comes down to the texture. Gelatin is not my favorite ingredient to use to set custards because it can feel rubbery. So I needed to make sure the panna cotta had just the right amount of gelatin added to it to combat this.
In addition, I disliked how "insubstantial" most panna cotta I have tried tasted. I always felt it was lacking something, so it was important to me to have a full-bodied custard in both taste and texture.
And finally, for this vanilla bean panna cotta, I needed the vanilla flavor to hit you over the head. Despite vanilla sometimes being unfairly labeled as bland, when you use real vanilla beans, it shouldn't take a back seat to other flavors. Instead, using a vanilla bean should elevate the other ingredients of the dish to stand alongside the prominent, unctuous, velvety vanilla flavor.
With all of this in mind, I embarked on developing the perfect panna cotta recipe, and I'm confident the results check off all those boxes.
Ingredients Needed and Substitutions
Here is a brief overview of the ingredients needed for this recipe. The full recipe with quantities is listed below this text in the recipe card. If substitutions are available for this recipe, they'll be listed here. If you don't see a substitution you are looking for, please leave a comment below.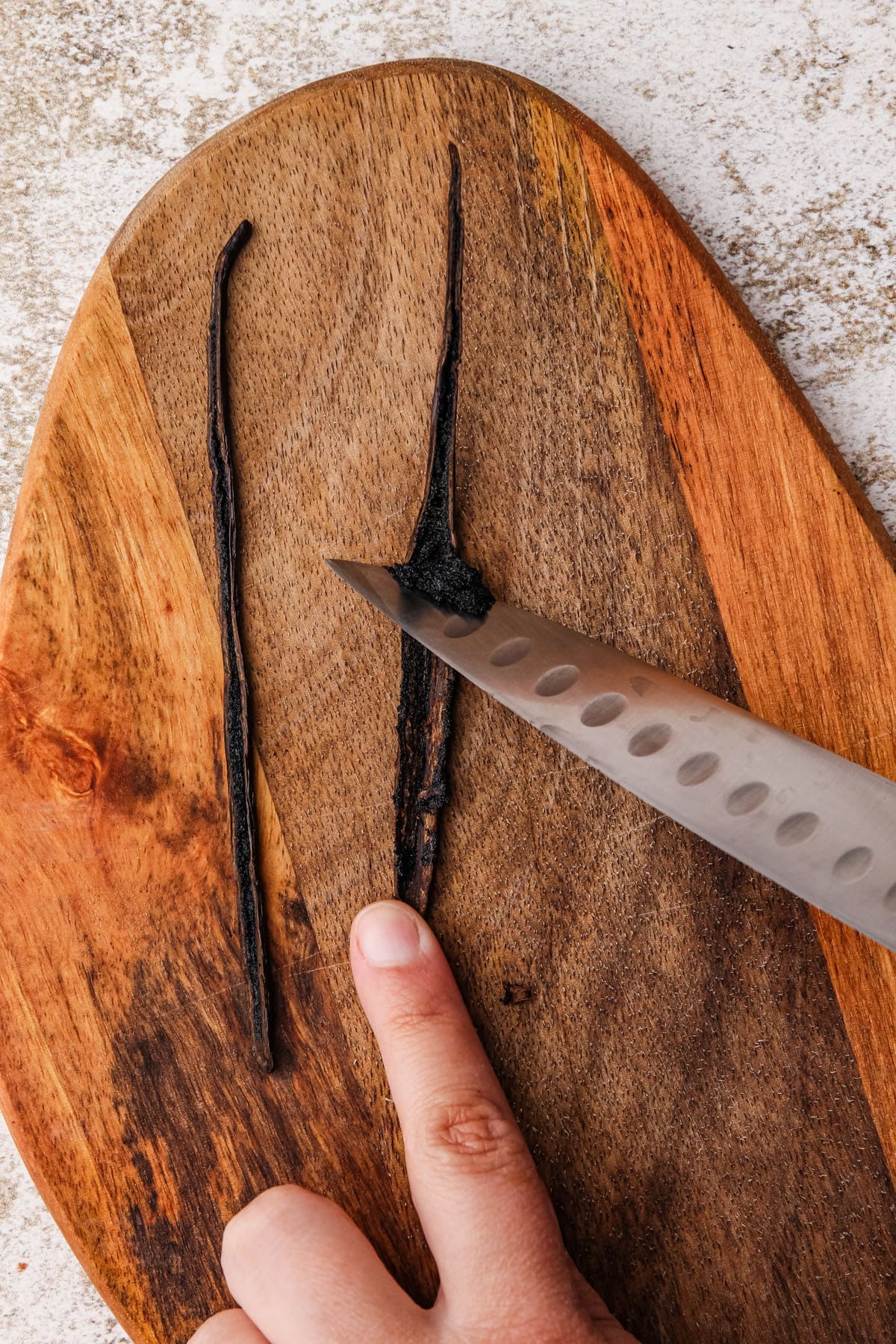 heavy cream
whole milk
fresh vanilla bean (see more on this below)
powdered gelatin (see more on this below)
granulated sugar
cream cheese (this is what gives this panna cotta recipe it's velvety texture and consistency and full-bodied flavor)
salt
Let's Talk Vanilla Beans
You will need one Grade A vanilla bean for this recipe. You must use a high-quality bean that is plump and fresh-looking for best results.
The vanilla bean is used in two ways in this recipe.
First, the vanilla bean "caviar" (aka the seeds you remove from the vanilla pods) is removed and added into the sugar. The caviar tends to clump in liquid, especially from fresh and plump vanilla pods. To prevent this from happening, the recipe instructs rubbing the vanilla bean into the sugar so it will be evenly distributed.
Second, the leftover vanilla bean pod is infused in the cream for 30 minutes. Grade A vanilla beans, also referred to as "prime" or "gourmet," are preferred over Grade B as they contain more moisture. This feature is necessary for this recipe because it allows the bean to quickly infuse into the cream in a short period of time.
Best Way to Buy Vanilla Beans
Vanilla is precious and therefore expensive, and there is no way around it. However, it's more cost-efficient to purchase vanilla beans online, instead of buying them in the store. They can cost upwards of $10 for one vanilla bean when you purchase them in a store, which feels like a steep price to pay.
I typically buy vanilla beans in bulk to save cost.
My favorite brand to buy for Grade A beans is Slo Food Group.
Working with Gelatin
If you aren't familiar with using gelatin, you might be intimidated by this recipe. But please don't be! Using gelatin is simple.
Gelatin is concentrated animal protein derived from collagen. It is not a vegetarian product. Gelatin can come in powder/granules or in sheets. In grocery stores, most unflavored gelatin comes packaged in pre-measured .25-ounce envelopes, but it can be purchased in 16-ounce containers online too.
This recipe was tested with regular store-bought Knox gelatin. I did not test this with sheet gelatin or any specialty brand.
Gelatin must be dissolved before it can work its magic. Dissolving it is a (simple) two-step process:
Bloom the gelatin
Melt it
The gelatin powder must be bloomed so the granules of gelatin evenly hydrate, that way it can melt properly. This is typically done by hydrating it with a cold liquid. Once the gelatin comes into contact with the cold liquid, the granules start to swell.
After it is bloomed, it needs to be melted, usually by adding a hot liquid to it.
After the gelatin granules are fully melted and dissolved into the liquid, they uniformly disperse and begin to form a network as the mixture cools down. This process is known as gelation, and it occurs when protein chains from the gelatin bond together and form a network that traps or "gels" the liquid.
So what does this process look like in this panna cotta recipe? First, cold milk is used to bloom the gelatin, then a milk and cream mixture is heated and infused with the vanilla bean, and then the bloomed granules are added to the hot liquid to melt and dissolve them.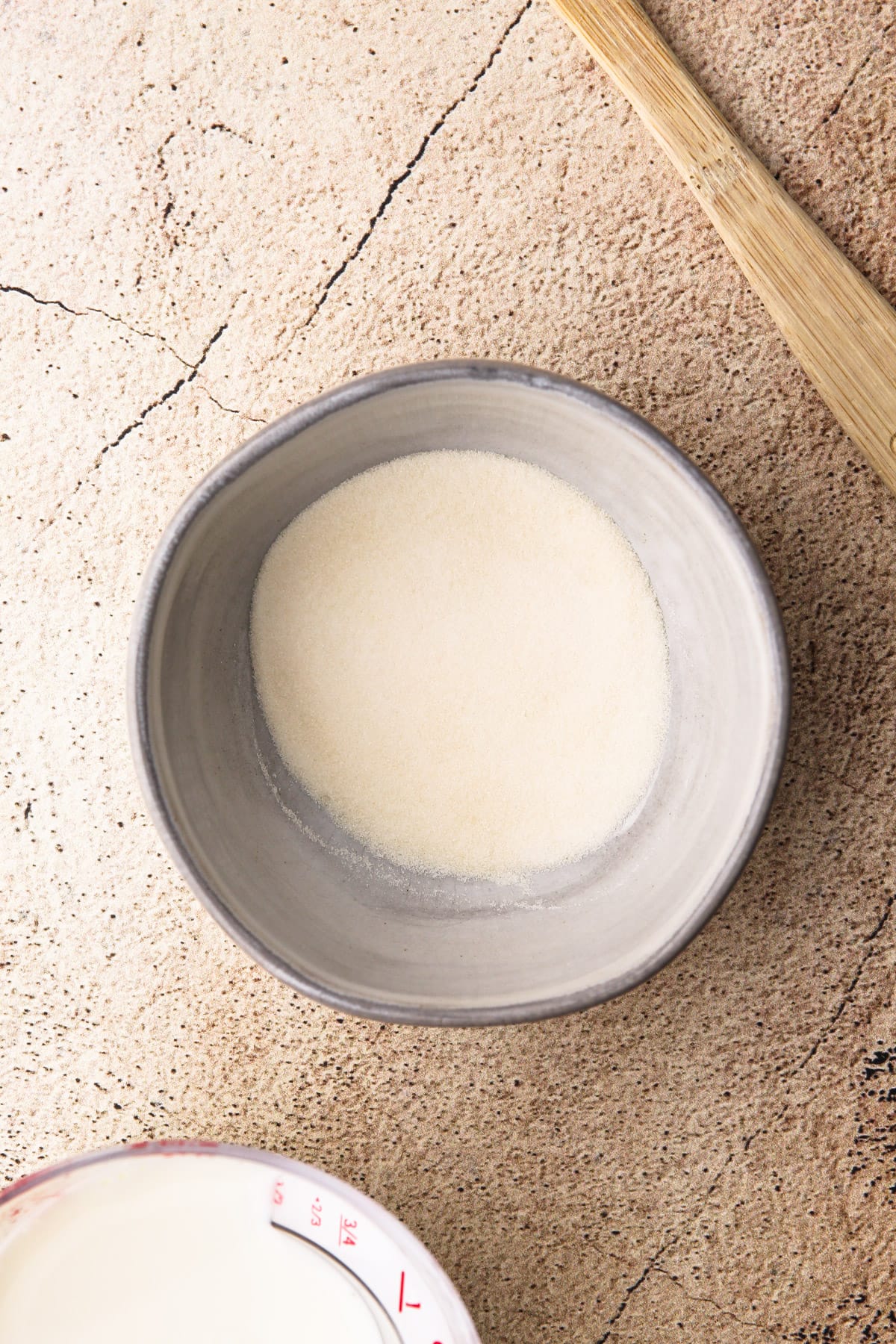 Gelatin powder in a bowl.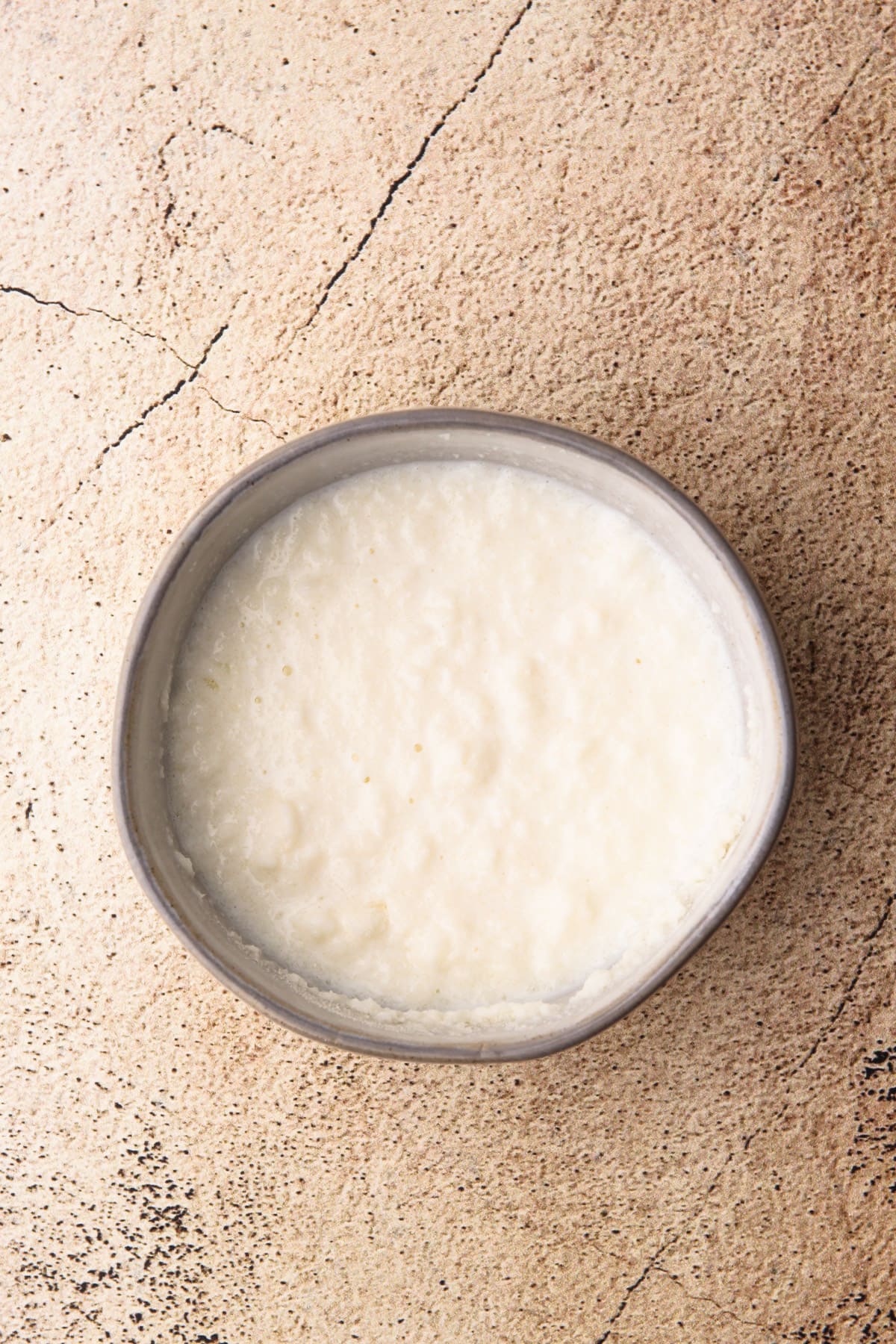 Bloomed gelatin in milk.
Step-By-Step Recipe Overview
This is a quick visual overview of the steps needed to make this recipe. If you are looking for the full recipe, keep scrolling!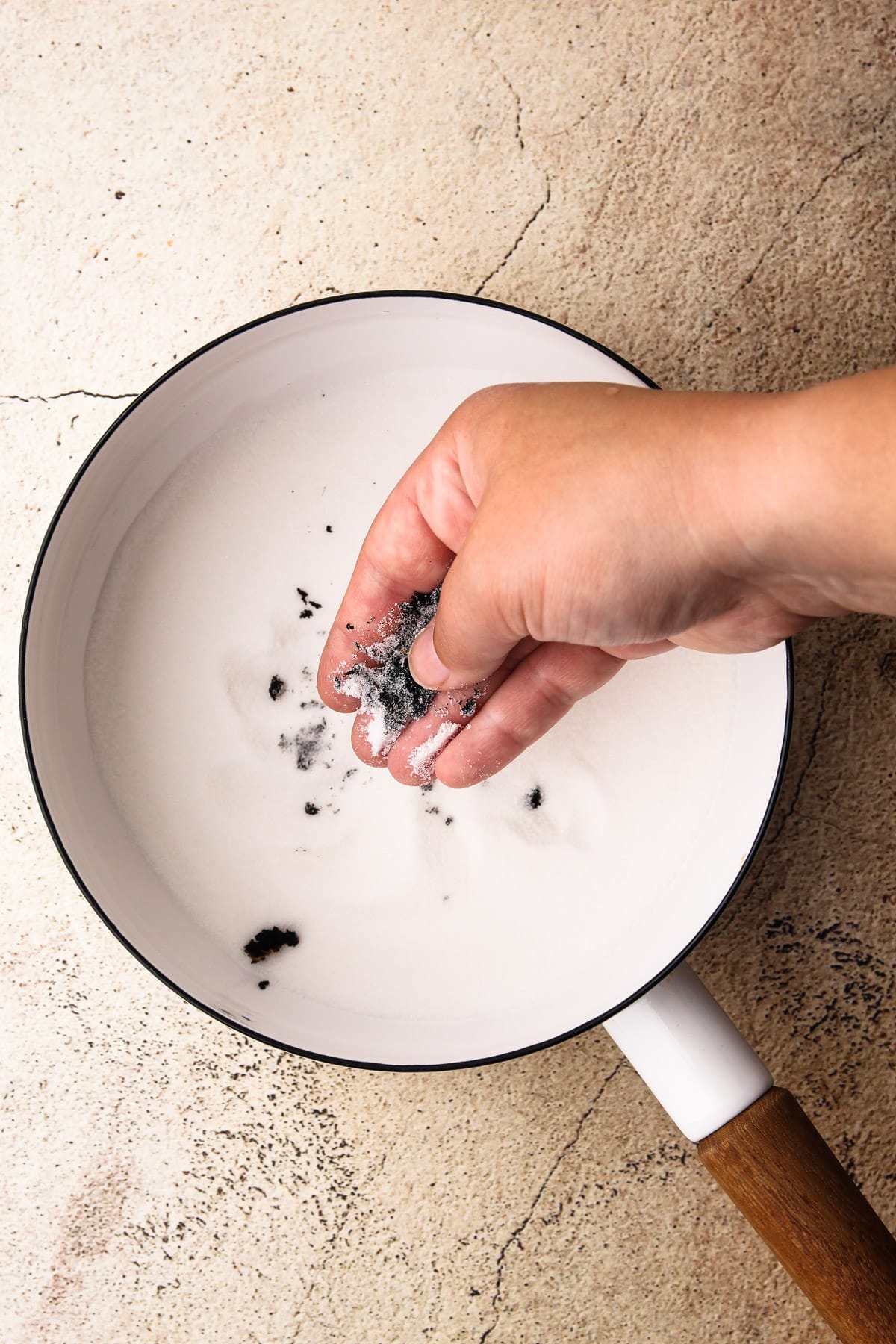 Step 1: Rub the vanilla bean caviar into the sugar.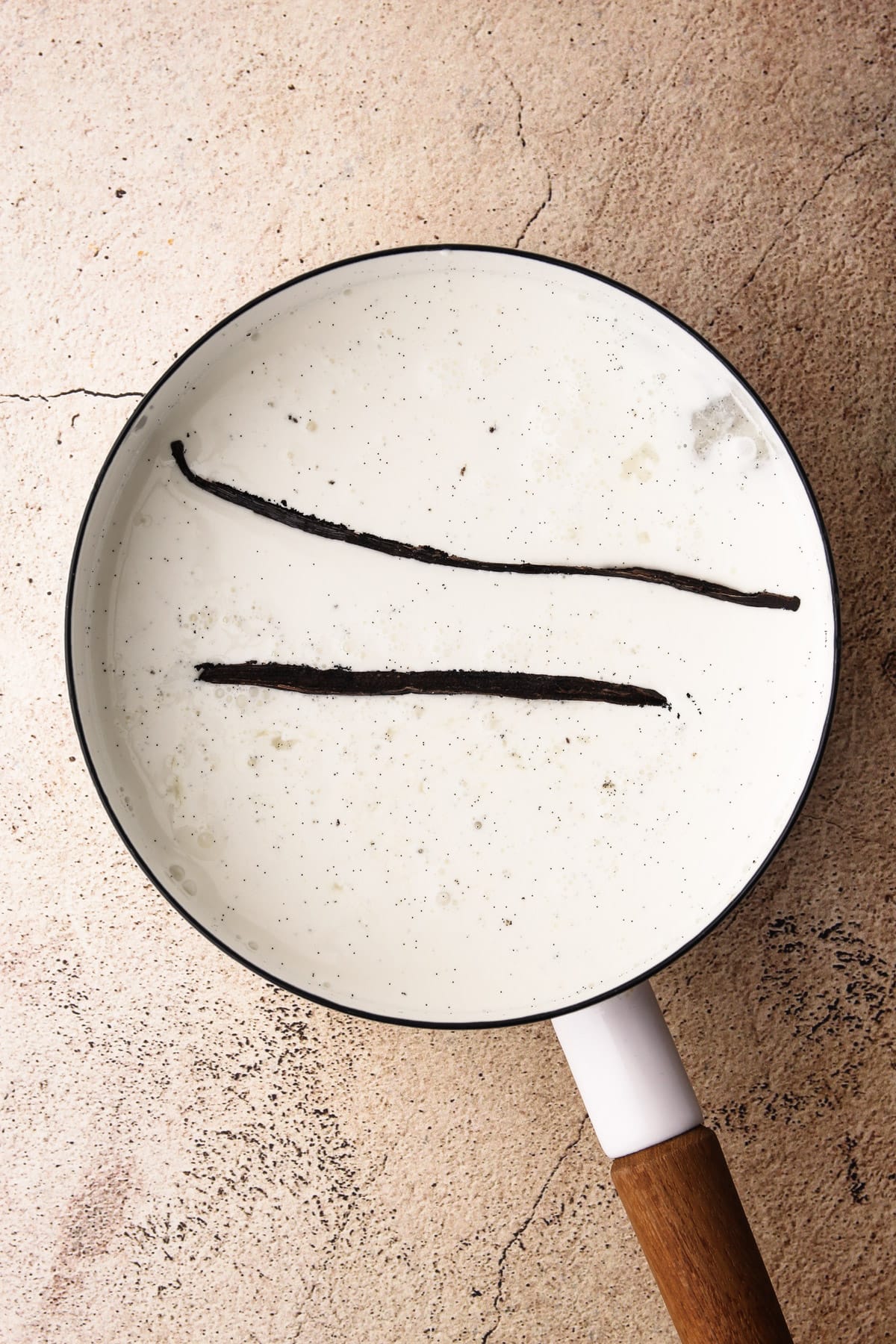 Step 2: Add the milk, cream and vanilla bean pod to a pot. Heat, then let it steep for 30 minutes.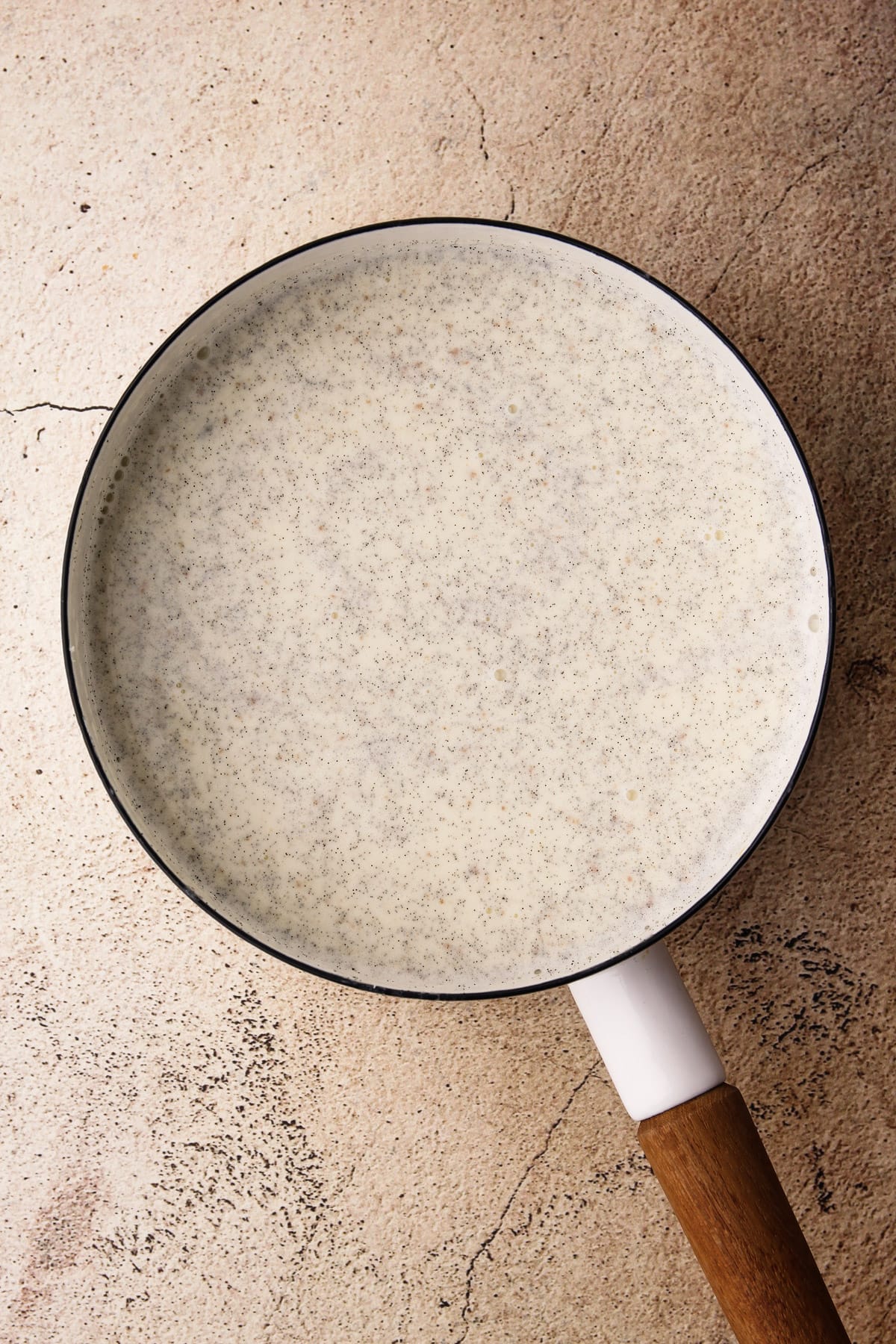 Step 3: Remove vanilla bean pod and heat up the mixture until steaming.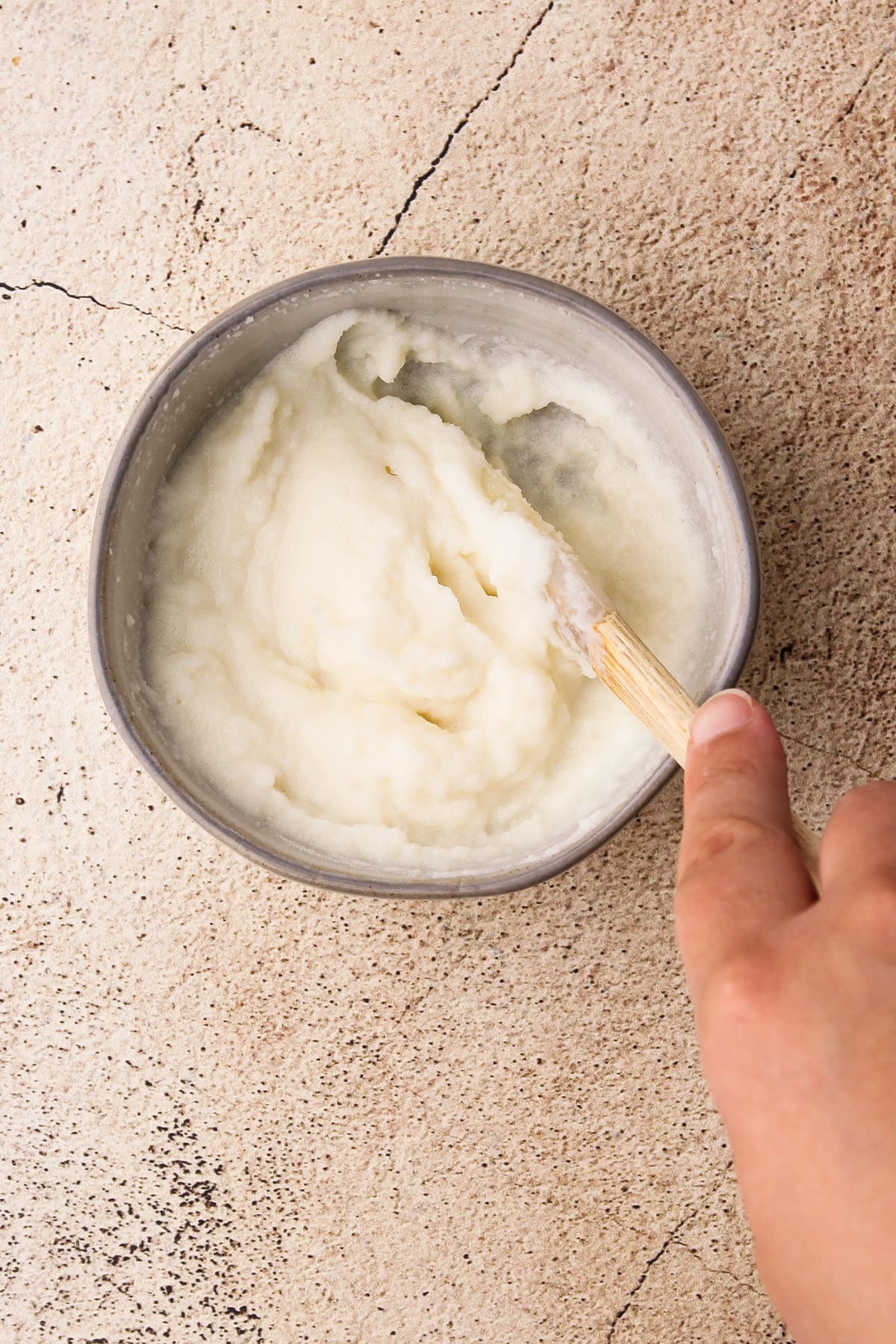 Step 4: Bloom the gelatin in milk.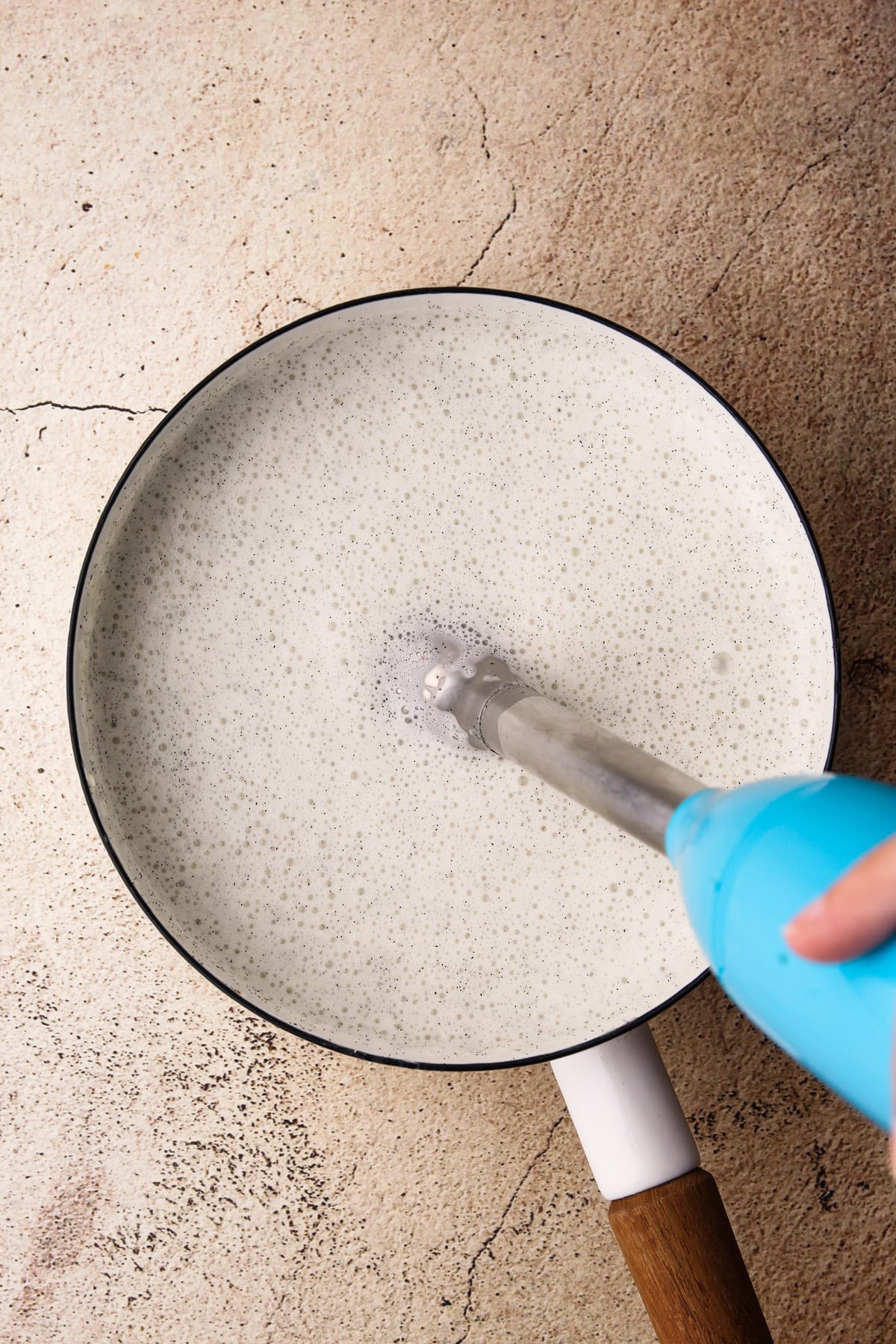 Step 5: Add the bloomed gelatin, sugar, and cream cheese to the heated vanilla cream mixture and use an immersion blender to combine.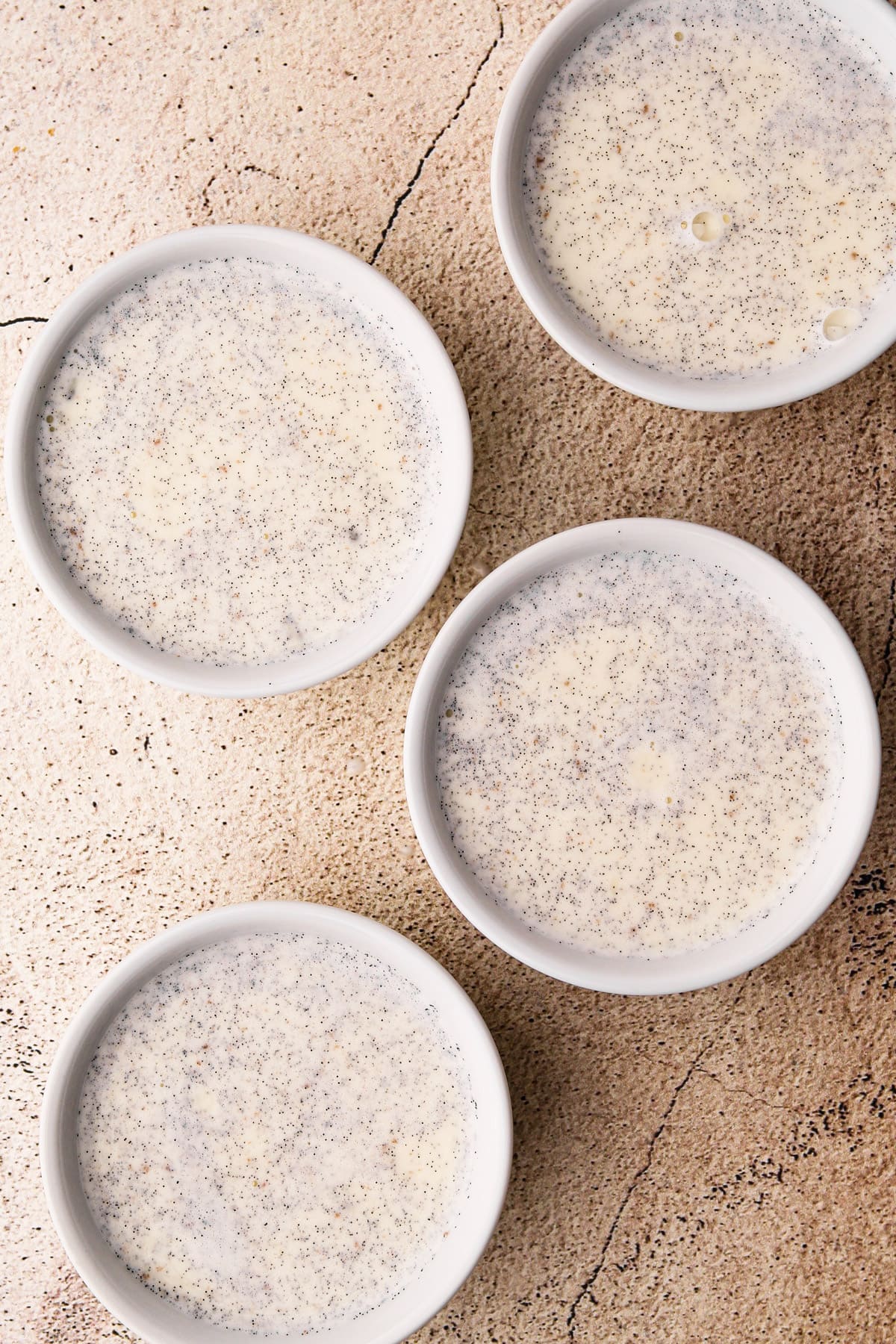 Step 6: Pour warm panna cotta into the containers. Let chill for about 6 hours.
What Type of Container to Use
Panna cotta can be served in two ways: unmolded as a plated dessert, or served in a bowl.
Use ramekins or any other dish you wish to set the panna cotta in. I used four 6.5-ounce ramekins, though you could use smaller ramekins and get more portions.
To unmold the panna cotta:
Run a knife around the edge of the custard to loosen it from the container.
Quickly dip the bottom of the mold in warm water, just to melt the edges slightly to allow it to come loose completely. Don't use water that's too hot or leave it in too long, because then the dessert will melt.
Invert the mold onto a serving plate, tapping if needed to help it release.
Lift the mold off to reveal the unmolded panna cotta on the plate.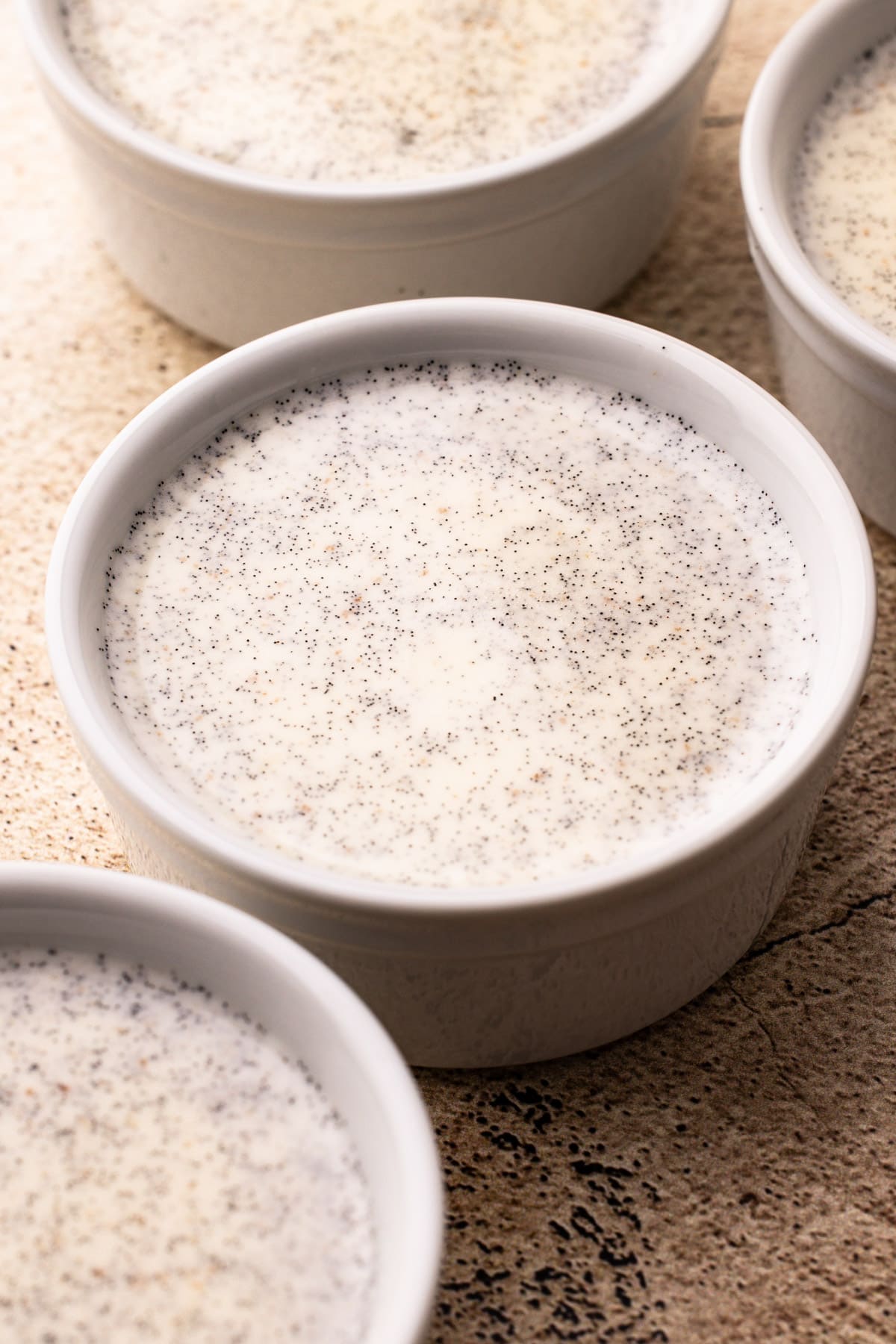 Panna cotta in ramekins before they are unmolded.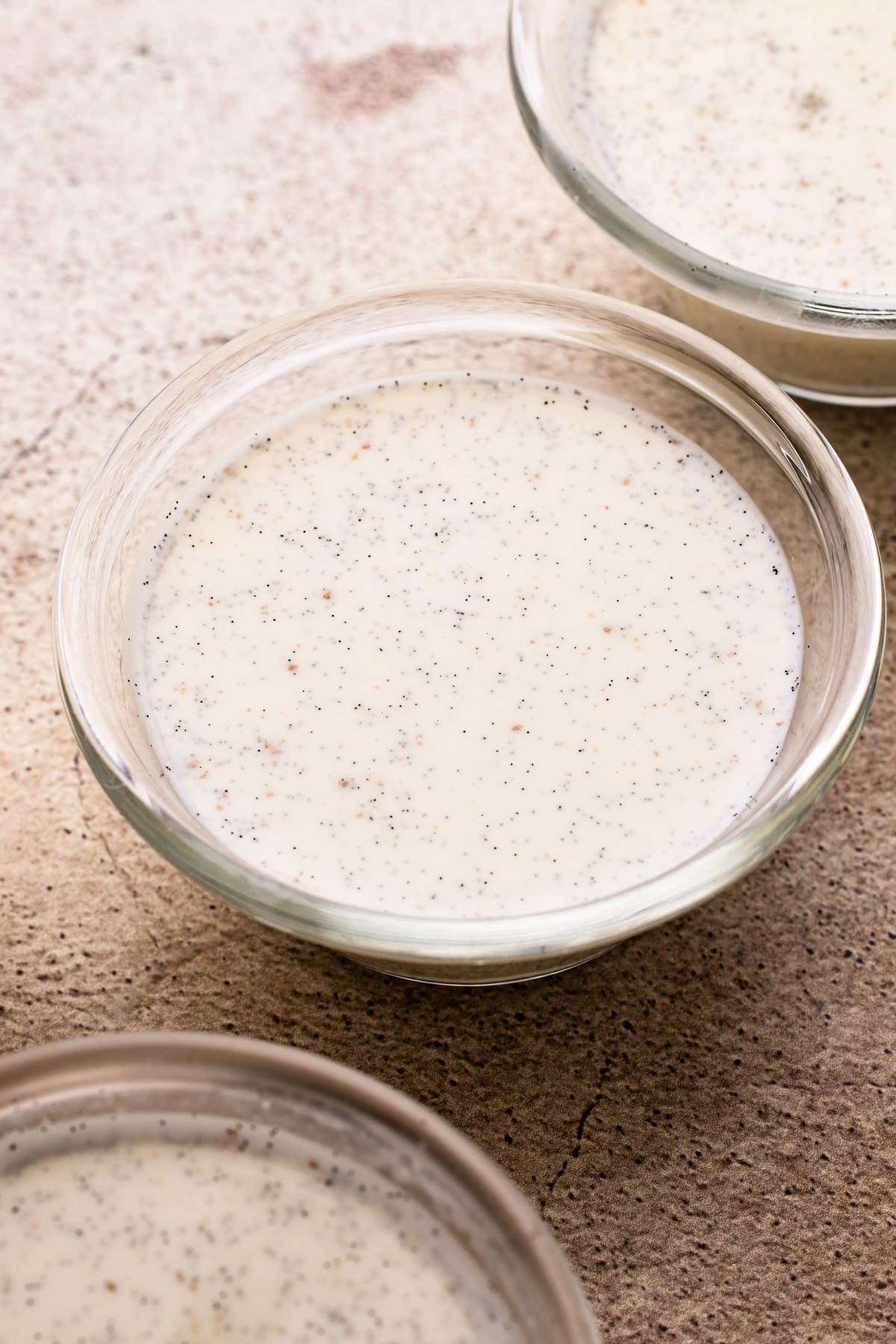 Panna cotta in serving bowls.
How to Serve It
Let the filling fully set. It takes approximately 6 hours for the full gelation.
Serve the fully chilled panna cotta (unmolded or in its serving dish) as is, or with a dessert sauce and/or fresh fruit.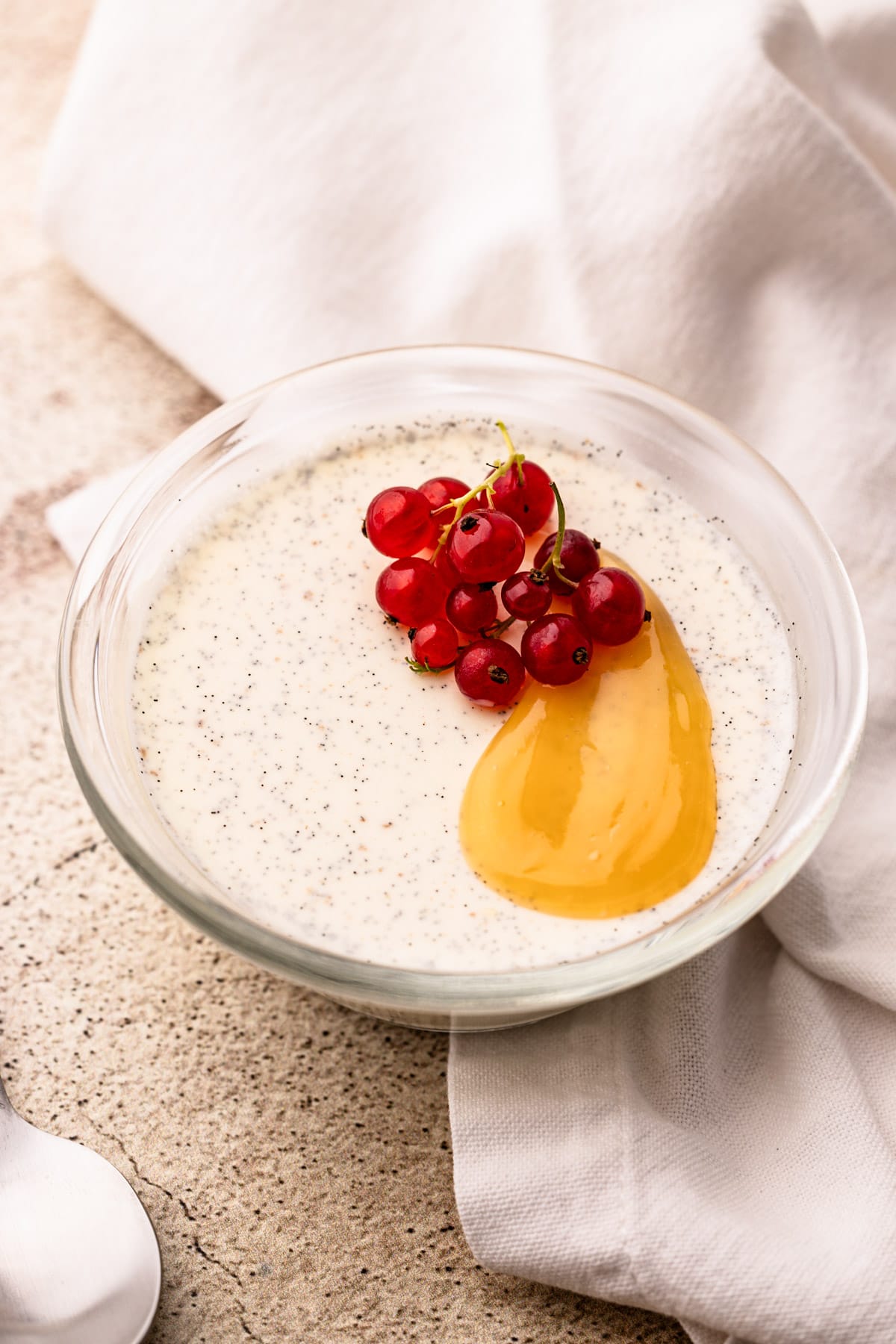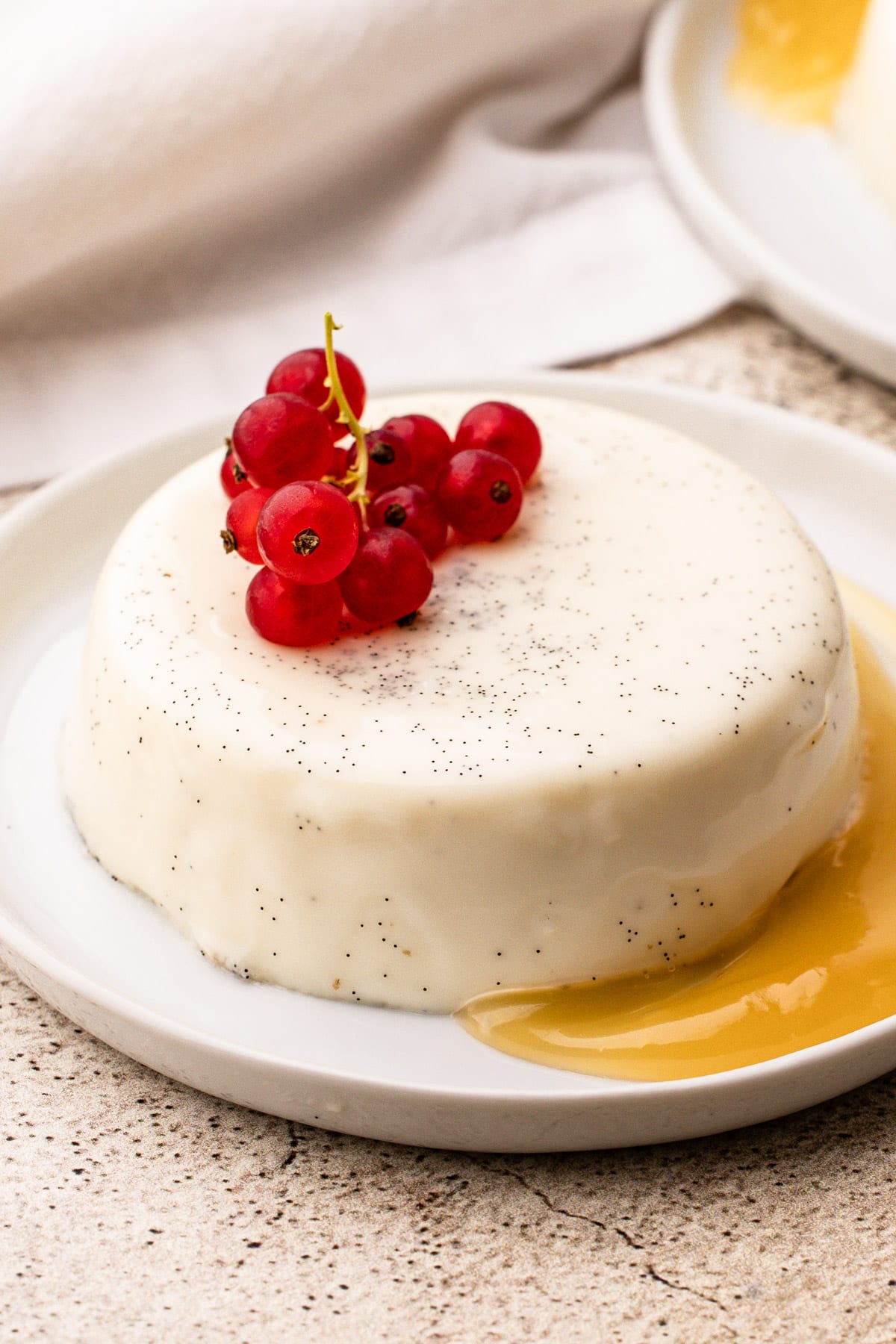 Some serving ideas: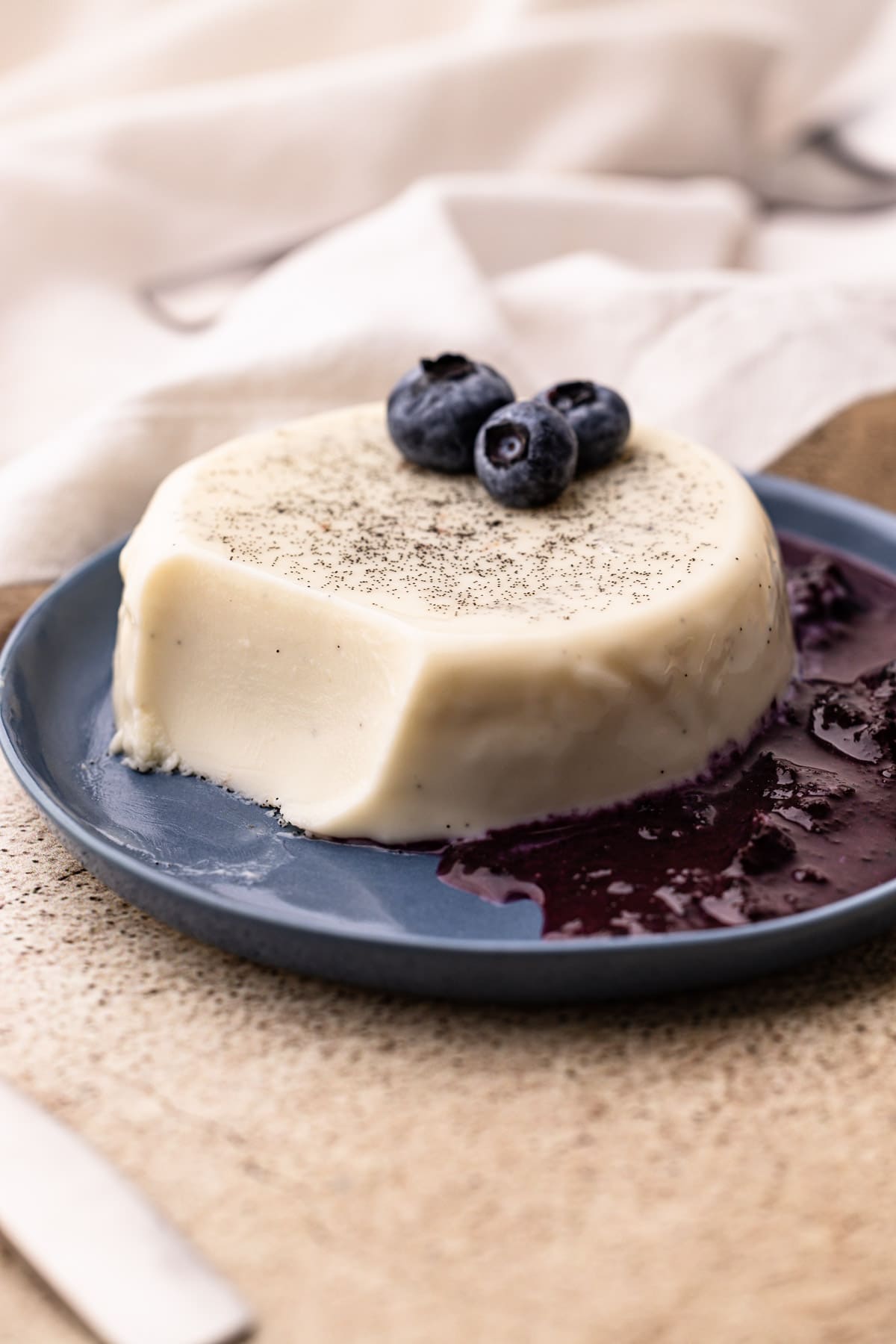 Make Ahead Options
Panna Cotta is great to make ahead of time by 1-2 days. In fact, preparing it ahead of time will likely enhance its vanilla flavor!
Just make sure to wrap the panna cotta well in plastic to prevent any off flavors from infusing into the cream. Store it in the refrigerator until ready to serve.
Do not unmold it or add garnishes until you are ready to serve.
More Dessert Recipes
I am so honored when you make a recipe from my site! If you make this RECIPE, please leave a star ⭐️ rating with your experience! If you have any questions about this recipe, feel free to comment here, and tag me on instagram!
Print
Full Recipe
Perfect Panna Cotta
Made using simple ingredients, this Vanilla Bean Panna Cotta is an elegant yet easy-to-pull-off dessert. This classic Italian custard, made without eggs, uses gelatin to achieve that creamy, beautiful texture.
Author: Kelli Avila
Prep Time:

00:45

Chill Time:

06:00

Total Time:

6 hours 45 minutes

Yield:

4-6

Category:

Dessert

Method:

No-Bake

Cuisine:

Italian
1 cup

(

227 grams

) heavy cream

1 cup

(

227 grams

) whole milk, divided

1

fresh vanilla bean

½ cup

(

100 grams

) granulated sugar

2

-

½

teaspoons powdered gelatin (or one .

25 ounce

packet)

4 tablespoons

(

65 grams

) cream cheese, diced into pieces

½ teaspoon

(

2 grams

) Diamond Crystal kosher salt (for Morton's or table salt, use about half as much by volume or the same weight)
Instructions
Add cream and ¾ cup milk to a medium-sized saucepan.
Split the vanilla bean using a sharp knife and scrape out the caviar. Add the pods to the pot.
Heat the cream mixture until steaming. Shut off the heat and let it steep for 30 minutes.
In a medium bowl, combine the sugar and the vanilla caviar and rub with your fingers until well combined.
Add the remaining ¼ cup of milk to a medium heatproof bowl and sprinkle the gelatin over the top. Stir, then let the gelatin hydrate (also known as bloom).
Pull out the beans from the pot and discard.
Add the vanilla-sugar, cream cheese, and salt to the pot. Heat the mixture over medium heat, stirring often, until it is steaming and just shy of boiling, about 180ºF.
Slowly pour the warmed cream mixture into the bloomed gelatin while whisking. Whisk for a minute or two to ensure the gelatin fully dissolves.
Blend the mixture for 1 minute using an immersion blender (or a regular blender) to ensure everything is homogenized.
Divide the cream mixture into four 1-cup ramekins (or similar containers) and cool to room temperature. Chill the panna cotta in the refrigerator, covered, for at least 4 hours or overnight.
When ready to serve, slightly submerge the bottom and sides of the ramekins in a bowl of hot water for about 2 seconds (making sure not to let the water overflow into the actual custard). Run a sharp, thin knife around the edge of each ramekin and invert each panna cotta onto a small plate.
Serve as is, or with a sauce (such as lemon curd or caramel) and/or fresh fruit.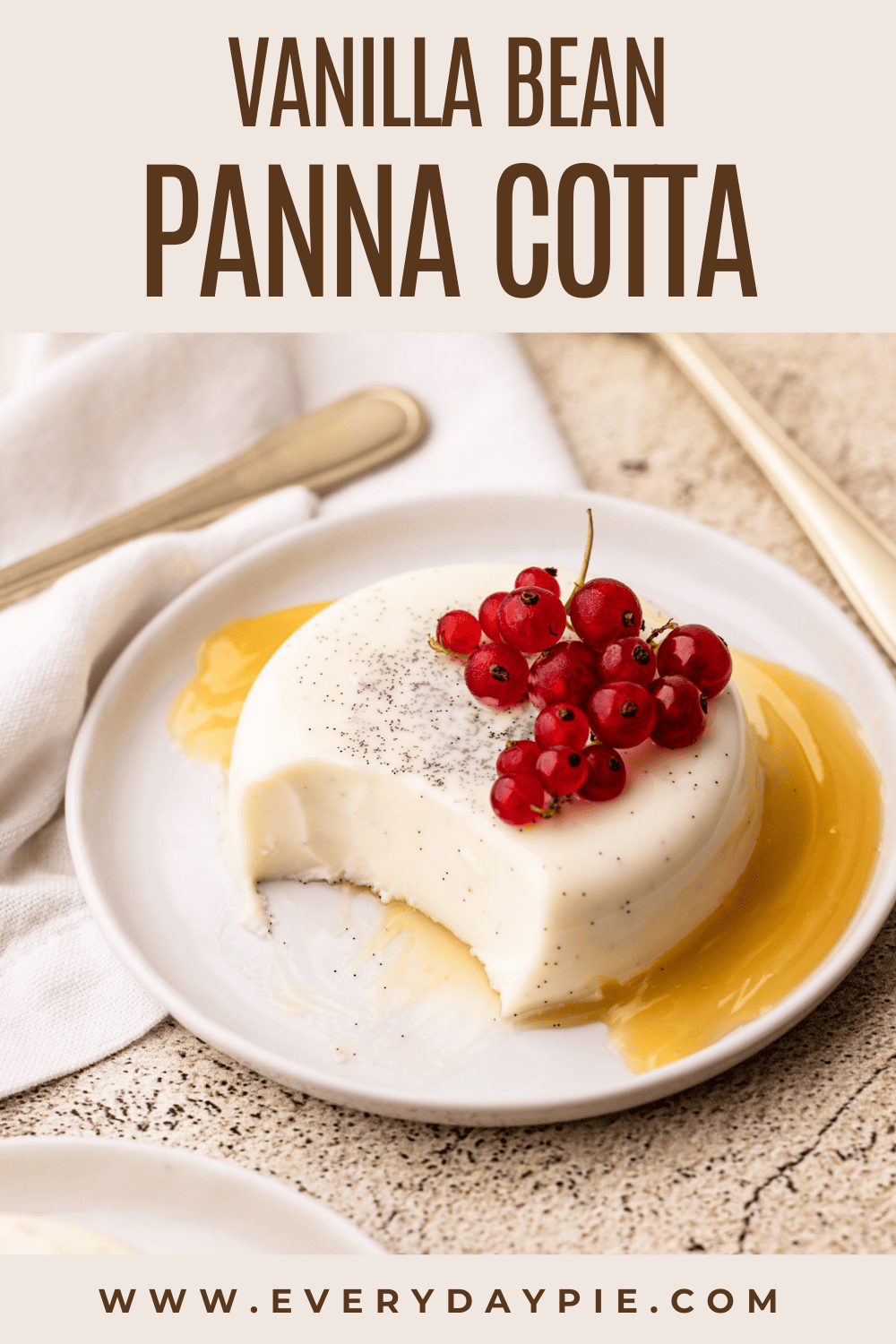 Some of the links on this page may be affiliate links. Everyday Pie is a participant in the Amazon Associates Program. As an Amazon Associate I earn from qualifying purchases, at no extra cost to you.