Homemade caramel is a classic dessert sauce made from three base ingredients (sugar, butter and cream). This guide on How to Make Caramel Sauce will walk you through the process, with all the tips, so you can have this sweet sauce for your next ice cream sundae, pie, or cake!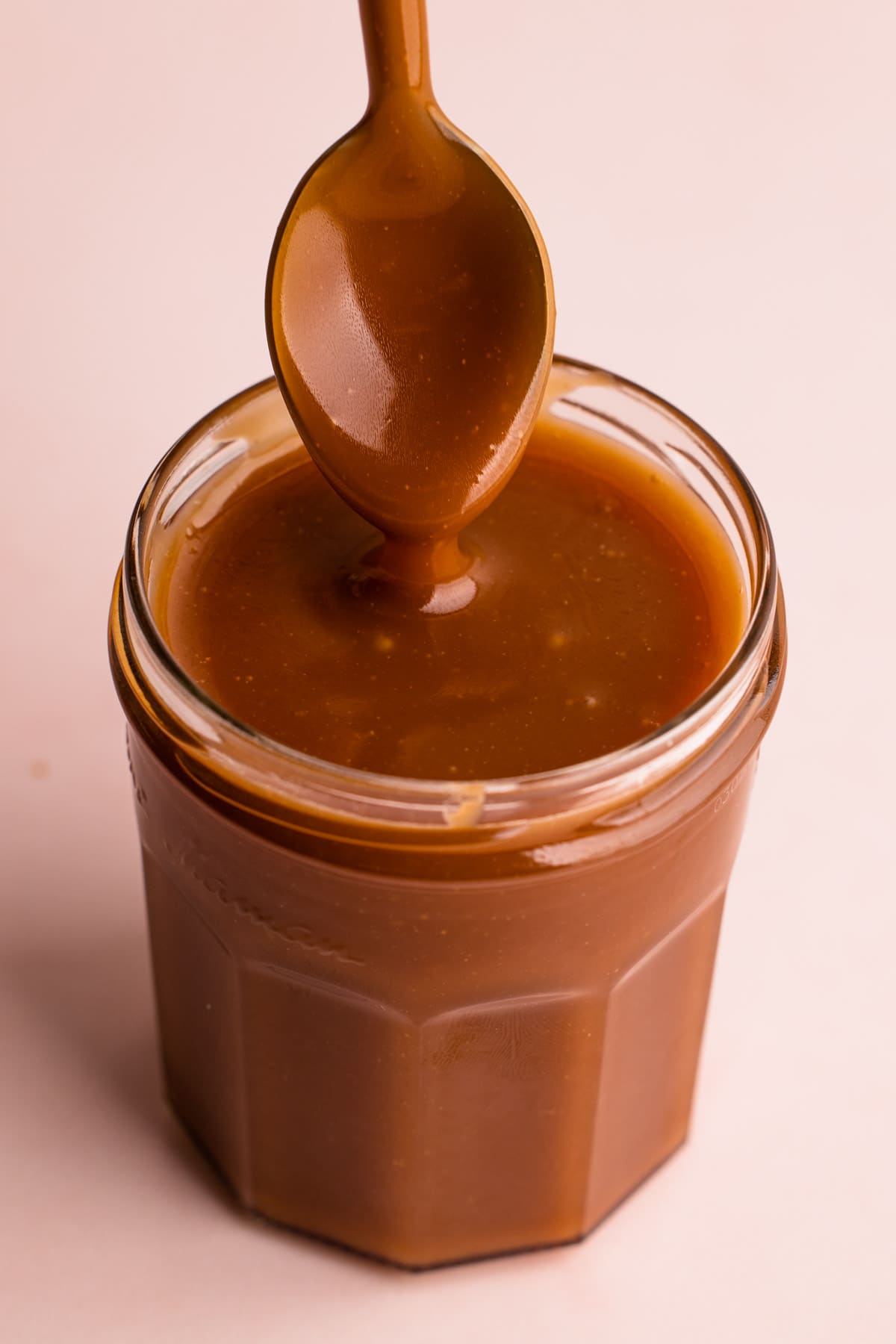 Caramel Recipe
Caramel is the unsung hero of the pastry world. It's a complex sweet sauce that all bakers should know how to make.
It is made by cooking granulated sugar until it caramelizes---get why it's called caramel? Heavy cream and butter are whisked in, which helps keep the texture smooth and saucy. Lastly, a good caramel sauce should be finished off with some salt, just to help balance it all out.
Its uses are endless: on top of ice cream, on top of pie, used in your coffee, used in cakes, or straight from a spoon.
I won't lie, there are some tricks to success when it comes to caramel. But I'm sharing them all below (as well as some easily avoided pitfalls too).
So, let's get to making it, shall we? The text below offers tons of tips and helpful notes, or you can scroll to the bottom to grab the recipe and get started!
More of a visual person? Check out the video of me making it below, located right above the recipe!
What is Caramel?
In a nutshell, caramel is made up of sugar molecules that are heated until they break down and transform into something new with an intensely complex taste and smell.
Caramel is made from pure cane granulated sugar that has been cooked until it reaches a temperature in the range of 330ºF or more, transforming the white sugar molecules into a dark brown liquid that has evolved in flavor.
Caramelized sugar can be used to make a sauce or hard or soft candies.
To make caramel as we are referring to in this recipe, fat is added in the form of butter and heavy cream to create a smooth, rich sauce that thickens as it cools. Salt is blended in at the end to help temper the sweetness, though this is not strictly necessary.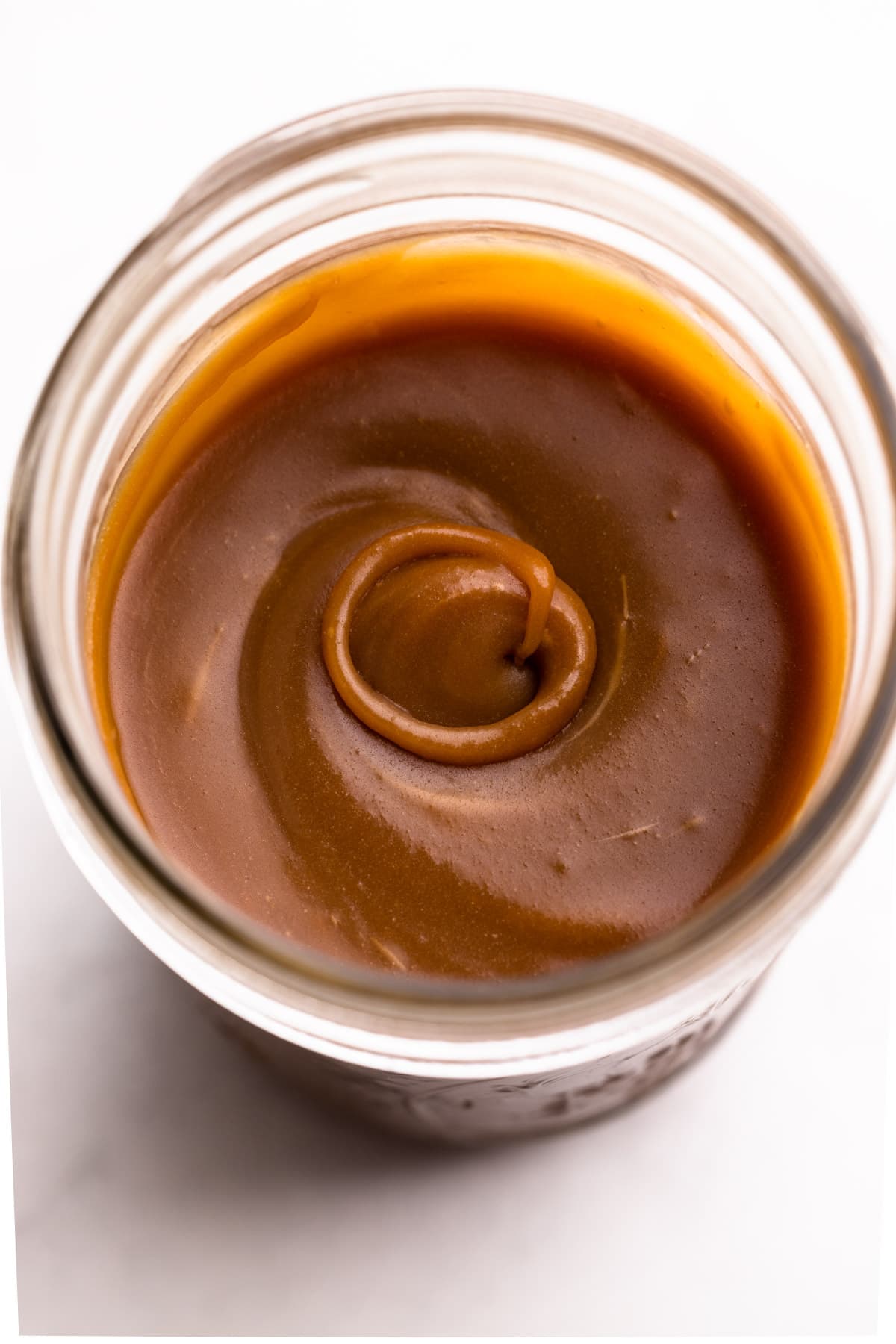 Ingredients Needed
At the bare minimum, you need only three ingredients to make the caramel:
pure granulated cane sugar
unsalted or salted butter
heavy cream
If you use unsalted butter, you'll need to add salt. Because salt helps temper the sweet taste and gives the caramel sauce more complexity.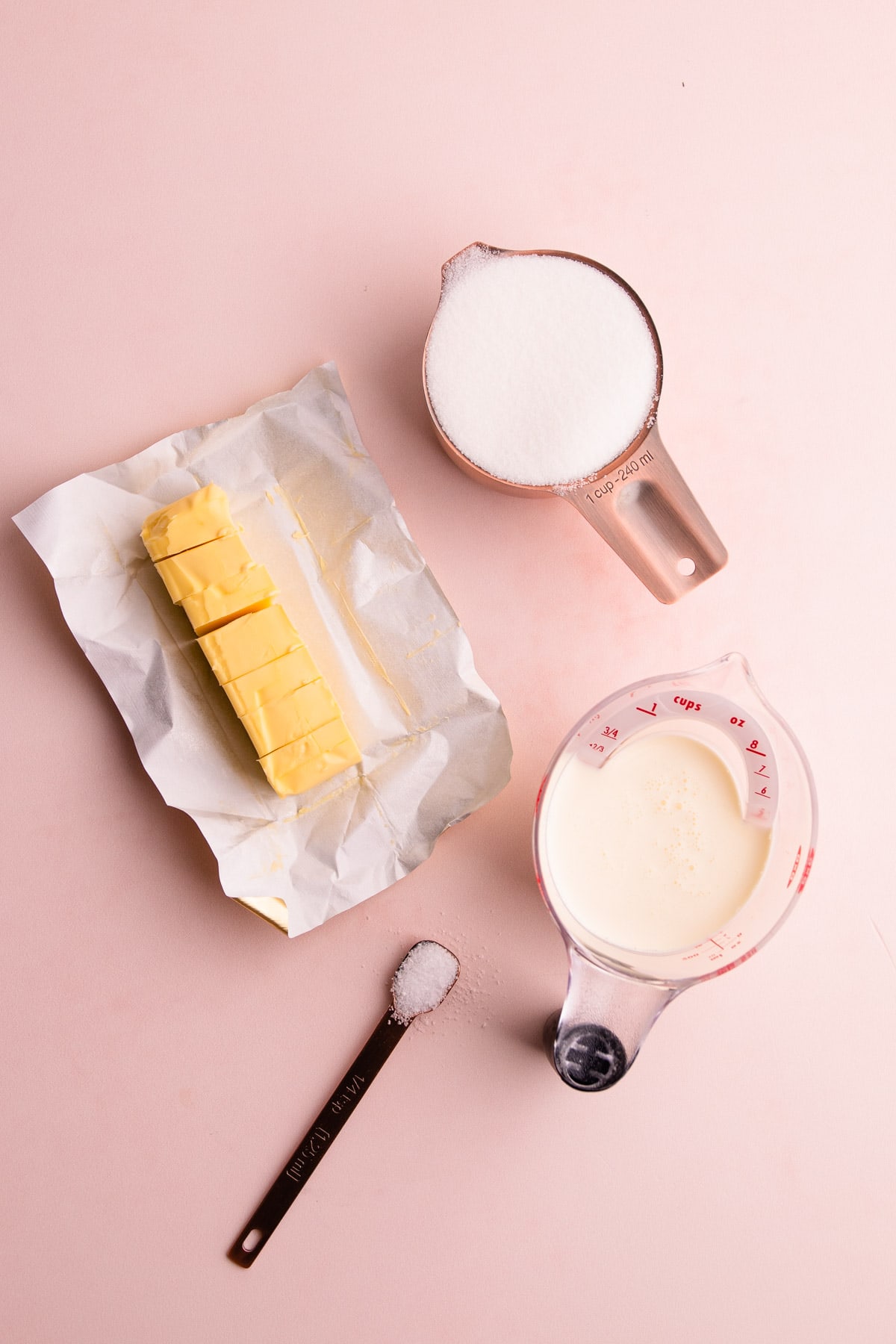 Tools Needed
All you need to make the caramel is a heavy-bottomed pot, a whisk, and a rubber spatula.
Using a heavy-bottomed pot is important so that the sugar cooks evenly.
You'll also need a heat-proof jar to store your caramel. Mason jars work well here.
Did you notice I don't call for a thermometer? If you've been a frequent reader of my recipes, you might know that I almost always provide temperatures of baked goods because it's an accurate way to measure doneness. In this case, even though there is a correct temperature of caramel (about 330ºF), two other tools are better at determining caramel doneness: your nose and your eyes. Smelling and visually assessing when the caramel is done is your best bet. Because by the time you've gotten your thermometer in there, it can go from just right to just burnt. Use your senses instead.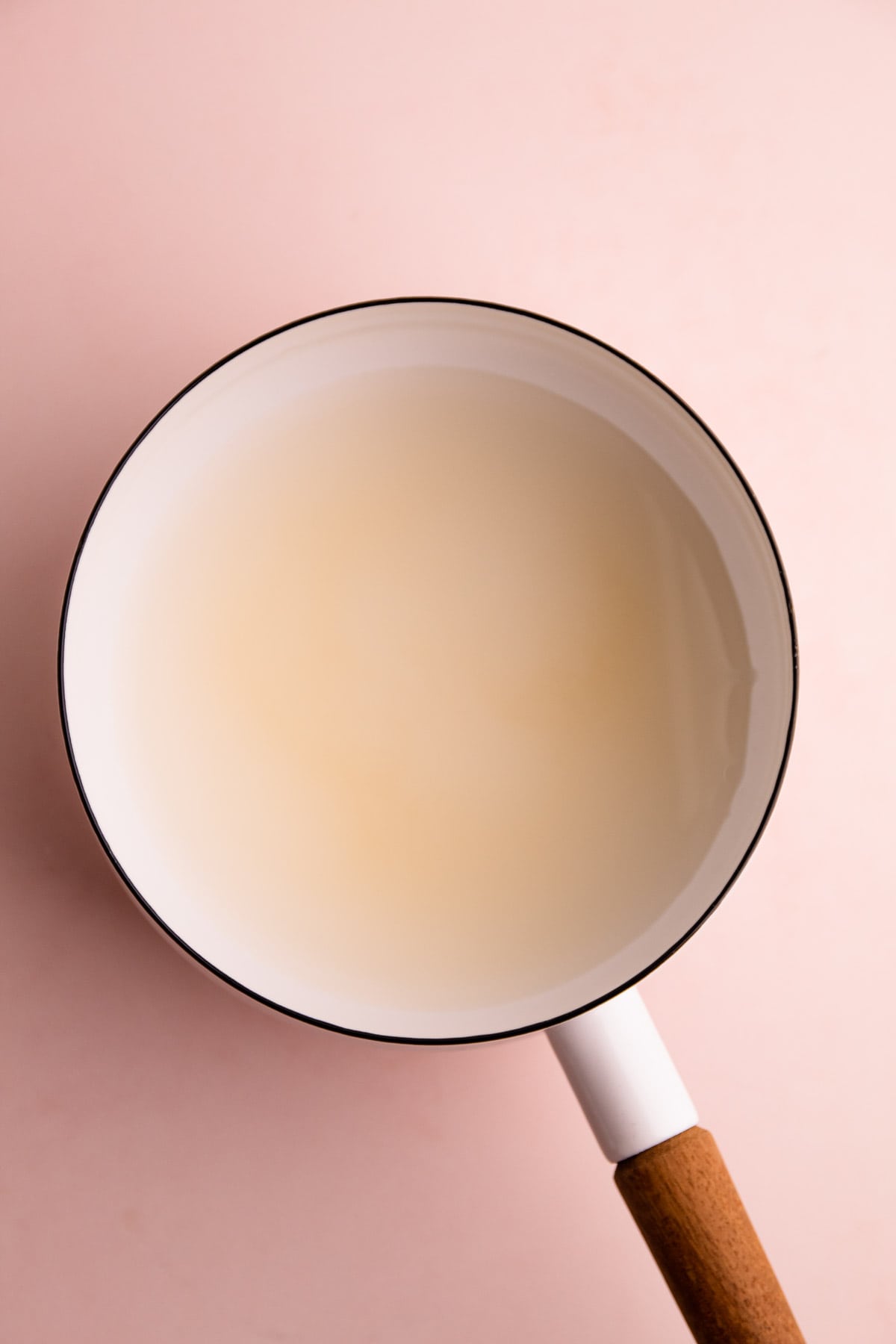 Common Caramel Fails (and How to Avoid Them)
I won't sugarcoat it: making caramel can be tricky. As a professional baker, caramel is one of the sauces I've messed up the most in my life.
I actually like to think of caramel as similar to French macarons in that every baker has their own foolproof method. What works for me might not work for you, so I can't promise you'll always get perfect caramel every time. But, I can share with you some of the failures I've had, and what to do to avoid them.
Crystallization
I won't go into all of the science behind why sugar can crystalize while making caramel (but if you want to learn more about it check out this website or this website), but what I will say is that it can happen. And when it does, it looks like hardened bits of sugar inside of your pot.
There are plenty of ways to prevent it from happening (including adding corn syrup, lemon juice, or any other number of ingredients) but instead, I like to go the "wet caramel" method, in which water is added to the sugar to help it dissolve, and then the sugar mixture is heated up slowly.
Additionally, I do not stir the pot at all for the first few minutes of cooking. This is the best way I have found to prevent crystallization.
Burning
Essential to the recipe is for the sugar to caramelize in order to achieve that complex sweetness. But, what goes hand in hand with this is the possibility of uneven cooking. That would look like the sugar burnt in one spot, and uncooked in another.
Once again, the best way to solve this is to use the "wet method" of making caramel. Dissolving the sugar in water allows for a slower more even method for caramelizing the sugar.
And it can burn once all the water has cooked out, but before the cream and butter are added. The best way to tell if the sugar has cooked enough is to visually see that it is a deep amber color, and to monitor using your nose! It will start to smell slightly burnt right before it truly turns burnt. Make sure you add in the dairy ingredients before this happens!
Not Enough Flavor / Too Sweet
On the opposite end of the spectrum of burning caramel, is making caramel with very little flavor, or one that tastes too sweet. This can happen when the sugar isn't cooked enough.
In order to achieve the characteristic complex flavor of caramel, the sugar needs to reach a certain temperature to achieve the necessary chemical reaction (aka the Maillard reaction). While a thermometer can be used to see exactly when the sugar is done cooking, it's better to assess visually and aromatically to see when it's done. It should be deep amber in color and smell like caramel.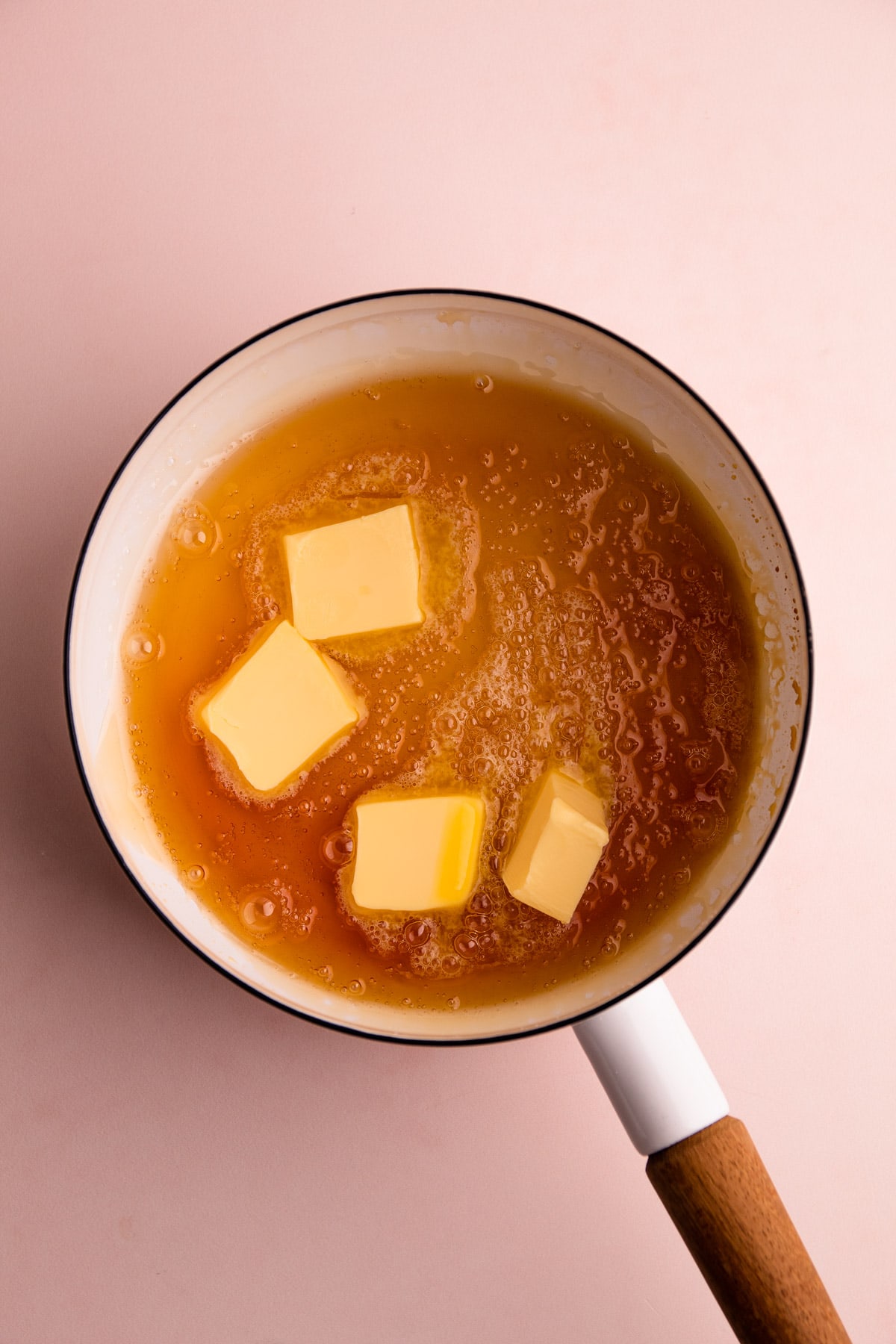 Tips for Successfully Making Caramel
Follow these helpful tips for making this addictive confectionary sauce:
Don't walk away from the cooking caramel. It can burn and it's best to monitor it while you are cooking it the whole time. All in all, it usually takes less than 10 minutes to make.
Make sure to add the ingredients in the order they are listed in the recipe. This helps ensure the common mishaps of making caramel are avoided.
Carefully whisk the butter and cream into the heated sugar mixture and be aware that it can bubble and spurt as you introduce the cold fat, so be mindful of splashes. The recipe recommends starting with adding ¼ cup of the cream, whisking it fully in, and then gradually adding in the rest.
Do not taste or touch the hot caramel. It heats to a temperature higher than boiling water and doesn't splash off of you so it can burn. Use caution when making this recipe.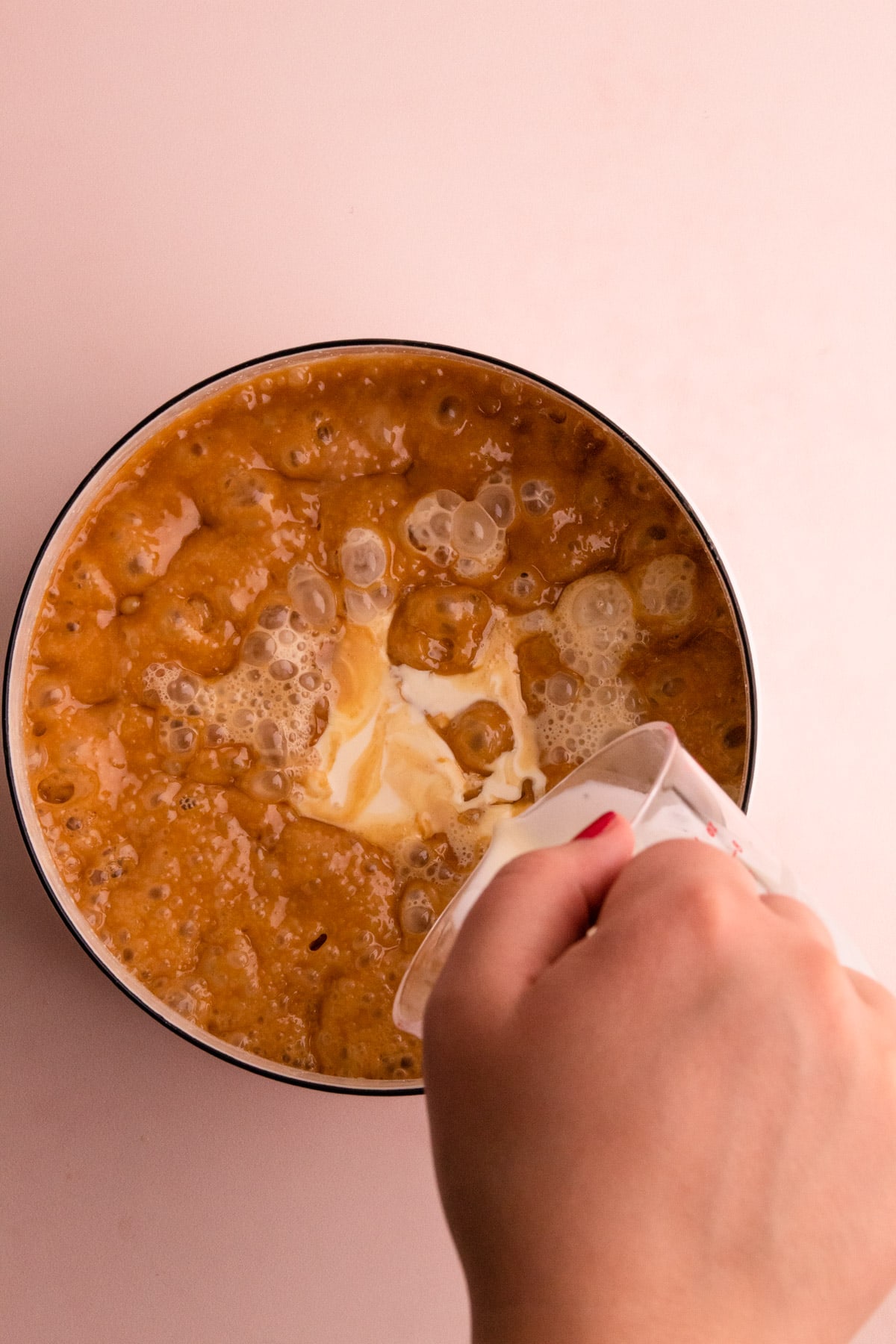 How to Store It
As stated above, caramel sauce is very hot just after being made. After it's finished, it can safely stay in the pot it was cooked in (off-heat), but after a few minutes, it's best to transfer it to a heat-safe container, like a mason jar.
Once the caramel is cooled, store it in a covered container in the refrigerator.
This sauce will keep for quite a while due to the high sugar content, at least one week, but usually much closer to a month.
It can be frozen for about 6 months. To use, defrost overnight in the refrigerator.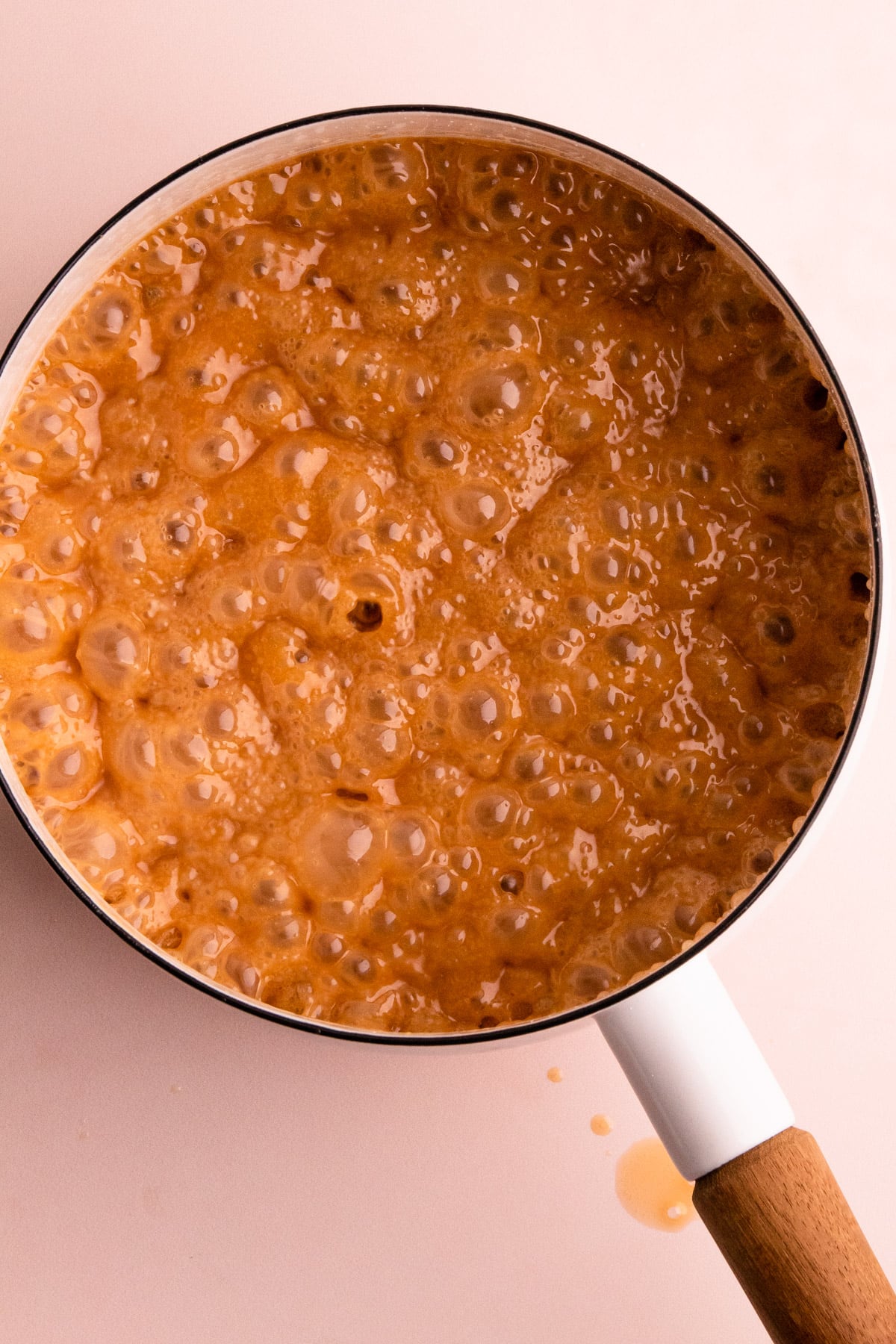 Ways to Use Homemade Caramel
Caramel has endless uses:
Use it as a topping: on waffles or pancakes, over a scone or a muffin, with ice cream or yogurt, or spooned over a cheesecake.
Use it in your coffee: hello caramel macchiato.
Use it in any recipe calling for caramel.
Use it as a filling: all by itself, caramel makes a great filling in cakes, pies, crepes, or other pastries.
Just grab a spoon! Seriously it's so good.
Serving It
The caramel can be served warm or cold. It's quite thick when it is cold. To re-warm it after it's been cooled, you can briefly heat it in a microwave or heat it in a small pot until it's thinned out as desired.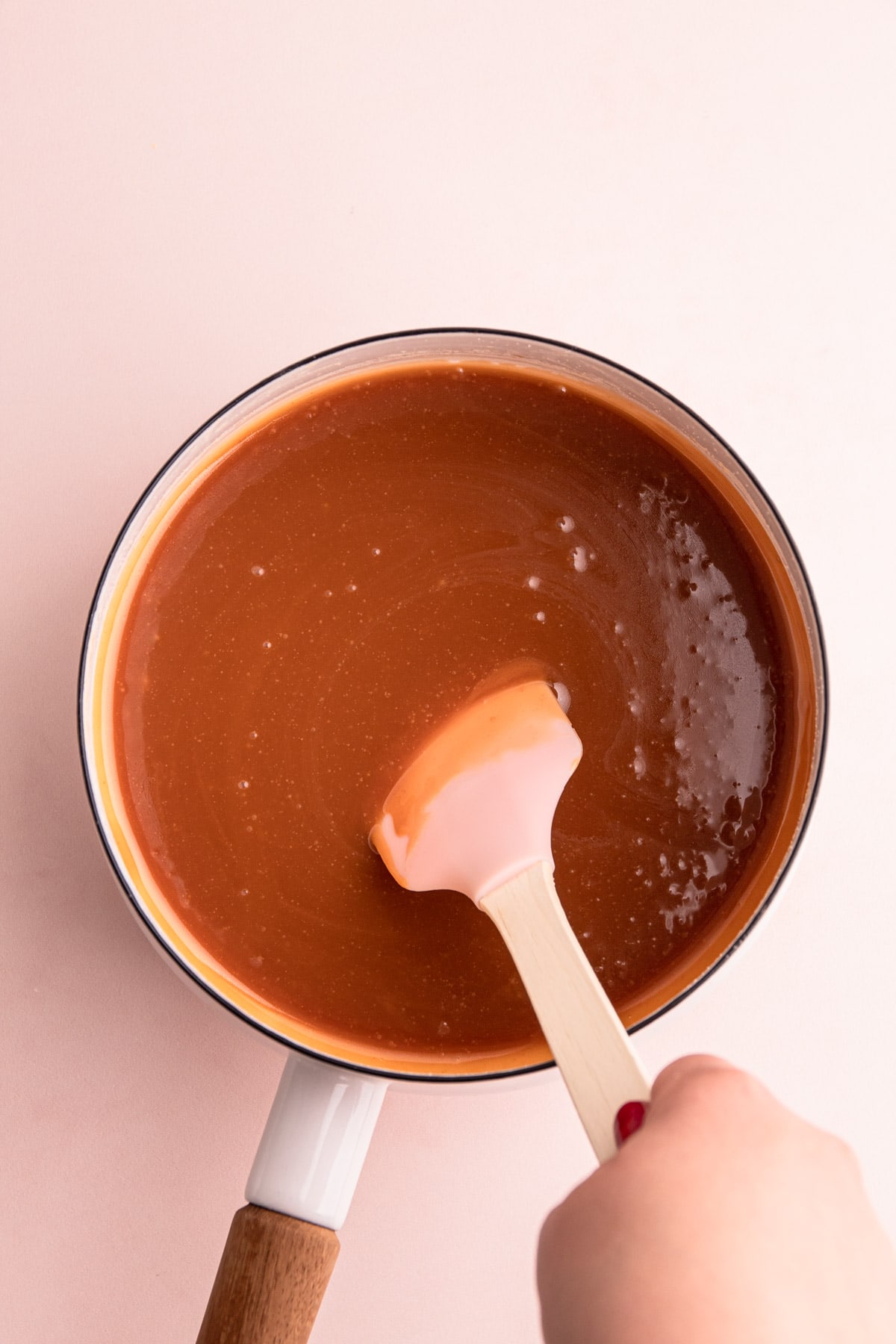 More Helpful Tutorials
I am so honored when you make a recipe from my site! If you make this Homemade Caramel, please leave a comment and a star rating with your experience! If you have any questions about this recipe, please comment here, too!
Print
Full Recipe
Caramel Sauce
Homemade caramel is a classic dessert sauce made from three basic ingredients ( sugar, butter and cream) and it's so simple to make.
Author: Kelli Avila
Prep Time:

00:02

Cook Time:

00:10

Total Time:

12 minutes

Yield:

1 pint

Category:

Cooking tutorials
¼ cup

water

1 cup

(

200 grams

) pure cane granulated sugar

½ cup

(

113 grams

) unsalted butter, cubed

½ cup

(

115 grams

) heavy cream

½ teaspoon

kosher salt
Instructions
Add water to a medium pot. Slowly stream in the sugar in an even layer. (This is to help dissolve the sugar without the need to stir). Turn on the heat to medium and let the dissolved sugar mixture cook undisturbed until it has come to a full boil. Let the mixture continue to cook, largely undisturbed. You can use a very clean whisk to gently stir around the mixture as it reduces to help it heat evenly. Cook until the sugar has caramelized, about 4-6 minutes total cooking time. You'll know it's caramelized enough when the sugar is a deep amber, and is fragrant.
Carefully and slowly, whisk in pieces of the butter, a few at a time. Once the butter is whisked in, slowly stream in the heavy cream. Carefully whisk it together, being mindful of the very hot bubbling mixture.
Once the cream is whisked in, bring the caramel back up to a boil, then shut off the heat.
Remove the caramel from the heat, stir in the salt and let it sit for 5 minutes in the pan to slightly cool. Then transfer it to a heat-safe container for storage, or use it as desired.
Notes
Have a question or looking for tips? The text written above the recipe is always a great first place to start! There are always loads of explanations, tips and technical advice shared before the recipe.
Make sure to watch the video for a visual representation of how to make caramel.
Be cautious when making caramel, as the mixture gets extremely hot.
Keywords: How to make caramel, caramel recipe
Some of the links on this page may be affiliate links. Everyday Pie is a participant in the Amazon Associates Program. As an Amazon Associate I earn from qualifying purchases, at no extra cost to you.