This easy Pastry Cream recipe, also known as crème pâtissière, is silky, rich and so delicious. Pastry cream is essentially a thick custard that is made using common kitchen ingredients and takes only about 15 minutes to put together. It is perfect for many different fine pastries such as tarts, eclairs, or cream puffs!

Pastry cream is one of those classic dessert recipes you just have to know how to make. It isn't complicated, but how fun is it for you to be able to say that you know how to make crème pâtissière? That way when you are watching the Great British Baking Show, and the baker's "creme pat" is too soft, you can yell at the tv what you know they did wrong!
Pastry cream is essentially just a thicker vanilla custard. It's similar to vanilla pudding as well, but thicker. It's perfect for filling a Fresh Fruit Tart, or to use in other fine pastries such as eclairs, cream puffs or mille-feuille. It's simple to make (and I share all the tips for making it below) and the recipe calls for common inexpensive ingredients. This recipe is thick and creamy with a rich flavor and sheer deliciousness. So let's get to making it, okay?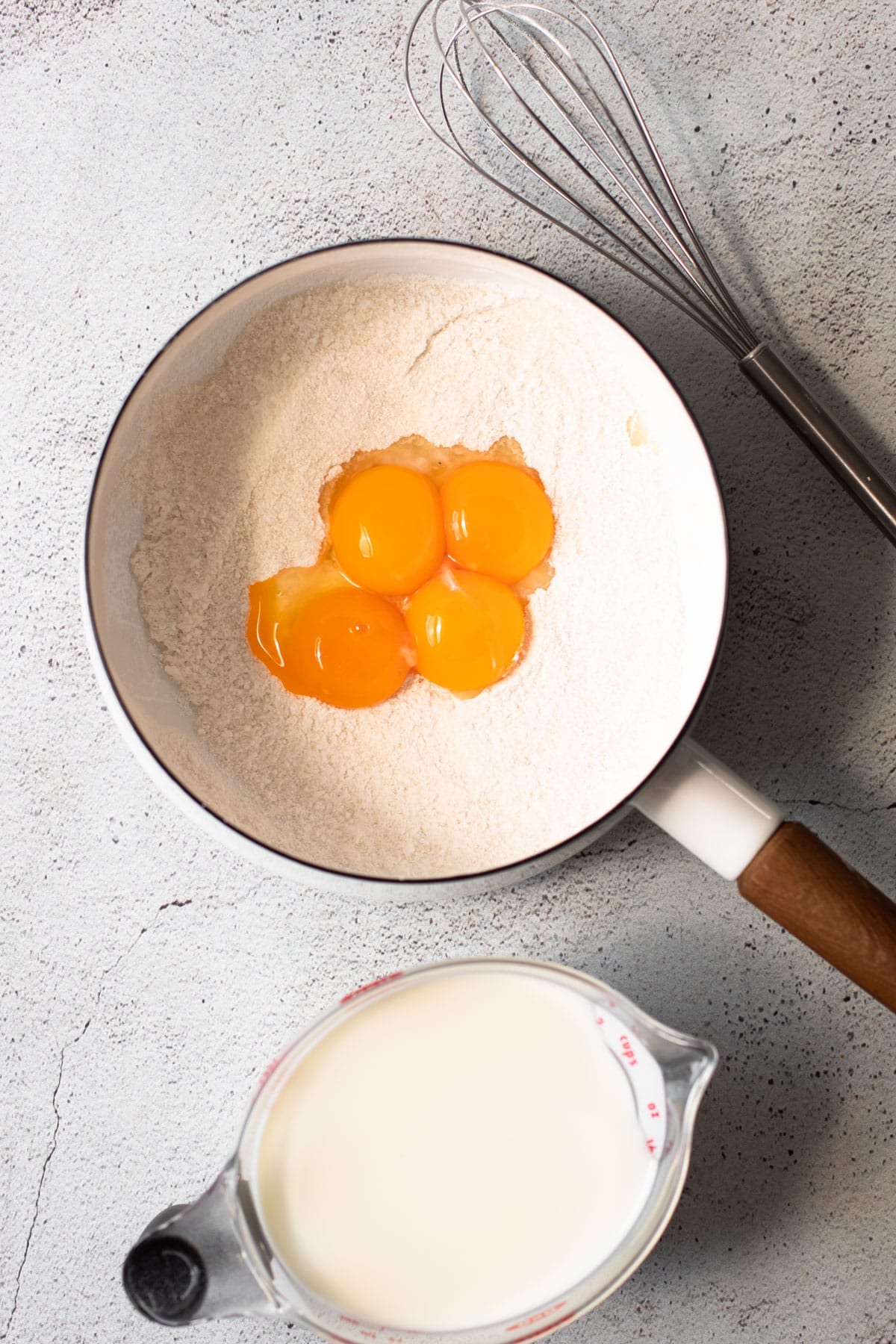 Pastry Cream Ingredients
granulated sugar

cornstarch

salt

egg yolks
whole milk
vanilla bean or extract
unsalted butter
How to Make Pastry Cream
The pastry cream is made a bit different than traditional pastry cream. This recipe is made in one pot and doesn't require any tempering of the eggs. You start by whisking together the sugar, cornstarch, and egg yolks and then add in the milk.
The whole mixture is cooked over medium heat, while you alternate between whisking and using a rubber spatula to scrape up any thickened bits from the bottom. The trick is to slowly heat the egg yolks with all of the ingredients at once so they don't scramble. The added cornstarch helps stabilize the egg yolk mixture so that doesn't happen. Additionally, it helps the mixture to thicken to the proper consistency. Once you've cooked the pastry cream, strain it into a bowl, and whisk in butter and scraped vanilla bean or vanilla extract.
Next, you'll cover the pastry cream with plastic wrap directly over the top to prevent any skin from forming and then chill it. First at room temperature until it is no longer hot, and then in the refrigerator until fully chilled.
This recipe is a bit thinner than traditional recipes because I prefer it that way. Even with that, it still thickens up pretty well once chilled, so before you are ready to use it in your desired fine pastry, you'll need to give it a good whisk to get it back to that silky smooth consistency we all think of when pastry cream comes to mind.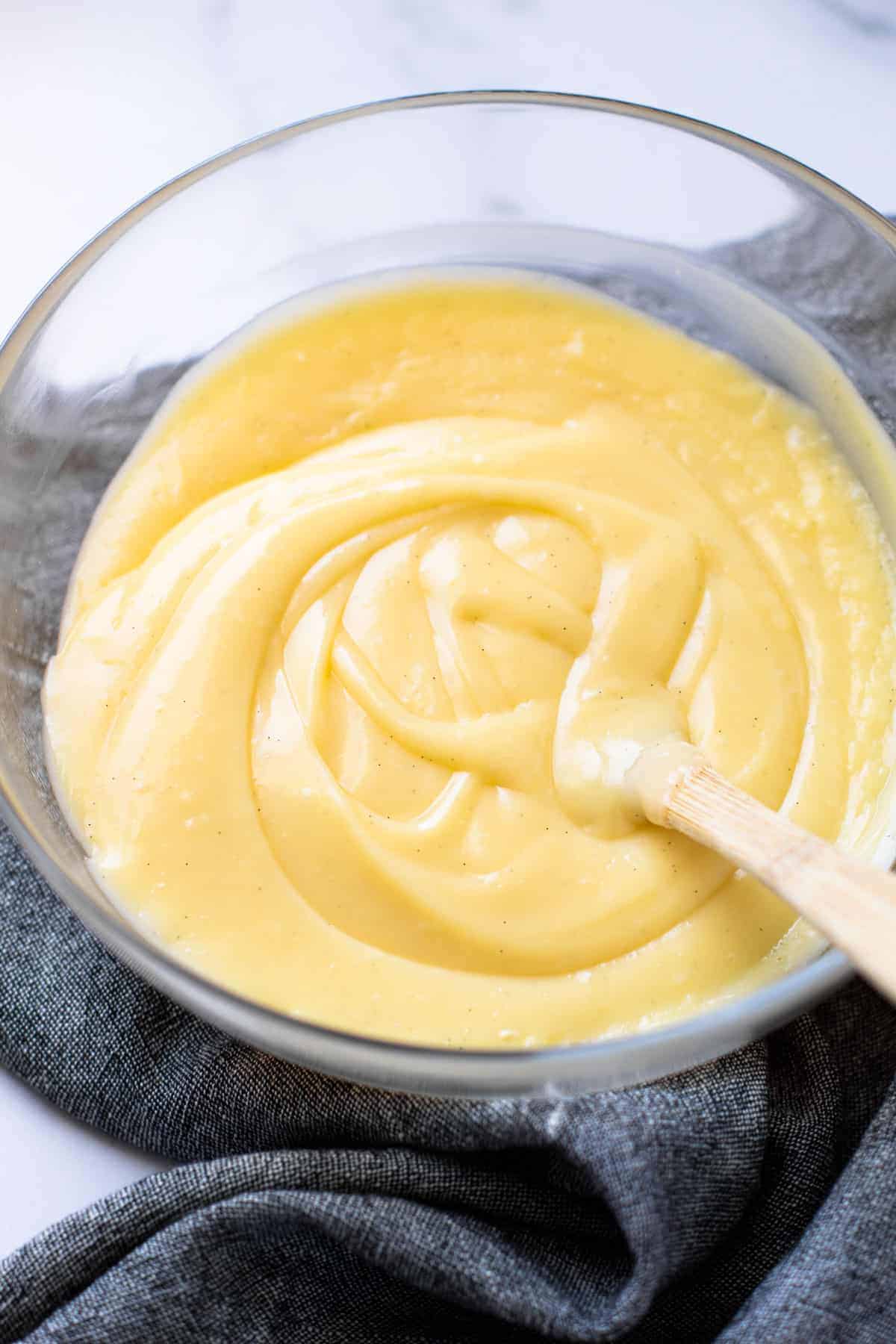 Tips for Making Pastry Cream
Make sure to have a rubber spatula and a whisk handy. I use both to make sure the mixture cooks evenly. I swap between using them while I'm cooking the pastry cream to make sure I'm getting all the mixture out of the crevices of the pot while whisking to ensure a consistent cook.
Don't walk away from the pot while you are cooking it. It takes no more than 10 minutes to cook. Also, it's especially important to stir almost constantly in the beginning when you are cooking it to ensure no egg yolks get stuck to the bottom of the pot and scramble.
Strain the pudding to get rid of any small bits of cooked eggs you might have. It makes the final cream smoother.
This cream will set pretty firm. Whisk it once it is chilled to achieve a smooth, silky consistency.
Pastry cream is best used within one to two days after it has been made. As the days go on, the cream might release some moisture. This is fine to consume, just stir it back up.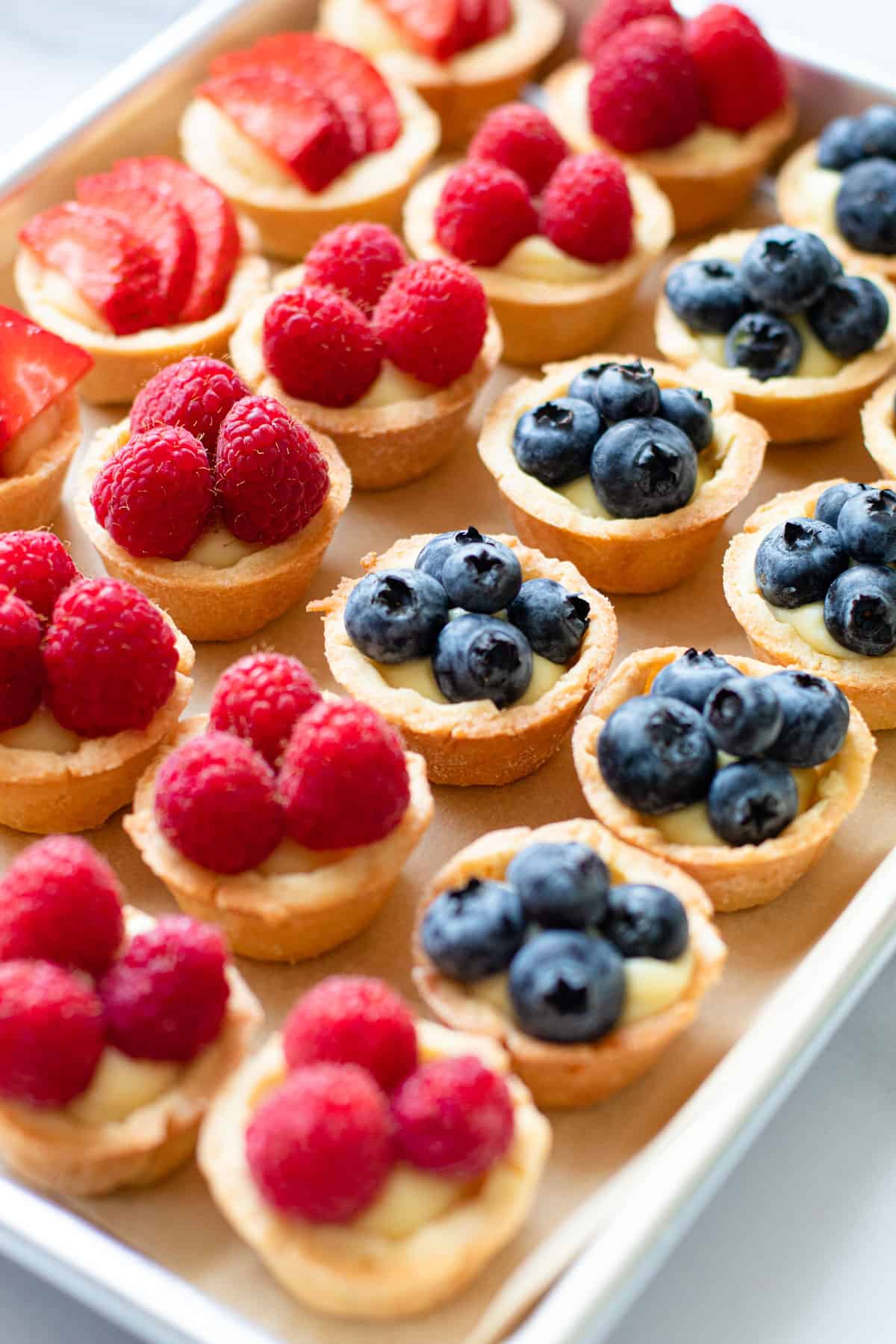 More custard recipes:
Make sure to comment below and tag @everydaypie on Instagram if you make this Pastry Cream or if you have any questions!
Print
Easy Pastry Cream
This easy Pastry Cream, also known as crème pâtissière, is silky, rich and so delicious. This thick custard is made using common kitchen ingredients, takes only about 15 minutes to put together and is perfect for many different fine pastries such as tarts, eclairs or cream puffs!
Author: Kelli Avila
Prep Time:

00:05

Cook Time:

00:08

Total Time:

13 minutes

Yield:

about 3 cups

Category:

Sweet
⅓ cup

(70 grams) granulated sugar

3 tablespoons

(21 grams) cornstarch

Pinch salt

4

egg yolks

2 cups

(480 grams) whole milk

2 teaspoons

vanilla extract or

1

vanilla bean, split

2 tablespoons

unsalted butter
Instructions
Whisk together sugar, cornstarch, and salt. Whisk in egg yolks and milk until fully combined.

Turn on the heat to medium and cook the mixture, whisking constantly, and occasionally taking a spatula and scraping up any thickened cream in the edges of the pan. Cook until the pudding has completely thickened and large bubbles are forming and popping, about 5-8 minutes.

Remove from heat; immediately pour the cream through a fine mesh strainer into a bowl, using a spatula to push all the pudding out while leaving behind any bits of cooked egg.

Whisk the butter and the vanilla extract (or scrape the vanilla bean) into the pastry cream until fully combined.

Pour the cream into a bowl and place a piece of plastic wrap directly on the top of the cream. Let cool at room temperature before chilling in the refrigerator for at least 3 hours or overnight.

When ready to use, whisk together until smooth and silky.
Some of the links on this page may be affiliate links. Everyday Pie is a participant in the Amazon Associates Program. As an Amazon Associate I earn from qualifying purchases, at no extra cost to you.