A Fruit Tart is a classic dessert for a reason. It has all the tastes and textures you want in a dessert: a crisp and sweet pastry shell, filled with smooth vanilla pastry cream and topped with an assortment of just barely sweet fresh fruit. It is a must make recipe.
Classic Fruit Tart Recipe
Nearly everybody has had a fruit tart in their life, right? Well, if you have, has it been lovingly made from scratch? Because a correctly made fruit tart is something dreams are made of. It's crunchy (thanks to that crisp pastry shell) and rich and creamy (thanks to that silky pastry cream), and that fresh fruit on top is the perfect counterbalance to it all.
While impressive looking, this tart is actually quite easy to put together. It can be glazed for the final finishing touch or left as is. Either way, this is a show-stopping dessert welcome at any dinner or gathering. Let's get to making it, okay?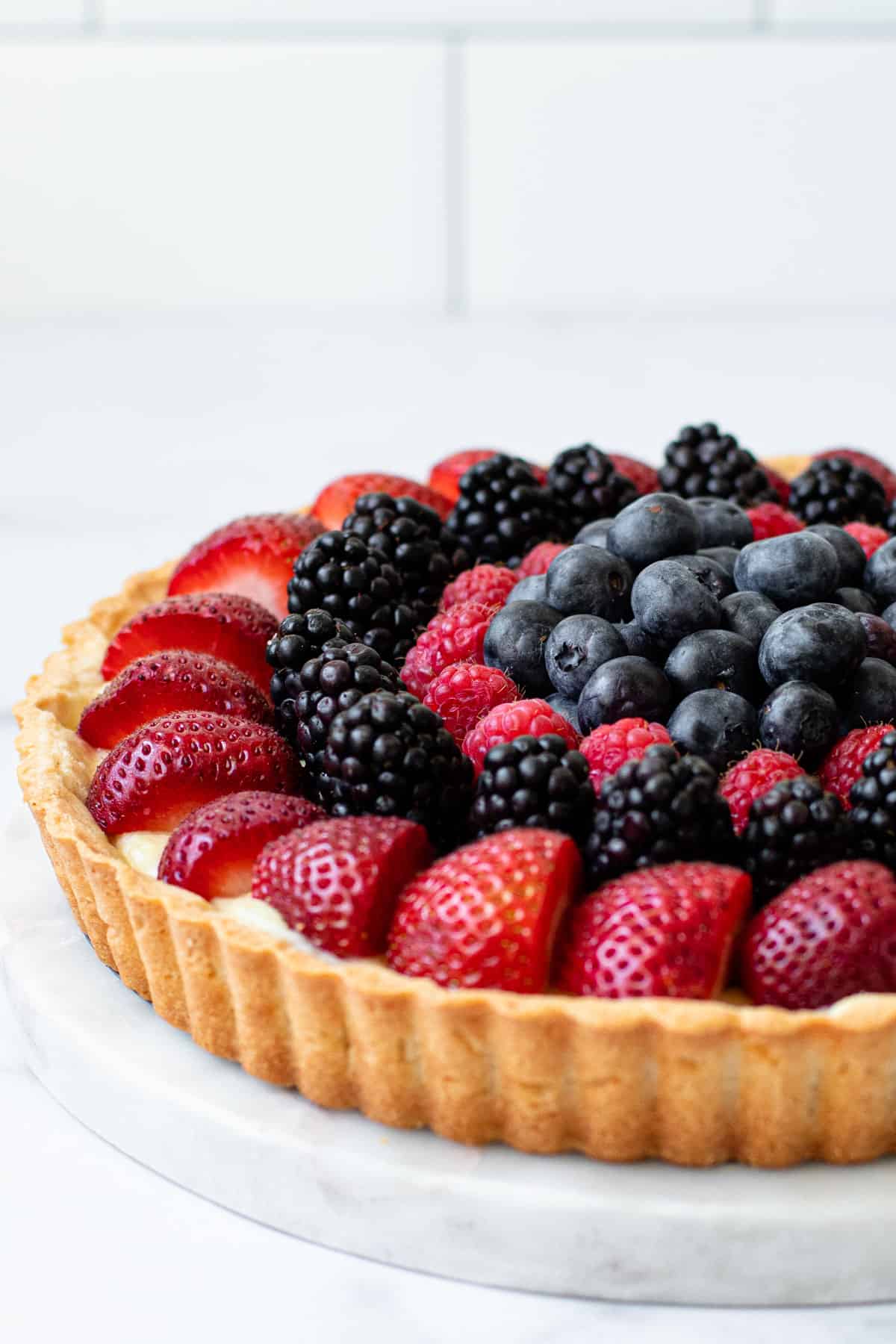 Steps Needed to Make a Fruit Tart
Tools Needed
Here is a list of some of the major tools I used in this recipe. You won't necessarily choose to use them all, but they are exactly what I used here. The links may contain affiliate links.
pastry brush (if glazing the tart)
baking essentials: pot, whisk, spatula, measuring cups
How to Make Pâte Sablée
This tart requires a dedicated tart dough, also known as pâte sablée (pronounced pat sah-BLAY). It is sturdy so it holds up to a heavier tart filling, but delicate enough to have that light buttery crispness to it. It's made in a food processor and comes together quickly.
Using a dedicated pastry just for tarts is good for a few reasons. Butter-based flaky pie dough, when made right, tastes like a puff pastry or even a croissant. In my opinion, this type of pie dough should not be made to be refrigerated. It can taste stale. For a pie or tart that needs to be served cold, this crumbly pie crust is a better option. The pastry is almost cookie-like due to its sweetness and much crisper. It holds up well with chilled pies and still has it's integrity when refrigerated.
For more information about working with this pastry, check out the Pâte Sablée recipe!
Tips for Working with Tart Pastry
Let the dough chill briefly. Because this pastry is made without any added water, there is less gluten formation than flaky pie pastry. It is generally ok to roll out after it has been chilled in the refrigerator for about 30 to 60 minutes. If you try to roll it out right after you make it, it will be too soft.
Weigh your ingredients! An electronic kitchen scale is not a huge investment. You can get one for around $25. I can't recommend enough that if you want to get good at baking, get a scale.
This dough is stickier because of the sugar. You can either roll it on in plastic wrap, which I find useful. Or roll it out as you normally would, but you'll need to use more flour than you typically would so it doesn't stick. If there is a lot of excess flour on your dough after it has been rolled out, you can brush some of it off with a dry pastry brush.
Bake this crust at a lower temperature. This pastry has a high sugar content and almond flour, so I recommend baking it at 375º to ensure it doesn't burn. Cover the edges if they're are browning too quickly.
Making the Pastry Cream
Pastry cream, also known as crème pâtissière is essentially a thick custard. It is perfect for many different fine pastries but especially this fruit tart!
The recipe is made a bit different than traditional pastry cream. This recipe is made in one pot and doesn't require any tempering of the eggs.
This recipe is a bit thinner than traditional recipes because I prefer it that way. Even with that, it still thickens up pretty well once chilled, and it's just perfect in this fruit tart.
Tips for Making Pastry Cream
Make sure to have a rubber spatula and a whisk handy. I use both to make sure the mixture cooks evenly. I swap between using them while I'm cooking the pastry cream to make sure I'm getting all the mixture out of the crevices of the pot while whisking to ensure a consistent cook.
Don't walk away from the pot while you are cooking it. It takes no more than 10 minutes to cook. Also, it's especially important to stir almost constantly in the beginning when you are cooking it to ensure no egg yolks get stuck to the bottom of the pot and scramble.
Strain the cream to get rid of any small bits of cooked eggs you might have. It makes the final cream smoother.
This cream will set pretty firm. Whisk it once it is chilled to achieve a smooth, silky consistency.
Pastry cream is best used within two days after it has been made. As the days go on, the cream might release some moisture. This is fine to consume, just stir it back up.
For more detailed information about making it, check out this dedicated post all about working with pastry cream!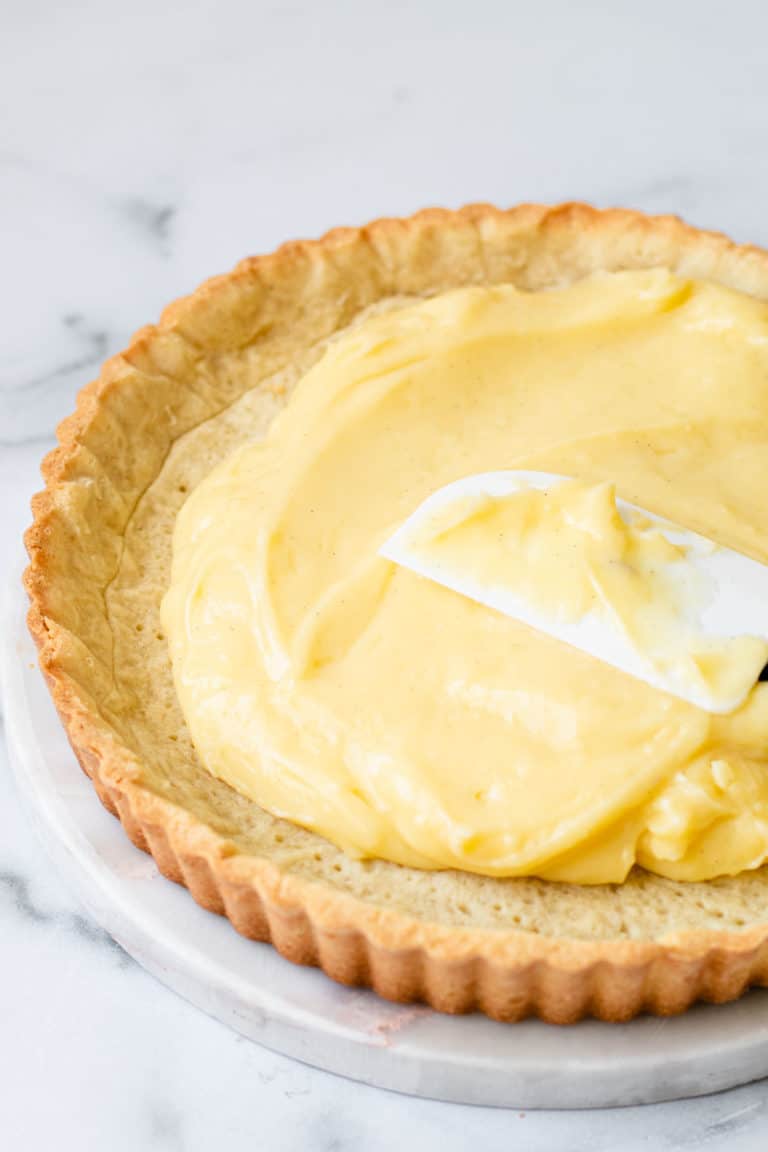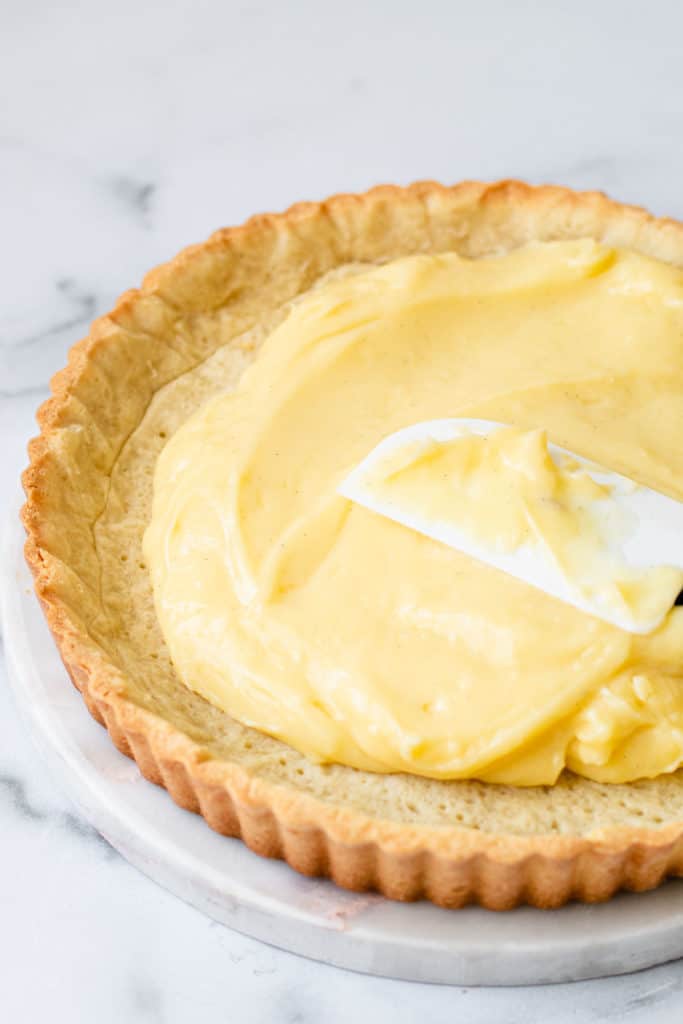 Assembling the Tart
Once you have all your components ready, it's time to assemble! And this is the fun part. You can get as creative or as classic as you want. The fruit options for this tart are absolutely endless and you can truly choose what you like to eat. See below the recipe for a photo of another fruit tart with alternative fruit. Here are some common fruit choices for a fresh fruit tart:
assorted berries
kiwi
pineapple
cherries
mango
peaches
apricots
Once you've got your fruit picked out, go ahead and assemble. Layer in the pastry cream, and then top the tart however you'd like to assemble it.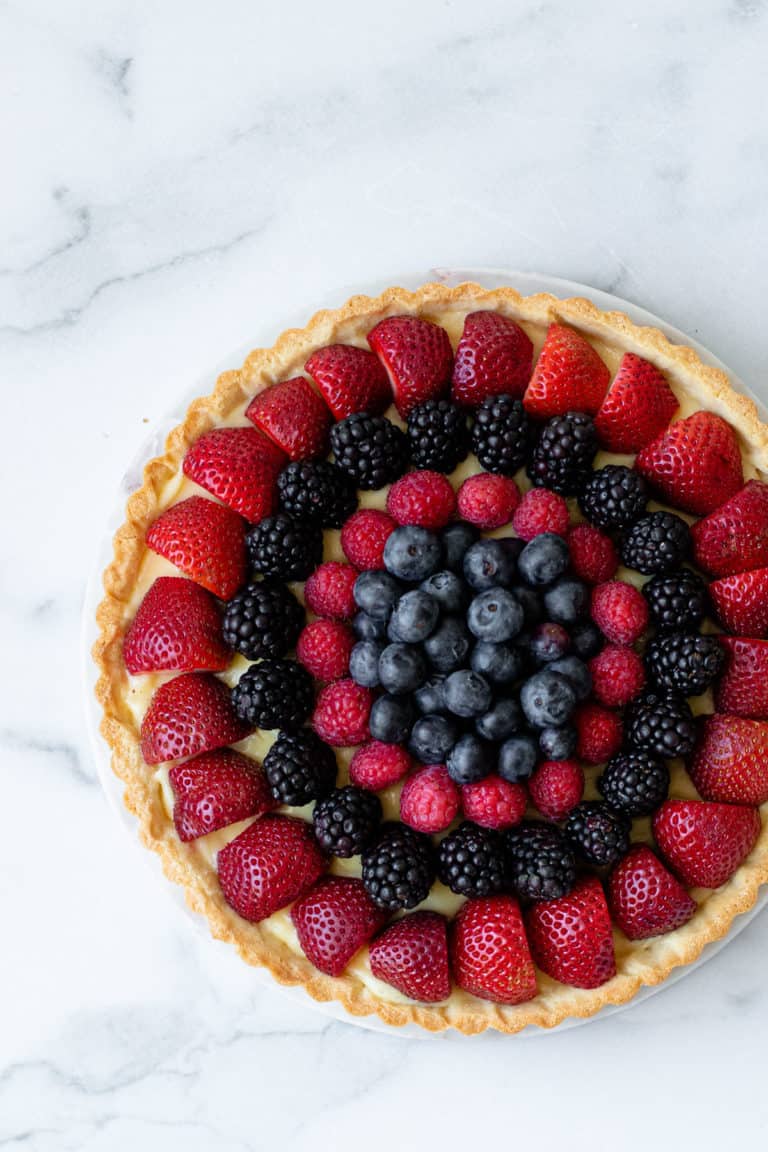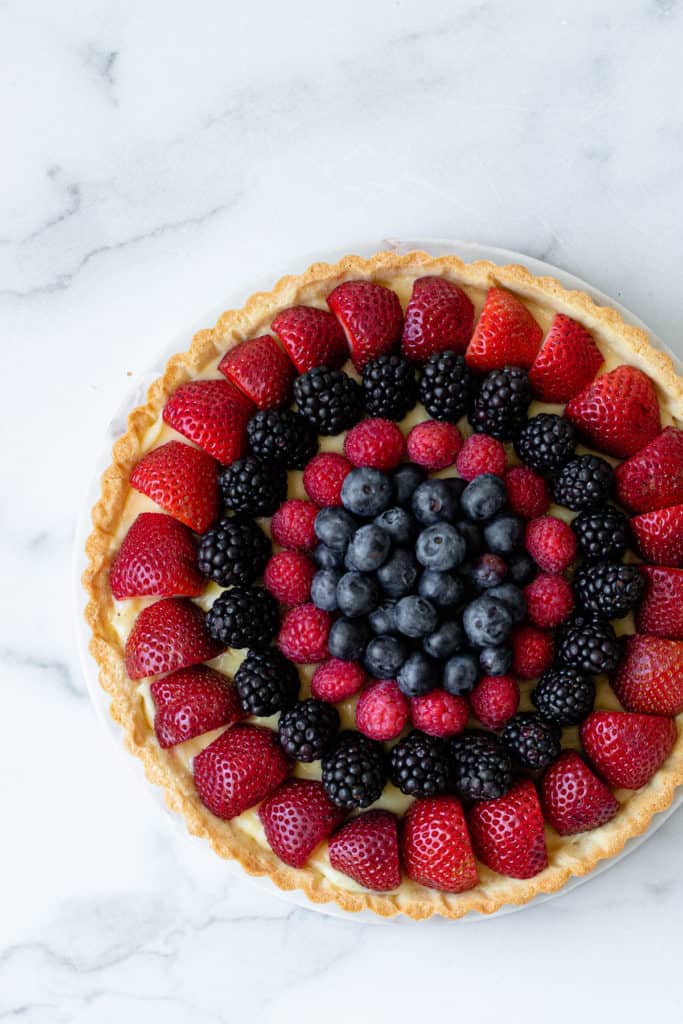 To Glaze or Not to Glaze
Whether or not you want to glaze your fresh fruit tart is a serious question! There are some who are adamantly anti-glaze. But others feel in order to be a classic fruit tart, you must add that shiny glaze atop the fruit.
The glaze is helpful to keep the fruit fresher longer and gives it a nice clean finish that makes the fruit tart a professional appearance.
The glaze is simple. It's made from heated and strained apricot preserves, that have a bit of water added to it to make it possible to brush it onto the fruit.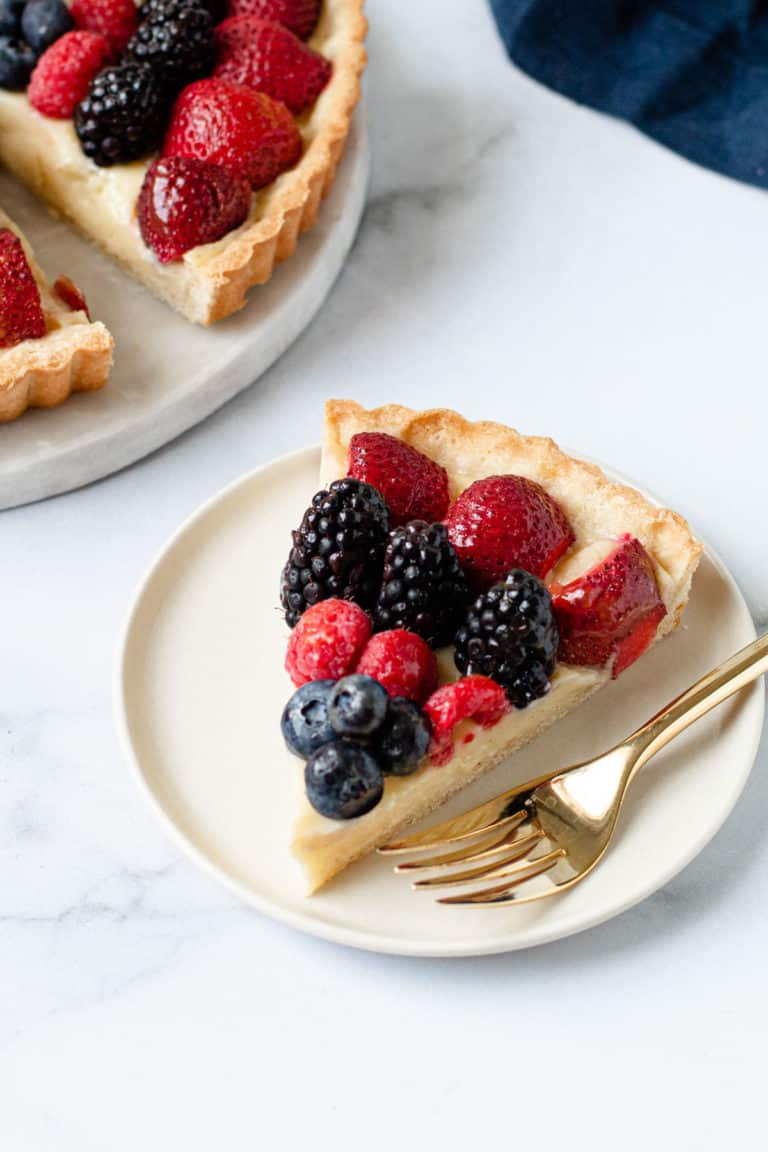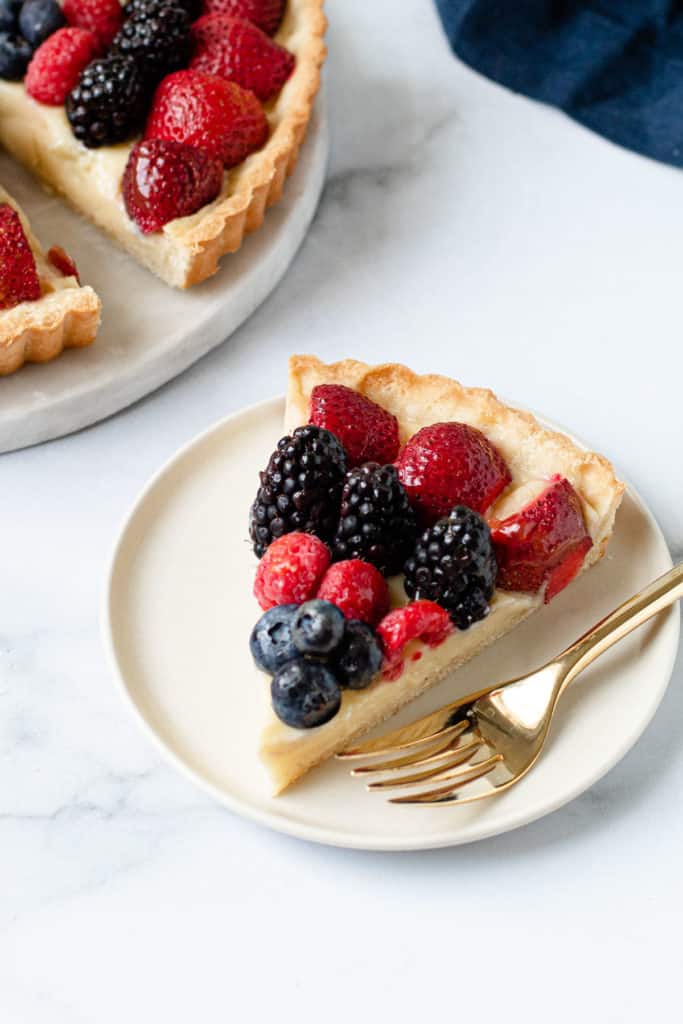 How Long Can a Fruit Tart Last?
An assembled fruit tart should be served fresh. This delicate pastry typically contains pretty delicate fruit. Even if you glaze the fruit (which tends to make this fine pastry last a bit longer) it is still best served the day it is made.
But luckily, you can prepare the components ahead of time. You can make the pastry 2 days in advance, and the pastry cream 1 day in advance.
If you are going to go through the process of making this fine pastry, it's best to serve it at it's finest, the very day it is made.
More Fruit Pies and Tarts:
Make sure to comment below and tag @everydaypie on Instagram if you make this Fresh Fruit Tart or if you have any questions!
Print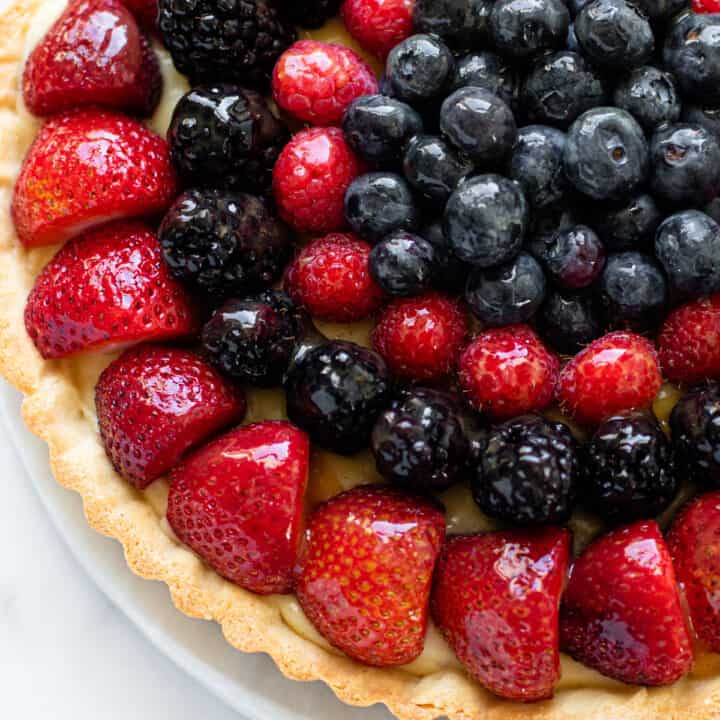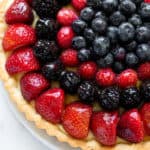 Classic Fruit Tart
Author:

Kelli Avila

Prep Time:

00:25

Cook Time:

00:35

Total Time:

1 hour

Yield:

8 servings

Category:

Sweet
---
Description
There is nothing more classic than a fresh Fruit Tart. While impressive looking, this tart is actually quite easy to put together. It starts with a crisp and sweet pastry shell, that is then filled with smooth vanilla pastry cream and topped with an assortment of fresh fruit. It can be glazed for the final finishing touch or left as is. Either way, this is a show-stopping dessert welcome at any dinner or gathering.
---
For Pastry:
1 cup

(

120 grams

) all-purpose flour

½ cup

(

50 grams

) almond flour

⅓ cup

(

40 grams

) powdered sugar

½ teaspoon

salt

½ cup

(

113 grams

) unsalted butter, softened

1

large egg, whisked together
For Pastry Cream:
⅓ cup

(

70 grams

) granulated sugar

3 tablespoons

(

21 grams

) cornstarch
Pinch salt

4

egg yolks

2 cups

(

480 grams

) whole milk

2 teaspoons

vanilla extract or

1

vanilla bean, split

2 tablespoons

(

25 grams

) unsalted butter
To Assemble:
½ cup

apricot preserves (optional for glaze)

2 tablespoons

water (optional for glaze)
Assorted fresh fruit
---
Instructions
Make and Bake the Tart Pastry:
Add the all-purpose flour, almond flour, powdered sugar and salt to the bowl of a food processor. Process for 30 seconds to combine. Add in the butter and pulse 5 times. With the motor running pour in the egg and let the dough process until the dough forms together into a cohesive ball around the blade.
Scrape the dough from the bowl and place it in a piece of plastic wrap and form into a disk and wrap tightly. Using a rolling pin, roll the dough out until it stretches to the corner of the plastic wrap to ensure a tight seal. Refrigerate for at least 2 hours, but preferably overnight, before use.
Preheat the oven to 375ºF
Roll out the dough to a rough 11" circle and place inside of a 9" tart pan. Pierce the bottom of the pastry with a fork to allow the steam to escape when baking. Place the pastry in the freezer for 10-30 minutes, while the oven preheats to 375ºF. 
Line the pastry with a round piece of parchment paper and then add pie weights to fill (or dry rice or beans or lentils), making sure to push pie weights to the edges. Bake for 20 minutes on the lower rack, then remove from oven and remove the parchment and pie weights. Return to oven and bake for an additional 5 minutes for a partial blind bake or about 10 minutes for a full blind bake. If the edges start to brown at any point cover them with pieces of aluminum foil.
Remove from the oven and let cool entirely.
Make the Pastry Cream:
Whisk together sugar, cornstarch, and salt. Whisk in egg yolks and milk until fully combined. 
Turn on the heat to medium and cook the mixture, whisking constantly, and occasionally taking a spatula and scraping up any thickened cream in the edges of the pan. Cook until the pudding has completely thickened and large bubbles are forming and popping, about 5-8 minutes.
Remove from heat; immediately pour the cream through a fine mesh strainer into a bowl, using a spatula to push all the pudding out while leaving behind any bits of cooked egg.
Whisk the butter and the vanilla extract (or scrape the vanilla bean) into the pastry cream until fully combined.
Pour the cream into a bowl and place a piece of plastic wrap directly on the top of the cream. Let cool at room temperature before chilling in the refrigerator for at least 3 hours or overnight.
Assemble the Tart:
If you are planning to glaze your tart, make the glaze by heating up the apricot preserves with water until bubbly. Strain the mixture and set aside. It should be slightly warm when you are glazing your fruit, so if it cools down you can gently heat it up again.
Remove the pastry cream from the refrigerator and whisk together until smooth and silky. Pour into the baked pastry shell and smooth over the top.
Place the fruit as desired on top of the pastry cream.
Glaze the fruit by brushing a thin layer of preserves on top of the fruit.
Refrigerate the tart until ready to serve. It should be served the same day it is made.
---
Notes
The pastry and the pastry cream can be made up to 2 days in advance. The fruit tart should be served the same day it is assembled together.
Pin it for later: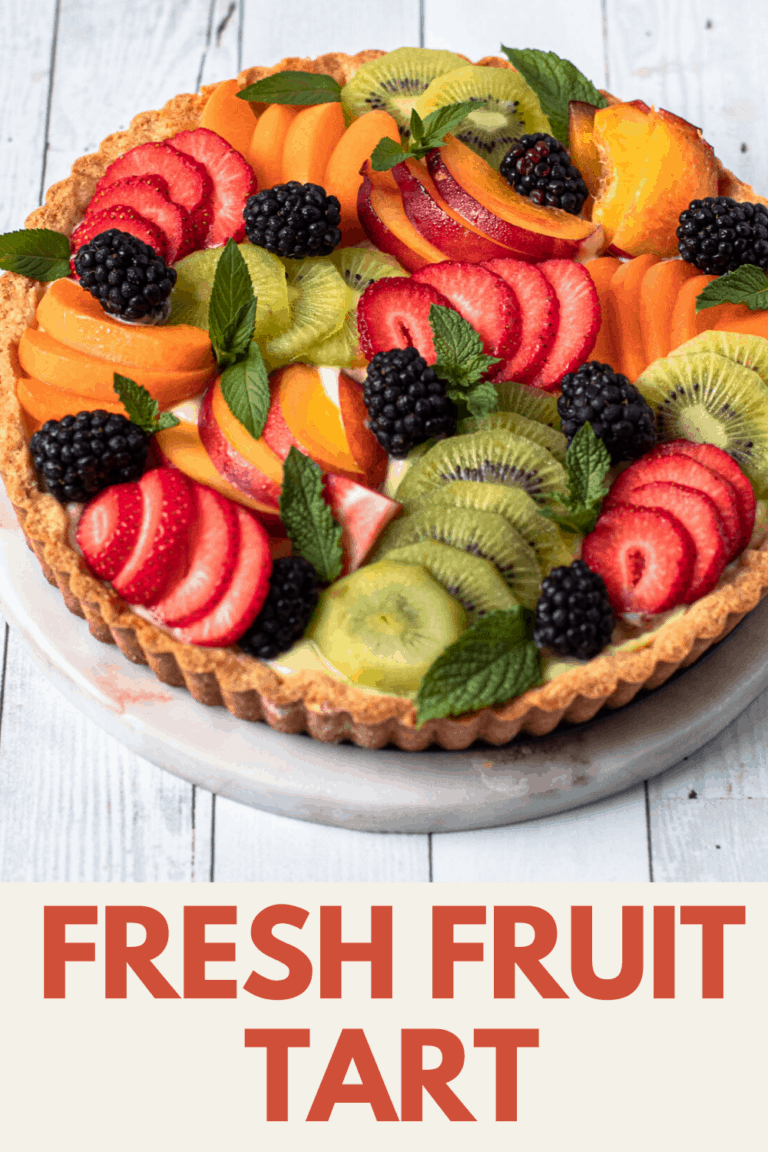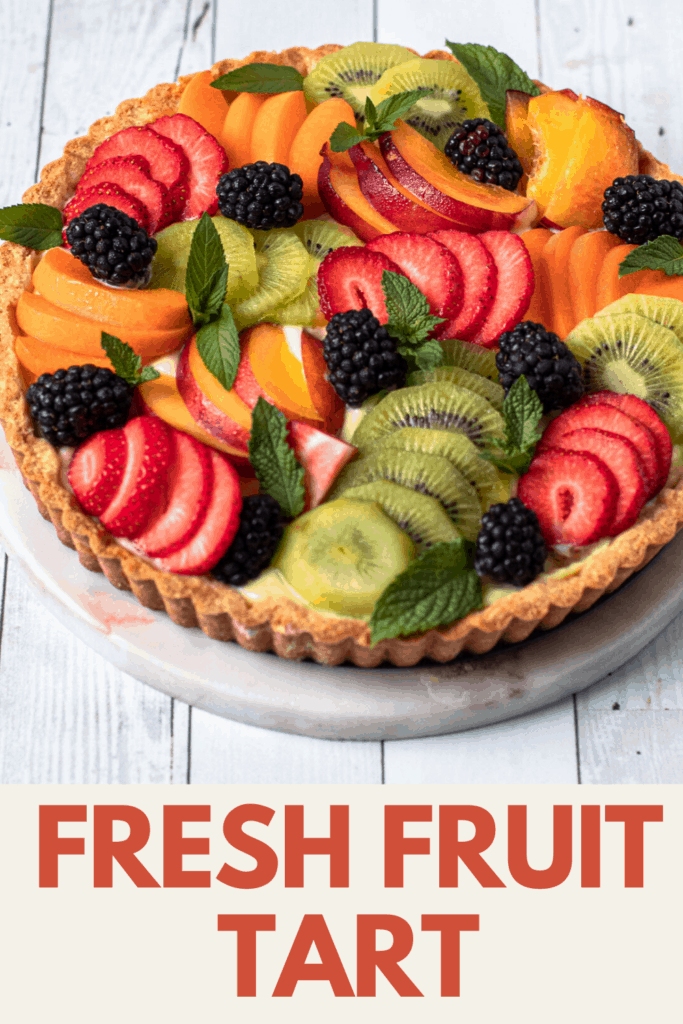 Some of the links on this page may be affiliate links. Everyday Pie is a participant in the Amazon Associates Program. As an Amazon Associate I earn from qualifying purchases, at no extra cost to you.