Smooth, rich, and absolutely elegant, this French Silk Pie is a must-make for any chocolate lover. Made without any raw eggs, this pie features a homemade shortbread cookie crust with a chocolate mousse filling and an indulgent tangy whipped cream top.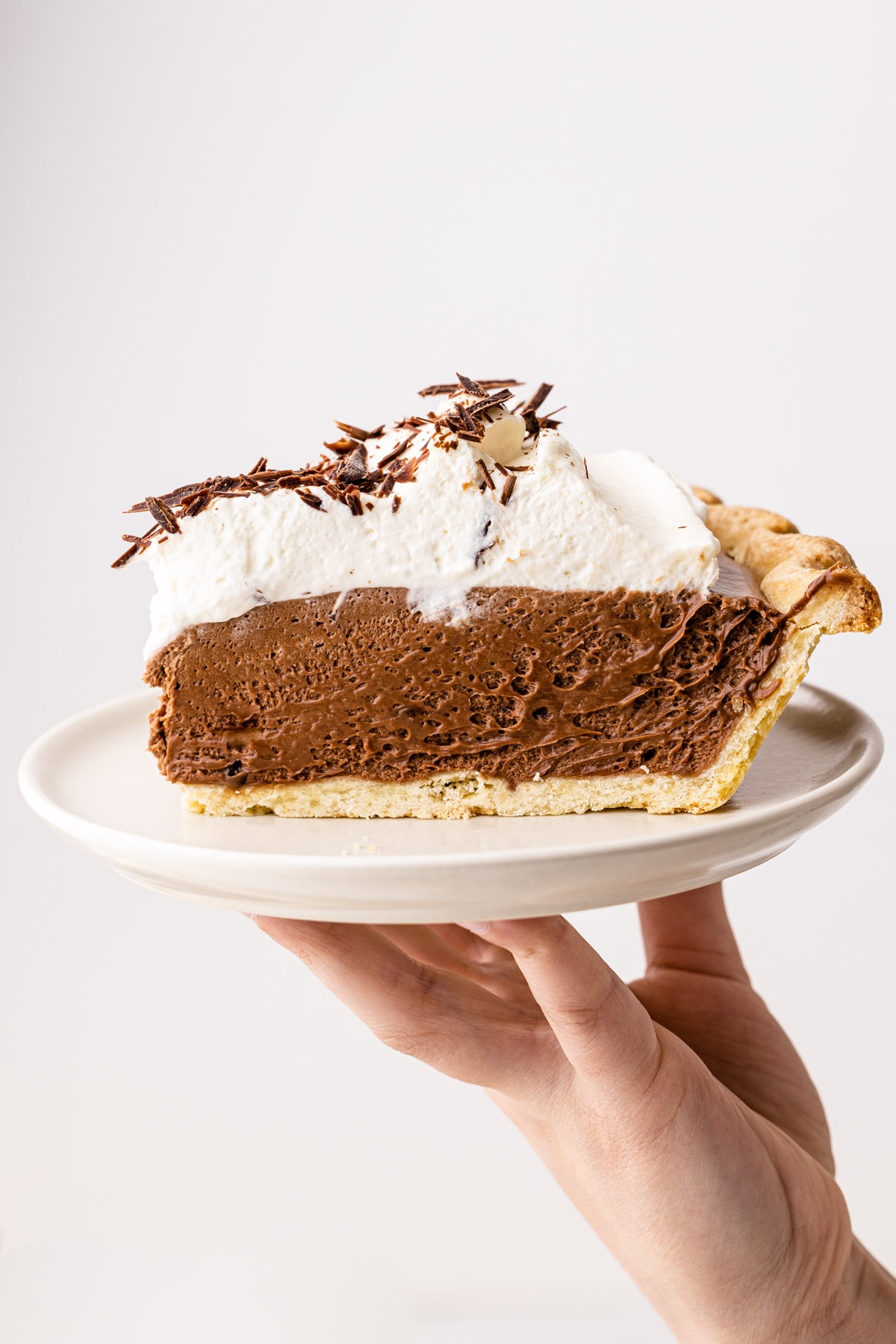 Chocolate Silk Pie
One bite of this luxurious chocolate pie and you'll understand where the name comes from. Whether you call it French Silk or Chocolate Silk Pie, it's clear that the ethereal chocolate mousse filling is the reason for its silky namesake.
This pie and I have a special relationship. It was one of the very first pies I ever made while working in a restaurant kitchen and it helped spark my love of making them all those years ago. I remember being tasked with making it and how foreign it sounded to me. I had never eaten one, and in fact, had never even seen one. Though, in the early days of my cooking career that wasn't uncommon as I was so green.
Traditionally, the pie is made by combining melting chocolate with whipped sugar, butter, and raw eggs. It's finished off with some folded-in whipped cream.
I recall reading through the instructions and being confused about the raw eggs. Was a step missing? Shouldn't they be cooked?
To be sure, the pie was delicious. But I didn't feel right about adding raw eggs in then, and all these years later I still don't. I guess you could say that was my first instinct to tinker with recipes to make them my own. Though, it was many many years until I felt brave enough to start to do that.
Fast forward over a decade, and I developed my own version of that classic chocolate pie. Still true to the traditional taste, but made my way, with cooked eggs, a perfect shortbread crust, and the most amazing tangy whipped cream.
So, let's get to making it, shall we? The text below offers tons of tips and helpful notes, or you can scroll to the bottom to grab the recipe and get started!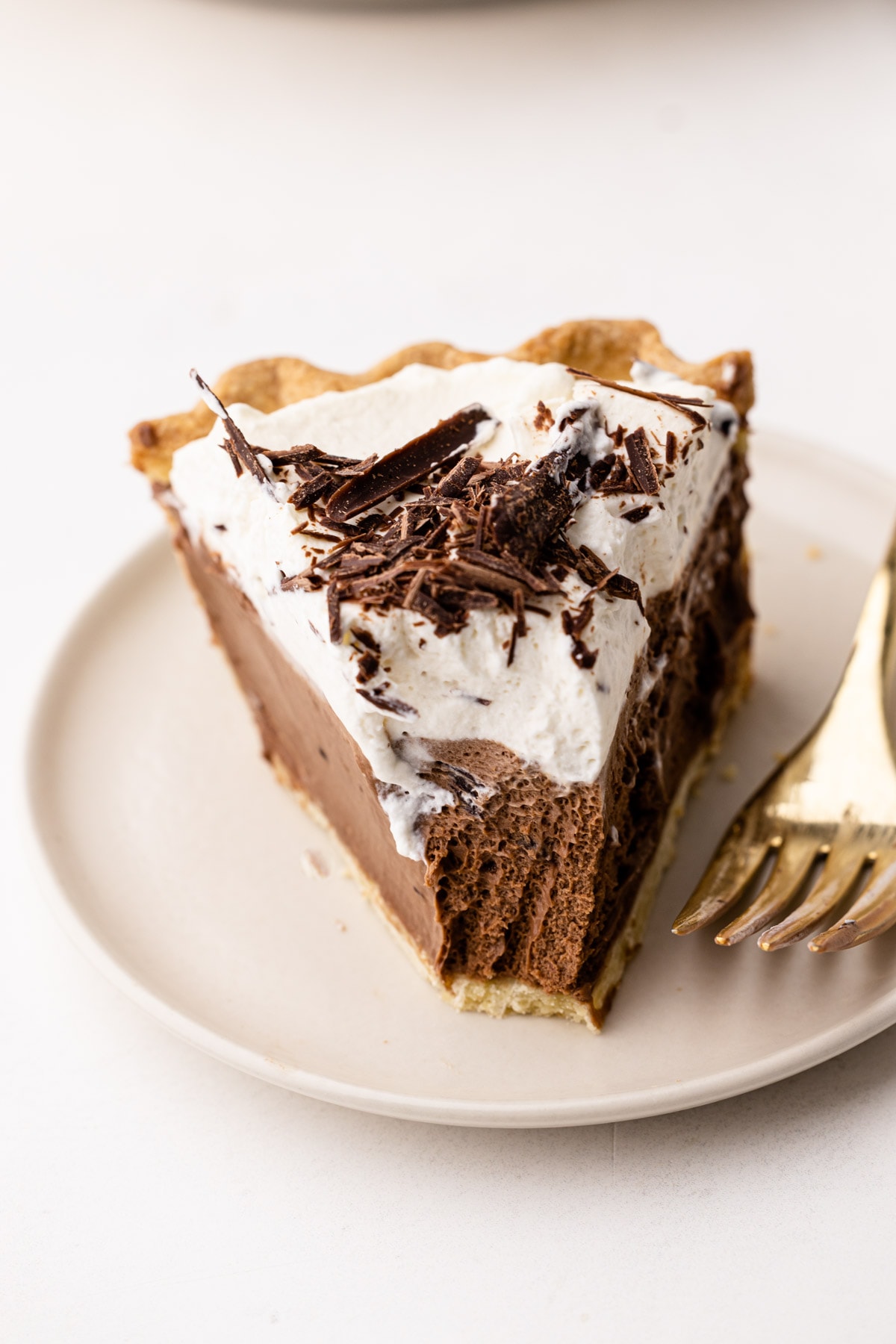 Ingredients Needed
Here is an overview of the ingredients needed for this recipe. The full recipe is listed below in greater detail.
all-purpose flour
powdered sugar + granulated sugar
kosher salt (I use Diamond Crystal kosher salt in my house, which is coarse... if you use table salt or fine salt, you may need to adjust the salt amount)
unsalted butter
eggs
bittersweet chocolate (see more on this below)
heavy cream
cream fraiche or sour cream
vanilla extract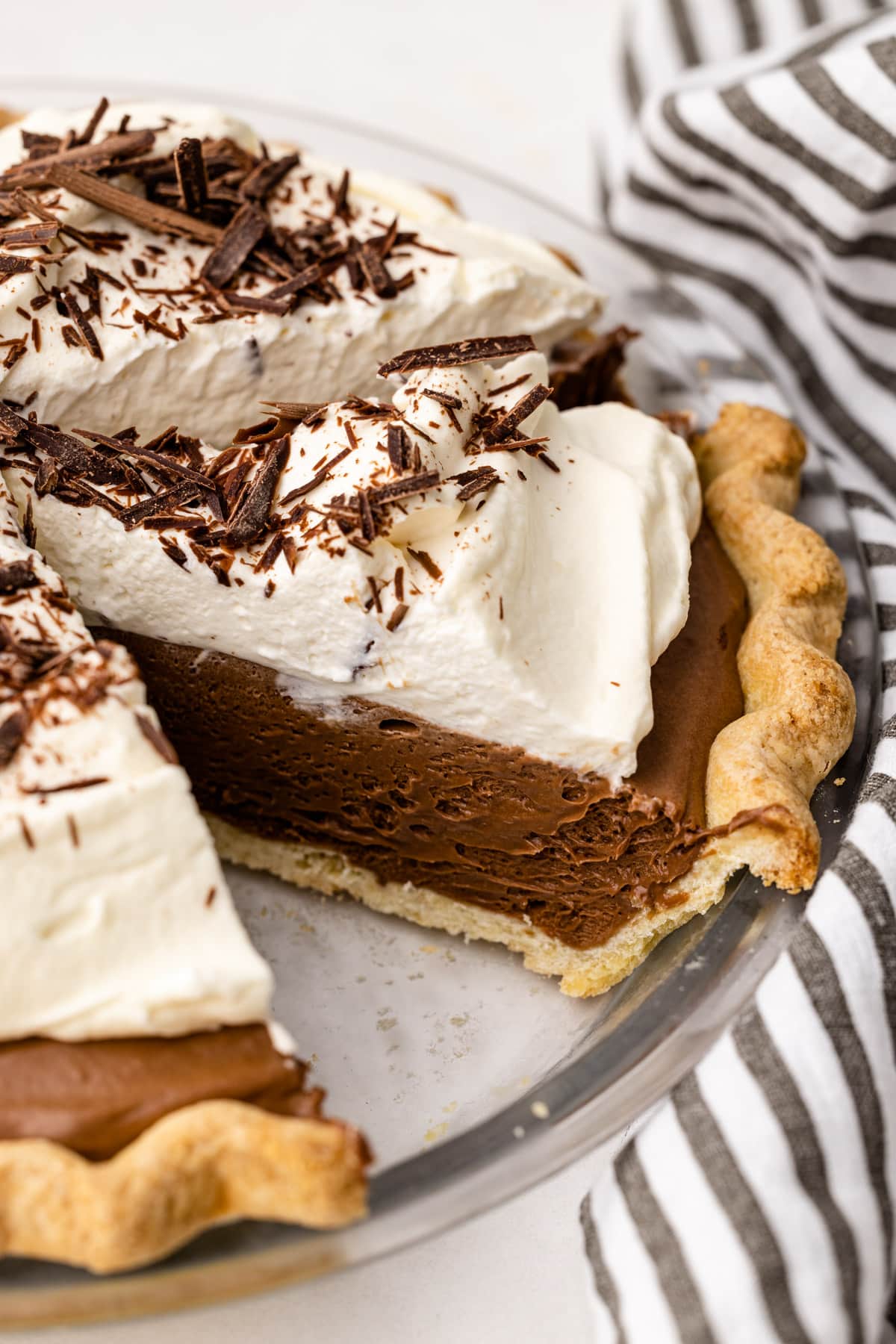 Let's Talk Chocolate
This recipe calls for bittersweet chocolate, which means it contains about 70% cacao. The amount of sugar added to the recipe is balanced with the bittersweet chocolate. It results in a deeply chocolatey flavor.
It is possible to use semisweet chocolate if that is all that is available. The pie will be a little sweeter, but still good.
The recipe calls for chopped chocolate, as opposed to chocolate chips. Bar chocolate is far superior to use in baking recipes because it has no additives like chocolate chips.
Can you use chocolate chips for this in a pinch? Possibly. I haven't tried. But I really recommend sticking with baking chocolate if possible.
Useful Tools to Make This Recipe
Here is a list of some of the primary tools I use in this recipe. You won't necessarily choose to use them all, but they are exactly what I used. Any links may contain affiliate links.
food processor (to make the pie dough)
9" pie plate
rolling pin
large sturdy pot (to use as a double boiler)
large metal bowl (one that fits inside/on top of the large pot without touching the bottom of it)
dried rice and beans/pie weights (for blind baking)
knife and cutting board (to chop the chocolate)
kitchen essentials: baking scale, bowls, measuring cups, measuring spoons, etc
Recipe Overview
There are three components needed to make this French Silk Pie:
the shortbread pie crust
the chocolate filling
the stabilized whipped cream
Some components can be made ahead of time (such as the pastry) but others should be made just before serving (like the whipped cream). See more on the specific components below.
Why Mise en Place Matters for this Recipe
The recipes on this site vary greatly in difficulty. Some are very simple (like this No Bake Oreo Pie) and others that have multiple steps that are more difficult (like this Mississippi Mud Pie). This French Silk Pie falls somewhere in between and takes some skill and finesse to make it. However, it's totally doable, and my best advice for making it is to read the recipe thoroughly before beginning and have everything ready to go before making it. AKA get your mise en place ready! Once you start making the chocolate filling you can't stop, so please follow this advice.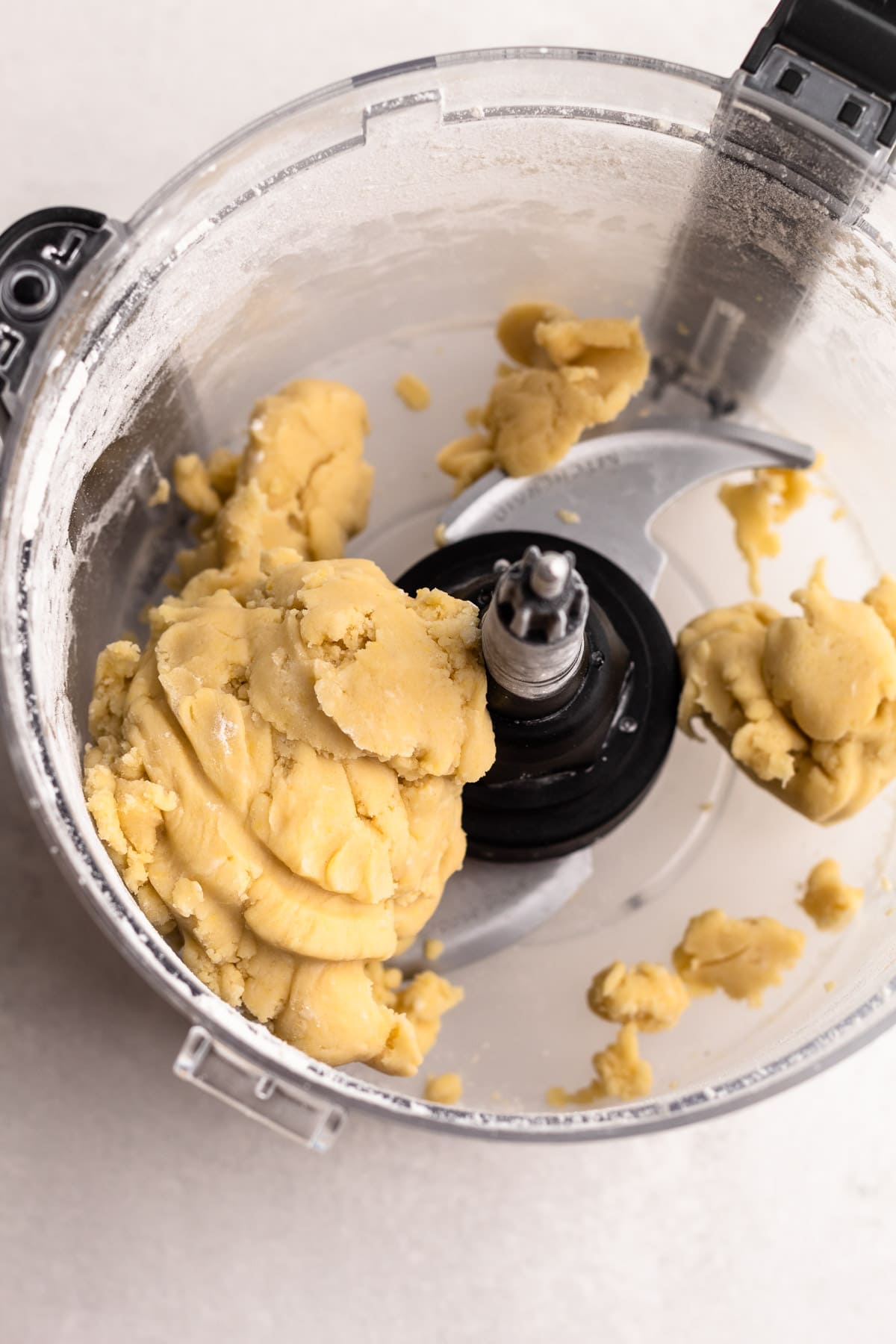 Making the Shortbread Pie Crust
An elegant pie deserves an equally elegant pie crust. Enter the buttery shortbread crust that bakes up both pretty and delicious.
It also comes together quickly in a food processor following the usual way to make a "short" pie crust:
Add the dry ingredients
Pulse in the butter
Add the wet ingredients--in this case, egg--and pulse until it just comes together around the blade, and then stop!
The consistency will be that of play dough when it's done. It will be soft, but if handled delicately it can be rolled out right away. Or, it can be made ahead of time for up to 3 days.
I like using a shortbread crust for a pie filling that needs refrigeration because it is sturdy, yet also still light-tasting when cold.
If you don't want to make a pie crust, a quick Oreo Cookie Pie Crust would be really awesome with this pie. It's delicious when paired with the silky chocolate filling and can be a no-bake easy option for making this pie.
I would not suggest using a flaky pie crust for this pie, since it will be served cold. But if you really want to, you can use this Butter Pie Crust recipe.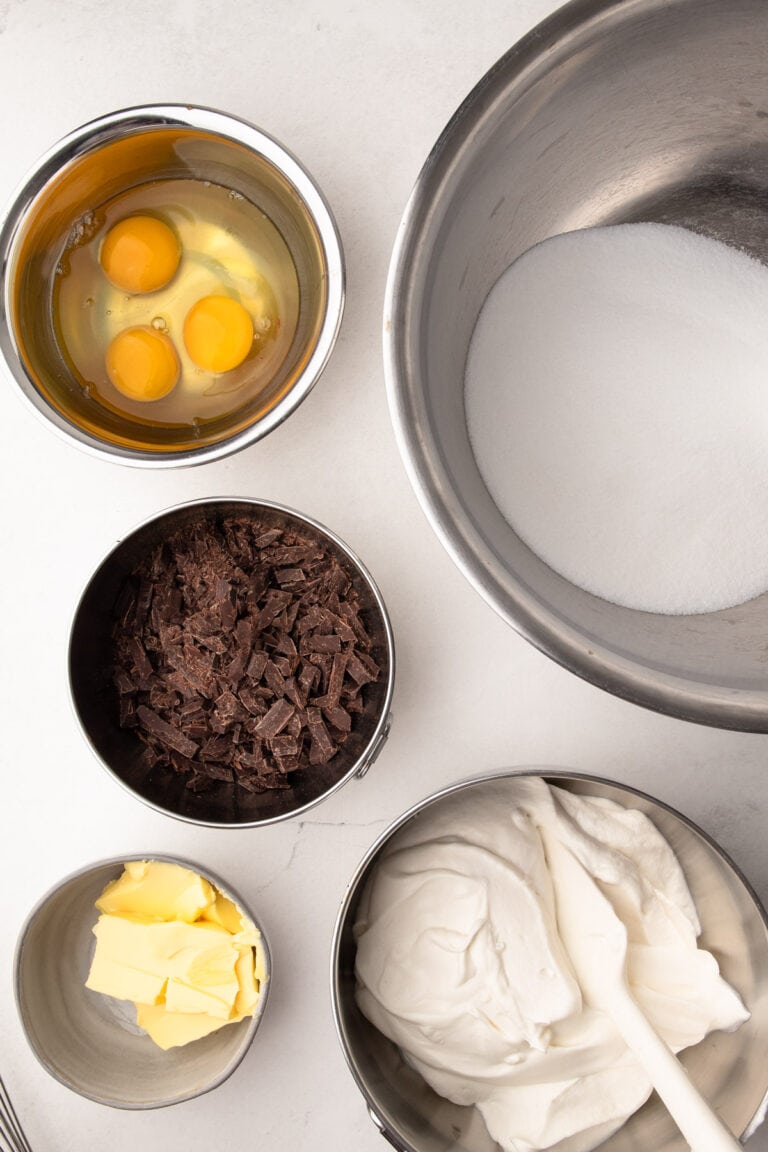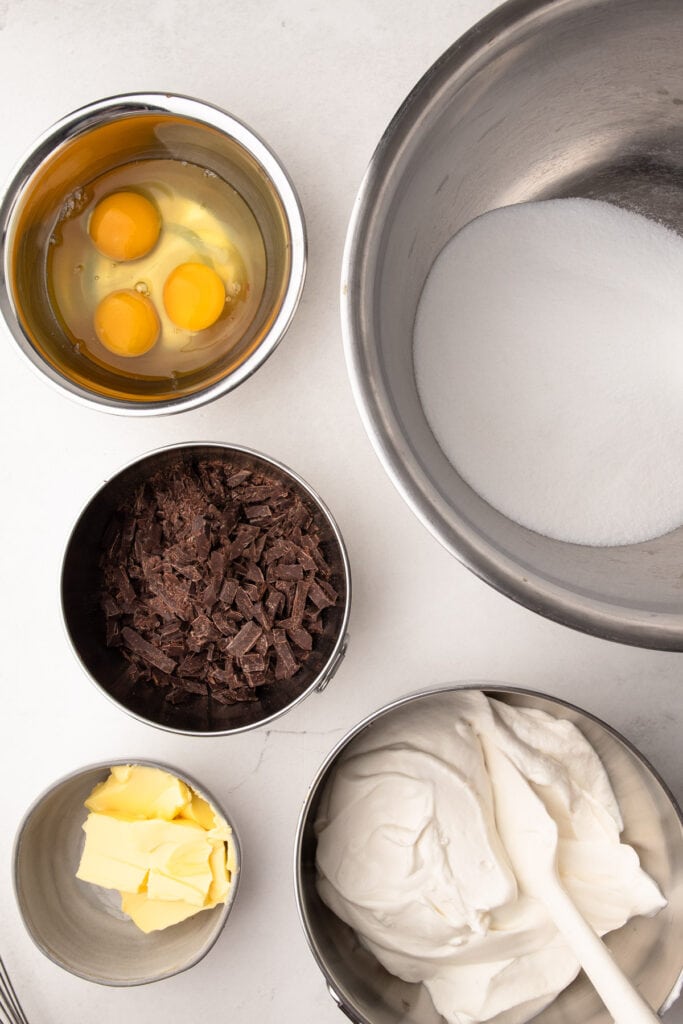 How to Make the Chocolate Filling
Essentially, the chocolate filling is a mousse. A mousse can be made in several different ways, but usually, it's made with some type of whipped raw eggs. As stated above, a classic French Silk Pie uses raw whole eggs that are whipped into a sweet buttery chocolate mixture.
Eating raw eggs just isn't something I want to gamble on, so whenever recipes traditionally call for them, and there is an easy way to cook them instead, that's the course I'll take.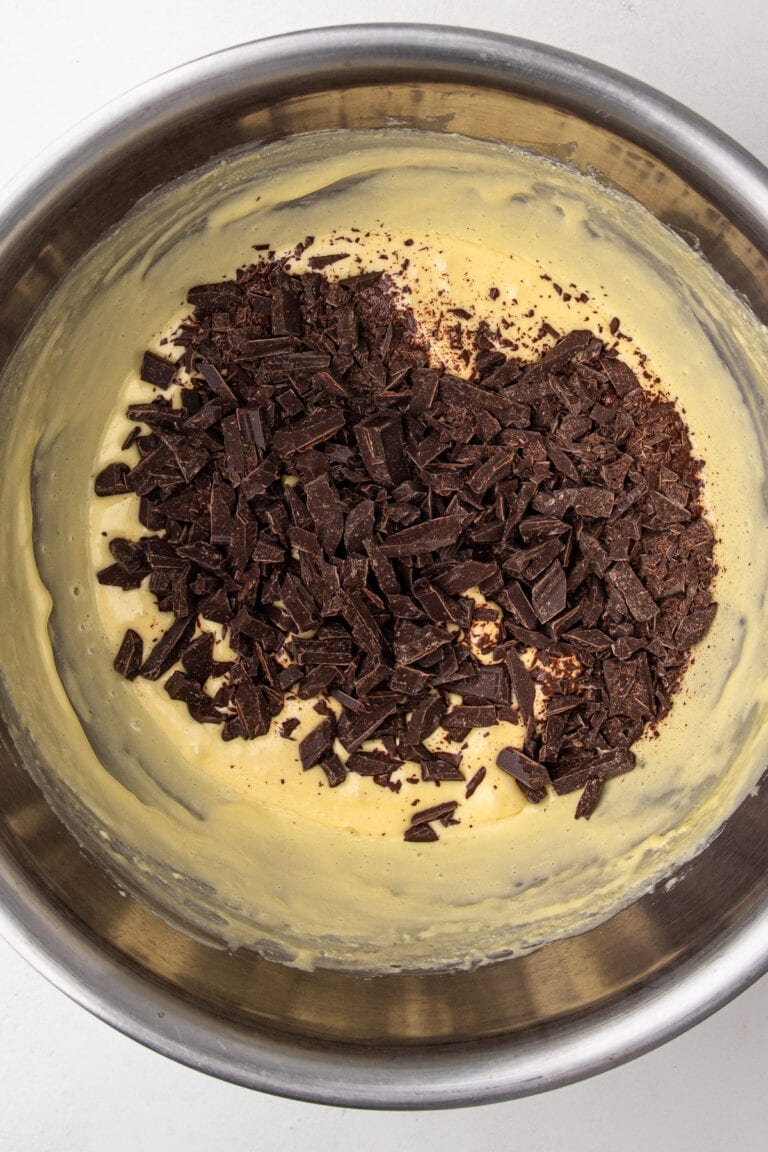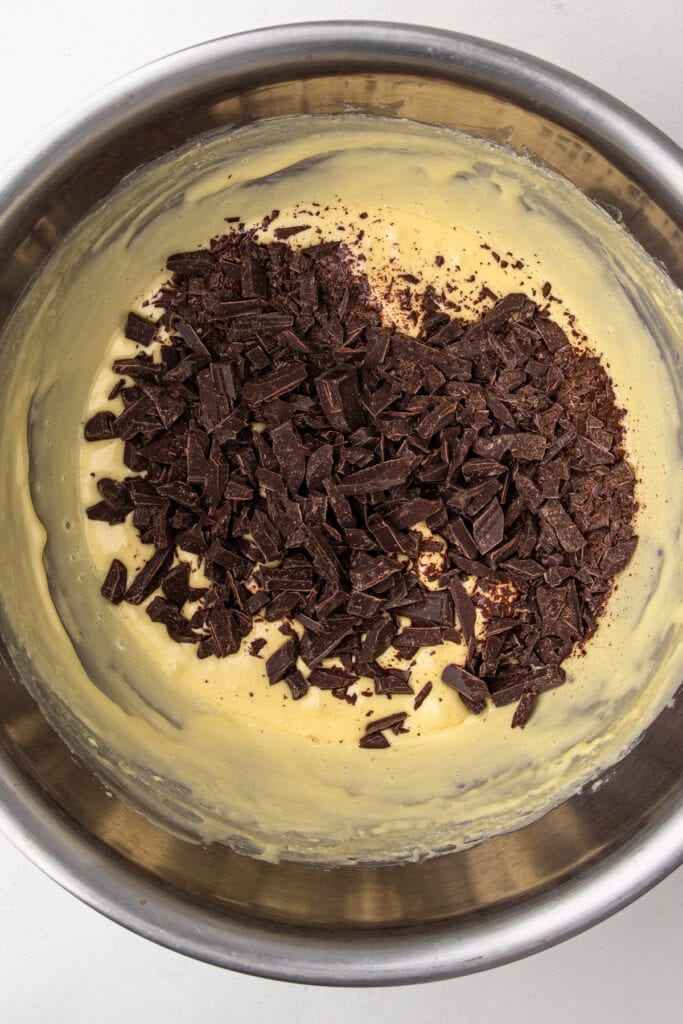 Let Me Tell You About Pâte à Bombe
With this recipe, I turned to the french technique of making a pâte à bombe, which is basically a swiss meringue but with egg yolks, or in this case, whole eggs. There are a few different ways the eggs and sugar could be cooked, but for the sake of not dealing with hot sugar syrups, I decided to cook the pâte à bombe over a double boiler.
Since most people don't keep an actual double boiler in their homes, (including me), a "makeshift" double boiler will do just fine. This looks like whisking the eggs and sugar in a large metal bowl (I don't recommend glass at all for this purpose, metal is best) and cooking it on top of a pot of simmering water.
The eggs slowly cook, as the sugar melts and the pâte à bombe goes from being a thin dark yellow mixture to a thickened, fluffy light yellow foam.
While it's always useful to have an instant-read thermometer handy when cooking eggs, in this case, it will be very clear when the eggs are cooked to the correct temperature. You'll find they will thicken up enough that when the mixture runs off the whisk, it will create a "ribbon" that holds it's shaped for a few seconds before fading away.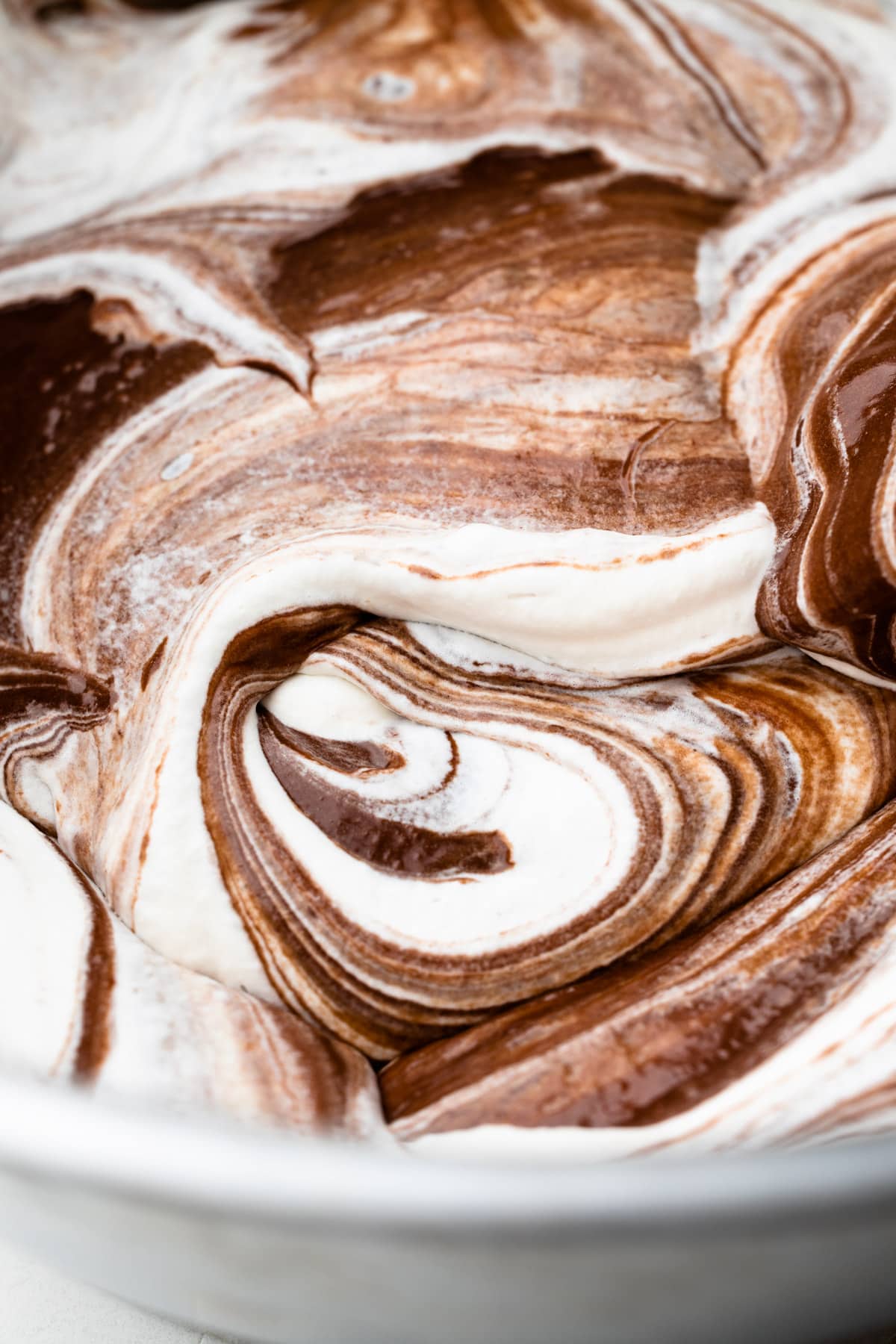 A Very Fast-Paced Sequence
Once the eggs have reached their correct temperature (which, btw is 160ºF), it's time to quickly add in the rest of the ingredients. And I can't emphasize this enough: you must have all of the ingredients ready to go.
First, the chopped chocolate is added to the hot egg foam. The heat will melt the chocolate. Next, the very softened butter is folded in. At this point, the mixture will turn very glossy and very thick.
Finally, whipped cream is folded in to complete the mousse. It should be transferred immediately into the blind bake crust and smoothed over with an offset spatula.
Once you've made your filling, it needs to chill for 2-4 hours.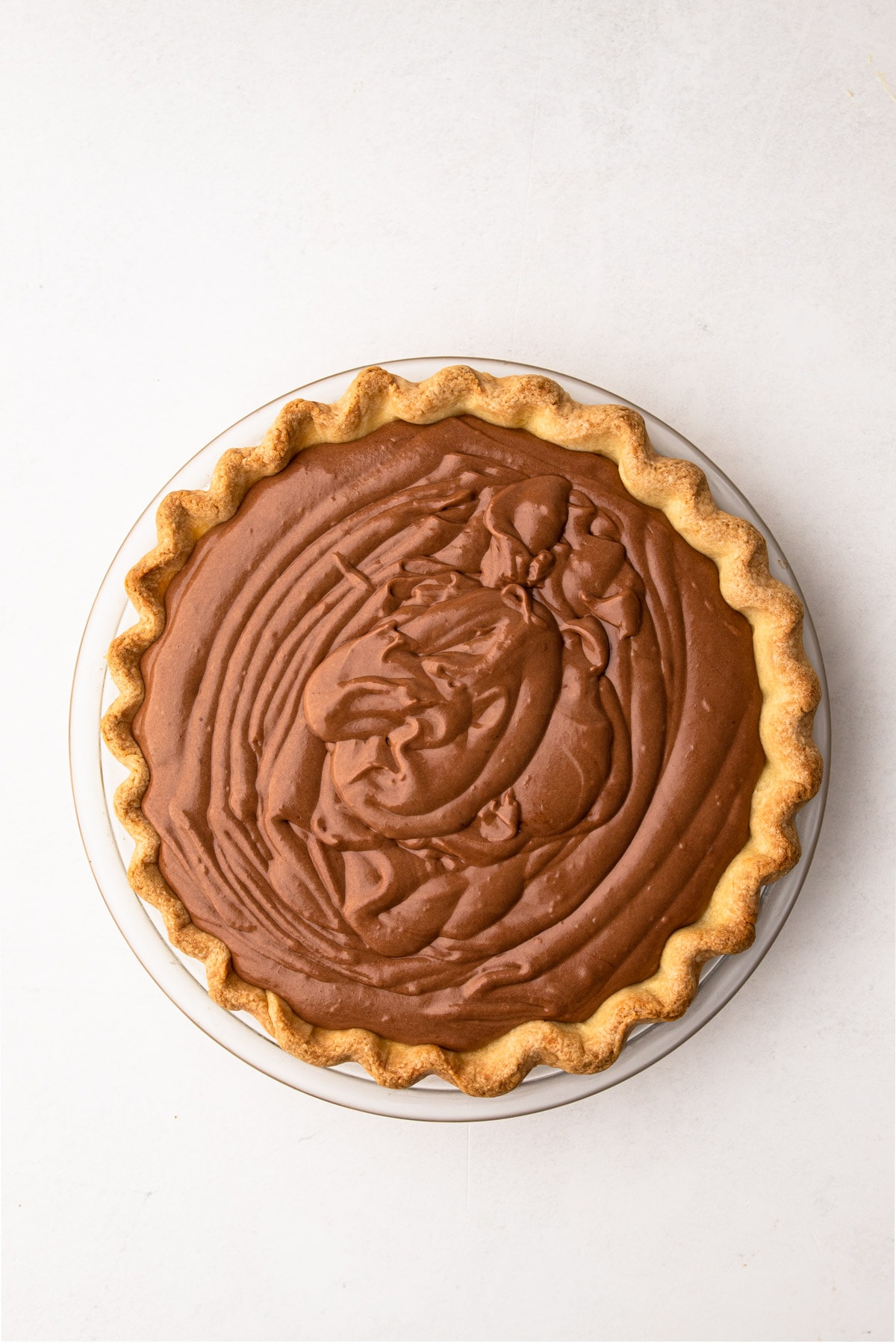 Quick Tips for the Chocolate Mousse Filling
Here are some quick tips for making the chocolate filling:
Read the recipe through, and get all your mise en place ready before beginning.
Don't walk away from the cooking eggs. While the sugar does offer some "protection" of coagulating egg proteins (aka scrambled eggs), it's best to maintain some movement in this mixture as it comes to 160ºF
Finely chop the chocolate, it ensures it melts quickly.
Immediately add the finely chopped chocolate to the hot pâte à bombe. The carryover heat is what is going to melt the chocolate.
Make sure the butter is very soft. Again, it's the carryover heat that is going to incorporate the softened butter into the chocolate. However, it's important that the butter is still in its solid form when it's combined with the chocolate. If it's too cold, it won't combine with the chocolate. And if you try to add melted butter because you didn't soften it on time, it also will encounter problems during the mixing process.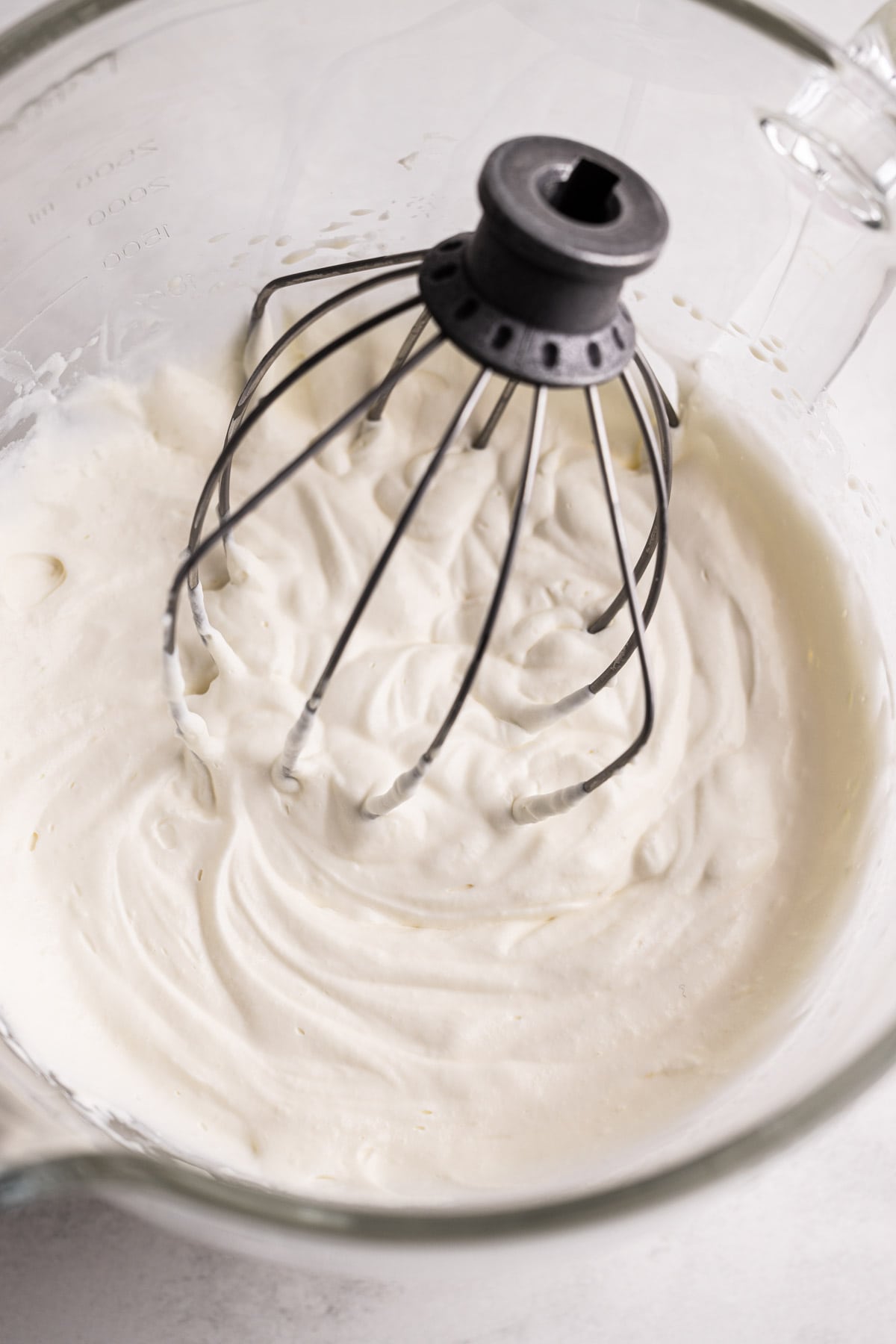 The Special Whipped Cream that Brings it All Together
What would a French Silk Pie be without a pile of whipped cream on top?
This recipe calls for adding cream fraiche (or sour cream) to the heavy cream, along with a touch of sugar and vanilla. It adds a unique element to the pie that really brings it all together.
A bonus of adding creme fraiche to the whipped cream is that it helps stabilize it. While whipped cream is always better served fresh, the stabilized whipped cream will hold up well on any leftover pie for about 2 days if need be.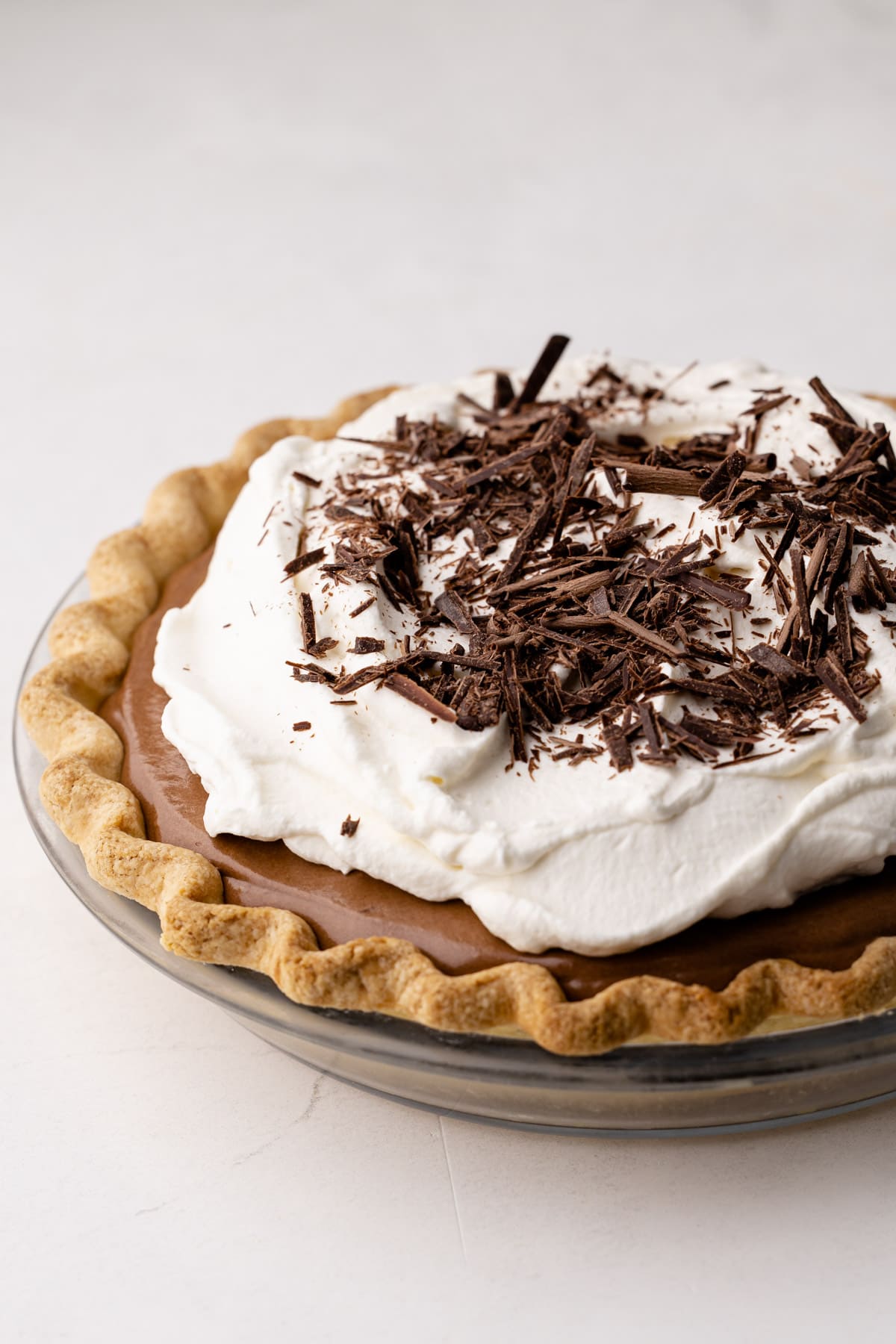 How to Serve It
It's perfectly acceptable to leave the pie unadorned since it already has that gorgeous cream top. But, it's always a fun idea to add a little decorative flair on top.
Since you are already chopping chocolate to make the filling, it makes sense to chop some extra to sprinkle on top of the pie. You could also drizzle a bit of chocolate ganache on top of the whipped cream! Or purchase some chocolate curls.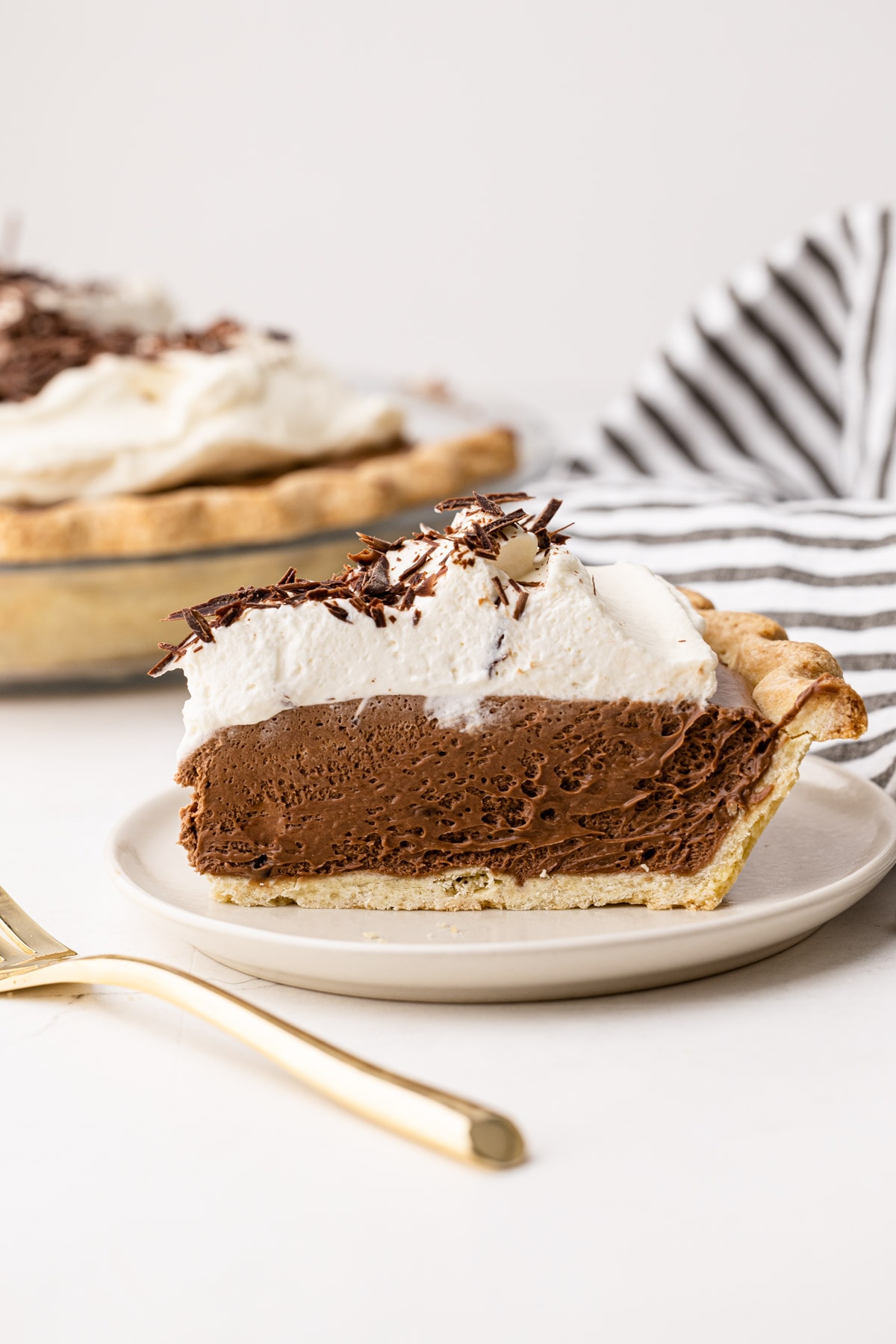 Storing Leftovers
The pie will keep in the refrigerator for a few days, but it's best served within a few days.
More Chocolate Pies
I am so honored when you make a recipe from my site! If you make this French Silk Pie please leave a comment and a star rating with your experience! If you have any questions about this recipe, feel free to comment here, too!
Print
Full Recipe
French Silk Pie
Smooth, rich and elegant, this French Silk Pie is a must-make for any chocolate lover. This pie, made without raw eggs, features a homemade shortbread cookie crust with a mousse chocolate filling and an indulgent tangy whipped cream top.
Author: Kelli Avila
Prep Time:

00:25

Cook Time:

00:40

Total Time:

1 hour 5 minutes

Yield:

Serves 8-10

Category:

Sweet Pie

Cuisine:

American
For Shortbread Pie Crust
1

-

½

cups (

180 grams

) all-purpose flour

¼ cup

(

30 grams

) powdered sugar

½ teaspoon

(

3 grams

) coarse kosher salt

½ cup

(

113 grams

) unsalted butter

1

large egg
For Chocolate Silk Filling:
1 cup

(

227 grams

) heavy cream

3

large eggs

1 cup

(

200 grams

) granulated sugar

½ teaspoon

(

3 grams

) coarse kosher salt

6 ounces

(

170 grams

) bittersweet chocolate

½ cup

(

113 grams

) unsalted butter, very soft
For Tangy Whipped Cream:
2 tablespoons

(

30 grams

) creme fraiche or sour cream

2 tablespoons

(

24 grams

) granulated sugar

¼ teaspoon

vanilla extract

1 cup

(

230 grams

) heavy cream

¼ cup

(

30 grams

) chocolate shavings / chopped chocolate
Instructions
Prepare the Pastry:
Add the flour, powdered sugar, and salt to the bowl of a food processor, and pulse until well combined. Add in the butter and pulse 5-7 times, or until the butter is broken down into tiny pebbles.
With the motor running, add in the egg and let the dough process until it forms together into a cohesive ball around the blade, about 1 minute.
Transfer the dough to a flour-dusted work surface.
Roll out the pie dough to an 11″ circle and line a 9" pie plate, crimp the edges as desired. Prick the bottom of the dough all over with a fork. Place the pie in the freezer while the oven preheats, at least 15 minutes.
Preheat the oven to 375ºF.
Once chilled, line the pie dough with a piece of round parchment paper and then add pie weights (dry rice/beans/lentils work great), making sure to push the weights to the edges.
Bake for 20 minutes, then remove from the oven and carefully remove the parchment and pie weights. Return the now empty pie shell to the oven and bake for an additional 10 minutes, or until the pastry is fully cooked through. Set aside until ready to use.
Make the Chocolate Silk Filling:
Before beginning, have all equipment and ingredients ready to go. Once you start this recipe it needs to be completed without stopping in between tasks.
Using a whisk or an electric mixer, whip cream until medium stiff peaks. Set aside in the refrigerator until ready to use.
Fill a large sturdy pot with a few inches of water and turn on the heat to medium. This is the bottom of your makeshift double boiler.
Combine the eggs and sugar in a large metal heat-proof bowl (one that can fit inside the makeshift double boiler without the bottom touching the water). Whisk the eggs and sugar together until fully combined.
Set the bowl over the steaming water. Alternate between whisking the mixture and scraping down the sides of the bowl with a spatula, until all the sugar has dissolved and the yellow mixture has lightened in color and has thickened, forming ribbons when the mixture falls off the whisk and into the bowl. It should have reached a temperature of 160°F. It will take anywhere from 10-15 minutes.
Remove the mixture from the heat and immediately add in the salt and chopped chocolate. Stir the chocolate in with a rubber spatula until it's fully melted.
Add the pieces of very soft butter, and continue to stir until until the butter is fully combined. The mixture should be very glossy.
Fold in ⅓ of the chilled whipped cream into the chocolate to lighten it up. Then, fold in the remaining.
Immediately transfer the chocolate filling into the prepared pie crust and smooth over the top. Let set up at room temperature for an hour before chilling in the refrigerator for at least 3 hours or overnight.
Assemble the Pie:
Make the whipped cream: To the bowl of an electric mixer fitted with a whisk attachment, add creme fraiche, sugar, and vanilla. Whip on medium speed, scraping down the sides of the bowl until combined. Add heavy cream and whip on medium speed until the cream has reached very soft stiff peaks, about 2 minutes more.
Place whipped cream on top of the pie. Using an offset spatula spread the cream evenly on top of the pie.
Garnish the pie with chocolate shavings or as desired.
Serve immediately or keep chilled until ready to serve.
Notes
Have a question or looking for tips? The text written above the recipe is always a great first place to start! This French Silk Pie was developed with love, and I always include loads of explanations, tips, step-by-step photos and technical advice shared before the recipe.
Weighing your flour is the most accurate way to measure. If you aren't going to weigh it, make sure to spoon it into the cup, and then level it off. If you scoop the flour out with the measuring cup and then level, it could change the outcome of the final product.
Be sure to read the recipe through thoroughly before beginning. Have all your ingredients measured out, and all your equipment ready and anticipate what to expect for the best possible outcome for this pie.
I don't recommend using glass bowls for the double boiler, even if they are heat safe.
The pie will keep pretty well for 2-3 days in the refrigerator.
Keywords: French Silk Pie, Chocolate Silk Pie
Some of the links on this page may be affiliate links. Everyday Pie is a participant in the Amazon Associates Program. As an Amazon Associate I earn from qualifying purchases, at no extra cost to you.