Homemade Chocolate Pudding is the unsung hero of easy-to-whip-up desserts. It's made using common kitchen ingredients, takes only about 15 minutes to put together and is ridiculously good.
Homemade Chocolate Pudding
If you have never tried from-scratch Homemade Chocolate Pudding let me sing the praises of it, because it's dessert perfection. It's simple to make (and I share all the tips for making it below), it uses common inexpensive ingredients, and has a million different ways you can use it, other than just eating it with a spoon. This recipe is thick and creamy with a rich flavor and sheer deliciousness. So let's get to making it, okay?
Chocolate Pudding Ingredients
Dark Chocolate (see paragraph below for options for using different chocolate)

Whole Milk

Granulated Sugar
Cornstarch
Egg Yolks
Vanilla Extract
Unsalted Butter
Pinch salt
What Type of Chocolate to Use
This recipe calls for the use of dark chocolate. The refers to chocolate that does not have milk solids added to it. It can range from the sweetest end of semi-sweet chocolate (which roughly has a cocoa percentage of 35%) all the way up to the bitter dark chocolate bars (with a range of 70%-80%). The amount of sugar in this recipe is based off of a bittersweet (roughly 50%-60%) chocolate. If you prefer to use semi-sweet or even milk chocolate you can lower the sugar amount to ½ cup or so to sweeten it correctly.
Bar Chocolate Vs. Chocolate Chips
In an ideal world, when baking or cooking with chocolate, it is best to use a pure chocolate bar from a high-quality brand. A pure chocolate or baking bar is better because it doesn't have any additives that help it keep its shape like chocolate chips do.
However, I don't always have chocolate bars at home. What I do always have on hand is chocolate chips (file that under: Mom Life). Therefore, I often find myself making pudding with chocolate chips. I do always make a point to buy higher quality chips though, from brands like Ghirardelli, Guittard or Callebaut. It's advised to stay away from using chocolate chips because they do have added ingredients that help them retain their shape, which causes them to melt less evenly than chocolate bars.
So, if you are looking for the smoothest ganache, use a whole chocolate bar that has been chopped up very finely. If in a pinch, use high-quality chocolate chips.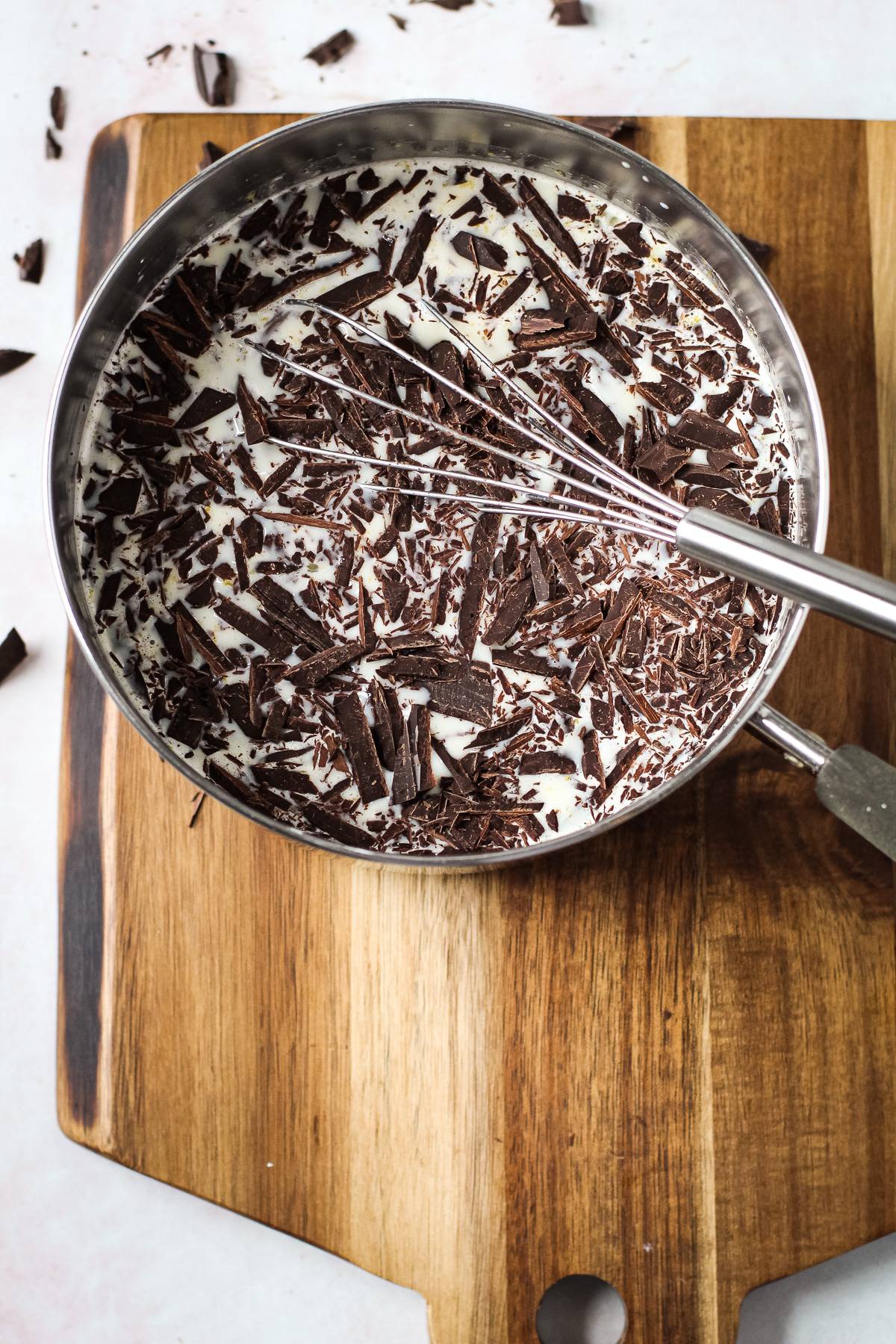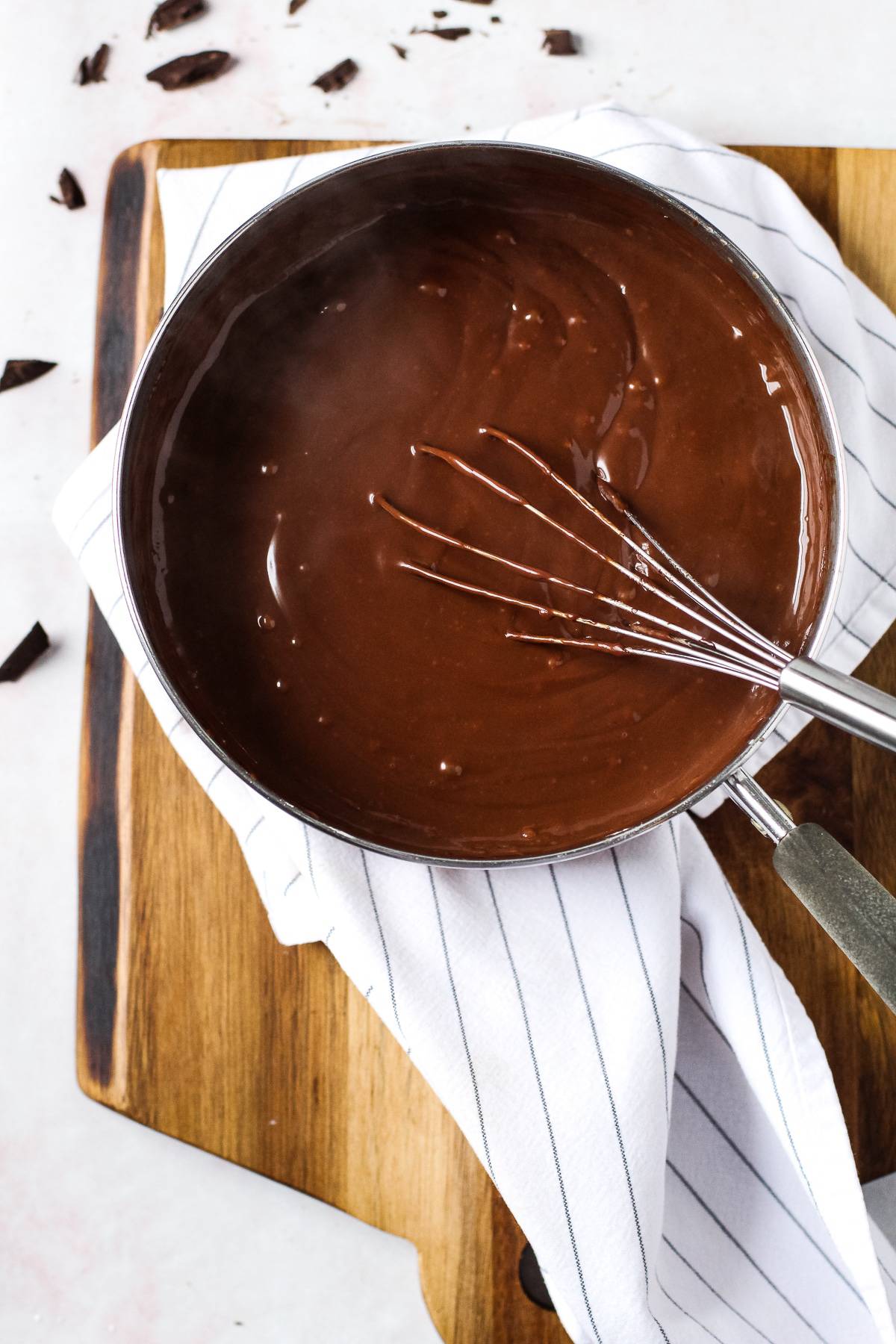 How to Make Homemade Chocolate Pudding
The pudding is made in one pot and doesn't require any tempering of the eggs. You start by whisking together the sugar, cornstarch and egg yolks and then add in the milk and the chopped chocolate. I do suggest using whole baking chocolate, but chocolate chips will work in a pinch. Just make sure they are high quality as cheap chocolate chips have too many additives that may prevent a smooth pudding.
The whole mixture is cooked over medium heat, while you alternate between whisking and using a rubber spatula to scrape up any thickened bits from the bottom. The trick is to slowly heat the egg yolks with all of the ingredients at once so they don't scramble. The added cornstarch helps stabilize the egg yolk mixture so that doesn't happen. Additionally, it helps the mixture to thicken to the proper consistency. Once you've cooked the pudding, strain it, and whisk in butter and vanilla extract.
Pour into your desired container (or pie).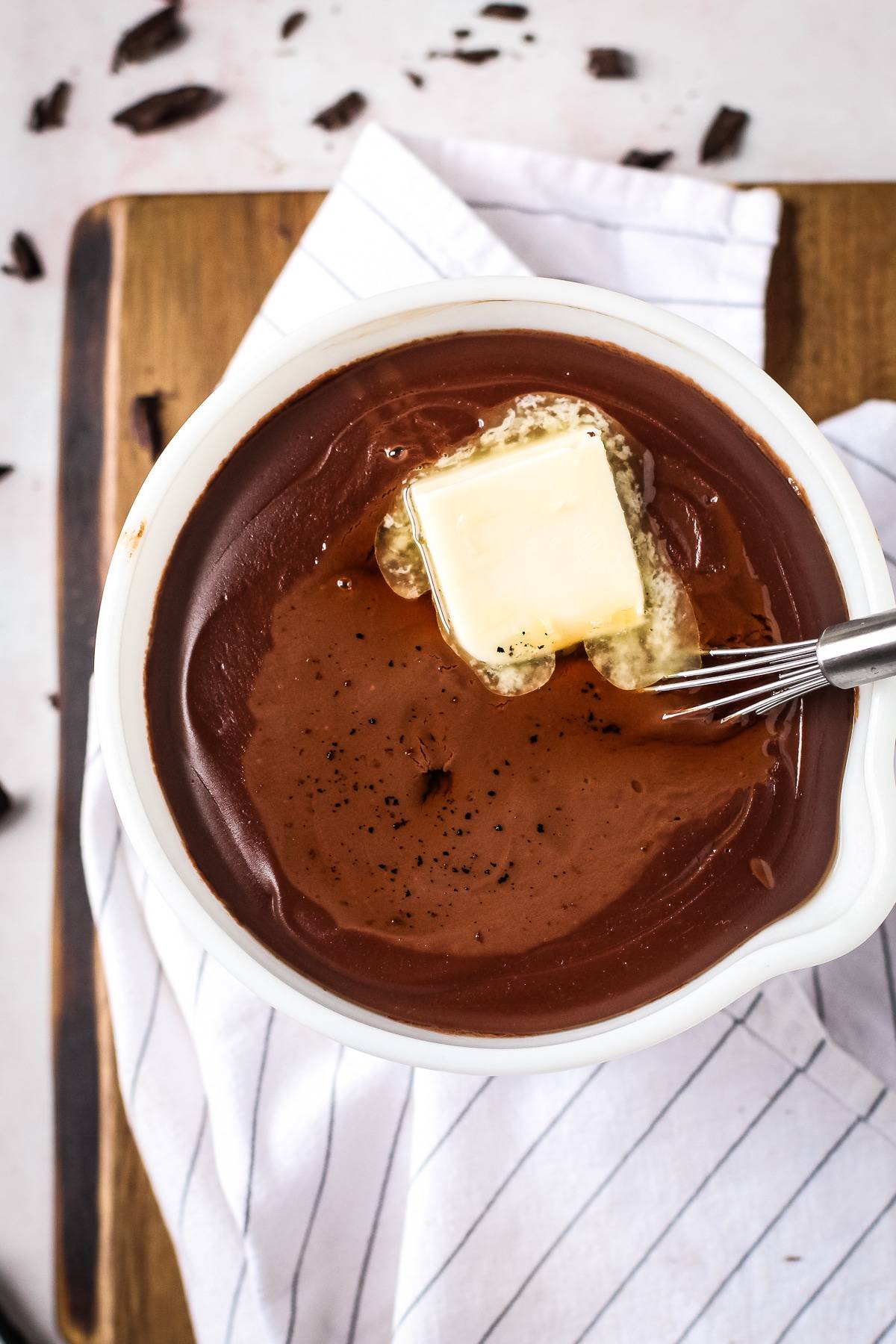 Tips for Making Chocolate Pudding from Scratch
Make sure to have a rubber spatula and a whisk handy. I use both to make sure the the mixture cooks evenly. I swap between using them while I'm cooking the pudding to make sure I'm getting all the mixture out of the crevices of the pot while whisking to ensure a consistent cook.
Don't walk away from the pudding. It takes no more than 10 minutes to cook. Also, it's especially important to stir almost constantly in the beginning when you are cooking it to ensure no egg yolks get stuck to the bottom of the pot and scramble.
Strain the pudding to get rid of any small bits of cooked eggs you might have. It makes the final pudding smoother.
This pudding will set pretty firm. If you are using it to make a pie, make sure to put it directly into the prepared pie crust you will be using. If you are serving it individually go ahead and place directly in the serving bowls. If you don't plan to make individual portions, place it in the container you plan to serve it in.
Pudding is best eaten with one to two days after it has been made. But it will last up to 5. As the days go on, the pudding might release some moisture. This is fine to consume, just stir it back up.
How to Serve
Serve this pudding warm or chilled. Do note: pudding tastes sweeter when it's served warm.
Go ahead and put the biggest dollop of unsweetened whipped cream on this pie. You won't regret it. And also crumble on some Oreo cookies if you want to add a textural component to this!
Looking to turn this into a pie? Check out this Chocolate Cream Pie recipe.
More chocolate recipes:
MAKE SURE TO TAG @EVERYDAYPIE ON INSTAGRAM OR COMMENT BELOW IF YOU HAVE QUESTIONS ABOUT THIS RECIPE OR IF YOU MAKE THIS Chocolate PUDDING!
Print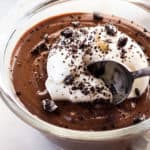 Homemade Chocolate Pudding
Author:

Kelli Avila

Prep Time:

00:05

Cook Time:

00:10

Total Time:

15 minutes

Yield:

6 cups

Category:

Pudding

Method:

Cook

Cuisine:

Sweet
---
Description
Homemade Chocolate Pudding is the unsung hero of easy-to-whip-up desserts. It's made using common kitchen ingredients, takes only about 15 minutes to put together and is ridiculously good.
---
¾

 cup (175 grams) granulated sugar

¼ cup

(

30 grams

) cornstarch
Pinch salt

2

 large egg yolks

3

-

½

cups (

790 grams

) whole milk

8 ounce

s (

230 grams

) chopped dark chocolate

4 tablespoon

s (

60 grams

) unsalted butter

1 teaspoon

vanilla extract
---
Instructions
Whisk together sugar, cornstarch and salt in a medium pot. Whisk in the egg yolks and milk until fully combined. Add in the chopped chocolate.
Turn on the heat to medium and cook the mixture, whisking constantly, and occasionally taking a spatula and scraping up any thickened pudding in the edges of the pan. Cook until the pudding has completely thickened and large bubbles are forming and popping, about 8 minutes.
Remove from heat; immediately pour through a fine mesh strainer into bowl, using a spatula to push all the pudding out while leaving behind any bits of cooked egg.
Whisk the butter and the extract into the pudding until fully combined.
Pour the pudding into the serving dish or dishes. Let cool at room temperature before chilling in the refrigerator for at least 3 hours or overnight.
---
Keywords: Homemade Chocolate Pudding, Chocolate Pudding
Some of the links on this page may be affiliate links. Everyday Pie is a participant in the Amazon Associates Program. As an Amazon Associate I earn from qualifying purchases, at no extra cost to you.