Real deal Homemade Butterscotch Pudding is one of the most simple, delicious, and underrated desserts out there. It has a rich and creamy taste and can be utilized in so many various ways, including just digging in with a spoon!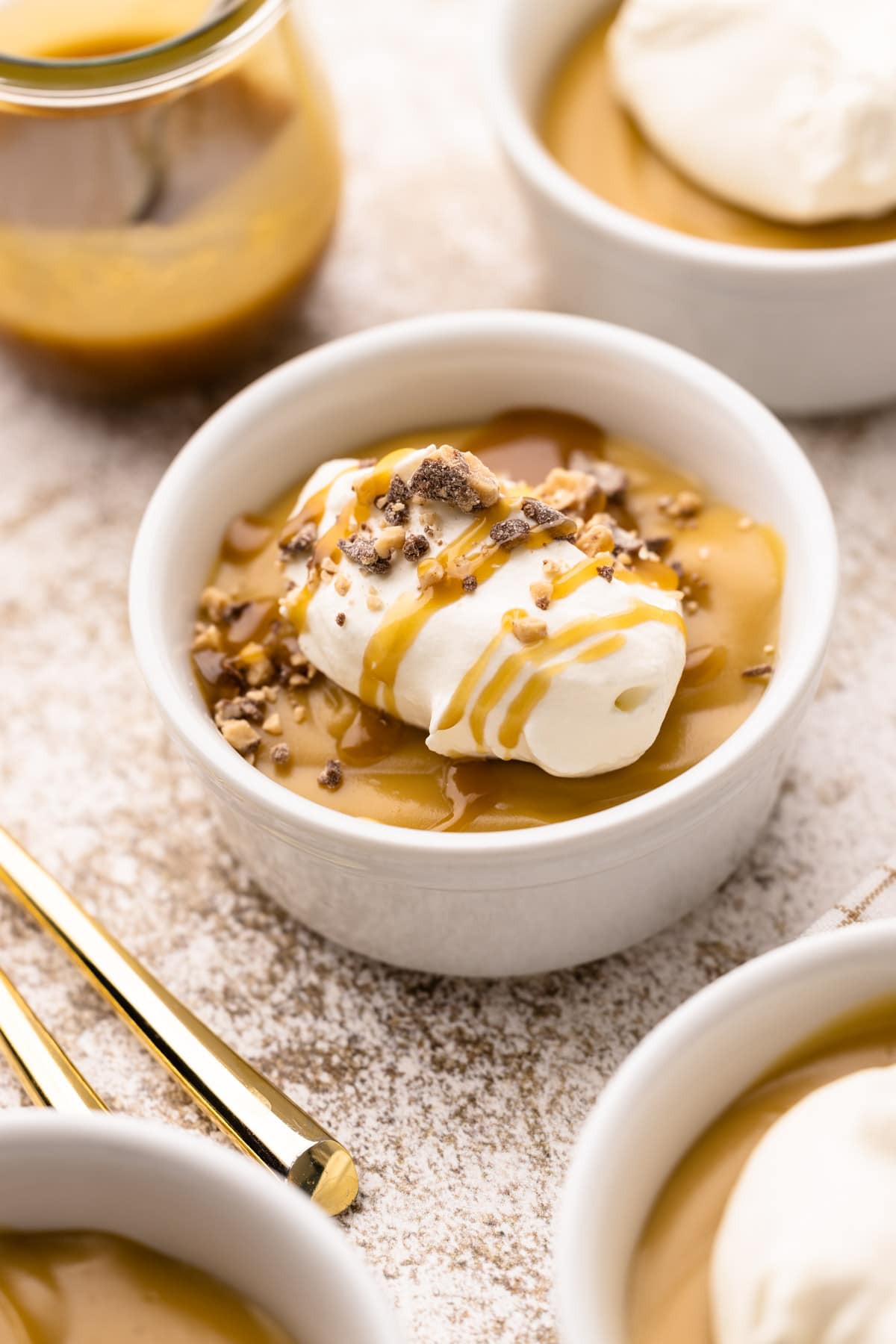 Have you ever had Butterscotch Pudding? As in, the real deal not from a little package, butterscotch pudding? It's so creamy, with a uniquely sweet and slightly smoky flavor. I'm always blown away when I have it because, despite the simplicity of its ingredients, it's a complex-tasting dessert.
I know pudding isn't the most glamorous dessert out there, but I find it to be the perfect after-dinner sweet!
It's simple to make (and I share all the tips for making it below), it uses common inexpensive ingredients, and it has a million different ways you can use it, other than just eating it with a spoon.
So, let's get to making it, shall we? The text below offers tons of tips and helpful notes, or you can scroll to the bottom to grab the recipe and get started!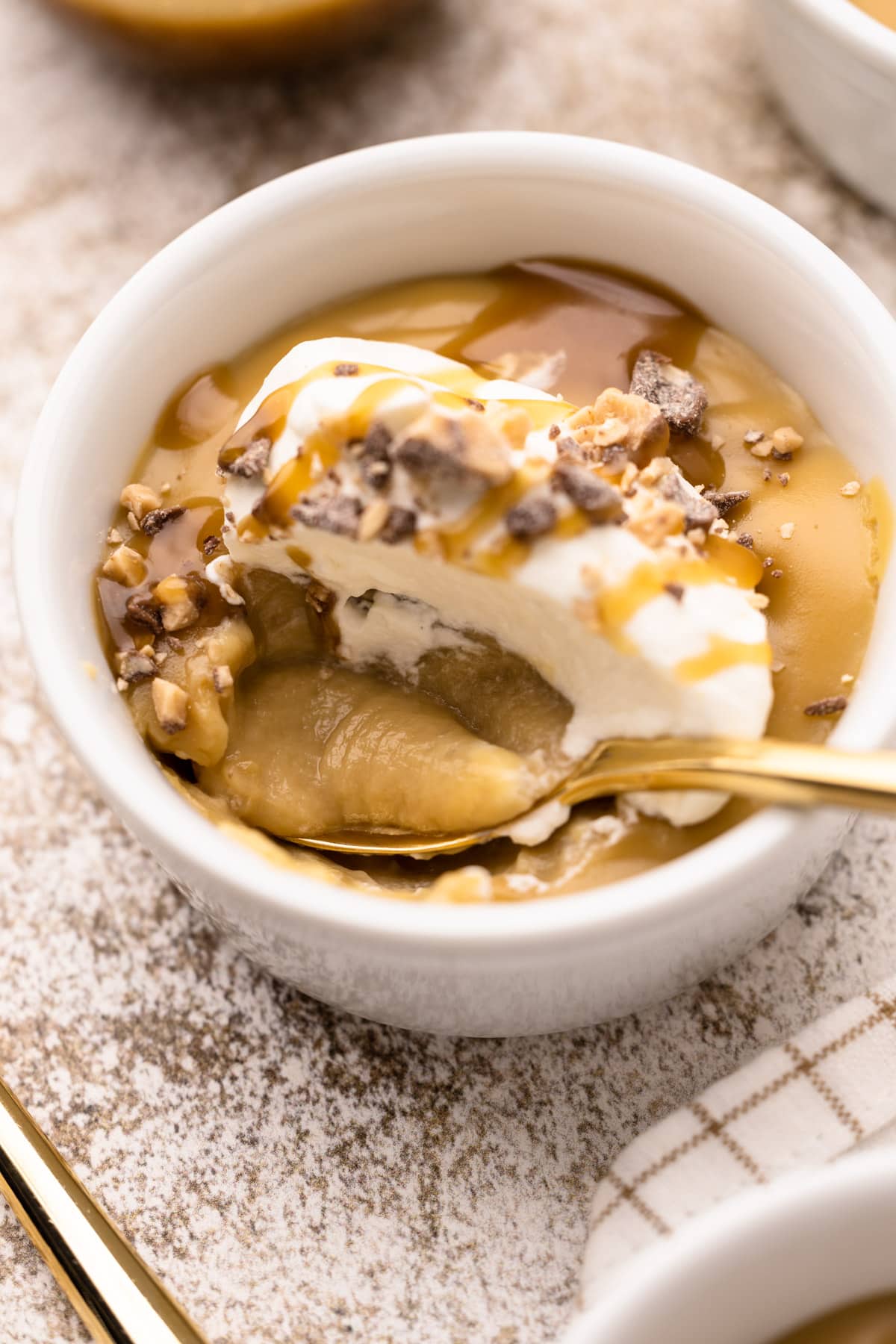 Butterscotch Pudding Ingredients
Here is an overview of the ingredients needed for this recipe. The full recipe is listed below in greater detail.
unsalted butter
dark brown sugar (light brown sugar can be swapped, but it will result in a lighter flavor)
heavy cream
cornstarch
kosher salt
egg yolks
whole milk (reduced fat milk can be used, but it will result in a lighter flavor)
vanilla extract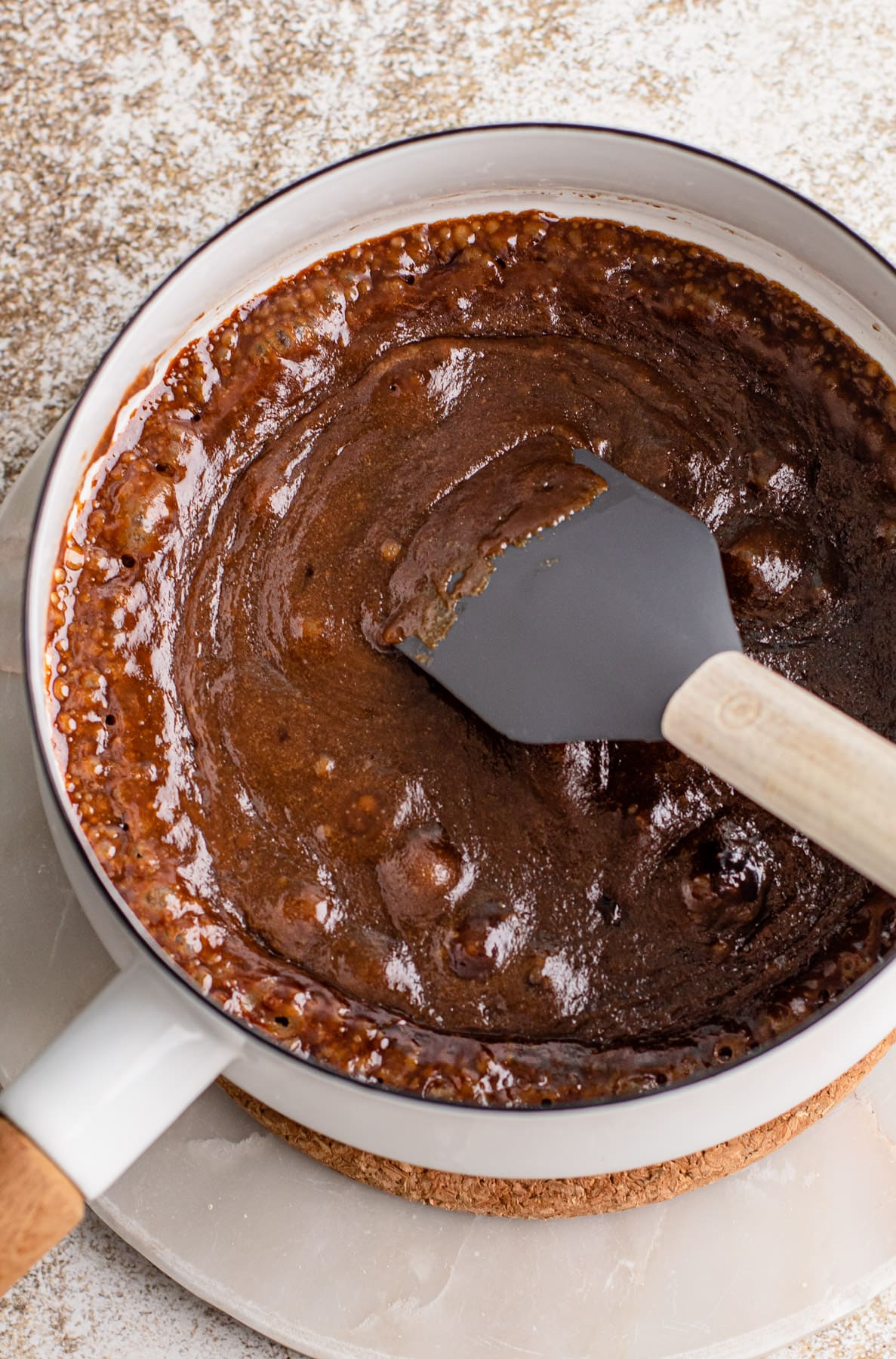 Let's Start with the Butterscotch
Butterscotch is similar to caramel in that it is made from sugar, cream, and butter. However, it has a darker smoky edge to it, thanks to the molasses-laced brown sugar used instead of standard granulated sugar.
Butterscotch is made by cooking butter and dark brown sugar together in a pot until the sugar starts to melt. Heavy cream is whisked in, and then, the whole mixture is cooked until thickened. Finally, some salt and vanilla are folded in to punch up the flavor.
Once you have the butterscotch made, set some aside for drizzling over the top of the pie. Then it's time to make the pudding.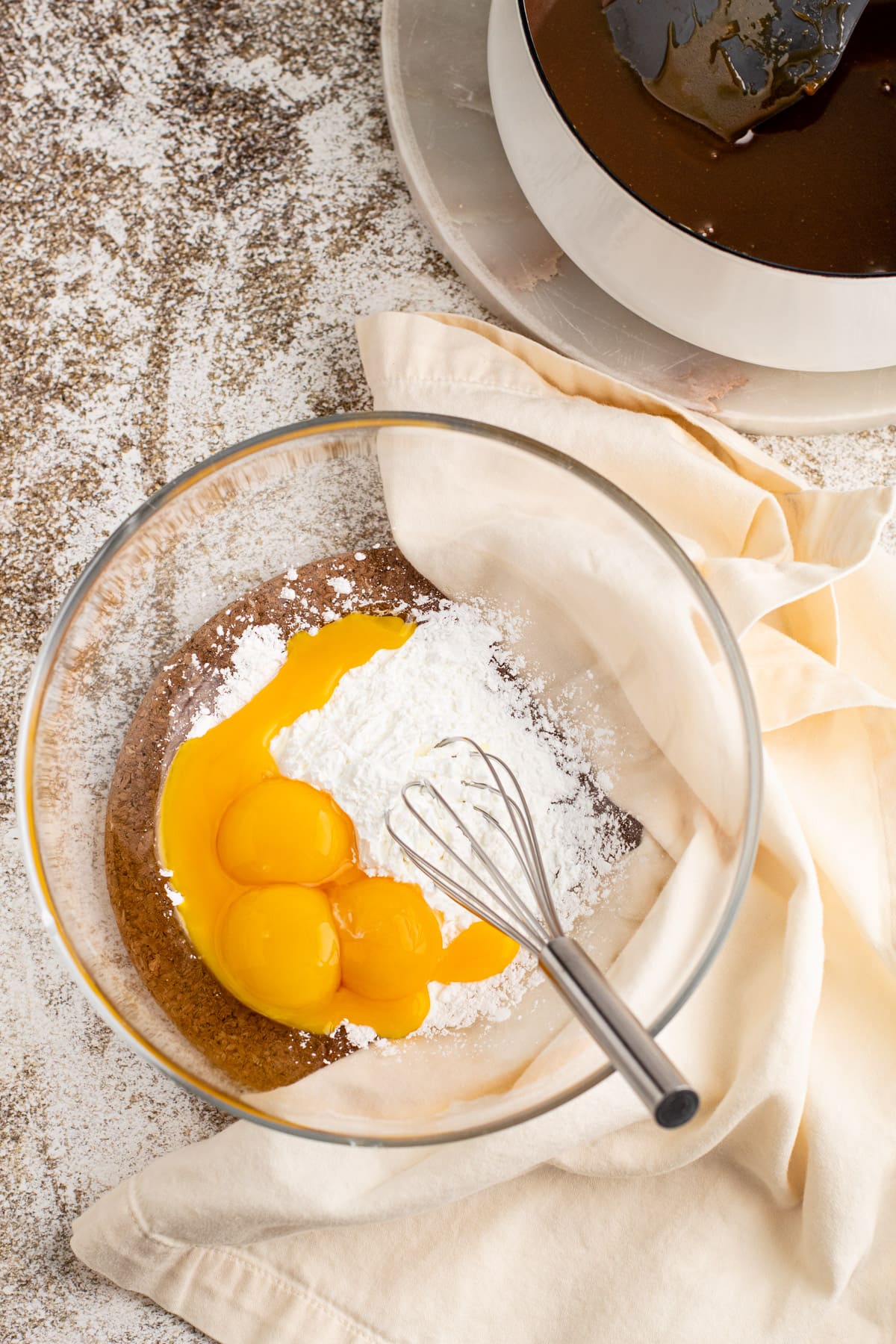 How to Make Homemade Butterscotch Pudding
The pudding is made by whisking together cornstarch and egg yolks and then slowly adding in some of the hot butterscotch. This is known as tempering. Do this slowly, so you don't accidentally cook any eggs.
Once about half of it has been whisked in, you can pour the egg/butterscotch mixture into the pot with the remainder of the butterscotch.
The whole mixture is cooked over medium heat, while you alternate between whisking and using a rubber spatula to scrape up any thickened bits from the bottom. Once you've cooked the pudding, strain it, and whisk in butter and vanilla extract.
Pour into your desired container (or pie). See more below for serving suggestions.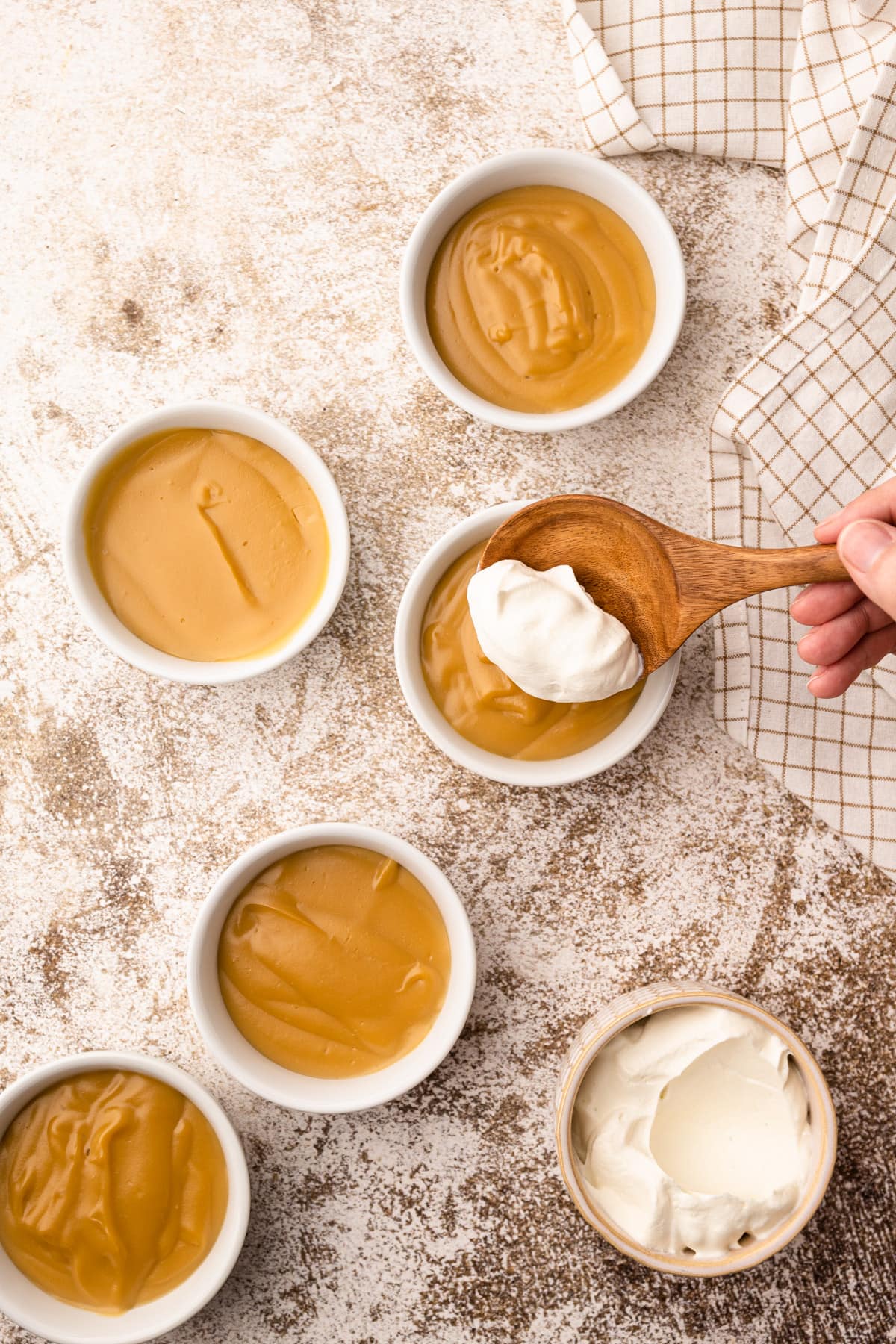 Butterscotch Pudding Tips
Make sure to have a rubber spatula and a whisk handy. I use both to make sure the mixture cooks evenly. I swap between using them while cooking the pudding to ensure I'm getting all the mixture out of the crevices of the pot while whisking to ensure a consistent, overall cook.
Don't walk away from the pudding. It takes no more than 10 minutes to cook. Also, it's especially important to stir almost constantly at the beginning when you are cooking it to be sure no egg yolks get stuck to the bottom of the pot and scramble.
Strain the pudding. This step is to get rid of any small bits of cooked eggs you might have accidentally cooked. It makes for a smoother pudding.
Pudding is best eaten within one to two days after it has been made. But, it will last up to five. As the days go on, the pudding might release some moisture. This is fine to consume, just stir it back up.
After the Pudding is Made
There are a few options for handling the pudding after it is made.
First, know that the pudding will set pretty firm. If you are using it to make a pie, this makes for a smooth slice when you cut it, so long as you put it directly into the prepared pie crust when it is hot.
If you aren't making a pie, you have a few choices for what to do with the pudding depending on what you want. Because the pudding sets firm--and that is what we want--you can put it into individual bowls / serving containers and let it set up in there. Or if you want softer pudding, let the pudding set up in a larger bowl, and then right before serving whisk the pudding. It will come back to its fluffy and smooth texture after a brief whisk.
Also note, if you are looking to avoid the "skin" that forms on top of the pudding (which, if I'm being honest, I hardly ever do this) you can put a piece of plastic wrap on top of the pudding or puddings while it's still warm to prevent it.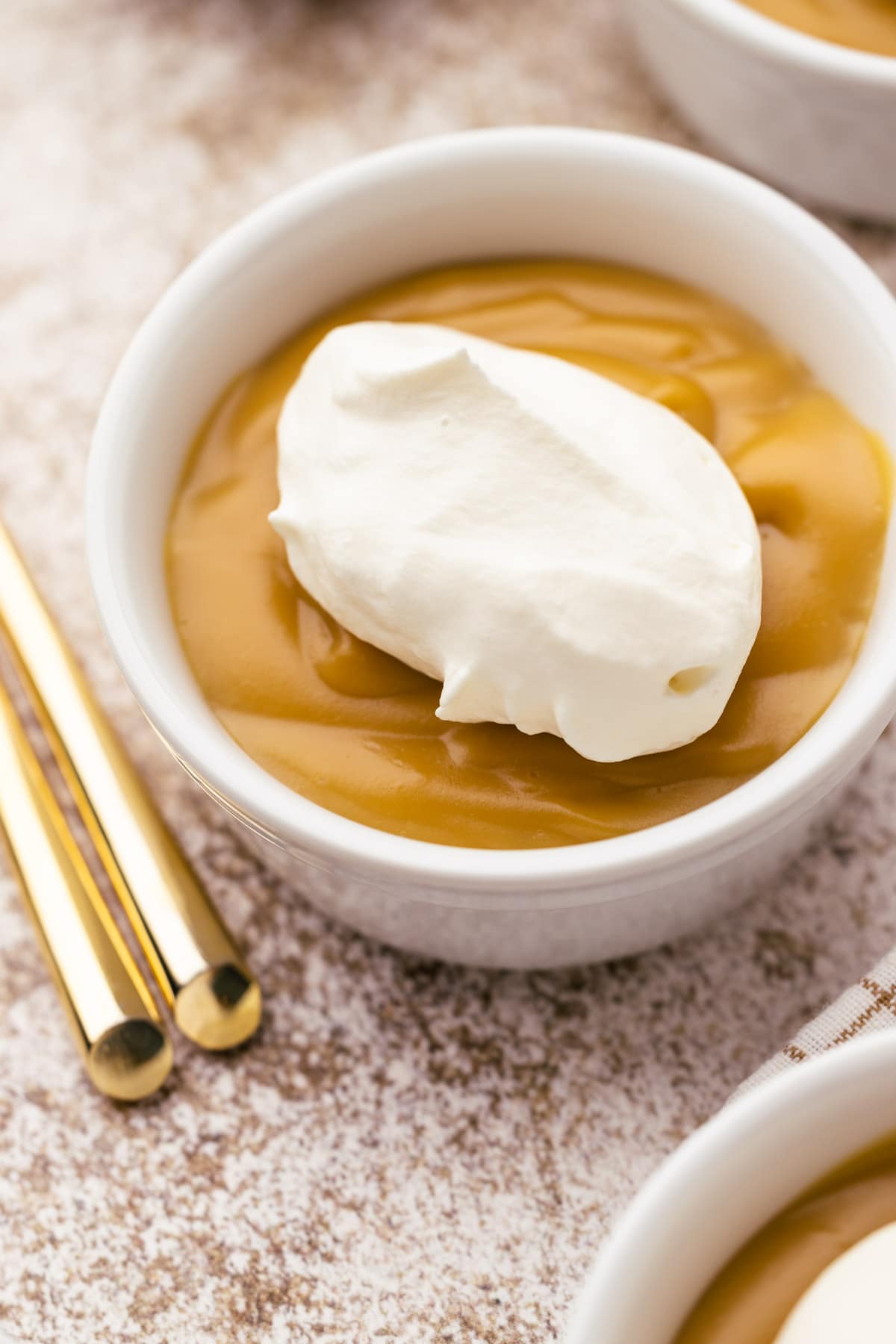 Serving Suggestions
Serve this pudding warm or chilled. Do note: pudding tastes sweeter when it's served warm.
Go ahead and put the biggest dollop of unsweetened whipped cream on it. You won't regret it. I also like to add a bit of texture to this by either crumbling cookies on top or my favorite way: chopping up a chocolate toffee bar and sprinkling. Don't forget, as the recipe suggests, to set aside about 2 tablespoons worth of butterscotch for drizzling on top.
If you are serving it later and want to avoid the pudding forming a "skin" as it cools, cover the surface of the pudding lightly with plastic wrap.
Looking to turn this into a pie? Check out this Butterscotch Cream Pie recipe.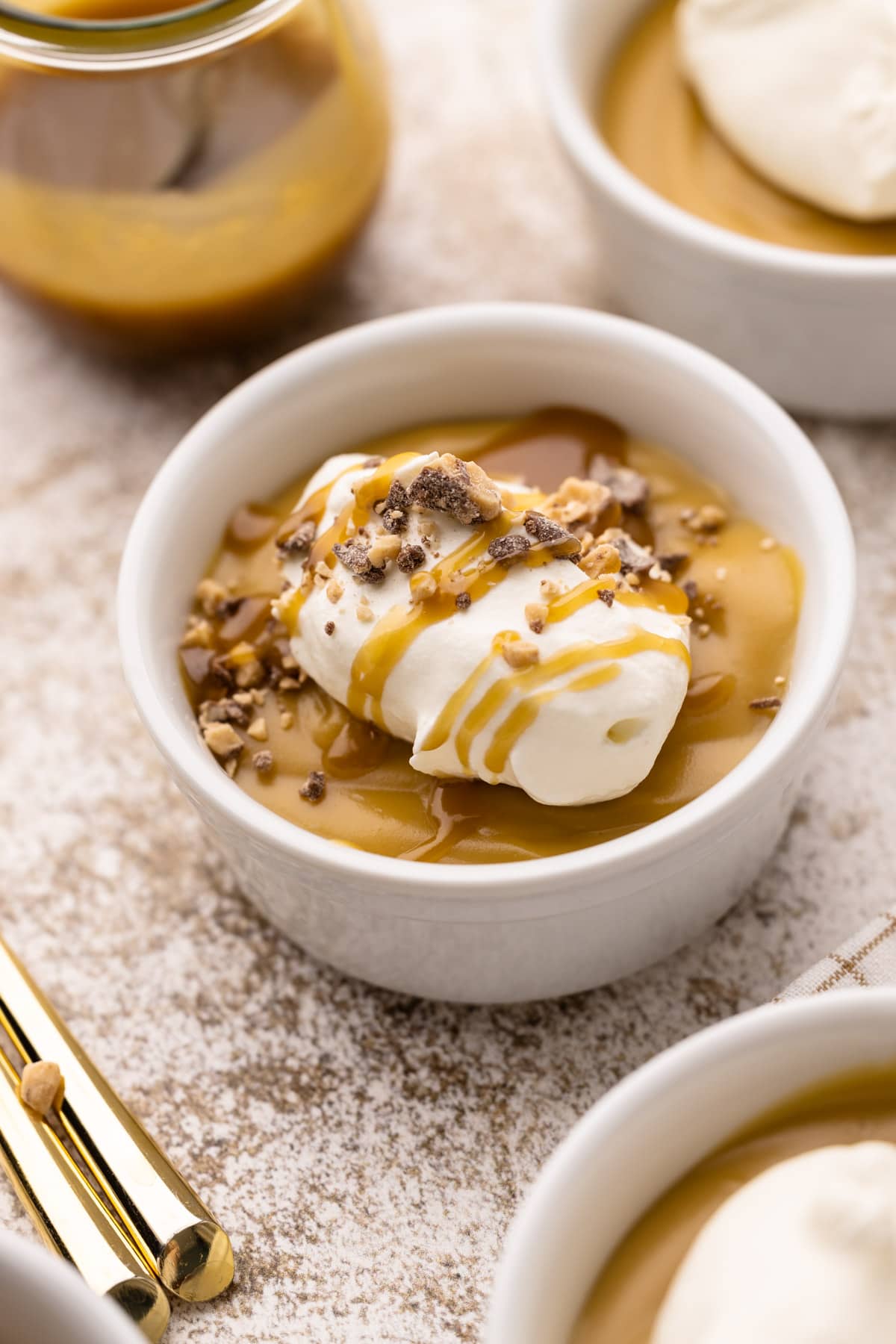 More Butterscotch Recipes:
I am so honored when you make a recipe from my site! If you make this Butterscotch Pudding, please leave a comment and a star rating with your experience! If you have any questions about this recipe, feel free to comment here, too!
Print
Homemade Butterscotch Pudding
Real deal Homemade Butterscotch Pudding is one of the most delicious and simplest underrated desserts. It has a rich and creamy taste and can be used in various ways, other than just digging in with a spoon!
Author: Kelli Avila
Prep Time:

00:05

Cook Time:

00:20

Total Time:

25 minutes

Yield:

Serves 6

Category:

Desserts
For Butterscotch:
4 tablespoons

(

55 grams

) unsalted butter, cubed

1

-

¼

packed cup (

250 grams

) dark brown sugar

1

-

¼

cup (

280 grams

) heavy cream
For Pudding:
¼ cup

(

30 grams

) cornstarch

¼ teaspoon

kosher salt

4

large egg yolks

2 cups

(

450 grams

) whole milk

1 teaspoon

vanilla extract

2 tablespoons

cold unsalted butter, cubed
Instructions
Prepare the Butterscotch:
Add butter to a medium pot and turn on the heat to medium. Once butter starts to melt, add in brown sugar. Using a spatula, carefully stir the sugar mixture around to evenly distribute the heat and ensure even melting of the sugar. Cook for about 3-4 minutes, or until the edges of the sugar start to bubble up.
Carefully and slowly, whisk in the heavy cream, about ¼ cup at a time. Continue until all of the cream is mixed in.
Continue to cook the butterscotch over medium heat, watching carefully to ensure it doesn't boil over, for 5 minutes, or until slightly thickened.
Remove the butterscotch from the heat, and let it sit for 5 minutes to cool. Set aside 2 tablespoons of the butterscotch to drizzle on top of the pudding for serving.
Make the pudding:
Add cornstarch, salt and egg yolks to a medium bowl and whisk together until thoroughly combined. Then whisk in the milk.
Next, temper the egg mixture: Slowly pour 1 cup of the hot butterscotch into the milk/egg mixture, while gently whisking. Then, slowly pour the whole egg mixture into the pot of butterscotch while gently whisking.
Turn on the heat to medium and cook, whisking constantly, and occasionally taking a spatula and scraping up any thickened pudding in the edges of the pan. Continue to cook until the pudding has completely thickened and large bubbles are forming and popping, about 8 minutes.
Remove from heat; immediately pour through a fine mesh strainer into a bowl, using a spatula to push all the pudding out while leaving behind any bits of cooked egg. Whisk the extract and butter into the pudding.
Pour the pudding into serving containers or a bowl.
Serve slightly warm, or cold with whipped cream and desired toppings.
Notes
If desired, you can also use light brown sugar. It will just have a lighter flavor.
The longer you cook the butterscotch, the thicker the sauce will be. If you have found that after it is cooled, it is too thick, you can briefly reheat the mixture and add a bit more cream to it to thin it out.
If you are serving the pudding later and want to avoid the pudding forming a "skin" as it cools, cover the surface of the pudding lightly with plastic wrap.
Keywords: Homemade Butterscotch Pudding
Some of the links on this page may be affiliate links. Everyday Pie is a participant in the Amazon Associates Program. As an Amazon Associate I earn from qualifying purchases, at no extra cost to you.