An absolute classic, this Custard Pie has a silky smooth egg custard filling simply made with eggs, milk, and cream, and lastly, baked up in a buttery sweet crumbly pie crust.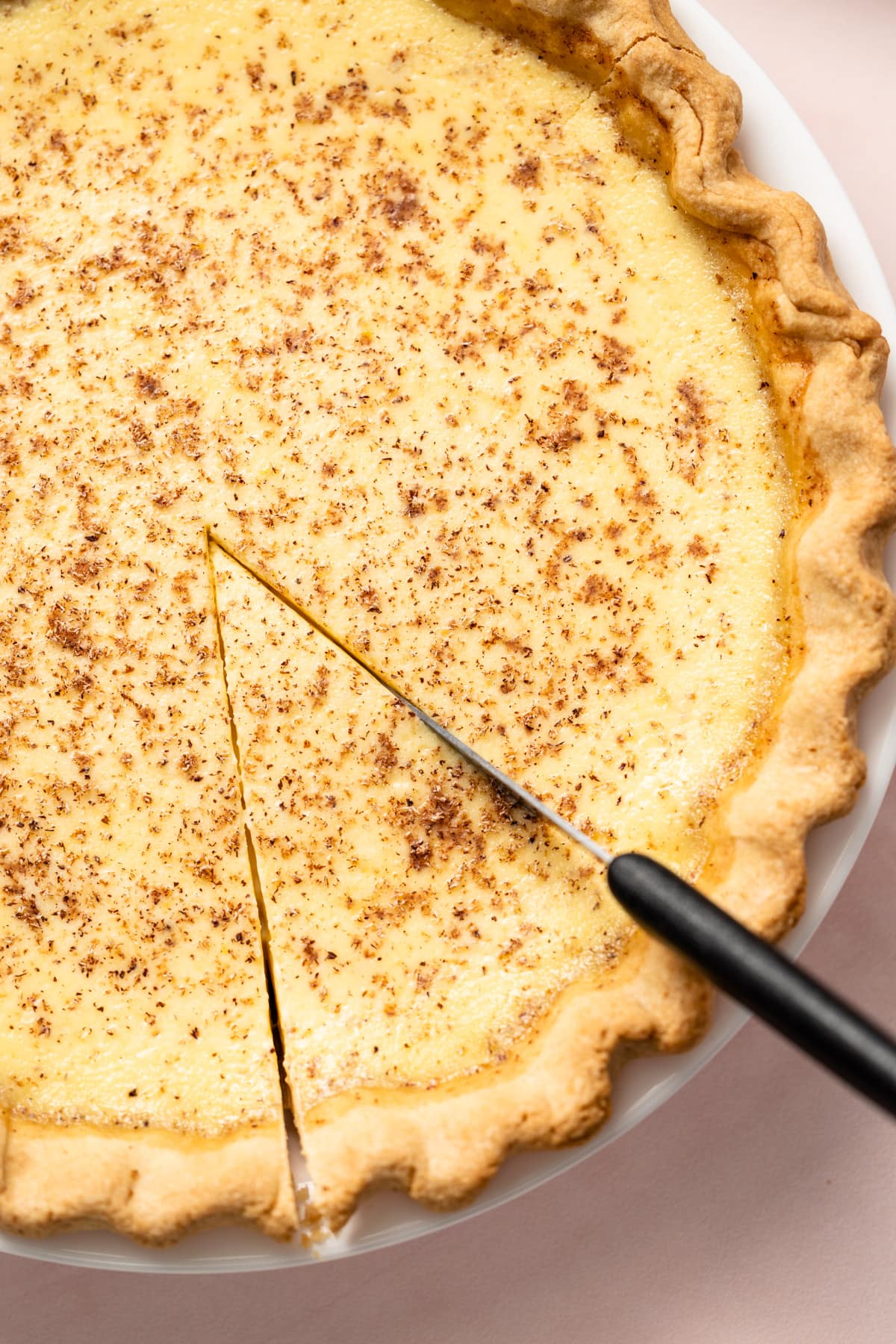 Egg Custard Pie
Don't tell any of the other pies on my website, but Classic Custard Pie might just be my favorite. It's such a simple pie, made with common ingredients nearly everyone likely has in their home right now. It's just so good, especially when made properly. And that's what this recipe is all about.
A good custard pie should have a buttery sweet pastry that is properly cooked (no soggy bottoms, please) and a smooth rich egg-based filling that has not been overbaked. Don't forget that grating of fresh nutmeg on top of the pie; it makes all the difference in the world in terms of flavor.
So, let's get to making it, shall we? The text below offers tons of tips and helpful notes, or you can scroll to the bottom to grab the recipe and get started!
Want a visual idea of how this custard pie is made? Check out the video below.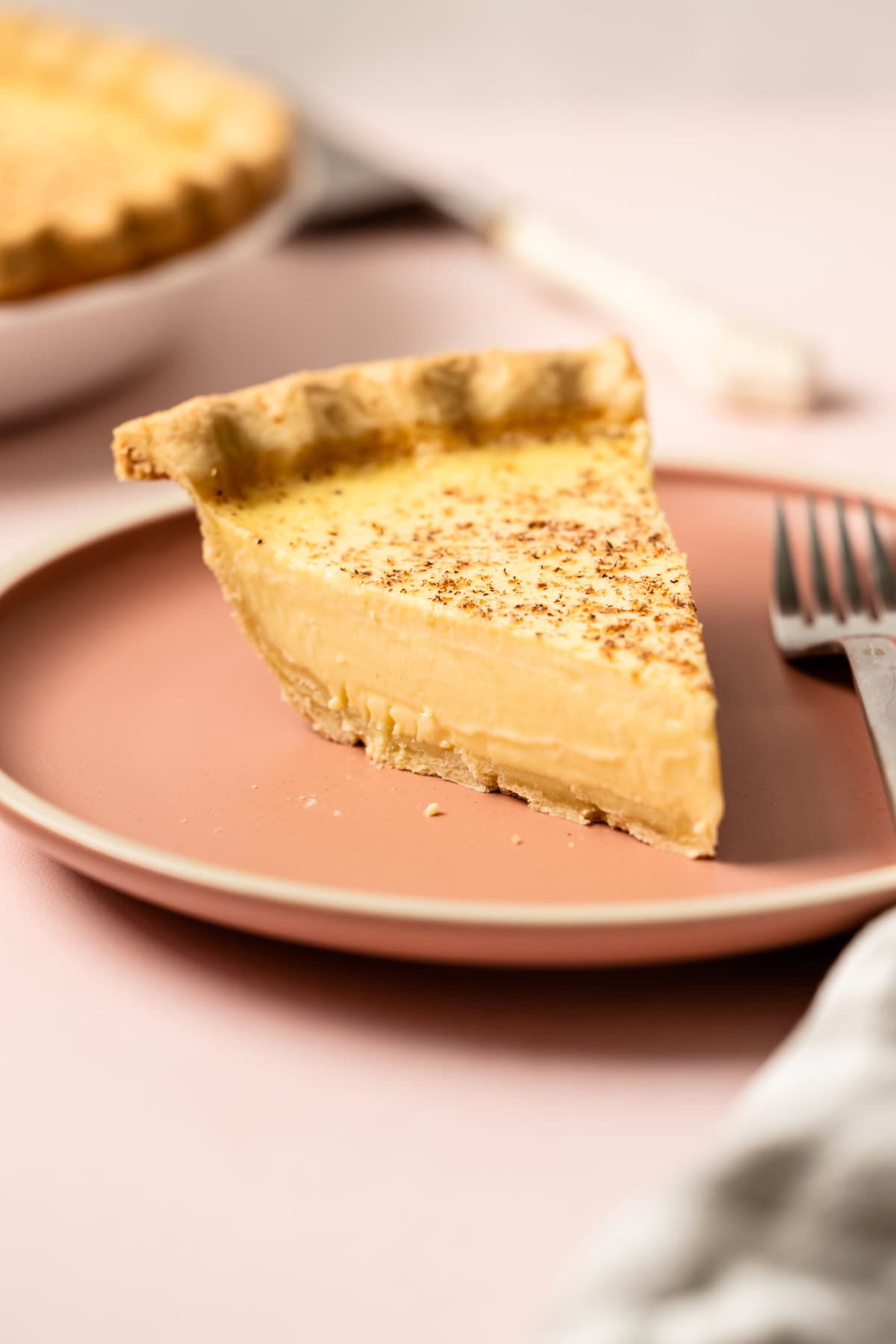 Custard Pie Ingredients
Here is an overview of the ingredients needed for this recipe. The full recipe is listed below in greater detail.
milk
cream
sugar
vanilla extract (use the best quality you can here)
eggs
freshly grated nutmeg (again, use whole nutmeg if you can, it makes a difference)
flour
butter
salt
Tools to Use
Here is a list of some of the primary tools I use in this recipe. You won't necessarily choose to use them all, but they are exactly what I used. Any links may contain affiliate links.
food processor (to make the pie dough)
pie plate
dried rice and beans / pie weights (for blind baking)
rolling pin
fine-mesh strainer
kitchen essentials: baking scale, bowls, measuring cups and measuring spoons
Making the Pie Crust
This custard pie teams up with a crumbly sweet pie crust that compliments the creamy custard very nicely. It's easily made in the food processor and the best news of all is that it can be rolled out right away! The consistency will be that of play dough, and if you are gentle with it, it should be easy to roll out.
However, it does need to be blind-baked. This recipe calls for the custard to bake at 325ºF. There is no way for the crust to bake at that temperature, so you absolutely need to fully blind bake your pastry beforehand. New to blind baking? Check out this Blind Baking tutorial, though the recipe below gives you all the details you need to know.
Please note, the recipe does not call for you to dock the pie crust. This custard pie filling is too liquidy, and if the crust has holes in it, it surely runs the risk of the filling leaking through. Similarly, make sure your pie crust is rolled out to an even thickness with no cracks in it.
How to Make a Classic Custard Pie
I am sorry to be the one to tell you, but there is a little bit more to baking a custard pie than simply mixing the ingredients and baking. But, that doesn't mean it's hard; it just means you have to follow a few simple rules.
Included below is an overview of the steps for the recipe, followed by a few tips for you so you can have success with this recipe.
Overview of Steps:
make, roll out and blind bake pie crust.
whisk together the filling and strain it.
pour the filling into the fully baked pie crust, and bake.
let the baked pie chill to fully set up.
There is one step missing from the above directions, and that is to scald the milk. Many classic custard pie recipes include the direction to heat the milk to "scald" it, and then slowly add it into the eggs. When I first started making custard pie, I followed this tradition of doing it. But after a while, I wondered if it was truly necessary. When developing this recipe, I experimented to see if skipping this step took away from the creamy filling at all. I'm happy to report it's really not necessary to scald the milk. Though, the instructions do call for straining the whisked filling twice. This gets rid of any coagulated egg yolks (which can happen when they come into contact with the sugar) and it will help to get rid of some of the air bubbles.
Tips for Making Custard Pie
Bake the pie pastry well: It's crucial to bake the pastry fully before pouring in the filling. Custards start off with a very wet filling, and if you pour the custard into an unbaked crust, you run the risk of breaking the dough and having it surface in the pie filling. In addition, custards are baked at a low temperature so it would be impossible for the crust to actually bake with the filling inside.
Don't over whisk anything: I found that when you whisked the eggs too much it caused a lot of aeration and air bubbles. These air bubbles then appeared and burst during baking. While this won't do anything in terms of the taste of the pie, it's rather unpleasant to look at. So, gently whisk the filling ingredients together in an effort to prevent this.
Don't let the eggs and sugar sit too long together: Sugar can coagulated egg yolks. Straining it twice helps get rid of any in case this does happen.
Don't overcook it: Be sure to read the section on cooking a custard properly and on using a thermometer and observing the "barely set" appearance of a fully baked custard.
Let it cool before slicing: Custard pies finish setting and firming while they cool. Go hands-off and let the refrigerator work for you. If you try to cut it before it has completely chilled, you'll end up with custard soup.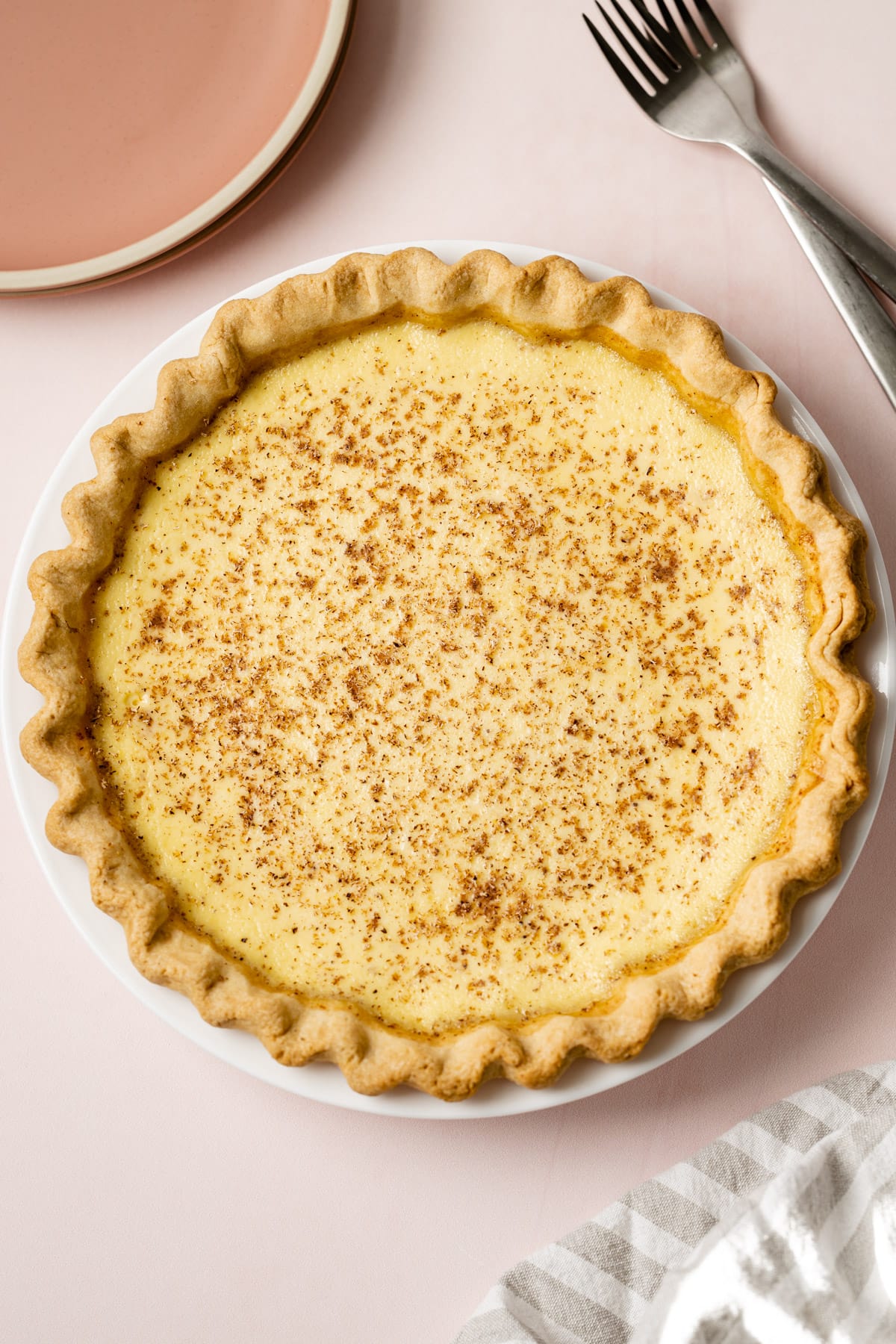 How to Avoid Spilling Your Custard
This may seem like a small deal, but if you've ever tried to move an unbaked pie with a liquid filling into the oven without spilling it, you know it isn't easy! While some bakers opt to place their pastry into the oven first and then pour the filling inside, I prefer not to. I've found that with the heat of the oven, I'm more likely to spill it or burn myself when I do it that way.
Instead, I'll offer you one tip for a successful transfer of an unbaked custard pie into the oven: never take your eye off the filling. Before attempting to transfer the pie, open the oven and make sure your oven rack is in the right spot (which would be the middle). Then, pick up your pie and keep your eye on the liquid filling the entire time. It's when you take your eye off the wobbly filling that you are at risk for spilling.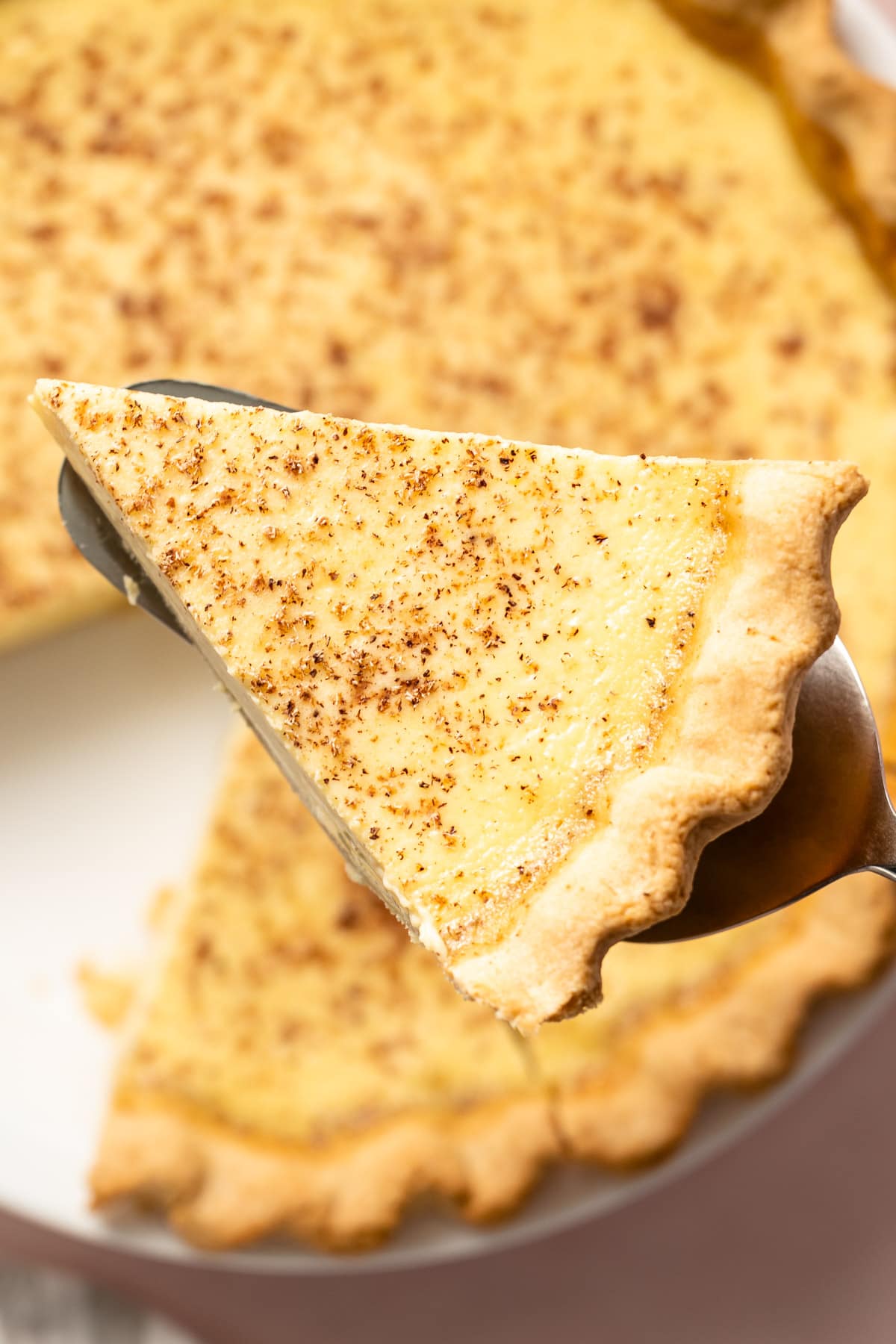 How to Properly Cook Custard Pie
If there was only one pie secret I could share with anyone, it would be this: don't over-bake your custard pie! And by that, I am referring to not only custard pies but any pie that contains dairy and eggs together.
When a custard-style pie is properly baked, it should be just barely set. If you overcook it, you are essentially "boiling" the eggs. In some cases, that can lead to a taste of overcooked eggs, especially in a classic custard pie. It can also make the pie feel tough, or spongy. More commonly, it leads to cracked or separated pies. A properly cooked custard is set (and safe to eat) between 170º – 200º. Each custard recipe will vary a bit in terms of the exact temperature needed to set it. For this pie, baking it to 170ºF-180ºF is perfect.
Another clue that a pie is done is by looking at the outer edges and seeing if they appear to be set. The outer edges of the pie should be set, but the middle of the pie should be a bit wobbly. Just make sure it doesn't look like the middle is still very liquidy. That would mean it isn't cooked enough.
It is during the cooling process that the pie will be fully set up. Let it cool to room temperature on a cooling rack, and then move it to the refrigerator to chill for at least 4 hours.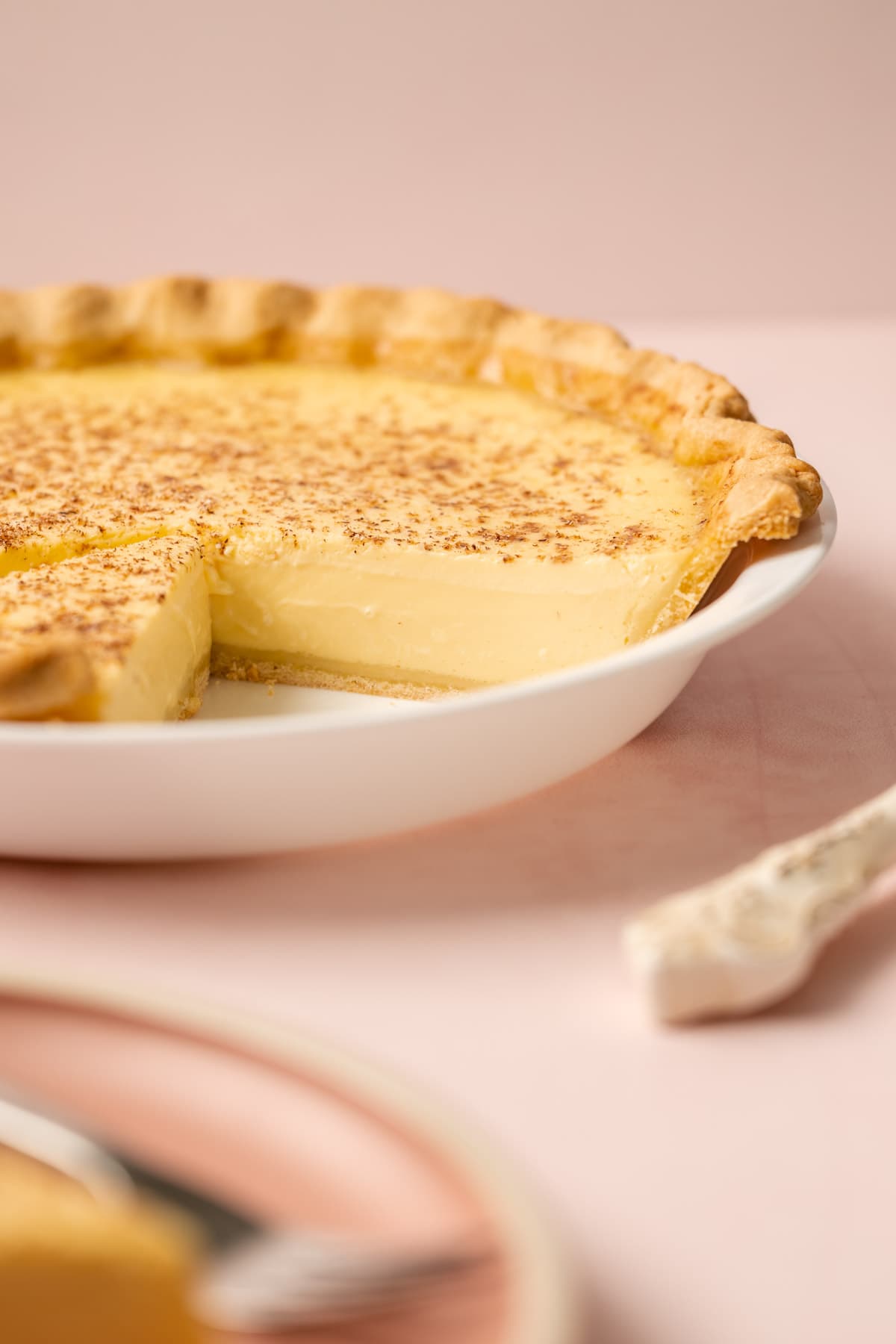 Custard Pie FAQ
Read below for some troubleshooting tips and frequently asked questions.
Why does the unbaked filling have bits of yellow in it?
It's pieces of cooked egg. Make sure to strain it in case you cooked any bits of egg.
The pie filling is wobbly but the edges have set and I'm worried it is not cooked.
This is correct! The pie is finished cooking even when the center is still a bit jiggly. Look for the edges to be set at least 2″ in but the center to still wobble. The wobbly filling shouldn't look like it's liquid, but rather thickened liquid that still has movement to it, a bit like jello. It will continue to set up once it comes out of the oven.
The pie filling cracked or bubbled!
You have either overcooked the pie, whisked the filling too much, or possibly had some filling leak underneath the pie crust. As long as the filling isn't extremely overcooked, the pie will still taste fine. Cover the pie with whipped cream and nobody will know the difference!
The custard is still wobbly after cooling.
The pie was undercooked, unfortunately.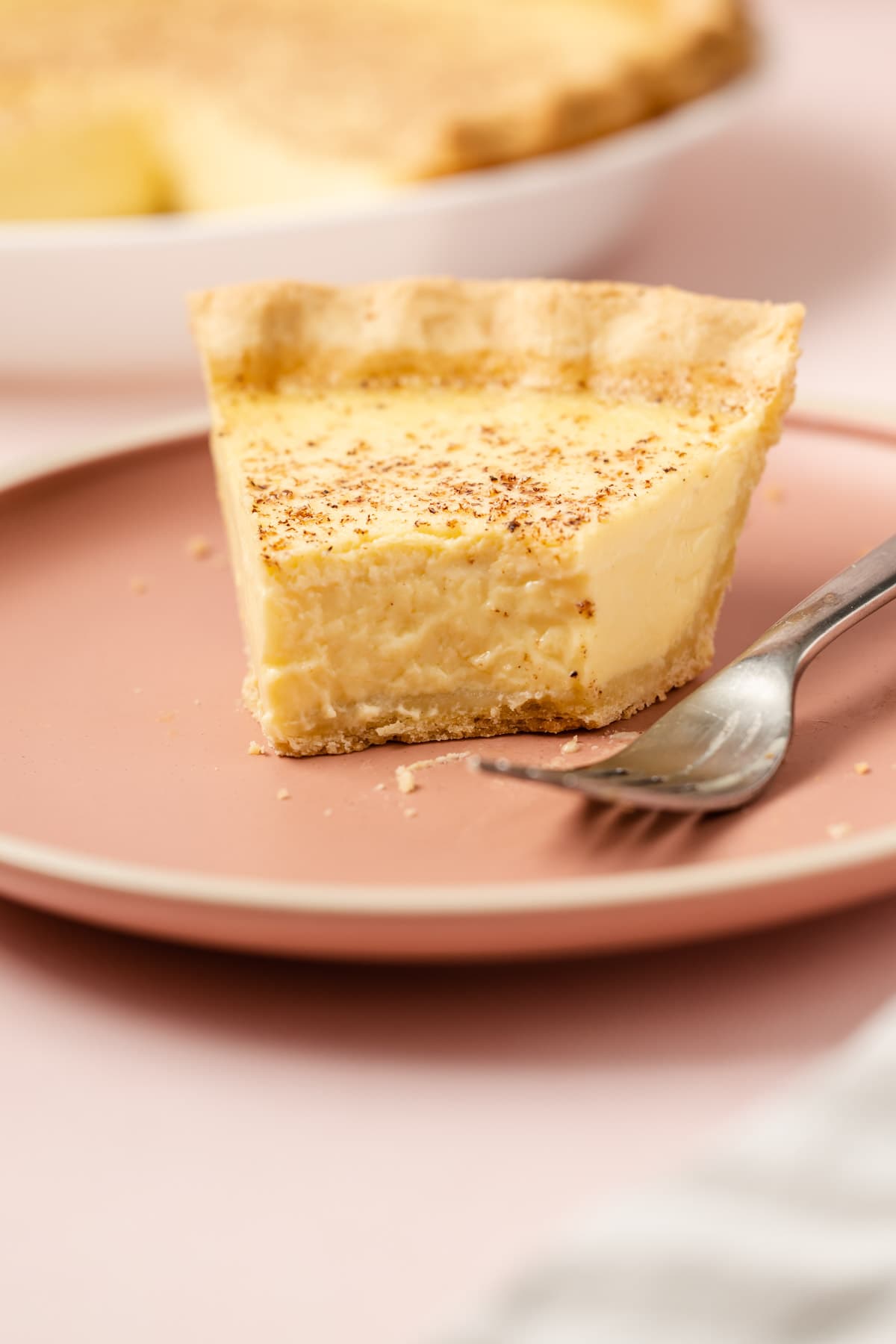 How to Serve It
Serve this pie cold as is, or with whipped cream and additional fresh grated nutmeg! This pie can be made up to 1 day ahead of time. Store the pie in the refrigerator.
Custard Pie Video Tutorial
More Custard Pie Recipes:
I am so honored when you make a recipe from my site! If you make this Classic Custard Pie, please leave a comment and a star rating with your experience! If you have any questions about this recipe, feel free to comment here, too!
Print
Full Recipe
Classic Custard Pie
An absolute classic, this Custard Pie has a silky smooth egg custard filling made from eggs, milk, and cream that is baked up in a buttery sweet crumbly pie crust.
Author: Kelli Avila
Prep Time:

00:20

Cook Time:

01:10

Total Time:

1 hour 30 minutes

Yield:

Serves 8

Category:

Sweet Pie
For Pie Crust:
1

-

½

cups (

180 grams

) all-purpose flour

¼ cup

(

30 grams

) powdered sugar

½ teaspoon

salt

½ cup

(

113 grams

) unsalted butter

1

large egg
For Custard Filling:
¾ cup

(

150 grams

) granulated sugar

¼ teaspoon

salt

2

large eggs

2

large egg yolks

1

-

½

cups (

340 grams

) whole milk

1 cup

(

227 grams

) heavy cream

2 teaspoons

vanilla extract
Freshly grated nutmeg
Instructions
Add the flour, powdered sugar, and salt to the bowl of a food processor, and pulse until well combined. Add in the butter and pulse 5-7 times, or until the butter is broken down into tiny pebbles.
With the motor running, add in the egg and let the dough process until it forms together into a cohesive ball around the blade, about 1 minute.
Transfer the dough to a work surface dusted with flour.
Roll out the pie dough to an 11″ circle and line a 9" pie plate, crimp the edges as desired.
Transfer the dough to the freezer to chill while you preheat the oven.
Preheat the oven to 375 and place a rack on the lower and a rack in the middle part of the oven.
Line the pie dough with a parchment round piece of paper and then add pie weights (or dry rice or beans or lentils), making sure to push pie weights to the edges. Bake for 25 minutes on the lower rack, then remove the parchment and pie weights and bake for an additional 5 minutes, or until the bottom of the pie crust looks dry. Set aside until ready to use.
Lower the heat to 325º.
Whisk together the sugar, salt, eggs and yolks. Add in the milk, cream and vanilla and whisk to combine.
Strain the mixture twice through a fine-mesh strainer, removing any coagulated bits of egg.
Carefully pour the filling into the baked pie shell. Grate about ½ teaspoon nutmeg over the top of the pie.
Bake on the middle rack for 40-45 minutes, or until the custard has set nearly all the way through, with a slight wobble in the middle. The pie should have a temperature of 180ºF.
Remove the pie from the oven, and place it on a rack to cool. When it's completely cool, refrigerate until you're ready to serve.
The pie can be baked up to 1 day ahead of time.
Notes
Have a question or looking for tips? The text written above the recipe is always a great first place to start! There are always loads of explanations, tips and technical advice shared before the recipe.
Weighing your flour is the most accurate way to measure. If you aren't going to weigh it, make sure to spoon it into the cup, and then level it off. If you scoop the flour out with the measuring cup and then level, it could change the outcome of the final product.
Recipe adapted from King Arthur Flour
Some of the links on this page may be affiliate links. Everyday Pie is a participant in the Amazon Associates Program. As an Amazon Associate I earn from qualifying purchases, at no extra cost to you.