As beautiful as it is delicious, this Cranberry Custard Pie has a creamy, smooth filling tucked in a delicate, ginger-laced pastry crust. Each bite is the perfect combination of both sweet and tart.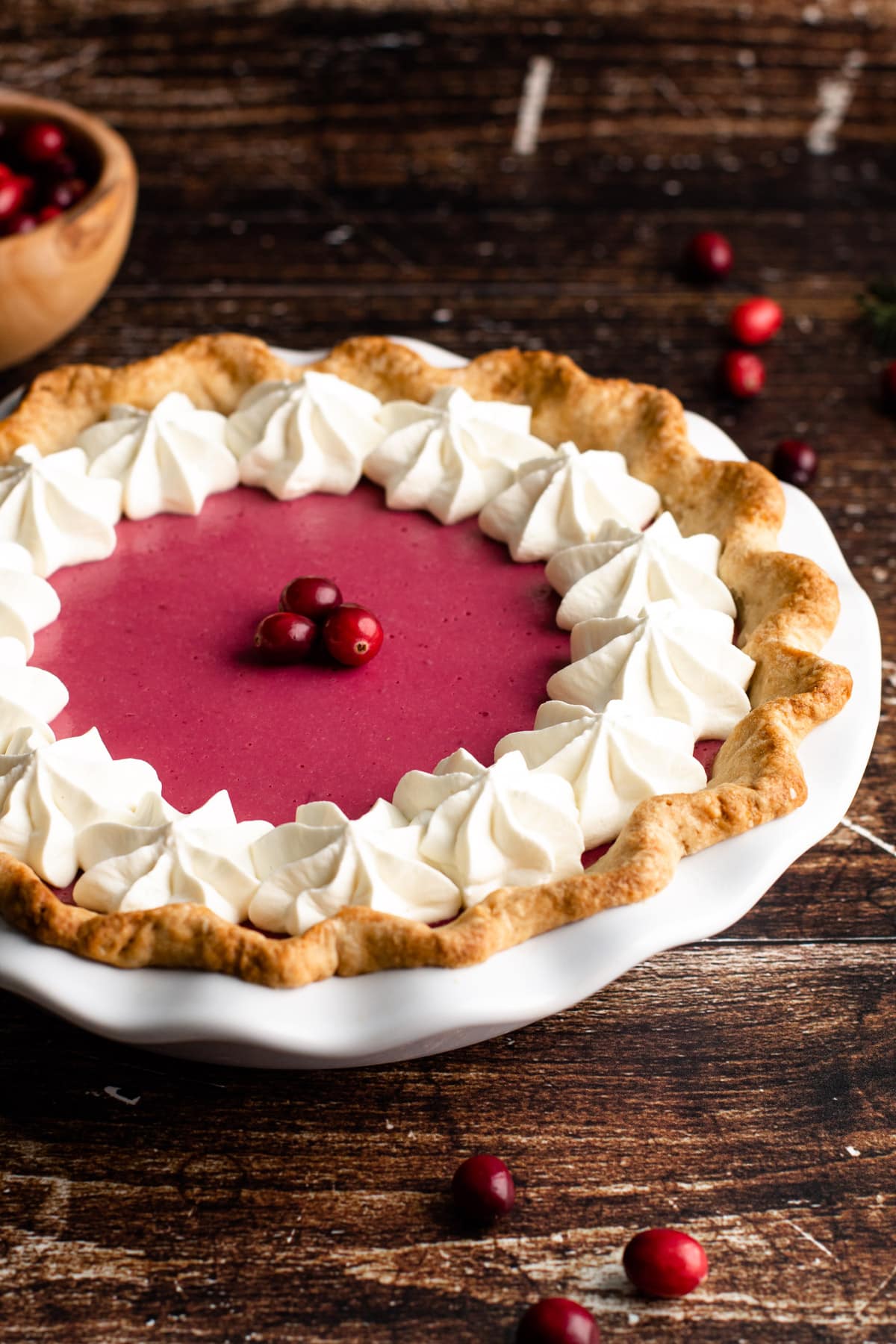 Cranberry Custard Pie with a Ginger Sweet Crust
A good custard pie should be creamy and smooth, with an undeniably obvious flavor. There is no doubt that when you take a bite of this pie, it's all about that tart cranberry taste. This pie went through a lot of variations during the development of the recipe, such as adding in complementary flavors like orange, but in the end, I wanted this pie to showcase one main flavor: cranberry.
The pure cranberry custard filling is simple yet delicious, and it's matched with a ginger-spiked pastry crust that really compliments the tart filling, without overpowering it.
And, this pie is going to look gorgeous on a holiday table.
Custard pies are a bit trickier than most pies. Despite its overall simplicity, it can be easy to over-bake them, or not mix them together correctly. But have no fear, this recipe has everything you need to know to bring it all together successfully.
So, let's get to making it, shall we? The text below offers tons of tips and helpful notes, or you can scroll to the bottom to grab the recipe and get started!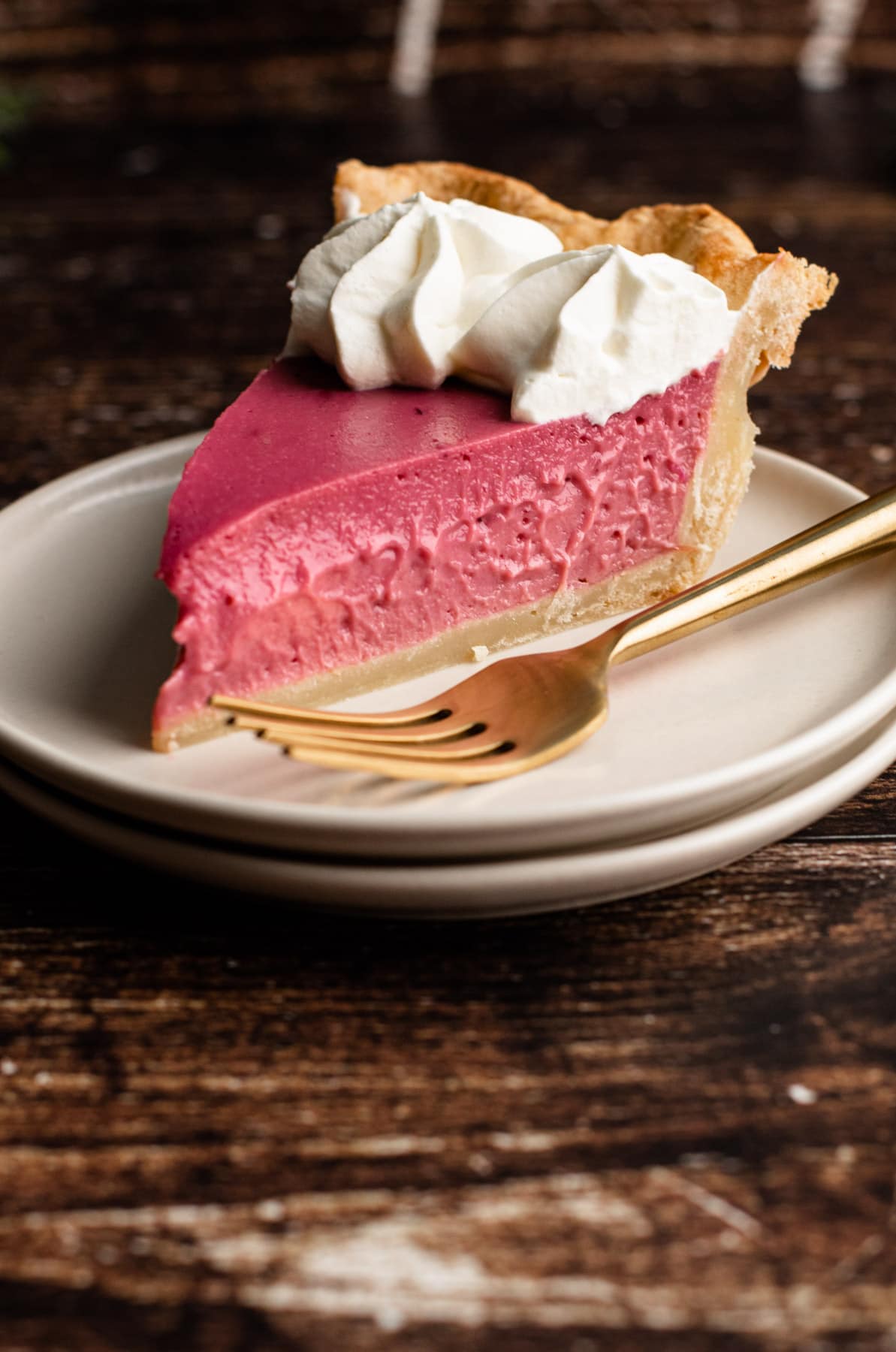 Ingredients Needed
Here is an overview of the ingredients needed for this recipe. The full recipe is listed below in greater detail.
fresh or frozen whole cranberries
pure cranberry juice (this recipe calls for the unsweetened pure cranberry juice. If you use a cranberry juice blend the resulting pie will be much sweeter)
sweetened condensed milk (this needs to be used because the acidity of the cranberry will split fresh milk or cream, so do not substitute this)
eggs
all-purpose flour
powdered sugar
granulated sugar
crystallized ginger (this is used in the crust)
ground ginger
salt
unsalted butter
milk
Tools Needed
Here is a list of some of the primary tools I use in this recipe. You won't necessarily choose to use them all, but they are exactly what I used. Any links may contain affiliate links.
immersion blender or stand blender
fine mesh strainer
dried rice / beans or pie weights (to blind bake)
pie plate
pot
essentials: kitchen scale, whisk, measuring spoons/cups, spatula, etc
Steps for Making a Cranberry Custard Pie
Custards are a bit trickier than one might assume but don't worry, I'm going to walk you through all the steps for making this recipe without problems. Below is an outline of the steps, and then I go into further detail in the paragraphs below to help troubleshoot any issues you may come across.
Make and blind bake the pie crust.
Cook, blend, and strain the cranberries to make cranberry puree.
Temper the egg yolks with the remaining filling ingredients with the warm cranberry puree.
Pour the filling into the pie crust and bake!
Making the Cranberry Puree
The base of this pie is a homemade cranberry puree. It's made by quickly cooking down cranberries with a touch of sugar and some pure cranberry juice until they burst. Once they burst, using either an immersion blender or a stand blender, puree the mixture. Then, the mixture is put through a fine-mesh strainer to get a thick cranberry puree.
While this is a relatively simple task, I do recommend measuring out how much puree you get. The reason for this is because this recipe is based on 2 cups of puree. If your puree results in less than 2 cups, it can affect the recipe. A quick fix for this is to add in a bit more juice until your puree mixture is 2 cups.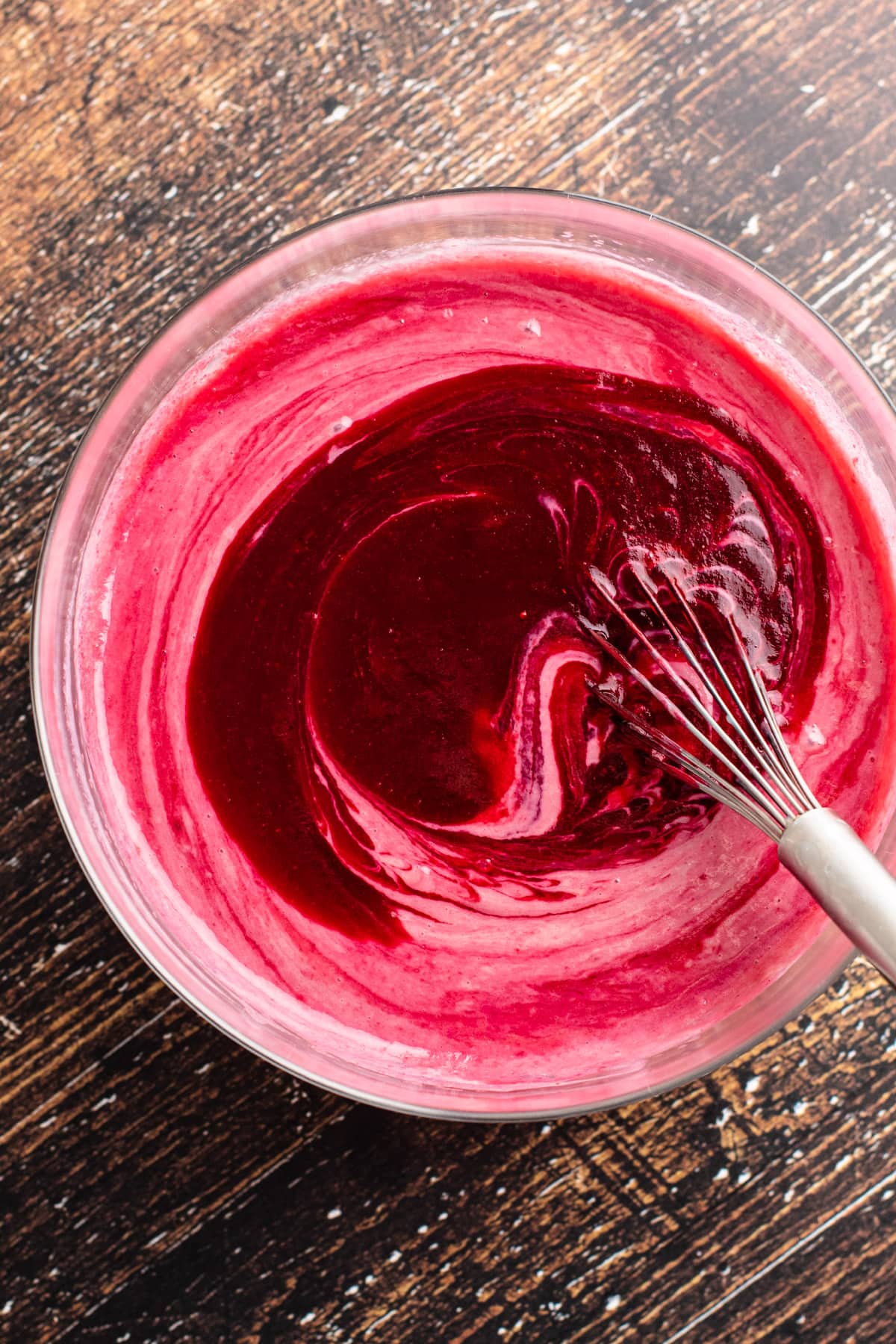 How and Why to Temper Eggs
This recipe uses a technique called tempering. Tempering eggs ensures they are cooked slowly and properly. The reason you temper eggs is to avoid a hot liquid touching them--such as cranberry puree--which might subsequently cook your eggs.
If you didn't temper them, you could end up with bits of cooked egg yolks. This is not ideal because it messes up the texture, and because cooked eggs have a distinct taste; unfortunately, that taste would shine through in the pie, even if you strained the filling.
Tempering eggs is easy. First, slowly add in drips of whatever hot liquid you are using (in this case, cranberry puree) while whisking your eggs. This establishes that the eggs heat slowly and evenly. Generally speaking, you can add in about half of the hot liquid, which will slowly bring up the temperature of the eggs. After that step, you pour the tempered egg mixture back into the pot to continue to cook.
Pro-tip: make sure to stabilize the bowl. Tempering eggs means you need the use of both of your hands: you are not able to use a hand to stop the bowl from sliding around while you whisk. I suggest you put your bowl with the eggs over a wet towel so it doesn't slide around while you whisk in the hot liquid.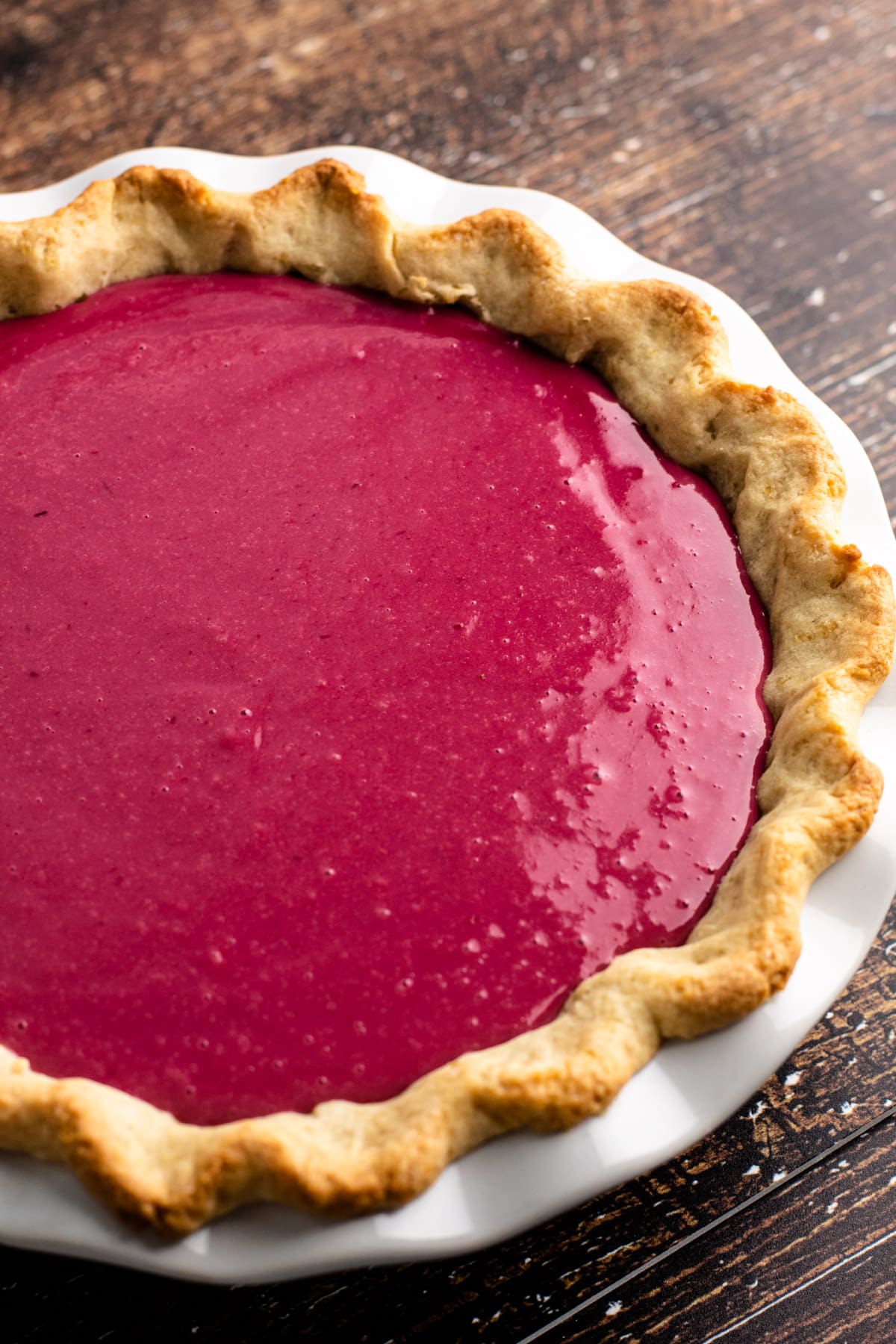 How to Avoid Spilling the Custard
This may seem like a small concern, but if you've ever tried to move an unbaked pie with a liquid filling into the oven without spilling it, you know it isn't easy! While some bakers opt to place their pastry into the oven first and then pour the filling inside, I prefer not to. I've found that with the heat of the oven, I'm more likely to spill it or burn myself when I do it that way.
Instead, I'll offer you one tip for a successful transfer of an unbaked custard pie into the oven: never take your eyes off the filling. Before picking up the pie, open the oven and make sure your oven rack is in the right spot (which would be the middle). Then, pick up your pie and keep your eye on the liquid filling the entire time. It's when you take your eye off the wobbly filling that you are at risk for spilling.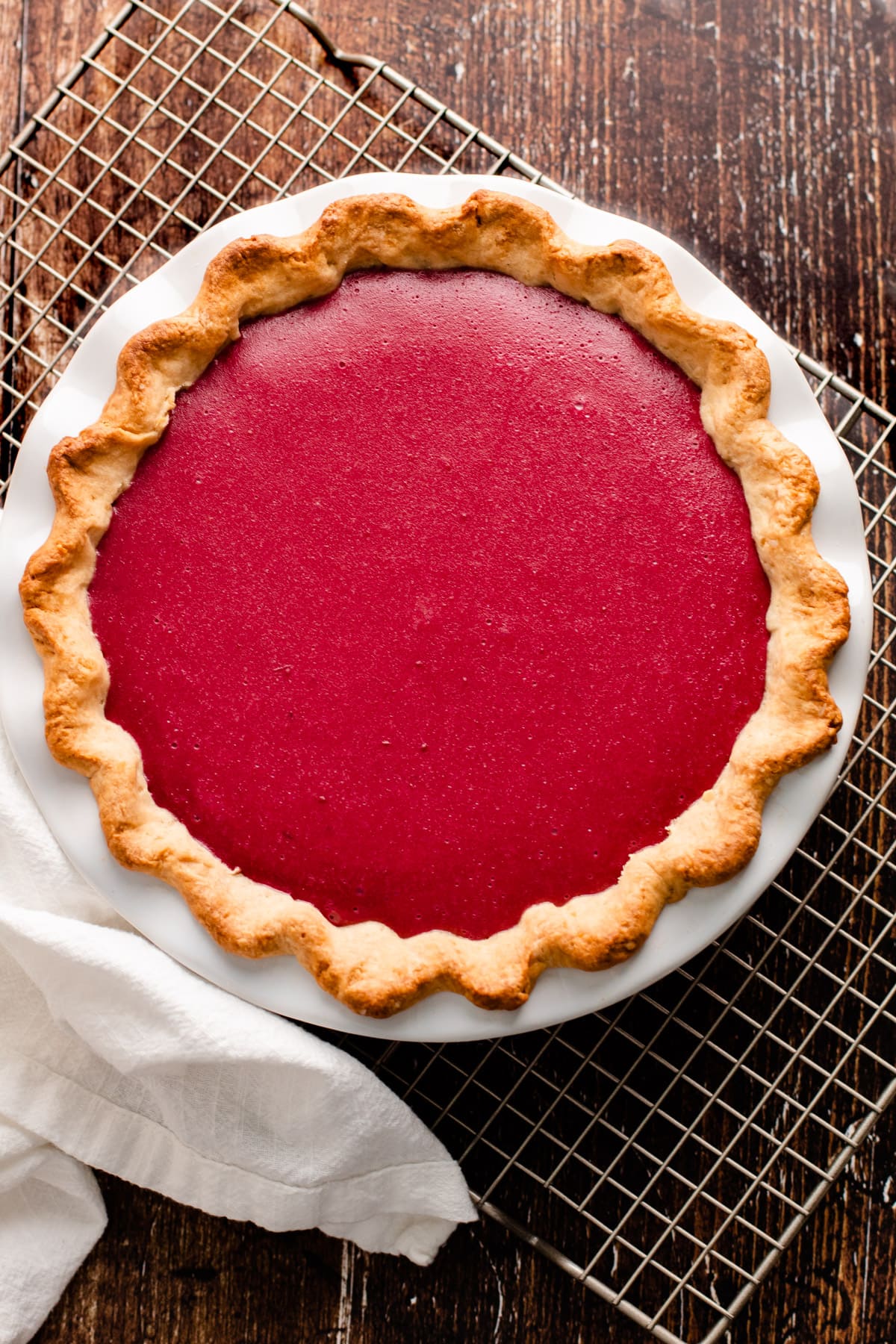 How to Tell When the Pie is Done Cooking
If there was only one pie secret I could share with anyone, it would be this: don't over-bake your custard pie! And by that, I am referring to not only custard pies but any pie that contains dairy and eggs together. When a custard-style pie is properly baked, it should be just barely set. If you overcook it, you are essentially "boiling" the eggs. In some cases, that can lead to a taste of overcooked eggs, as previously mentioned. Or more commonly, it can lead to the custard to split or sweat, once it has cooled.
You'll know this pie is done when the edges are set about 2 to 2-½″ from the outer edge, and for the direct center of the pie to still be wobbly. At this point, you want to take your pie out of the oven, and place it at room temperature to cool.
Once it's fully cool, move it to the refrigerator to cool for at least 6 hours. During this period it will become fully set.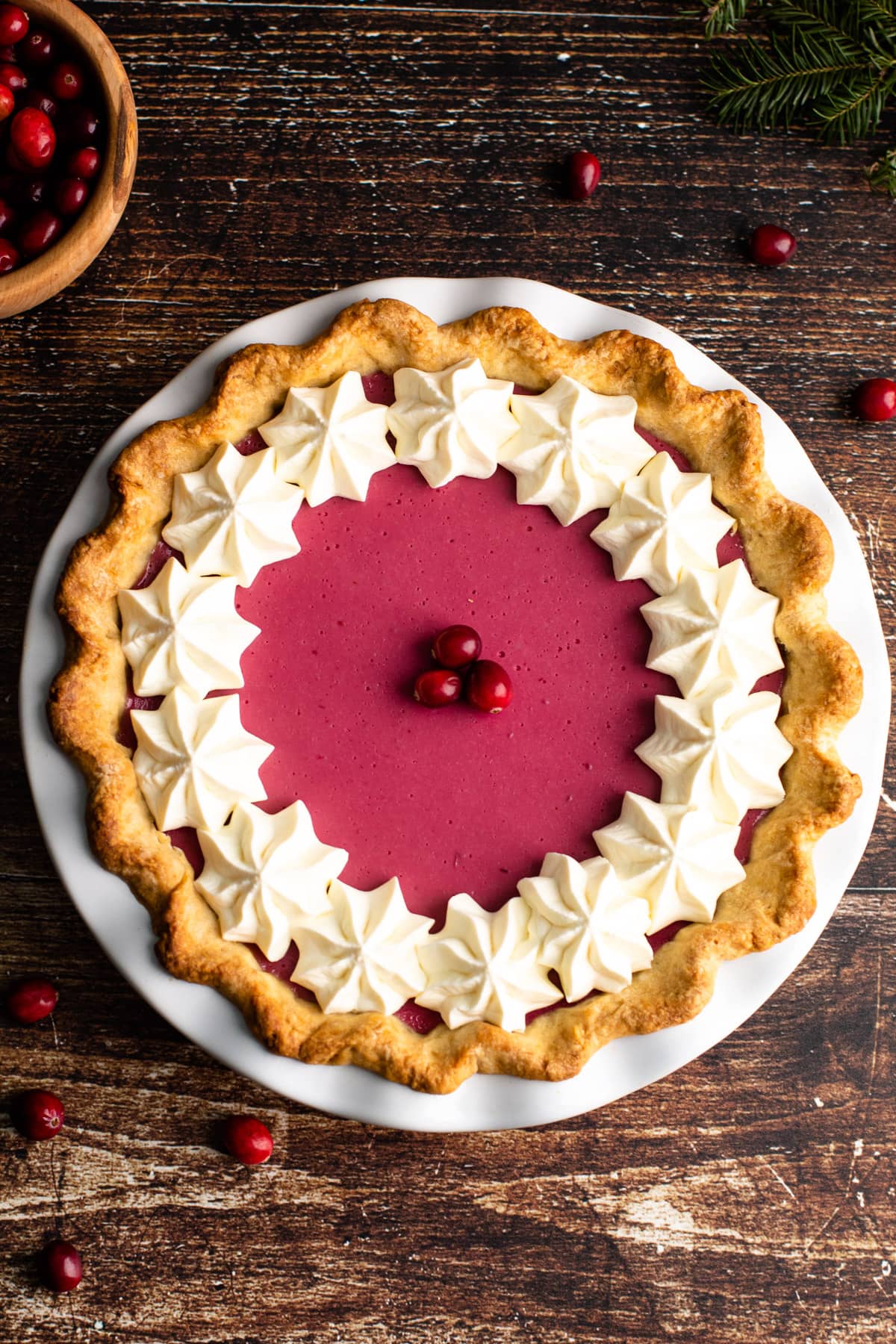 Best Baking Tips for Making this Pie
Bake the ginger pie pastry well: It's crucial to bake the pastry fully before pouring in the filling. Custards start off with a very wet filling, and if you pour them into an unbaked crust, you run the risk of breaking the dough and having it surface in the pie filling. In addition, custards are baked at a low temperature so it would be impossible for the crust to actually bake with the filling inside.
Don't over whisk anything: I found that when you whisked the eggs too much it caused a great deal of aeration and air bubbles. These air bubbles then reared and burst during cooking. While this won't do anything in terms of the taste of the pie, it's rather unpleasant to look at. So, gently whisk the filling ingredients together in an effort to prevent this blemish.
Make sure you have 2 cups of cranberry puree, and if you don't, add juice to make 2 cups.
Don't overcook it: Be sure to read the above properly baking a custard pie.
Let it cool before slicing: Custard pies finish setting and firming while they cool. Go hands-off and let the refrigerator work for you. If you try to cut it before it has completely chilled, you'll end up with custard soup.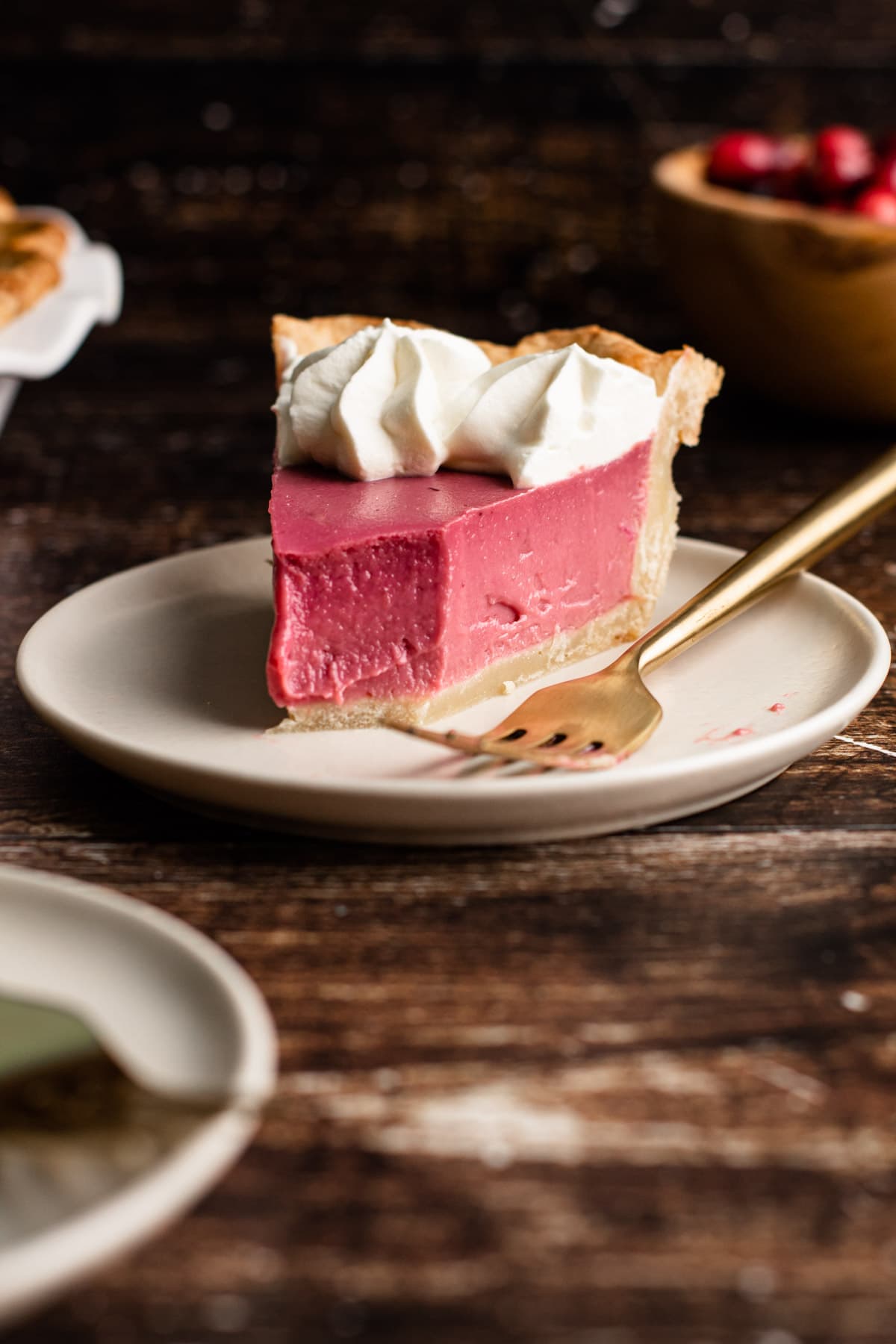 Serving and Storing It
Serve this pie cold, with sweetened whipped cream! This pie can be made up to 1 day ahead of time. Store the pie in the refrigerator.
More Custard Pie Recipes:
I am so honored when you make a recipe from my site! If you make this Cranberry Custard Pie, please leave a comment and a star rating with your experience! If you have any questions about this recipe, feel free to comment here, too!
Print
Full Recipe
Cranberry Custard Pie
As beautiful as it is delicious, this Cranberry Custard Pie has a creamy, smooth filling tucked in a delicate, ginger-laced pastry crust. Each bite is the perfect combination of both sweet and tart.
Author: Kelli Avila
Prep Time:

00:20

Cook Time:

01:00

Total Time:

1 hour 20 minutes

Yield:

Serves 8

Category:

Custard Pie

Method:

Bake
For Ginger Pastry Crust:
1

-

½

cup (

180 grams

) all-purpose flour

¼ cup

(

30 grams

) powdered sugar

¼ cup

(

50 grams

) crystallized ginger

1 tablespoon

ground ginger

¼ teaspoon

salt

½ cup

(

113 grams

) cold butter, cut into ¼" pieces

⅓ cup

milk or water
For Cranberry Custard Filling:
3

-

½

cups (

16 ounces

) whole cranberries (fresh or frozen)

1 cup

(227) pure cranberry juice (not a juice blend, see note)

¼ cup

(

50 grams

) granulated sugar
Pinch kosher salt

1

(14 ounce) can sweetened condensed milk

3

large eggs
Instructions
To make and bake ginger pastry:
Add the all-purpose flour, powdered sugar, crystallized ginger, ground ginger and salt to the bowl of a food processor. Process for 1 minute, or until the crystallized ginger is broken down in tiny pieces.
Add in the butter and pulse 5 times. With the motor running pour in the milk and let the dough process until the dough forms together into a cohesive ball around the blade.
Scrape the dough from the bowl and place it in a piece of plastic wrap and form into a disk and wrap tightly. Using a rolling pin, roll the dough out until it stretches to the corner of the plastic wrap to ensure a tight seal.
Refrigerate for at least 2 hours, but preferably overnight, before use.
Roll out the pie dough to an 11″ circle and line a 9" pie plate with the pastry, crimping the edges as desired. Place in the freezer to firm up for 10-20 minutes, while the oven preheats.
Preheat oven to 375ºF and place one oven rack in the second to lowest spot and one in the middle.
Line the pie dough with a parchment round piece of paper and then add pie weights to fill (such as dry rice, bean or lentils), making sure to push the pie weights to the edges. Bake for 20 minutes on the lower rack, then remove from the oven and remove the parchment and pie weights. Return to the oven and bake for an additional 5-10 minutes until the pastry is fully baked through.
Lower the heat to 350º.
To make the cranberry filling:
Add the cranberries, cranberry juice, granulated sugar, and salt to a medium pot. Cook over medium heat for 10 minutes, or until the cranberries have burst. Remove from heat. Using an immersion blender (or regular blender), puree the cranberries. Immediately pour through a fine-mesh strainer into a bowl, using a spatula to push all the cranberry puree out while leaving behind any bits of seed. You should have about 2 cups worth of puree. If you do not (because you've cooked out too much liquid) add additional cranberry juice until you have 2 cups worth of liquid.
Meanwhile, add sweetened condensed milk, eggs and in a separate medium bowl and whisk together.
Slowly pour in the cranberry puree, a little at a time, while gently whisking.
Pour the cranberry filling into the baked pie crust.
Place the pie onto your oven's middle rack and bake it for 30-35 minutes or until the custard has a dry or matte appearance on the edges and is set nearly throughout, but still slightly wobbly in the middle.
Remove the pie from the oven, and place it on a rack to cool.
Once the pie has come to room temperature, move the pie to the refrigerator to finish setting up, at least 4 hours.
Serve cool with sweetened whipped cream.
Notes
Have a question or looking for tips? The text written above the recipe is always a great first place to start! There are always loads of explanations, tips and technical advice shared before the recipe.
Keywords: Cranberry Custard Pie
Some of the links on this page may be affiliate links. Everyday Pie is a participant in the Amazon Associates Program. As an Amazon Associate I earn from qualifying purchases, at no extra cost to you.