This Honey Walnut Pie starts with perfectly toasted walnuts, combined with a creamed butter and honey mixture, then baked inside a buttery flaky crust. It's delicious served as is, or with a big pile of whipped cream.
Honey Walnut Pie
I've been sharing recipes here on Everyday Pie for close to six months now, and I have not yet to mentioned the person who most influenced who I am as a cook. While I didn't attend a culinary school, I most certainly was trained. After graduating college for communication, I knew I wanted a career in the cooking world, but wasn't able to afford another degree. Instead, I spent a year searching for a Chef in the Boston area who believed in a cooking style like I did, and who was willing to take in a young cook like myself to train them. I was so grateful that day I found an ad by Chef Charlie Redd, advertising for a line cook. I will always remember vividly the day he called me after my interview and offered me the position.
I worked under Charlie for nearly three years, in two different restaurants, learning everything I possibly could. I first started by working the salad and dessert station for a long time and eventually moved my way up. Charlie's belief in me, my abilities (even in the primitive days of my training), and my determination has been a guiding factor after all these years. He is the greatest influence in my cooking, and his influence undoubtedly shows up in the recipes here on this site. This Honey Walnut Pie is a great example.
While I never made a Honey Walnut Pie while working for Charlie, I did make many, many, many Pecan Pies. He served his Oma's Pecan Pie recipe at his first restaurant, Redd's in Rozzie (which he since closed down). It was and remains the best pecan pie I've ever had. I made hundreds of those pies while working for Charlie. Though it contains very different ingredients, this Honey Walnut Pie is similar in technique to his Oma's recipe. Her recipe called for creaming the butter and the sugar before adding in the pecans and I always loved that unique take on the classic. You'll find this recipe calls for the same. Creaming the butter and sugar creates a lovely texture for the walnuts to hang out in, and it is absolutely delicious paired with honey.
Ingredients for Honey Walnut Pie
Pie Crust (I really recommend homemade here)

Walnuts

Butter

Honey

Brown Sugar

Eggs

Vanilla
Salt
How to Make Honey Walnut Pie
Let's start off with the pastry. I always recommend making the pastry the day before to give it ample time to rest. Before rolling it out, let it sit at room temperature for about 10 minutes. Then, roll it out on a lightly floured surface to a roughly 11 inch circle. Place the dough inside the pie plate and crimp the crust, as desired. Place it in the freezer or refrigerator to chill while you are making the filling.
Now we move on to toasting the walnuts! Toasting the walnuts helps to awaken the flavor in them, which will really be highlighted in this pie. Just be sure not to burn them. I've suggested toasting for five minutes, but you'll know they are toasted enough when you start to smell them. If after five minutes they aren't fragrant, give them another few minutes.
Next, work on creaming the butter and sugar. It's important to have room temperature ingredients here (roughly about 60 minutes outside of the fridge, or more if you kitchen is cold). If you try to cream ingredients that are cold, they won't come together evenly. Next, add the eggs, one at a time, beating after each addition. Finally, pour in that honey, slowly, and continue to beat until the mixture is light and has slightly increased in volume.
Lastly, you fold in the walnuts and place the filling inside of the prepared pie crust.
To bake, start off with a high temperature of 400 degrees. Make sure to follow the instruction of baking the pie on the lowest possible oven rack. This ensures the crust will crisp up. After 20 minutes, lower the oven temperature to 350ºF, but leave the pie on the same rack for the entirety of baking.
When the filling has cooked enough, the pie will be puffy throughout and just barely wiggly when you shake the pie. Let it sit at room temperature for at least 2 hours before slicing in to it.
Pie Crust Options
This pie tastes best with a homemade buttery pie crust. This All Butter Pie Crust or Cream Cheese Pie Crust (my preferred one) is perfect here. This will also work well with this Gluten-free Butter Crust.
How to Store and Serve it
This pie is best on the first or second day. To store it, leave it lightly covered at room temperature, for up to 3 days.
Serve it as is, or get slightly fancy with a homemade Whipped Cream or with a scoop of ice cream.
Other Sweet Pie Recipes:
---
MAKE SURE TO COMMENT BELOW AND TAG @EVERYDAYPIE ON INSTAGRAM IF YOU MADE THIS HONEY WALNUT PIE OR IF YOU HAVE QUESTIONS! HAPPY BAKING!
Print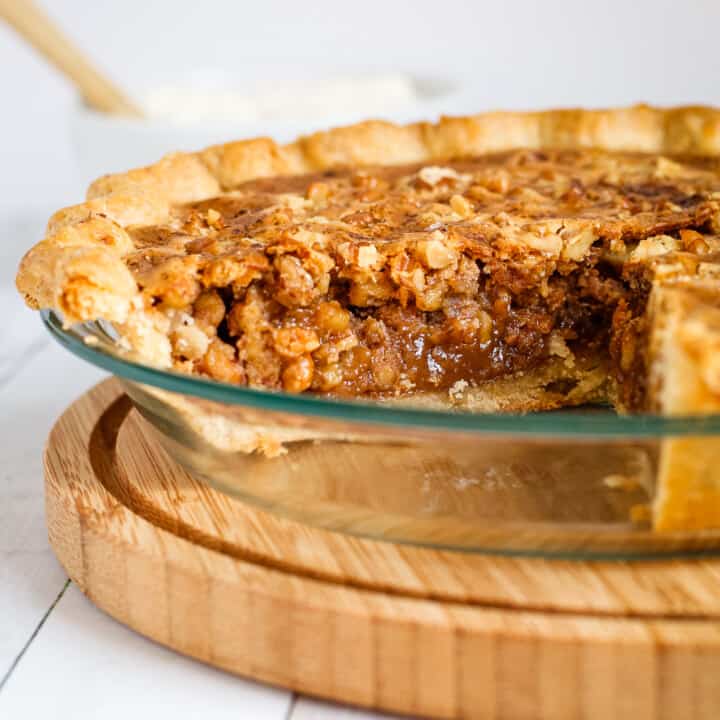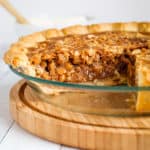 Honey Walnut Pie
Author:

Kelli Avila

Prep Time:

00:25

Cook Time:

00:45

Total Time:

1 hour 10 minutes

Yield:

8-12 slices

Method:

Oven

Cuisine:

Sweet Pie
---
Description
This Honey Walnut Pie starts with perfectly toasted walnuts, combined with a creamed butter and honey mixture, then baked inside a buttery flaky crust. It's perfect served as is, or with a big pile of whipped cream.
---
1

-

9

″ single pie crust, prepared

3 cups

walnuts (10 ounces; 280 grams), chopped

4 ounces

(113 grams) unsalted butter, room temperature

½ teaspoon

salt

¾ cup

packed (150 grams) light brown sugar

3

large eggs, room temperature

½ cup

(170 grams) honey

1 teaspoon

vanilla extract

Egg wash (1 egg whisked together with 1 tablespoon of water)
---
Instructions
Preheat oven to 400ºF and place the rack on the lowest part of the oven. Roll out dough to an 11" in diameter and place in a 9" pie tin. Crimp crust and let rest in the freezer (or refrigerator) while preparing the filling.

Place walnuts on a rimmed baking sheet and toast in oven for 5 minutes, or until walnuts start to get fragrant.

With an electric mixer,  cream butter, salt and sugar together until light and fluffy, about 3 minutes.

Add in eggs, one at a time, beating after each addition until fully incorporated.

Slowly pour in honey and vanilla and beat until mixture has slightly increased in volume, about 3 minutes.

Fold in walnuts.

Pour into prepared pastry lined pie dish and smooth over the top. Brush an egg wash over the crust.

Bake in the lowest rack for 20 minutes. 

Lower heat to 350º and continue to cook until the pie is has puffed up and is set, about 25-30 minutes. If the crust is browning too quickly loosely cover with foil (being careful not to lay the foil on the top of the pie filling).
---
Notes
This recipe was influenced by one I made while working for Chef Charlie Redd, in Boston. It was very slightly adapted from a pecan pie recipe from his grandmother.
Some of the links on this page may be affiliate links. Everyday Pie is a participant in the Amazon Associates Program. As an Amazon Associate I earn from qualifying purchases, at no extra cost to you.