This Cream Cheese Pie Crust is made with both butter and cream cheese to make for the best tasting, flakiest pie crust. Additionally, the dough is extra flaky thanks to a special French technique called fraisage. Fraisage means to blend the butter and cream cheese into the flour with the heel of your hand to create long, thin streaks of butter that creates a delicate and flaky pie crust.
Cream Cheese Pie Crust Recipe
Without a doubt, this recipe is one of the essentials on this website. This enriched Cream Cheese Pie Crust recipe is rich, flaky and buttery. What makes it special is the use of both butter and cream cheese, as well as a special blending method called fraisage. Fraisage is a French technique of blending the fat into the flour by hand at the end to produce tender and flaky dough.
This recipe alone is what first got friends and family asking me when I would sell my pies; it's a cornerstone to who I am as a pie maker. This recipe is adapted from one by Rose Levy Beranbaum that includes the use of cream cheese. My own pie baking is greatly influenced by her work, especially from The Pie and Pastry Bible.
The addition of cream cheese really makes a huge difference in this pie crust recipe. It not only improves the flavor, but it makes the dough easier to work with, especially when it comes time to rolling it out. You'll find the dough to be slightly softer than an all butter crust because cream cheese has more liquid in it than butter does.

Ingredients for Cream Cheese Pie Crust
All Purpose Flour: Generally speaking, pastry flour is the best flour for making pastry because it has a lower protein content. But, most people don't keep it in their kitchen, so for this recipe I call for all purpose flour and add...
Cornstarch: The addition of cornstarch makes the flour mimic pastry flour. You can totally skip this and add in equal parts flour if you wish, but cornstarch helps make this pie dough delicate.
Salt: All baked good needs salt, period.
Cream cheese: This acts not only as another layer of flavor, but it also enriches the dough with additional fat. This fat contains more liquid than butter, so the dough is easier to work with than traditional all butter pie dough. You cannot used a whipped cream cheese, be sure to purchase the traditional solid block.
Unsalted butter: I say unsalted, so you you can control the amount of added salted.
Apple cider vinegar: Hear me out-- This helps make the dough tender by inhibiting gluten formation, and it brings a pleasant tangy flavor to the crust that keeps it nicely balanced.
Ice water: Water brings the whole thing together, but try to make it cold to help keep the dough all together cold. When I don't have ice readily available, I just let the tap run for 30 seconds to get water cold and use that.
How to Make Cream Cheese Pie Crust
Even with the addition of the special method of blending the fat into the flour at the end, making pie dough is a still a relatively quick task. Here are the steps you'll take when making this pie crust.
Mise en place: Get all of the ingredients ready and have a clear a work surface. This is a pretty important step when making pie dough because you want to move quickly while you are actually making the dough. Gather all of your ingredients and prep anything that needs to be prepped (such as cutting the butter). Make sure everything is chilled, especially if your kitchen is warm.
Process the dough in the food processor: I recommend using a food processor here because it's the easiest way to work with cream cheese in a pie dough. In a pinch, you could use an electric stand mixer. (If you have neither, stick with making all butter dough by hand, with the recipe here.) Make sure not to over-process the dough. The dough shouldn't quite look like dough at this stage. The photo above is what it should look like: crumbs.
Fraisage: Make sure to do this step quickly. Work quickly to blend the fat into the flour to prevent the butter from melting too much. To form into a dough disk after you have finished blending the butter, use a bench scraper to scrape up the blended flour and fat in clumps. Stack those clumps of dough on top of one another and form it into a roundish disk.
Wrap the dough in plastic and let it chill:Place in plastic wrap and wrap tightly. Roll out the dough in the plastic wrap to create an airtight seal and let rest at least 2 hours--overnight is even better.
Getting to know Fraisage
Fraisage is a French technique of blending the fat into the flour. You use the heel of your hand to spread the fat into the flour to create long, thin streaks of butter. This creates a dough that has similarities to puff pastry. When these butter streaks melt during baking, they produce steam that lifts the pastry up, creating flaky layers.
To fraisage, you want to make sure you start out with properly made dough. The dough should not be fully blended (that would mean you have overworked the dough) but instead it should be crumbly. Using the heel of your hand, quickly press down on a small pile of dough and press your heel forward to smear the butter. I like to create a line of crumbly pie dough and fraisage my way down the line. Once you have worked most of the dough, quickly use a bench scraper to gather up all the dough. Keep as many of the streaks of butter intact as you can by scraping up the layers with the bend scraper, and then piling them on top of one another to create a dough disk. The more layers of butter you create, the flakier your pie will be.
Tools needed to make this Cream Cheese Pie Crust:
Storage Information
Wrap your pie dough disks as tightly as you can with plastic wrap and store in the refrigerator for up to 2 days. It can be frozen for up to 3 months. Thaw out frozen dough in the refrigerator the night before you plan to use it.
What pie recipes are good for this dough?
This crust works well with classic fruit pies or savory dishes that will be served at room temperature or warm. This pie dough is not good for any pie that is to be served cold, such as a cream pie. If you are looking for a pie crust that is good for pies to be served cold, check out this pate sucree.
The reason I don't recommend using this pie dough for "serve while cold" pies is because it can taste stale when cold; the same way a croissant or puff pastry might taste stale when cold. When a pastry like this is properly made and has a flakiness to it, it is going to have its optimum taste when it's at room temperature. Think about it: Do you like eating butter straight out of the fridge on toast, or do you like eating softened / melted butter on your toast? A properly made pastry is the same thing. The butter and other ingredients in the crust are best when at room temperature.
Does that mean you should never eat an Apple Pie made in this crust straight from the refrigerator? Absolutely not! But, a fruit pie has a lot of juices and it transforms this crust when it is hanging around in the refrigerator. But a Coconut Cream Pie or a No Bake Creamsicle does not transform this pastry the same way as an Apple Pie would, and I wouldn't recommend using this crust on those meant-t0-be-served-cold pies! Instead, for cold pies use a Pate Sucree crust instead.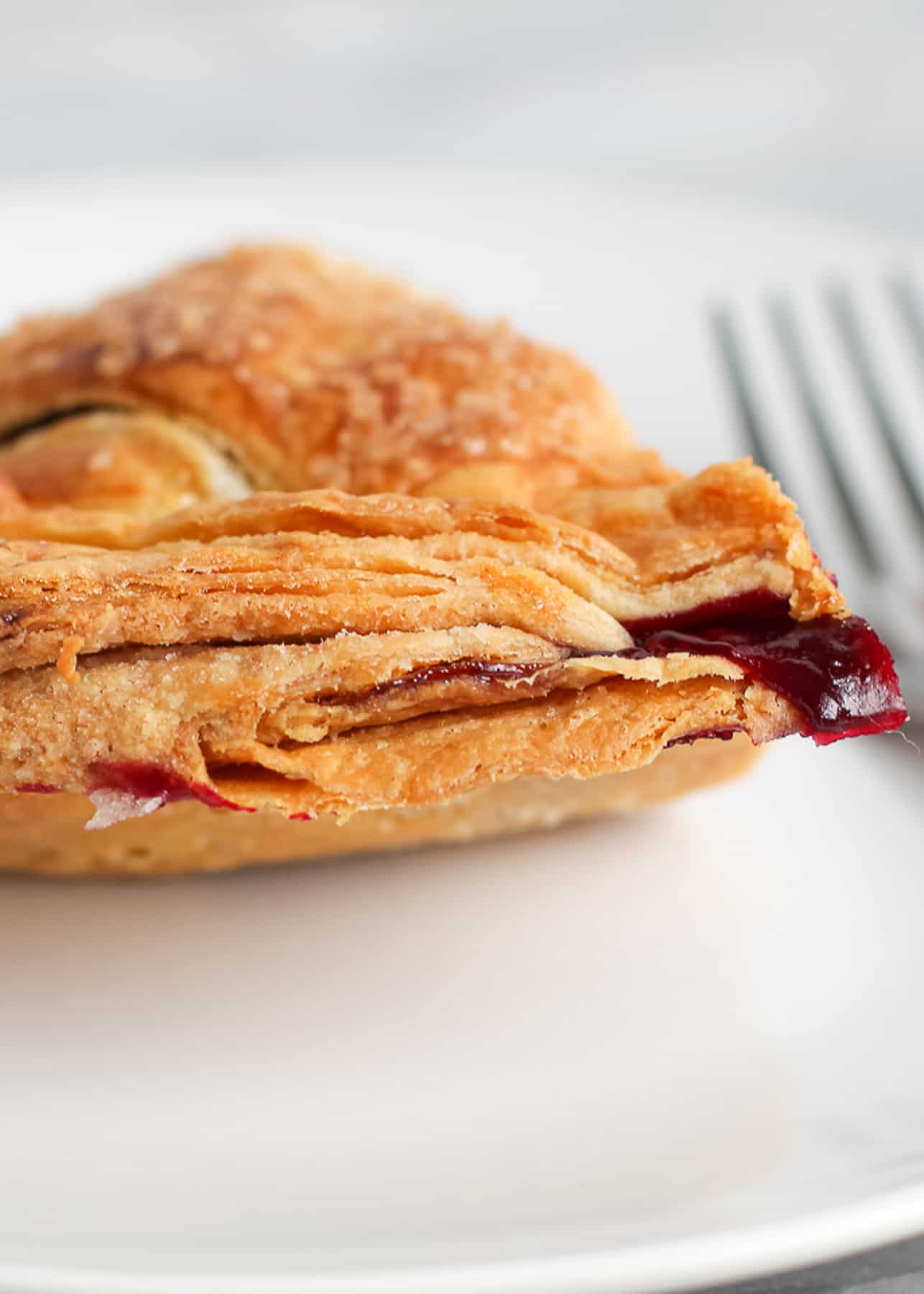 Baking Cream Cheese Pie Crust
Almost as important as how you prepare pie pastry is how you bake it. A flaky pie pastry should be thoroughly chilled before baking, and baked at a high temperature, ideally around 425ºF. However, not all pie fillings can be baked at that high of a temperature, which means that sometimes the pie crust will need to be partially or fully blind baked. On this website, each pie recipe indicates how the pie crust should be baked, so reference those directions for pies using this flaky pie crust.
But do know, if you try to bake a flaky pie crust without chilling it after it has been rolled and place in a pie tin (either in the freezer for 20 minutes or the refrigerator for an hour) there is a chance the pie crust could melt off, shrink or just generally not bake well.
This pie dough is great for these pies:
MAKE SURE TO TAG @EVERYDAYPIE ON INSTAGRAM OR COMMENT BELOW IF YOU HAVE QUESTIONS ABOUT THIS RECIPE OR IF YOU USE THIS PIE DOUGH FOR YOUR OWN CREATION!
Print
Cream Cheese Pie Crust
Think of this Cream Cheese and Butter Pie Crust as an enriched pie dough, similar to how a brioche is an enriched loaf of bread. It is a basic pie crust, but it's enriched with extra fat (which means flavor) in the form of cream cheese. Additionally it's made using a special French technique called fraisage, which refers to the act of blending the fat into the flour with the heal of your hand. Nothing is really complicated here, but it will result in the best tasting pie crust you've ever eaten.
Author: Kelli Avila
Prep Time:

00:15

Cook Time:

00:00

Total Time:

15 minutes

Yield:

2-9" dough disks

Category:

Dough

Method:

Food Processor

Cuisine:

Basics
2

-

¾

cups (330 grams) all-purpose flour

2 tablespoons

(14 grams) cornstarch

½ teaspoon

salt

12 tablespoons

(179 grams) unsalted butter, chilled and cut into

1

" pieces

6 tablespoons

(90 g) cream cheese, chilled

1 tablespoon

(15 grams) apple cider vinegar

⅓ cup

(80 grams) ice water, more as needed
Instructions
Add the flour, cornstarch and salt to the bowl of a food processor.

Pulse until combined.

Add in cream cheese and pulse 5 times. Add in cold butter and pulse 5-7 times.

With the motor running quickly pour in the water and vinegar into the flour. It should look crumbly!

To fraisage the mixture: empty the flour mixture onto a work surface and spread the mixture out into a rough horizontal line in front of you. Taking the heel of your hand smear a small pile of dough into a thin line. Repeat this process until most of your dough has been worked.

Using a bench scraper, scrape up the dough in chunks and stack it into two piles.

Quickly using your hands form each dough pile together. Each dough should weigh about 12 ounces.

Place in a piece of plastic wrap and wrap tightly.

Using a rolling pin roll the dough out until until it stretches to the corner of the plastic wrap.

Refrigerate for at least 2 hours, but preferably overnight
Notes
Read the whole post for much more details if you have any questions to start.
Recipe adapted from Rose Levy Beranbaum
Keywords: Cream Cheese Pie Crust, Pie Crust
Some of the links on this page may be affiliate links. Everyday Pie is a participant in the Amazon Associates Program. As an Amazon Associate I earn from qualifying purchases, at no extra cost to you.