This Ginger Strawberry Rhubarb Pie is best dessert to make in the magical period of time in late spring when rhubarb season overlaps with strawberry season. This pie is perfectly balanced with the sweetness from the strawberries, the tartness from the rhubarb and the subtle nuance from the ginger and orange.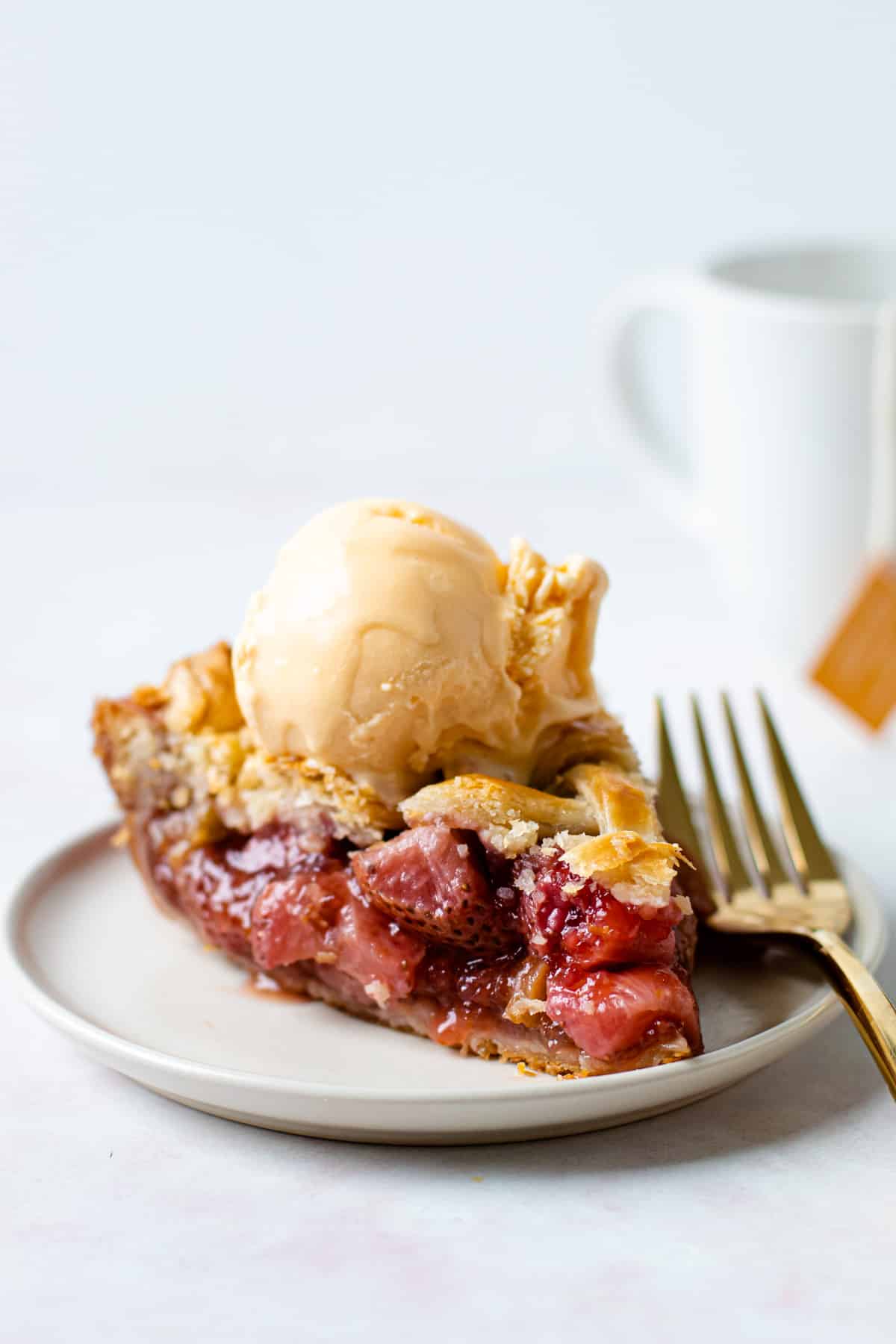 Strawberry Rhubarb Pie Recipe
The first pie I ever remember baking was a Strawberry Rhubarb Pie. The recipe came from a Bon Appetit magazine and it did not disappoint. The pie was made in that sweet spot in Boston where the end of rhubarb season overlaps with the beginning of strawberry season. The rhubarb is in and of itself a treat to get, as they are hard to come by locally. And when you get farm fresh strawberries? They change the way you can feel about strawberries. Eating one hot from the sun, fresh from the fields when perfectly ripe spoil any other grocery store strawberries forever. Strawberry and rhubarb might just be one of the best combinations there is for a pie.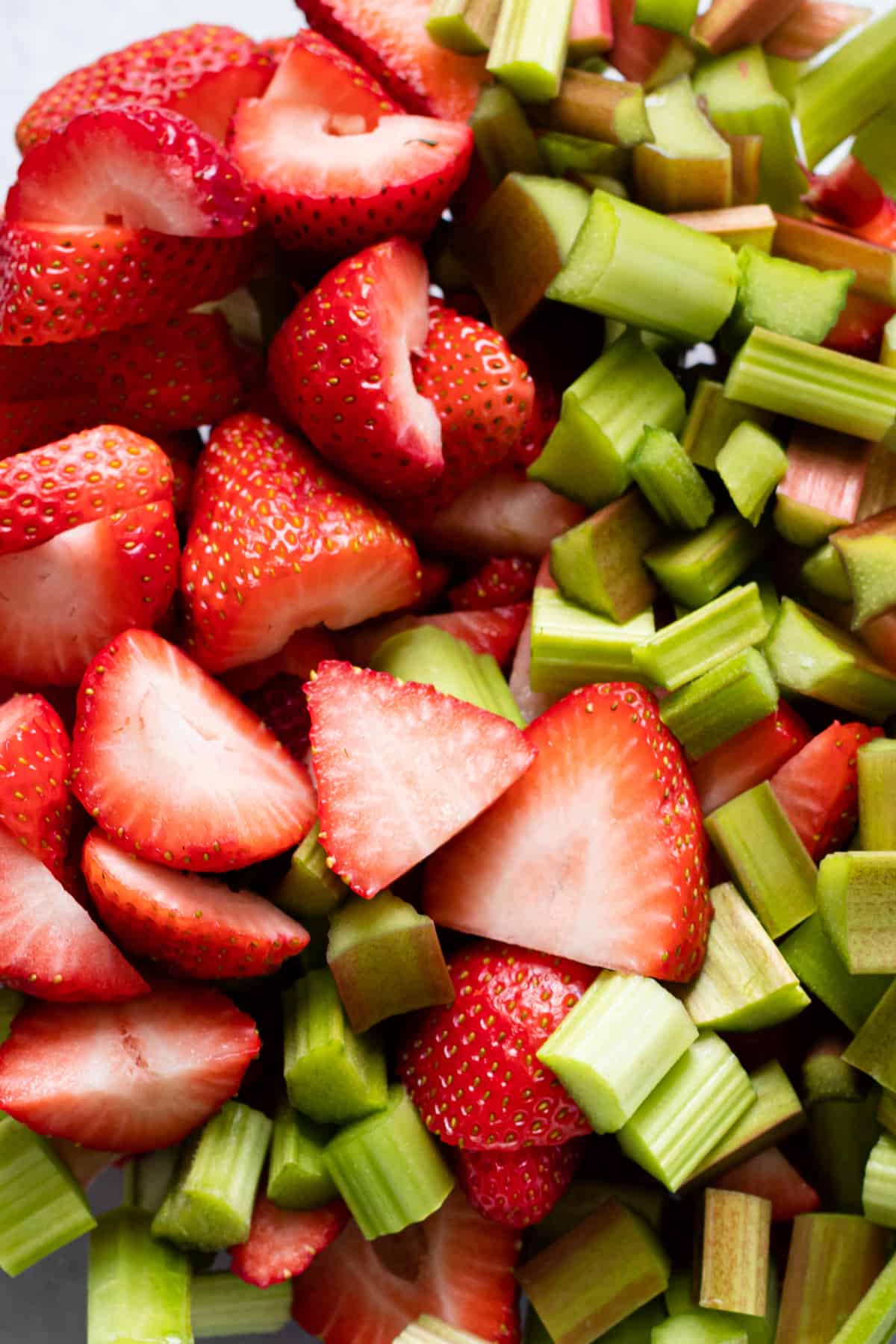 Pie Ingredients
strawberry
rhubarb
orange juice and zest
ground ginger
white and brown sugar
quick cooking tapioca
Obviously the sweet strawberries play well with the tart rhubarb. I've added orange juice and zest to give another flavor profile that plays well with the rhubarb and the ground ginger adds just a little bit of something unique to make this pie. There is both white sugar and brown sugar to give it a slightly deeper flavor. And to thicken it all up I recommend using quick cooking tapioca. There is more information on why below!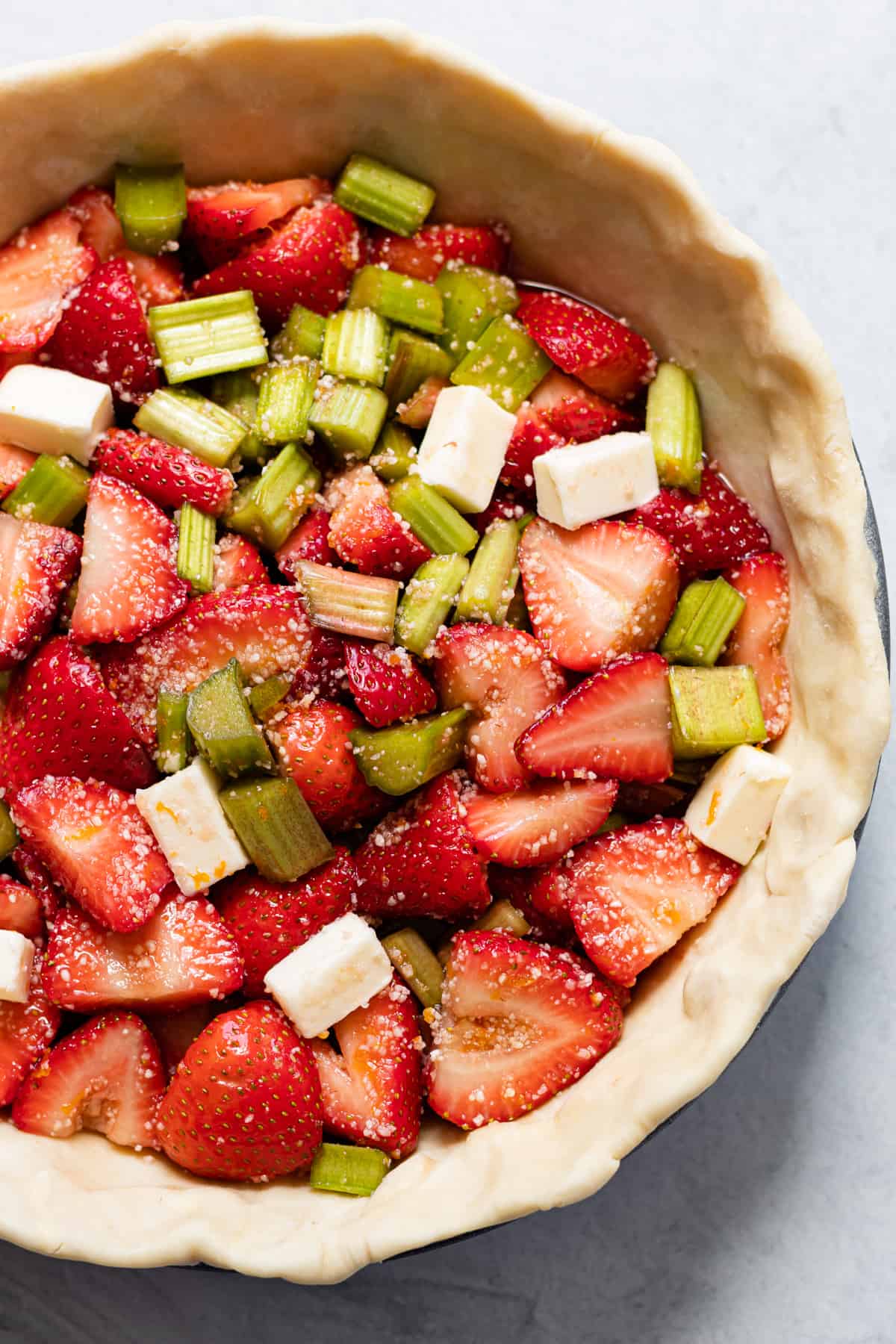 Let's Talk Rhubarb
If you are new to rhubarb you might be wondering what exactly it is and where to find it! To start, rhubarb is technically a vegetable! But commonly it is used more as a fruit. It looks a little like red or green celery and is very bitter, which is why it is commonly cooked as a fruit with lots of added sugar. This is also why it pairs so well with strawberries, which help balance the bitterness of the fruit while still allowing that lovely acidic floral flavor.
Rhubarb is grown in the northern part of the US and has a very short growing season that begins in early spring, around April through mid June or so. However, if you want to grow your own you can harvest it throughout the summer as it grows.
What to look for when you are purchasing rhubarb
The stalks that are the most red are ideal, as they have more sweetness and deeper flavor, but the green ones are perfectly fine to use. Please not the leaves of the rhubarb are toxic for both pets and people so make sure to trim off any leaves that may be left off the plant that are purchased from the store.
The best place to buy rhubarb is a farmer's market, as this will be the best quality. If you are purchasing it in a grocery store, look for rhubarb that is very firm and dry without any bruising. If the leaves are still looks for stalks looks for ones that are not wilted.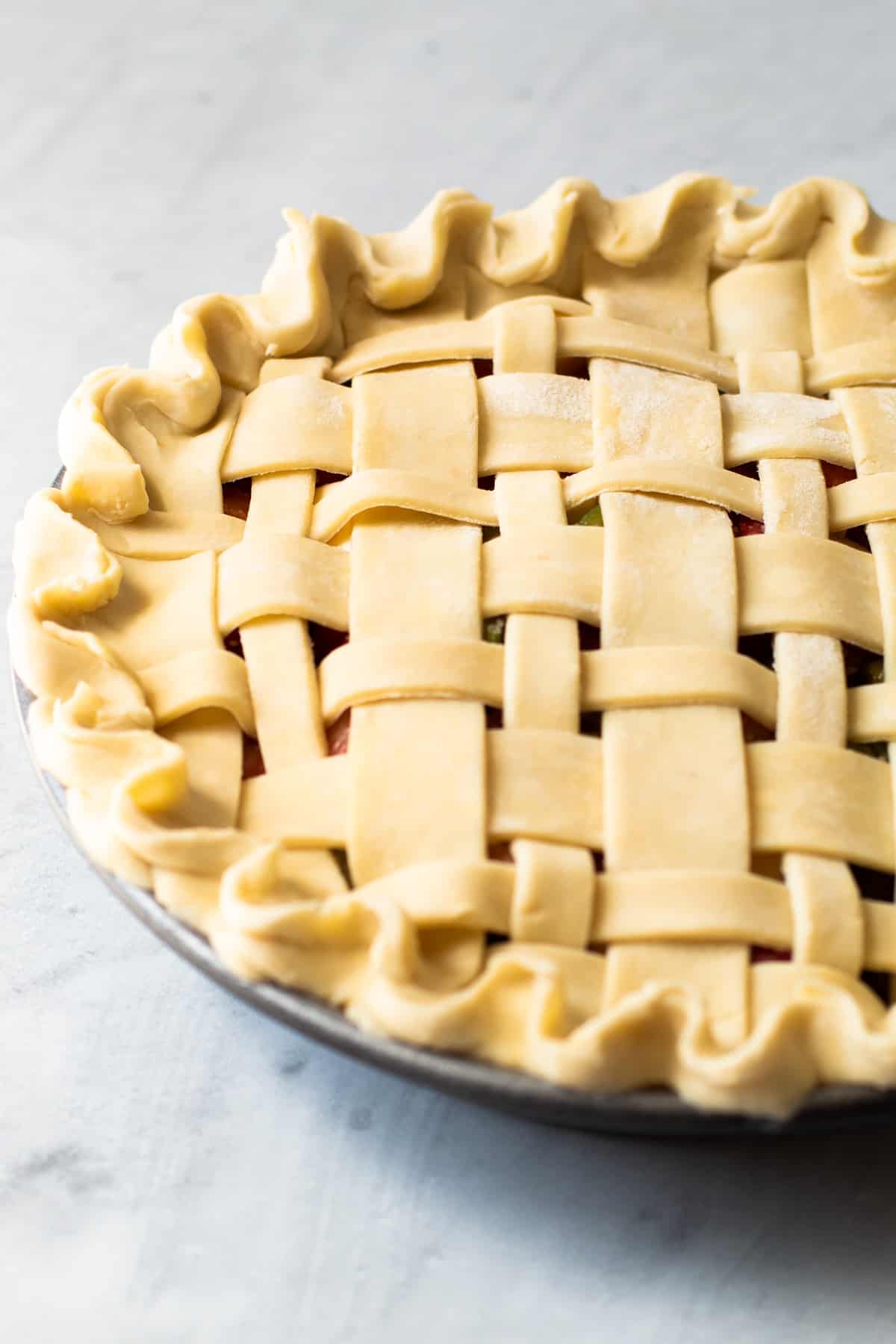 What is the best type of thickener?
The best type of thickener for this pie is quick cooking tapioca. Quick cooking tapioca is great because it works by absorbing the juicy filling in the granules and creating a thick filling. If you look closely you can see the very tiny beads of tapioca, but it is not something you will taste or notice unless you are looking for it. Additionally, both strawberries and rhubarb have a lot of juice and quick cooking tapioca will thicken up the liquid the correct amount without leaving the filling cloudy or gumming it up too much. If you are in a pinch, cornstarch will work. See the notes of the recipe for substitutions for this.
Tips for Working with Quick Cooking Tapioca
Make sure the let the tapioca granules sit with the juices of the rhubarb and strawberry to let them hydrate! Stir up your filling a few times while it is sitting to make sure all of the granules are evenly hydrated.
A wide lattice isn't a good idea for this pie. Exposed tapioca granules can harden from the heat so make sure if you are doing a lattice or other decorative pie design that you aren't leaving too much open exposed spaces.
The pie needs to be almost completely cooled for the tapioca granules to fully active. This does not mean you can't dive right into this pie warm--you can. It just might be slightly runny, and will thicken up more once it cools. However, if the pie sits too long, like longer than day, the tapioca continues to thicken. If it is too thick for your taste, you can slightly warm it up to loosen the filling a bit.
Do not use tapioca pearls in exchange for quick cooking tapioca.
Make Ahead Instructions
I am a big fan of preparing whole fruit pies ahead of time, up until the point of baking and sticking them in the freezer! You can bake a fruit pie directly from the freezer and in my opinion doing this is even better than a fruit pie baked from scratch. The reason why is because the crust has a chance to cook first, before the filling does, so you can ensure you have a beautifully crisp crust and perfectly cooked filling.
So if you want you can make this pie, or 2 or 3, while rhubarb is in season and stick them in the freezer for later. Wrap the whole pie in plastic wrap very tightly twice, and then cover with aluminum foil and place on a flat surface in the freezer until it's fully frozen. Don't forget to label it! I recommend cooking pies within 3 months as after that I have found that there flavor is less pronounced, but you can wait as long as about 1 year if you'd love.
Cooking Instructions for Baking a Frozen Pie
Unwrap frozen pie and let sit at room temperature. Pre-heat oven to 425ºF.
When the oven has reached 425º put an egg-wash on the crust and sprinkle with sugar, if desired.
Baked on the lowest rack for 25 minutes.
Lower the oven temperature to 400º and put a piece of aluminum foil around the outer edges of the pie to prevent then from burning. Cook for another 40 minutes.
Move the pie to the upper middle of the oven (this helps bake the top portion of the crust to perfection) for another 10-15 minutes, or until the middle of the pie is bubbling and the crust is golden brown.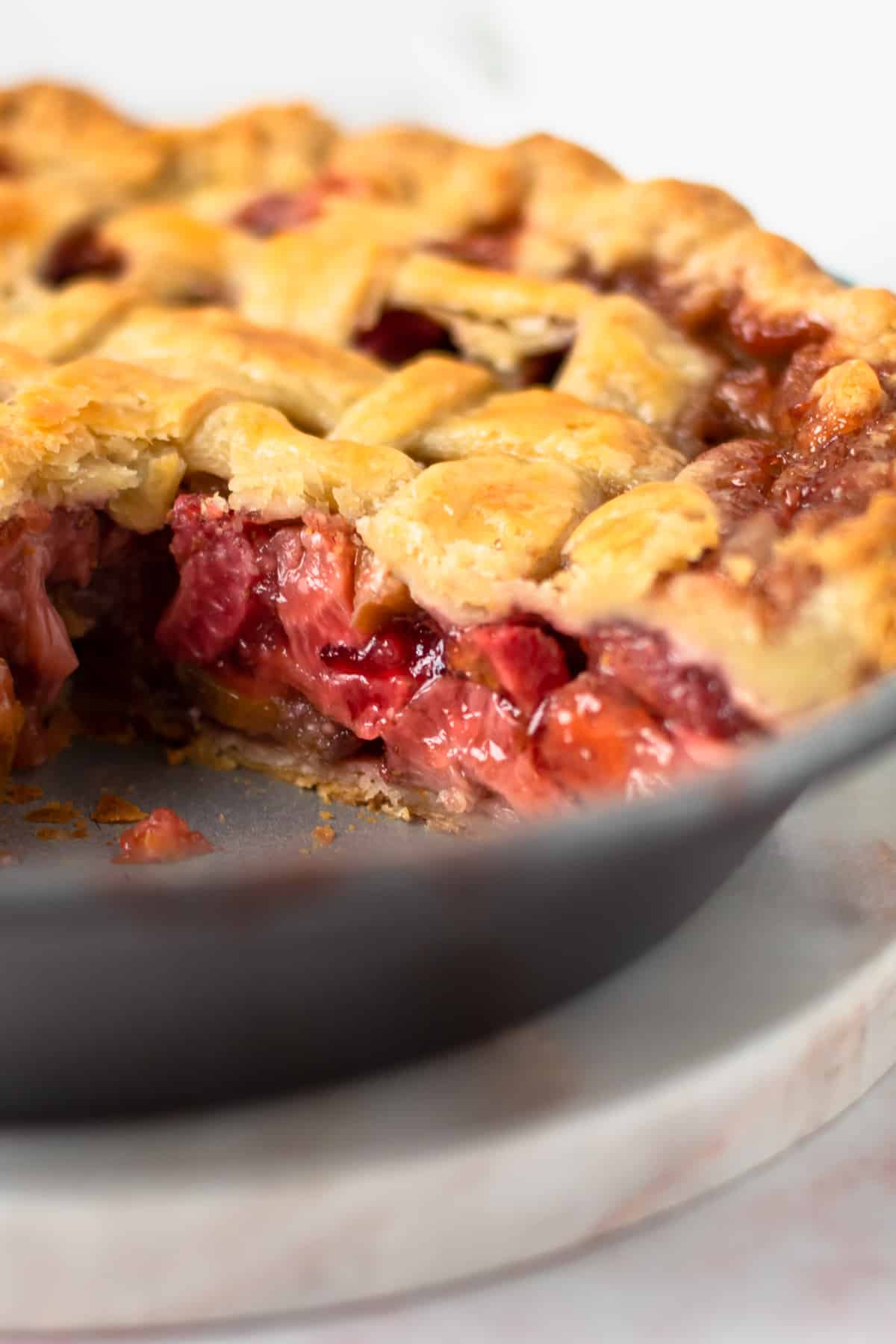 How to serve Ginger Strawberry Rhubarb Pie
Serve this pie with whipped cream, or a la mode. There is a lot of flavor in this pie, so if serving with ice cream stick with a natural companion like vanilla or strawberry.
Make sure to tag @everydaypie on Instagram or comment below if you have any questions about this Strawberry Rhubarb Pie or if you make it! I love to see it!
Print
Ginger Strawberry Rhubarb Pie
This Ginger Strawberry Rhubarb Pie is best dessert to make in the magical period of time in late spring when rhubarb season overlaps with strawberry season. This pie is perfectly balanced with the sweetness from the strawberries, the tartness from the rhubarb and the subtle nuance from the ginger and orange.
Author: Kelli Avila
Prep Time:

00:30

Cook Time:

01:00

Total Time:

1:30 plus chilling time

Yield:

9" Pie

Category:

Fruit Pie

Method:

Bake
1

batch basic pie dough or gluten free pie dough

3 cups

(16 ounces) strawberries, hulled and sliced about

½

" thick

3 cups

(16 ounces) rhubarb, cleaned of any leaves and sliced into

¼

" pieces

½ cup

granulated sugar

¼ cup

light brown sugar

2 tablespoon

orange juice

2 teaspoons

oranze zest

½ teaspoon

ground ginger

3 tablespoons

quick cooking tapioca pearls

2 tablespoons

butter, cold and cut into

8

pieces
egg, for egg wash (optional)
raw sugar, for garnish (optional)
Instructions
Prepare pie dough, preferably a day ahead.
In a large bowl add all of the filling ingredients, except the butter. Using a spatula mix the ingredients together, stirring them every 5-10 minutes to make sure the tapioca granules are fully combined,
Pre-heat the oven to 425ºF.
Roll out two disks of pie dough. Line a 9" pie with one and place pie filling inside of it. Gently press down on the filling to eliminate any gaps between the fruit.Place the pieces of butter on top of the fruit.
You can top the pie with a tight lattice, or the rolled out top with a few slits or small shapes stamped out of it.
Brush the crust with an egg-wash and sprinkle with raw sugar, if desired.
Bake on the middle lower for 25 minutes.
Lower the oven temperature to 400ºF If the crust is browning cover the out edges with aluminum foil, leaving the middle of the crust exposed. Bake for another 25 minutes.
Move the pie to the upper middle rack for another 10-15 minutes, until the crust is golden and the filling is bubbling.
Let the pie cool about at least an hour, but better for about 6 hours to let the filling set.
Notes
You can substitute the quick cooking tapioca with ¼ cup cornstarch or flour.

Store the pie covered, at room temperature for 1 day, and after that store in the refrigerator.
Keywords: strawberry rhubarb pie
Some of the links on this page may be affiliate links. Everyday Pie is a participant in the Amazon Associates Program. As an Amazon Associate I earn from qualifying purchases, at no extra cost to you.