Capture the magic of strawberry season all-year long with this tutorial on how to freeze strawberries.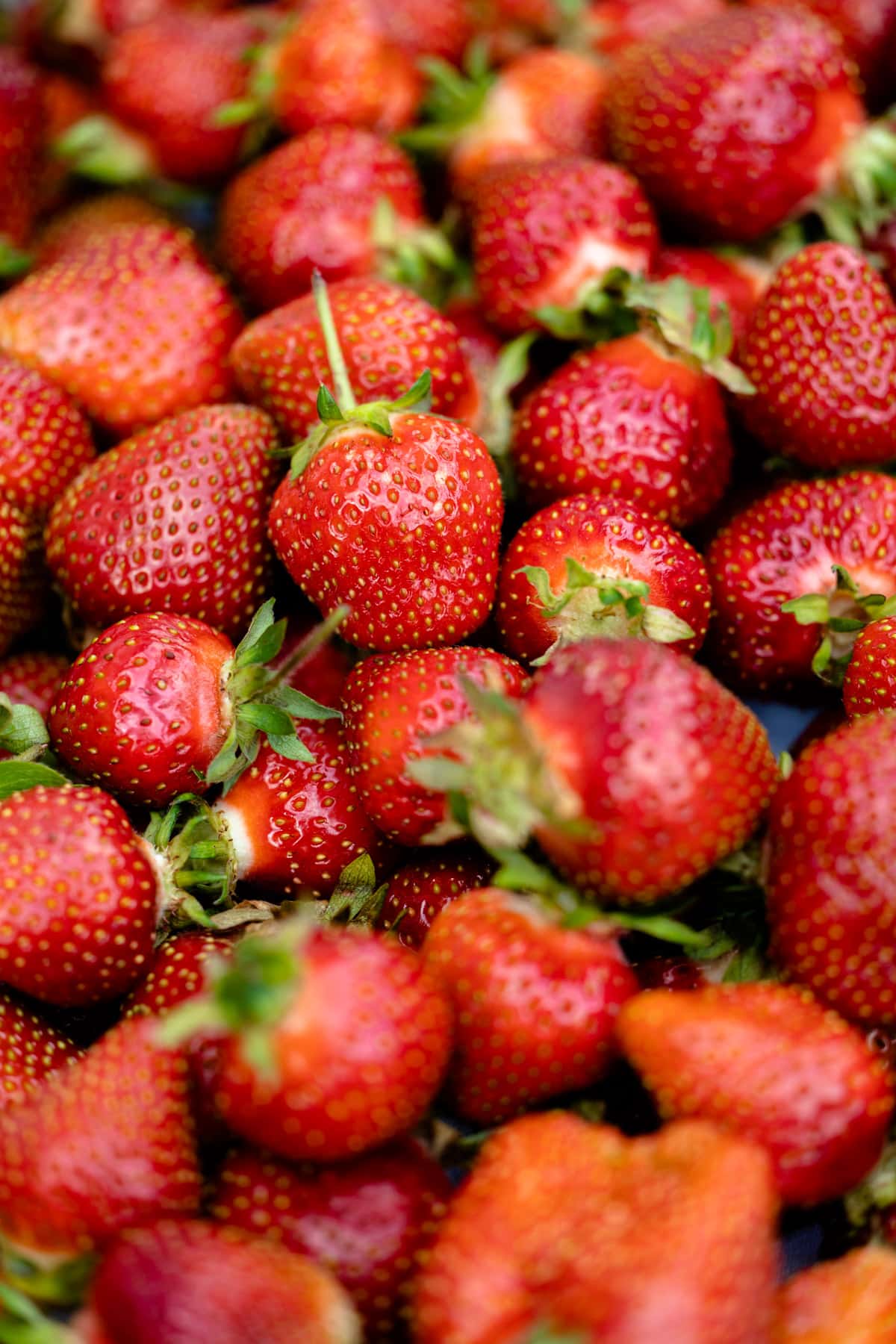 How to Freeze Fresh Strawberries
Even though strawberries are virtually available year-round, we all can taste the difference between out-of-season strawberries that have traveled a long distance from industrial farms and locally grown and harvested in-season berries.
If you're like me, you tend to magically accumulate a surplus of in-season berries when they're available locally. And if you're also like me, you've considered taking advantage of your freezer space to preserve some of those berries for later, less bountiful times.
The truth is I love my freezer, though I feel "frozen food" has gotten an underserved bad reputation. I use it regularly as a means of preserving in-season fruits and veggies, as well as whole meals. It's an easy way to preserve the seasonal food without having to go through the canning process. Canning was for my pre-child days when I had so much more extra time. These are not those days.
This article is a quick guide on properly freezing in-season strawberries so you can enjoy their goodness all year round.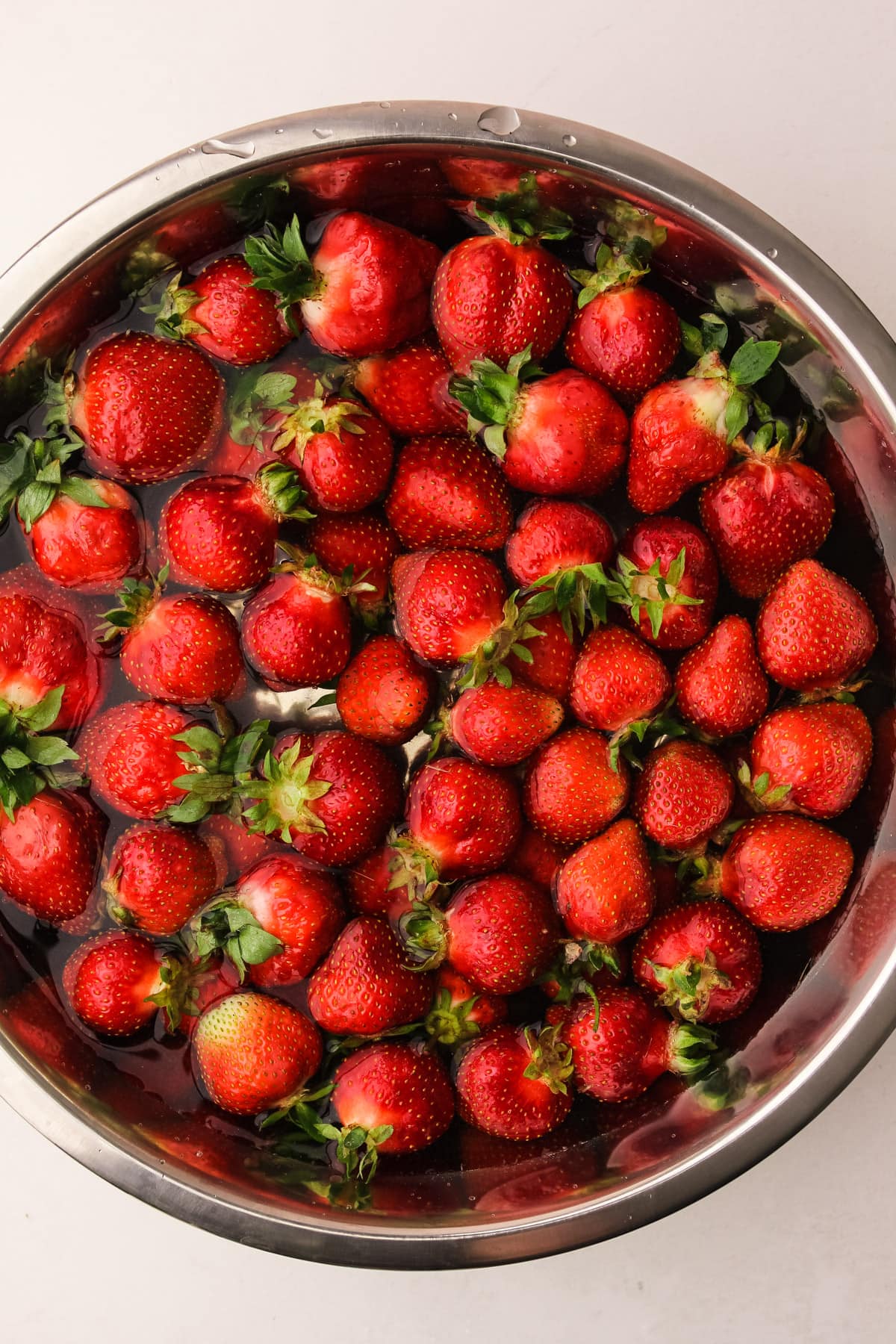 Best Way to Clean Strawberries
It is recommended to wash your strawberries, even if they appear to be clean. Sometimes, you may not be aware of the amount of dirt on the fruit until you clean them and notice the grit at the bottom of the bowl.
The best way to wash them is to fill up a very big bowl full of cold water. Add a few big glugs of distilled white vinegar. The exact solution is supposed to be 1 parts vinegar to 3 parts water, but I usually eyeball it. The acidity in the vinegar helps break down the dirt and any possible pesticides on the surface of the fruit. It also has some mild antibacterial properties which can help prolong the life of the strawberry.
Tip: It's helpful to remove the greens before you wash them, simply because it's where a lot of the dirt and debris and bugs are hiding. Removing them before you wash them bypasses the need to wash through something that will eventually get removed anyways.
Add the strawberries into the water/vinegar solution and give the strawberries a good swish around. Then let them sit for a few minutes, but no more than five.
Don't pour the strawberries out, instead, lift the strawberries out with your hands from the water, working not to disturb any of the dirt/debris that has fallen off and sunk to the bottom of the bowl. Then transfer the strawberries to a strainer. Rinse them well, and then place them on a lint-free towel to dry off.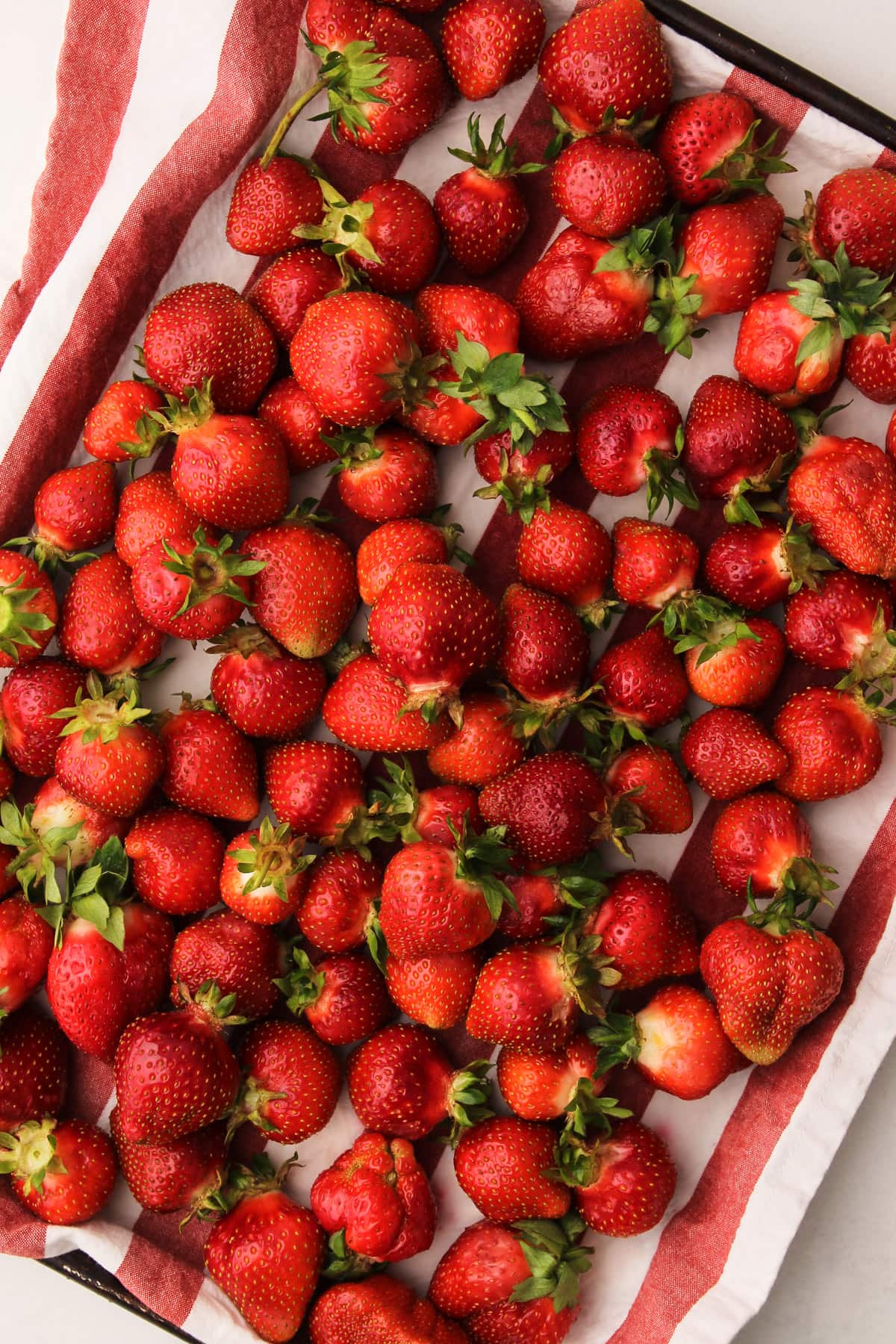 Preparing the Strawberries
There are several ways to prepare strawberries, including leaving them whole, slicing them, or halving them.
Decide what makes the most sense for what you plan to use them for in the future. If you have a lot of strawberries, they can be prepared in various ways.
If freezing them whole, simply remove the core.
If freezing them halved or sliced, prepare as desired and dry off any excess liquid on the surface.
Keep in mind, the more cut surface area of the strawberries that are exposed, the higher the chances of freezer burn due to increased exposure to air. It's okay to store sliced strawberries, but they won't keep as long as whole strawberries.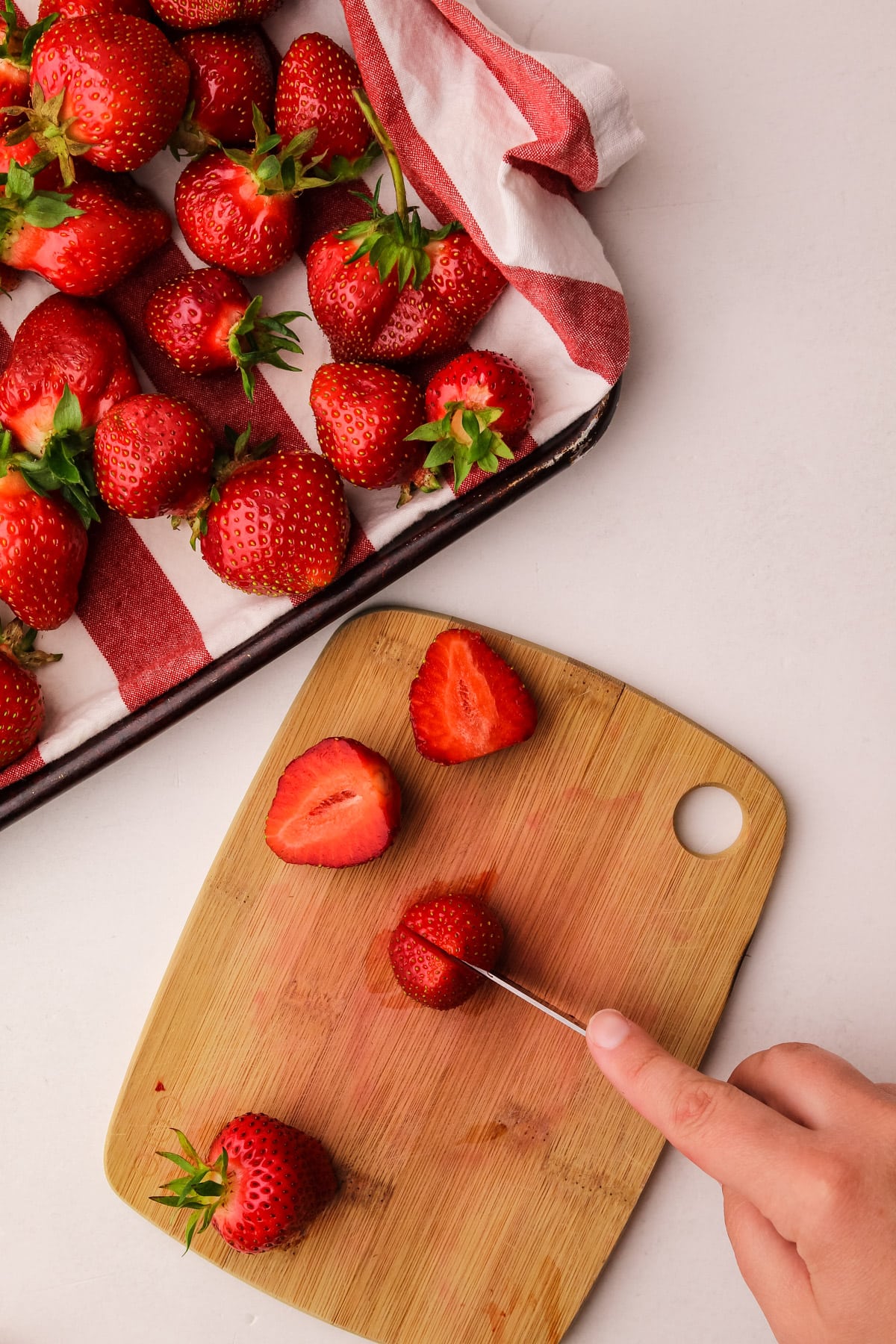 Overview of Steps to Freeze Strawberries
The full directions are listed below, but here is a brief overview:
Clean and dry strawberries
Remove the core if necessary, and slice or half, if desired
Place the strawberries on a parchment lined sheet tray and freeze until solid, at least 4 hours
Once frozen, transfer to long term air tight storage.
Freezing them spaced apart on a sheet tray is important so they don't get stuck together. If you just toss them in a bag and throw them in a freezer you'll have one big hunk of strawberry.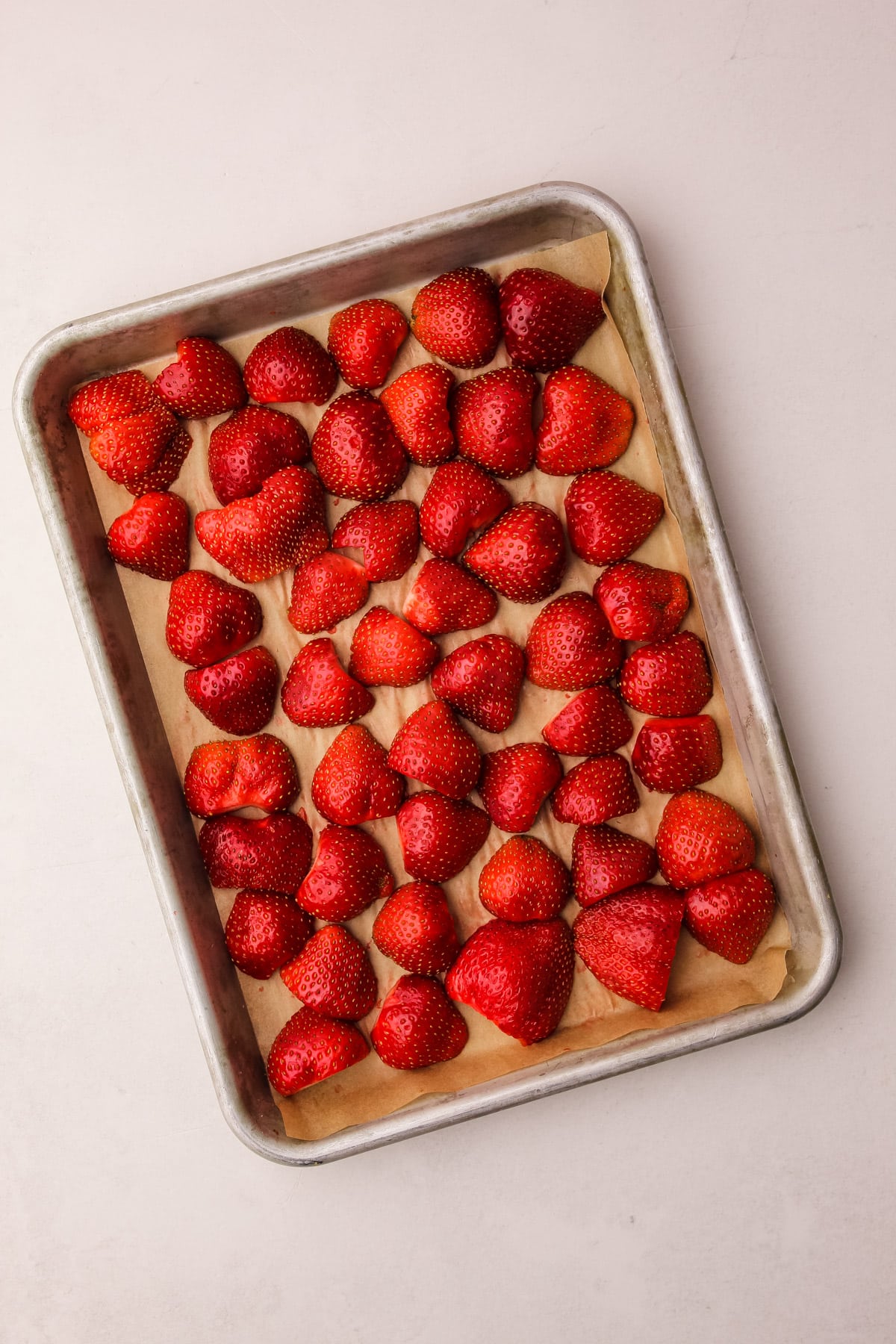 Best Storage Ideas for Frozen Strawberries
Store the strawberries in an air tight container. Plastic bags or silicone bags are good. Try to remove as much air from them as possible from them. Obviously if you have a vacuum sealer, that would be the best way to preserve them for longer.
Mason jars are also useful, and it's often how I store them, but they won't last as long since it's hard to remove air from them.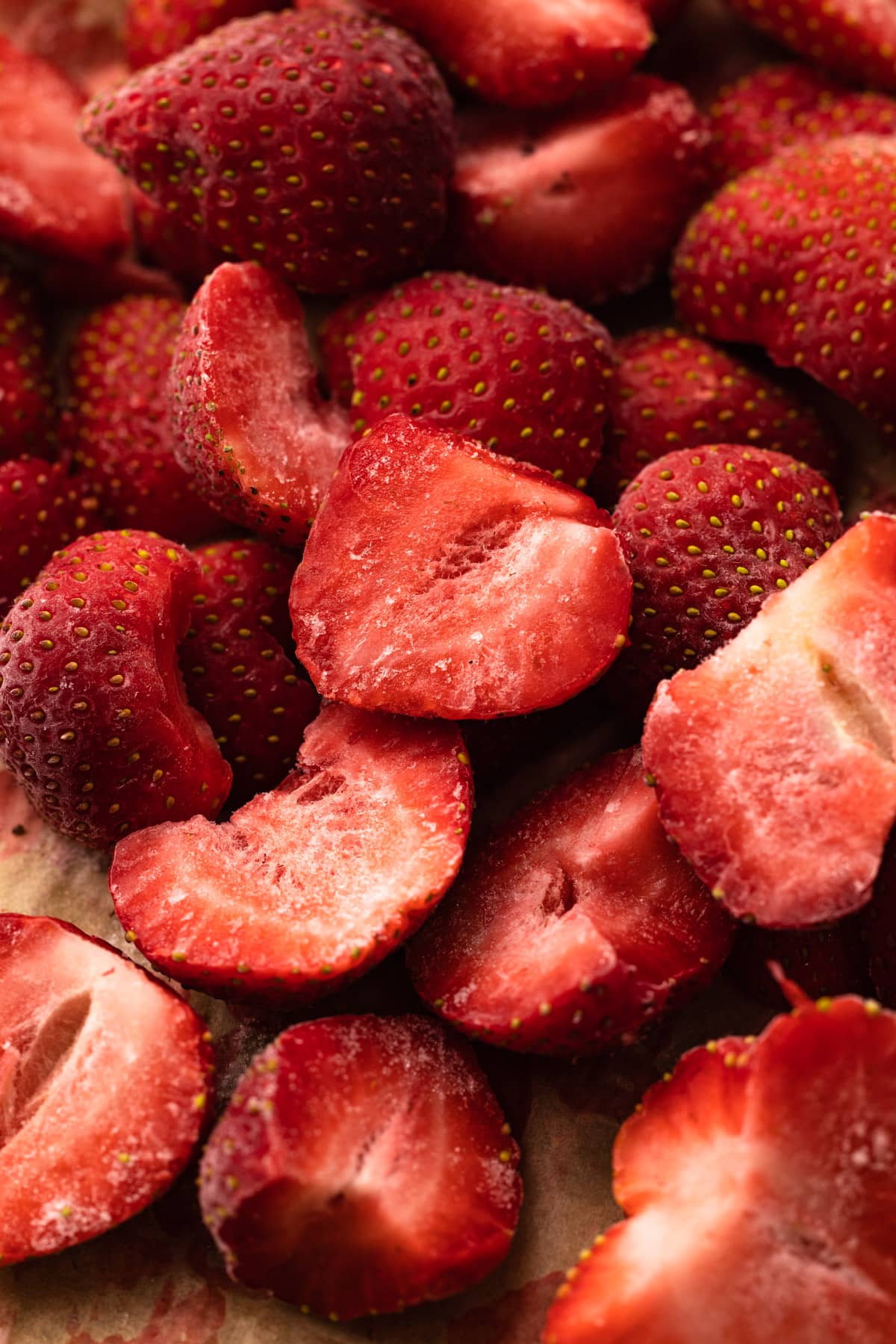 Using Frozen Strawberries
Once the strawberries are frozen, they can be used as desired.
Use them straight from the freezer in smoothies.
Or defrost and use in your favorite recipes.
The best way to defrost is by thawing them slowly overnight in the refrigerator. They will naturally change texture and lose some liquid. But it's all delicious, and you might even enjoy having that strawberry syrup that naturally comes out.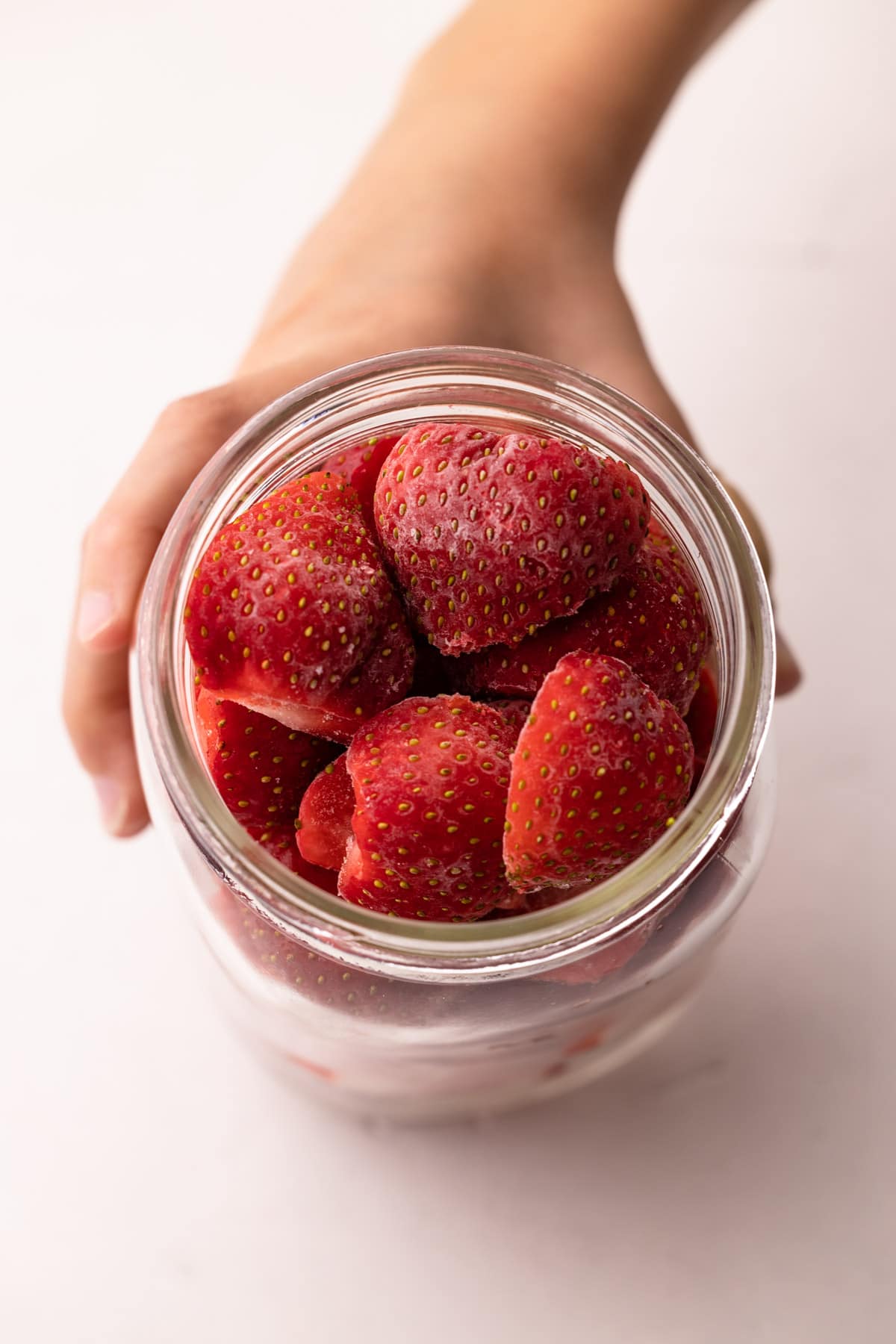 More Strawberry Recipes
Print
Full Recipe
How to Freeze Strawberries
Capture the magic of strawberry season all-year long with these instructions on how to freeze strawberries.
Author: Kelli Avila
Prep Time:

00:10

Freezing Time:

04:00

Total Time:

4 hours 10 minutes

Yield:

As Desired
Fresh, in-season strawberries
Water
Distilled White Vinegar
Instructions
Wash the strawberries: fill a large bowl with cold water and a few splashes of white vinegar. Swish the strawberries around, then let them sit briefly to let the dirt settle to the bottom. Lift the strawberries out of the water without disturbing any debris from the bottom. Rinse well in a strainer.
Gently pat the strawberries dry, letting them sit for a bit so the towel soaks up any excess liquid.
Prepare the strawberries as desired. If freezing them whole, simply remove the core. If freezing them halved or sliced, prepare as desired and dry off any excess liquid on the surface.
Place the strawberries on a parchment line sheet tray. If cut, place cut side down. Freeze until solid, at least 4 hours
Once frozen, transfer to long term air tight storage, such as plastic bags. Remove as much air as possible to help prevent ice crystals forming on the berries.
Frozen strawberries will last 6-12 months in the freezer.
Keywords: How to Freeze Strawberries
Some of the links on this page may be affiliate links. Everyday Pie is a participant in the Amazon Associates Program. As an Amazon Associate I earn from qualifying purchases, at no extra cost to you.