This Strawberry Cream Cheese Pie, with a salty sweet pretzel graham cracker crust, a creamy rich cheesecake filling and a beautiful homemade strawberry topping, is an amazing and delicious (make-ahead) dessert everyone will love.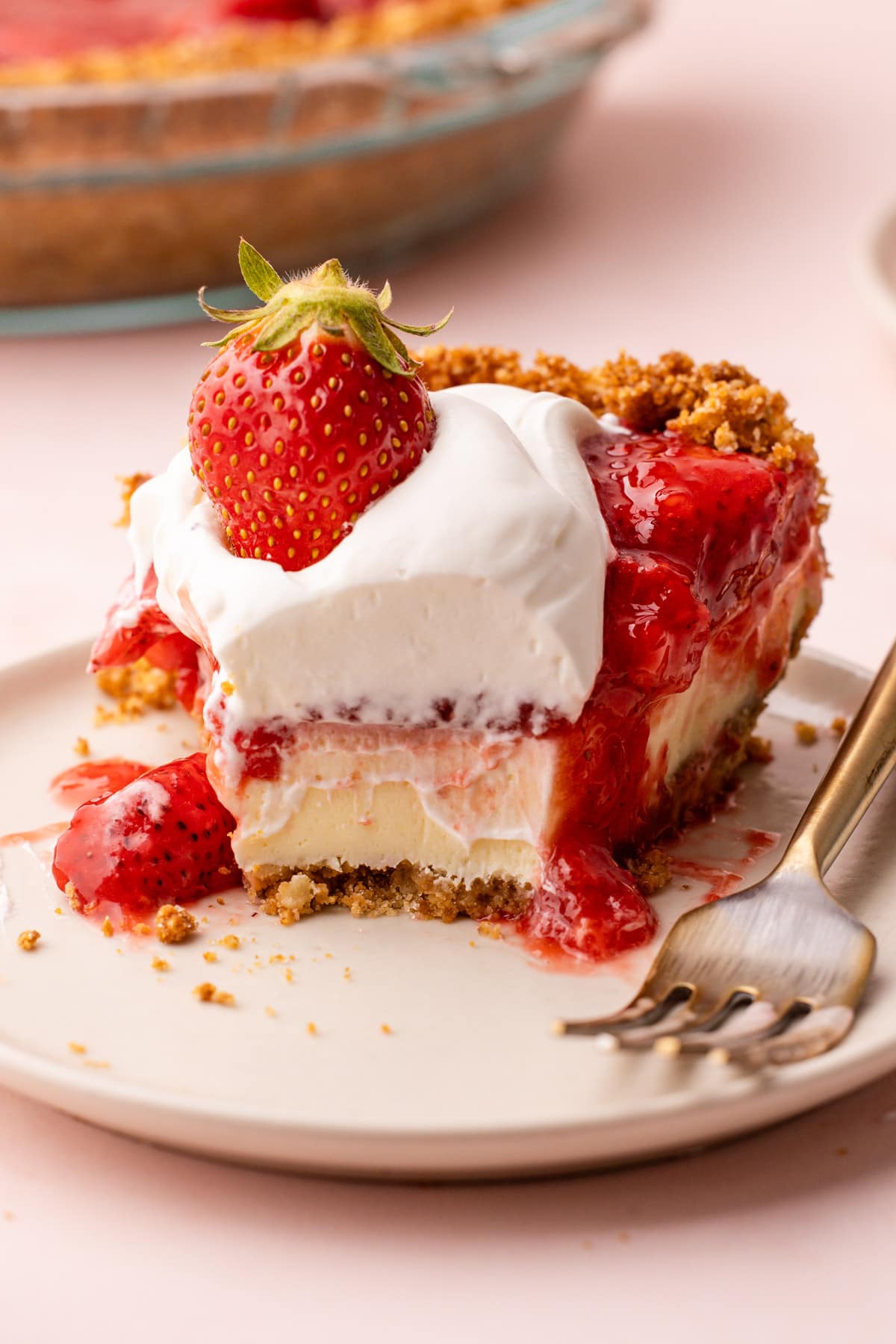 Is it a strawberry pie? Is it a cheesecake? The truth is, this Strawberry Cream Cheese Pie is probably more of a hybrid between the two, but categorization aside, all we really need to talk about is how delicious it is!
And if you've ever been intimidated to make a cheesecake before (the stress about making sure it doesn't crack, and you don't overwhip it, and all the other possibly fails!)...let this be your intro dessert. This has very similar ingredients but is so much less complicated to make.
The pie has a beautiful balance of all the different layers, beginning with the sweet and salty crumb crust, the baked cheesecake layer, the juicy and bright strawberry topping and of course, the whipped cream tying it all together. I can almost guarantee, everyone is going to love this pie.
So, let's get to making it, shall we? The text below offers tons of tips and helpful notes, or you can scroll to the bottom to grab the recipe and get started!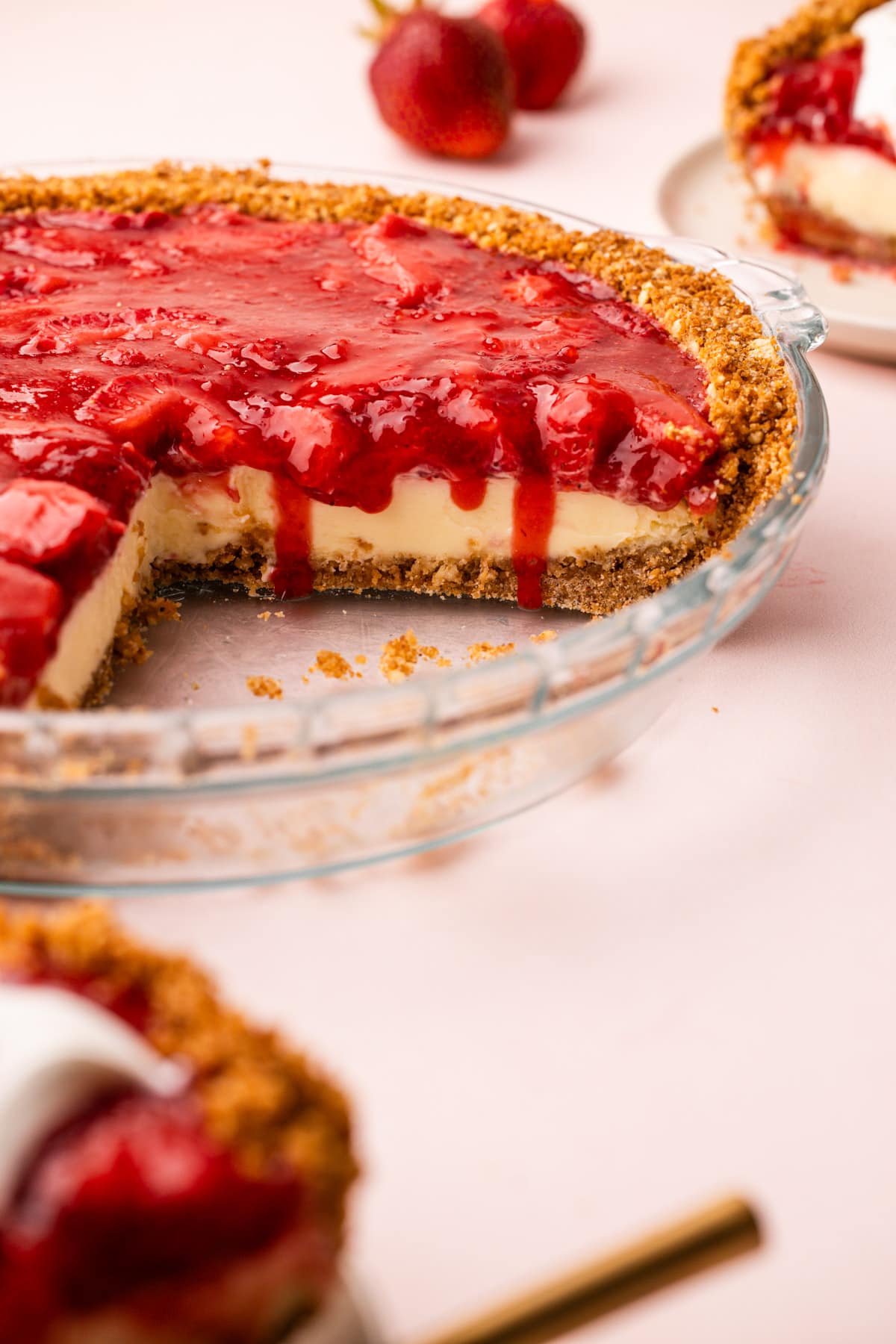 Ingredients Needed
Here is an overview of the ingredients needed for this recipe. The full recipe is listed below in greater detail.
ripe strawberries
pretzels + graham crackers
cream cheese
sour cream
butter
granulated sugar
salt
eggs
vanilla + almond extract
lemon juice
cornstarch
Useful Tools to Make This Recipe
Here is a list of some of the primary tools I use in this recipe. You won't necessarily choose to use them all, but they are exactly what I used. Any links may contain affiliate links.
food processor (to crush the grahams and pretzels)
blender / immersion blender (to puree the strawberries, but you can also use a food processor for this too)
electric mixer (stand mixer or hand mixer)
9" pie plate
medium pot
kitchen essentials: baking scale, bowls, measuring cups and measuring spoons, rubber spatula, knife, cutting board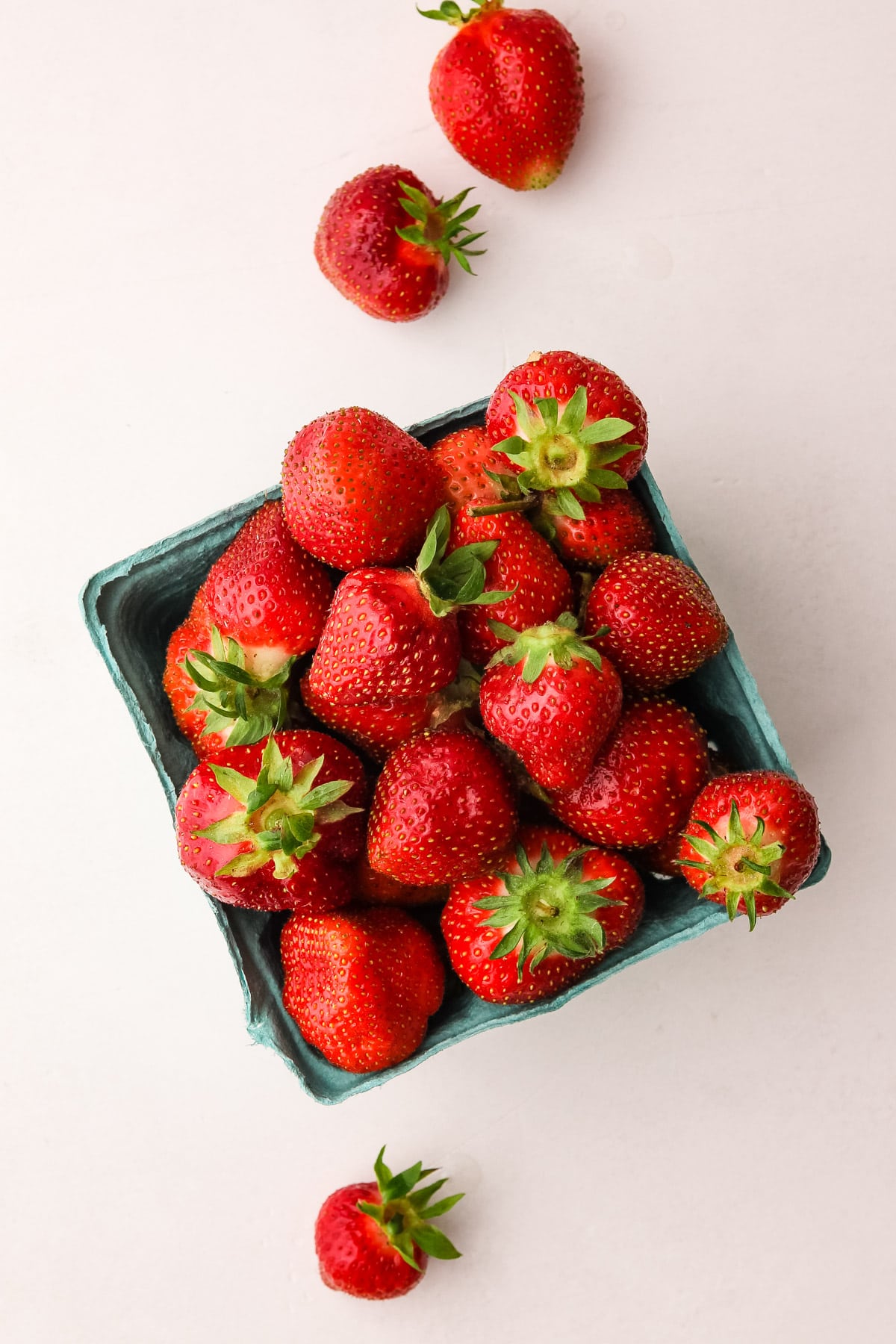 Let's Talk Strawberries
It's best to use fresh, in season strawberries for this recipe. At the risk of pointing out the obvious, the quality of the strawberry used in this recipe will have some impact on the final outcome.
It's important to taste your strawberries before starting the recipe. If they are tart, the higher amount of sugar should be used, while if they are sweet, less sugar will suffice.
Normally I offer instructions for making recipes with frozen fruit, but this one is tricky since the strawberries need to be sliced. If frozen is all you have an you still want to make this recipe, you'll have to play around with the strawberry topping recipe.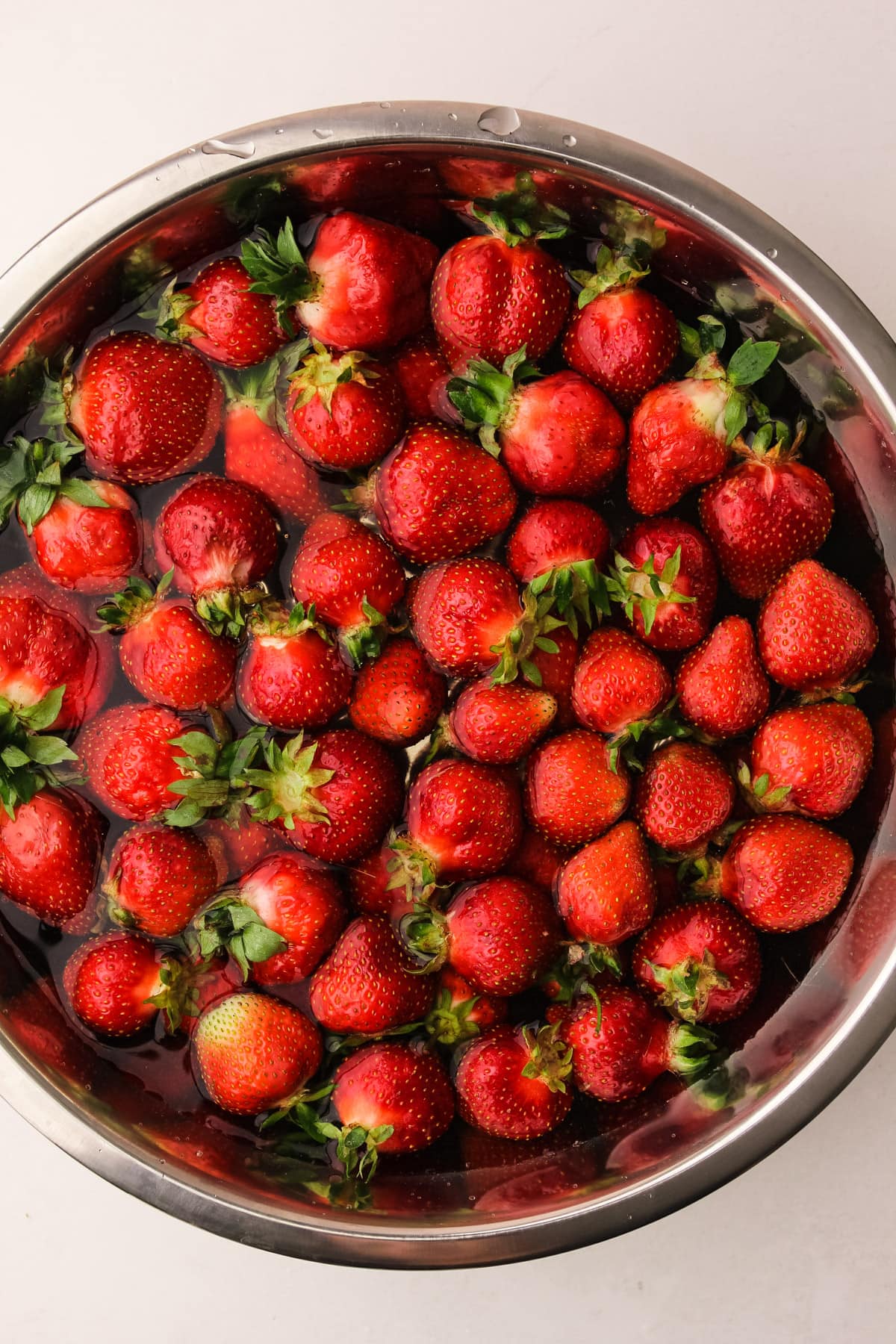 Best Way to Clean Strawberries
Wash your strawberries, even if they appear to be clean! Sometimes, you may not be aware of the amount of dirt and bugs on the fruit until you clean them and see all the grit at the bottom of the bowl.
The best way to wash them is to fill up a very big bowl full of cold water. Add a few big glugs of distilled white vinegar. The exact solution is supposed to be 1 parts vinegar to 3 parts water, but I usually eyeball it. The acidity in the vinegar helps break down the dirt and any possible pesticides on the surface of the fruit. It also has some mild antibacterial properties which can help prolong the life of the strawberry.
Add the strawberries into the water/vinegar solution and give the strawberries a good swish around. Then let them sit for a few minutes, but no more than five.
Don't pour the strawberries out, instead, pick the strawberries out with your hands from the water, working not to disturb any of the dirt / debris that has fallen off and sunk to the bottom of the bowl. Then transfer the strawberries to a strainer. Rinse them well, and then place them on a lint-free towel to dry off.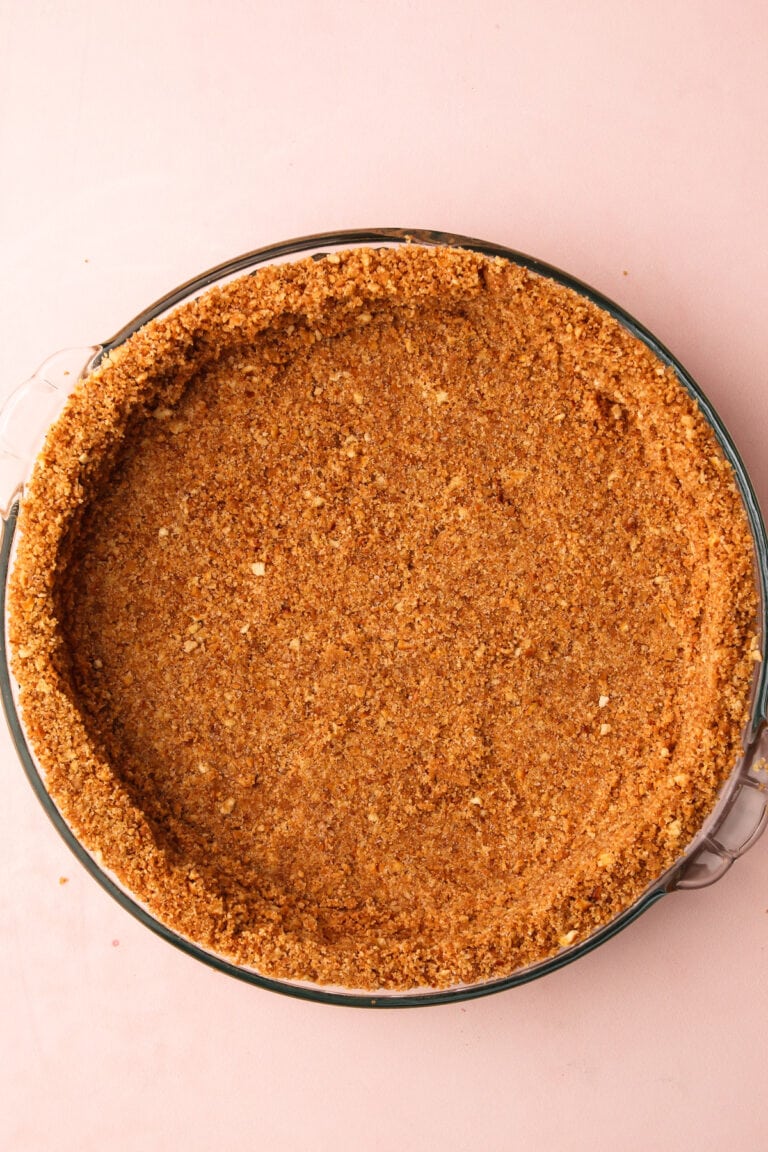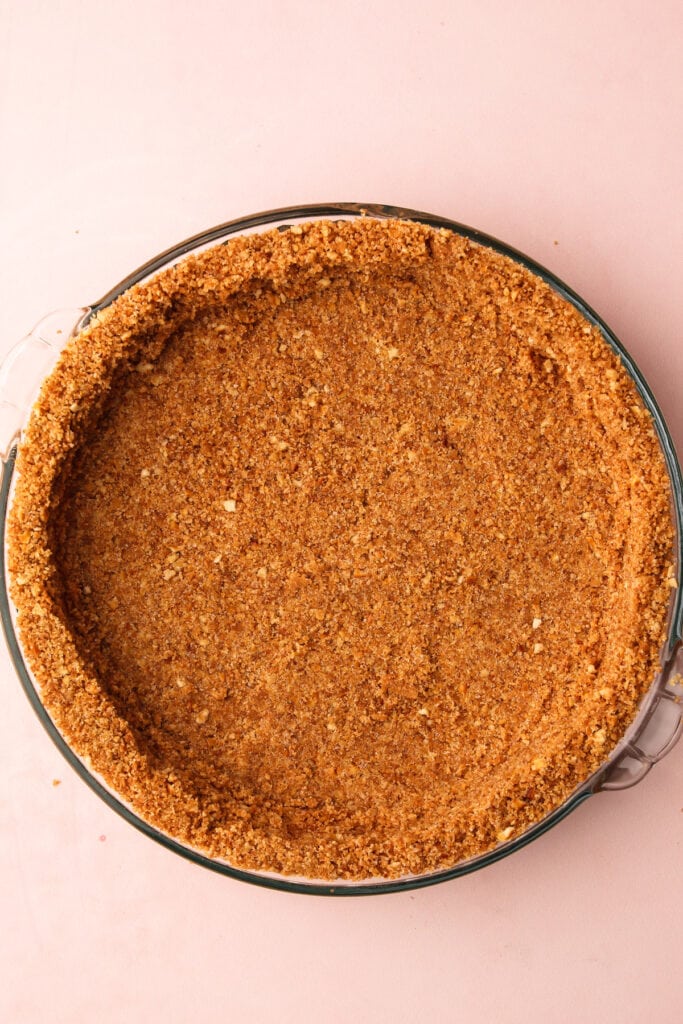 Recipe Overview
Here are is a brief overview of the recipe (the full recipe is at the bottom of the article):
Assemble the easy pretzel / graham cracker crust
Make and bake the cream cheese filling
Make the strawberry pie filling and add it on top of the cream cheese filling
Chill the pie at least 4 hours, but preferably overnight
Serve with whipped cream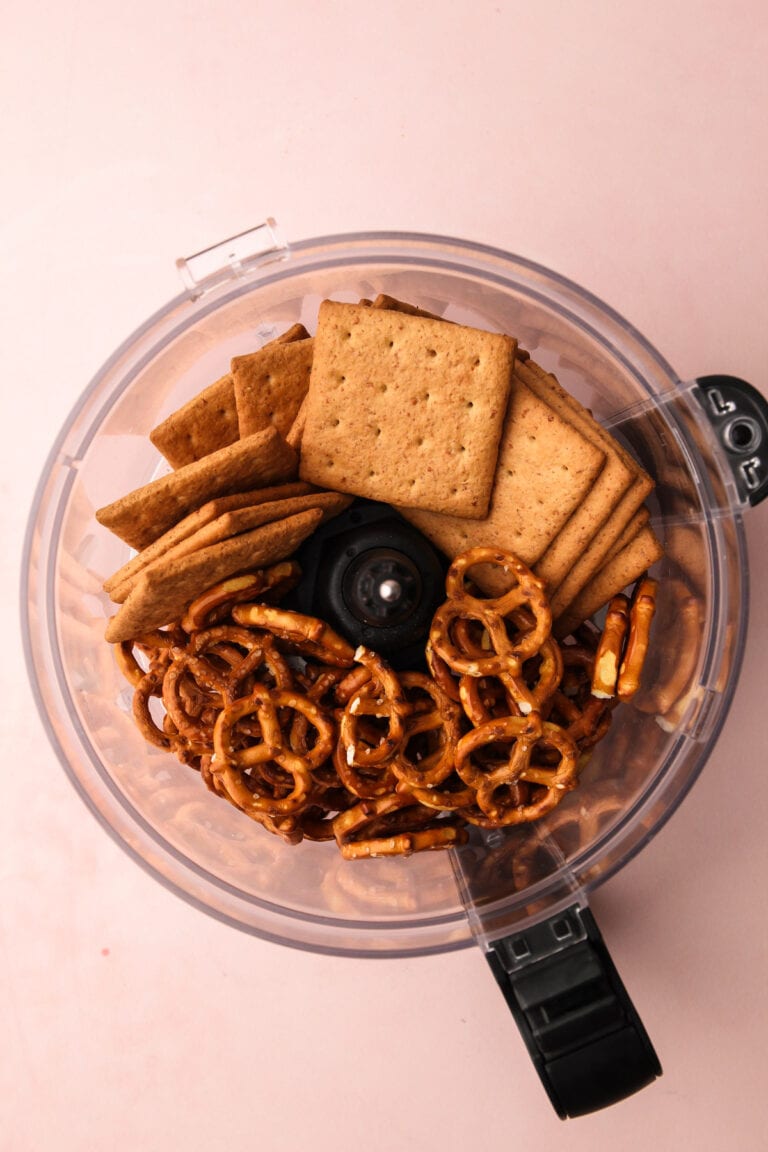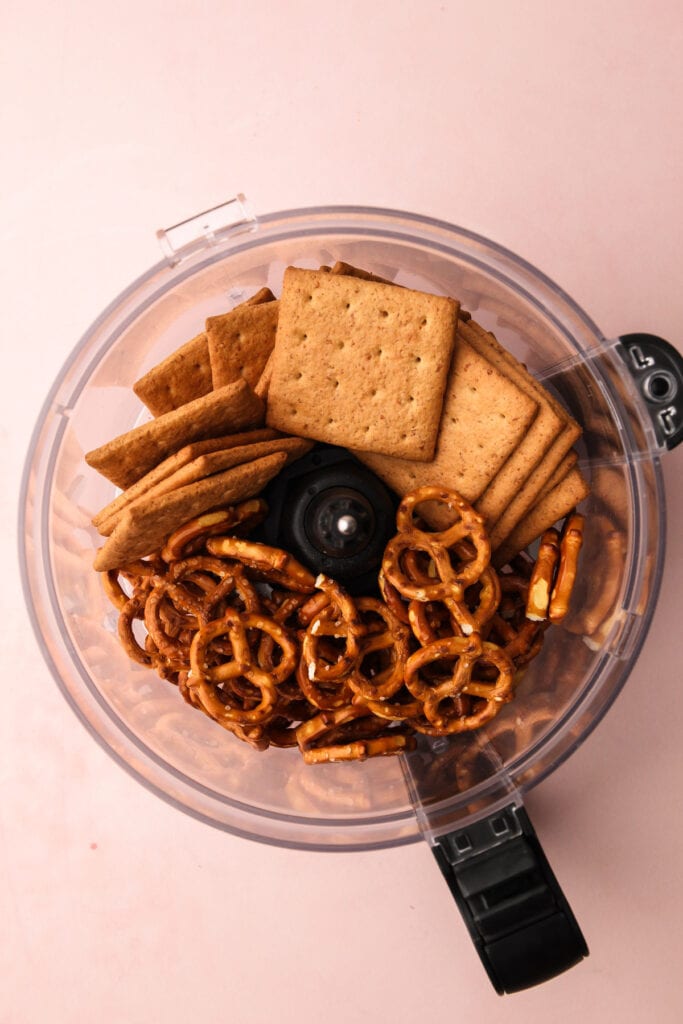 Pie Crust Options
Using a graham cracker crust felt like an obvious choice with this cheesecake-esque recipe, but I also love the flavor of pretzels with strawberries (see here) so I combined the two and made a pretzel graham crust!
Making it is just as easy as a traditional graham cracker crust:
Grind up the graham crackers and pretzels until they are fine crumbs. Do this with a food processor
Melt the butter on the stove in a medium pot. Shut off the heat.
Add sugar and crumbs to the melted butter in a bowl or right in that pot (no need to dirty a bowl for this) and mix it well!
Pour it into the pie pan and form the crust immediately. It's best to do it immediately so that the sugar doesn't "set" before you've formed your crumb crust.
Crust Troubleshooting Tips
If for any reason your crumb crust mixture is extremely dry, you can add 1 tablespoon of melted butter–one tablespoon at a time–to the crumbs until they are evenly moistened. Alternatively, if your mixture is too wet and it is hard to work with, add more graham crumbs until it is pliable.
Alternative Pie Crust Options
There are so many different pie crust options for this recipe. Personally I think a crumb crust is best, like:
But if you wanted a sweet pastry crust try one of these: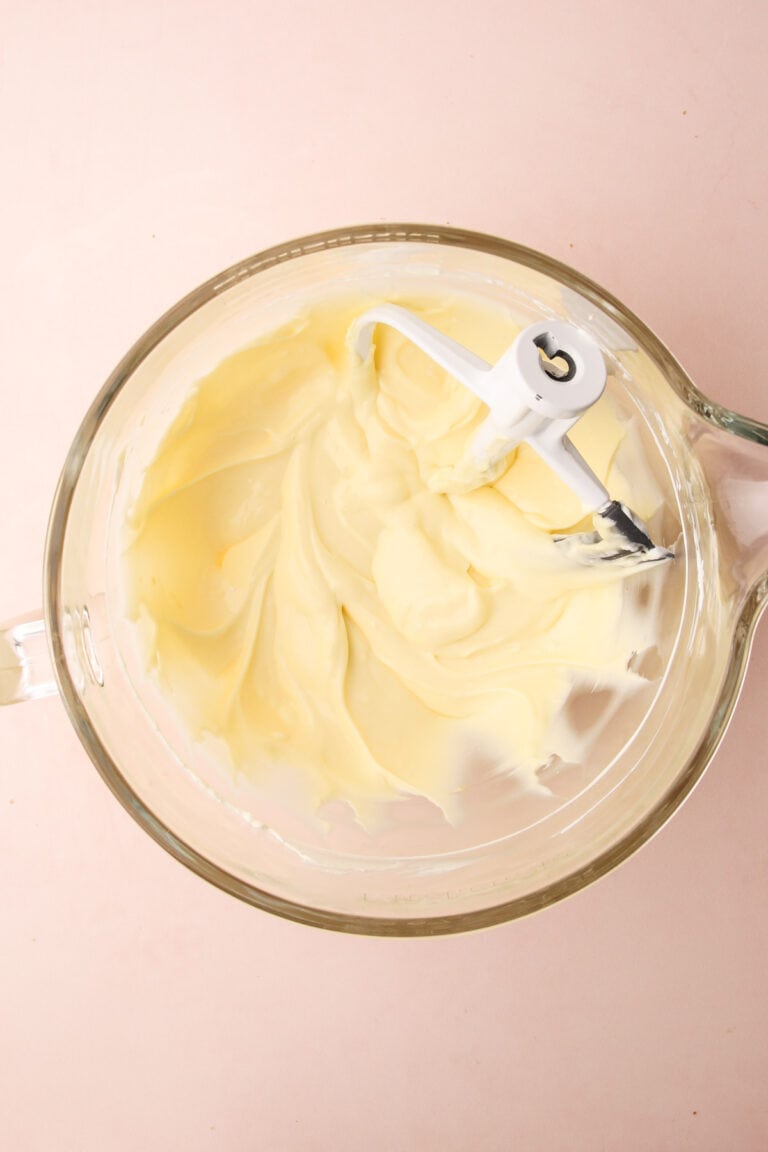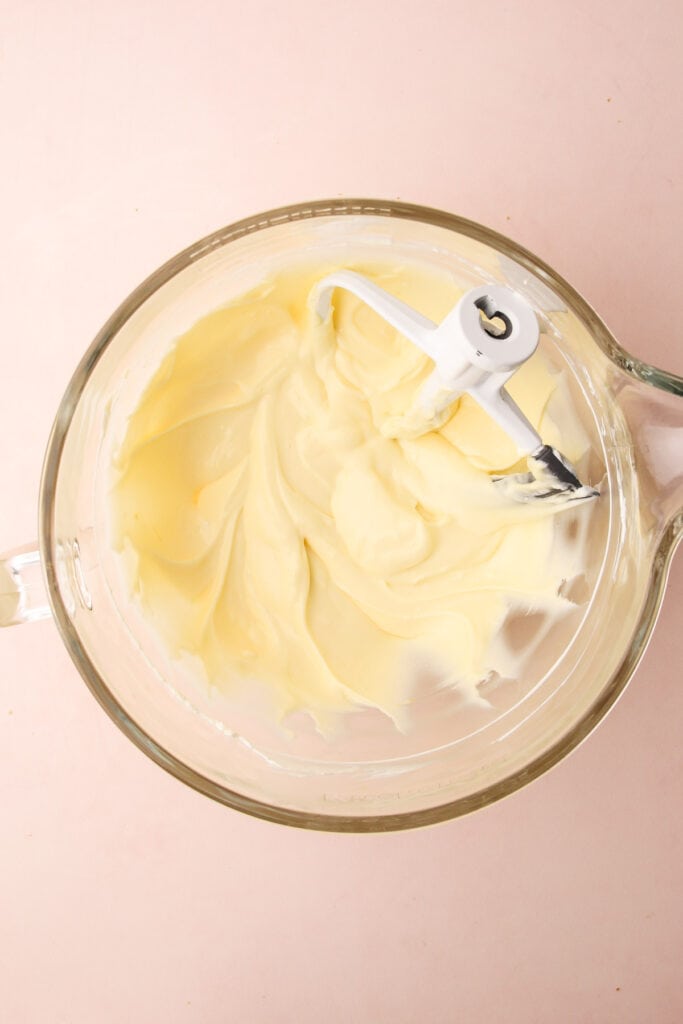 Making the Cheesecake Filling
The cream cheese filling is basically a cheesecake, but less fussy and quicker to make.
An electric mixer is needed to bring it together (either a stand mixer or a hand blender), and then it's baked in the oven until it's set.
A few tips for having success with the filling:
The ingredients don't have to be completely at room temperature, but it's best to take them out of the fridge before you start making the crust. They will come together more smoothly when less cold.
Beat the sugar and cream cheese until it's smooth before adding in the other ingredients
Make sure to scrap down the bowl a few times while assembling the filling to ensure no lumpy bits are left behind
Bake the pie until the filling is set, but be careful not to overbake it to the point that the entire filling is puffed up. That would indicate it has been overbaked.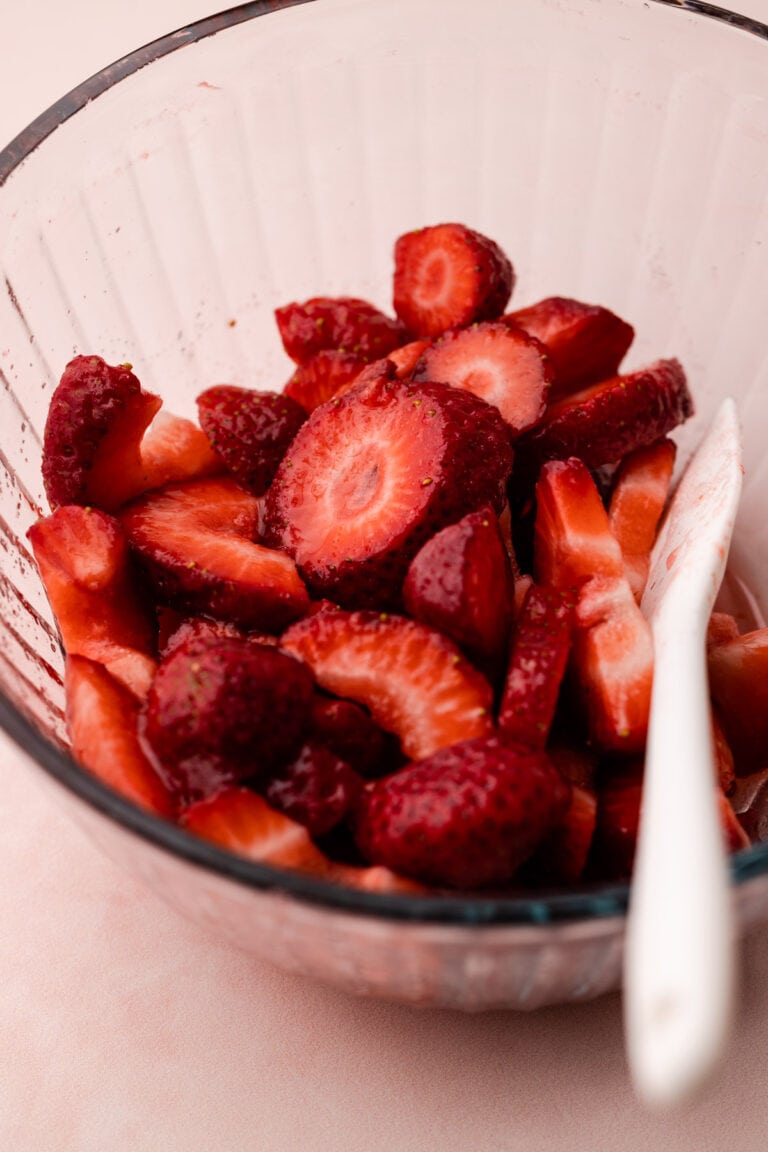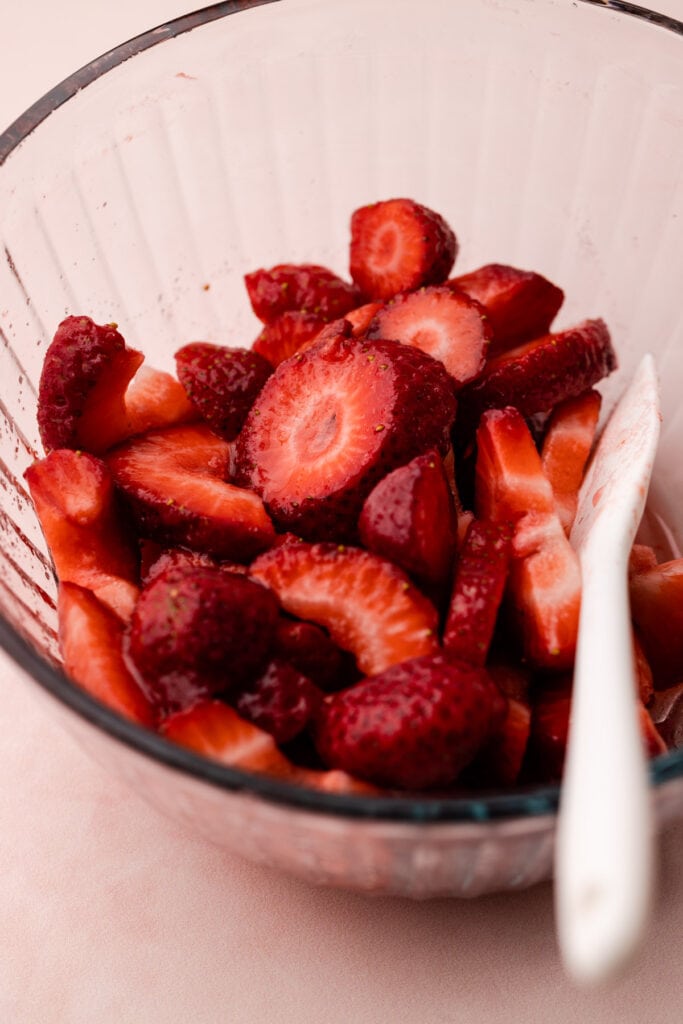 Making the Strawberry Topping
This strawberry topping is so good! It's a very fresh tasting homemade strawberry pie filling that sets up beautifully on top of the cream cheese filling.
Here are is a brief overview of the steps to make it:
Clean and prep the strawberries and puree some of them with lemon juice and water
Add that strawberry puree to a pot with sugar and cornstarch and cook
When the juice has thickened, add the sliced strawberries, and cook just until the juice comes back to a boil
Immediately remove the strawberry filling from the pot and cool
The strawberry filling is essentially cooked until it's the proper consistency and then the strawberry slices are added in and briefly cooked. If you are concerned they are not cooked enough after they come up to a boil, know that the residual heat will continue to cook the strawberries, which is why it's important to take them off the heat right away.
The goal is to preserve the fresh strawberry taste, while still having a strawberry topping that sets up.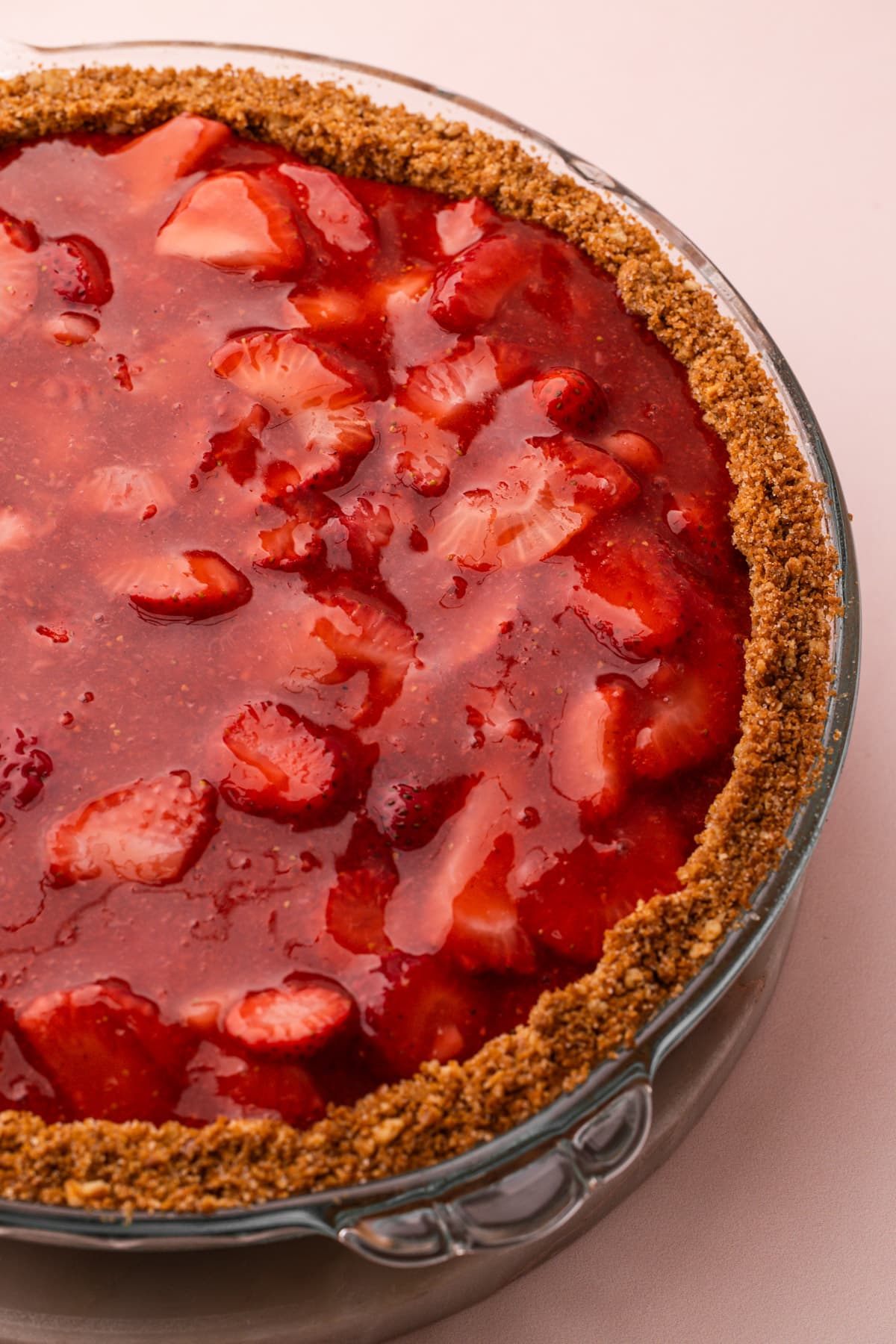 Serving and Storage Tips
This recipe has a few components to make it fully assembled, but it can be made ahead of time. At a minimum, it should be made at least half a day before it is meant to be served, but best if made a day ahead. It's best served chilled with a whipped cream garnish.
Leftovers can be stored in an airtight container for a few days. The strawberries do release a bit of liquid after sitting for a few days.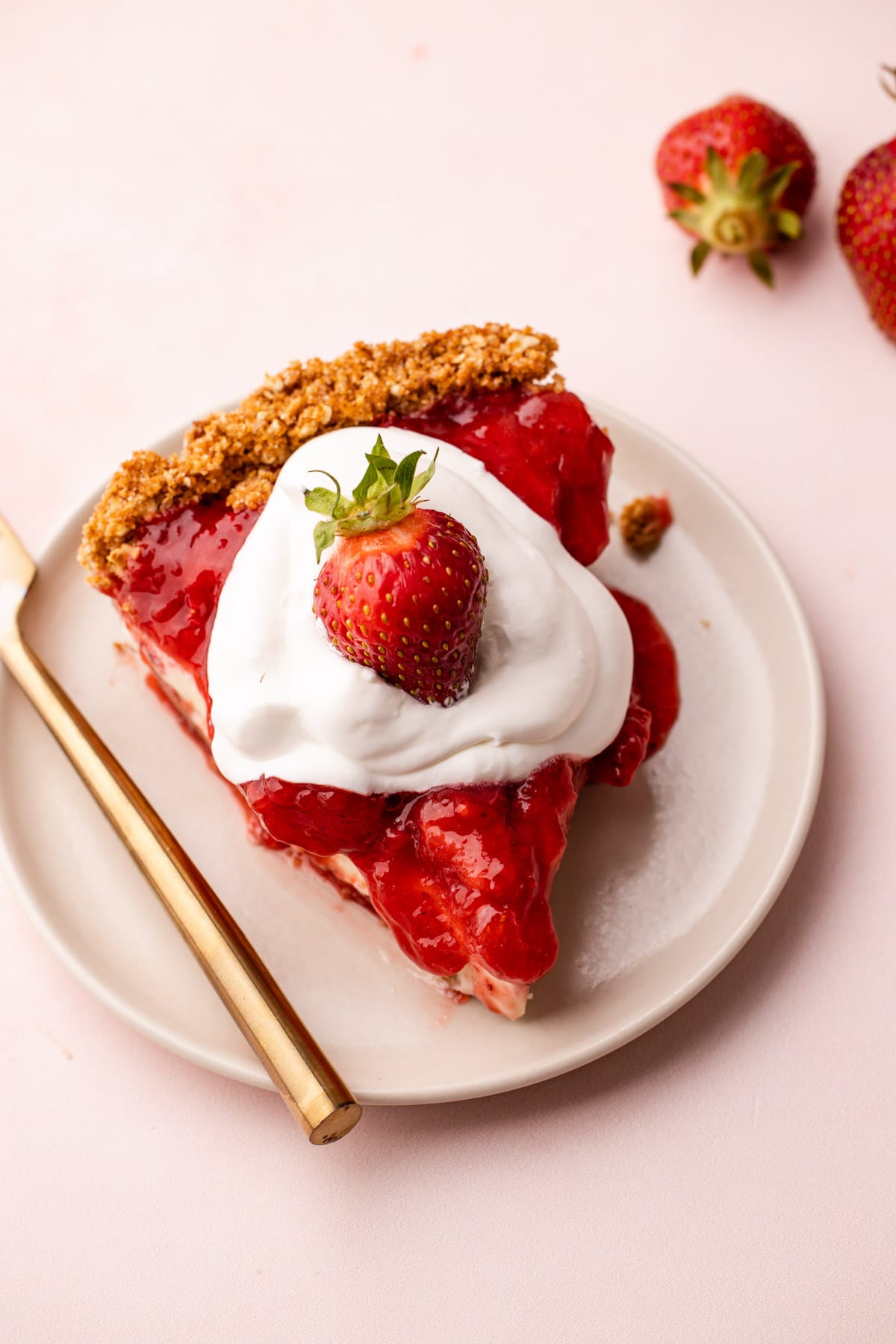 More Strawberry Recipes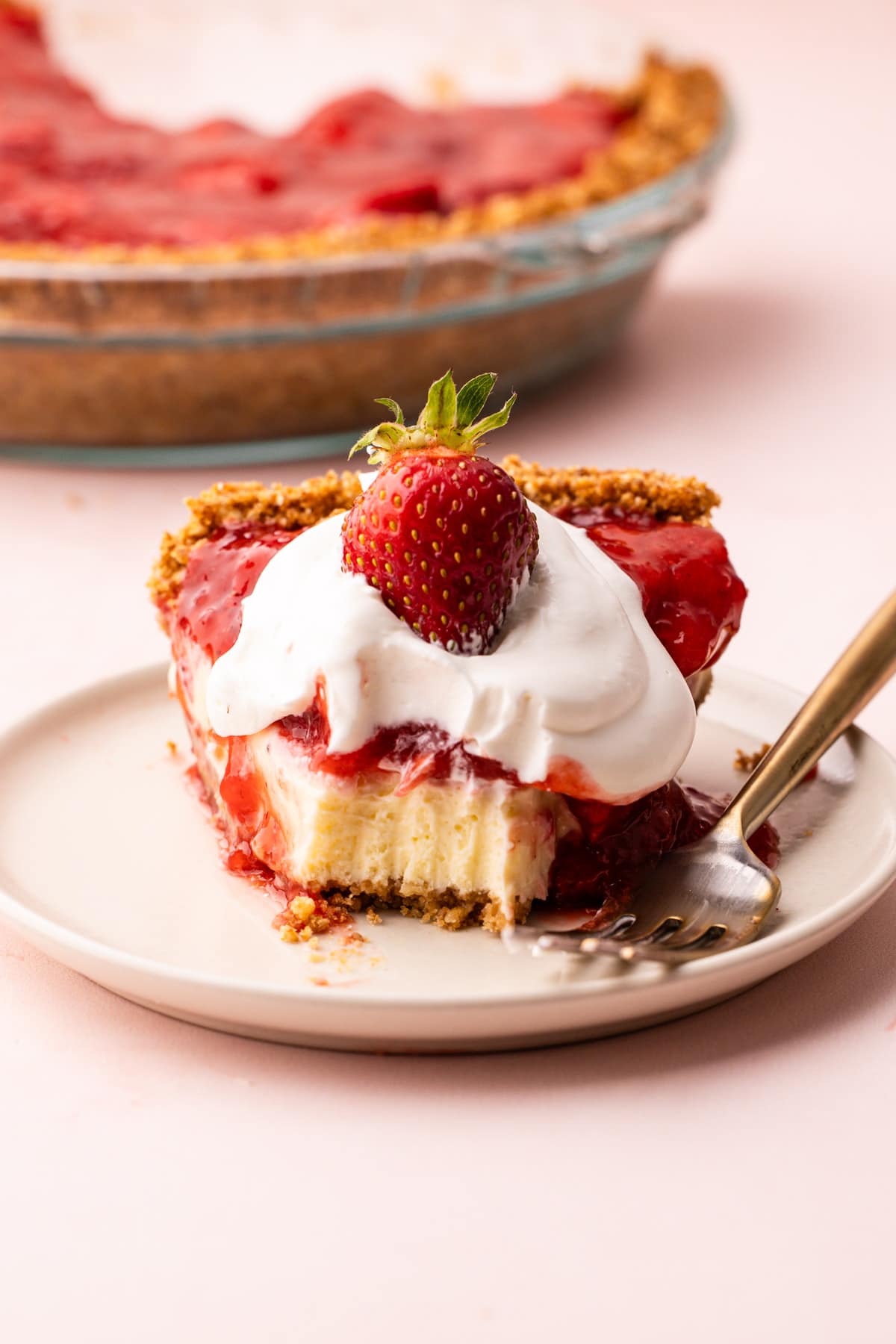 I am so honored when you make a recipe from my site! If you make this Strawberry Cream Cheese Pie, please leave a comment and a star rating with your experience! If you have any questions about this recipe, feel free to comment here, too!
Print
Full Recipe
Strawberry Cream Cheese Pie
This Strawberry Cream Cheese Pie, with a salty sweet pretzel graham cracker crust, a creamy rich cheesecake filling and a beautiful homemade strawberry topping, is an amazing and delicious (make-ahead) dessert everyone will love.
Graham Cracker Pretzel Crust:
2 ounces

(about

½ cup

, lightly packed) pretzels crumbs

6 ounces

(about

1

-

½

cups, lightly packed) graham cracker crumbs

8 tablespoons

unsalted butter, melted

¼ cup

(

50 grams

) granulated sugar
Pinch of salt
Cream Cheese Filling:
14 ounces

(

1

-

½

blocks) cream cheese, softened

¾ cup

(

150 grams

) granulated sugar

½ cup

(

60 grams

) sour cream

1

large egg

1 teaspoon

vanilla extract

½ teaspoon

almond extract (optional)
For Strawberry Filling:
16 ounces

(

1 quart

) ripe strawberries, washed, hulled and sliced

1 tablespoon

lemon juice

⅓

to

½

cup (

70

-

100

grams) sugar (depends on how sweet the strawberries are)

1 tablespoon

cornstarch
Pinch salt
Instructions
Make the Pie Crust:
Preheat the oven to 350ºF.
Mix together the pretzel crumbs, graham cracker crumbs, butter, sugar and salt in a bowl.
Pour the crumbs into the pie plate and start pressing the ingredients up the sides of the pie plate to form the edges first. Once the edges are formed work the crumbs down to evenly distribute into the bottom of the pie plate and stamp it down.
Bake the Cream Cheese Pie:
Beat the cream cheese and sugar with an electric mixer (using the paddle attachment on a stand mixer) until smooth, about 3 minutes.
Add in the egg, sour cream, vanilla extract and almond extract and beat until smooth, about 1 minute.
Transfer the filling into the prepared crust and bake for 45-55 minutes, or until the outer 2-½" is slightly puffed and the filling doesn't wiggle.
Let cool on a wire rack while the topping is prepared.
Make Strawberry Topping and Assemble Pie:
Add ½ cup (3 ounces) of sliced strawberries to a blender with lemon juice and blend until completely smooth.
Stir together the sugar, cornstarch, and salt in a pot. Pour in the strawberry puree and stir to combine. Heat over medium low and cook until the filling is bubbling, about 3-5 minutes.
Add in strawberries and cook, stirring frequently until it comes back to a simmer, then shut off the heat.
Transfer the filling to the top of the pie, and smooth over the top.
Let the pie continue to cool at room temperature, and then transfer to a refrigerator to set up for 4-6 hours.
Serve chilled, with whipped cream and fresh strawberries.
Pin it for Later: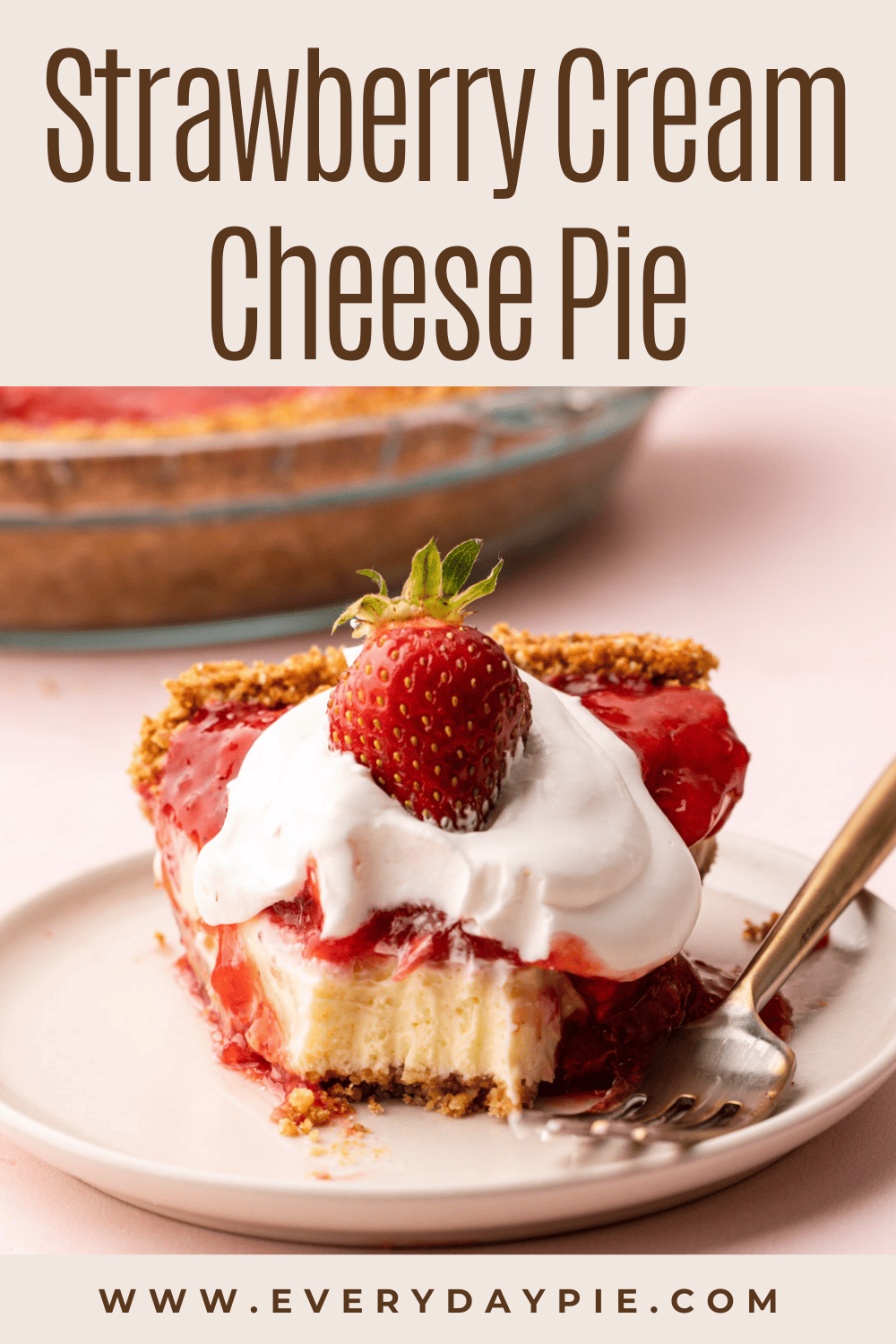 Some of the links on this page may be affiliate links. Everyday Pie is a participant in the Amazon Associates Program. As an Amazon Associate I earn from qualifying purchases, at no extra cost to you.