Creamy, salty and sweet, these Strawberry Pretzel Dessert Jars are the perfect individual treats to serve at a family gathering. The dessert jars are made up of layers of salty pretzels, fresh strawberry pudding, and homemade whipped cream.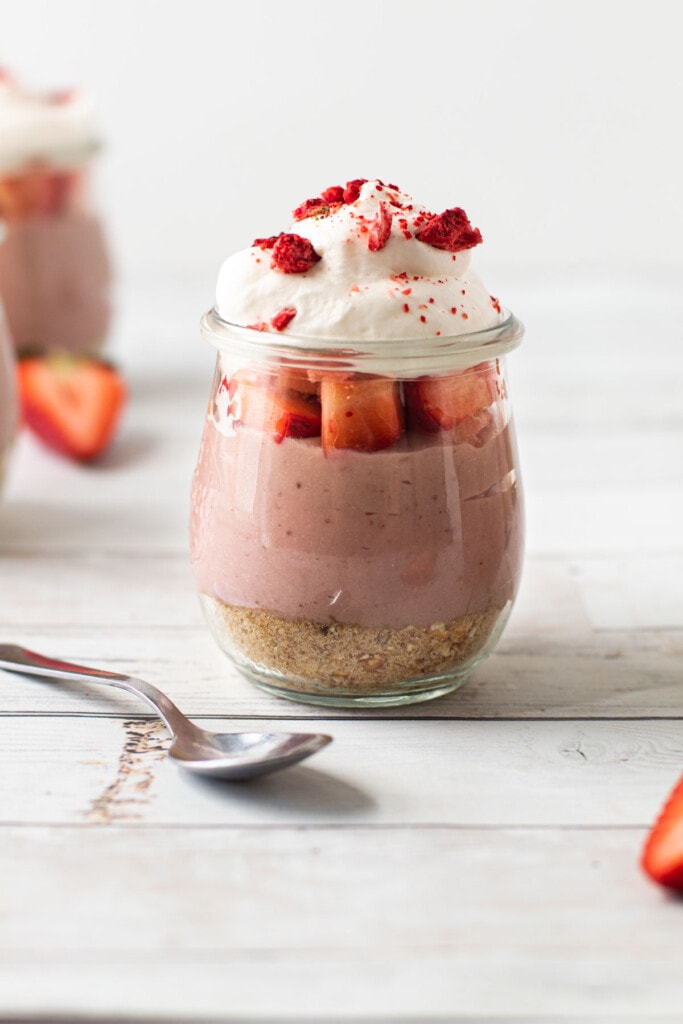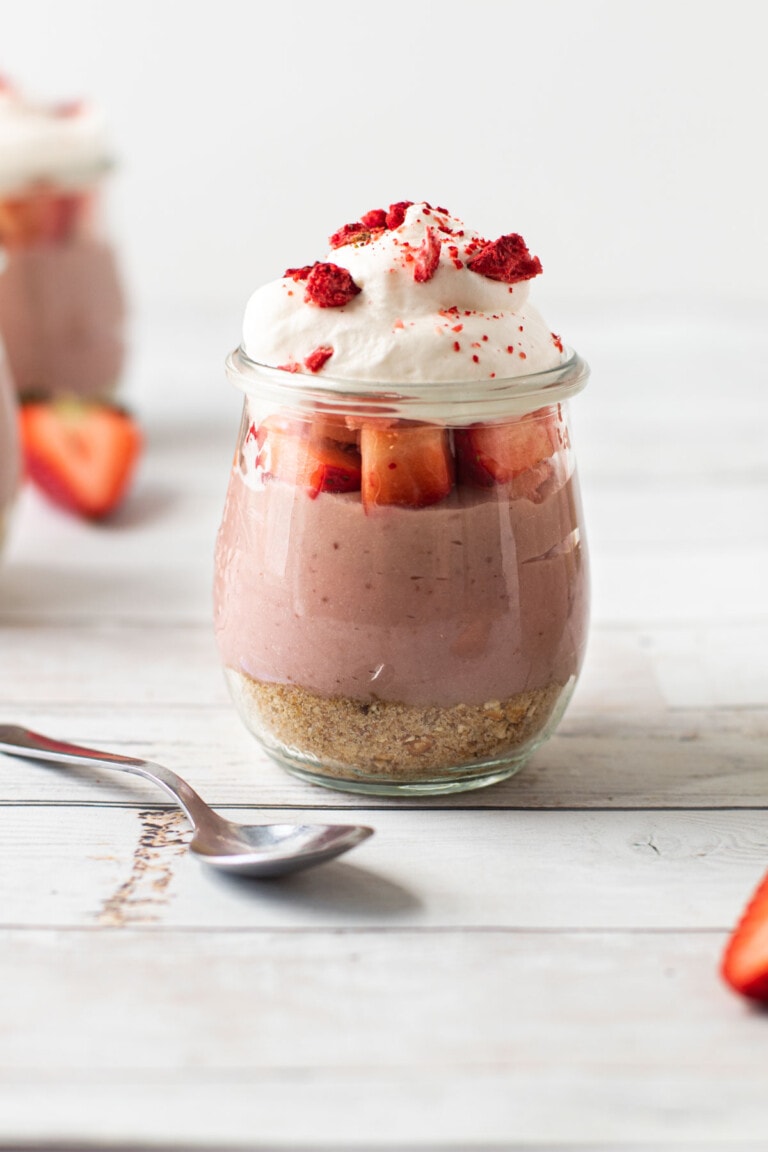 Strawberry Pretzel Pie Jars
These mini dessert jars were created after a mishap while testing my Strawberry Cream Pie. I was re-testing the recipe (which originally had a sweet pie crust) with my Pretzel Pie Crust because the idea of a strawberry sweet and savory pie sounded so amazing. And I was right, the pie was so delicious. However, it completely fell apart on me. I served it up to my family in bowls and we all agreed that the recipe still needed to be shared, but clearly in a different format. Thus, this Strawberry Pretzel Dessert Jar recipe was born!
What I later found out while researching was that this recipe was very similar to a popular recipe in the midwest of the United States known as Strawberry Pretzel Salad. If you aren't familiar with it (as I wasn't), you might be surprised to know it's not in fact a salad but instead, a recipe featuring a pretzel pie crust, with a creamy filling and jellied strawberries. While I've never tried that, I'm pretty sure these flavors (minus the jellied strawberries) are pretty similar to these Strawberry Pretzel Dessert Jars.
This recipe features sweet buttery pretzel crumbs underneath a pudding made from fresh strawberries and finished off with more fresh strawberries, homemade whipped cream, and garnished with freeze-dried strawberries. These individual desserts are perfect to pass out at a family potluck or any other special occasion.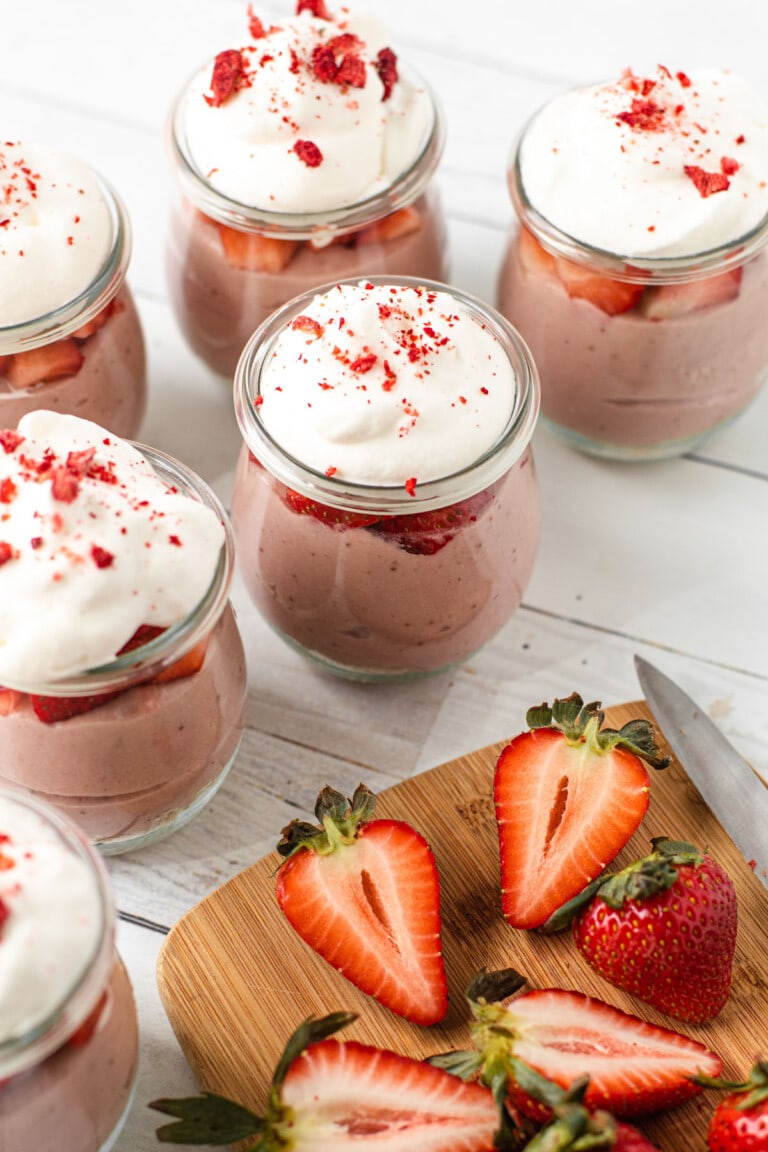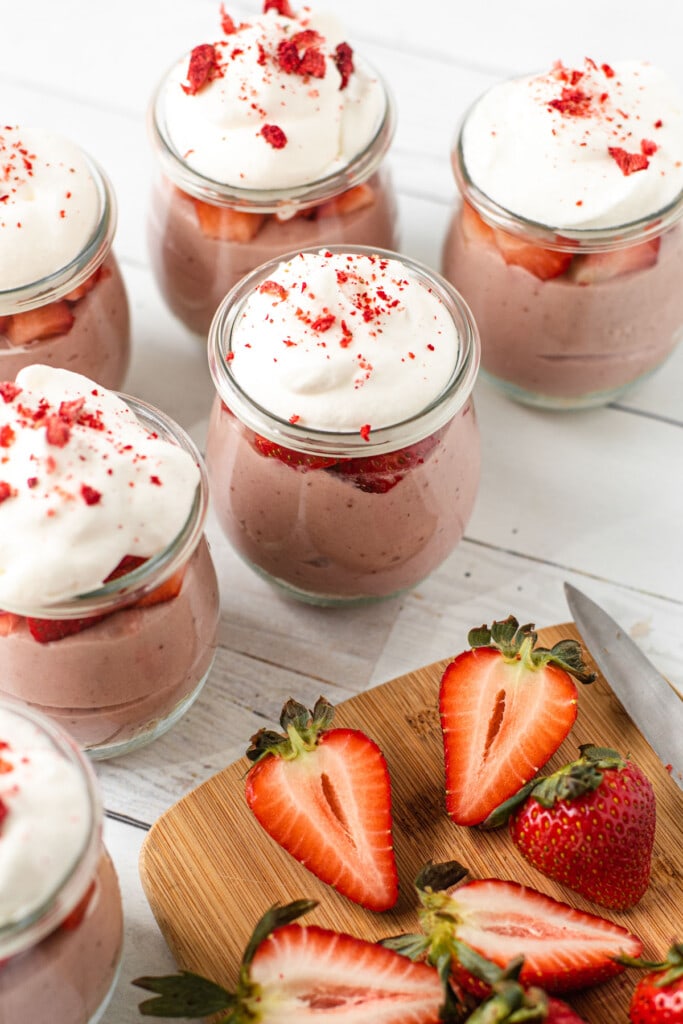 Ingredients Needed
Here is an overview of the ingredients needed for this recipe. The full recipe is listed below in greater detail.
fresh strawberries
heavy cream + whole milk
sugar
eggs
cornstarch (for thickening the pudding)
vanilla extract
almond extract
lemon juice
unsalted butter
small twisted salted pretzels or salted pretzel sticks
freeze-dried strawberries (to decorate the top, this is optional)
Tools Needed
Here is a list of some of the primary tools I used in this recipe. You won't necessarily choose to use them all, but they are exactly what I used here. Any links may contain affiliate links.
mini 8-ounce jars: I used these Weck Jars, but any 8-ounce jar or bowl will work.
food processor (for pulverizing the pretzels)
pastry bags
electric mixer or whisk (for whipping the cream)
basics: pot, spatula, whisk, bowls
Overview of Steps for Assembly
The full recipe is listed in below, but here is an overview of the steps you need to complete to make this recipe, including if they can be done ahead of time.
Make the pudding. This can be done up to two days ahead of time. The recipe calls for chilling the pudding separately in a bowl, and then adding it to the jars, but this is optional. However, pudding does need time to chill, so keep that in mind.
Make the crushed pretzel layer.
Whip the cream. This should be done just before serving. If you did want to be able to assemble the jars ahead of time, make stabilized whipped cream instead.
Assemble.
Making Fresh Strawberry Pudding
The silky strawberry pudding is the centerpiece of these pie jars. It uses fresh, pureed strawberries as the base, as opposed to a jello mix. The pudding is simple to make, and it's made in one pot.
A few tips on making the pudding:
Make sure you have the correct amount of pureed strawberries called for in the recipe. I suggest measuring them after they've been pureed. If you have less than you need, the consistency of the pudding will be off.
Make sure to have a rubber spatula and a whisk handy. I use both to be sure the mixture cooks evenly. I swap between using them while I'm cooking the pudding to be certain I'm getting all of the mixtures out of the crevices of the pot while whisking to ensure a consistent cook.
Don't walk away from the pudding. It only takes a few minutes to cook. Also, it's especially important to stir almost constantly in the beginning when you are cooking it to be certain no egg yolks get stuck to the bottom of the pot and scramble.
The recipe calls for chilling the pudding separately outside of the pie jars. However, you could technically skip this step and put the warm pudding in the pie jars to cool, still allowing that cool-down time to occur fully.
Assembling the Pie Jars
Once you've completed all the steps to make the pie jars, it's time to assemble. Here are the layers:
Pretzel crumb layer.
Strawberry pudding layer.
Fresh diced strawberries.
Whipped cream.
Crumbled freeze dried strawberries.
I've included measurements for how much of each layer to put inside the jars, but you can absolutely use your own judgment and eyeball it. I also used a piping bag to add in the pudding and whipped cream, but this is not strictly necessary, and they can just as easily be placed in with a spoon.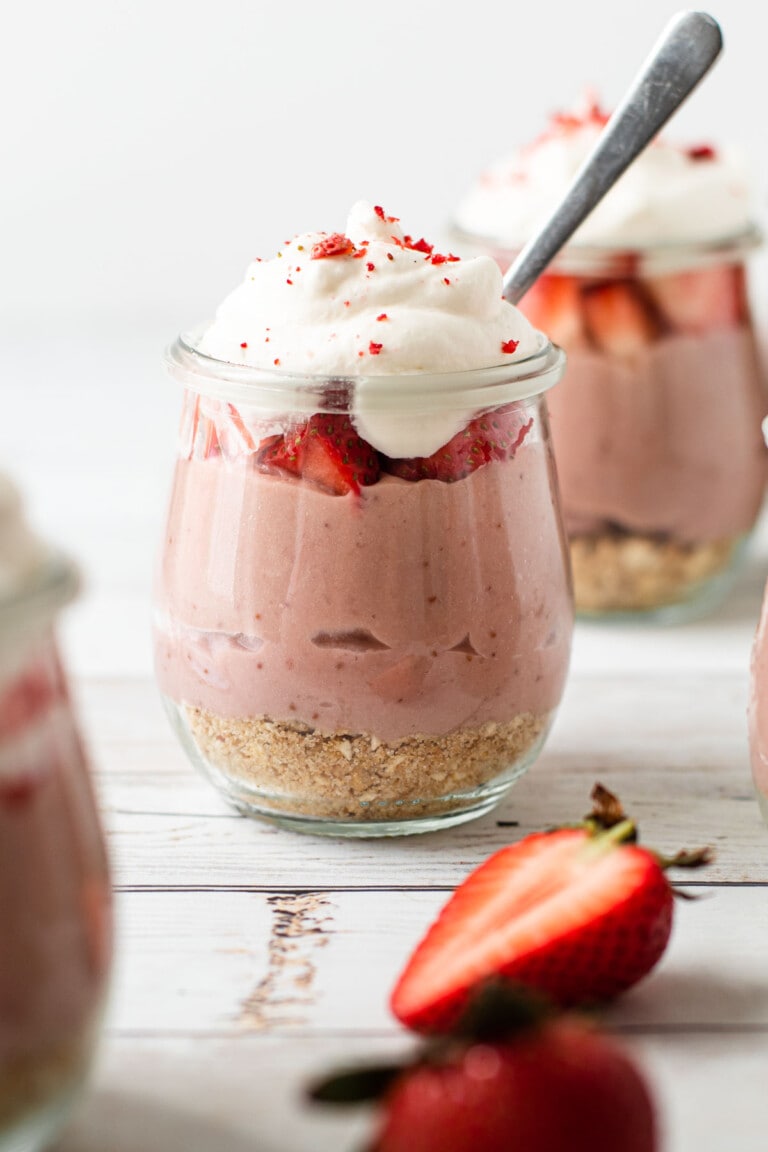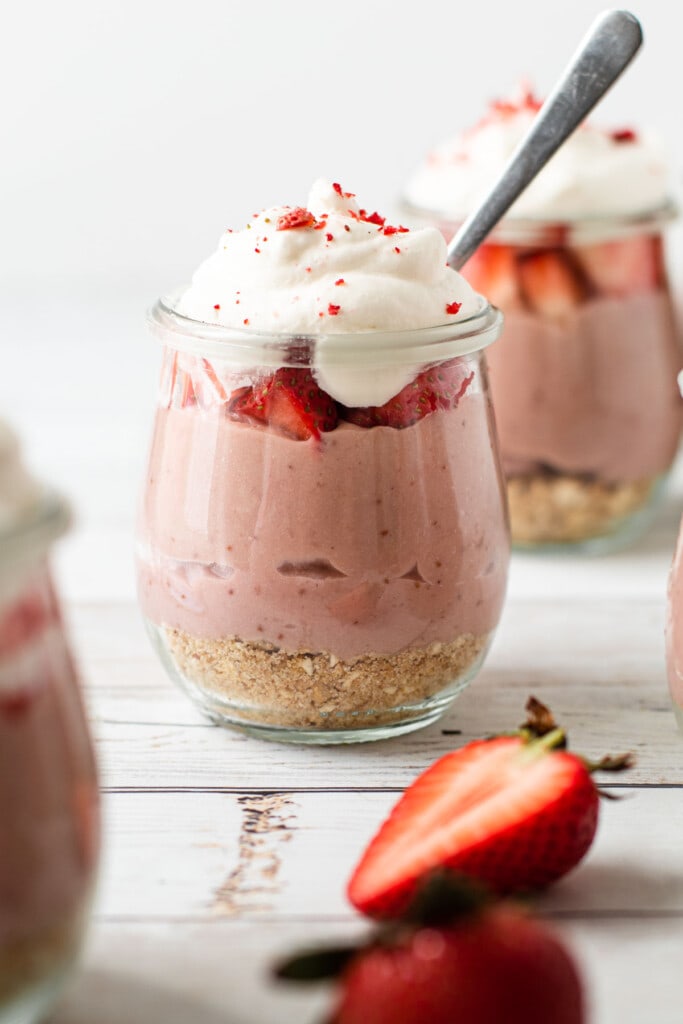 More Strawberry Recipes:
I am so honored when you make a recipe from my site! If you make these Strawberry Pretzel Pie Jars, please leave a comment and a star rating with your experience! If you have any questions about this recipe, feel free to comment here, too!
Print
Strawberry Pretzel Dessert Jars
Sweet, salty and refreshing, these Strawberry Pretzel Dessert Jars are the perfect individual sweet treats to serve at a family gathering. The dessert jars are made up of layers of salty pretzels, fresh strawberry pudding and homemade whipped cream.
Author: Kelli Avila
Prep Time:

00:20

Chilling Time:

04:00

Cook Time:

00:10

Total Time:

4 hours 30 minutes

Yield:

6 Servings

Category:

Dessert
¼ cup

(

30 grams

) cornstarch

¾ cup

(

150 grams

) granulated sugar (see notes for ultra-sweet strawberries)
Pinch salt

2

large eggs

2

egg yolk

2 quarts

fresh strawberries, cleaned, hulled and divided

1 cup

(

227 grams

) whole milk

½ cup

(

115 grams

) heavy cream

1 teaspoon

vanilla extract

½ teaspoon

almond extract

1 teaspoon

lemon juice

3 tablespoons

(

40 grams

) unsalted butter, diced
Pretzel Layer:
4 ounces

(about

1 cup

) pretzel crumbs (see note)

2 tablespoon

(

15 grams

) granulated sugar

6 tablespoons

(

78 grams

) unsalted butter, melted
For Whipped Cream:
¾ cup

(

170 grams

) heavy cream

1 tablespoon

(

15 grams

) sugar

1 teaspoon

vanilla extract
Freeze-dried strawberries, crumbled (for garnish)
Instructions
Place a fine-mesh strainer over a heat-proof medium bowl; set aside.
Puree 16 ounces of hulled strawberries in a blender until smooth. You will need 2 cups of strawberry puree.
In a medium saucepan, off heat, whisk together cornstarch, sugar and salt. Whisk in eggs and yolks until you have a light yellow paste. Then add in pureed strawberries, milk and cream and whisk together until it's fully combined. Use a spatula to get into the crevices of the saucepan to make sure there are no bits of eggs.
Place the saucepan over medium and cook the mixture, whisking constantly, and occasionally taking a spatula and scraping up any thickened pudding in the edges of the pan. Cook until the pudding has completely thickened and large bubbles are forming and popping, about 5 minutes. Remove from heat; immediately pour through the strainer and into a bowl, using a spatula to push all the pudding out while leaving behind any cooked egg.
Add in the extracts, lemon juice and butter to the pudding and whisk until combined. Place plastic wrap directly on the surface of the pudding to prevent skin from forming and chill the pudding in the refrigerator for at least 4 hours or overnight.
Add pretzel crumbs, sugar and butter in a bowl to combine. Evenly divide the pretzel crumb mixture into 6 (8 ounce) jars, about 3 heaping tablespoons each. Using a spatula or the back of a spoon, press down on the crumbs to tightly pack them into the jars.
Remove the chilled pudding, and give it a whisk to loosen it up. Using a spoon, or a piping bag, divide the pudding into the jars, about ½ cup each.
Finely dice the remaining strawberries, and divide them into the jars.
Just before serving, make the whipped cream: To the bowl of an electric mixer fitted with a whisk attachment, heavy cream, sugar and vanilla. Beat on medium speed until the cream has reached soft stiff peaks, about 2-3 minutes.
Top the pie jars with whipped cream, and garnish with crumbled freeze-dried strawberries. Serve immediately.
Notes
To make pretzel crumbs, either pulverize pretzels in a food processor or blender, or you could finely smash them in a plastic bag with a rolling pin.
This recipe was developed using regular grocery store strawberries, which is to say ones that aren't super sweet. If you have amazing perfectly ripe, sweet strawberries, you can reduce the amount of sugar in the pudding to just ½ cup.
Make sure to place enough strawberries to yield 2 cups of strawberry puree. You will need 16 ounces of strawberries after they have been hulled. That means you will likely use more than 1 quart of strawberries to yield 16 ounces. If you don't have a scale, you can measure out the amount of puree you get in a measuring cup to ensure it is 2 cups.
Use gluten-free pretzels to make this recipe gluten-free.
Keywords: Strawberry Pretzel Pie Jars
Some of the links on this page may be affiliate links. Everyday Pie is a participant in the Amazon Associates Program. As an Amazon Associate I earn from qualifying purchases, at no extra cost to you.