This savory Zucchini Pie with Goat Cheese and Herbs is the perfect way to use up all of that fresh, gorgeous summer zucchini. This pie makes for a great light dinner when paired with a salad, the perfect brunch addition, or a stand-alone appetizer.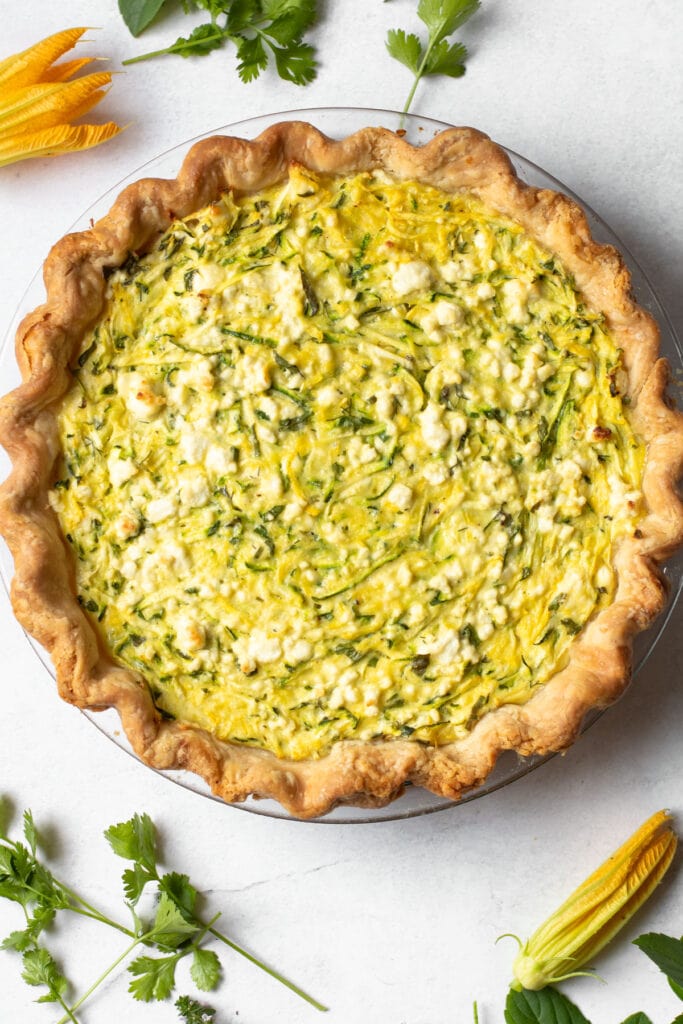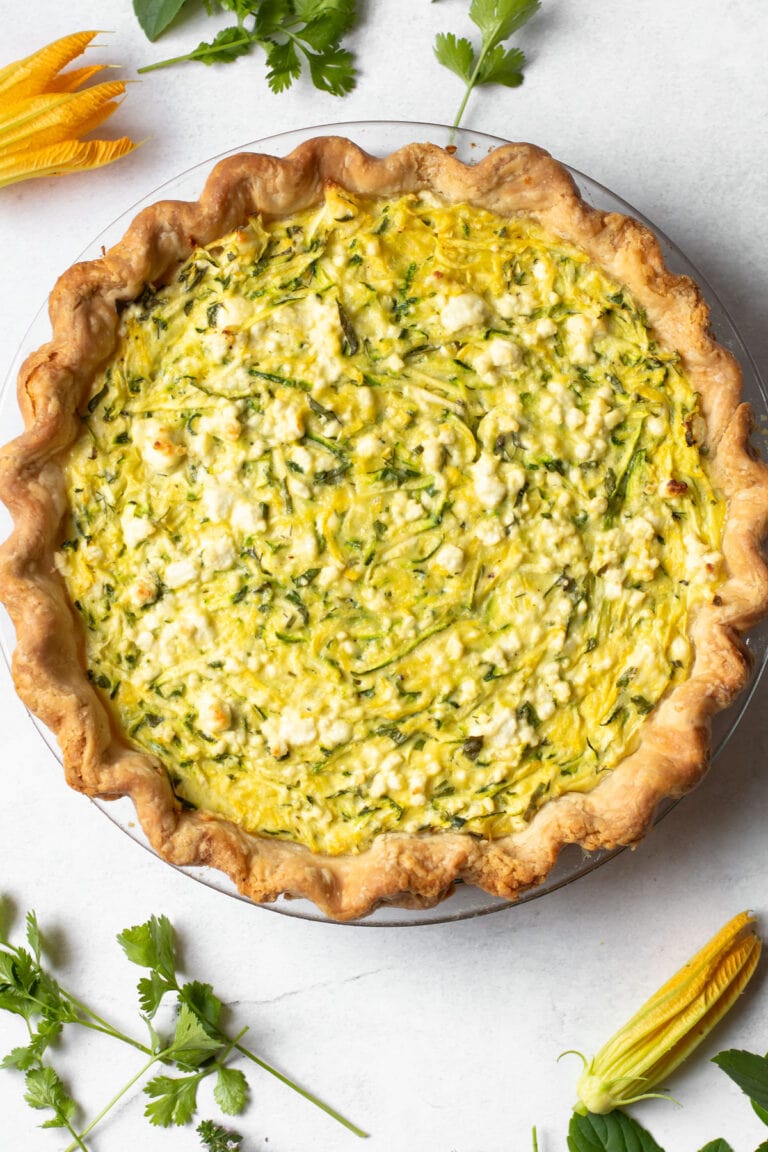 Savory Zucchini Pie with Goat Cheese and Herbs
If you are like me, you might be looking for every single possible way to use up zucchini at this time of year! And if you are, then this pie is the perfect one to bake up now.
Zucchini has a neutral flavor, which allows it to morph to taste like whatever it is cooked with. This pie is paired with tons of summer herbs and goat cheese. You can use whatever mix of herbs you like, but I have listed some of my personal recommendations below. This pie would be a fantastic option for a light dinner, paired with a salad, or as a unique addition to the brunch menu.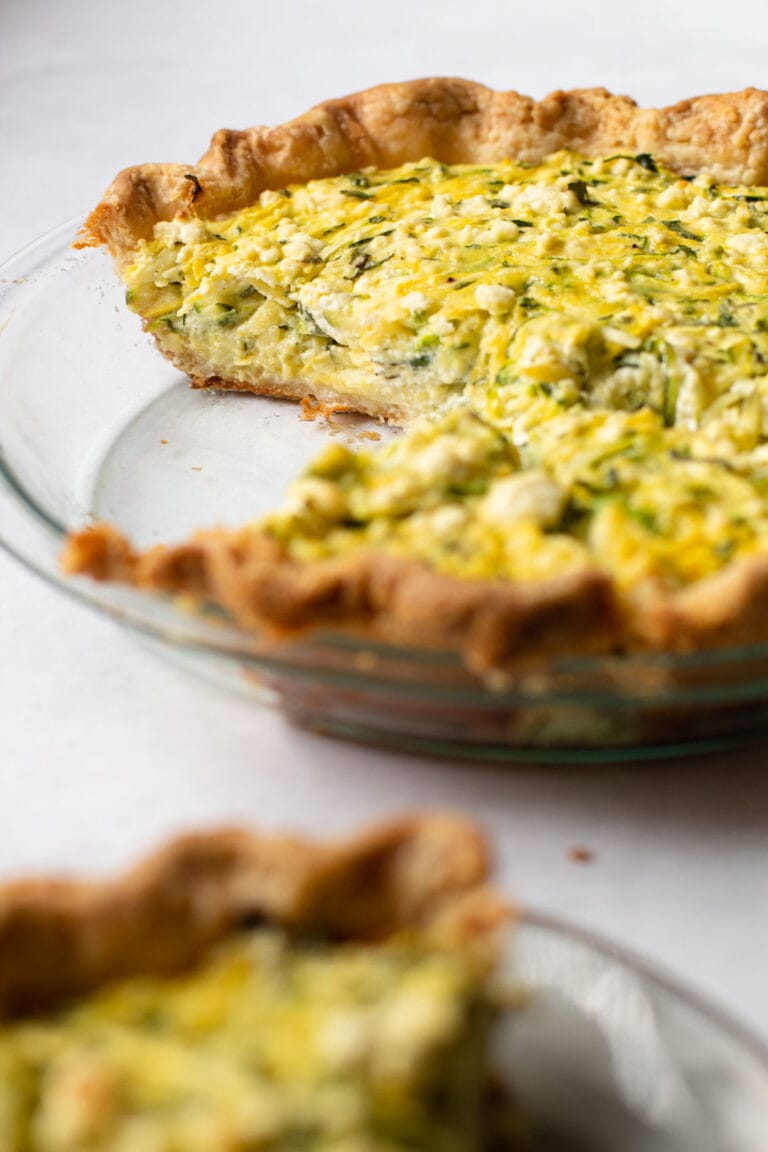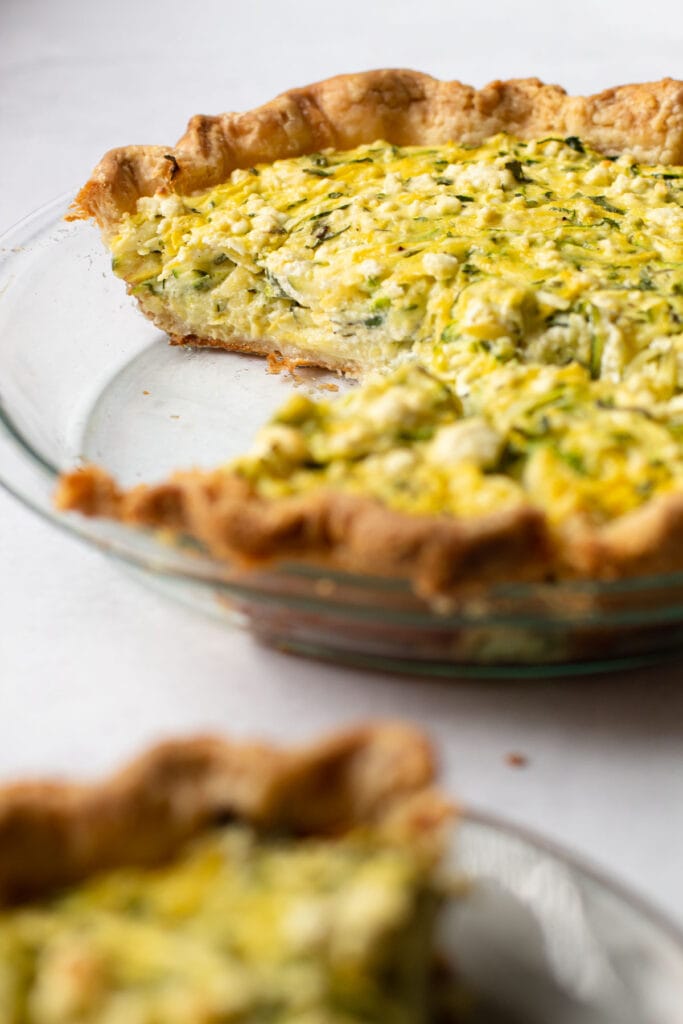 Zucchini Pie Ingredients
Here is an overview of the ingredients you need to make this zucchini pie. For the full recipe keep scrolling and you'll find that below.
zucchini (or summer squash!)
eggs
cream
lemon
chili flakes (optional)
fresh herbs
crumbled goat cheese
Tips for Shredding Zucchini
There are two easy ways to shred zucchini. You can do it by hand using the biggest holes on a box grater. Or, you can do it with the grating attachment on a food processor. Make sure to wash the zucchini well first.
If you are using the box grater, cut off one end of the zucchini. Keep the other end attached and use as a "handle" to grate it safely with the box grater.
If you are using the shredding disk, cut off both ends of the zucchini. Cut the zucchini into 2-inch pieces and place in the shoot to grate.
How to Drain the Zucchini
Zucchini and summer squash are naturally high in moisture. This pie, in turn has a pretty soft consistency. It is not as stiff as quiche is. Instead, it has a soft bite to it.
However, it is best to prevent the zucchini from being too moist, which can prevent the pie from setting up. To prevent this, the zucchini should be drained and squeezed before moving on to putting together the filling.
To drain and squeeze zucchini:
Grate zucchini and place inside of a strainer lined either with a thin tea towel, cheese cloth or a nut milk bag. Let it sit for 5-10 minutes. Some liquid should drain out.
Gather up the zucchini in whatever towel/cheesecloth you are using and firmly squeeze the zucchini until most of the liquid has come out. It doesn't need to be completely dry; some moisture is good because that will translate to a nice finished texture in the pie.
Types of Herbs to Use
The best part about this zucchini pie is that you can add in whatever herbs you love or have available in your garden. You can mix and match. Both zucchini and goat cheese offer a pretty neutral flavor base, so adding different herbs will really dictate your desired flavor. Here are some suggested herbs to use:
basil
dill
cilantro
parsley
green onions
green garlic / garlic scapes
thyme
chives
Zucchini Pie Crust Options
The pie is perfect baked in a classic butter pie crust (or made gluten-free) or my favorite choice, a cream cheese butter crust made in a food processor. Want to make it even easier? Go ahead and use a store-bought pie crust; just make sure you par-bake the crust as instructed.
Some other fun crust options for this pie would be a Whole Wheat Pie Crust or a Spelt Pie Crust. Both would taste great with this zucchini pie!
Why You Need to Blind Bake the Crust
Believe it or not, this dish falls into the category of custard pie. A custard pie uses milk or cream and eggs to form the base of a filling. Custard pies are baked at a lower temperature so they don't overcook the eggs.
Pie crust typically needs to be baked at 400ºF or higher in order to properly bake through. Because this zucchini filling is baked at a lower temperature, you'll need to blindbake your pie crust before you bake the filling to ensure no soggy bottoms. You can check out this Guide to Blind Baking for more information if you are new at it.
But the basics of blind baking simply mean to bake the pie crust without the filling first. You'll need to weigh down the pie crust with a faux filling so it doesn't sink in while it bakes. This is simply just a piece of parchment paper and some dried rice and beans (or "pie weights") placed inside of the filling while it bakes. After this, the parchment is removed and it's baked for a few more minutes to get a perfectly crisp crust that is ready for the filling. The exact directions for this are in the recipe below.
Want to Make this a Crustless Zucchini Pie?
This filling is delicious all on its own. You could make this zucchini pie without a crust, but you'll have to start calling it a casserole instead of a pie! You can make it in a roughly 8″ dish. Either a greased round or square baking dish will work. Follow all the directions for making the zucchini filling and baking the pie. Serve alongside a protein or a fresh salad.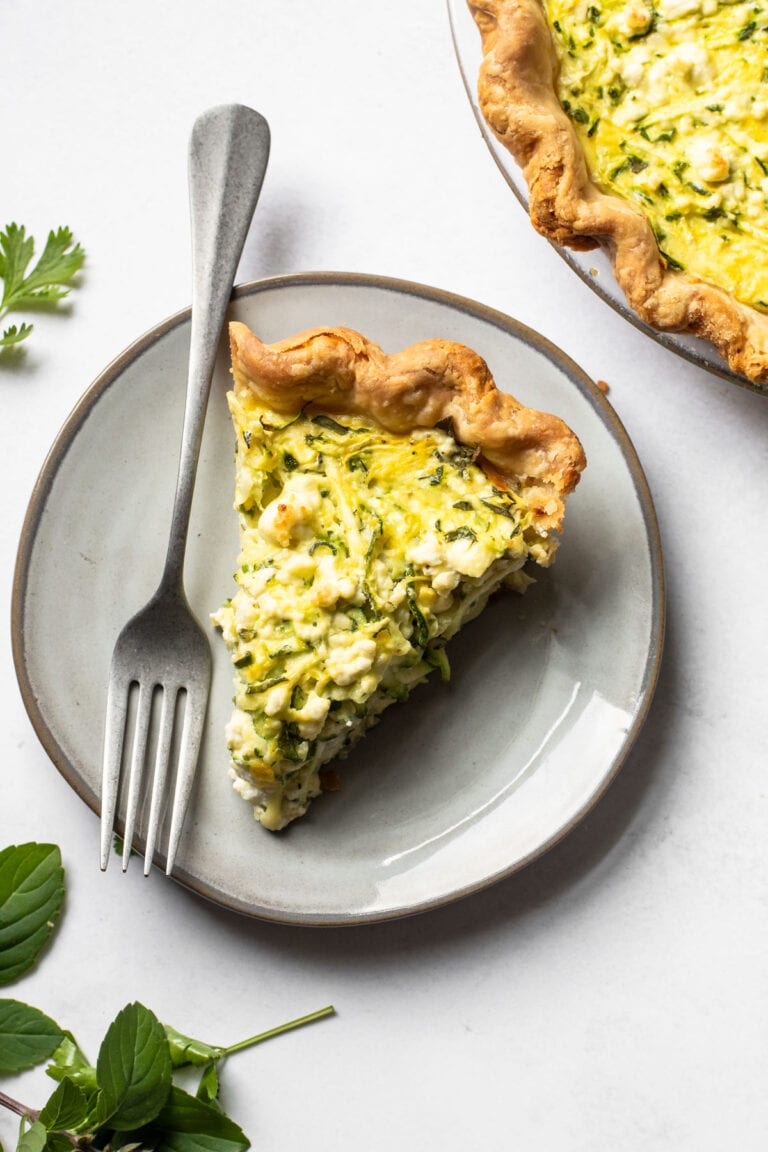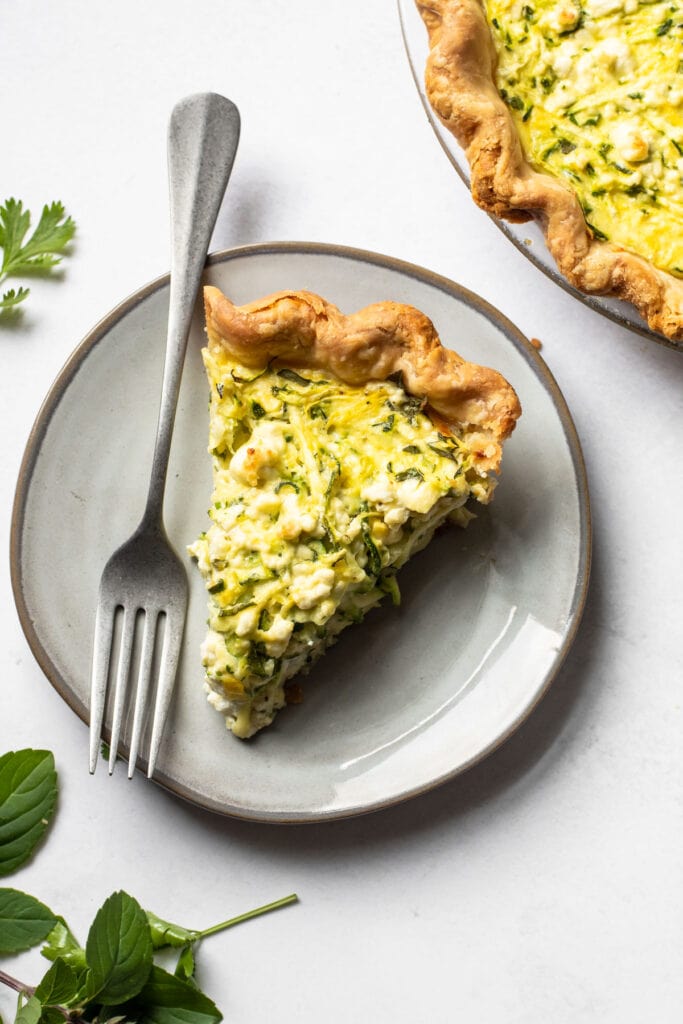 How to Serve It
This custard base has just three eggs, so the filling won't get as puffy as one with a lot of eggs. All custard pies set up fully as they cool, but because this is a savory pie, you'll want to eat it hot. Let it sit for about 10 minutes before cutting into it to give it a little time to settle. If you cut it right away, it will be slightly runny.
Serve this pie for dinner, or lunch or brunch! Everyone is going to love it. A nice side salad would be perfect paired with it.
Other savory pie recipes you may like:
I am so honored when you make a recipe from my site! If you make this Zucchini Pie, please leave a comment and a star rating with your experience! If you have any questions about this recipe, feel free to comment here, too!
Print
Full Recipe
Zucchini Pie with Goat Cheese and Herbs
This Zucchini Pie with Goat Cheese and Herbs is the best way to use up zucchini! It's the perfect brunch or dinner pie.
Author: Kelli Avila
Prep Time:

00:20

Cook Time:

01:05

Total Time:

1 hour 25 minutes

Yield:

8-10 slices

Category:

Savory Pie

Method:

Bake
1

9" butter pie dough (or check out this cream cheese pie dough or whole wheat pie dough)

3

large eggs

¼ cup

(

56 grams

) heavy cream

1 teaspoon

salt

¾ teaspoon

ground black pepper

1 tablespoon

lemon juice
Zest of

1

lemon (about

2 teaspoons

)
Pinch chili flakes (optional)

3

medium zucchini or summer squash (about

16 ounces

), shredded, squeezed of excessive moisture

⅓ cup

fresh herbs (see notes)
½ cup (56 grams) crumbled goat cheese
Instructions
Prepare Pastry:
Preheat oven to 425ºF.
Roll out the pie dough to an 11″ circle and line a 9" pie plate, crimp the edges as desired. Prick the bottom of the dough all over with a fork. Place the pie in the freezer for 10 minutes.
Once chilled, line the pie dough with a parchment round piece of paper and then add pie weights (or dry rice or beans or lentils), making sure to push pie weights to the edges.
Bake for 20 minutes, then remove from oven and carefully remove the parchment and pie weights. Return to oven and bake for an additional 7 minutes. Set aside until ready to use.
For Filling and Baking:
Turn heat down to 375ºF.
In a large bowl whisk together eggs, heavy cream, salt, pepper, lemon juice, zest and chili flakes. Fold in the squeezed zucchini, herbs and goat cheese.
Pour the filling into the parbaked crust and bake at 375ºF for 40-45 minutes, until the filling is set. If necessary, cover the edge of the crust with foil to prevent it from burning. Let cool for about 10 minutes before slicing.
Notes
Want to make this simple? Go ahead and use a store-bought pie crust, just make sure you par-bake the crust as instructed.
Suggested herbs to use are basil, dill, cilantro, and parsley. But feel free to experiment with different combinations of herbs!
Want to make it crustless? You can make it as a casserole in a roughly 8″ dish. Either a round or square baking dish should work. Follow all the directions for baking the filling. Serve alongside a protein or a side salad!
This recipe was originally published in 2019, but updated with new photos in 2021.
Keywords: zucchini pie, savory summer pie
Some of the links on this page may be affiliate links. Everyday Pie is a participant in the Amazon Associates Program. As an Amazon Associate I earn from qualifying purchases, at no extra cost to you.