This Whole Wheat Pie Crust recipe is hearty, more nutrient-dense and simple to make. This wholesome pie dough has a well-rounded flavor perfect for most any savory pie and even some sweet ones. Plus, there is no chilling time needed before rolling out this dough which makes it a great option for quick pies.
Whole Wheat Pie Crust Recipe
If you are thinking a whole-grain pie crust isn't for you, let me say that this Whole Wheat Pie Crust is different. This recipe uses whole wheat pastry flour, and the resulting pie dough is delicate, more crumbly than flaky, and nuanced in flavor when compared to pie crusts made with all-purpose flour. When I test my pies, I often will share slices or whole pies with friends and family and at least two different people admitted than when I told them I'd be dropping off a pie made in a whole wheat crust that they fully expected to just eat around it. Then they tasted it, and they were hooked! Don't let the name fool you, whole grain crusts are a really great addition to a pie when paired with the right filling.
A whole wheat pie crust is perfect when paired with savory pie fillings. It is sturdy, so it holds up to a heavier pie filling and won't overpower a savory pie which typically has stronger flavors. It also can work with some fruit pies, such as this Apple Butter Pie or this Honey Walnut Pie.
Ingredients Needed for a Whole Wheat Pie Crust
Salt

Baking Powder
Unsalted Butter

Cream Cheese

Ice Water
What I love about this crust is that it uses 100% whole wheat flour, instead of a blend with all-purpose flour. The cream cheese is a totally optional ingredient here. It adds a soft tang to the pie crust that works well with the whole grain. If you prefer not to use cream cheese, you can just replace it with the same amount of additional butter.
The baking powder gives the pie a very slight lift that keeps the crust from feeling too dense from the whole wheat.
HOW TO MAKE A WHOLE WHEAT PIE CRUST:
This dough is made in a food processor and comes together quickly.
To make the pie dough you'll:
Add the dry ingredients to the food processor. Pulse until they are well combined.
Add the cream cheese and butter and pulse until it's broken down into small pieces, no bigger than the size of a pea.
With the machine, add the water and process until the dough comes together.
Unlike a flaky pie dough, you'll want the dough at the end to be one cohesive ball, without any large butter pieces remaining. If you do have a large piece of butter it can create problems when rolling it out and when baking it. If by chance you happen to see any large pieces of butter after you've made it, you can fix it by smearing the butter into the dough so no large chunks remain.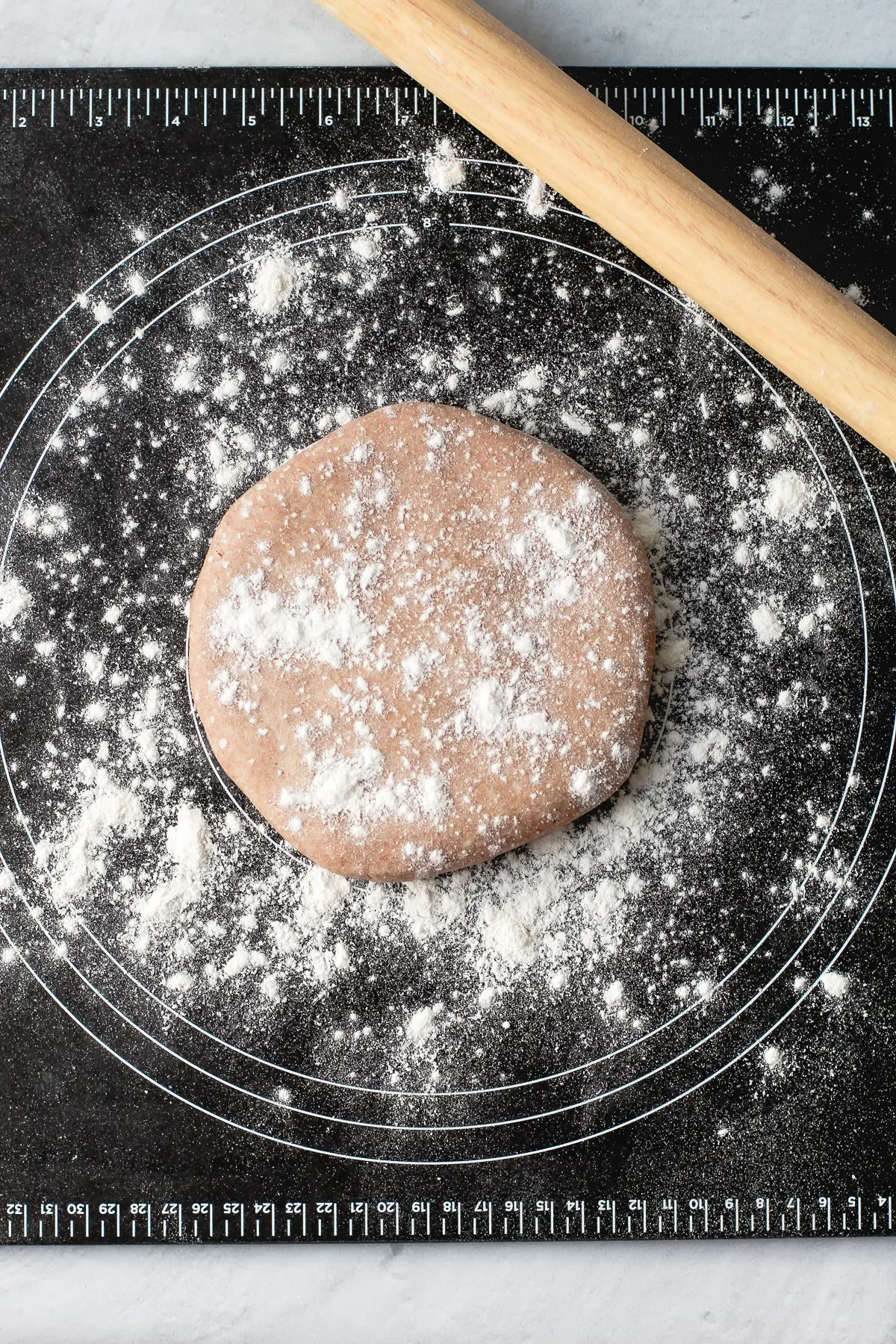 TIPS FOR WORKING WITH WHOLE WHEAT FLOUR
As always, I suggest weighing out the flour, instead of using a cup measurement. Weighing flour ensures a proper measurement.
Whole wheat pastry flour is different than regular whole wheat flour. The pastry flour is milled from a softer white wheat (as opposed to the hard red wheat that regular whole wheat flour is) and has a lower protein content. It retains a lot more of the nutritional benefits since it is a whole grain but it has less gluten proteins than common wheat. This makes it more tender and delicate, but it also means this this dough is can be more fragile when you are moving it around. It has the consistency of soft play dough. Treat it gently and you will find it simple to work with.
HOW TO BLIND BAKE Whole Wheat Crust
Blind baking means to bake the pie crust without any filling in it. When you bake a crust without a filling you can either partially bake it (par-bake it) or fully blind bake it.
To blind bake this crust, first roll out the pie dough to an 11″ circle and line a 9" pie plate, crimp the edges as desired. Prick the bottom of the dough all over with a fork to let steam escape during baking. Next, place it in the freezer for 30 minutes while the oven preheats to 350ºF.
To prevent the pie dough from slipping into the tin before it is fully baked you'll want to weigh it down. Line the pie dough with a parchment round piece of paper and then add pie weights (or dry rice or beans or lentils), making sure to push pie weights to the edges. Bake for 20 minutes on the lower rack, then remove from oven and remove the parchment and pie weights. Return to oven and bake for an additional 10 minutes. Set aside until ready to use.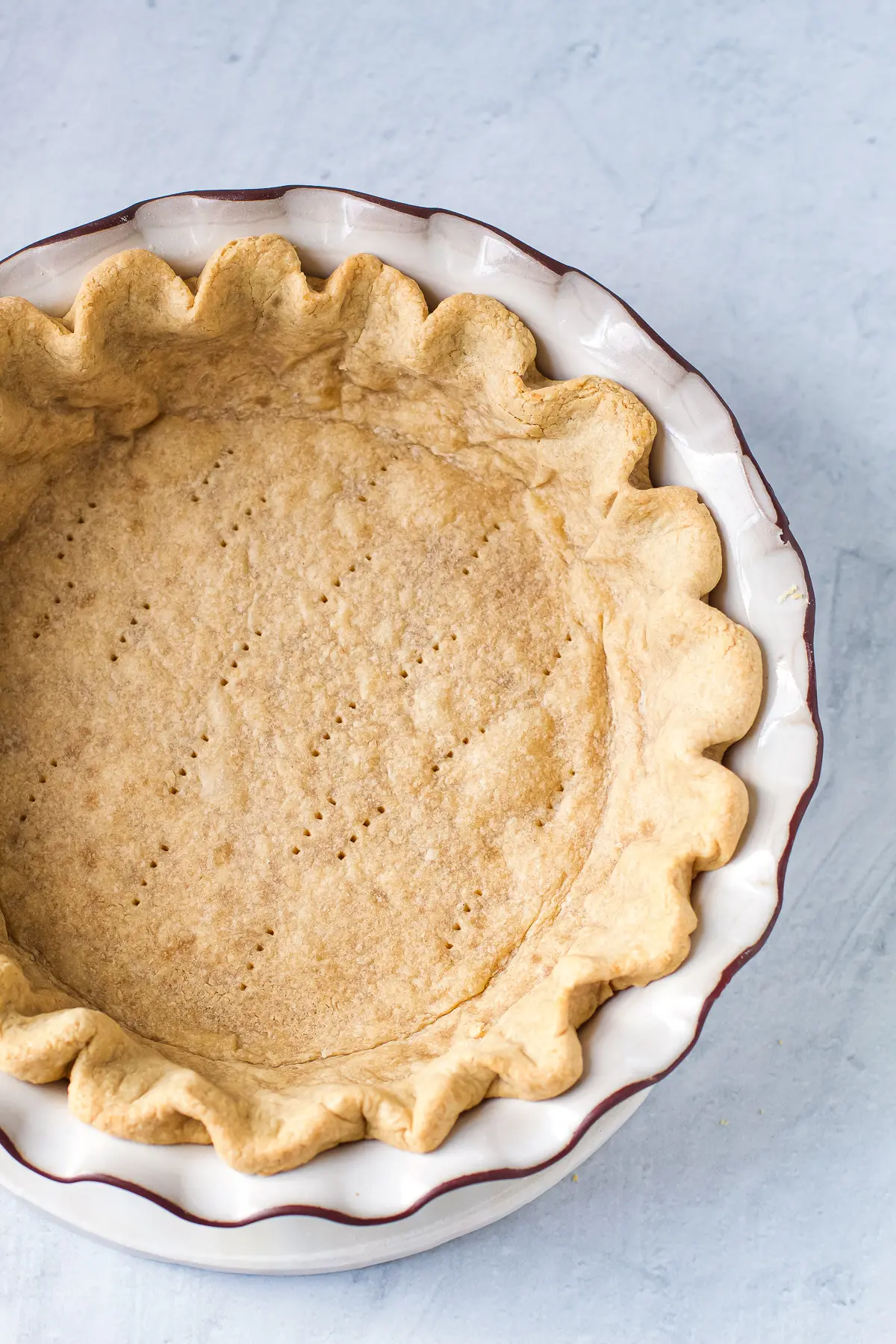 Check out these pies that go perfectly inside of this Spelt Pie Crust recipe:
MAKE SURE TO TAG @EVERYDAYPIE ON INSTAGRAM OR COMMENT BELOW IF YOU HAVE QUESTIONS ABOUT THIS WHOLE WHEAT PIE CRUST RECIPE OR IF YOU USE THIS PIE DOUGH FOR YOUR OWN CREATION!
Print
Whole Wheat Pie Crust
This Whole Wheat Pie Crust recipe is hearty, more nutrient-dense and simple to make. This whole-grain pie dough has a well-rounded flavor perfect for most any savory pie and even some sweet ones. Plus, there is no chilling time needed before rolling out this dough which makes it a great option for quick pies.
Author: Kelli Avila
Prep Time:

00:10

Total Time:

10 minutes

Yield:

1-9" Pie Crust

Category:

Basics

Method:

Food Processor

Cuisine:

Pie Crust
1

-

½

cup (190 grams) whole wheat pastry flour

¼ teaspoon

salt

½ teaspoon

baking powder

½ cup

(113 grams) unsalted butter, cold

2 tablespoons

cream cheese, cold

¼ cup

ice water
Instructions
Add the whole wheat pastry flour, salt and baking powder to the bowl of a food processor.

Pulse until combined.

Add in cream cheese and pulse 5 times.

Add in butter and pulse 7 times.

With the motor running pour in the water and pulse until the dough forms together into a mostly cohesive ball.

You can roll the dough immediately, but you must let it chill before baking for at least 1 hour in the refrigerator or 30 minutes in the freezer. Or you can wrap it in plastic wrap and keep it for up to 2 days in the refrigerator or up to 6 months in the freezer.
Keywords: Whole Wheat Pie Crust
Some of the links on this page may be affiliate links. Everyday Pie is a participant in the Amazon Associates Program. As an Amazon Associate I earn from qualifying purchases, at no extra cost to you.