Unique in all the best ways, these Oat and Buckwheat Chocolate Chip Cookies have a crisp exterior, a soft middle and the most amazing flavor. They're quick to make and even quicker to disappear from the plate. They're naturally gluten-free, yet certainly a cookie everyone is going to love.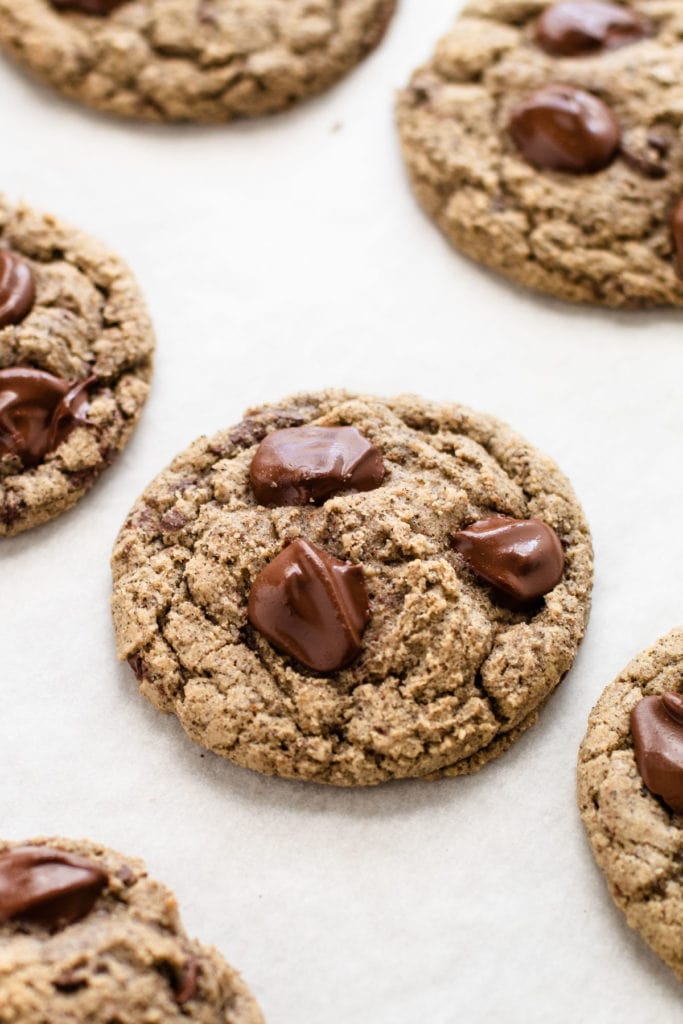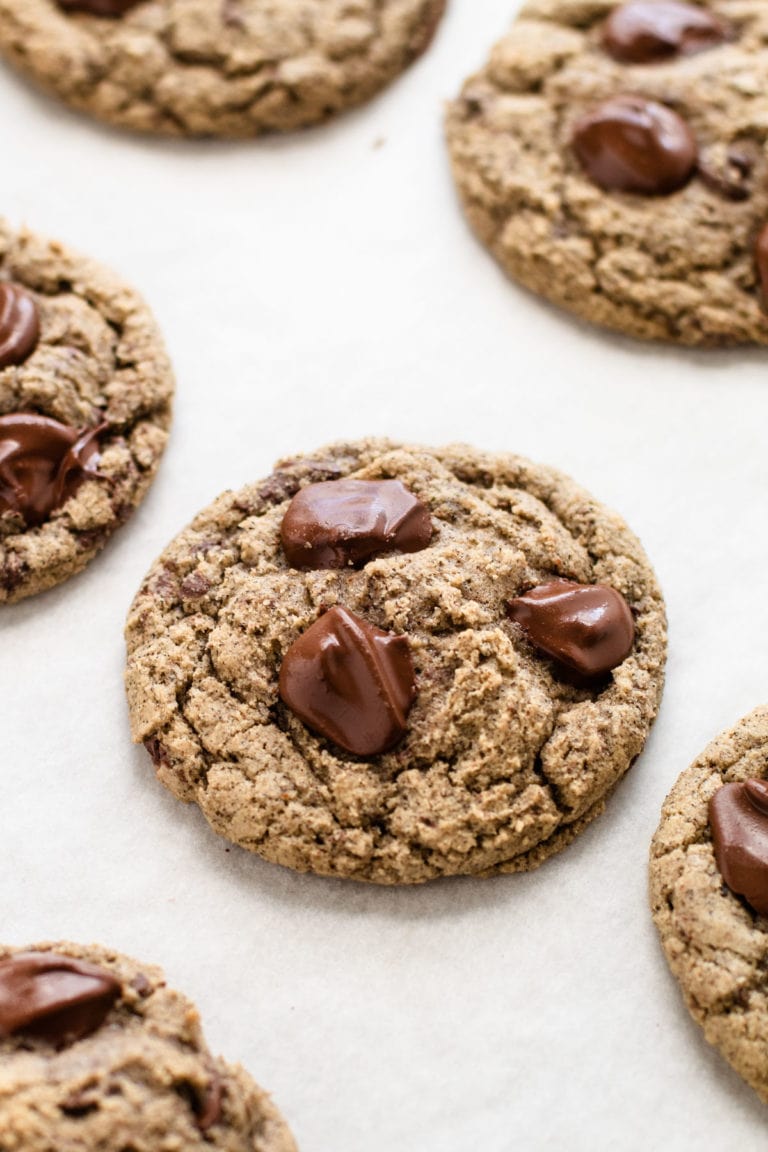 Buckwheat and Oat Flour Chocolate Chip Cookies
These Buckwheat Chocolate Chip Cookies have been a family favorite for a few years. If you are wondering if a chocolate chip cookie made with buckwheat flour and oat flour could ever stand next to a classic CCC (chocolate chip cookie), let me tell you: I was wondered the same thing. Years back, the first bite I had of this cookie when I first made them completely floored me---these are the best-tasting chocolate chip cookies ever. Despite being made with some pretty unusual ingredients, once you try them, you'll be a believer too.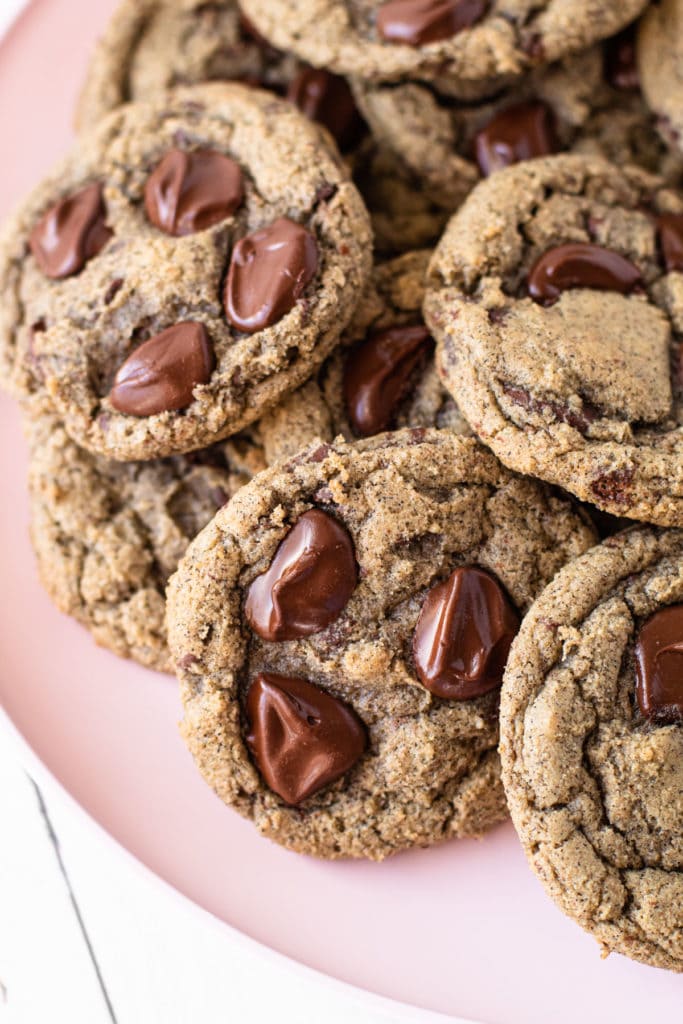 Ingredients Needed
Here is an overview of the ingredients needed for this Buckwheat Chocolate Chip recipe. The full recipe is listed below in greater detail.
Substitutions
I have tried some substitutions with this cookie, but not all. Here is what has worked for me, and what I suspect might work:
Oat Flour: You can substitute oat flour with all-purpose flour if you need to. The texture of the cookie becomes a bit more chewy (because you are introducting gluten to it), and loses a bit of the unique flavor the cookie has, but it largely keeps it's integrity.
Buckwheat flour: I've made this cookie with all oat flour, and it's still really delicious. So if you need to, you can substitute the buckwheat flour with oat flour. I have not tried substituting the buckwheat flour with all-purpose, but it likely will work.
Eggs: I've tried this cookie without eggs. It works fine, though it falls apart pretty easily. I just omitted it, instead of swapping it with an egg replacer.
Milk: I've only tested this with whole milk, but plant-based milk might work.
Butter: I haven't tested this with plant-based butter or coconut oil, but I think it will work!
Browned Butter Makes Everything Better
This cookie uses browned butter and it's one of the flavors that makes this cook so darn good.
In case you've never made it before, browned butter is simply butter that has been cooked until the milk solids separate out from fat and toast up. It's a simple step, but essential.
A few tips for making browned butter:
Don't walk away from it. Browned butter can go from light golden and deliciously fragrant in one second to black and burnt in the next. So hang tight and watch the butter as it toasts up.
Use a light-colored pot if possible so you can see the color. Don't be afraid of the color. You want it to be golden brown. If it's too light in color then it won't have as much of that nutty richness.
Use your nose! Once the butter starts to become fragrant, you know it's done.
Once it's done, immediately remove it from the pan and into the bowl you'll be mixing together your ingredients with. The residual heat from the pan can burn the butter even after it's off the heat.
Putting Together the Cookie Dough
After you brown the butter, this step comes together pretty easily. To make the buckwheat cookie dough, everything is mixed together in a bowl. And, because there is no gluten in this dough (unless you've made substitutions) there is no concern about overmixing.
The dough is pretty soft when it's first made. While it is fine to scoop the cookies right away, I find it easier to handle them after the dough has briefly chilled for 15 minutes in the refrigerator. It's a small step, but one that is worth effort.
Let's Talk Chocolate Chips
Go ahead and use your favorite type of chocolate chips or chopped chocolate in this recipe. I like to use a mix of mini chocolate chips and extra-large chocolate chips. I love these Super Cookie Chocolate Chips from Guittard (affiliate link) for the big chips.
After the chocolate chips are folded into the cookie dough, it's best to top the dough with a few extra chocolate chips before baking them. I use in total about 10 ounces of chocolate chips between the chips folded into the batter and the chips placed on top of the cookie dough.
Want to use chopped chocolate? Go for it. Any and all chocolate works for this recipe.
Baking the Cookies
This recipe makes about 22 cookies, which means you'll need 2 baking sheets to make them. I find that to achieve the most even bake, baking the trays one at a time is best. Or, you can bake them both at the same time. The bottom tray will be crispier than the top tray.
The cookies are baked for only about 9-11 minutes. Nine minutes with a perfectly heated oven will produce very soft, underbred cookies. 11 minutes will produce fully baked, yet still soft on the interior cookies. In my oven, I find 10 minutes to be the sweet spot.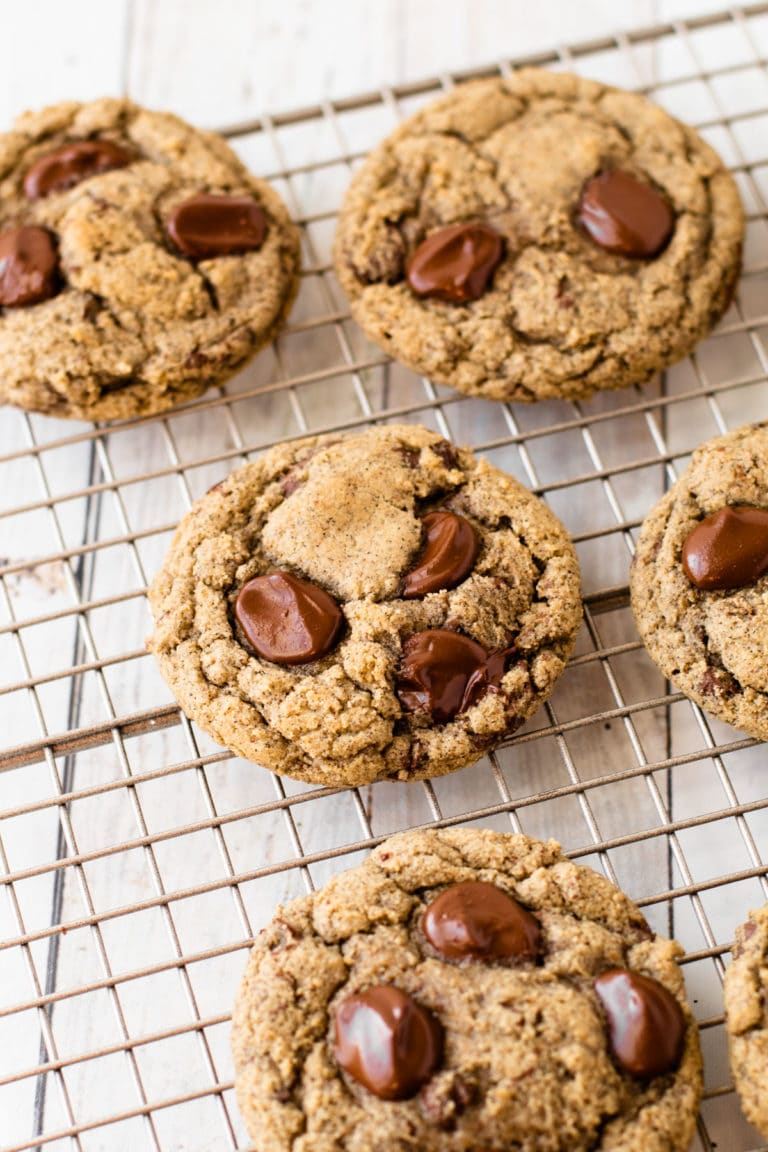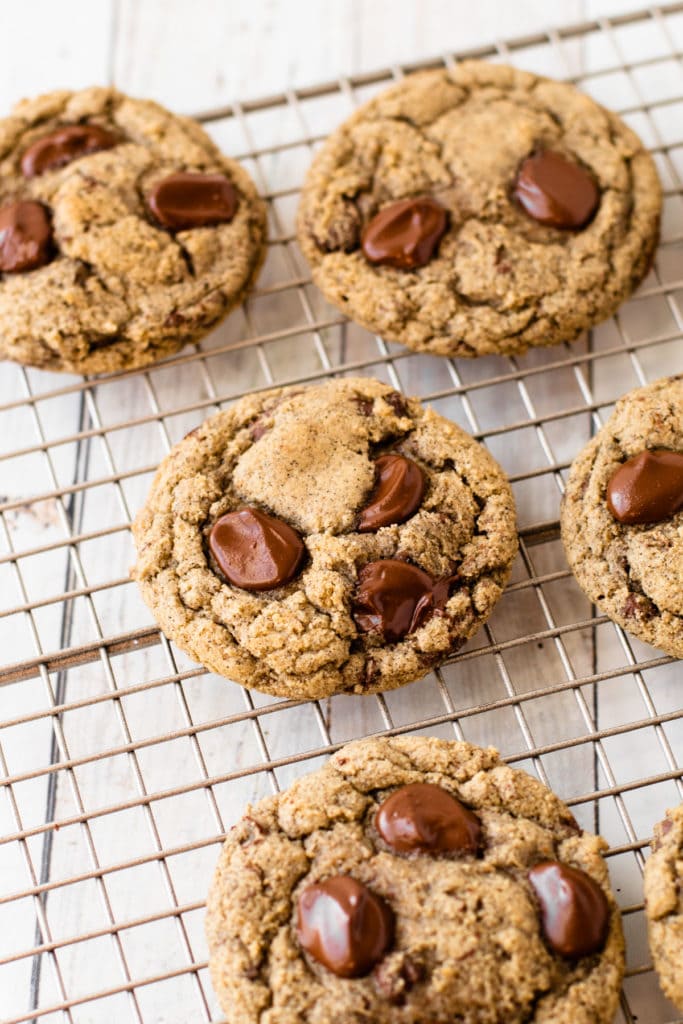 Let the Cookies Cool
These cookies do not contain any gluten, which means they are quite tender, especially when they're pulled straight from the oven. So let them set up for about 20 to 30 minutes, if you can wait that long. Don't worry, they'll still be warm and gooey after that intial cool down period.
If you try to pick them up when they super warm, they'll likely fall apart.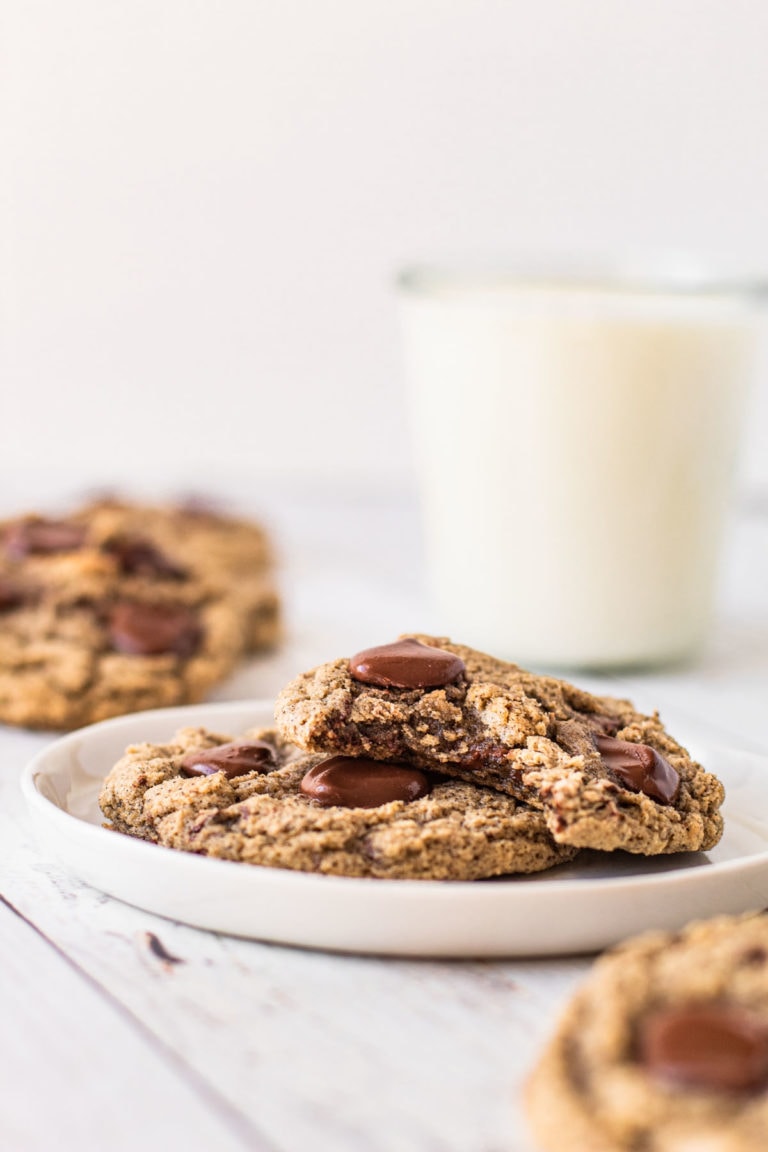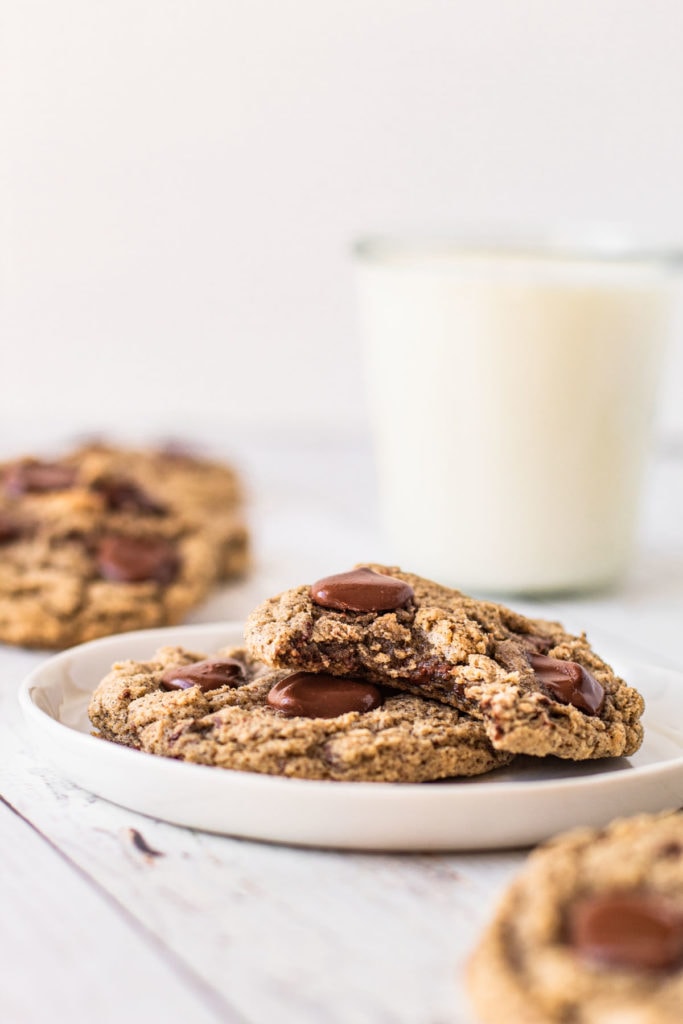 How to Store Them
These cookies keep really well at room temperature in an air tight container for up to 5 days. They also freeze really well. I've never personally had any leftover in my freezer for more than a month, but I imagine they'll keep for about 3 months in the freezer.
Because of the oat flour, it's not recommended to freeze the raw cookie dough. Instead, freeze fully baked cookies instead.
Watch the Video Here:
Looking for more chocolate recipes?
Print
Full Recipe
Oat and Buckwheat Chocolate Chip Cookies
Unique in all the best ways, these Oat and Buckwheat Chocolate Chip Cookies have a crisp exterior, a soft middle and the most amazing flavor. They're quick to make and even quicker to disappear from the plate. They're naturally gluten-free, but a cookie everyone is going to love.
Author: Kelli Avila
Prep Time:

00:10

Cook Time:

00:10

Total Time:

20 minutes

Yield:

22 Cookies

Category:

Baking

Method:

Oven

Diet:

Gluten Free
½ cup

unsalted butter, diced

½ cup

(

100 grams

) granulated sugar

½ cup

(

100 grams

) brown sugar (light or dark)

¾ teaspoon

salt

1

large egg

¼ cup

(

60 grams

) whole milk

1 teaspoon

vanilla extract

1

-

½

cup (

180 grams

) buckwheat flour

1 cup

(

120 grams

) oat flour (see note)

1 teaspoon

baking soda
Chocolate chips until your heart's content (or about 10 ounces)
Instructions
Preheat oven to 350º and line two baking sheets with parchment paper.
Brown the butter: Add the butter to a light-colored medium pot (see note). Turn the heat to medium and let the butter melt. Keeping watch, let the butter continue to cook, stirring occasionally with a rubber spatula so it cooks evenly. It will foam at first, then it will pop and sizzle, and then the foaming will start to subside. Stir constantly after it stops popping, and check to see if there are deeply golden solids at the bottom of the pop. It is done when the butter is a deep yellow, with golden bits at the bottom and it smells intense. Once ready, immediately turn off the heat, pour all of the butter, including the browned bits into a heat proof bowl.
While the butter is still hot, add the granulated sugar, brown sugar and salt to it, and whisk together. Next add in the egg and whisk together, until the mixture is shiny.
Add the milk and the vanilla and whisk until smooth.
Add in the buckwheat flour, oat flour, and baking soda and mix together until fully combined.
Add in at least 1 cup of chocolate chips and mix together.
Scoop and roll dough into balls about 2 tablespoons in size and place about 11, evenly spaced apart on each baking sheet. Stick additional chocolate chips on top of the cookie dough.
Bake in the preheated oven for 9-11 minutes, or until the cookies are puffed up.
Let the cookies cool for at least 30 minutes, as they will be too soft to handle at first.
Notes
You can substitute all-purpose flour for oat flour. The resulting cookie is slightly chewier with a bit of a less nuanced flavor. I truly recommend sticking with the combination of buckwheat and oat flour, but the cookie turns out pretty good with all-purpose flour in place of the oat flour.
As always, I recommend weighing your flour here! It makes a big difference if you use too much or too little flour. If you really won't weigh your ingredients, spoon them into the measuring cup and sweep off any excess. Don't scoop the flour into the measuring cup.
I recommend a light-colored pot to brown the butter because it makes it easier to see the golden milk solids. If you don't have a light-colored pot, that's ok. Just make sure to use other senses to check when the browned butter is done. IT should smell very fragrant of deeply nutty butter.
Let's talk chocolate chips: I've used ALL the types of chocolate chips on this cookie over the years, including chopped chocolate. They all taste good. So use whatever chocolate and chocolate chips you want here. A mix of small chocolate chips in the dough and large ones on top of the dough before baking is my favorite combo.
Keywords: Buckwheat Chocolate Chip Cookies
Some of the links on this page may be affiliate links. Everyday Pie is a participant in the Amazon Associates Program. As an Amazon Associate I earn from qualifying purchases, at no extra cost to you.