Dense and moist, these Italian Anise Cookies are made with a combination of wheat flour (or gluten-free flour) and almond flour for a unique twist on the classic cookie. Top them with a simple butter and powdered sugar glaze, then add your favorite decorative sugar or sprinkles for a beautiful and delicious cookie.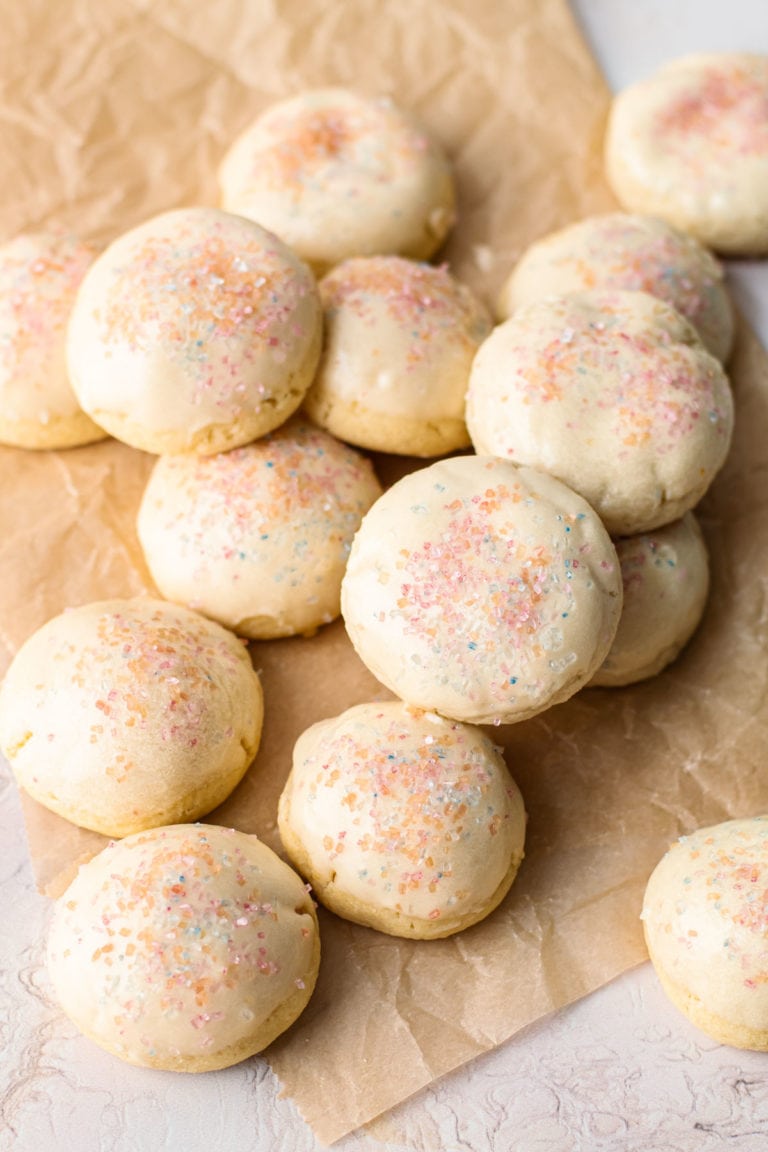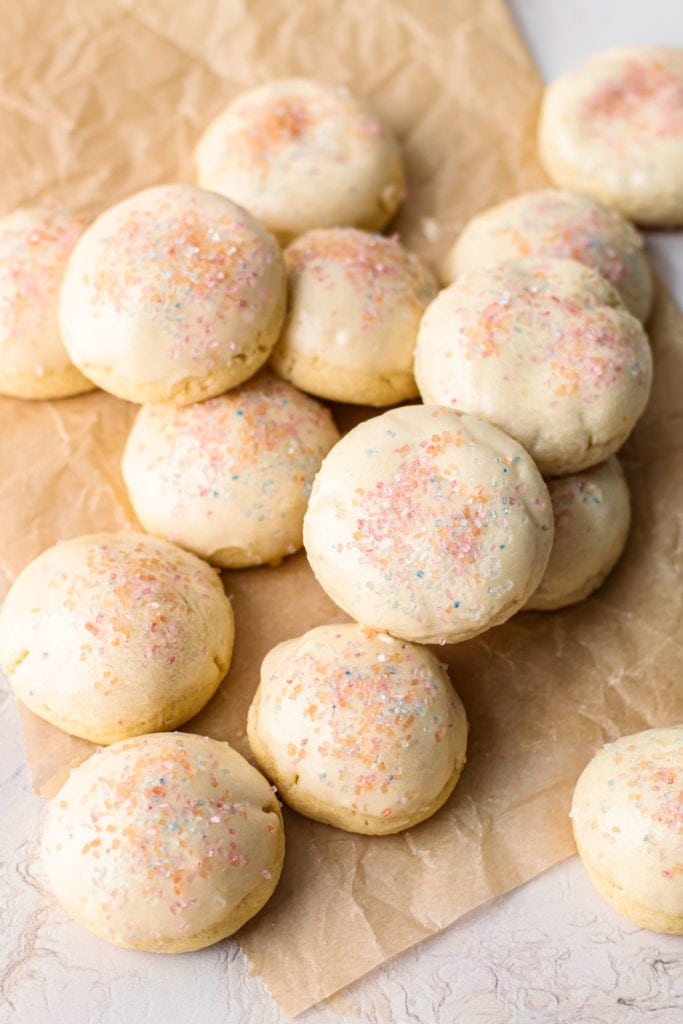 Italian Anise Cookies
Full disclosure, I hated these cookies as a child. Our Italian family served them at nearly every holiday gathering, with many batches showing up at Christmastime. My sister and I would bite into these fun looking cookies, covered in frosting and sprinkles, and were so surprised when the strong anise flavor hit our taste buds. How could a cookie that looks so sweet and innocent have such an intense black licorice flavor?
Now that I'm an adult, I appreciate that unique flavor that is anise. It tastes vaguely sweet, but also with a darker nuance to it.
So, I set out to make a version of anise cookies that was perfect in my mind. These cookies are dense, moist, and with a strong anise flavor. The glaze on top has a small bit of butter added to it, which makes it slightly softer and luxurious. And, my version is topped with naturally dyed-decorative crunchy sugar, for a nice added textural element that doesn't add any funky flavor or color.
Lastly, they're easily made with gluten-free flour too, which is incredibly important in my household.
I won't lie, developing this recipe took 18 batches of cookies. At this point, I've made this recipe so many times, I never want to look at anise cookies again. However, I'm sure I'll change my mind come this time next year, and I can't wait to make them for our family holiday again, year after year. Luckily, my own two children LOVE these cookies. So, now they'll get to enjoy them too, keeping the tradition alive.
Let's get to baking them, shall we?
Ingredients Needed
Here is an overview of the ingredients needed for this recipe. The full recipe is listed below in greater detail.
all-purpose flour or gluten-free 1-1 baking flour (I recommend King Arthur Flour Measure for Measure Flour or Bob's Red Mill 1-1 Baking Flour)
almond flour (this provides a lovely texture and moistness to the cookie)
light olive oil (use a neutral-tasting olive oil here)
egg
granulated sugar
anise extract
vanilla extract
salt
baking powder
milk
butter
powdered sugar
decorative sugars or sprinkles, or non-pareils
Substitutions
Almond flour: I hate to say it, but this recipe was specifically developed with the use of almond flour in it. If you can't have it or don't want to use almond flour, I, unfortunately, can't recommend a replacement, and you can't just substitute in additional wheat flour and get the same result.
Olive oil: Theoretically, you could swap olive oil out for butter if you wanted, but you might need to use a little bit more of it, as olive oil is all fat without any added water or milk solids. I'd recommend adding in another tablespoon or two of butter if you are making the swap. Melt it before adding it to the dough. Just know, this will make the cookies less moist if you do swap it out.
Anise: I hear you, anise is not for everyone. It's the classic flavor for this cookie, but you most certainly can swap it out for another flavor. You can keep it plain with vanilla, or use almond extract, or a citrus extract, though you'll need a lot less. I'd recommend using about 1 teaspoon of another flavor.
Gluten-free: See below for making this gluten-free!
Let's Talk About the Dough
Because of the addition of almond flour, this recipe is a bit different than the traditional recipe. Almond flour adds extra fat to the dough, which results in needing less added oil. When making it, you might feel that the dough is going to be too dry, but it won't be. Once baked up, the almond flour will add lovely moisture and a pleasing density to the cookie texture.
The dough is made simply by whisking together the wet ingredients and then adding in the dry ingredients.
One thing to note is that it's important to try to dissolve the sugar when whisking together the wet ingredients. This cookie is baked for very little time (about 12 minutes), which doesn't give much time for the sugar to melt. Remember, these are thick cookies. So, when you are whisking the wet ingredients together, give it a few extra seconds of whisking than you typically would, to help that sugar dissolve into the oil and egg.
To portion out the dough, use a cookie scoop. You want to use a 1-ounce cookie scoop, or about 2 tablespoons of dough. If you are weighing it, the dough is dense, so it should weigh 1-3/4 ounce.
This recipe makes 13 cookies. Double or triple it to make a larger batch.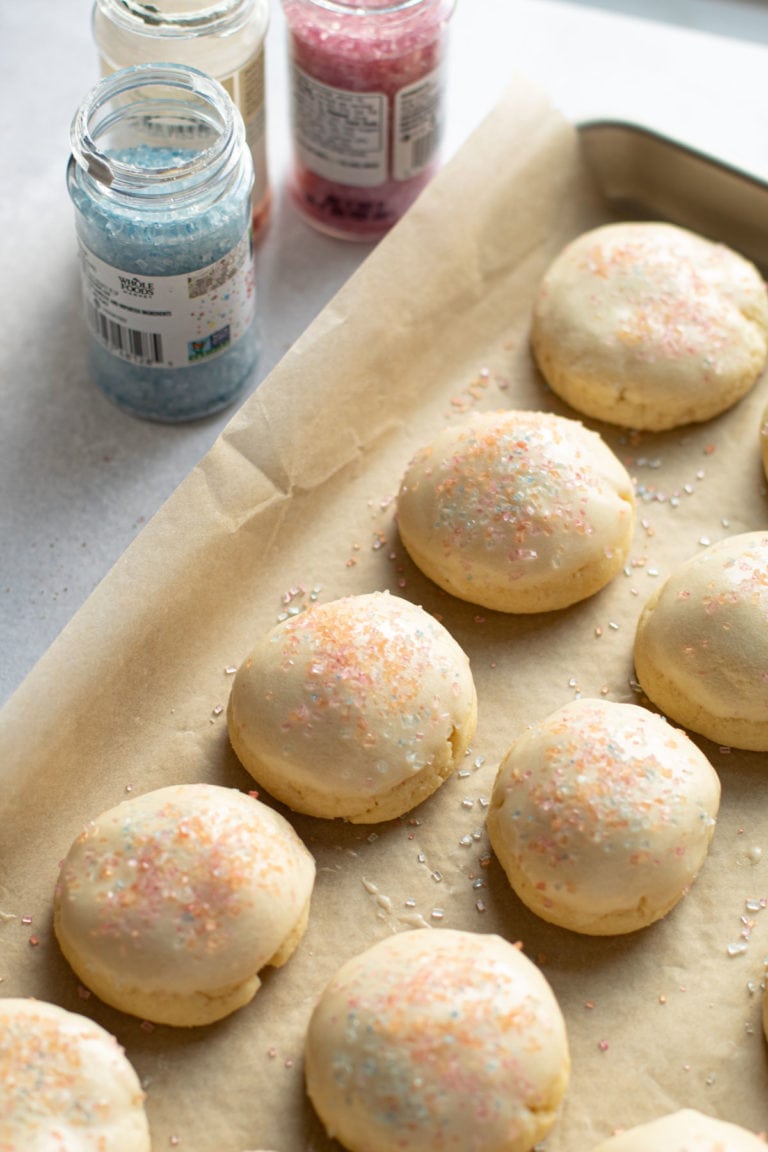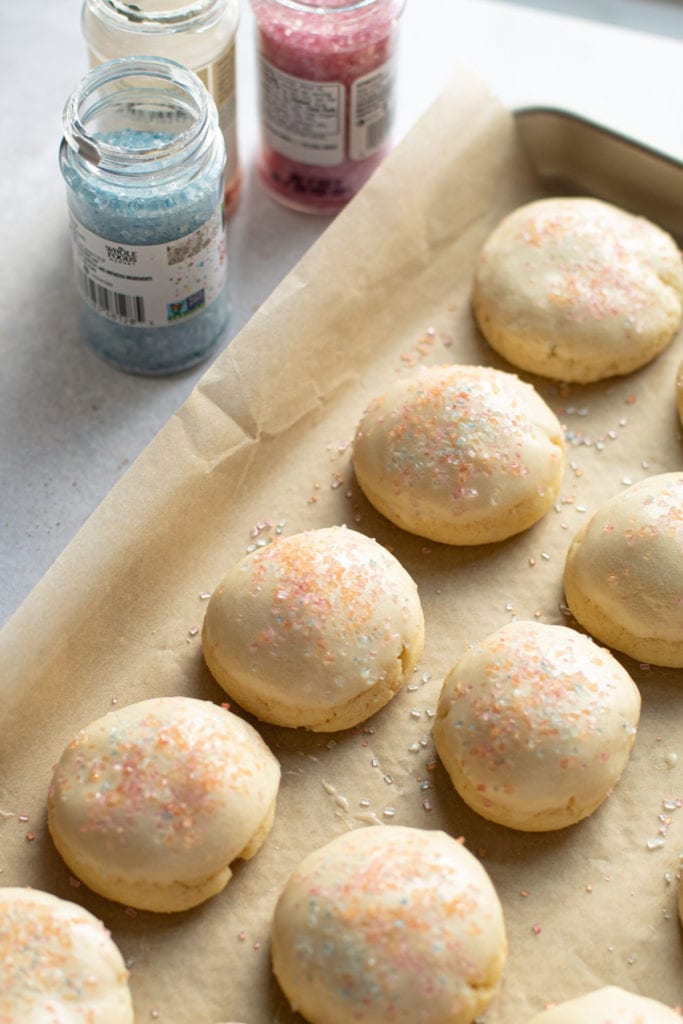 How to Decorate the Cookies
You can truly decorate this cookie any way your heart desires once you've got the glaze on top.
Traditionally, in the bakeries my family shopped at, the cookies would be adorned with colorful nonpareils. In my home, we avoid artificial food coloring, so I found some fun naturally colored crunchy sprinkles (affiliate link), and I liked the added textural component. We've also been decorating them with naturally colored sprinkles (affiliate link), too.
Make Ahead Instructions
These cookies last up to a week, undecorated or decorated. However, don't let the baked cookies sit out overnight, they'll dry out. Store them in an air-tight bag or container.
I don't recommend freezing the cookie dough, but the baked undecorated cookies can be frozen for up to 2-3 months.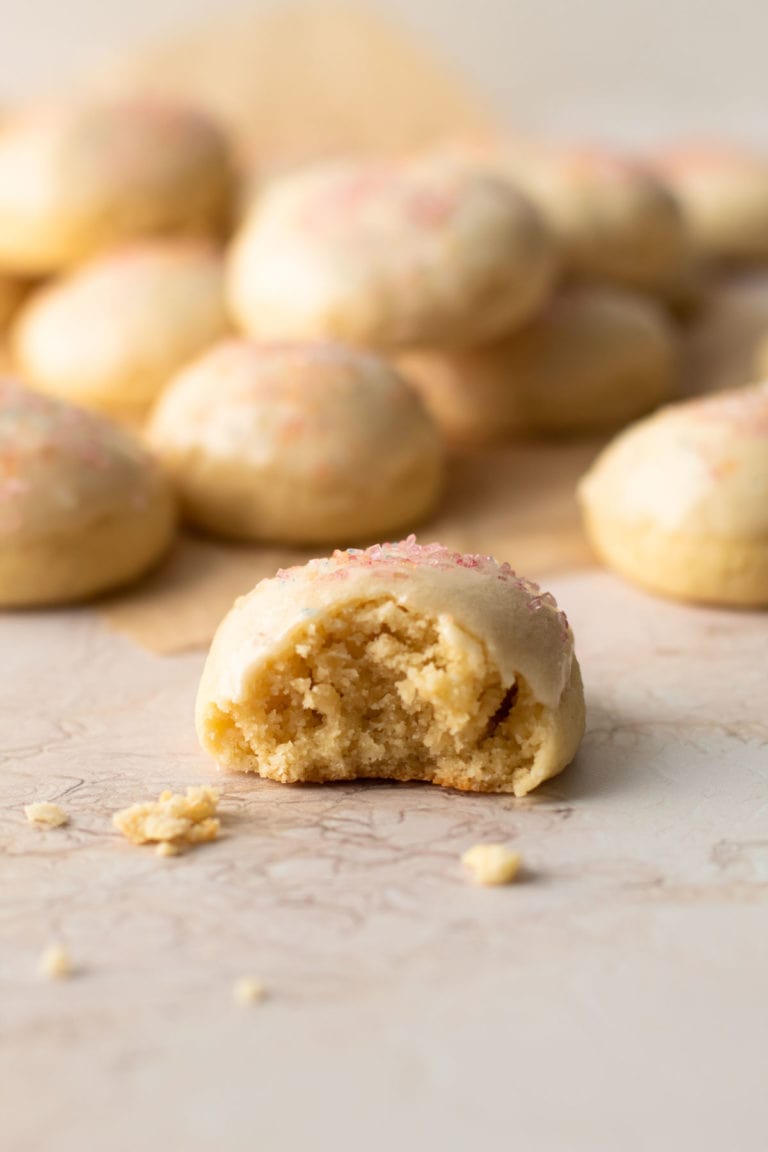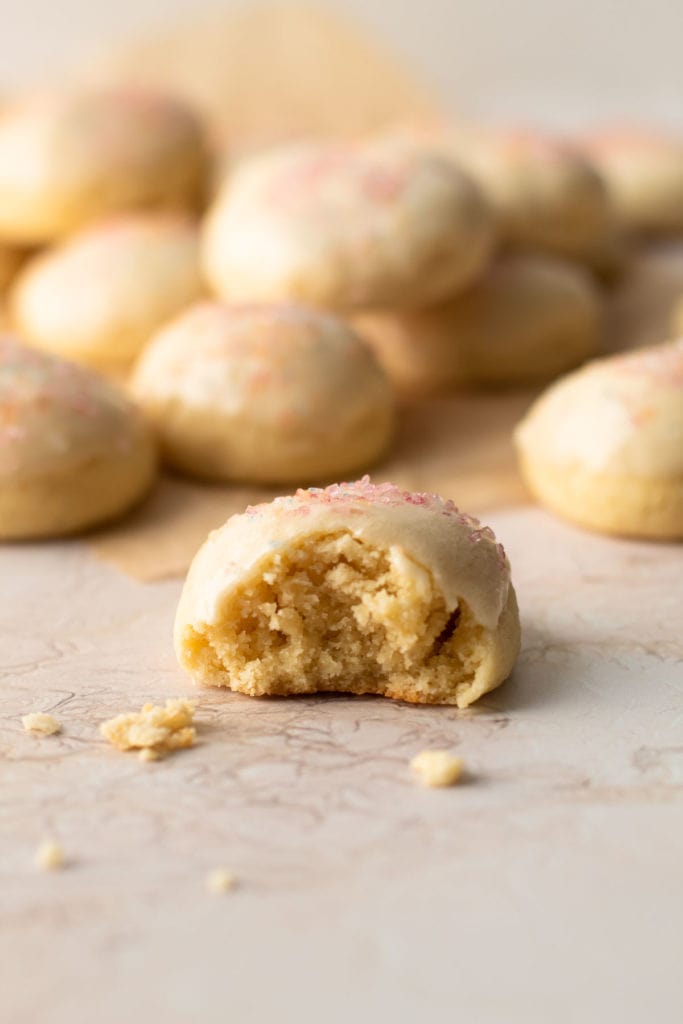 Making These Cookies Gluten-Free
What I really set out for with this cookie was making it with an easy 1-1 swap of gluten-free flour. This cookie nearly can do this, but with two small minor adjustments.
They felt a bit dry when I swapped out the flour for a 1-1 gluten-free flour blend (I use Bob's Red Mill or King Arthur Flour), so I felt like it needed about 2 tablespoons of milk added. Because the addition of milk made the cookies spread more, I recommend chilling the dough for about 30 minutes, until cold.
It stops them from spreading out, but for sure, the gluten-free version is flatter than the traditional version. However, the taste more than makes up for it. Once they are decorated, you can hardly tell.
More Holiday Dessert Recipes:
Print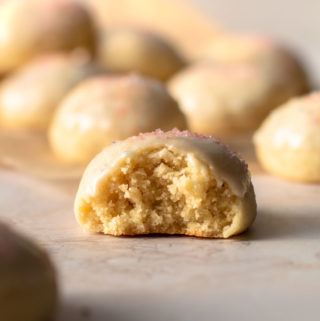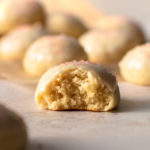 Easy Anise Cookies (with GF option)
Author:

Kelli Avila

Prep Time:

00:10

Cook Time:

00:12

Total Time:

22 minutes

Yield:

13 cookies

Category:

Dessert

Method:

Bake

Cuisine:

Italian
---
Description
Dense and moist, these Italian Anise Cookies are made with a combination of wheat flour (or gluten-free flour) and almond flour for a unique twist on the classic cookie. Top them with a simple butter and powdered sugar glaze, then add your favorite decorative sugar or sprinkles for a beautiful and delicious cookie.
---
¾ cup

(

150 grams

) granulated sugar

1

large egg

⅓ cup

(

70 grams

) light olive oil

1

–

1/2

teaspoon anise extract

1/2 teaspoon

vanilla extract

¼ teaspoon

kosher salt

1

–

½

cups (

180 grams

) all purpose flour (see notes for gluten-free)

¾ cup

(

75 grams

) almond flour

1

–

½

teaspoons baking powder

1 cup

(

115 grams

) powdered sugar

1 tablespoons

unsalted butter, very softened

2

–

3

tablespoons whole milk
Sugar or sprinkles for decorating (optional)
---
Instructions
Preheat the oven to 350ºF and line a baking sheet with parchment paper.
Whisk together granulated sugar, egg, olive oil, anise extract, vanilla extract, and salt in a large bowl until well combined, and the mixture has lightened in color.
Add in all-purpose flour, almond flour, and baking powder and mix together with a sturdy spoon until the dough is combined.
Roll dough into balls (about 2 tablespoons in size) and place on a baking sheet about 1-½ inches apart.
Bake on the center rack for 12-14 minutes, until the cookies have just started to puff and slightly crack.
Let cool on the baking sheet for 10 minutes before removing to a cooling rack.
Add powdered sugar, softened butter and 2 tablespoons of milk to a bowl and whisk together until very creamy and smooth, about the consistency of thick heavy cream. If the glaze is too thick, add in another tablespoon of milk.
Once cookies are cooled, dip the tops into the glaze and let the excess drop off. Top with decorative sugar or sprinkles. Let the glaze set before transferring to an air-tight container until ready to serve.
---
Notes
This dough is stiff. You'll need a little bit of arm muscle to get it to come together, or alternatively you could use a stand mixer to do the work for you. Just be careful not to overmix the dough.
For gluten-free, use a 1-1 gluten-free flour blend (I recommend Bob's Red Mill 1-1 Gluten-Free Baking Flour or King Arthur Flour Measure for Measure Gluten-free Flour) and add 2 tablespoons milk to the wet ingredients. The cookie dough should chill in the freezer for 15 minutes, or 30 minutes in the refrigerator, before scooping for baking. The cookies will be slightly flatter than traditional cookies.
Do not let the cookies sit uncovered for more than 6 hours or so. They are prone to hardening when left at room temperature outside of an air-tight container.
Cookies will keep in an air-tight container for up to 1 week. Undecorated cookies can be frozen fully baked for 1 month. I do not recommend freezing the cookie batter.
Some of the links on this page may be affiliate links. Everyday Pie is a participant in the Amazon Associates Program. As an Amazon Associate I earn from qualifying purchases, at no extra cost to you.