These Pumpkin Pie Bars will be one of the easiest dishes to put together for your Thanksgiving feast. It features a creamy, rich, pumpkin pie filling, and a fun pumpkin seed shortbread crust; all the flavors of a classic Thanksgiving dessert.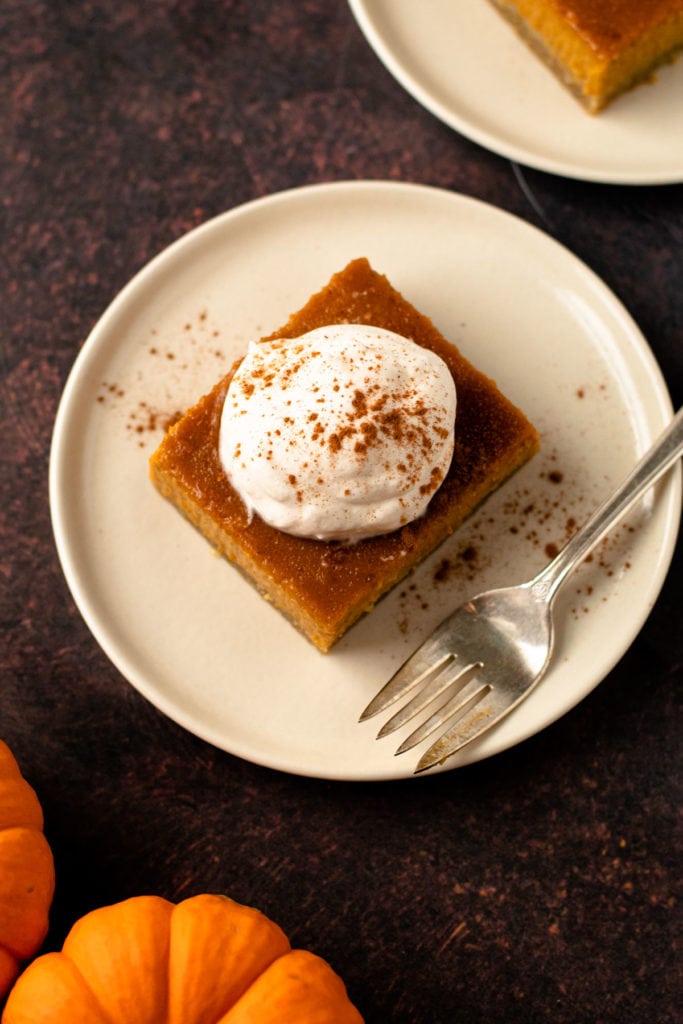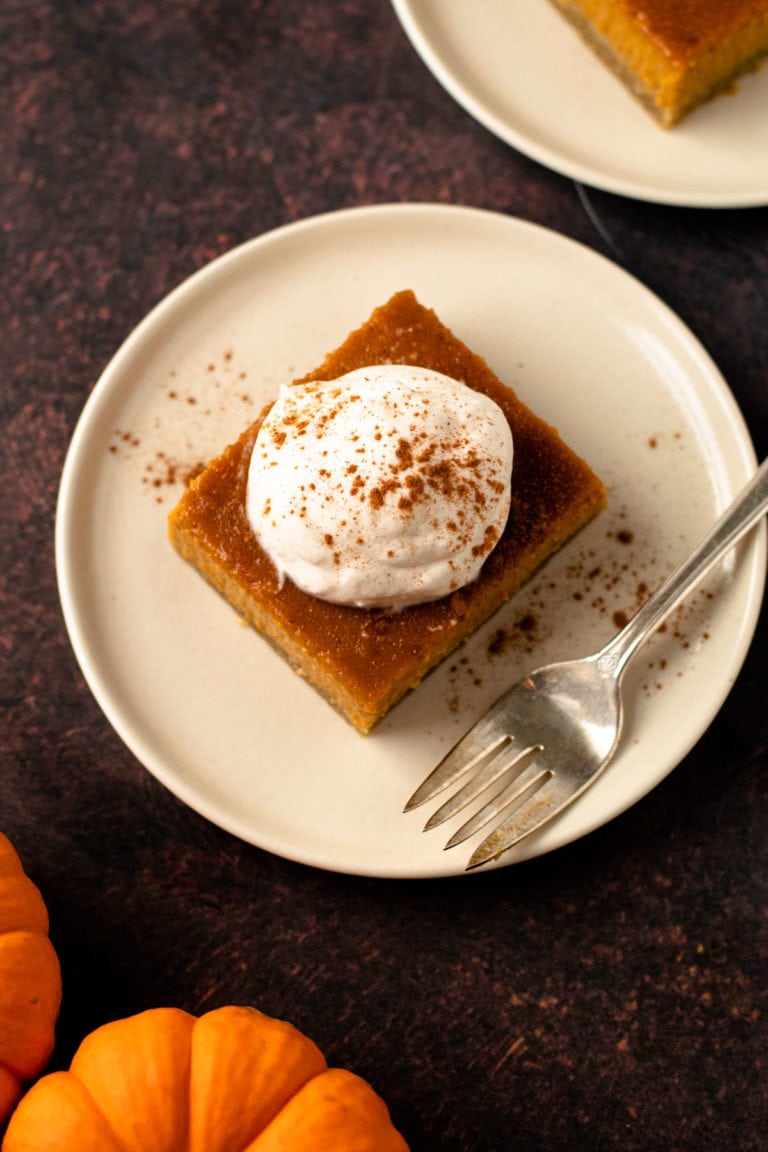 Shortbread Pumpkin Pie Bars
Give me all the Pumpin Pie in the fall, from September to January...or, maybe even longer! It's sweet and rich and definitely one of my favorite pies flavors. These Pumpkin Pie Bars pay homage to that classic, while also making it a bit easier to put together by turning them into a dessert bar instead.
If you are a bit nervous about making a pie (but hey, if that's you, keep reading on this site....lots of simple pie recipes to get you started!), or simply don't want to go through all the steps of making one, this is the perfect recipe.
Bake up these easy dessert bars and top it with some simple whipped cream or maple whipped cream and serve!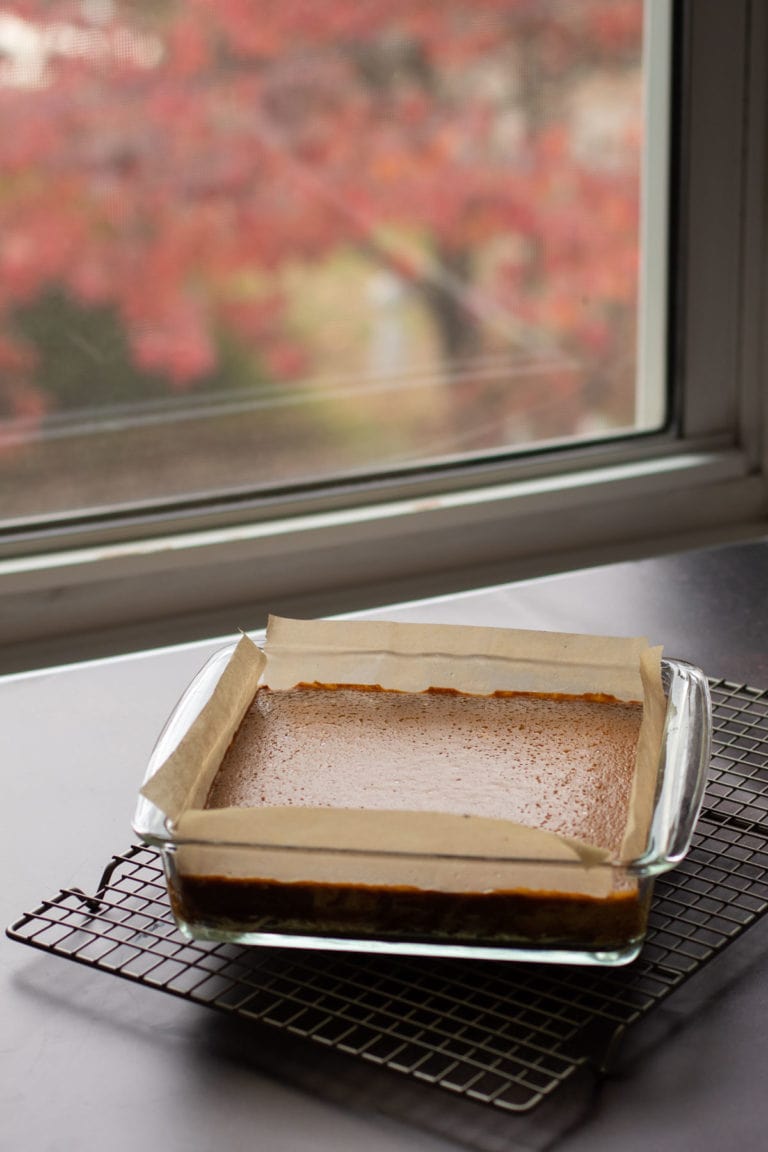 Ingredients Needed for Pumpkin Pie
Here is an overview of the ingredients needed for this recipe. The full recipe is listed below in greater detail.
pumpkin puree
pumpkin seeds
all-purpose flour
unsalted butter
large eggs
sugar: brown sugar + granulated sugar + powdered sugar
spices: cinnamon + nutmeg + cloves
salt (always salt in baked goods for balance)
sour cream + milk
Tools Needed
Here is a list of some of the primary tools I use in this recipe. You won't necessarily choose to use them all, but they are exactly what I used. Any links may contain affiliate links.
8" baking dish
parchment paper
essentials: bowls, whisks, spatula
How to Make the Pumpkin Seed Shortbread Crust
The shortbread crust on these Pumpkin Pie Bars has a subtle yet earthy flavor, thanks to the inclusion of pumpkin seeds. The pumpkin seeds make this recipe unique, as it allows a little bit more of that pumpkin flavor to shine through. In addition to pumpkin seeds, this crust uses sour cream to bind it together, lending a slight tang to it that is very complimentary to the pumpkin filling.
Making the shortbread is pretty simple, as it's all done in the food processor. Here is an overview of the steps:
Process the pumpkin seeds along with the other dry ingredients until they are a fine powder.
Add in the butter and pulse until it's broken up into small pieces.
Add in the sour cream and pulse together until the dough forms a cohesive ball.
Next, you just need to pat the shortbread into a prepared baking dish. I recommend lining your dish with a parchment paper sling, so you can easily remove the bars from the dish after it's baked. That will help for nice and neat slicing!
It needs to blind bake first, since pumpkin pie filling is baked at a relatively low temperature. This ensures the shortbread is properly cooked.
Please note that when you bake the shortbread for the specified amount of time in the recipe, it might feel like it hasn't fully cooked yet. That is just because the shortbread needs time to briefly cool. As it cools, it stiffens up and becomes more set.
Tips for Baking the Pumpkin Filling
Pumpkin pie filling is so easy to put together; simply whisk together in a bowl, and then let your oven do its job!
However, it can be a little tricky to know exactly when a custard filling is done. The goal is to cook it until it's just about set and avoid overcooking it, which will cause unsightly cracks on the top of that beautiful filling.
You'll know the filling is done by looking at the outer edges and seeing if it has begun to "soufflé", or puff up. Look for the soufflé effect to appear about 2-2-½″ from the outer edge, and for the center of the filling to still be wobbly. The center should be softly set, but it shouldn't be completely liquid in the middle. Once it has reached that point, you want to take the pie bars out of the oven, and place it (on a cooling rack, if possible) at room temperature to cool.
If all the filling is fully set or puffed up, then it has unfortunately been overcooked. However, don't despair if this happens, it's still going to taste good, I promise.
Once it's fully cool at room temperature, move it to the refrigerator to cool for at least 6 hours. During this period it will fully set up.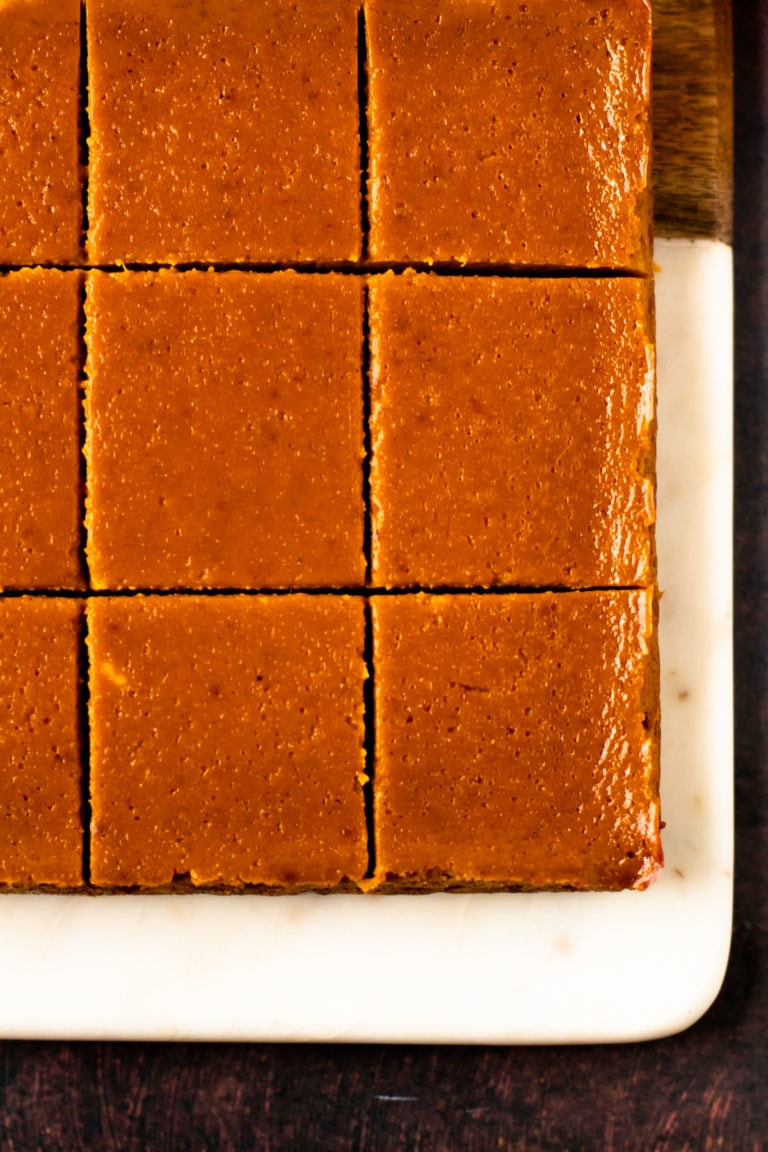 How to Serve Pumpkin Pie Bars
Once the bars are chilled, carefully lift them out of the baking dish using the parchment paper sling. Cut them into squares and serve with a simple whipped cream or maple whipped cream and a sprinkle of cinnamon.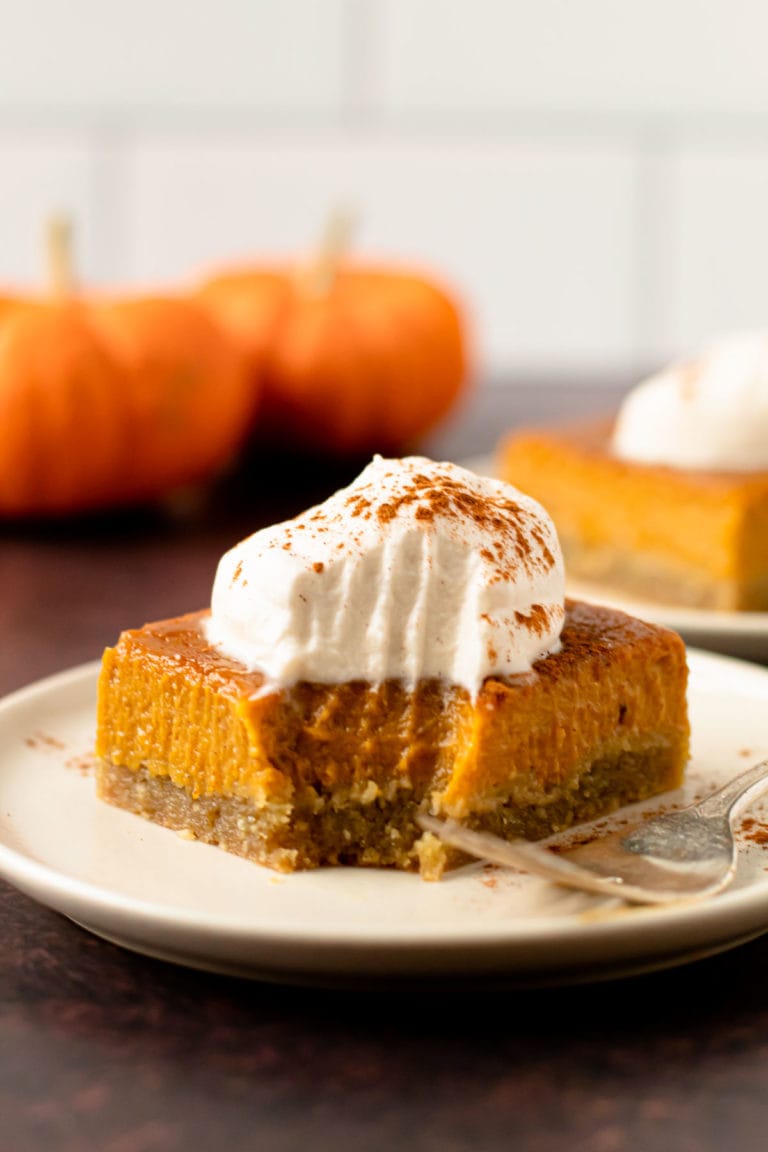 More Pumpkin Recipes:
Print
Full Recipe
Pumpkin Pie Bars
These Pumpkin Pie Bars will be one of the easiest dishes to put together for your Thanksgiving feast. It features a creamy, rich, pumpkin pie filling, and a fun pumpkin seed shortbread crust; all the flavors of a classic Thanksgiving dessert.
Author: Kelli Avila
Prep Time:

00:10

Cook Time:

00:40

Total Time:

50 minutes

Yield:

9

Category:

Dessert

Method:

Bake
For Pumpkin Seed Shortbread:
1 cup

(

120 grams

) all-purpose flour

⅓ cup

(

55 grams

) raw pumpkin seeds

½ cup

(

60 grams

) powdered sugar

¾ teaspoons

ground cinnamon
Pinch salt

½ cup

(

112 grams

) cold butter, cubed

2 tablespoons

(

30 grams

) sour cream
For Pumpkin Pie Bar Filling:
3

large eggs

½ cup

packed (

100 grams

) light brown sugar

¼ cup

(

50 grams

) granulated sugar

1 teaspoon

ground cinnamon

¼ teaspoon

nutmeg, freshly grated
Pinch cloves

1

(15 ounce) can 100% pumpkin puree

½ cup

(

115 grams

) sour cream

½ cup

(

115 grams

) milk

1 teaspoon

vanilla extract
Maple Whipped Cream, for serving
Instructions
Preheat oven to 350ºF and butter an 8x8" square baking dish. Cut out a strip of parchment to fit inside the dish with edges hanging over the edge. Stick inside the baking dish and set aside.
Add the flour, pumpkin seeds, powdered sugar, cinnamon and salt to the bowl of a food processor.
Process for 1 minute until the seeds are a fine powder.
Add in the butter and pulse 5 times.
With the motor running add in the sour cream and process until the dough forms together into a cohesive ball around the blade.
Scrape the dough from the bowl and place it in the prepared baking dish. Press down the dough to an even thickness.
Bake the shortbread in the oven for 15 minutes. Remove and let cool to set.
Meanwhile, make the pumpkin filling: Whisk together eggs, brown sugar, granulated sugar, cinnamon, nutmeg and cloves until fully combined. Then, whisk in pumpkin, sour cream, milk and vanilla extract until combined.
Gently pour the pumpkin filling on to the shortbread and smooth over the top.
Bake for 40-50 minutes, until the filling is mostly set, but still slightly wobbly in the middle.
Let cool completely before slicing and serving.
Serve with Maple Whipped Cream and a sprinkle of cinnamon.
Keywords: Pumpkin Pie Bars
Some of the links on this page may be affiliate links. Everyday Pie is a participant in the Amazon Associates Program. As an Amazon Associate I earn from qualifying purchases, at no extra cost to you.