A tart and sweet cranberry pear filling is tucked inside of flaky pastry, topped with a lattice and baked in a muffin tin to create the cutest mini pies. These Cranberry Pear Pie Minis are both festive and functional to serve during the holiday season!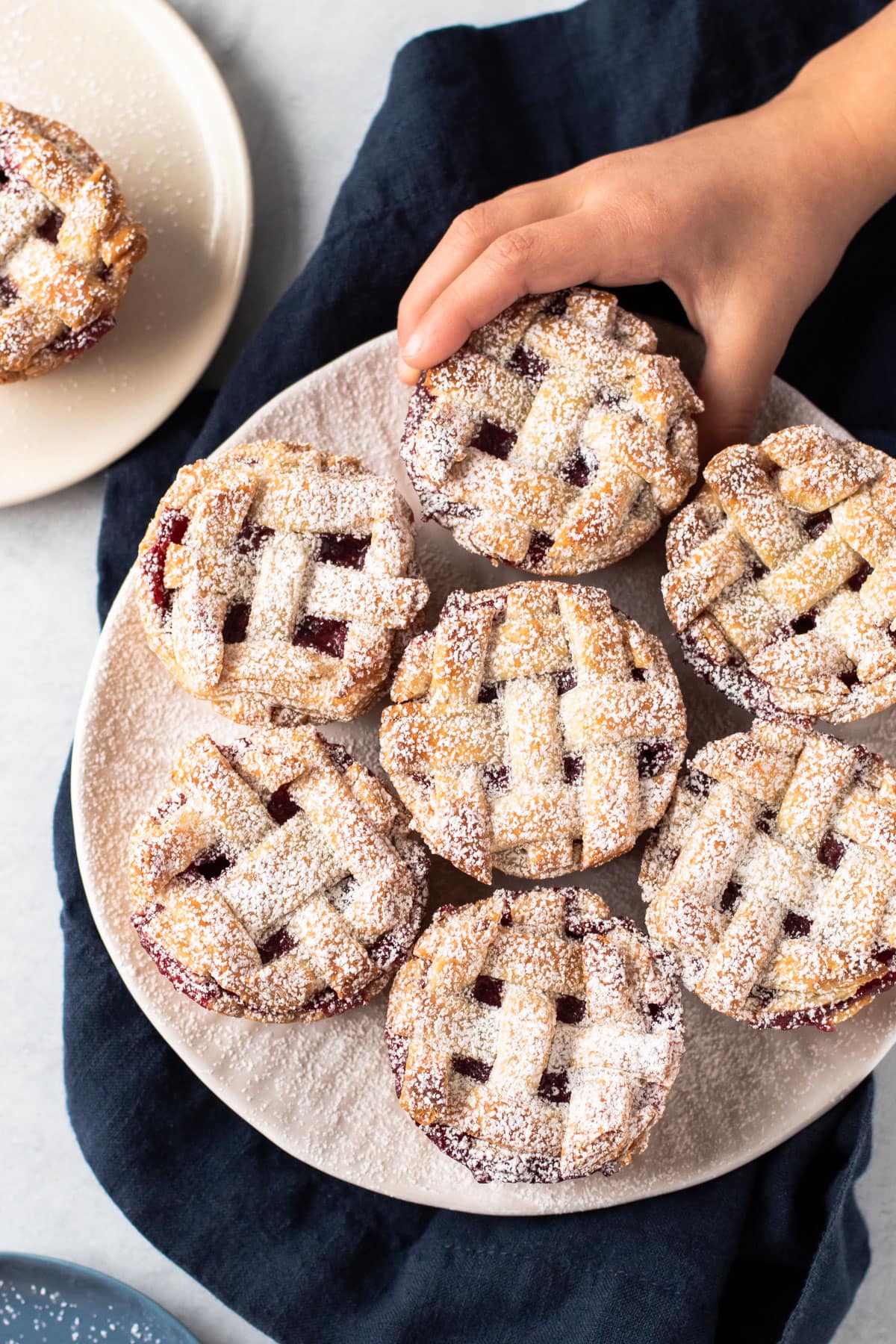 The combination of cranberry and pear together in the late fall is divine. Juicy sweet pear paired with tart bright cranberry is the perfect holiday flavor, especially when packed into a cute, little, pastry package.
Mini pies require a little more work up front, in terms of shaping each individual pie, but that extra work certainly pays off later when it comes time to serve the pie; there is no need for slicing! Plus they're simply adorable.
The ratio of crust to filling on these Mini Cranberry Pear Pies are just about equal, making this a pie everybody can get behind. Single-serving pies for everyone!
Let's get to baking them, shall we?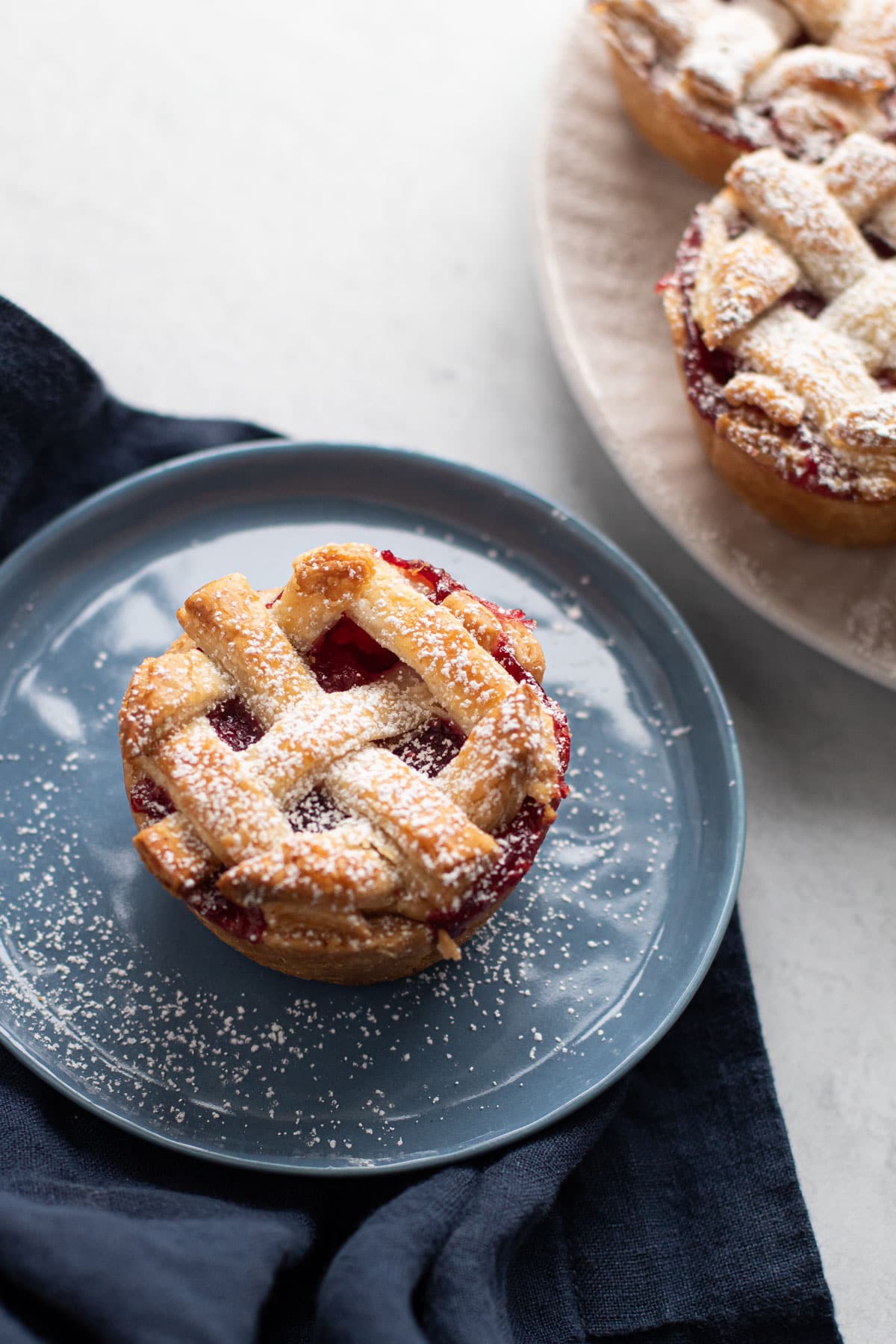 Ingredients Needed
Here is an overview of the ingredients needed for this recipe. The full recipe is listed below in greater detail.
semi-ripe pears (buy either D'Anjou, Bartlett or Comice)
granulated sugar
freshly squeezed orange juice
spices: ground ginger + cinnamon
vanilla extract
cornstarch
Tools Needed for Mini Pies
Here is a list of some of the major tools I used in this recipe. You won't necessarily choose to use them all, but they are exactly what I used here. The links may contain affiliate links.
How to Make Mini Pies
There is some finesse of technique needed to make mini pies, but it's mostly up to you how elaborate you would like to get with your design.
At it's very basic, this mini pie recipe involves stamping or cutting out circles of dough and placing them into a muffin tin. The filling is first cooked on the stovetop. However, it must be fully cooled before being placed in the dough.
The filling is then placed in the tin, nearly to the top, and lastly, topped with either another circle of dough or a lattice.
After the pie has been filled, it should be chilled in the freezer for 15 minutes before heading into the oven.
I recommend using a nonstick muffin tin for baking the pies, as it helps in the release of the pie. The mini pies should be removed from the pan about 15 minutes after they are baked. They should be chilled just enough so that they aren't molten lava hot, but not so chilled that any spilled pie filling is set, which can cause the pie to stick to the tin.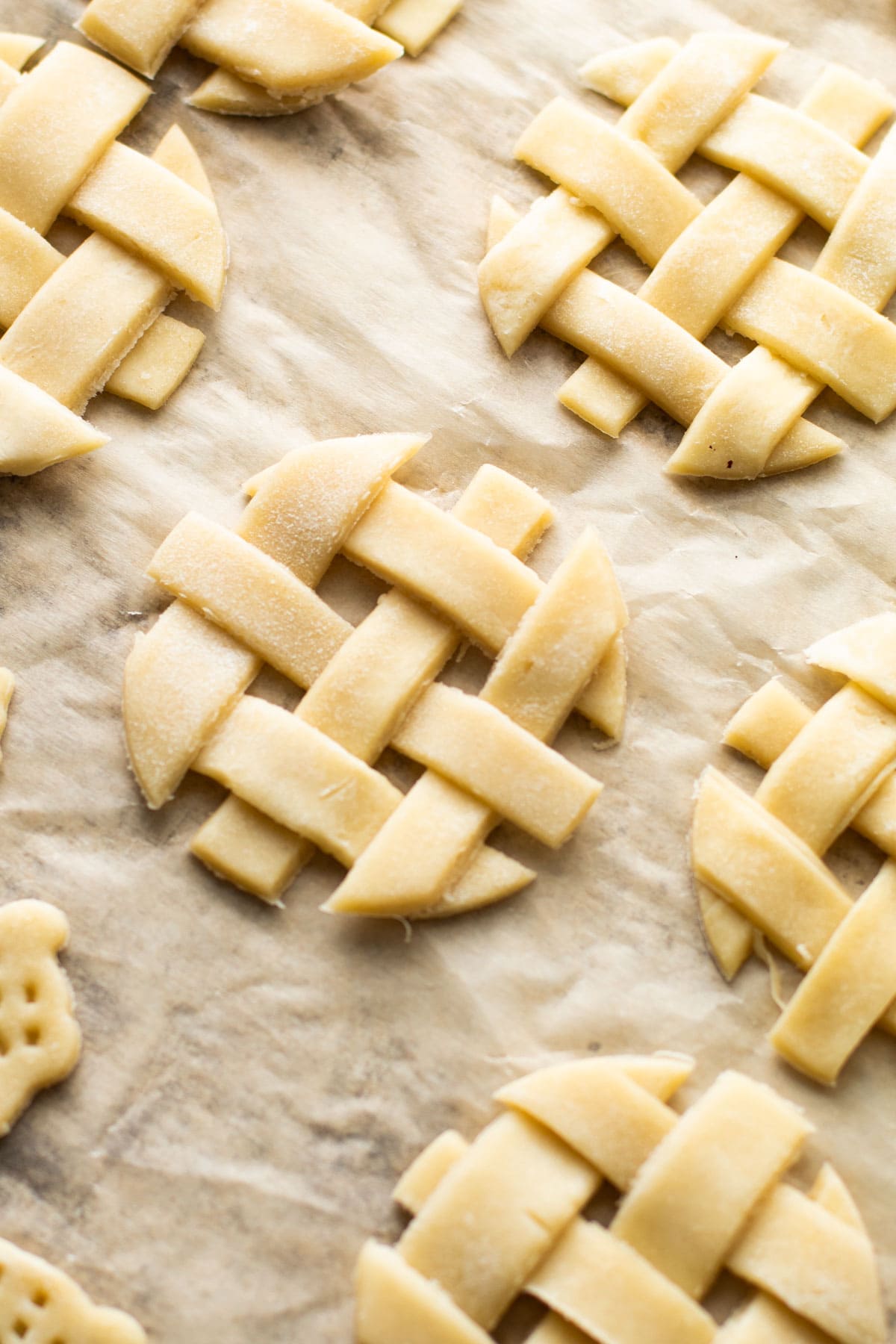 Tips for Making a Decorated Mini Pie Lattice
Because these pies are mini, it can make working with any lattice a bit tricky. Here are some tips that are helpful:
Make sure everything is cold. Roll out and cut the lattice pieces first and then let it chill for 20 minutes before you go to form them.
Weave the lattices on a sheet tray first. This was much easier to do than weaving them directly on top of the mini pie. After the lattice is made, use a circle cutter to cut them into the exact size of the top of your mini pie. See the list of tools I used above.
Chill the lattices again, before transferring them to the top of the pie. At this point, you may be noticing a pattern of "chilling" the pie dough. While this may seem annoying and finicky, it's just the reality of what it takes to make a neat looking pie. All of these steps are completely optional, but it's a trick that does work if you find it difficult to work with the pie dough. When it doubt, chill it out!
Bake the decorative cutouts separately. Again, another extra step here, but baking the decorative cut out pieces separate ensures they cook properly and maintain their shape. Bake them in the oven on a different rack with the mini pies for about 10 minutes, or until golden brown. When ready to serve, place the decorative piece on the mini pie. You can also bake them directly on the pie if you choose.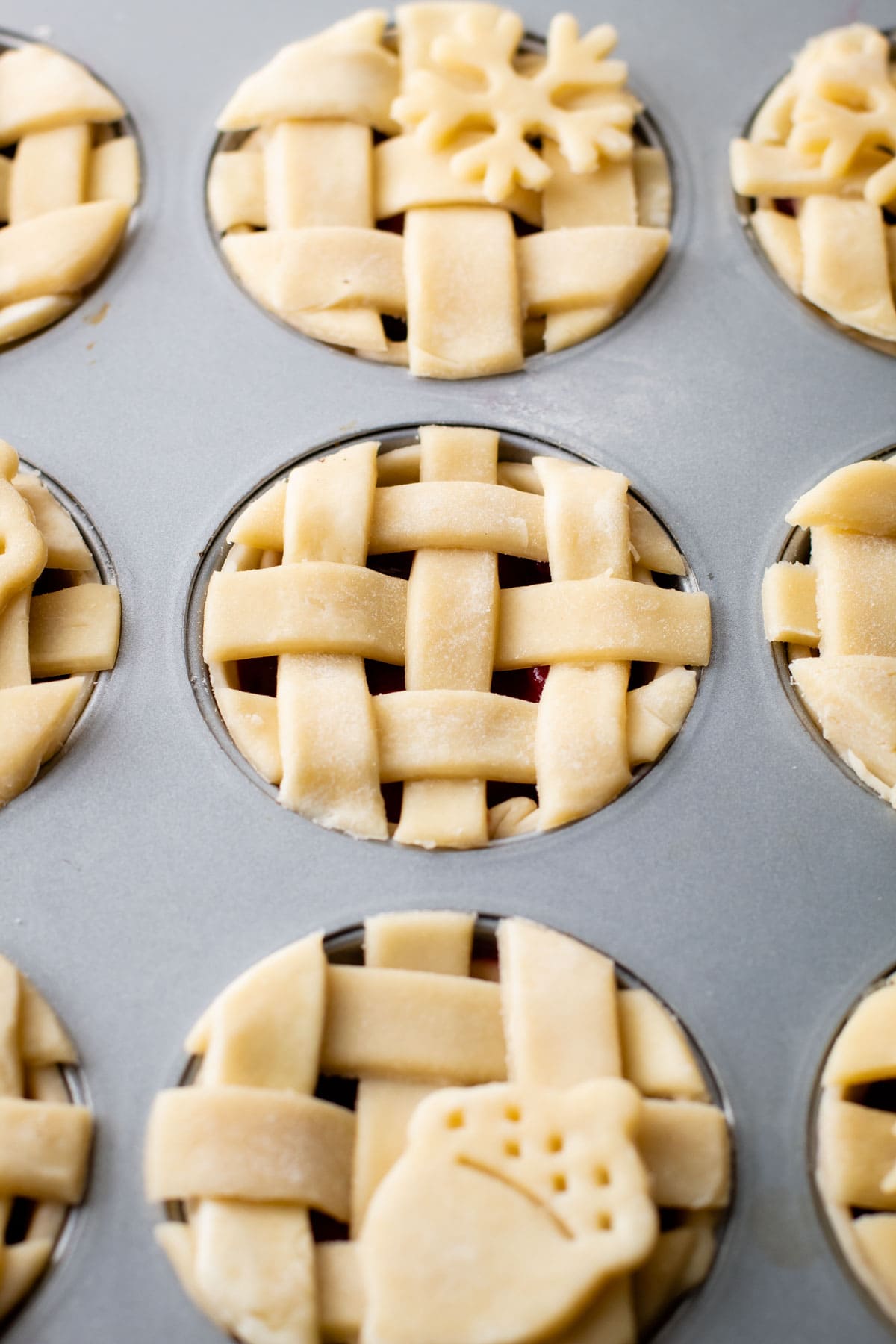 Baking and Freezing Options
As with all fruit pies–whether mini or not–they can be baked the day they are made, or frozen to be baked another day (or baked AND frozen to be served another day). Fruit pies are very versatile and are a great make-ahead option when you're pressed for time during the holiday hustle.
To bake them immediately, follow the directions in the recipe below.
To freeze them for another day, wrap the entire tray in plastic wrap twice. Just make sure not to egg wash them yet. Place on a flat surface and freeze for up to 3 months. When ready to bake, remove from the freezer and let it sit at room temperature until the dough is tacky. Then bake as directed, likely for an additional 15 minutes. You'll still look for the pie dough to be golden brown and the filling to be bubbling.
To freeze after baking, let the mini pies fully cool outside of the muffin tray. Then, place in an airtight storage container and freeze for up to 1 month. Defrost overnight and, if desired, warm up the pie in a 300ºF until warmed through.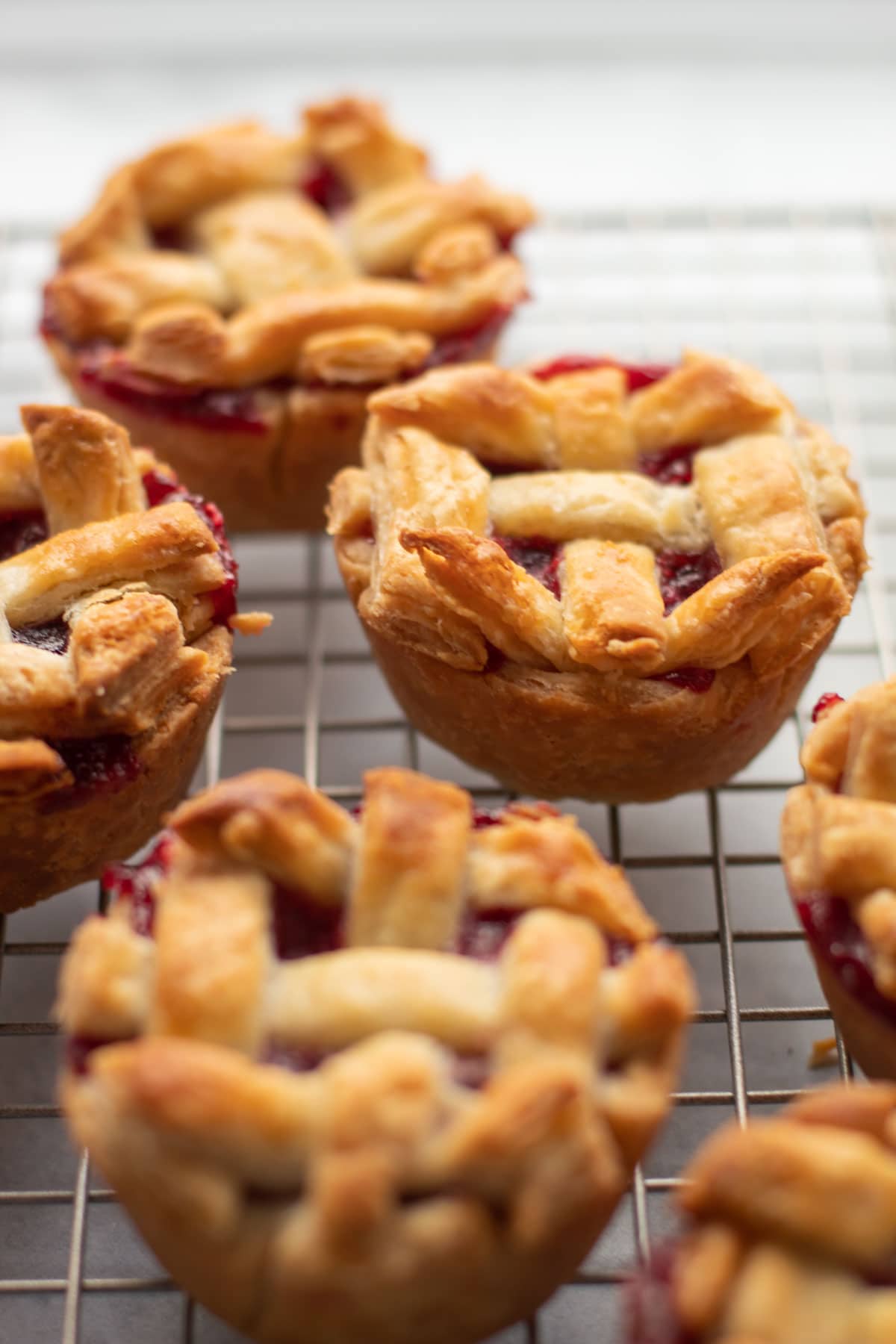 Make Ahead Steps
As with most pies, there are a few steps you need to make these minis. A lot of these components can be broken down into steps and done ahead of time. I encourage you to make the pastry and roll it out beforehand. The more time you give the gluten to chill out, the better your pie will be.
Make ahead options:
Make the pie dough ahead of time. This recipe makes 2 pie crusts, which is exactly what you will need. You can make it up to 2 days ahead, stored in the refrigerator, or even up to 3 months in the freezer.
Make the filling. It can be done up to 3 days ahead of baking. I find it's best to make the filling on the same day you make the pie crust.
Roll out the pastry. This can be done 1 day ahead of time. Roll out the pastry and cut out the circles and place in the muffin tin. Roll out the second piece of pastry and cut the lattice pieces and lay them flat on a baking sheet. Cover both well with plastic wrap to prevent them from drying out. Store in the refrigerator up to 1 day before assembling the mini pies.
Assemble the minis: the minis can be assembled and frozen before being ready to bake. See above for more information on how to do this.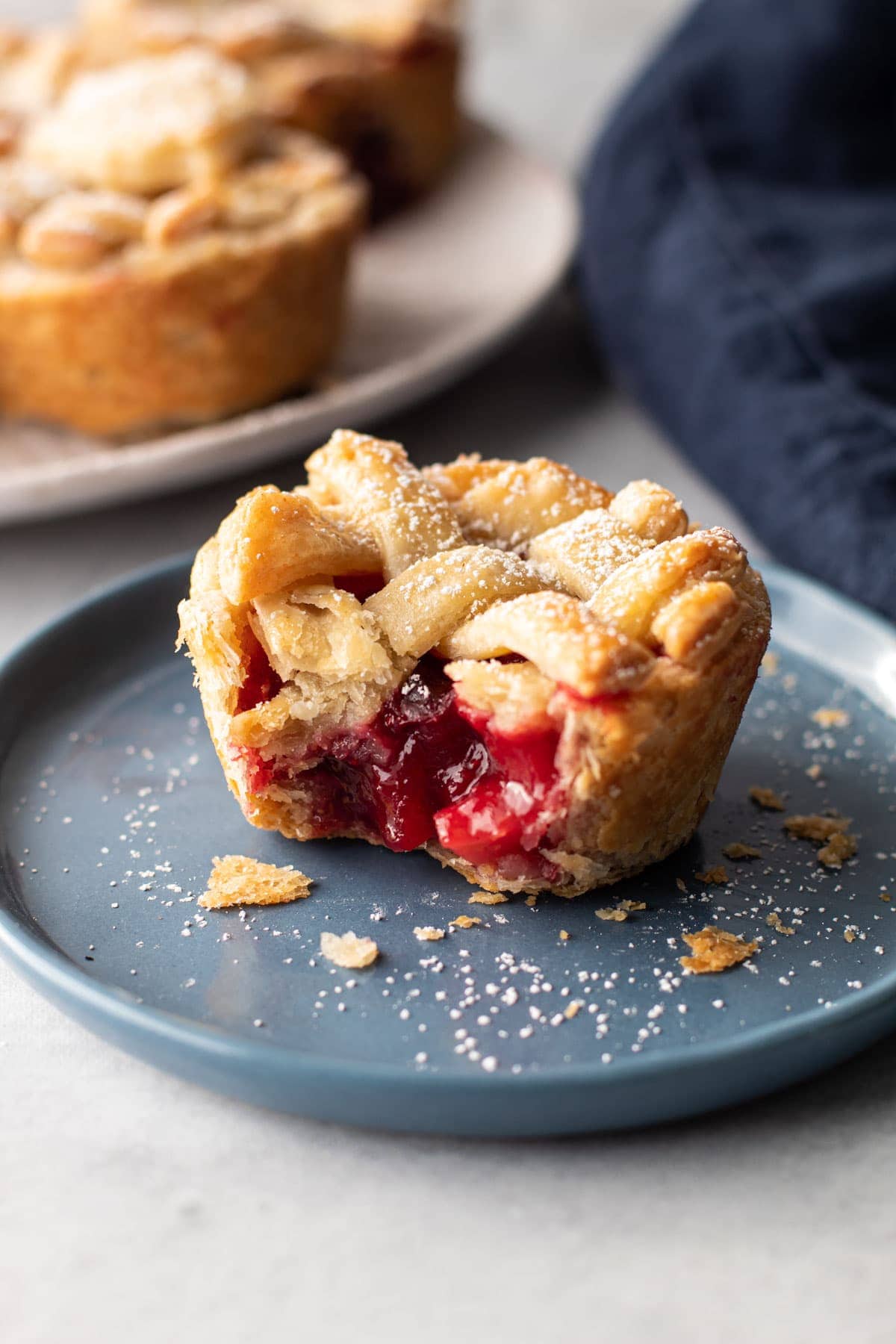 More Fruit Pie Recipes:
Make sure to comment below and tag @everydaypie on Instagram if you make this recipe or if you have any questions
Print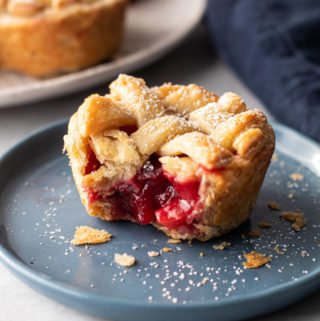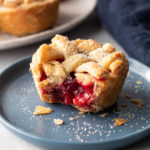 Cranberry Pear Pie Minis
Author:

Kelli Avila

Prep Time:

00:25

Cook Time:

00:30

Total Time:

55 minutes

Yield:

9 Mini Pies

Category:

Dessert

Method:

Bake

Cuisine:

Sweet
---
Description
A tart and sweet cranberry pear filling is tucked inside of flaky pastry, topped with a lattice and baked in a muffin tin to create the cutest mini pies. These Cranberry Pear Pie Minis are both festive and functional to serve during the holiday season! 
---
1 Batch Pie Crust (makes 2, you'll need both)

2 cups

(

230 grams

) cranberries, fresh or frozen

3

semi-ripe pears, peeled, stems and seeds removed and diced into ½" pieces (see note)

½ cup

(

100 grams

) granulated sugar

¼ cup

(

60 grams

) fresh-squeezed orange juice, plus 1 tablespoon, divided

½ teaspoon

ground ginger

½ teaspoon

cinnamon
Pinch of salt

1 teaspoon

vanilla extract

1 tablespoon

cornstarch 
Egg wash
Powdered sugar (for dusting)
---
Instructions
Prepare the pastry, let rest overnight, if possible.
Make the filling: Add cranberries, pears, sugar, orange juice, ginger, cinnamon and a pinch of salt to a medium pot. Stir together. Cook over medium-low heat, stirring often, until the pears have softened and the cranberries have burst, about 10 minutes. In a small bowl, whisk together 2 teaspoons cornstarch and 1 tablespoon remaining orange juice. Stir it into the cranberry filling and cook until it has thickened. Stir in the vanilla extract. Shut off the heat and transfer the filling to a container to cool. For faster cooling, transfer to a shallow container.
Preheat oven to 425ºF and place an oven rack in the lower part of the oven. Set aside a muffin tin.
Roll out the pastry: Roll out one pie pastry to a thickness of ⅛". Cut or stamp out nine 4.25" circles, rerolling the pastry once, if needed.
Place the pastry inside of the muffin tins, taking care to press the pastry into the sides and the bottom.
Roll out the second pastry to a rectangle about ⅛" thick and slice strips to make a lattice, if desired. Use any leftover dough to stamp out decorative pieces. Form 9 lattices on a sheet tray, and cut them with an 3" circle cutter. If at any point the dough has warmed and it is difficult to work with, transfer to the refrigerator to chill for 15 minutes.
Place a scant ¼ cup of filling into the muffin tins. Do not overfill them. They should be just below the top of the dough. Transfer the lattice to the tops of the pie, and gently press together the pieces of pastry.
Freeze the assembled pies for 15 minutes.
Brush with an egg wash, if desired.
Bake on the lowest rack until the pie crust is golden and the filling is bubbling, about 25-30 minutes.
Let the pies cool for 15 minutes. While still warm, take a thin knife and run it around the edges of the pie to make sure it is loose enough. Then take the knife and gently lift the pie out from the tin. Transfer to a baking rack to finish cooling.
When ready to serve, dust with powdered sugar, if desired.
---
Notes
The best pies for this recipe are Bartlett, D'Anjou or Comice pears. Choose semi-ripe but still firm pears. If they are too ripe, they can disintegrate after the bake.
If you are making decorative cutouts for the pie, bake them separately on a parchment-lined baking sheet for about 10 minutes, or until light and golden. You can cook them directly on the pie, but they don't bake up as pretty.
Keywords: Cranberry Pear Pie
Some of the links on this page may be affiliate links. Everyday Pie is a participant in the Amazon Associates Program. As an Amazon Associate I earn from qualifying purchases, at no extra cost to you.