A must-make holiday dessert, this Eggnog Pie has a creamy, smooth festive filling, baked in a sweet gingerbread crust and garnished with the cutest gingerbread cookies. 'Tis the season!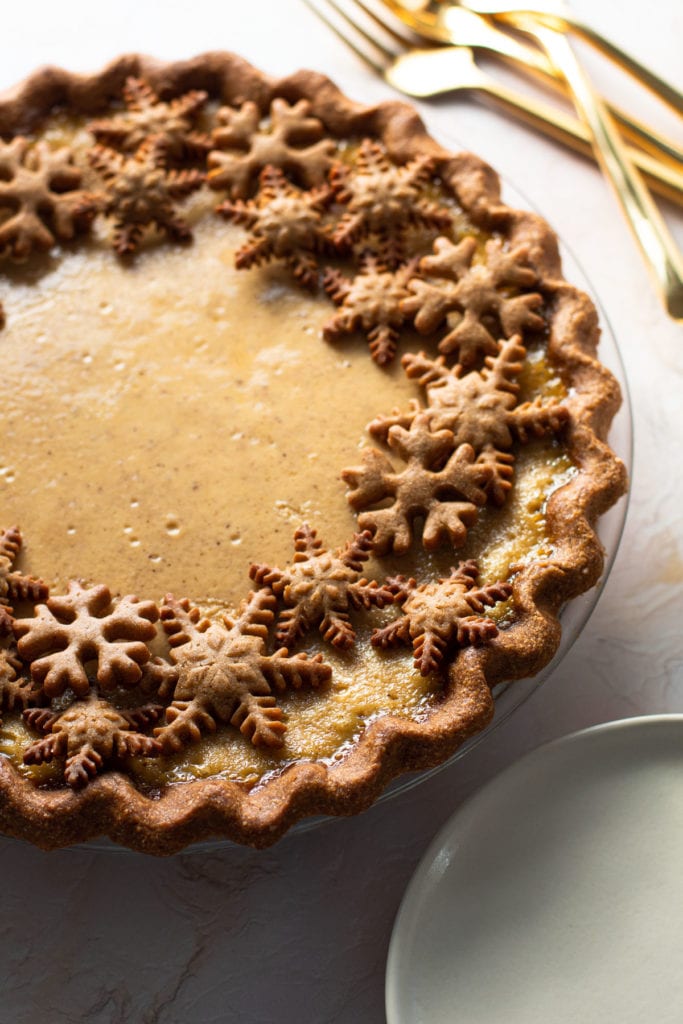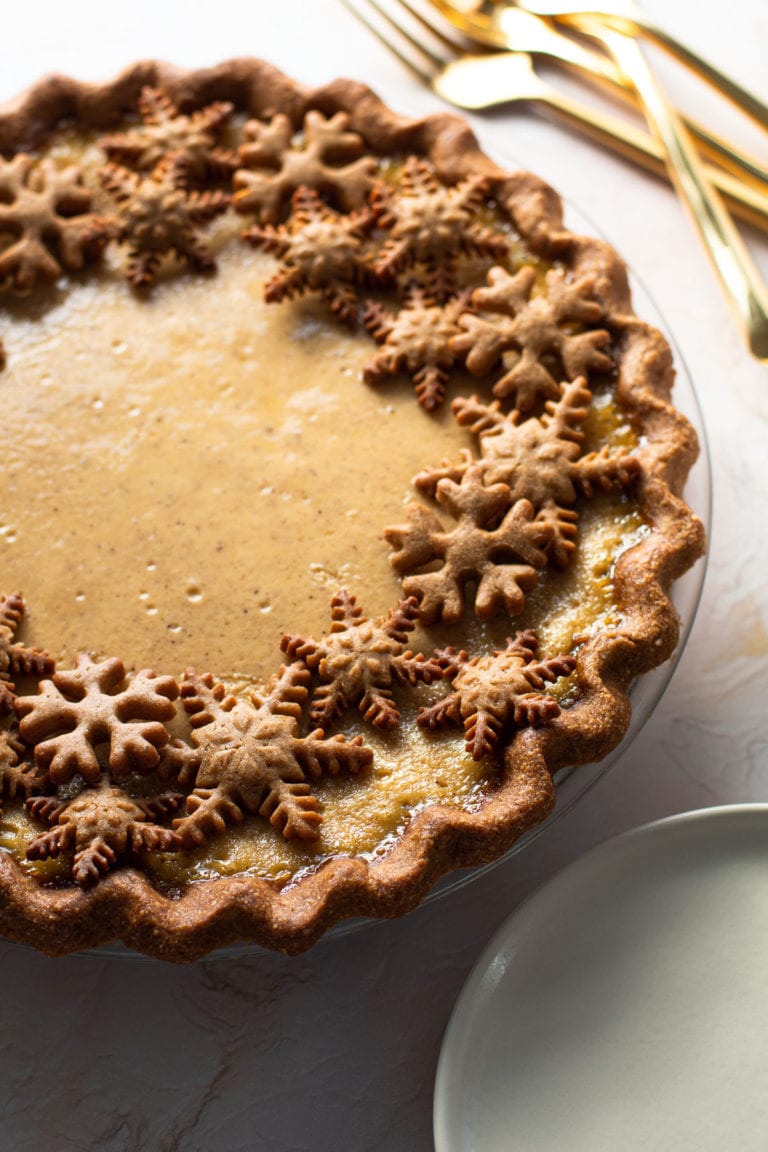 Eggnog Custard Pie
Is there anything more festive than an Eggnog Pie? How about an Eggnog Pie baked in a gingerbread crust? These two flavors together are so amazing, and the pie itself is pretty simple to bake.
This recipe calls for store-bought eggnog, which is then whisked together with a few classic custard pie elements. It's baked in a gingerbread flavored sweet shortcrust pastry, which is made in the food processor. This pie is easily broken down into steps, too.
So, let's get to making it, shall we? The text below offers tons of tips and helpful notes, or you can scroll to the bottom to grab the recipe and get started!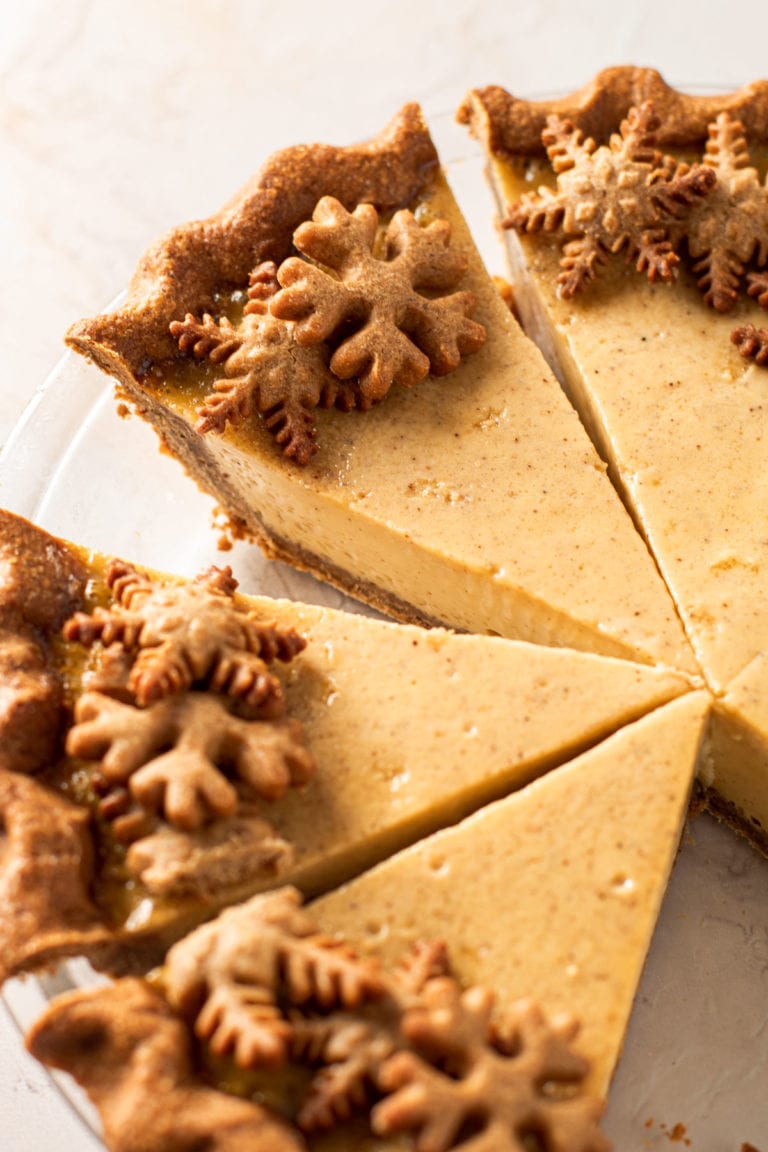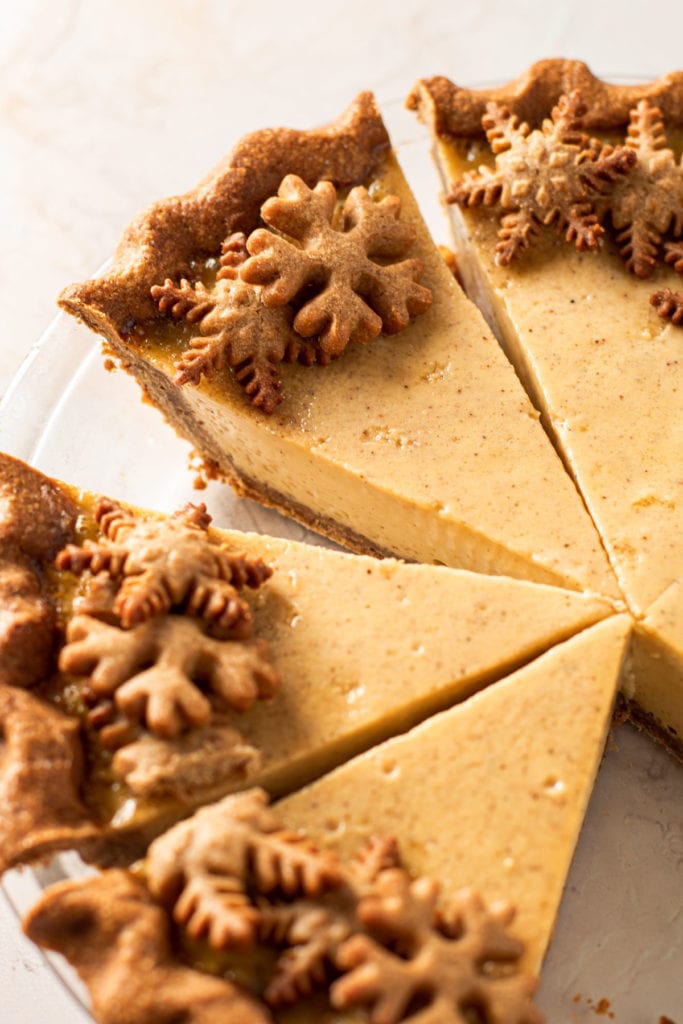 Ingredients Needed
Here is an overview of the ingredients needed for this recipe. The full recipe is listed below in greater detail.
store-bought eggnog (make sure to use an eggnog that you actually like the taste of...because that is going to be the primary flavor element to this pie!)
eggs
white sugar + brown sugar
all-purpose flour + whole wheat flour
butter
molasses
vanilla extract
spices: nutmeg + cinnamon + ginger + cloves
salt
bourbon (totally optional in either the custard itself or in the whipped cream...see serving options below for more detail on this)
TOOLS NEEDED
Here is a list of some of the primary tools I used in this recipe. You won't necessarily choose to use them all, but they are exactly what I used here. Any links may contain affiliate links.
food processor (to make the dough)
rolling pin (to roll out the dough)
pie crust shield (it's useful to cover the edges after the blind bake for this crust)
cookie cutters (if you want to make decorative cookies)
sheet pan (for baking decorative cookies)
baking basics: bowl, whisk, spatula, measuring cups
Making the Gingerbread Pie Crust
This spiced pie dough compliments the eggnog custard very nicely and has a great texture. It's similar to a Pâte Sucrée but with classic gingerbread elements added to it, like molasses, ginger, cloves, and cinnamon. In this recipe, the dough can double as decorative cut-out cookies that can be placed on top of the baked custard.
To make this dough, you'll certainly need a food processor. The butter is broken down into the dry ingredients, and then an egg and molasses are added. The dough is processed until it comes together in a ball around the blade. This might take a minute or two.
The dough can be rolled out right away if you are comfortable rolling out soft dough. I recommend rolling it out between two pieces of plastic wrap.
Or, you can chill it, and roll it out on a lightly floured surface.
Once it's rolled out and in the pie tin, it will need to be blind baked. Check out this Blind Baking Tutorial for more information about blind baking pie dough. Since this dough has sugar, it should be baked at a lower temperature. And, make sure to freeze it before blind baking.
Need a gluten-free crust? This pie should work well with this Basic Gluten Free Pie Crust too. Feel free to add in some spices of the same spice elements from this recipe.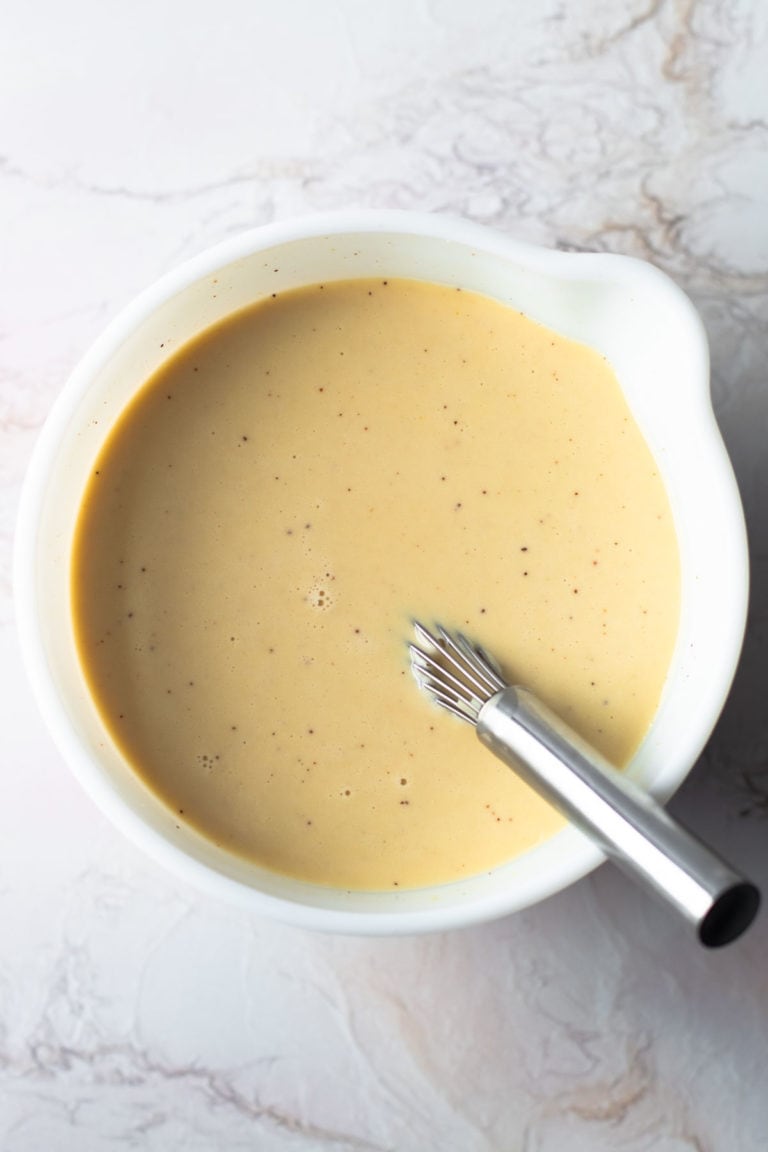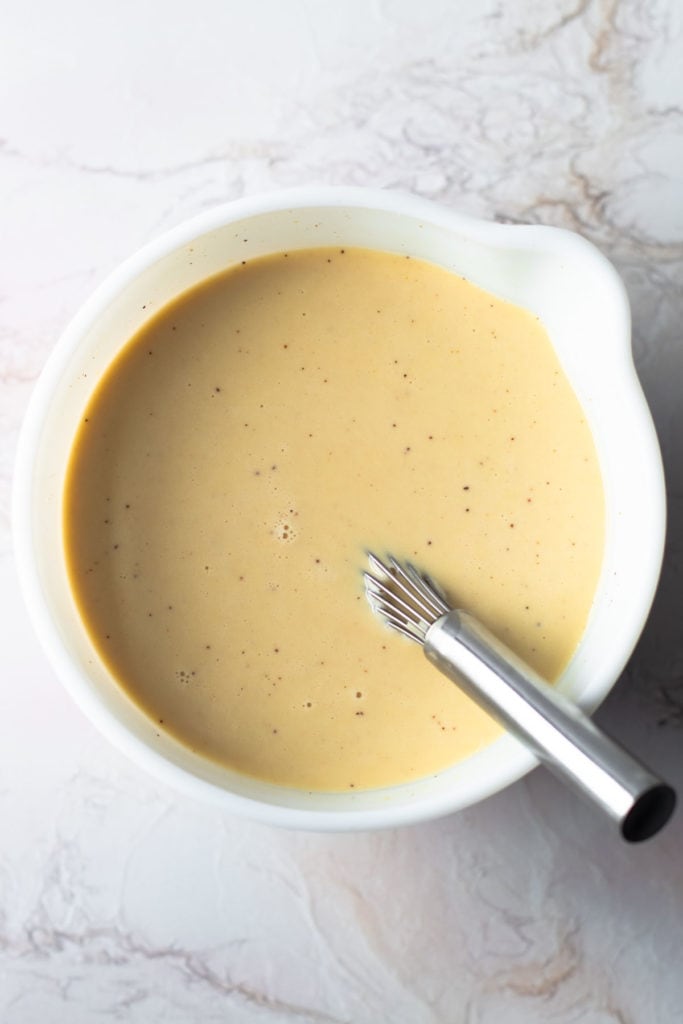 Tips for Making This Pie
This pie isn't difficult to make since it's essentially just whisking together the filling ingredients. However, here are a few tips to make sure you make the best eggnog custard pie possible!
Make sure to strain the custard. This is important for removing any bits of the egg that don't fully emulsify into the custard filling and for reducing the amount of air bubbles in your custard filling.
To increase your chances of getting a smooth custard, let the filling sit at room temperature for 15 minutes. The recipe below doesn't call for that, for lack of streamlining it, but this is a recommended step that can reduce the number of air bubbles in your finished custard.
Custards are baked at a low temperature, with this recipe calling for 325ºF. There is no way for the crust to bake at that temperature, so you absolutely need to fully blind bake your pastry beforehand. This recipe also calls for brushing on some whisked egg white on the pie crust. This creates a watertight barrier for this custard pie that helps the bottom crust stay crisp!
Don't overcook it: The custard should be set about 2" from the outside, but still wobbly in the middle
Let it cool before slicing: Custard pies finish setting and firming while they cool. Go hands-off and let the refrigerator work for you. If you try to cut it before it has completely chilled, you could end up with custard soup.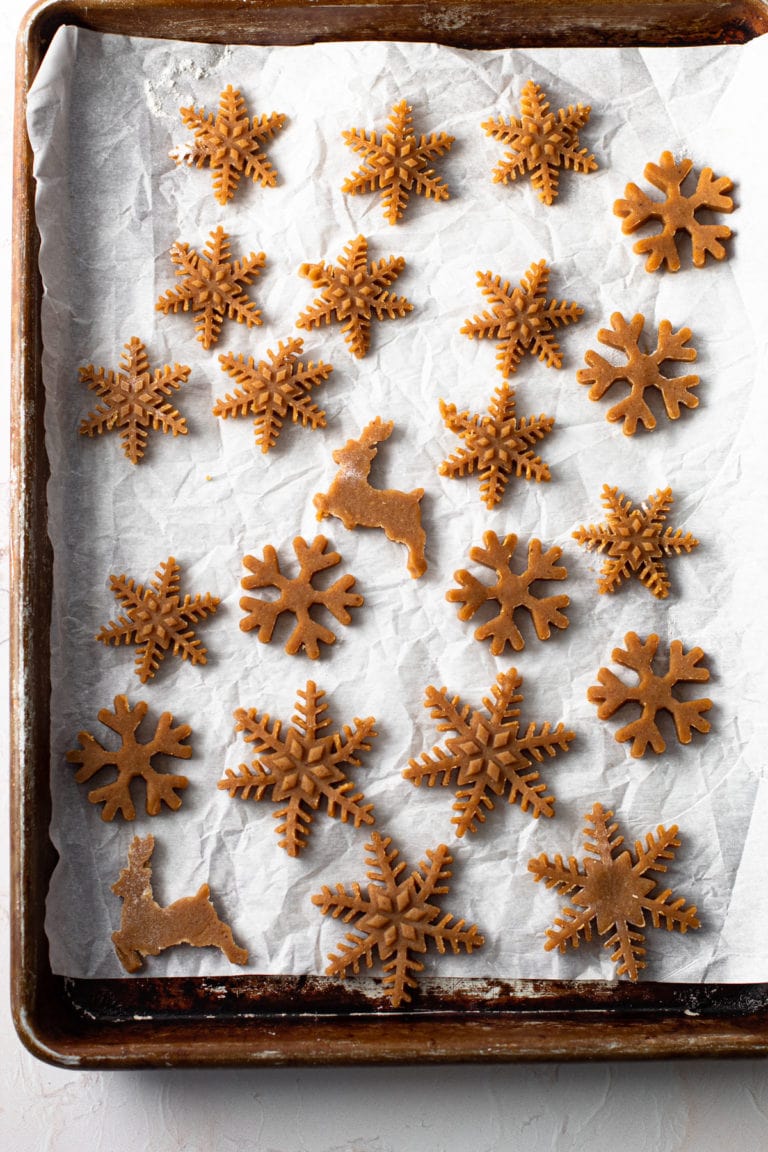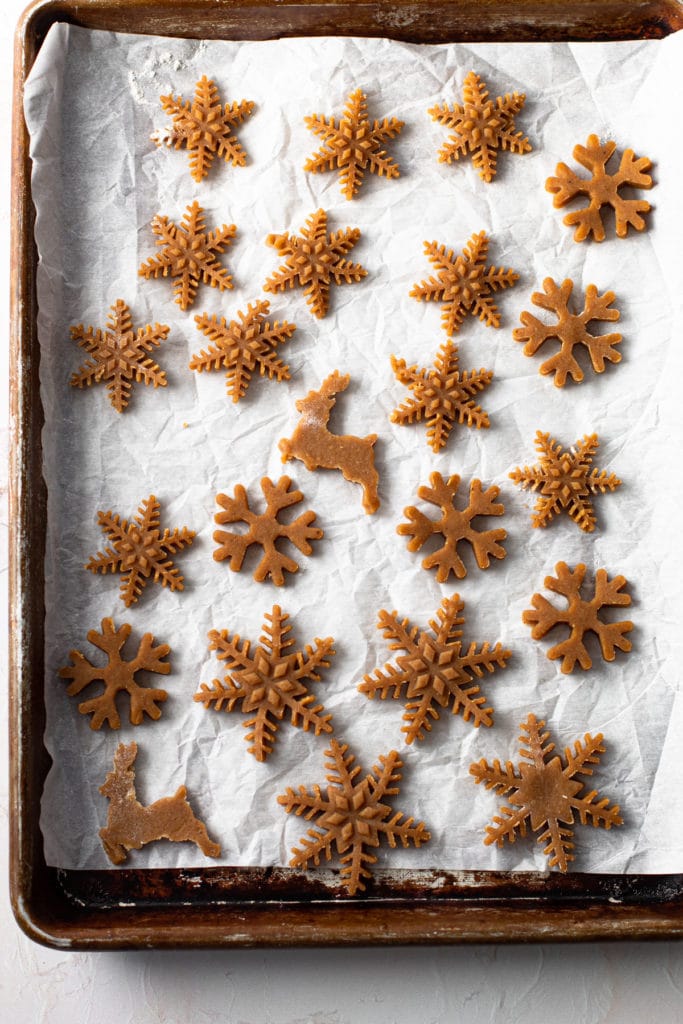 How to Make the Decorative Cookies
Depending on how many cookies you'd like to decorate your pie with, you may need to make a double batch of the pie crust.
As written, the pie crust makes enough for the pie and a little bit leftover for a few cookies. You can reserve about 2 ounces of the finished dough to use to make cookies.
To make this pie in the photo, I doubled the pie crust to make sure I had all the dough I wanted.
Roll out the dough and then stamp out your cookies. Chill them in the freezer for 15 minutes, and then bake in a 375ºF oven for 10-12 minutes, depending on the size of the cut-out cookie.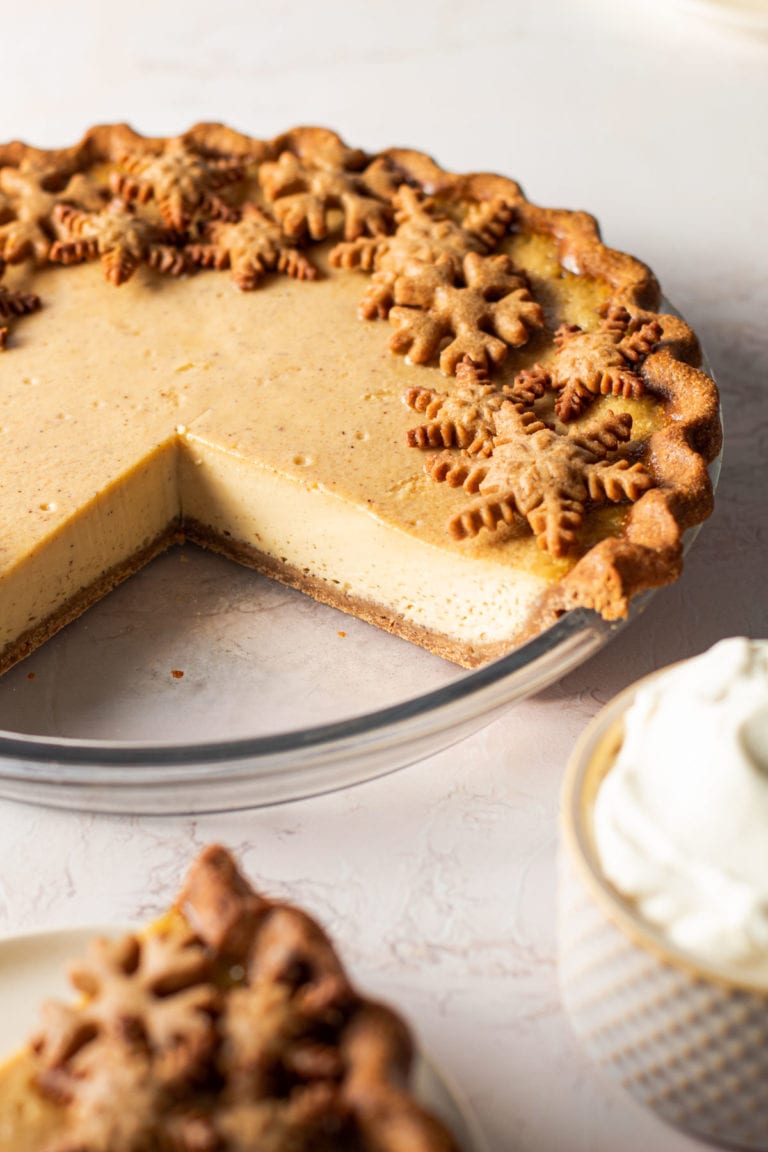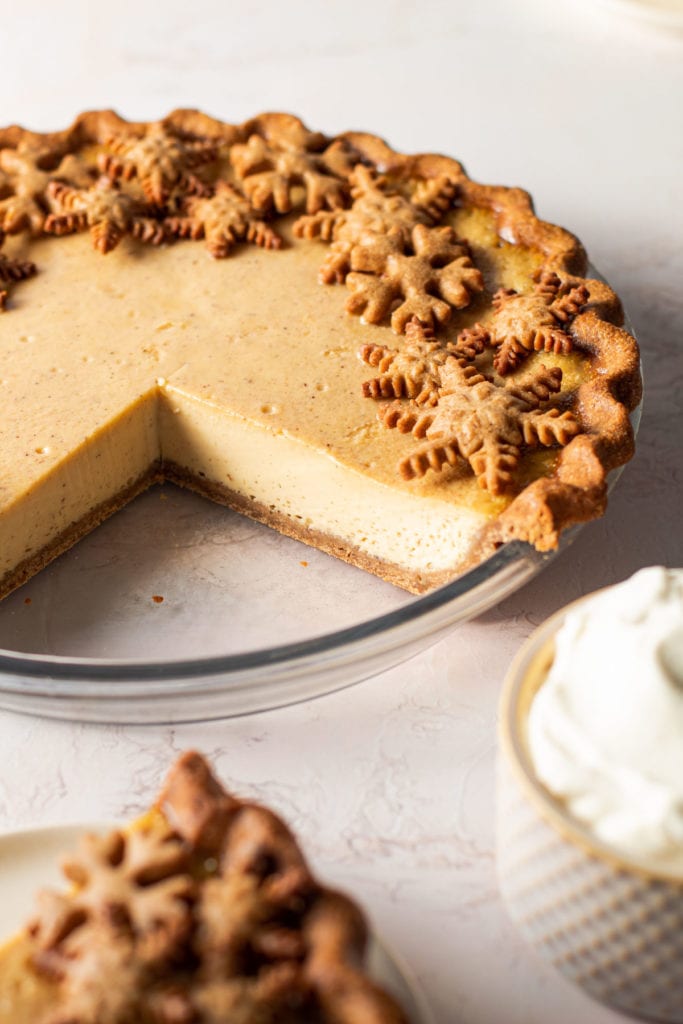 How to Tell When Eggnog Pie is Properly Baked
Make sure not to overbake your custard pie! When a custard-style pie is properly baked, it should be just barely set. If you overcook it, you are essentially "boiling" the eggs. In some cases, that can lead to a taste of overcooked eggs. It can also make the pie feel tough, or spongy. More commonly, it leads to cracked or separated pies.
A properly cooked custard is set (and safe to eat) between 170º – 200º. Each custard recipe will vary a bit in terms of the exact temperature needed to set it, depending on the ingredients in it. This pie should reach about 180º when it is set.
Another clue that a pie is done is by looking at the outer edges and seeing if they have begun to "soufflé", or puff up. Look for the soufflé effect to go in about 2 to 2-½″ from the outer edge, and for the direct center of the pie to still be wobbly. At this point, you want to take your pie out of the oven, and place it at room temperature to cool.
Once it's fully cool, move it to the refrigerator to cool for at least 6 hours. During this period it will fully set.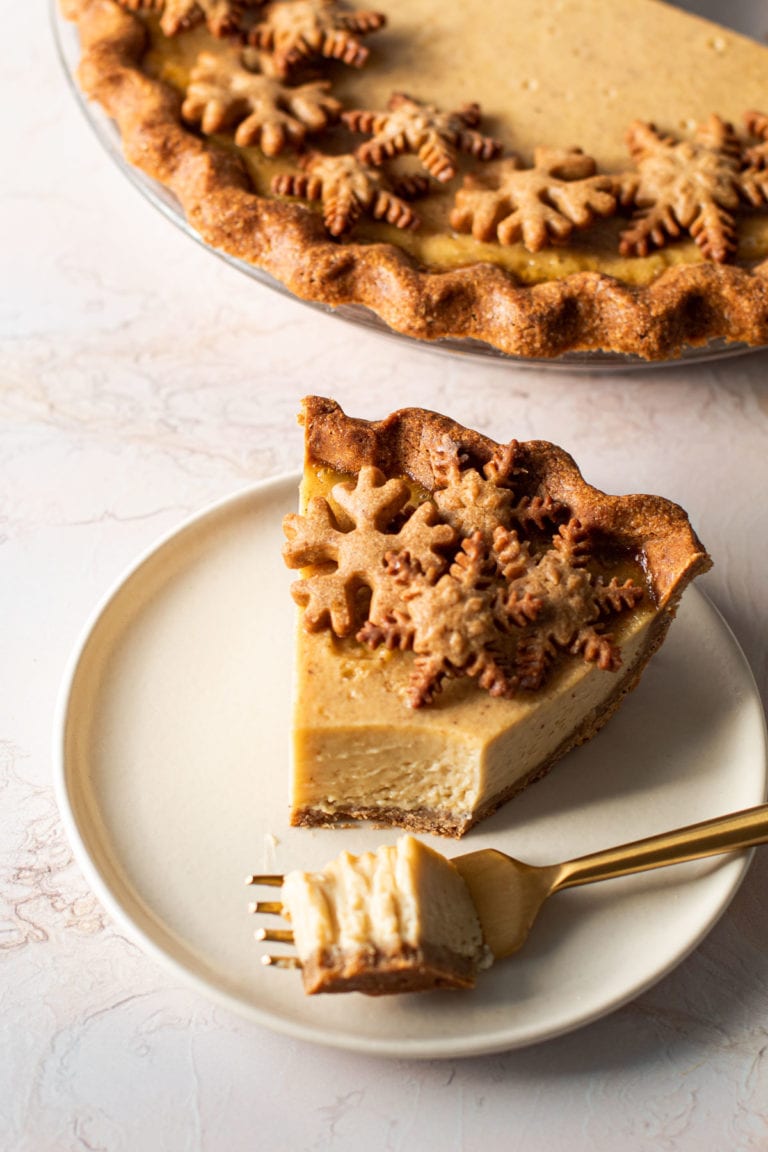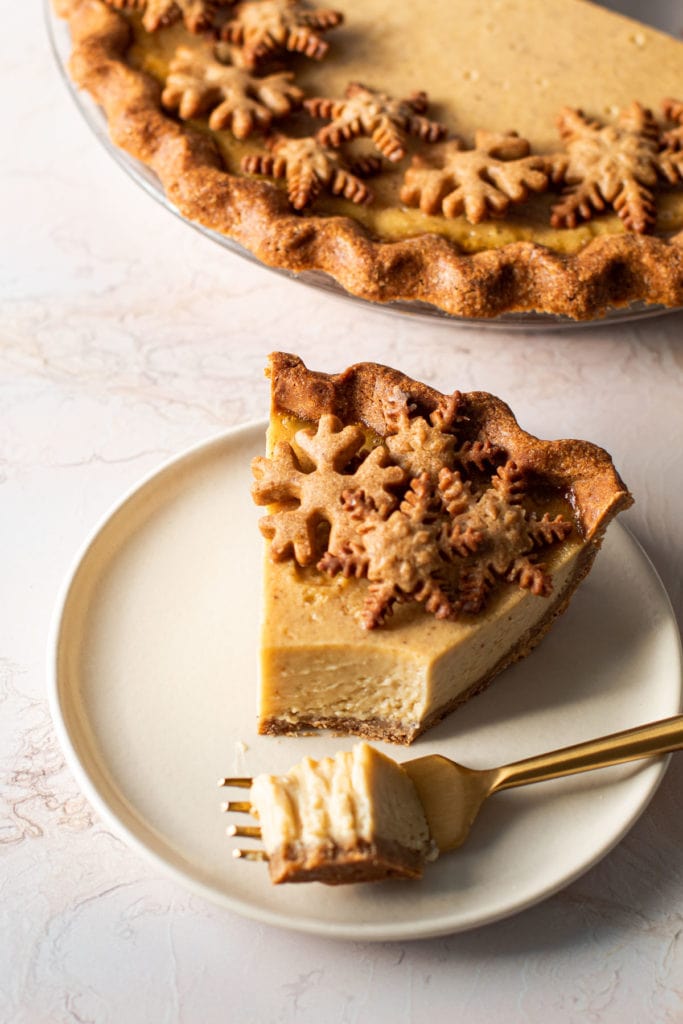 Make-Ahead Tips
The pie dough can be made up to 3 days ahead of time, and blind-baked up to 1 day ahead of time.
The filling can be whisked together up to 1 day ahead of time.
The pie in its entirety can be made 1-2 days ahead of time. Store the pie in the refrigerator.
More Custard Pie Recipes:
Print
Eggnog Pie (with Gingerbread Crust)
A must-make holiday dessert, this Eggnog Pie has a creamy, smooth festive filling, baked in a sweet gingerbread crust and garnished with the cutest gingerbread cookies. 'Tis the season!
Author: Kelli Avila
Prep Time:

00:25

Cook Time:

01:10

Total Time:

1 hour 35 minutes

Yield:

Serves 8-10

Category:

Sweet

Method:

Bake
For Gingerbread Pie Crust:
1 cup

(

120 grams

) all-purpose flour

½ cup

(

65 grams

) whole wheat flour

⅓ cup

(

70 grams

) packed brown sugar

¼ teaspoon

kosher salt

½ teaspoon

cinnamon

¼ teaspoon

nutmeg

¼ teaspoon

ginger
Pinch cloves

½ cup

(

115 grams

) unsalted butter, cut into 1" pieces

1 tablespoon

(

14 grams

) molasses

2

large eggs, divided
For Eggnog Custard:
⅓ cup

(

65 grams

) granulated sugar

½ teaspoon

ground nutmeg
Pinch salt

4

large eggs

2

-

½

cups (

570 grams

) store-bought eggnog

1 teaspoon

vanilla extract

2 tablespoons

Bourbon (optional, see note)
Fresh grated nutmeg, for serving
Whipped cream, for serving
Instructions
Make and Bake the Pastry:
Add both the flours, brown sugar, salt and spices to the bowl of a food processor. Pulse until combined. Add in butter and pulse 5 times.
Whisk together one egg and molasses in a small bowl. With the motor running, pour the molasses mixture into the flour and let process until the dough forms together into a cohesive ball.
Remove the dough from the processor and form into a disk. If desired, cut off about 2 ounces of dough to use for cookies (see note for more info about baking cookies). Wrap in plastic wrap and let chill until semi-firm, about 1 hour.
On a lightly floured surface, roll out the pie dough to an 11″ circle and line a 9" pie plate with the dough, crimping the edges as desired. Place in the freezer to firm up for 10-20 minutes.
Preheat oven to 375ºF and place one oven rack in the second to lowest spot and one in the middle.
Line the pie dough with a parchment round piece of paper and then add pie weights to fill (such as dry rice, bean or lentils), making sure to push the pie weights to the edges. Bake for 20 minutes on the lower rack, then remove from the oven and remove the parchment and pie weights. Return to the oven and bake for an additional 5-10 minutes until the pastry is fully baked through.
While the crust is still hot, crack one egg and separate the yolk from the white. Set the yolk aside for another use. Whisk the egg white to break it apart and brush a thin layer of the egg white with a pastry brush all over the hot pie crust. The heat from the crust should cook the egg white. If your pie has cooled down too quickly, you can place it back in the oven for a few minutes until the egg white is set. It should no longer look wet. Set aside the prepared crust until ready to use.
Lower the heat to 325ºF
Make and Bake the Custard:
Add sugar, nutmeg, salt and eggs in a medium bowl and whisk together. Add in the eggnog, vanilla extract and bourbon (if using) and whisk to combine. Strain the mixture through a fine-mesh strainer twice.
Pour into the baked pie pastry. Cover the edges of the pie crust with tin foil or a pie shield to prevent the edges of the crust from getting too dark.
Place the pie onto your oven's middle rack and bake it for 50-60 minutes, or until the custard has puffed about 2-3" from the edge but still slightly wobbly in the middle. The pie should have a temperature of about 180ºF.
Remove the pie from the oven, and place it on a rack to cool. When it's completely cool, refrigerate for at least 6 hours. When ready to serve, decorate with cookies, if desired. Serve optionally with whipped cream and/or a fresh grating of nutmeg.
Notes
See the body of the post for full text on decorative cookies. To bake them, roll out the dough and then stamp out your cookies. Chill them in the freezer for 15 minutes, and then bake in a 375ºF oven for 10-12 minutes, depending on the size of the cut-out cookie.
Adding bourbon to the pie can increase the amount of time the pie takes to set up. The alcohol bakes out of the bourbon, but it leaves a small flavor enhancement. Alternatively, you can add a splash of bourbon to the whipped cream if you plan to serve some with the pie. It would also taste great with Maple Whipped Cream.
Some of the links on this page may be affiliate links. Everyday Pie is a participant in the Amazon Associates Program. As an Amazon Associate I earn from qualifying purchases, at no extra cost to you.