Simple homemade whipped cream is so easy, has only 3 ingredients (maximum) to make and doesn't require any tools but a bowl and whisk. It's perfect for topping pies, ice cream, strawberry shortcakes and so many other desserts. This post will tell you all you need to know on how to make whipped cream by hand.
How to Make Whipped Cream by Hand
If you've been lucky enough to try homemade whipped cream, you'll know it's worlds away from anything that comes from a can. Whipped cream can add elegance to a dessert, or help balance one, like a pie with a lot of acidic fruit such as berries. There are two types of whipped cream the I use to accompany pies or other desserts: a simple whipped cream with or without added sugar and a stabilized whipped cream that is meant to last more than a few hours. This post will cover a simple 3-ingredient whipped cream that requires only a bowl and a whisk to make.
Here's what you need:
Heavy cream or heavy whipping cream: either one will work! This is the only essential ingredient to this recipe. The other two are optional.
Vanilla extract: A little bit of vanilla extract really does make a huge difference in the flavor of the whipped cream. A little goes a long way here!
Granulated Sugar: Adding sugar to whipped cream is totally optional. Per 1 cup of cream, I'd only add at most 2 tablespoons for a slightly sweetened cream. Most of the time, I don't add any as usually the desserts you are adding whipped cream to are already sweet enough. Whipped cream should be a contrast to whatever the dessert is, so unsweetened whipped cream is preferable. If I do add it, I'll only ever use granulated white sugar. I feel very strongly that adding powdered sugar to whipped cream changes the texture and mouth feel in a very undesirable way. If I need a stabilized whipped cream I'll take a different route.
How to Whip Cream By Hand
Many recipes call for the chilling of the bowl or whisk, for fear that the cream will be too warm and "won't whip up". I've been making whipped cream, using all sorts of different methods in all different locations and seasons for so many years: I've never had cream not whip up. I find this step unnecessary. However, you do want to start with cold cream!
Pour cream in a large bowl. Add sugar and vanilla if using. If you are worried about the granulated sugar not dissolving you can let it sit for a few minutes and then gently whisk to encourage it to dissolve into the cream.
With a whisk, preferably a large one, start whipping the cream.
Continue to whisk until soft to medium peaks have formed.
What are medium peaks?
Soft peaks are when you pick up the whisk and the whipped cream softly falls down, and eventually falls off the whisk in a heap. Medium peaks are when the you pick up the whisk and the whipped cream holds a peak but just barely stays on the whisk without falling.
Tips for Making Fresh Whipped Cream
Big whisks work quicker! Honestly any whisk will work, heck I've even whipped cream with a fork before, but a balloon whisk will work the quickest. A balloon whisk looks like a bulb and makes quick work out of whipped cream.
Keep your arm by the side of your body and only move your wrist. Remind me to tell you about the time I was being trained by my Chef mentor and he thought it a good lesson for me to whisk two different types of meringues and a large batch of whipped cream all by hand, at once--I was whisking for almost 40 minutes. Keeping your arm by your side prevents muscle burn out from happening because a simple movement of the wrist while whipping will not make you tired. The photo above this illustrates how this is done.
A bigger bowl makes it easier: A bigger bowl means you can make bigger moves with the whisk, making whipped cream come together quicker.
Don't over whip the cream: Just don't do it. Over whipped cream has a similar texture to whipped cream made with powdered sugar. It coats your mouth and is just all around unpleasant. Soft or medium whipped cream is the perfect consistency and improves any dessert it's added to.
Use the whipped cream immediately. It's not meant for storage. Though see below for a bit more information about this.
How to Store Whipped Cream
Simply put: you don't. This whipped cream is meant to be used almost immediately. While it can last for a few hours, depending on the temperature of the environment it is in, it might weep, or lose some of the hold and exert liquid. If that does happen, you can rewhip it.
However, you can freeze whipped cream! I know most people think you can't freeze stand alone dairy like milk, but I think the air incorporated into the cream helps stabilize it in the freezer. You can store leftover whipped cream in the freezer, or you can pipe or dollop out portions to individually freeze for future use. It needs to thaw for about 10-15 minutes before it will become soft again. So you could freeze a small portion, top a dessert and then it'll be ready in about 15!
If you are looking to top a cream pie, like a coconut cream pie or a chocolate cream pie, I suggest you top it with stabilized whipped cream instead of this version.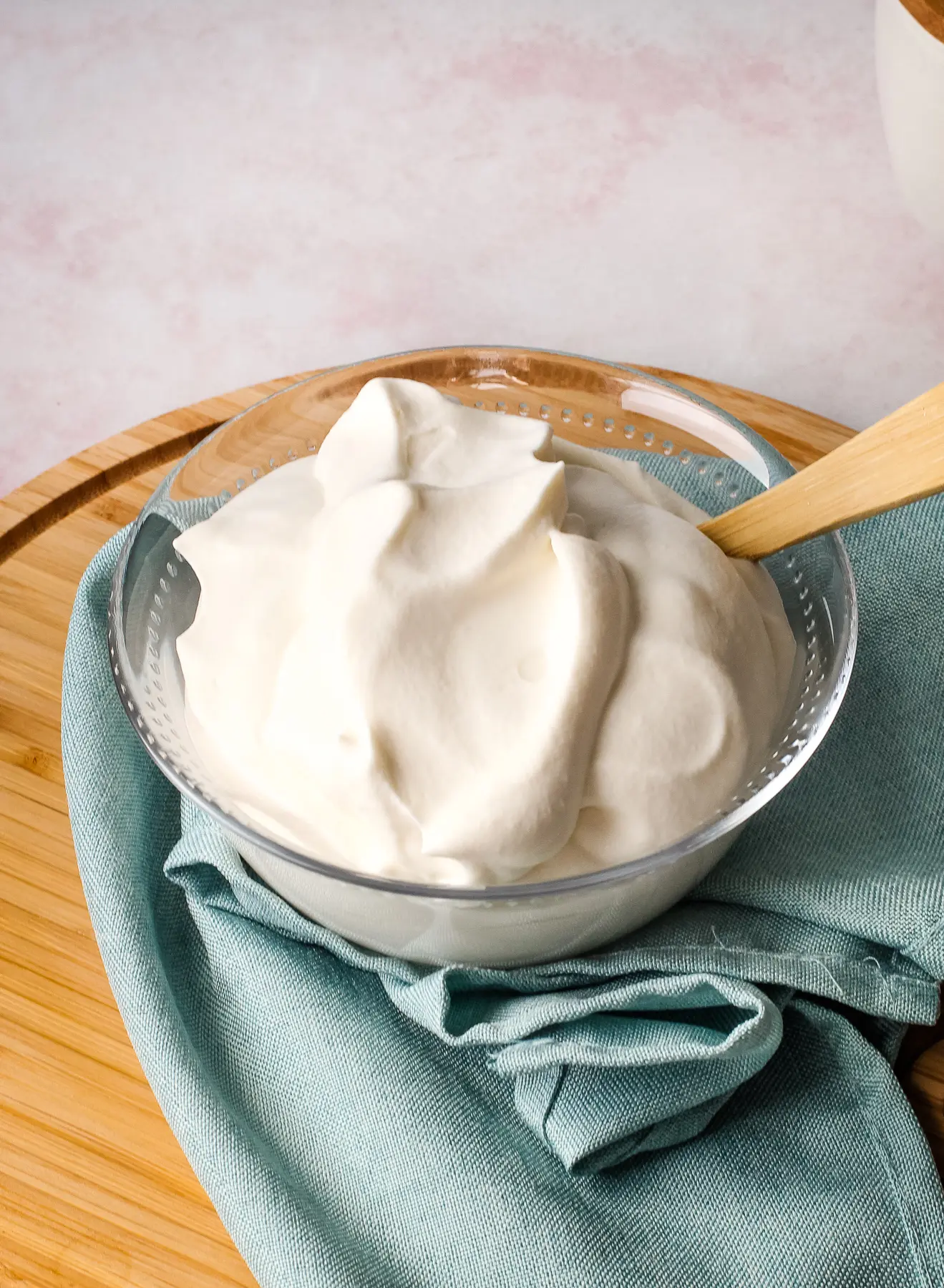 These pies are great to serve with whipped cream:
MAKE SURE TO TAG @EVERYDAYPIE ON INSTAGRAM OR COMMENT BELOW IF YOU HAVE QUESTIONS ABOUT THIS RECIPE OR IF YOU USE THIS WHIPPED CREAM TO TOP YOUR OWN CREATION!
Print
Full Recipe
Simple Whipped Cream by Hand
This simple whipped cream is perfect on top of any dessert, but especially fruit or cream pies.
Author: Kelli Avila
Prep Time:

00:05

Total Time:

5 minutes

Category:

Basics

Cuisine:

Sweet
1 cup

(8 ounces) heavy cream

2 tablespoons

granulate sugar

1 teaspoon

vanilla extract
Instructions
Pour ingredients into a large bowl.

With a whisk, whip the cream until soft peaks form.
Notes
Check out the body of the post for lots of tips!
Keywords: whipped cream by hand
Some of the links on this page may be affiliate links. Everyday Pie is a participant in the Amazon Associates Program. As an Amazon Associate I earn from qualifying purchases, at no extra cost to you.