This Apple Butter Pie is a unique twist on a classic fall flavor. It's so simple to make, thanks to the use of store-bought apple butter, and has a silky, smooth filling. Bake it up in a whole-grain cinnamon spelt pie crust and top it with maple whipped cream for a fun, apple-flavored pie.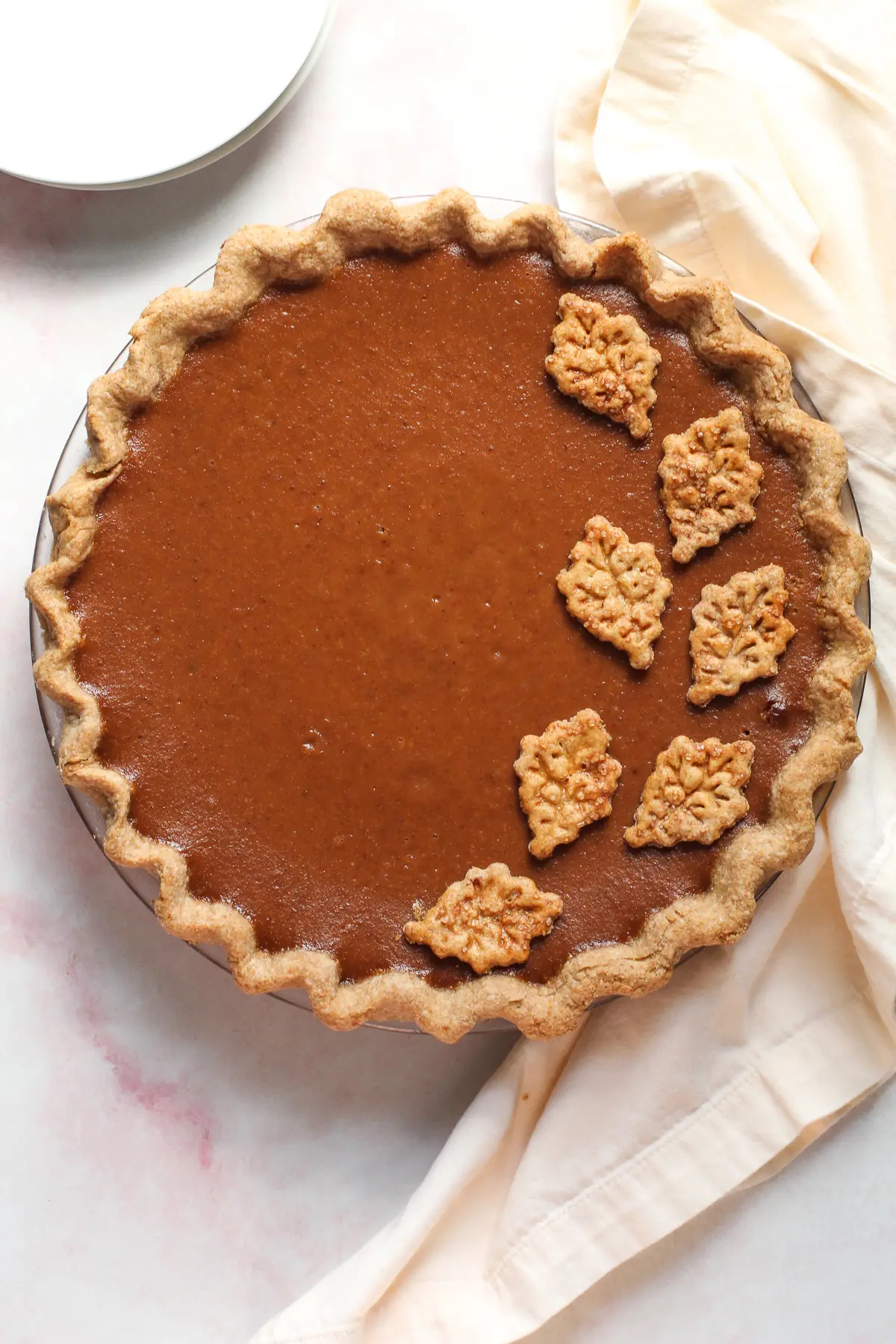 Apple Butter Pie Recipe
Based on its appearance, most people would likely guess that this Apple Butter Pie is actually a pumpkin pie. Though alike in color and texture, this gorgeous creamy pie is all about the apple!
This pie uses apple butter as the base, along with a few eggs, cream and spices. It couldn't be easier to make this filling. Simply whisk together all of the ingredients and pour into a baked pie crust. You can use store-bought apple butter or homemade.
Either way, this pie is delicious baked up in the cinnamon Spelt Crust and topped with a bit of Maple Whipped Cream.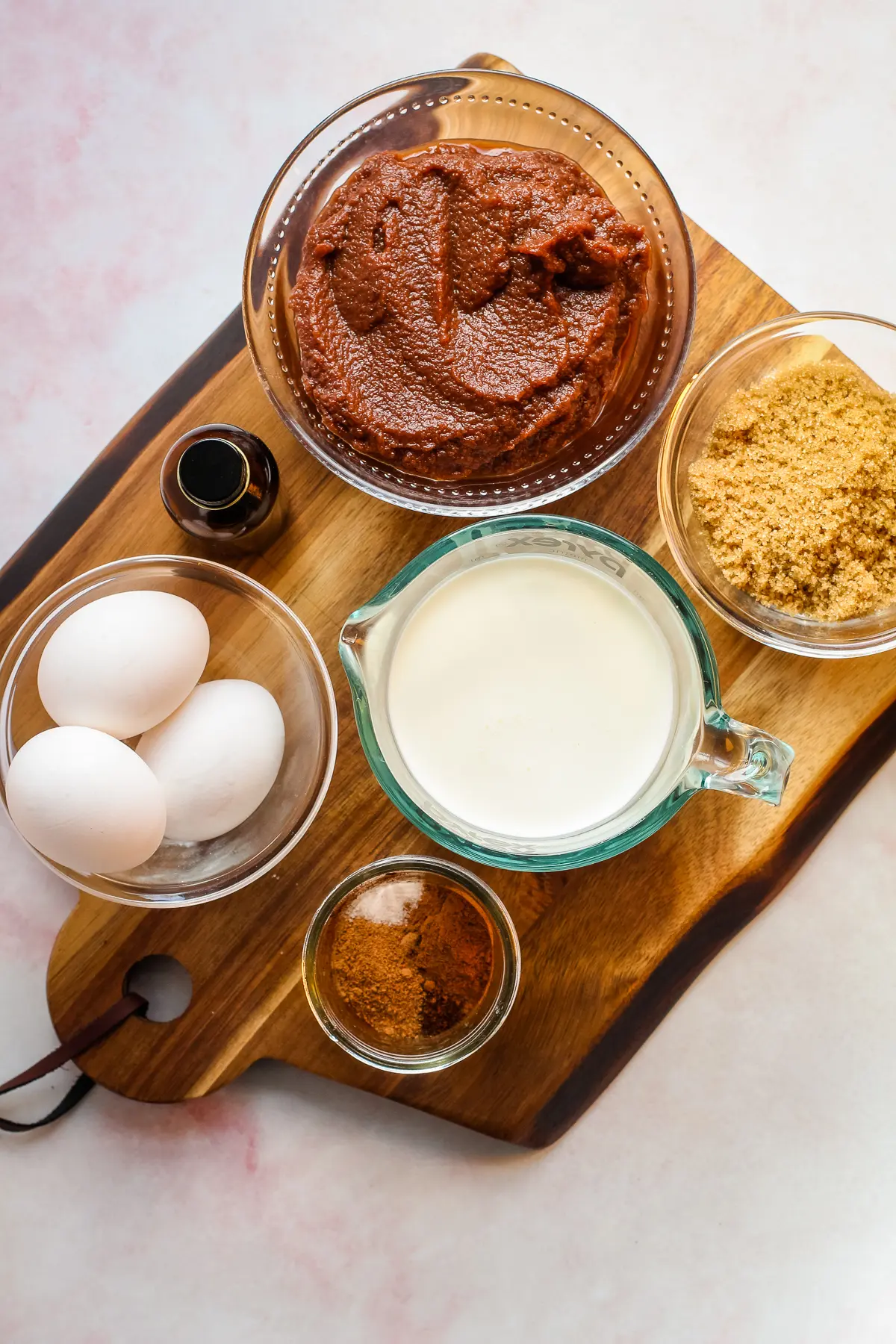 Apple Butter Pie Ingredients
Here is an overview of the ingredients needed for this recipe. The full recipe is listed below in greater detail.
apple butter (homemade or store-bought)

spelt flour

butter

cream cheese

heavy cream

eggs

light brown sugar

spices: cinnamon + nutmeg + clove

salt
Tools Needed
Here is a list of some of the primary tools I use in this recipe. You won't necessarily choose to use them all, but they are exactly what I used. Any links may contain affiliate links.
food processor (for making the pie crust)
pie dish
fall pastry stampers (only if you wish to make decorative pastry shapes)
baking basics: bowl, whisk, spatula, sheet tray, measuring cups
Pie Crust Options
The pastry for this crust is made of spelt, and it's so wholesome and delicious! It's crumbly, just a bit sweet and hint of cinnamon. All the instructions are included below To read up more on making a spelt pie crust, check out this post. If you wanted to skip the spelt and use your favorite butter pie crust recipe, feel free to go ahead and do that as well. Just make sure to blind bake the crust completely.
How to Make Pretty Decorative Pieces
The pie crust yields slightly more dough than you need for a typical 9" pie, that way you can use the little bit of scrap dough to create decorative cut-outs if you desire, as shown on this Apple Butter Pie.
However, this recipe works fine without the use of cut-outs so if you don't want to use them, feel free to use all of the pie dough to line your pie pan.
To make the cut outs:
Roll out the extra dough. It's best if the dough is really chilled so whatever decorative cut-outs keep their shape.
Use cooking cutters to stamp out decorative pieces, as desired. Here are the ones I use in this photo (affiliate link): Fall Pastry Stampers
Transfer the cut-outs to a parchment lined baking sheet. Place in the refrigerator or freezer to firm up. This helps keep their shape.
Brush with egg wash, and sprinkle with coarse sugar, if desired. Both are optional. The egg wash gives it a shine and the coarse sugar gives it a nice sweet crunch when you eat it.
Bake. You can bake them in the oven separately at 375ºF, for about 10 minutes. Or, you can pop them in when you blind bake the pie crust.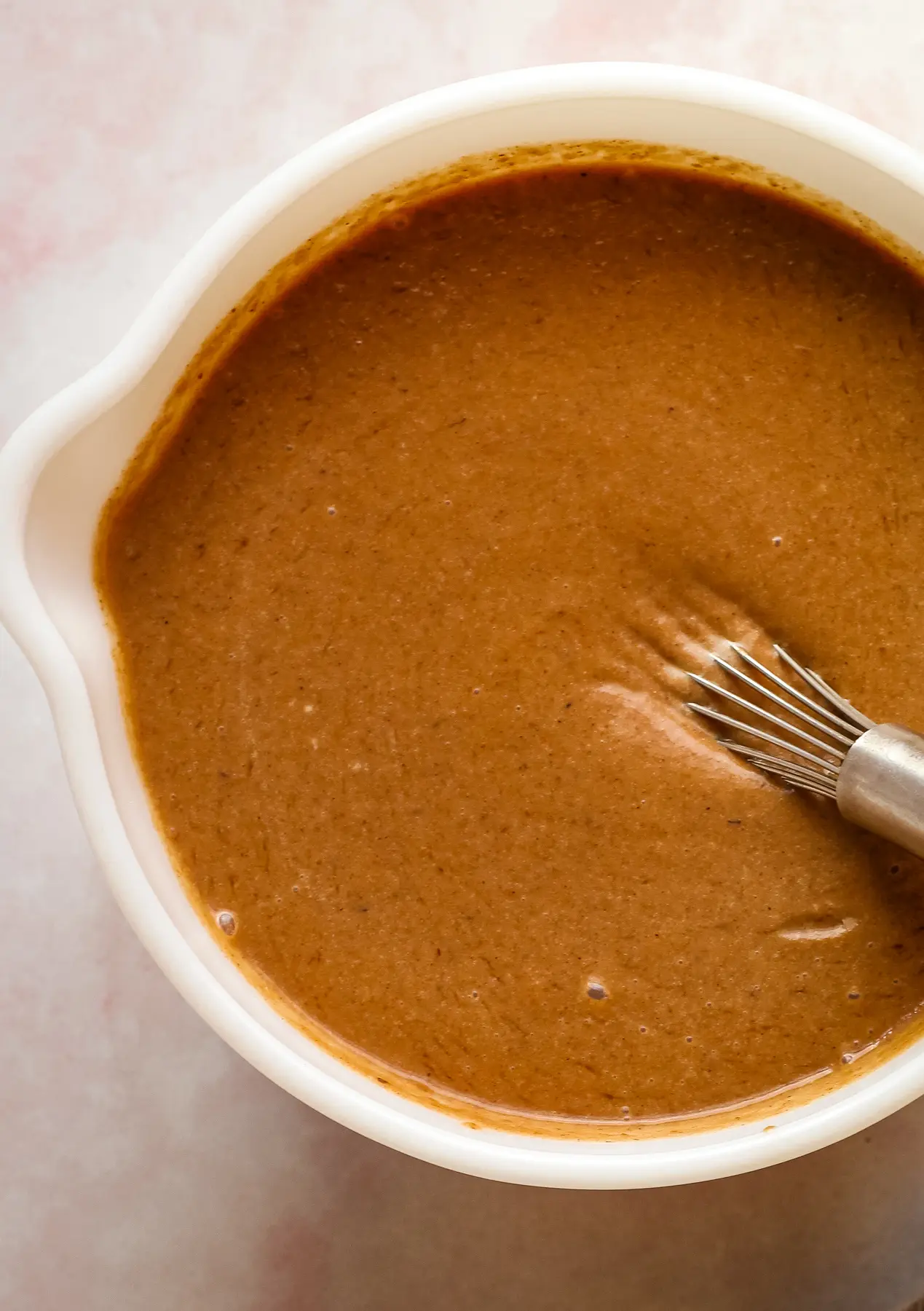 How to Make an Apple Butter Pie
What I love about this pie, is that's pretty easy to make. To make it, you'll first blind bake the crust. This Apple Butter Pie is categorized as a custard pie, which is baked at a low temperature. There is no way for the crust to bake at that temperature, so you absolutely need to fully blind bake your pastry before hand.
Once you've baked your crust, you can move on to the pie filling.
Mix together all of the ingredients and pour them into the baked pie shell. Then, carefully transfer the pie to the oven and bake until the custard is just barely set.
Tips for Baking it Perfectly
If there was only one pie secret I could share with you, it would be this: don't over-bake your pie!
When a custard style pie is properly baked, it should be just set. I like to think of cooking custard pies as cooking them al dente, or just until done. If you overcook it, you are essentially "boiling" the eggs. This can, in some cases, result in the pie tasting slightly like overcooked eggs. It can also make the pie feel tough, or spongy and more commonly, leads to cracked or separated pies.
A properly cooked custard is set (and safe to eat) between 170º – 180º. To be sure, I use a thermometer to check the temperature of the pie (though it will leave a mark in the center of the pie, so if presentation is important skip that).
Another way to know that a pie is done is by looking at the outer edges and seeing if it has begun to "soufflé", or puff up. Look for the soufflé effect to go in about 2 to 2-½" from the outer edge, and for the center of the pie to still be woobly in the middle. However, it shouldn't look like there is still liquid in the middle. If it's still quite liquidy than it might need a few extra minutes.
Once the pie is set on the edges but woobly in the middle, you want to take your pie out of the oven, and place it at room temperature to cool.
If all the filling is fully set or puffed up when you take it out of the oven, then it has unfortunately been overcooked. It may or may not develop a crack. However, don't despair if this happens: unless it is severely overcooked, it's still going to taste good, I promise. It's nothing a little whipped cream can't hide
Once it's fully cool, move it to the refrigerator to cool for at least 6 hours. During this period it will fully set up.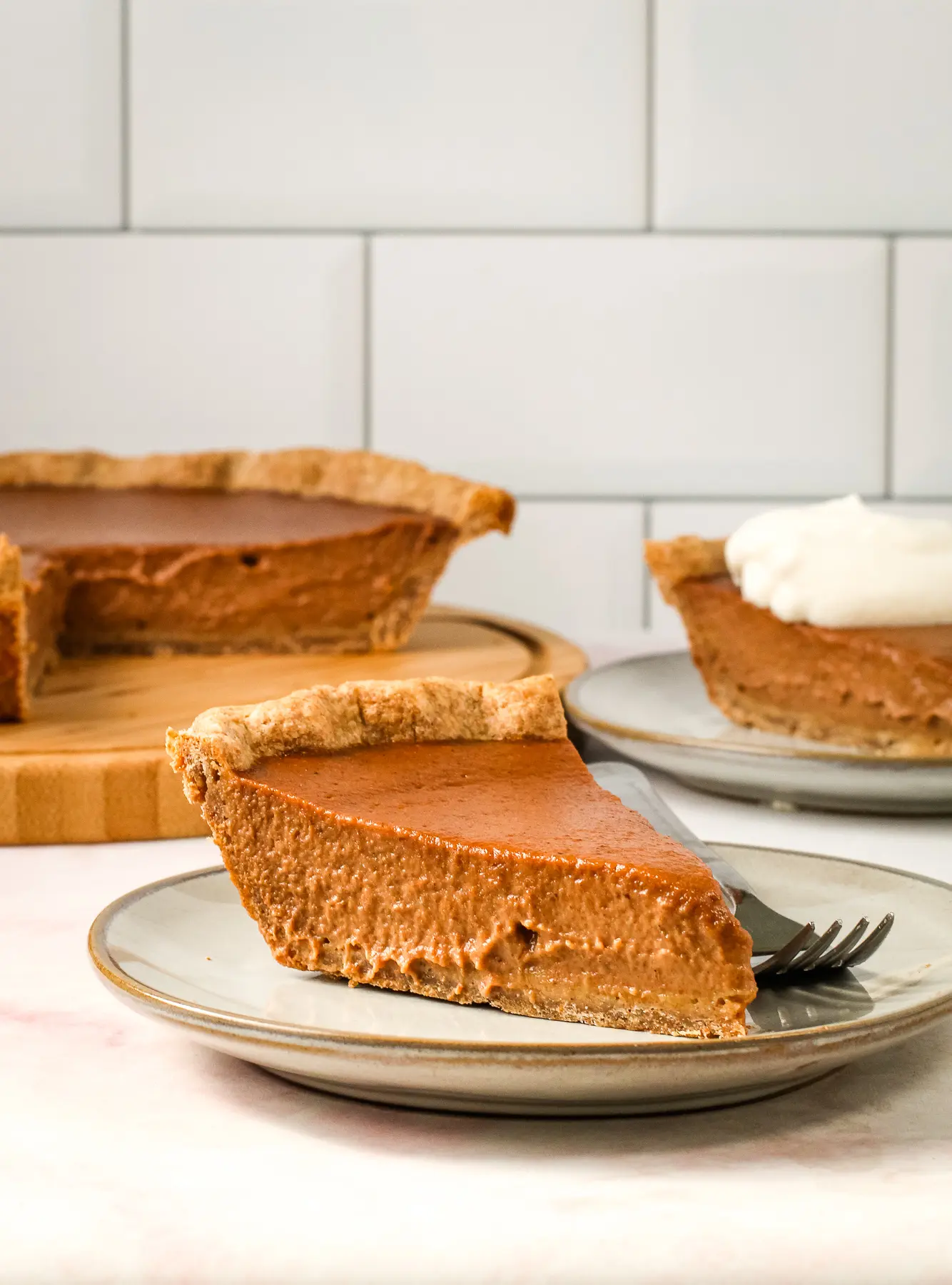 How to Store and Serve Apple Butter Pie
This pie should be stored in the refrigerator. It can served straight from the refrigerator, or you can let it sit at room temperature for up to an hour or so.
This pie tastes really great when served with Maple Whipped Cream!
More Apple Recipes:
---
I am so honored when you make a recipe from my site! If you make this Apple Butter Pie, please leave a comment and a star rating with your experience! If you have any questions about this recipe, feel free to comment here, too!
Print
Full Recipe
Apple Butter Pie
This Apple Butter Pie is a unique twist on a classic flavor for fall pies. It's simple to make, thanks to the use of store-bought apple butter and has a silky smooth filling. Bake it up in a whole-grain Spelt Pie Crust and serve it with Maple Whipped Cream for a fun, apple-flavored pie.
Author: Kelli Avila
Prep Time:

00:15

Cook Time:

01:20

Total Time:

1 hour 35 minutes

Yield:

8-12 servings

Category:

Custard

Method:

Oven

Cuisine:

Sweet
For Spelt Pie Crust:
1

–

½

cup (210 grams) spelt flour

1 tablespoon

(

5 grams

) turbinado sugar

1 tablespoon

ground cinnamon

¼ teaspoon

salt

¼ teaspoon

baking powder

2 tablespoon

s (

30 grams

) cream cheese

10 tablespoon

s (

140 grams

) butter

¼ cup

(

60 grams

) cold water
For Apple Butter Filling:
1

-

¾

cups (470 grams) apple butter

1 cup

(240 grams) heavy cream

3

large eggs

½ cup

packed (100 grams) brown sugar

1 teaspoon

ground cinnamon

½ teaspoon

fresh grated nutmeg

¼ teaspoon

salt

Pinch ground cloves
Instructions
To Prepare and Blind Bake Pie Crust:
Add the spelt, turbinado sugar, cinnamon, salt and baking powder to the bowl of a food processor. Pulse until combined. Add in cream cheese and pulse 5 times, then add butter and pulse 7 times. With the motor running pour in the water and pulse until the dough forms together into a mostly cohesive ball.
Scrape out the pie dough onto a flour dusted work surface and gather the dough together into a disk shape. Roll out the pie dough to an 11″ circle and line a 9" pie plate, crimping the edges as desired. Prick the bottom of the dough all over with a fork to let steam escape during baking. Place the pie in the freezer for 30 minutes to let the pie dough chill.
Preheat oven to 375ºF.
Remove from freezer and line the pie dough with a parchment round piece of paper and then add pie weights (or dry rice or beans or lentils), making sure to push pie weights to the edges. Bake for 20 minutes on the lower rack, then remove from oven and remove the parchment and pie weights. Return to oven and bake for an additional 10 minutes. Set aside until ready to use. Lower the oven to 325ºF.
To Make Apple Butter Filling:
Add all ingredients to a large bowl and whisk together until fully combined. Carefully pour the filling into the baked pie shell and smooth it over.
To Bake:
Bake the pie on the middle rack for 45-55 minutes, or until the pie reaches a temperature of 170º-180ºF and the outer edges have started to puff up but the center is still slightly wobbly.
Remove from the oven and let cool at room temperature before placing in the refrigerator for at least 4 hours to finish firming up.
Serve as is, or with Maple Whipped Cream.
Notes
If desired stamp out any scraps from the spelt pie crust to make decorative leaves, and set aside. Freeze for a few minutes and then bake in the 375ºF oven until fully cooked, about 10 minutes. Once the apple butter pie has finished chilling, place the leaves decoratively over the top of the apple butter custard.
Keywords: Apple butter pie
Some of the links on this page may be affiliate links. Everyday Pie is a participant in the Amazon Associates Program. As an Amazon Associate I earn from qualifying purchases, at no extra cost to you.