With a cinnamon-laced buttery crust, and the richest, smoothest filling, this Perfect Pumpkin Pie is a recipe worthy of making year after year.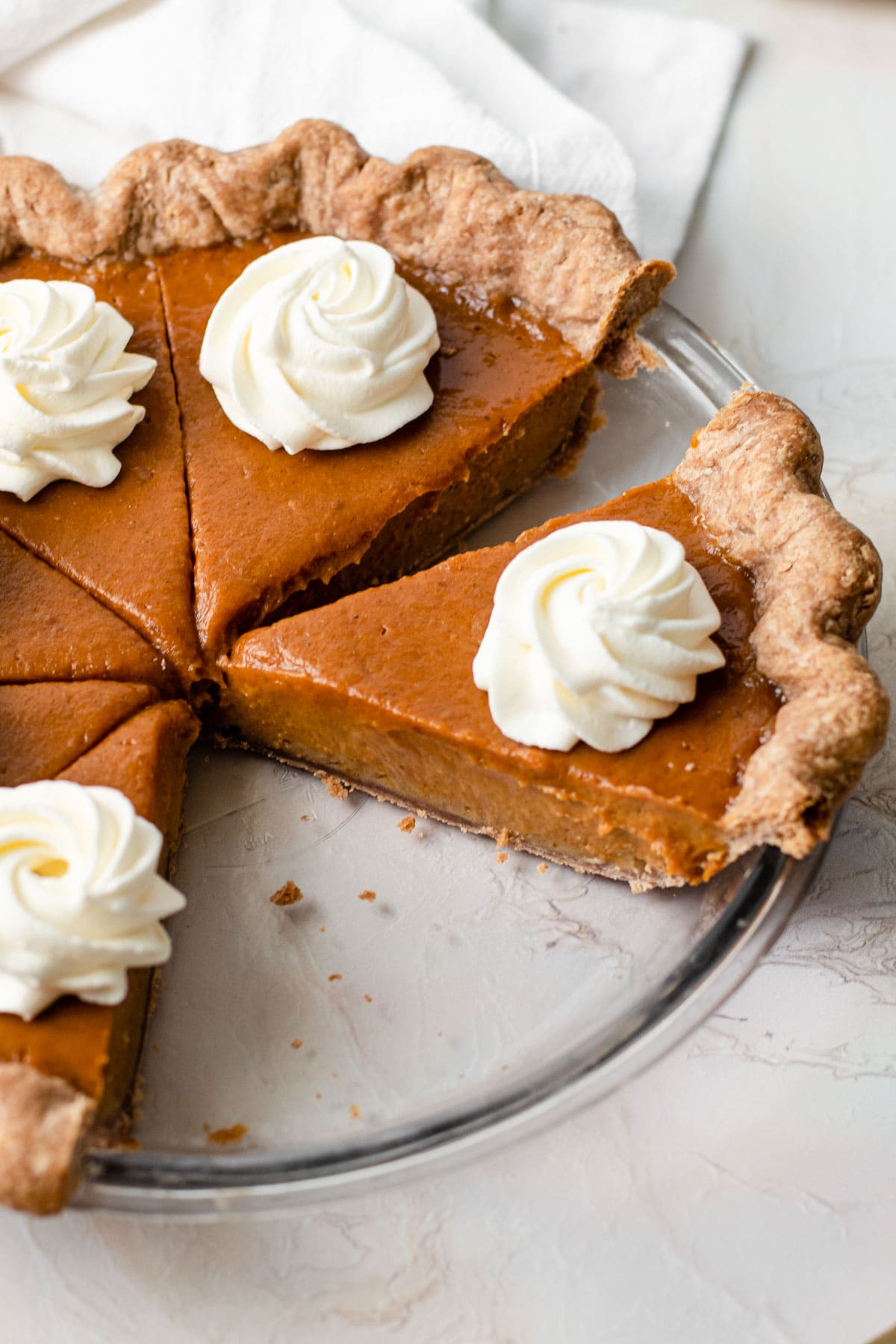 Pumpkin Pie with Cinnamon Crust
Let's be real. There are a million pumpkin pie recipes out there! In fact, there are several here on this site alone. However, this year, I set out to make what I consider to be the most Perfect Pumpkin Pie.
So, what makes this pumpkin pie perfect? For starters, the filling is classically flavored with warm spices. It is rich and creamy and doesn't require any special ingredients that you likely don't have on hand (such as evaporated milk).
The pie crust is also a bit unique, yet still hanging on to that classic pumpkin pie vibe. It has the perfect amount of cinnamon in the ingredients, which gives the pie an extra special burst of flavor and a darker color. Below, I dive further into what makes this crust so perfect.
And finally, this recipe shares all the tips you need to know in order to make a pumpkin pie free of any imperfections. If you love classic pumpkin pie but want to kick it up a notch, this recipe is the one for you.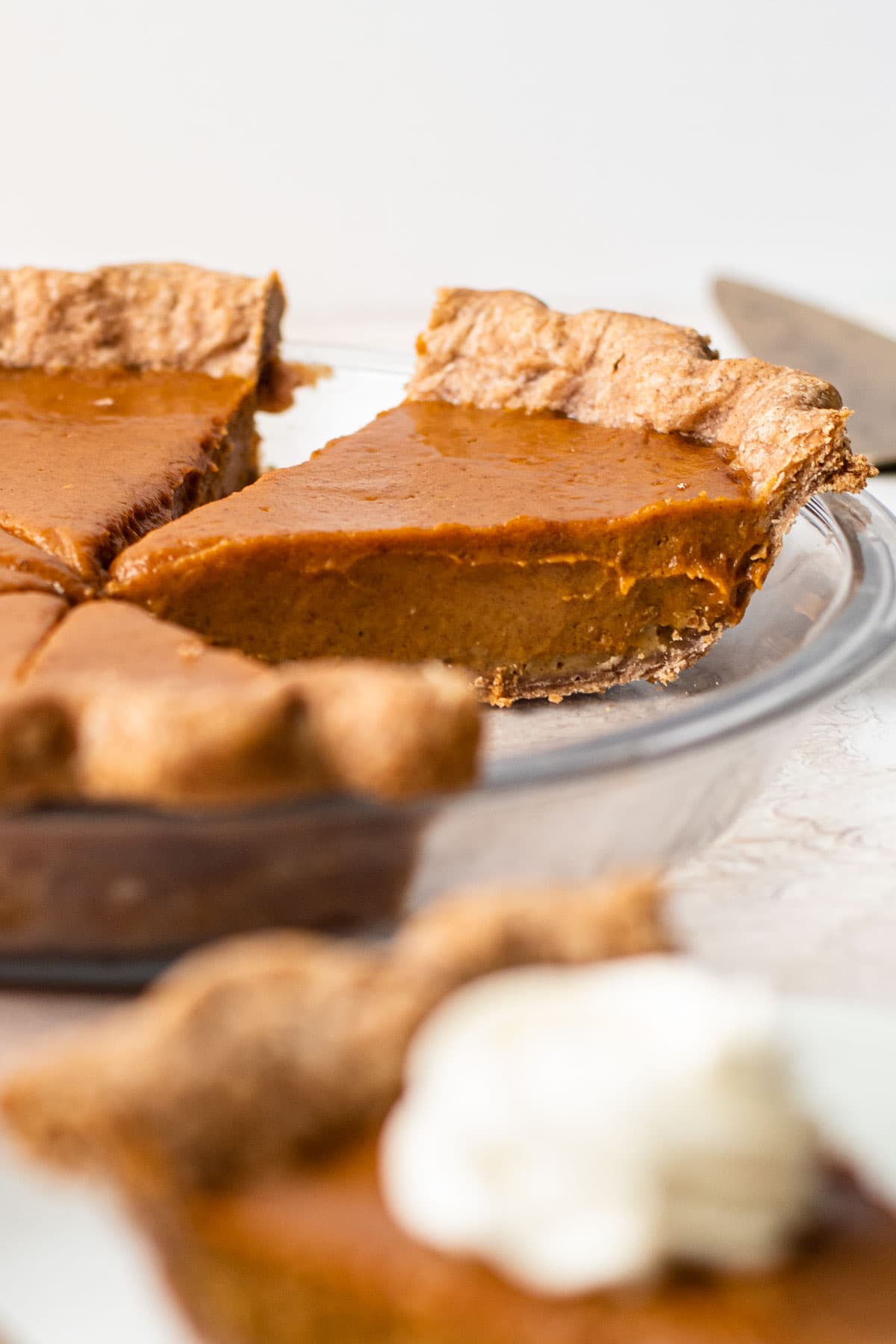 Ingredients Needed
Here is an overview of the ingredients needed for this recipe. The full recipe is listed below in greater detail.
pumpkin puree
granulated + brown sugar
eggs
heavy cream
butter
flour
cinnamon + nutmeg + cloves
vanilla extract
Tools Needed
Here is a list of some of the primary tools I use in this recipe. You won't necessarily choose to use them all, but they are exactly what I used. Any links may contain affiliate links.
food processor (for making the pie crust)
pie dish
baking basics: bowl, whisk, spatula, sheet tray, measuring cups
How to Make the Best Pumpkin Pie
There are a few steps you need to take in order to make the best pumpkin pie. The first starts with the pastry. I highly recommend using a pie crust that tastes good when it's cold, since pumpkin pie is typically served cold from the refrigerator. There is more detail about this down below.
Next, you must blind bake the pie crust. The pumpkin filling is baked at a low temperature, and because of this, you must first bake the pie crust fully before filling it with the pumpkin. If you skip this step, you'll most likely end up with a soggy bottom.
Finally, the pie needs to be baked perfectly. Overbake it and you could end up with a cracked or leaky filling (those are the imperfections you don't want!). Check out the paragraph below for more information on how to bake the filling properly.
Making the Cinnamon Crust
For me, the crust for a pumpkin pie is tricky. While most people use a typical flaky butter pie crust for pumpkin pie, I find myself deviating from the norm. Because pumpkin pie is typically served from the refrigerator, I tend to shy away from buttery flaky crusts. When cold, a flaky crust tends to taste stale. In my opinion, it's the equivalent of eating a croissant that's been stored in the refrigerator for two days (which is to say, not good).
Instead, this recipe uses a crumbly sweet cinnamon pie crust that tastes good warm or cold.
Don't worry, if you want a traditional American flaky pie crust, you can use this butter pie crust recipe.
Need it to be gluten-free, check out this GF Butter recipe. Want it a bit more wholesome? Check out this Whole Wheat Crust or Spelt Pie Crust! Any of these would work well with this recipe.
No matter what crust you choose to use for this pumpkin pie, you'll have to fully blind bake it first. It's imperative you do not skip this step because the pumpkin filling needs to be cooked at a low temperature, which means it would be impossible for your pie crust to bake fully with the filling.
There are instructions for blind baking in the recipe below, but if you are new to it, check out this Guide to Blind Baking.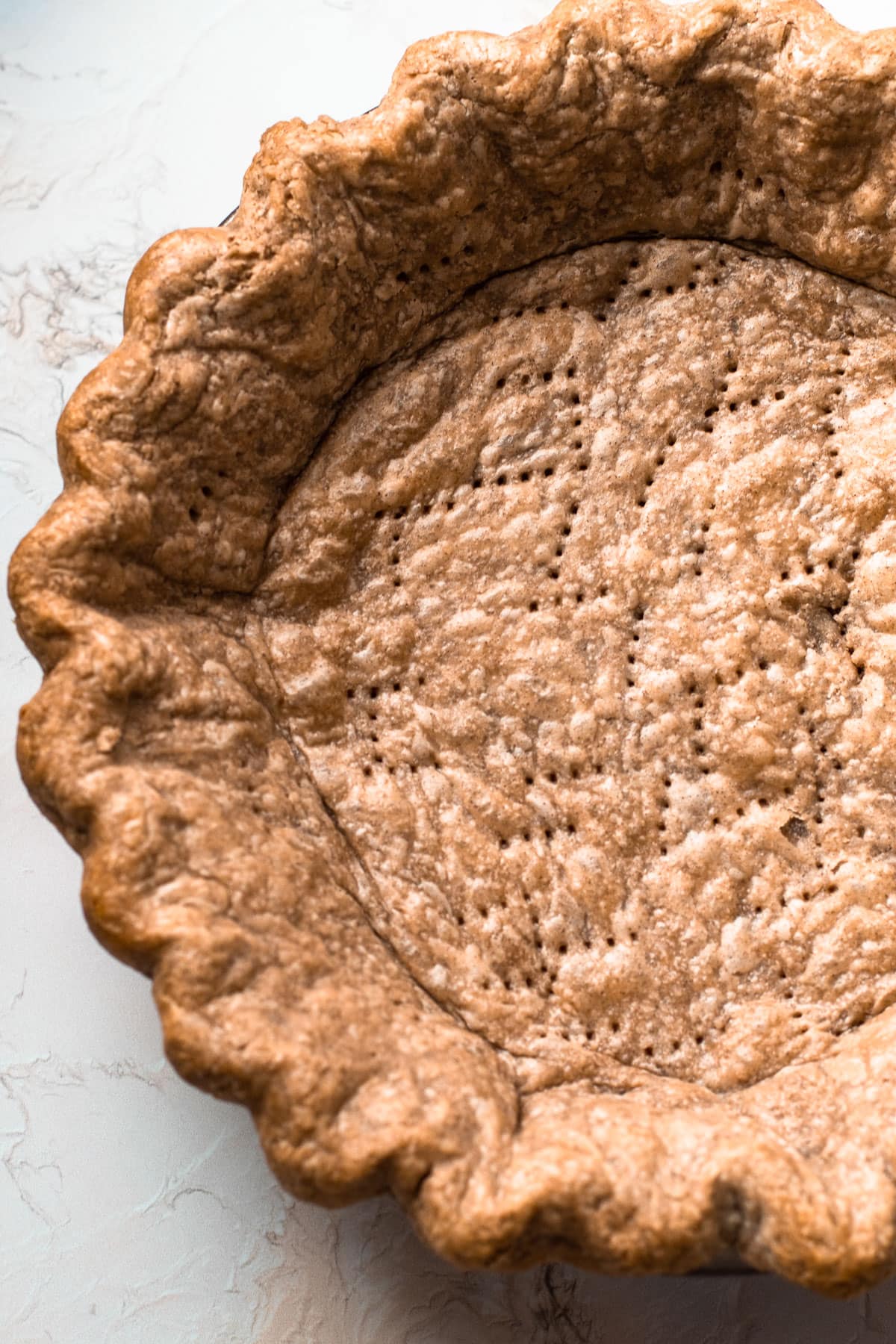 Let's Talk About Canned Pumpkin
This recipe calls for canned pumpkin puree. After many years of making pumpkin pies, and trying all types of different brands of puree, it needs to be said that not all canned pumpkin is the same.
Here's a little fun fact: did you know that some brands of canned pumpkin aren't actually pumpkin? Rather, some are not the pumpkin you are likely imagining. Some brands use a blend of squash--which is, after all, what a pumpkin is--including butternut squash to achieve their pumpkin puree.
This is useful to know because when it comes down to the actual product, the puree can vary pretty drastically. There are some brands out there that have very watery pumpkin puree. Speaking from experience, I know Trader Joe's brand is very thin, and often organic canned pumpkin is thin too. It's not a problem to have thin pumpkin puree; it just means there will be less pronounced pumpkin flavor.
If your brand of pumpkin seems a little thin to you, and you want a robust pumpkin flavor, you can cook down your puree. The only trouble is that you will need more than one can, since you'll be cooking out some of the moisture and the volume will decrease. In total, you want 15 ounces, which is about 1-½ heaping cups of puree. To cook down the puree, add it to a large skillet, and cook over medium-low heat, stirring very frequently. As the moisture cooks out, the puree will turn a darker color and thicken up.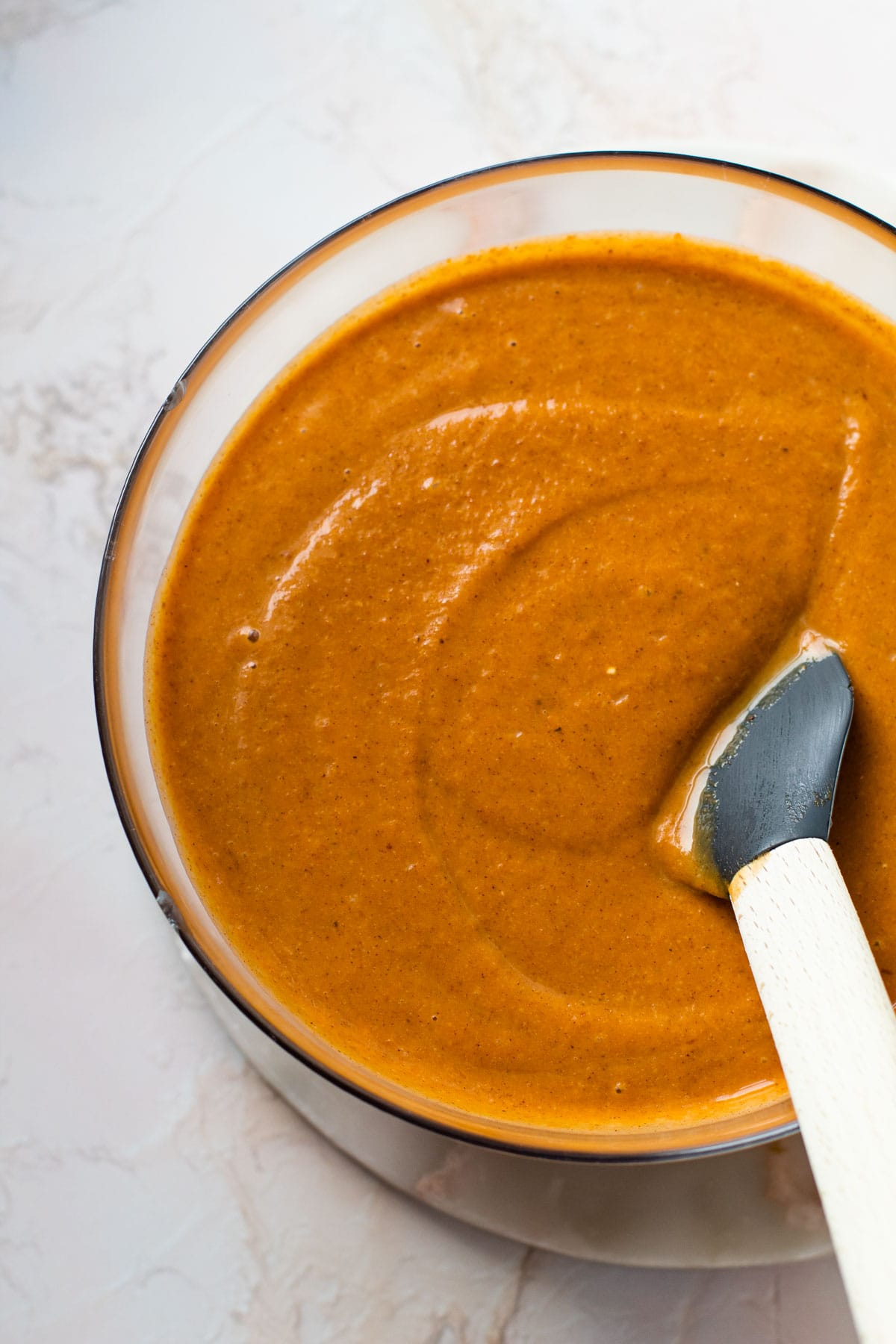 How to Get a Crack-Free Pumpkin Pie
Pumpkin pie filling is so easy to put together. Simply whisk it together in a bowl, and then let your oven do its job! However, a common problem when making pumpkin pie is over-baking it. This will cause unsightly cracks on the top of that beautiful filling.
What causes the pumpkin filling to crack?
In my early baking career, I spent years making pumpkin pies with giant cracks down the middle of them. For some reason, I always assumed it was one of those things you "had to accept" about making pumpkin pies. It wasn't until I started to really pay attention that I learned overbaking is the culprit for cracked pies.
A pumpkin pie is a type of custard pie. When you are making custards, the goal is to cook the filling just enough for the eggs to be set, which makes it safe to eat. If you overcook it, you are essentially boiling the eggs within the filling. In some cases, this will result in the pie tasting slightly like overcooked eggs. It can also make the pie feel tough, or spongy. More commonly, this situation leads to cracked or separated and leaky pies.
Another situation that can lead to a cracked pie is the extreme changes in temperature. Try to avoid opening the oven door frequently, or removing the pie completely from the oven to check for doneness. Additionally, if your kitchen is very cold, shut off the oven and leave the door open and let the pie cool inside for about 10 minutes before removing it to a wire rack to finish cooling. These situations are less likely to cause a crack in a pie though when compared to proper baking technique.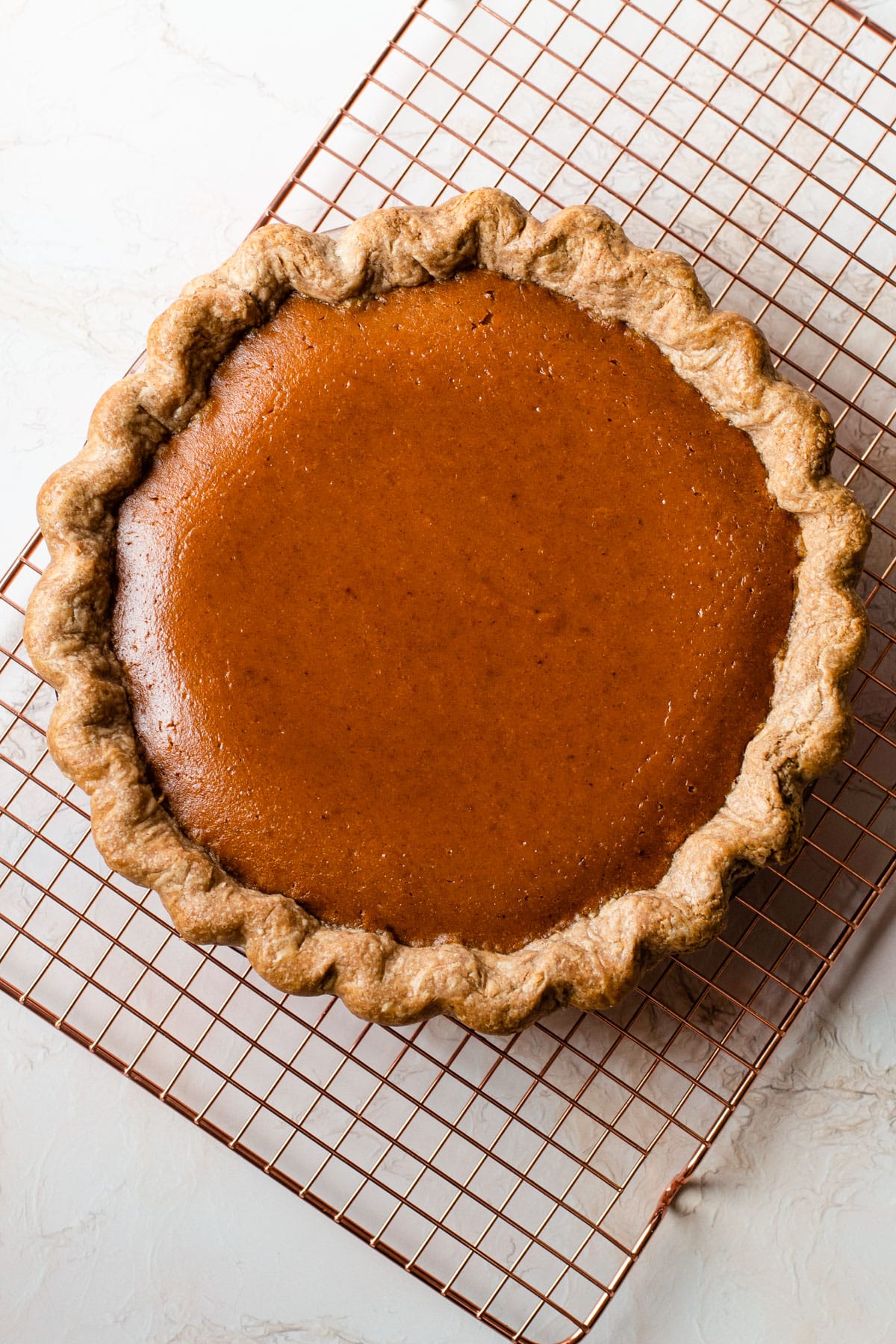 How to Bake a Pumpkin Pie Perfectly
What does an overcooked pie look like in the oven? It will present as the whole pie being puffed up or inflated. Once it comes out of the oven, it will deflate and often times crack during the cooling process.
You'll know the filling is done properly by looking at the outer edges of the filling and seeing if it has begun to "soufflé", or puff up. Look for the soufflé effect to appear about 2-2-½″ from the outer edge, and for the center of the filling to still be just slightly wobbly. The center should be softly set, but it shouldn't be completely liquid in the middle. Once it has reached that point, you want to take the pie out of the oven, and place it at room temperature to cool (preferably on a wire cooling rack).
Once it's fully cool at room temperature, move it to the refrigerator to finish setting up for at least 6 hours.
If all the filling is fully set or puffed up when you take it out of the oven, then it has unfortunately been overcooked. It may or may not develop a crack. However, don't despair if this happens: unless it is severely overcooked, it's still going to taste good, I promise. It's nothing a little whipped cream can't hide.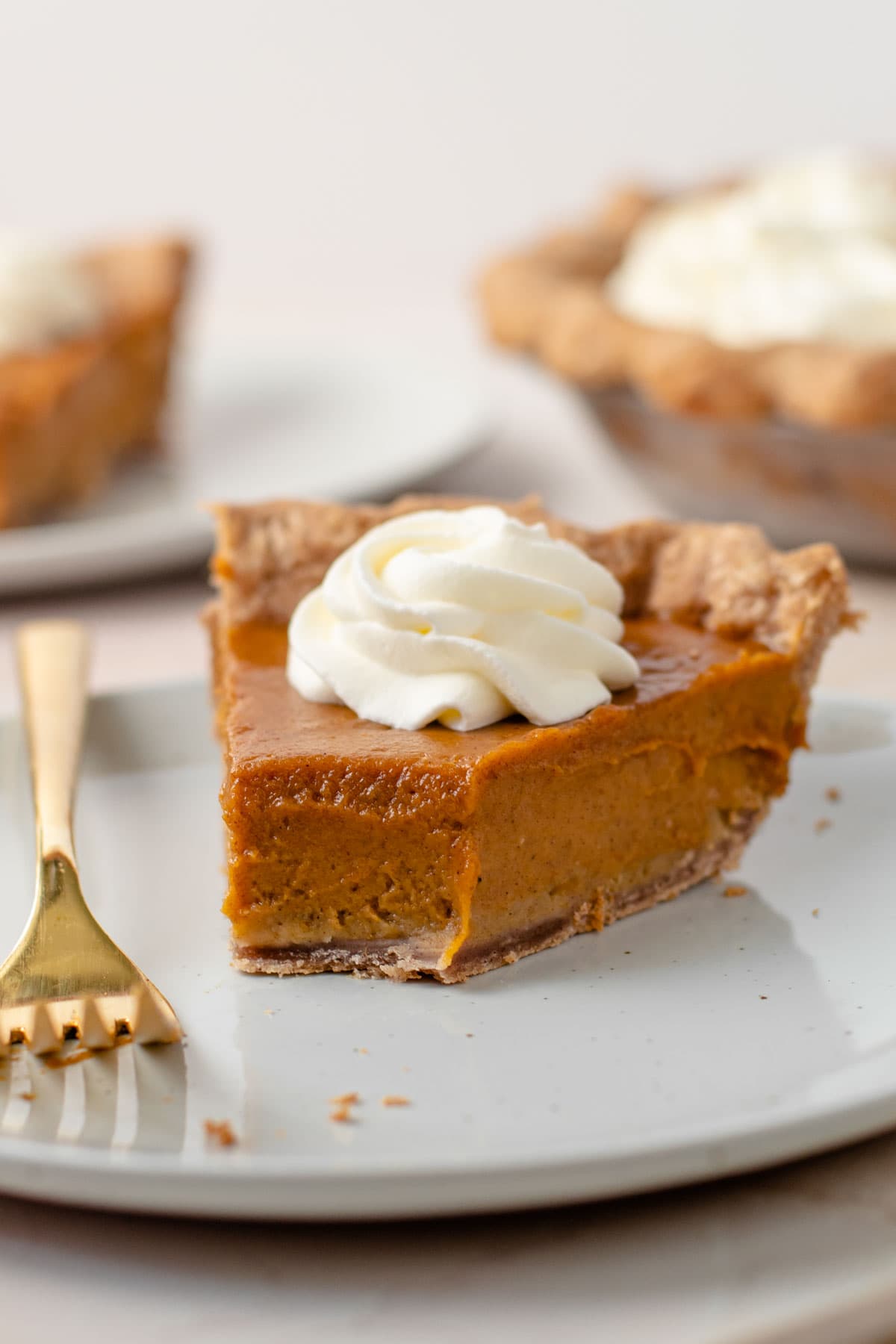 How to Serve Pumpkin Pie
This pie should be stored in the refrigerator. It can be served straight from the refrigerator, or you can let it sit at room temperature for a few hours before serving.
Serve this pie as is, or with whipped cream or maple whipped cream!
Other Pumpkin Recipes:
I am so honored when you make a recipe from my site! If you make this Pumpkin Pie, please leave a comment and a star rating with your experience! If you have any questions about this recipe, feel free to comment here, too!
Print
Full Recipe
Perfect Pumpkin Pie
With a cinnamon-laced buttery crust, and the richest, smoothest filling, this Perfect Pumpkin Pie is the one to make year after year.
Author: Kelli Avila
Prep Time:

00:20

Cook Time:

01:25

Total Time:

1 hour 45 minutes

Yield:

8-10 servings

Category:

Sweet Pie

Method:

Bake
For Cinnamon Pastry:
1

-

½

cups (

180 grams

) all-purpose flour

1 tablespoon

powdered sugar

2 teaspoons

ground cinnamon
Pinch salt

12 tablespoons

(

168 grams

) cold unsalted butter, diced into ½" pieces

¼

-

⅓

cup (

60

-

90

grams) ice water, more if needed
For Pumpkin Filling:
½ cup

(

100 grams

) granulated sugar

½ cup

packed (

100 grams

) light brown sugar

1 teaspoon

ground cinnamon

¼ teaspoon

nutmeg, freshly grated
Pinch cloves

3

large eggs

1 teaspoon

vanilla extract

1

(15 ounce) can 100% pumpkin puree

½ cup

(

113 grams

) heavy cream
Instructions
Prepare Crust:
Add the flour, sugar, cinnamon and salt to the bowl of a food processor. Pulse until combined.
Add in butter and pulse 7 times.
With the motor running pour in the water and pulse until the dough forms together into a mostly cohesive ball.
Remove the pastry from the processor and wrap in plastic wrap tightly. Let it rest in the refrigerator for a minimum of 30 minutes, or up to 2 days.
Roll out the pie dough to an 11″ circle and line a 9" pie plate, crimping the edges as desired. Prick the bottom of the dough all over with a fork to let steam escape during baking. Place the pie in the freezer for 30 minutes to let the pie dough chill.
While dough is chilling, preheat oven to 400ºF.
Remove the pie from freezer and line the pie dough with a piece of round parchment paper and then add pie weights (or dry rice or beans or lentils) to fill the pie shell, making sure to push pie weights to the edges. Bake for 20 minutes on the lower rack, then remove from oven and remove the parchment and pie weights. Return to the now empty pie shell into the oven and bake for an additional 10-12 minutes, or until the crust is fully baked. Lower the oven to 350ºF.
Make Filling and Bake:
Whisk together granulated sugar, brown sugar, cinnamon, nutmeg, cloves, and eggs until combined. Then, whisk in vanilla, pumpkin puree and heavy cream until combined.
Pour the filling into the crust, and bake the pie on the middle rack for 45-55 minutes, or until the edges have started to puff up about 2 to 2-½" inches in, but the center is still slightly wobbly. The middle of the pie should reach an internal temperature of about 180ºF.
Remove from the oven and let cool at room temperature before placing in the refrigerator for at least 4 hours to finish firming up.
This pie should be stored in the refrigerator. It can be served straight from the refrigerator, or you can let it sit at room temperature for a few hours before serving. Serve with simple whipped cream or maple whipped cream.
Notes
Want to make this gluten-free? Use this Gluten Free Pie Dough for the pastry and add cinnamon to it!
Want to make a perfectly smooth pie without any cracks? Be sure to check out the body of the post for all the tips.
Some of the links on this page may be affiliate links. Everyday Pie is a participant in the Amazon Associates Program. As an Amazon Associate I earn from qualifying purchases, at no extra cost to you.