Learn How to Make Pumpkin Purée at home for all your fall baking recipes!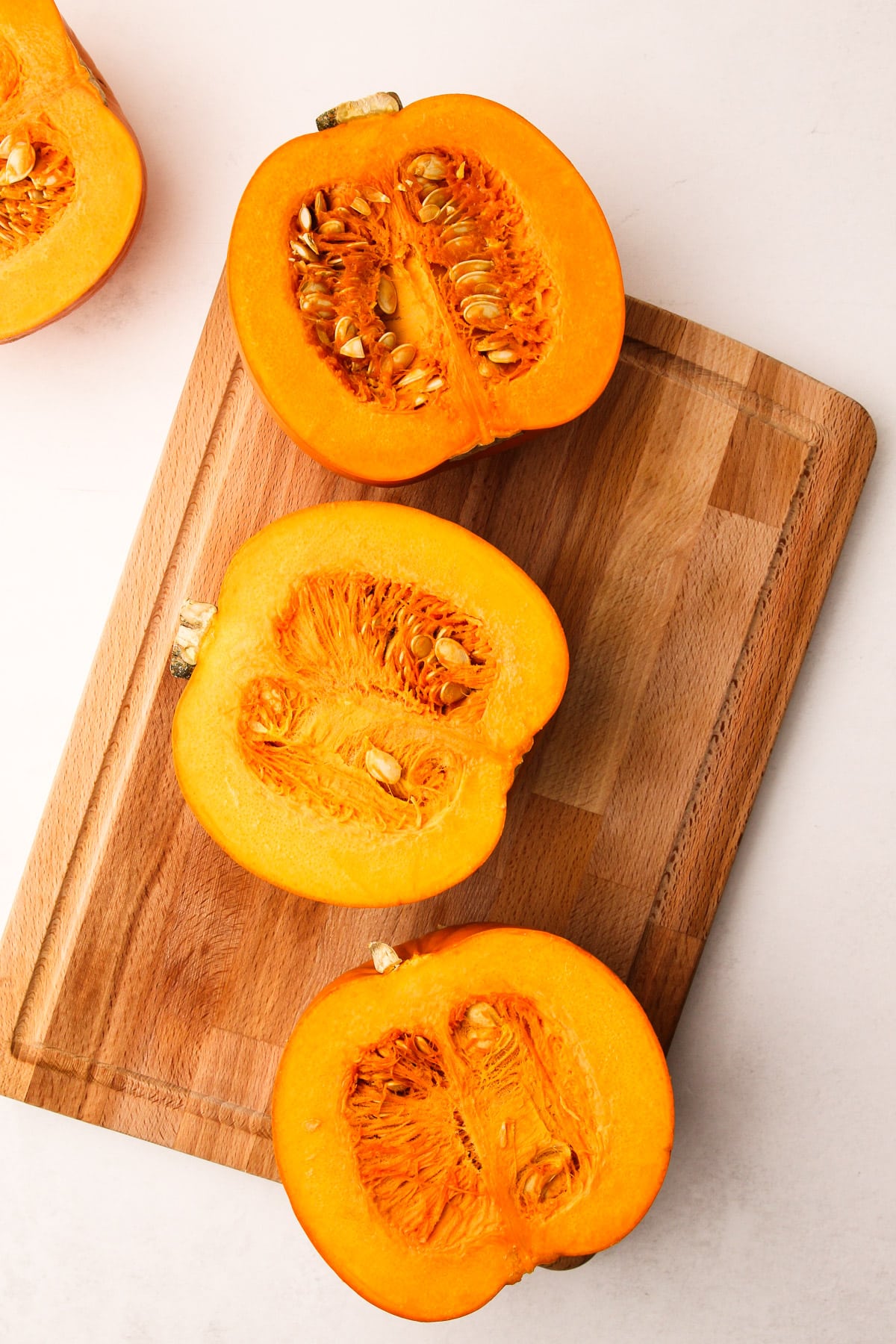 While store-bought canned pumpkin purée is easily accessible, making your own homemade version can enhance the flavor of your favorite pumpkin recipe. Homemade pumpkin purée has a much fresher and more authentic pumpkin taste compared to its canned counterparts, which often contain different varieties of squash (such as butternut squash) instead of just pumpkin.
So, for true pumpkin for your favorite pumpkin recipe, make it at home! Don't be intimidated, though—this process is simpler than you might think.
So, let's get to making it, shall we? The article below is full of useful information. You can jump around using the menu below, or skip to the end of the article for the full recipe.
Jump to: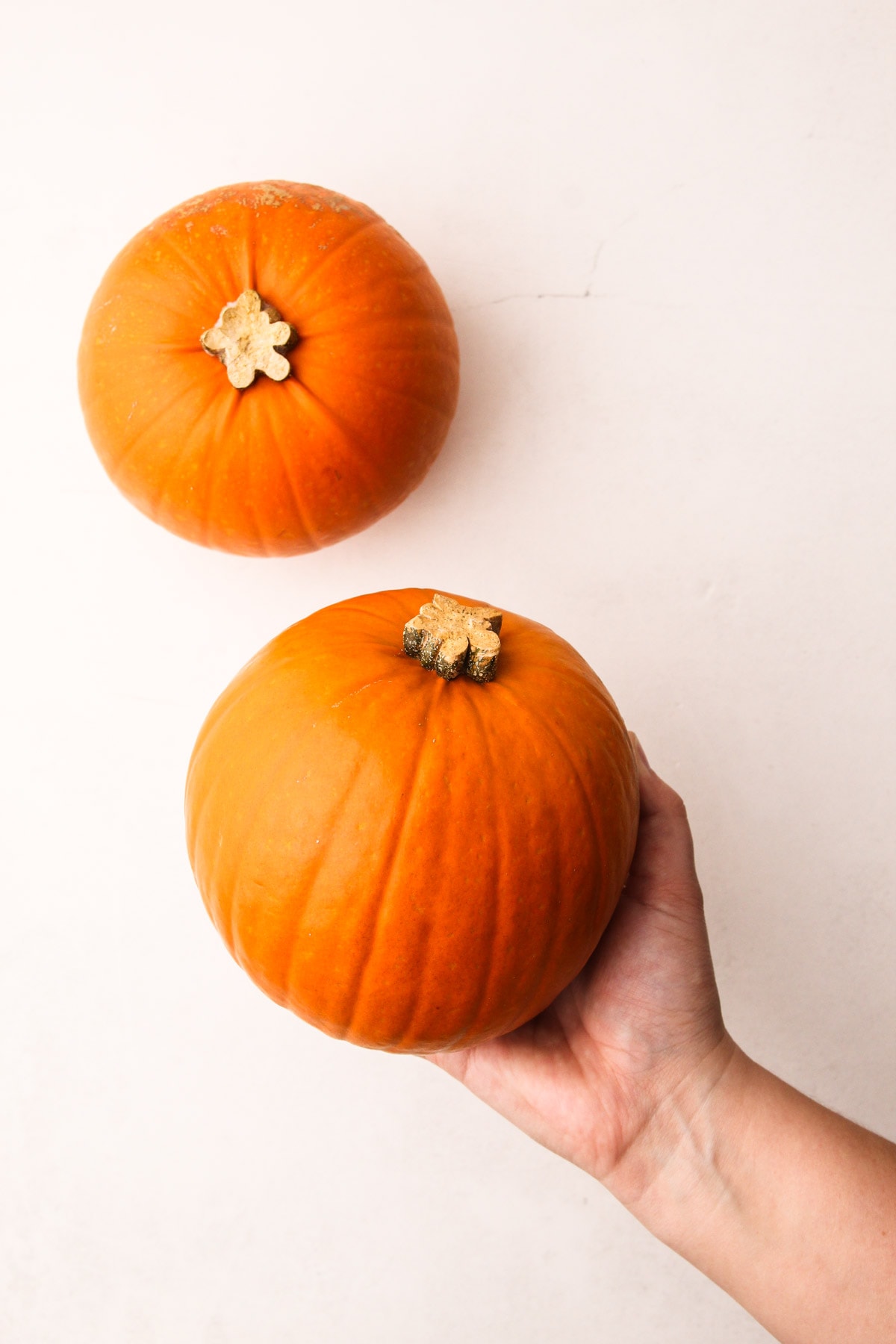 What Type of Pumpkin
When it comes to making pumpkin puree, not all pumpkins are created equally. The type of pumpkin you choose plays a significant role in the flavor and texture.
The two most commonly available pumpkins in the grocery store that are good for puree are:
sugar pumpkins
pie pumpkins
These pumpkins are specifically cultivated for culinary use, making them ideal for creating a rich and velvety puree.
There also may be some local heirloom pumpkin varieties available that are good for making pumpkin puree. It's best to talk with the farmer to check to make sure a specific varietal will be good for eating.
Regardless of the type you use, look for smaller pumpkins as they tend to have sweeter and smoother flesh.
Avoid using large carving pumpkins, as they are more fibrous and less sweet.
Step-By-Step Recipe Overview
This is a quick visual overview of the steps needed to make this recipe, and not intended to be the full recipe. For the entire recipe, keep scrolling to the bottom of the post!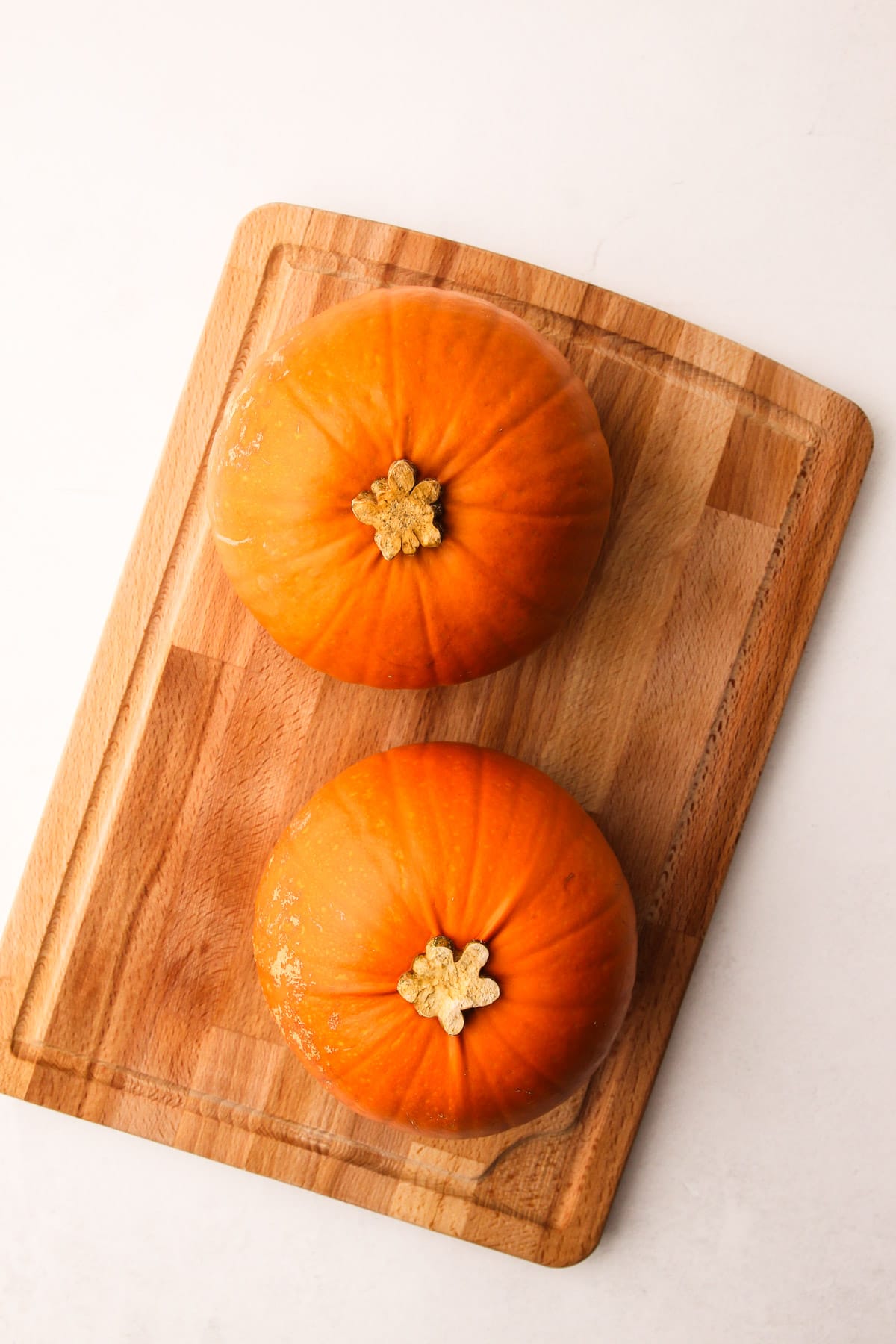 Step 1: Wash and dry the pumpkins.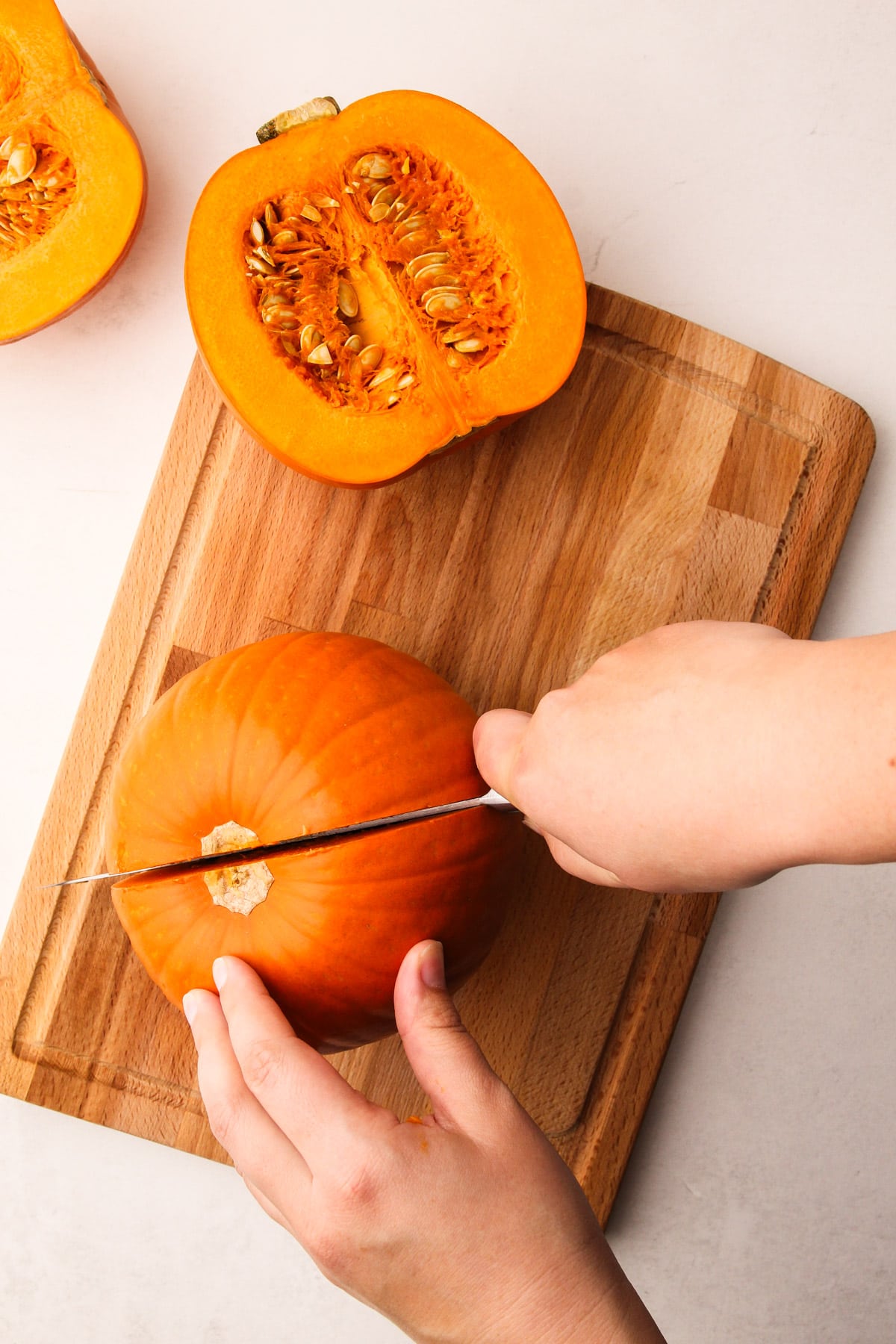 Step 2: Cut through the pumpkin (safely) from the bottom.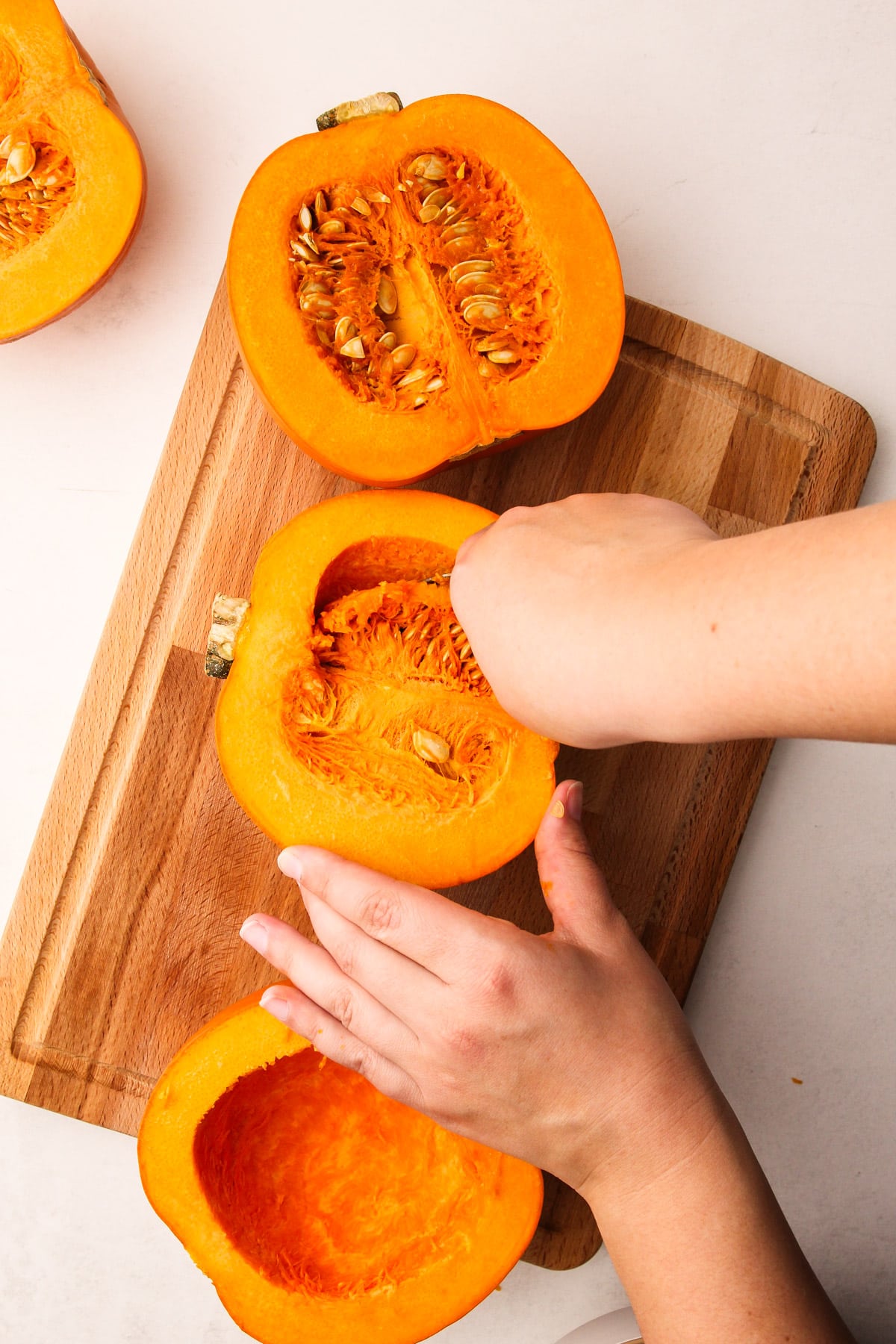 Step 3: Scoop out the stringy bits and seeds.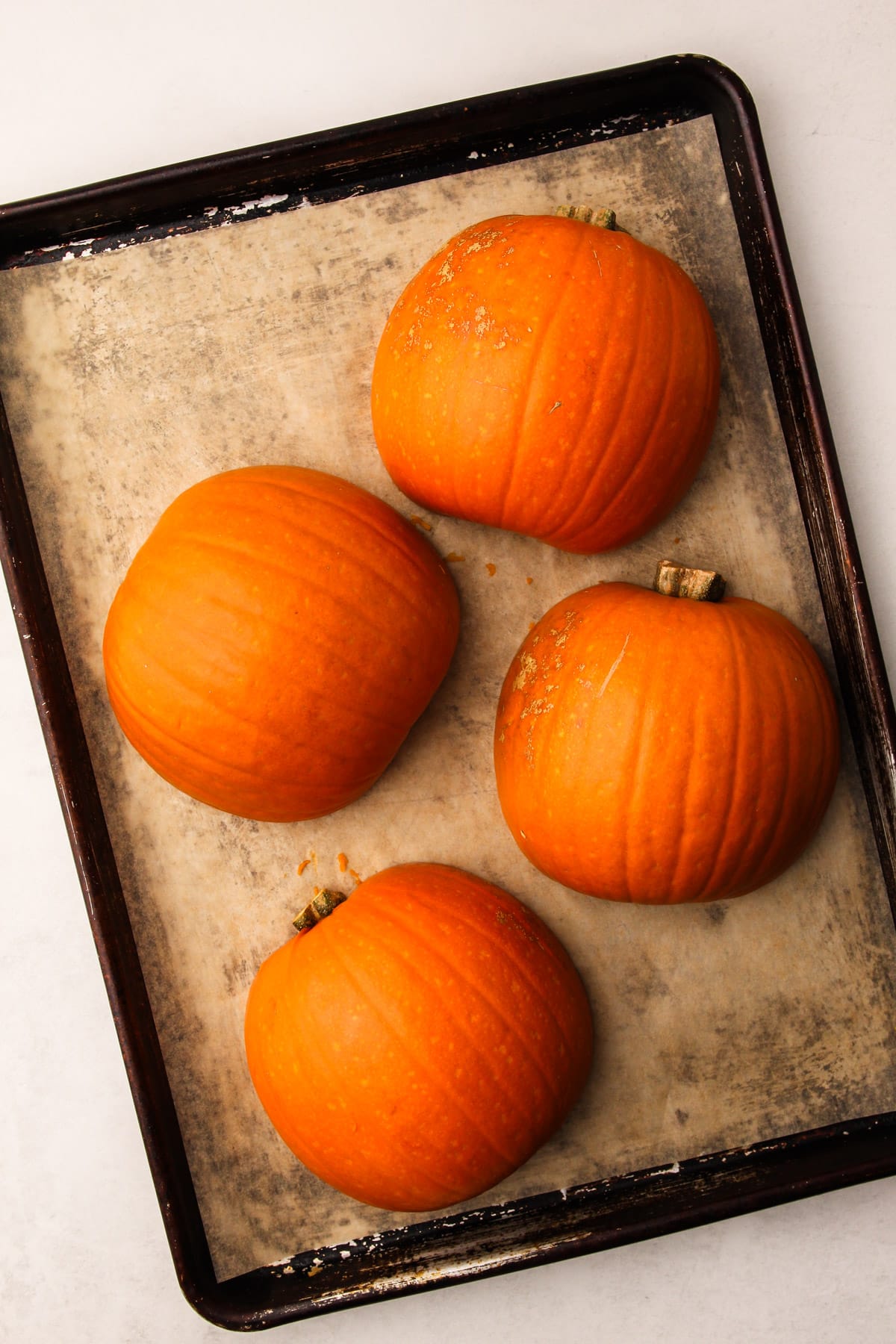 Step 4: Place pumpkins cut side down and bake for 30 minutes.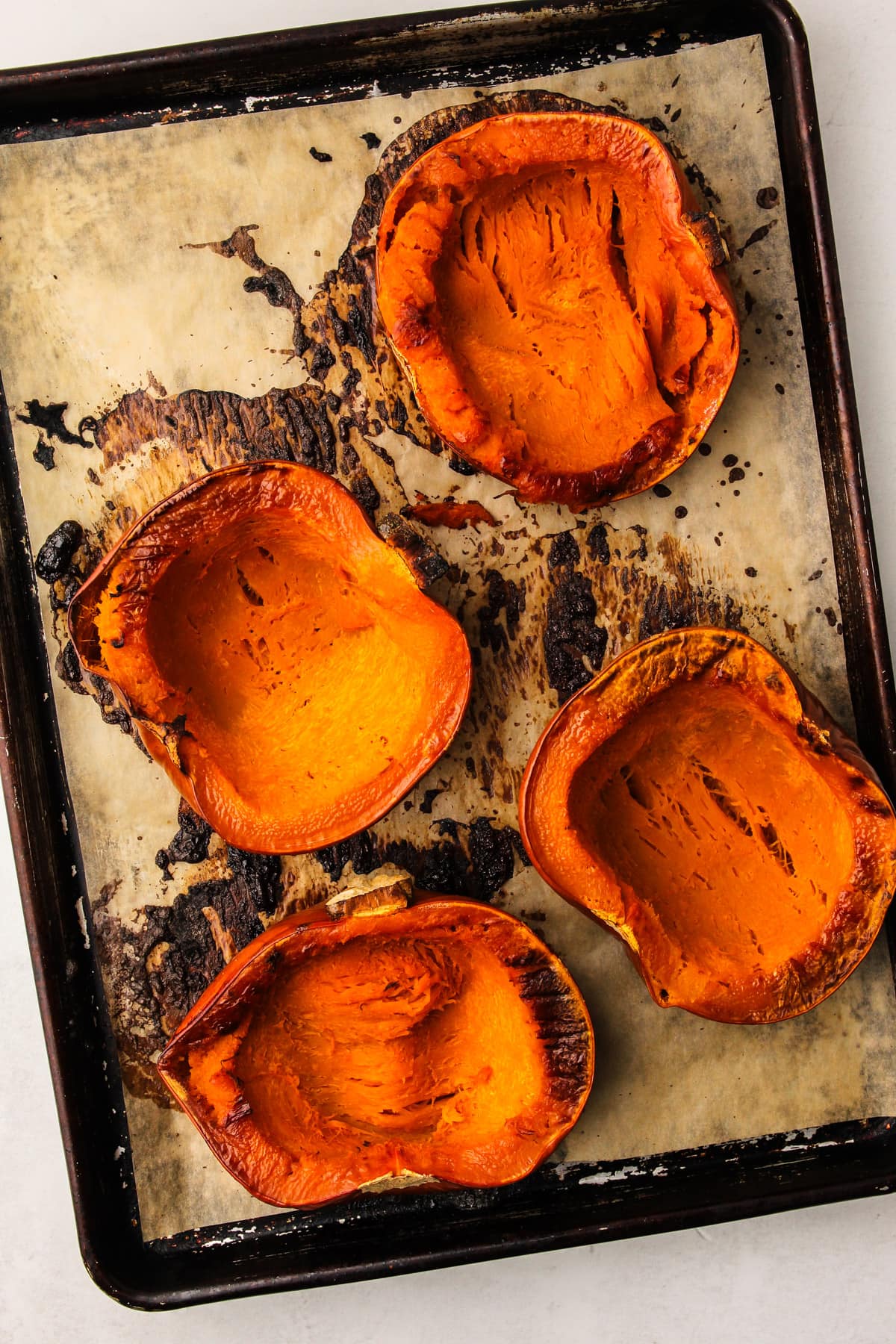 Step 5: Flip pumpkins over so they can evaporate some liquid as they become tender.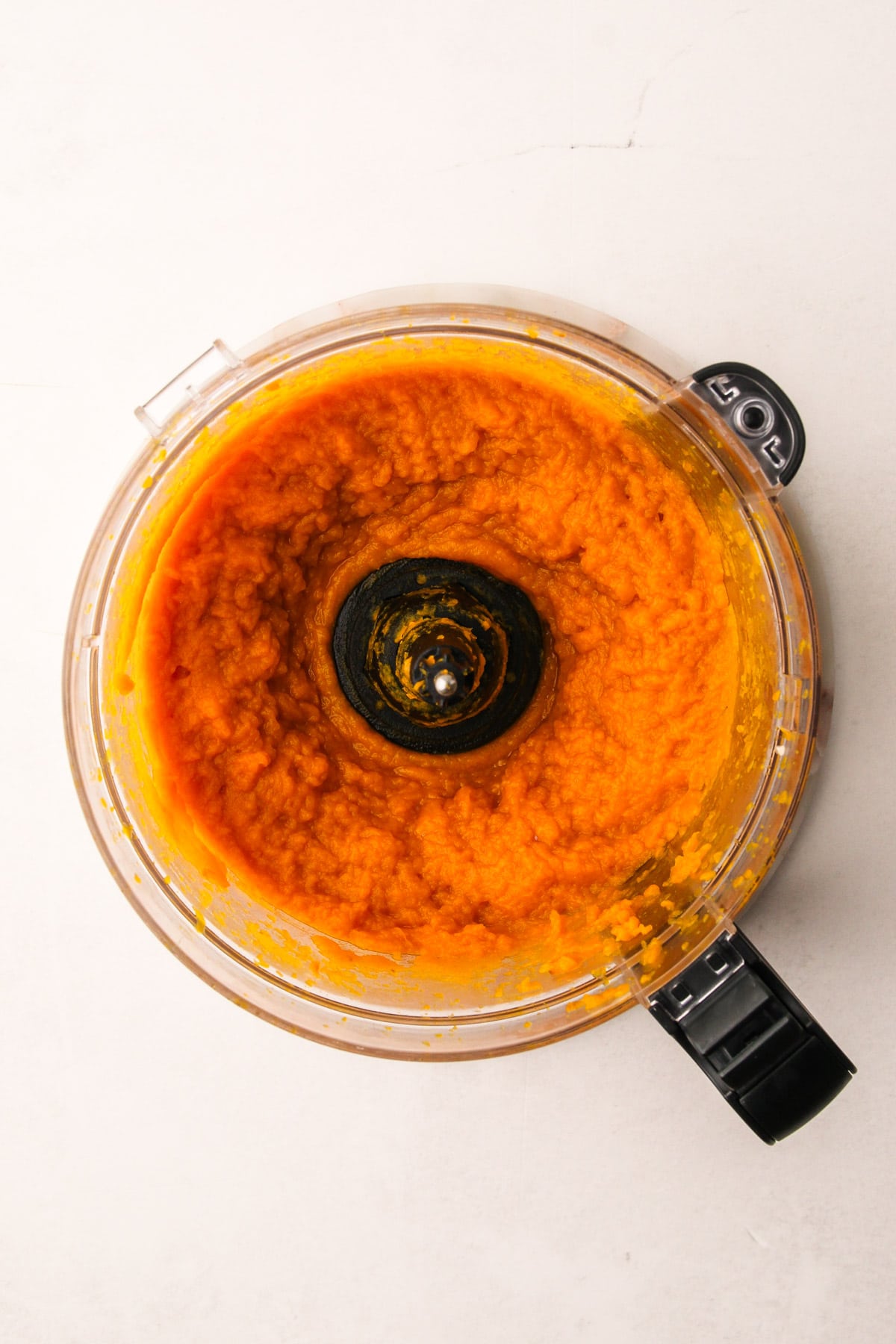 Step 4: Scoop out the flesh and puree until smooth.
Troubleshooting + Tips
Making pumpkin puree is a pretty straightforward process: roast the pumpkin then puree it! However, there are some words of caution to share/reiterate.
Make sure to choose the right pumpkin. Using the wrong type of pumpkin can result in a stringy or less flavorful puree.
Wash your pumpkin! It should be said that anytime you are cutting through the skin and into the flesh of any fruit or veggie, you must wash it to remove any dirt, debris, or other surface contaminants that may have gathered during the growing or handling process.
The actual baking time will vary, depending on the size of your pumpkin. The goal for this recipe isn't to brown the pumpkin, as that will impart a different flavor, but instead, it is just to cook it until tender while reducing the moisture in the pumpkin. That is why the recipe calls for flipping the pumpkins over halfway through cooking (to allow the steam to escape). Pay attention to prevent the pumpkin from browning too much.
Resist the urge to add water to the baked pumpkin in the food processor. More water equals less flavor, and that is not the goal here. Instead, scrape down the pumpkin as it is blended/pureed to make a smooth consistency.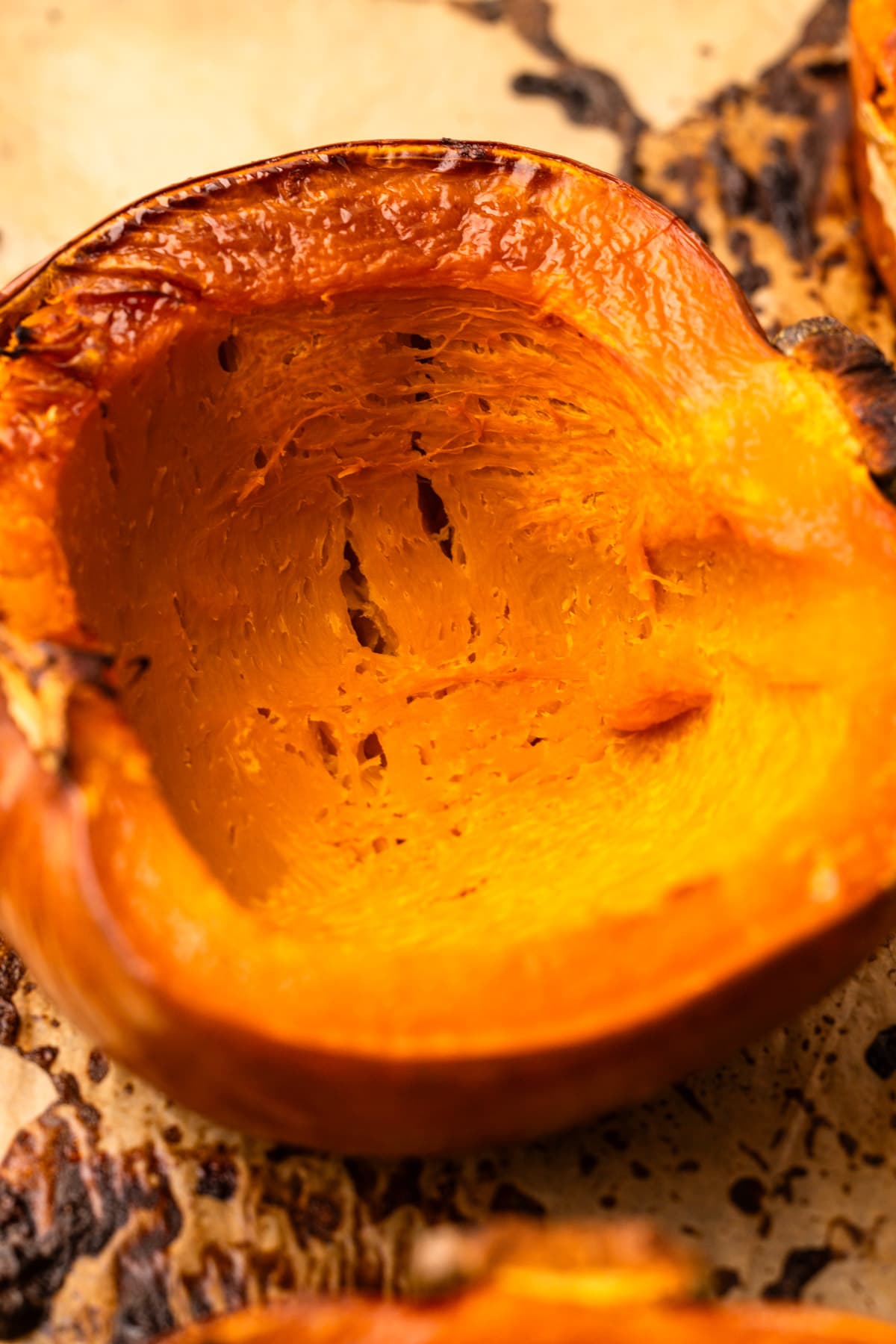 What to do if the pumpkin is very watery?
Depending on the pumpkin and the growing conditions, it's possible you get a pumpkin that has a high moisture content. In order to conteract that, you can do one or two things:
Let the pumpkin puree sit in a cheesecloth-lined strainer overnight.
Cook the pumpkin puree in a wide pan over low heat, stirring frequently. This will slightly change the taste of the pumpkin, but it will concentrate the flavor.
Using + Storing It
From classic pumpkin pies to not-so-classic pumpkin pie, and pumpkin bread or bars, the possibilities are endless for homemade pumpkin puree. Use homemade puree as you would for any recipe that calls for canned pumpkin.
Pumpkin puree can be stored in the refrigerator for about a week or frozen for a few months, ensuring you have a taste of fall all year round. Storing it in a mason jar results in a similar amount as a can of pumpkin, which I find useful!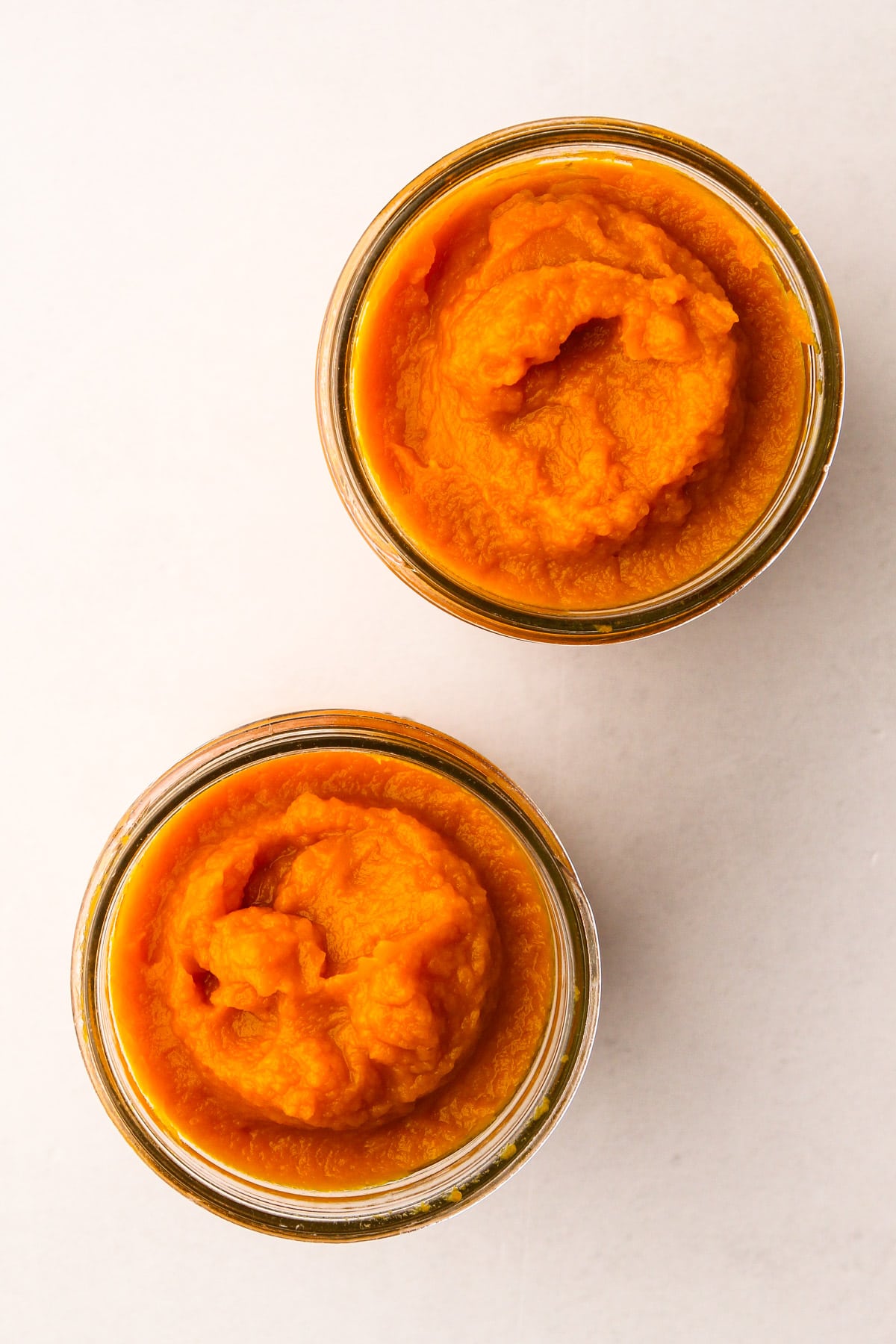 More Cooking Tutorials
All Pumpkin Recipes
I am so honored when you make a recipe from my site! If you make this Homemade Pumpkin Purée, please leave a star ⭐️⭐️⭐️⭐️⭐️ rating with your experience! If you have any questions about this recipe, feel free to comment here, and tag me on Instagram!
Print
Full Recipe
How to Make Pumpkin Purée
Learn How to Make Pumpkin Purée at home for all your fall baking recipes!
Author: Kelli Avila
Prep Time:

00:10

Cook Time:

01:00

Total Time:

1 hour 10 minutes

Yield:

about 4 cups

Category:

Tutorial

Method:

Bake
2

small (about

5

lbs.) sugar pumpkins or pie pumpkins
Instructions
Preheat oven to 400ºF and place an oven rack in the middle of the oven. Line a rimmed sheet pan with parchment paper.
Wash and dry the pumpkins. On a sturdy cutting board, secure the pumpkin stem side down. With a sharp knife cut through the pumpkin starting from the bottom then through the stem. If the stem is too big or hard to cut through, cut it off completely.
Scoop out the pumpkin seeds into a bowl, reserve for another use, or discard.
Place each pumpkin half cut side down on the baking sheet.
Bake for 30 minutes. Flip the pumpkins cut side up, and bake for another 30 minutes, or until they are fork tender. Once tender, remove from the oven place and briefly let it cool.
Pour out and discard any accumulated liquid in the pumpkin. Scoop out the pumpkin flesh and place in a food processor or high-speed blender. Purée until completely smooth, scraping down the sides as necessary.
Store in an air-tight container for up to 1 week or store in a freezer for up to 3 months.
Keywords: How to Make Pumpkin Purée
Pin it for Later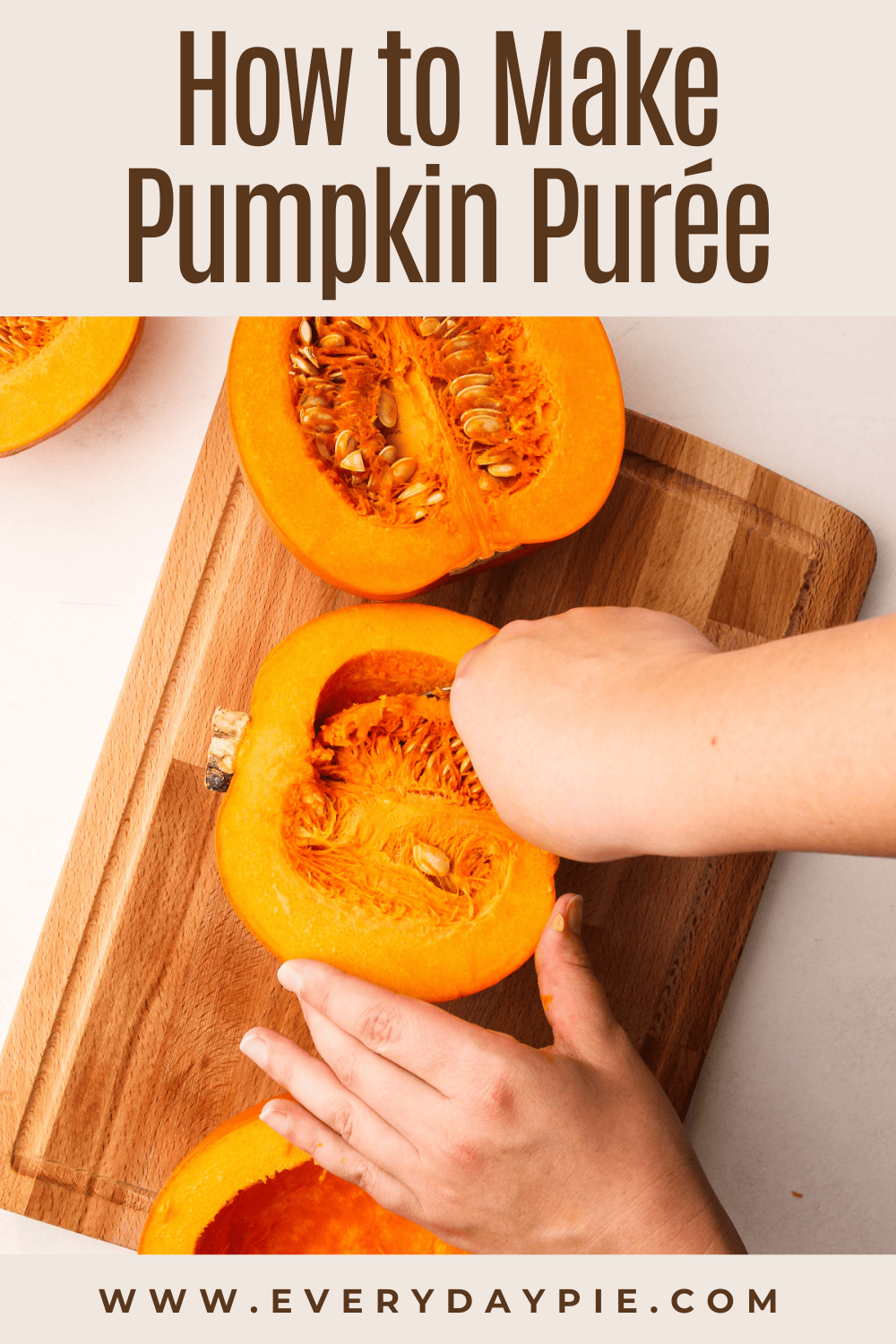 Some of the links on this page may be affiliate links. Everyday Pie is a participant in the Amazon Associates Program. As an Amazon Associate I earn from qualifying purchases, at no extra cost to you.