Using just two simple ingredients, it couldn't be any easier to make crème fraîche at home. Not only is making creme fraiche a fun project, but it's also financially-savvy; store-bought can not only be expensive, but it's also not always easy to get your hands on. Find out everything you need to know about Homemade Creme Fraiche in this post!
Homemade Crème Fraîche
Rich, creamy, and slightly tangy, crème fraîche is the smoother and sophisticated cousin to sour cream. The name Crème Fraîche, of course, comes from France and translates as "fresh cream". In France, it was traditionally made with an unpasteurized cream that contains a natural bacteria, which allows the cream to ferment and thicken. Over here in the US, most states prohibit the sale of unpasteurized dairy, so bacteria must be manually introduced. This homemade version is made with only two ingredients: cream and buttermilk.
Not only is it fun to play scientist for a day and ferment dairy at home, but making your own creme fraiche is also economical. Those little tubs can be quite expensive, as creme fraiche considered a specialty item. You can make double to triple the amount of creme fraiche for the same price as you would buy in the store. Plus, it's made with simple ingredients you often have on hand, so no need to run to the store to buy it.
Let's Ferment Together!
Making creme fraiche at home relies on the process of fermentation. Yes, it sounds intimidating. In a nutshell, dairy fermentation is the act of introducing bacteria to milk or cream, which then creates a comfortable environment for the bacteria to grow for a specified period of time. The introduced bacteria–which in this case is in the buttermilk–will feed off the sugar in the cream, transforming that sugar to acid. The acid drops the pH of the cream, creating an unsafe environment for bad bacteria to grow that can make you sick, yet creates a healthy environment for the good bacteria to thrive. As this occurs, the cream thickens and becomes slightly tangy. The longer you ferment the bacteria, the thicker and tangier the creme fraiche becomes. How long the process takes entirely depends on the environmental conditions in your home.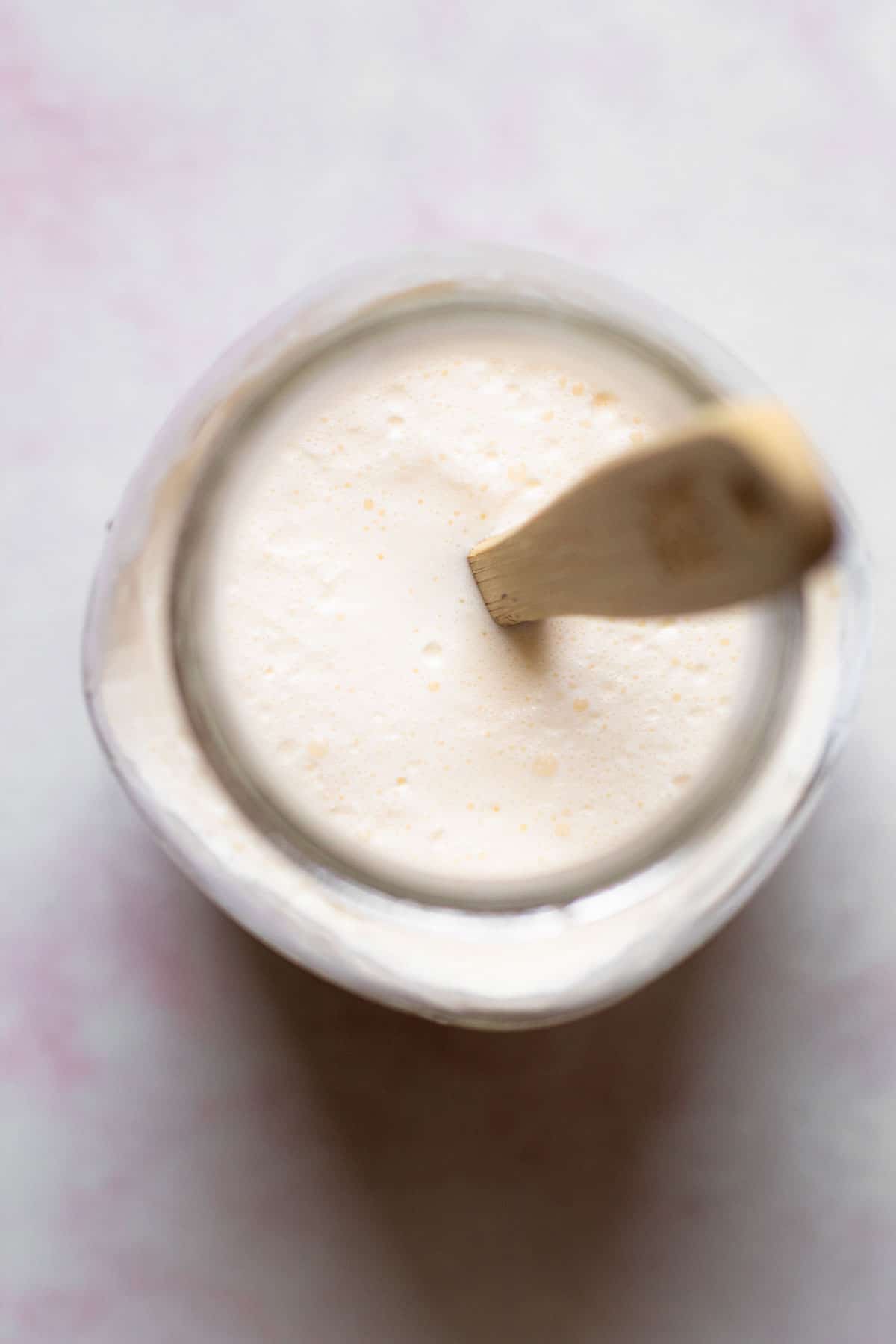 A Note about Ambient Temperature
In order for dairy to ferment, there are two key pieces that must be in place: the right kind of bacteria and the right ambient temperature. For creme fraiche, a good temperature is about 70ºF, which tends to be about room temperature. If your house is very cold, or if the cream is left in a drafty area, it might take longer to ferment. On the other end, if your house is very hot (say 80ºF or above), the dairy can ferment very quickly. You'll know it's ready when it has thickened up and smells fresh and tangy.
The Importance of Starting with Clean Equipment and Utensils
Whenever you are fermenting anything, you want to make sure any equipment and utensils being utilized are well cleaned, as you don't want to encourage the growth of bad bacteria. Clean all your utensils and cookware and anything else you are going to use with hot soapy water, or place in the dishwasher.
Ingredients and Equipment Needed
To make this you need just two ingredients:
Heavy Cream: Look for homogenized and pasteurized. I don't recommend using unhomogenized cream here because your finished product won't be smooth. In addition, if you bake with it, it could break. Some creams are ultra-pasteurized, which means that it is heated to a very high temperature to kill off nearly all bacteria. It's best to avoid this for making creme fraiche, because there is a chance it might not ferment.
Cultured Buttermilk: It's important you buy buttermilk that says it is cultured, which means it has the bacteria you need to ferment the cream! You cannot use homemade buttermilk that is made up of milk and lemon juice. It is possible to use another cultured dairy, such as yogurt or sour cream, but I suggest sticking with the cultured buttermilk for the best results.
The equipment you need is also pretty straight forward:
Clean non-reactive jar or bowl: I prefer to use a mason jar. It's simple, with a small opening to easily cover and glass is perfect for fermenting dairy. Fermenting dairy has acid; using a reactive metal will give an off taste to the finished creme fraiche and could interfere with the process.
Cheesecloth or a thin, clean kitchen towel: This covers the cream to prevent any dust or debris from getting in, but still allows the creme to breathe and let off any gas it is producing during the fermentation. I've also used a nut milk bag, as well.
An elastic: This is just to keep the cheesecloth or towel secure.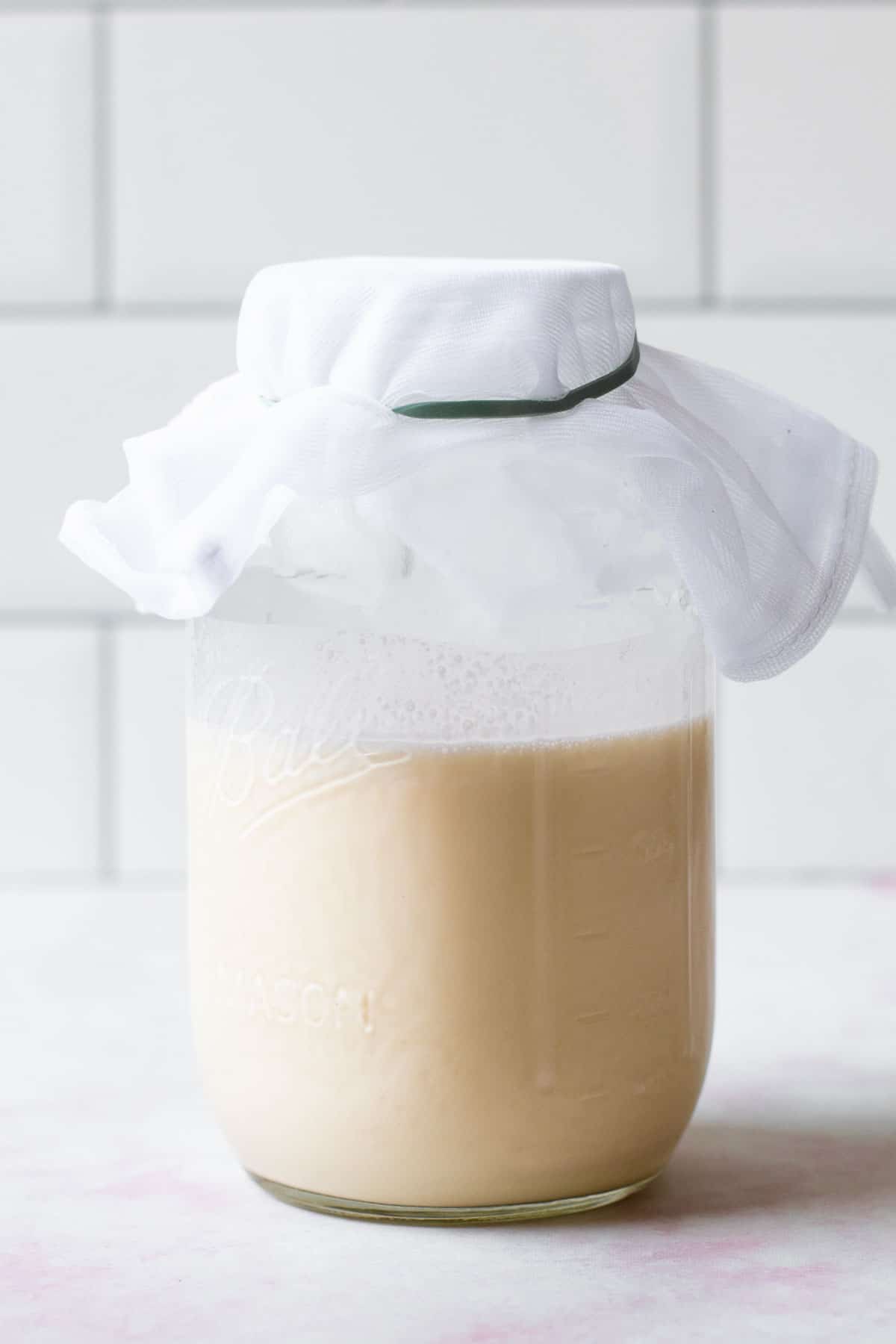 Homemade Crème Fraîche FAQs
Find some frequently asked questions about making crème fraîche at home here. Drop a comment if you have a question that isn't answered here!
How Long will Homemade Creme Fraiche last?
This can vary, given that creme fraiche contains healthy and active bacteria. It will depend on how fresh the ingredients were when you made your creme fraiche. What makes it turn dangerous to eat is the overgrowth of bad bacteria. Generally speaking, it can last up to two weeks. Some indicators that the product has turned unsafe to eat are a change in color, any visible mold growth, or a change in smell. It's okay–and expected– for the creme fraiche to harbor a slightly sour smell, but it should be pleasant smell, such as buttermilk. If it has an off smell, or simply doesn't smell fresh to you, it's certainly time to toss it!
Can I use ultrapasteurized cream?
It might be possible to make creme fraiche with ultrapasteurized cream, but it isn't recommended. Ultrapasteurized milk is heated at an extreme temperature, which really changes the make-up of the dairy; including killing off nearly any bacteria present, whether good or bad. There is a chance creme fraiche might not be successful with ultrapasteurized cream because it isn't able to grow the bacteria needed. In addition to this, it won't have the same unique taste that you expect with creme fraiche.
Can I use unhomogenized cream?
Yes, but I don't recommend it. Unhomogizned milk means there is a layer of thickened cream that separates from the lighter cream, and it can result in your final creme fraiche not being very smooth. While the flavor can be superior, another downside can be that the creme fraiche can also separate during baking. So generally speaking, I recommend using homogenized cream.
What if my house is really hot?
If your house is hot, as in above 70ºF, you'll have to keep a closer eye on the fermenting cream. It will likely ferment in less time. Once it's thickened, it's best to move it to the refrigerator.
What if my house is really cold?
The creme fraiche might not ferment! The bacteria needs a warm enough environment to grow, so if it is too cold, it may not ferment in the time it needs to. A quick fix to this problem can be to place your jar of creme fraiche inside your oven with the light on. The heat from the light, while being enclosed in a small space, will be enough to allow for fermentation.
How can I tell if it's gone bad?
It's possible for a mistake to happen along the way when you are fermenting dairy. Perhaps it's been left for too long, or some bad bacteria had been allowed to grow. This is very unlikely, if following the directions to this recipe, but always a possibility. You'll know something has gone wrong with the fermentation process immediately from the smell. Creme fraiche should smell tangy, slightly acidic, but very fresh. If it ever smells very sour, or just plain bad, there is a chance there is a problem and it's better to toss it and start over. Also, if there is ever any change in color, any growth, or even some clear liquid pooling on top of the cream, it's better to start over.
What type of container should I use to make it?
For many purposes, the container you choose needs to be cleaned diligently. As mentioned above, whenever you are fermenting food, you want to make sure your cookware and utensils are sanitary, as to discourage the growth of bad bacteria.
It's also important to use a non-reactive container. Metal can react to the growth of lactic acid and can change the flavor of the creme fraiche in a very unpleasant way.
Lastly, don't use any porous plastic containers. Porous plastic can also hold onto flavors from the previous foods it contained, and that can transfer into the creme fraiche.
How should I store it?
Similarly to what type of container you would use to make it, use a non-reactive metal container to store it. I have found that a glass mason jar works the best for this.
Ways to Use Crème Fraîche
There are so many ways to use crème fraîche. It can be used in all the same recipes that call for sour cream, and then some. Creme fraiche is far more stable than sour cream, and it can be heated!
It pairs great with sweet treats, such as pie, cheesecake, or used as an ingredient in baked goods. It is equally as good with savory foods as well. It's perfect as a topping for tacos, in soup, or used in a savory sauce.
You can add sugar to it, to sweeten it, and it's a perfect topping for any pie or other baked good.
Make sure to comment below and tag @everydaypie on Instagram if you make Homemade Crème Fraîche or if you have any questions!
Print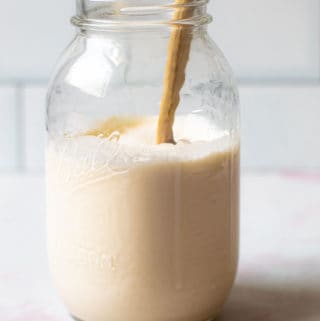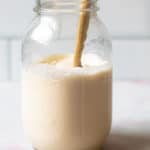 How to Make Crème Fraîche
Author:

Kelli Avila

Prep Time:

00:02

Total Time:

12:02

Yield:

2 cups

Category:

Basics

Method:

Fermentation
---
Description
It couldn't be simpler to make Crème Fraîche at home, using two simple ingredients. Not only is making creme fraiche a fun project, but it's economical too since creme fraiche is an expensive store-bought specialty item. You can also make it custom to how you like it in terms of tanginess by adding up to 1 additional tablespoon of buttermilk to the cream.
---
2 cups

heavy cream (not ultra-pasteurized)

2

–

3

tablespoons real cultured buttermilk
---
Instructions
Mix together heavy cream and buttermilk in a clean non-reactive container, such as a mason jar.
Cover the opening with breathable material, such as cheesecloth or a thin kitchen towel and secure with a rubber band.
Let it sit at room temperature for 8-24 hours, until thickened.
Store crème fraîche in a covered non-reactive container for up to 2 weeks in the refrigerator.
---
Notes
Make sure to start with clean utensils to prevent any growth of any lingering bad bacteria. Wash all equipment with warm soapy water, or run in the dishwasher.
Don't use ultra-pasteurized milk. The cream is heated to a very high temperature and can possibly prevent the creme fraiche from fermenting.
For a tangier creme fraiche, add 3 tablespoons of cultured buttermilk.
Keywords: Homemade Creme Fraiche
Some of the links on this page may be affiliate links. Everyday Pie is a participant in the Amazon Associates Program. As an Amazon Associate I earn from qualifying purchases, at no extra cost to you.