This Blueberry Cream Cheese Pie, with a crunchy shortbread crumb crust, a creamy rich cheesecake filling and a beautiful homemade blueberry topping, is an amazing and delicious (make-ahead) pie everyone will love.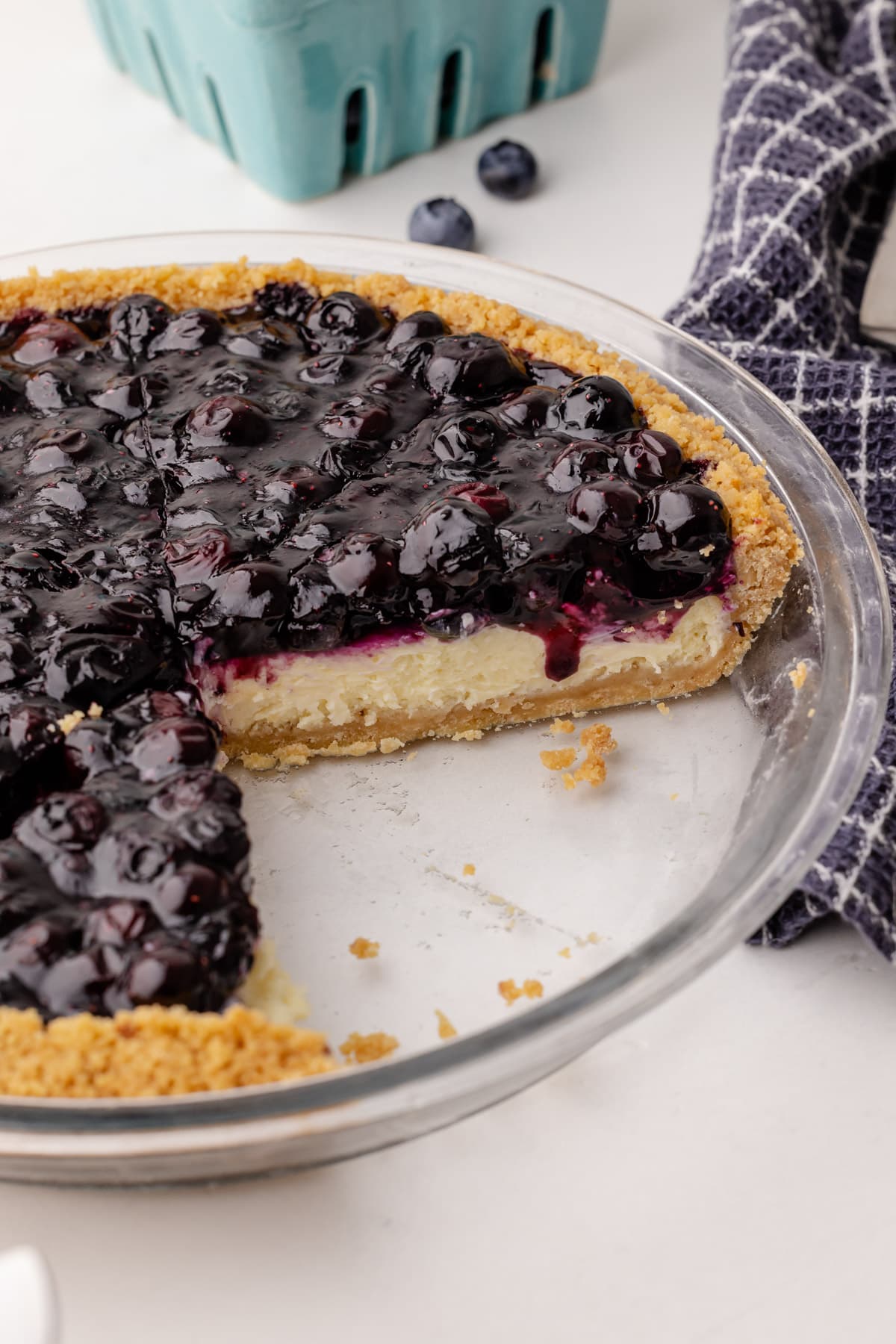 This Blueberry Cream Cheese Pie is a delicious cheesecake pie hybrid. It has a perfect balance of flavors thanks to the various layers. This pie starts with a sweet and crunchy crumb crust, followed by a baked cheesecake layer, a juicy and bright blueberry topping, and finally, if you are feeling up for it, whipped cream to bring all the flavors together.
I can almost guarantee, everyone is going to love this pie.
And if you've ever been intimidated to make a cheesecake before (the stress about making sure it doesn't crack, and you don't overwhip it, and all the other possible fails!)...let this be your intro cheesecake. This has very similar ingredients but is so much less complicated to make, and we're calling it pie...so it doesn't have to be intimidating.
So, let's get to making it, shall we? The text below offers tons of tips and helpful notes, or you can scroll to the bottom to grab the recipe and get started!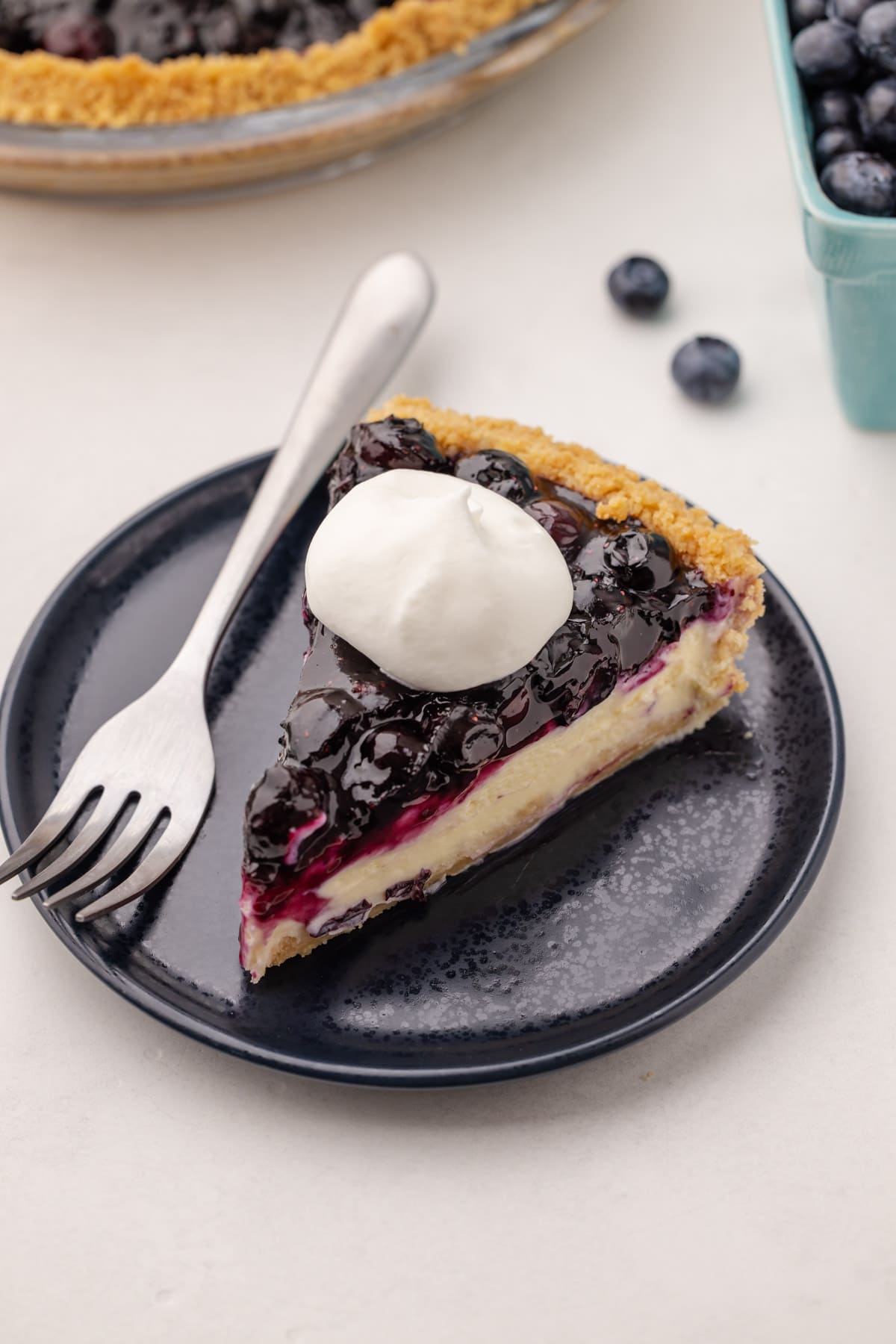 Ingredients Needed
Here is an overview of the ingredients needed for this recipe. The full recipe is listed below in greater detail.
fresh blueberries
shortbread cookies (this is for the pie crust)
cream cheese (Philadelphia brand if you can, there is no denying it's far superior to nearly any brand i've tried)
sour cream
butter
granulated sugar
salt
eggs
vanilla extract
lemon juice
cornstarch
Frozen or fresh blueberries? This recipe was developed using fresh blueberries, but it's perfectly fine to use frozen! If you use frozen blueberries, make sure to read the note on the recipe for the slight adaptation that the recipe requires.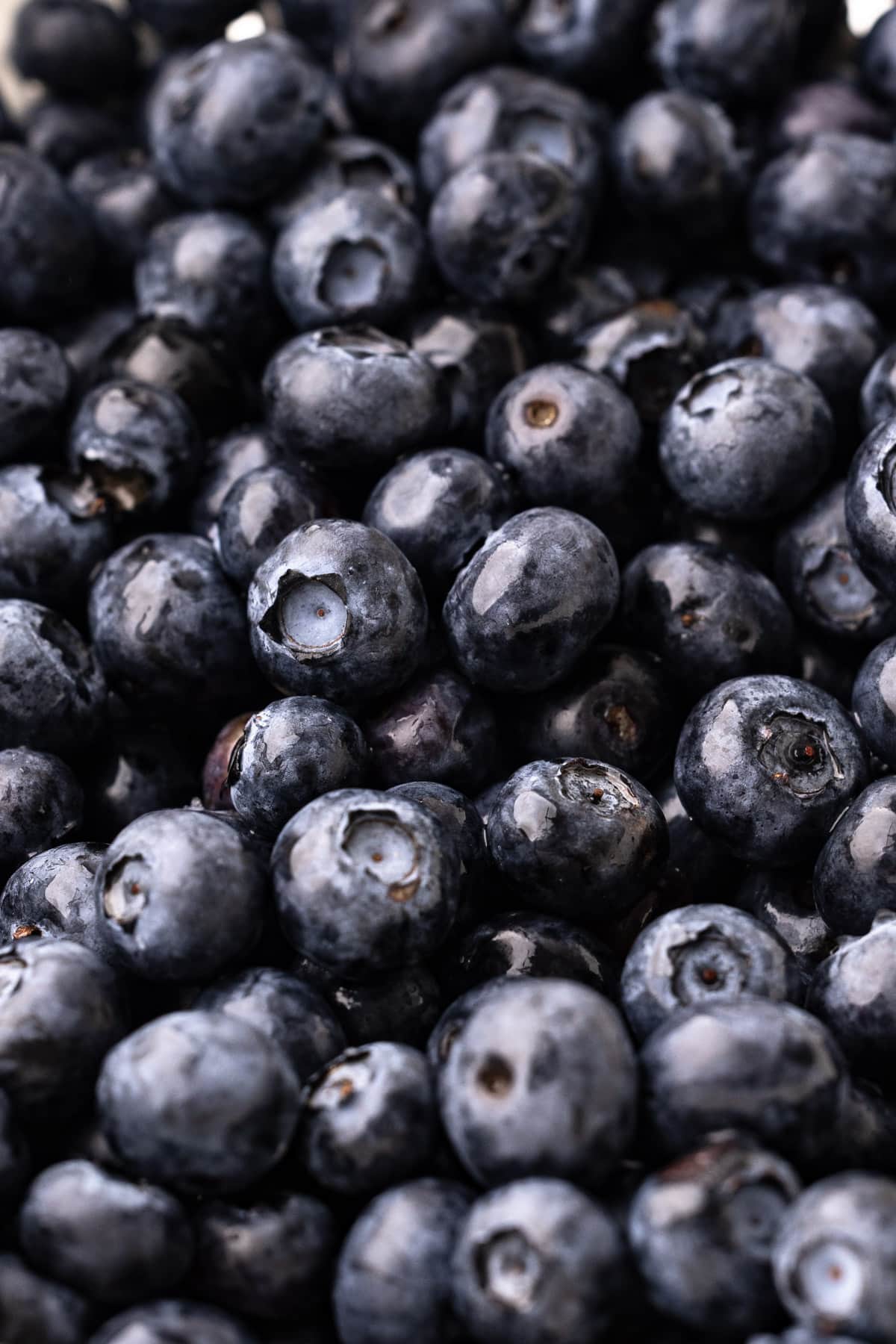 Useful Tools to Make this Recipe
Here is a list of some of the primary tools I used in this recipe. You won't necessarily choose to use them all, but they are exactly what I used here. Any links may contain affiliate links.
food processor (to crush the shortbread cookies)
electric mixer (stand mixer or hand mixer)
9" pie plate
medium pot
kitchen essentials: baking scale, bowls, measuring cups and measuring spoons, rubber spatula, knife, cutting board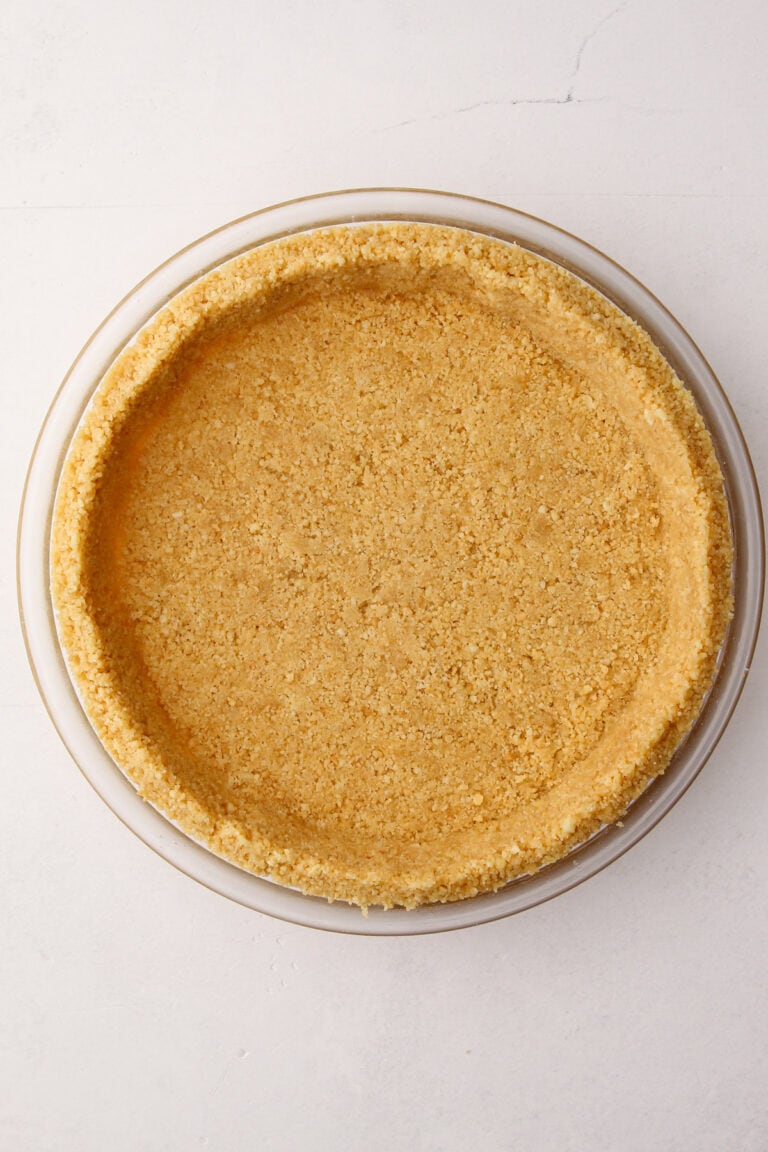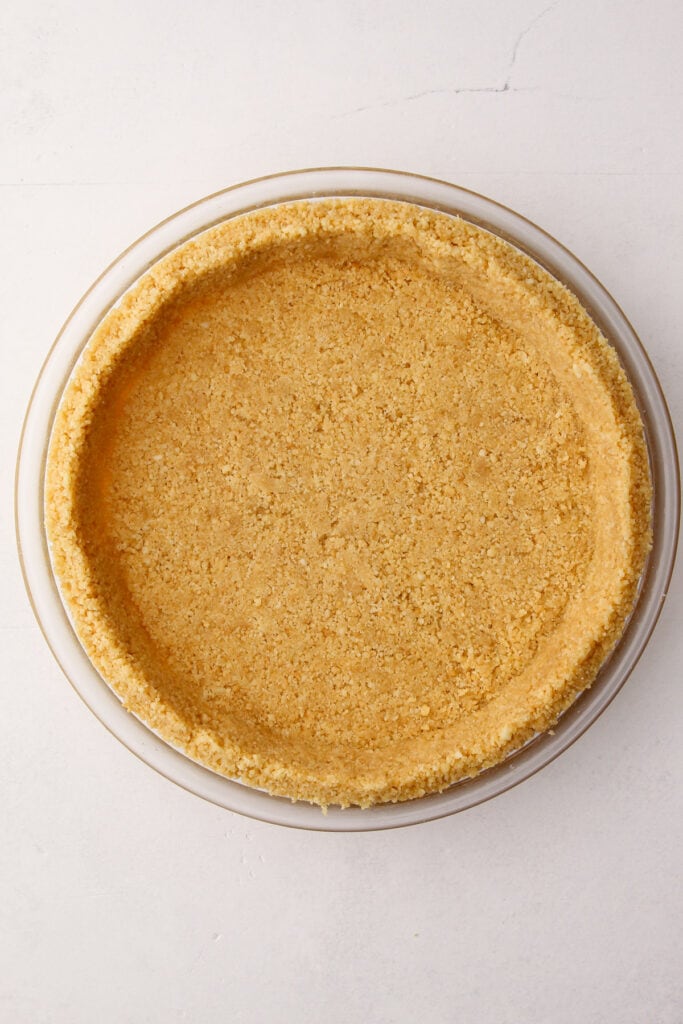 Recipe Overview
Here are is a brief overview of the recipe (the full recipe is at the bottom of the article):
Assemble the shortbread crumb crust
Make and bake the cream cheese filling, aka cheesecake
Make the blueberry pie topping and add it to the pie
Chill the pie at least 4 hours, but preferably overnight
Devour with whipped cream, much to the delight of everyone consuming it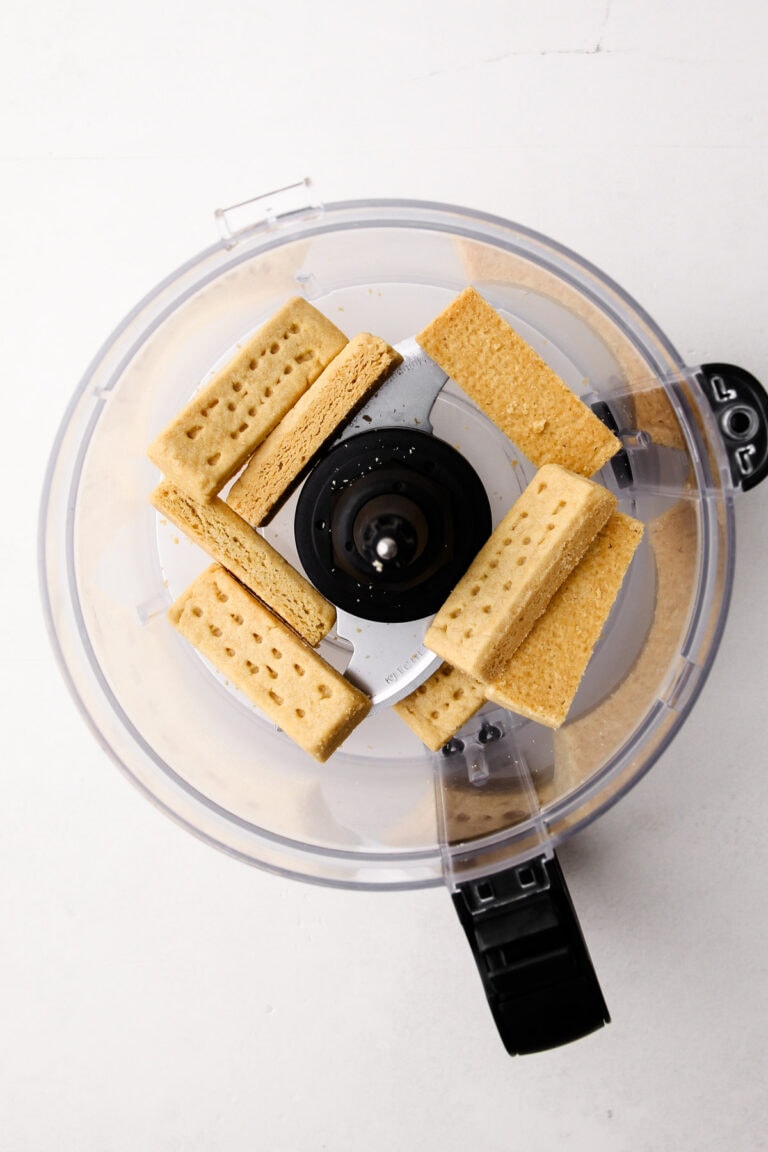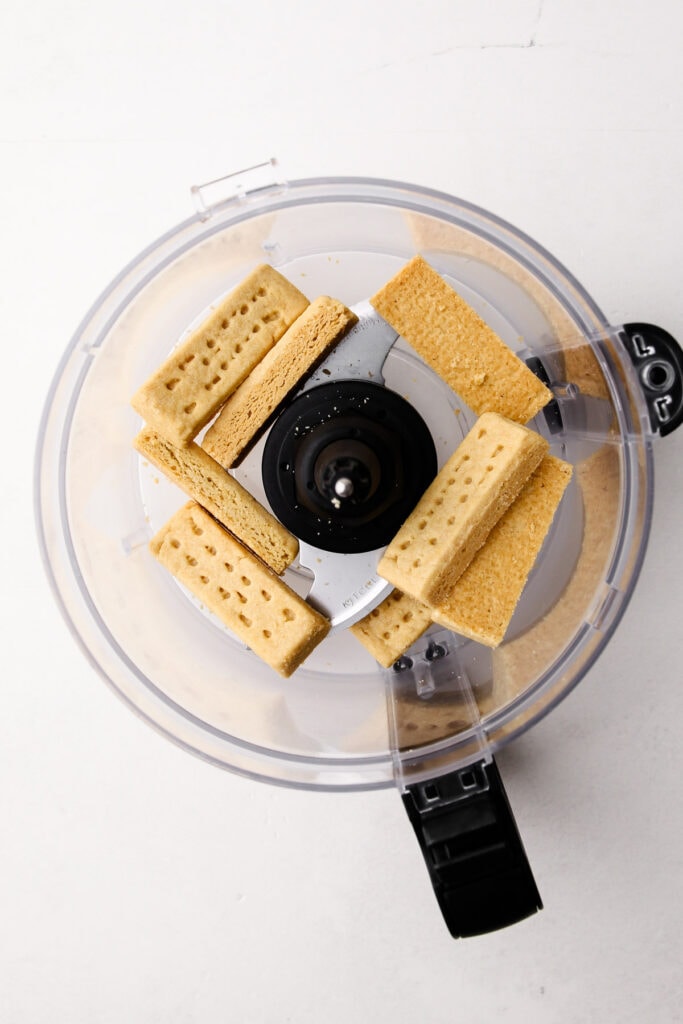 Pie Crust Options
This recipe uses a shortbread cookie crust. Shortbread cookies have a buttery flavor that pair well with this pie.
Crumb crusts are awesome because they don't require much work. They are also a great option because of the contrasting textures they lend to the dessert, particularly when it comes to this fruit and cheesecake filling.
However, I've also made this with a Graham Cracker Crumb Crust too, and that works well!
A Vanilla Wafer Crust is also a good option!
The crumb crust does not need to be parbaked (blind baked) since it will go in the oven with the cheesecake!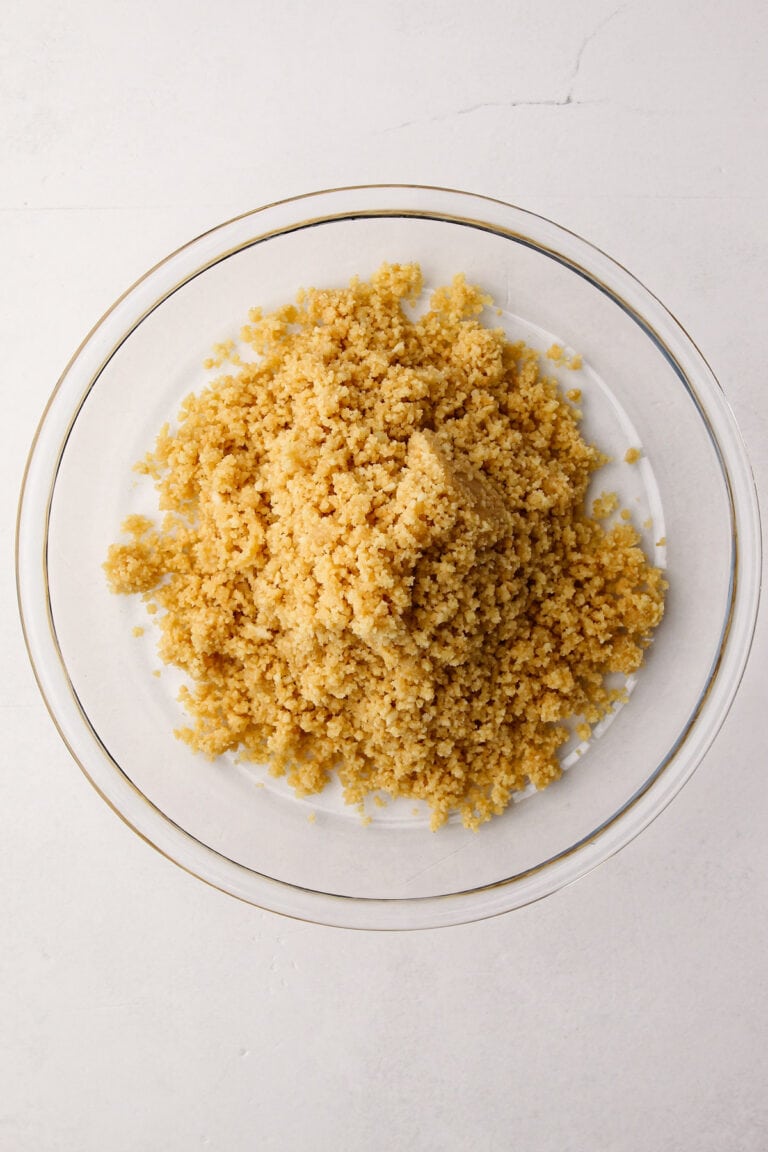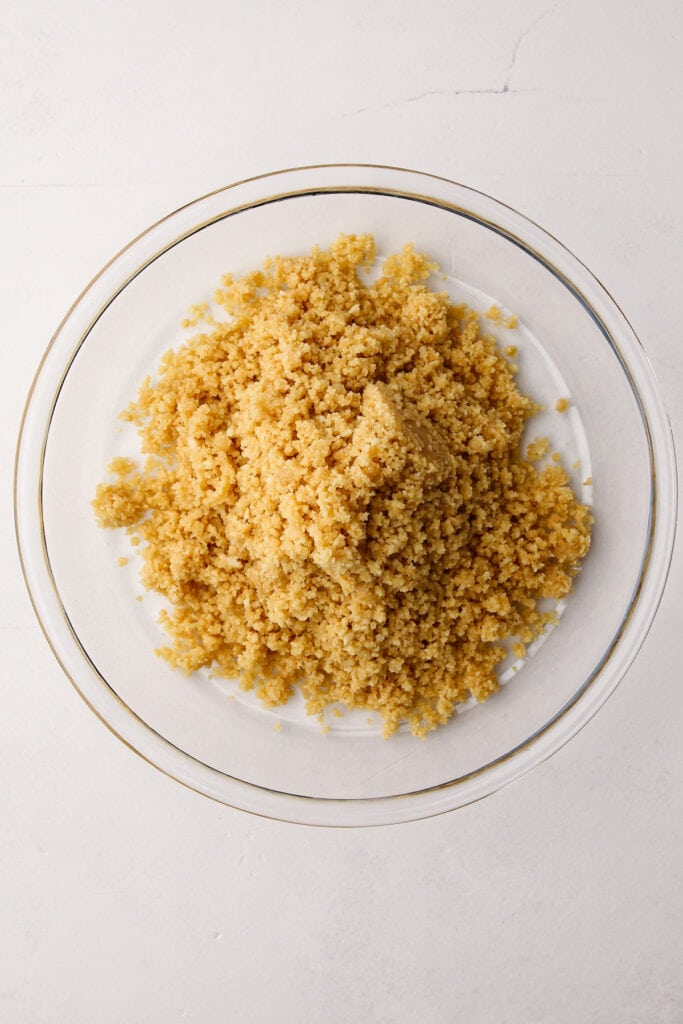 Crust Troubleshooting Tips
If for any reason your crumb crust mixture is extremely dry, you can add 1 tablespoon of melted butter–one tablespoon at a time–to the crumbs until they are evenly moistened. Alternatively, if your mixture is too wet and it is hard to work with, add more shortbread crumbs until it is pliable.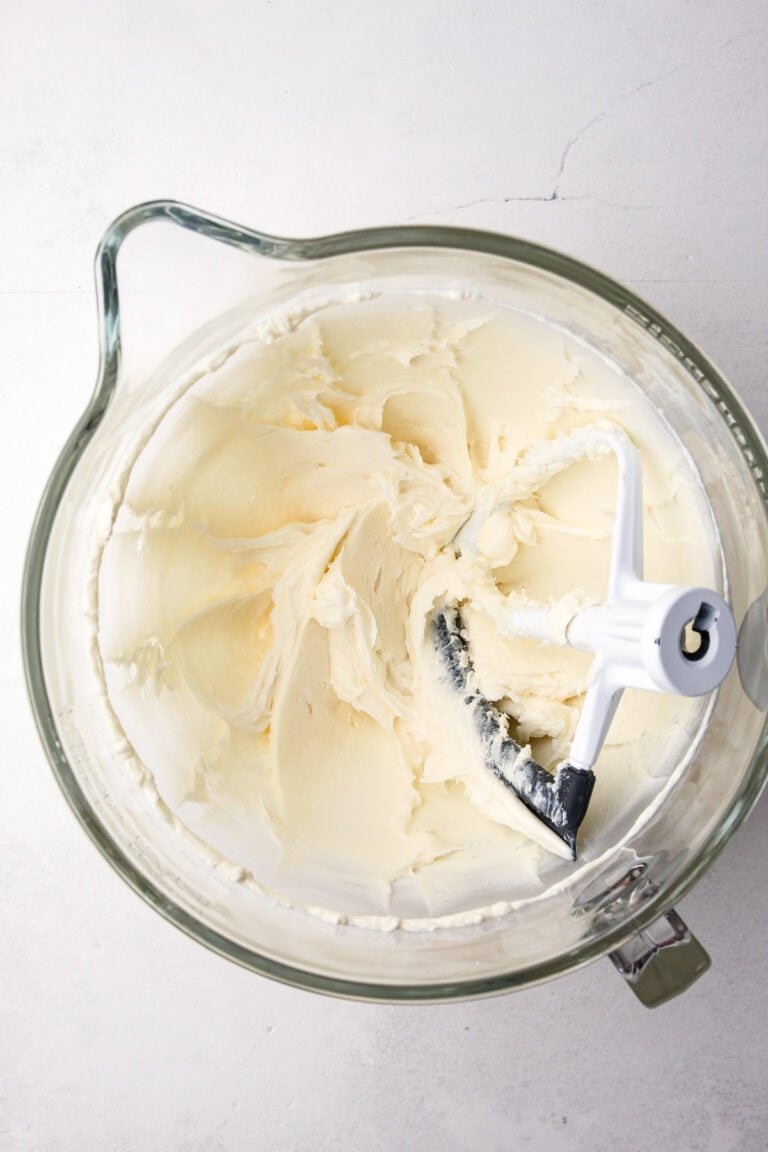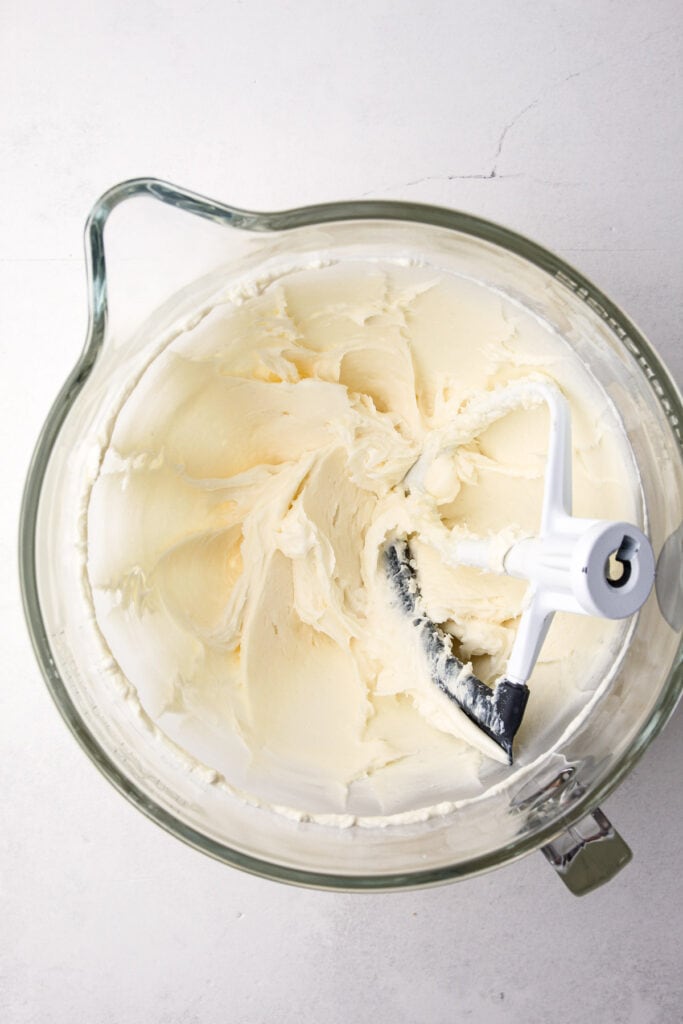 Making the Cheesecake Filling
The cream cheese filling is basically a cheesecake, but less fussy and quicker to make.
An electric mixer is needed to bring it together (either a stand mixer or a hand blender), and then it's baked in the oven until it's set.
A few tips for having success with the filling:
The ingredients don't have to be completely at room temperature, but it's best to take them out of the fridge before you start making the crust. They will come together more smoothly when less cold.
Beat the sugar and cream cheese until it's smooth before adding in the other ingredients
Make sure to scrap down the bowl a few times while mixing the filling to ensure no lumpy bits are left behind
Bake the pie until the filling is set, but be careful not to overbake it to the point that the entire filling is puffed up. That would indicate it has been overbaked.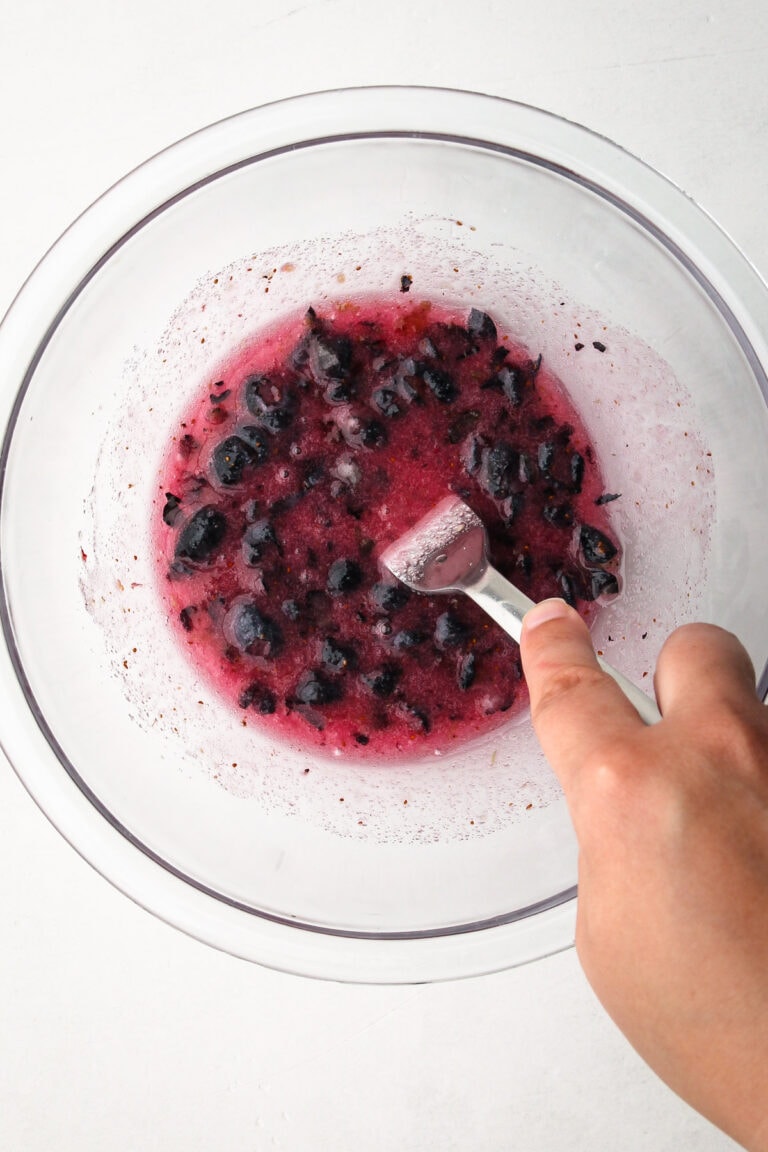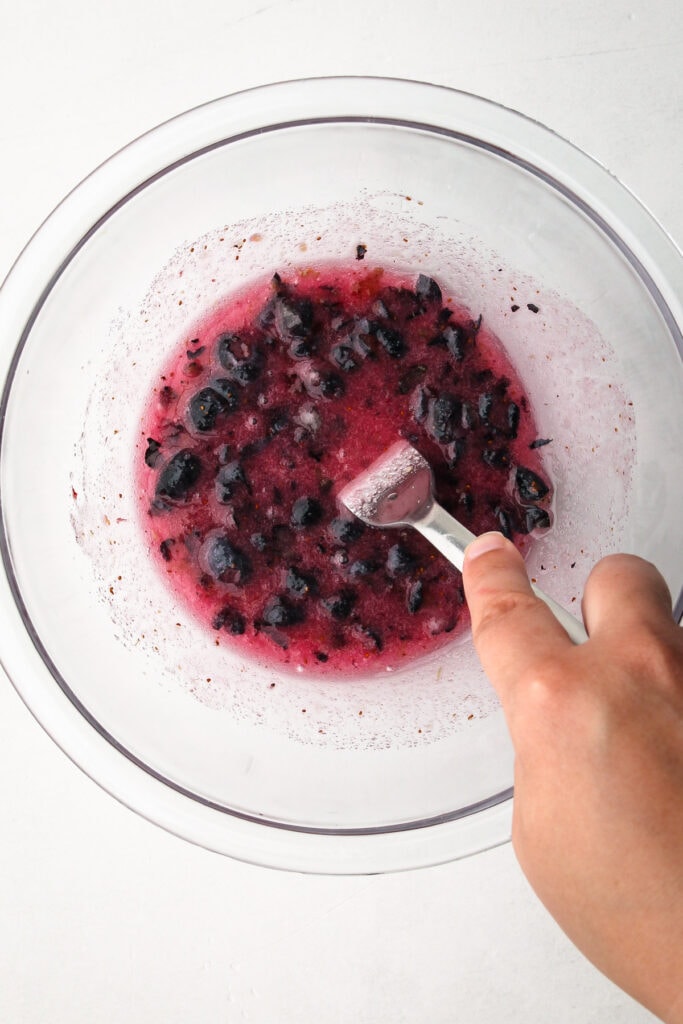 Making the Blueberry Topping
This fruit topping is so good! It's a very fresh tasting homemade blueberry pie filling that sets up beautifully on top of the cheesecake.
Here are is a brief overview of the steps to make it:
Mix together the sugar and cornstarch in a bowl or right in the pot, then add ½ cup of the blueberries. Mash them with a fork until the mixture is juicy.
Mix in the remaining blueberries and then cook until bubbling
Transfer the filling onto the cheesecake topping to set up.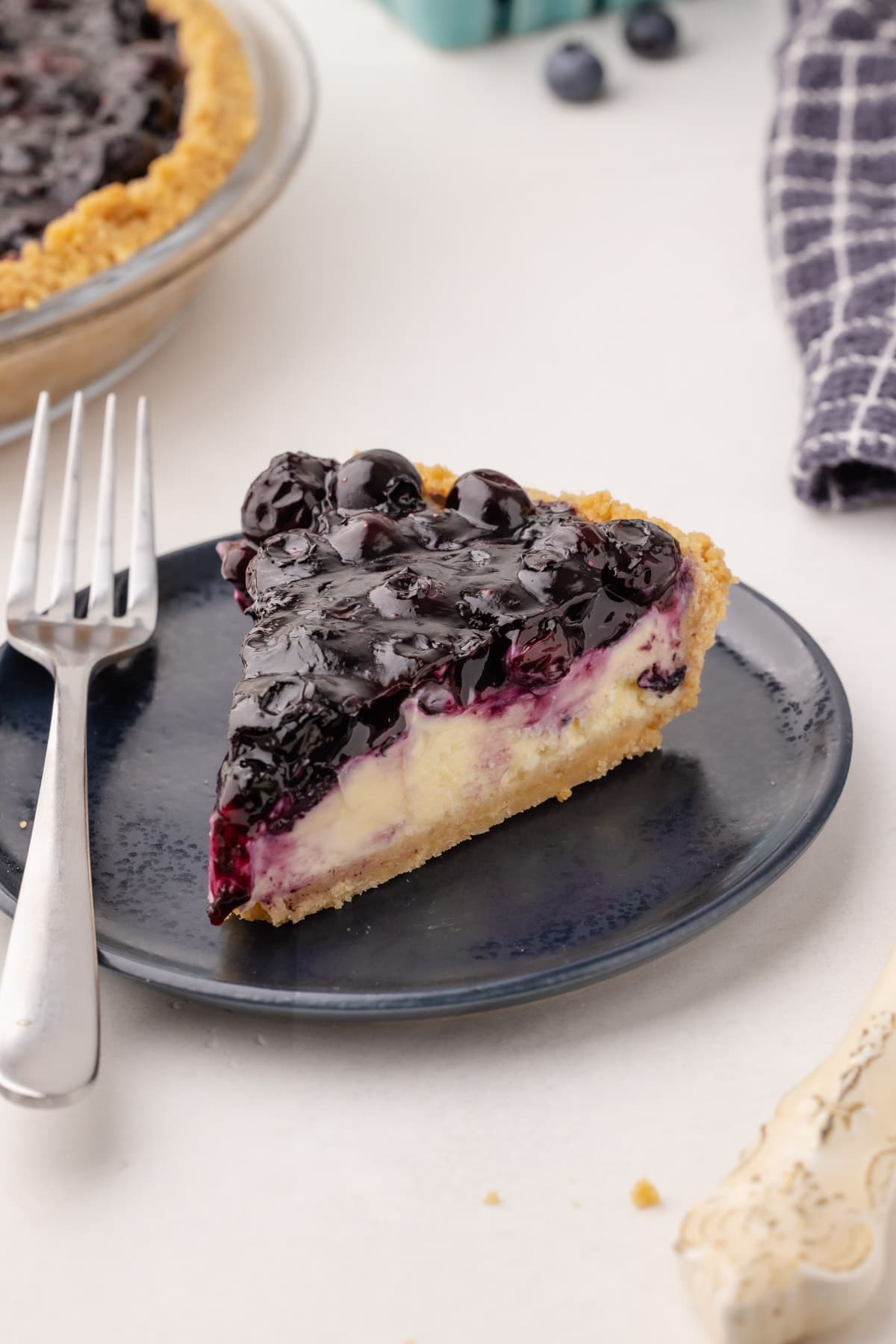 Serving and Storage Tips
The components of this pie should all be made in one day together, but the assembled pie can be prepared in advance. At a minimum, it should be made at least half a day before it is meant to be served, but best if made a day ahead. It's best served chilled with a whipped cream garnish.
Leftovers can be stored in an airtight container for a few days.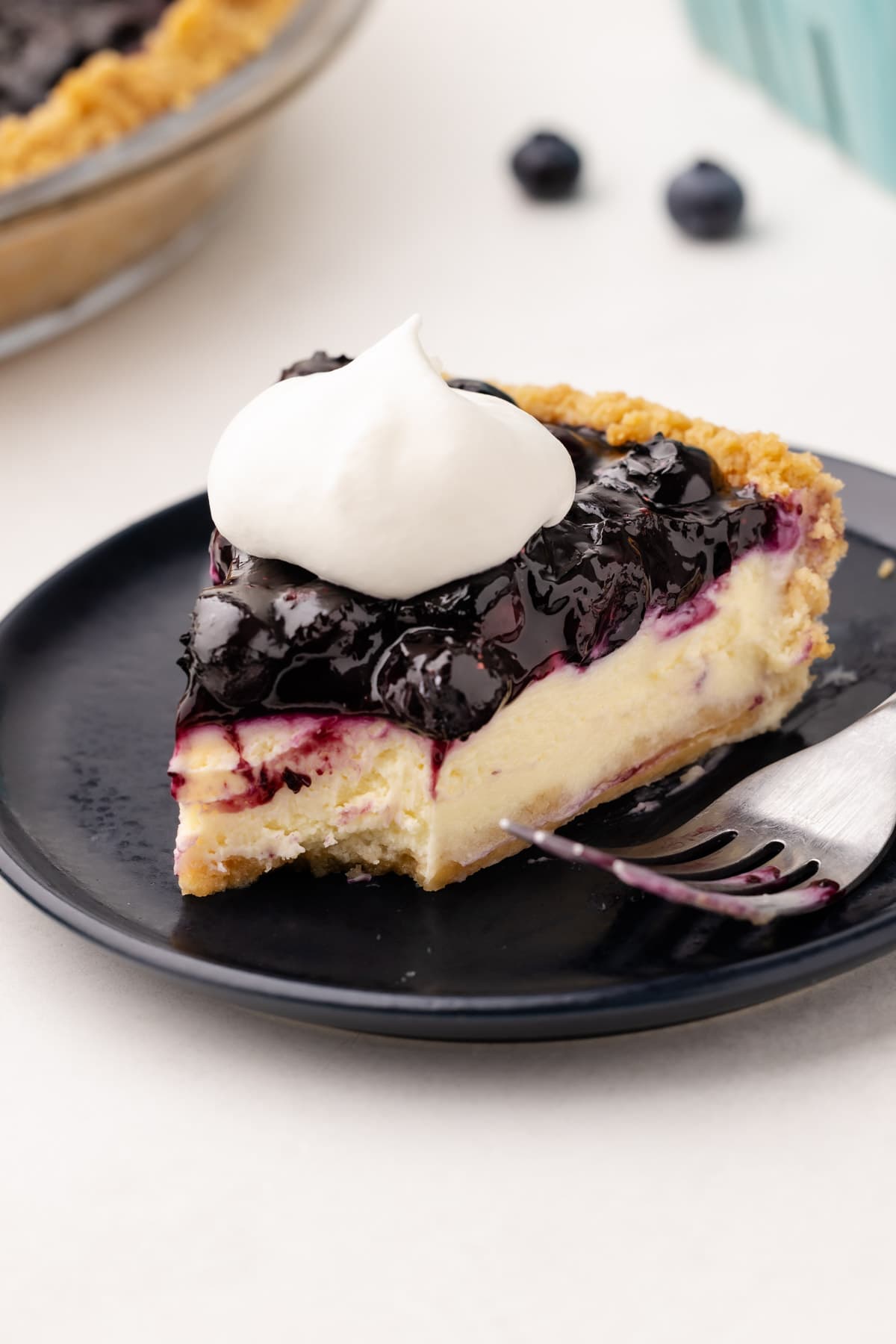 More Blueberry Recipes
I am so honored when you make a recipe from my site! If you make this Blueberry Cream Cheese Pie, please leave a comment and a star rating with your experience! If you have any questions about this recipe, feel free to comment here, too!
Print
Full Recipe
Blueberry Cream Cheese Pie
This Blueberry Cream Cheese Pie, with a crunchy shortbread crumb crust, a creamy rich cheesecake filling and a beautiful homemade blueberry topping, is an amazing and delicious (make-ahead) dessert everyone will love.
Author: Kelli Avila
Prep Time:

00:30

Cook Time:

00:60

Total Time:

1 hour 30 minutes

Yield:

Serves 8-10

Category:

Sweet Pie
For Shortbread Crust:
10 ounces

(about

2 cups

) shortbread cookie crumbs

4

-

6

tablespoons unsalted butter, melted (see note)

2 tablespoons

granulated sugar
Pinch salt
For Cream Cheese Filling:
14 ounces

(396 grams or

1

-

½

blocks) cream cheese, softened

¾ cup

(

150 grams

) granulated sugar

½ cup

(

60 grams

) sour cream

1

large egg

1 teaspoon

vanilla extract

2 teaspoons

lemon zest
For Blueberry Topping:
⅓ cup

(

70 grams

) granulated sugar

1 tablespoon

(

7 grams

) cornstarch

2

-

½

cups (

400 grams

) blueberries (fresh or frozen, see note)

¼ teaspoon

kosher salt

2 tablespoons

(

30 grams

) lemon juice

½ teaspoon

vanilla extract
Instructions
Make the Pie Crust:
Preheat the oven to 350ºF.
In a bowl, mix together the shortbread crumbs, 4 tablespoons butter, sugar and salt. The crumb mixture should be like wet sand. If it feels too dry, add in more butter as needed.
Pour the crumbs into the pie plate and press the mixture up the sides of the plate to form the edges first. Then, distribute the crumbs evenly into the bottom of the pie plate and press them down firmly in an even layer.
Bake the Cream Cheese Pie:
Beat the cream cheese and sugar with an electric mixer (using the paddle attachment on a stand mixer) until smooth, about 3 minutes.
Add in the sour cream, egg, vanilla extract and lemon zest and beat until smooth, about 1 minute.
Transfer the cheesecake filling into the prepared crust and bake for 45-55 minutes, or until the outer 2-½" is slightly puffed and the filling is set.
Let cool on a wire rack while the topping is prepared.
Make Blueberry Topping and Assemble Pie:
In a medium pot mix together the sugar and cornstarch. Add ½ cup blueberries and lemon juice and mash until the mixture is juicy. Stir in the remaining blueberries.
Cook over medium-low heat, until the filling is bubbling, about 3-5 minutes. Once bubbling, cook for an additional 1 minute, while stirring. Shut off the heat.
Transfer the filling to the top of the pie, and smooth over the top.
Let the pie continue to cool at room temperature until no longer hot, and then transfer to a refrigerator to set up for 4-6 hours.
Serve chilled, with whipped cream.
Notes
Have a question or looking for tips? The text written above the recipe is always a great first place to start! This Blueberry Cream Cheese Pie was developed with love, and I always include loads of explanations, tips, step-by-step photos and technical advice shared before the recipe.
This recipe was developed using fresh blueberries. If you use frozen blueberries, omit the step of mashing ½ cup blueberries, and instead let the blueberries defrost in the sugar and cornstarch for about 15 minutes. Then proceed with the rest of the recipe as written.
A few other options for pie crusts that work with this pie are a Graham Cracker Crumb Crust, a Vanilla Wafer Crust or even a Biscoff Cookie Crust.
Keywords: Blueberry Cream Cheese Pie
Pin it for Later: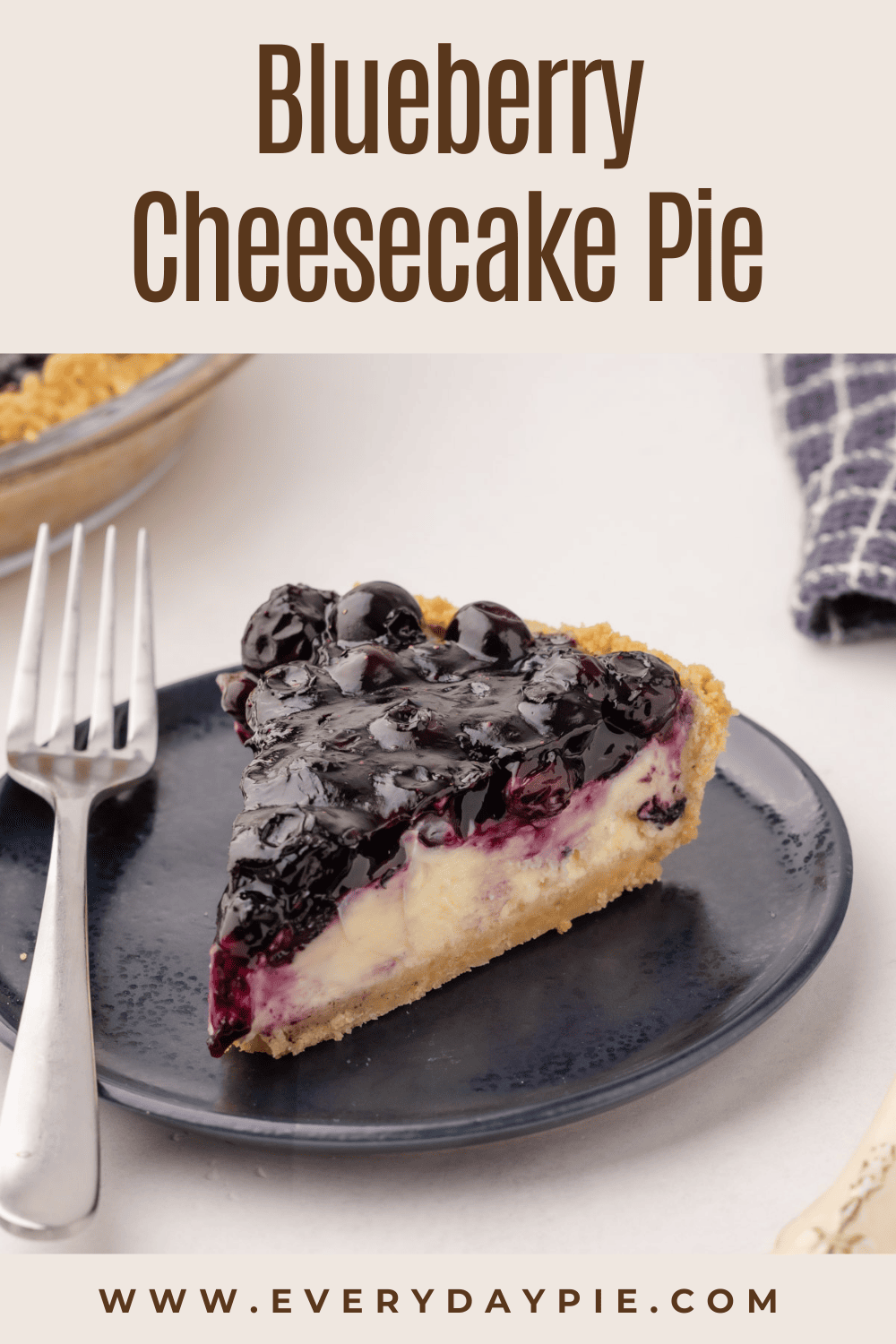 Some of the links on this page may be affiliate links. Everyday Pie is a participant in the Amazon Associates Program. As an Amazon Associate I earn from qualifying purchases, at no extra cost to you.