Summertime comfort food at it's finest, this Peach Cobbler is of the cake variety and is so delicious. Juicy ripe peaches are baked together with a buttery almond-scented cake batter. Serve it warm with a scoop of ice cream, and it's the best way to savor summer peaches.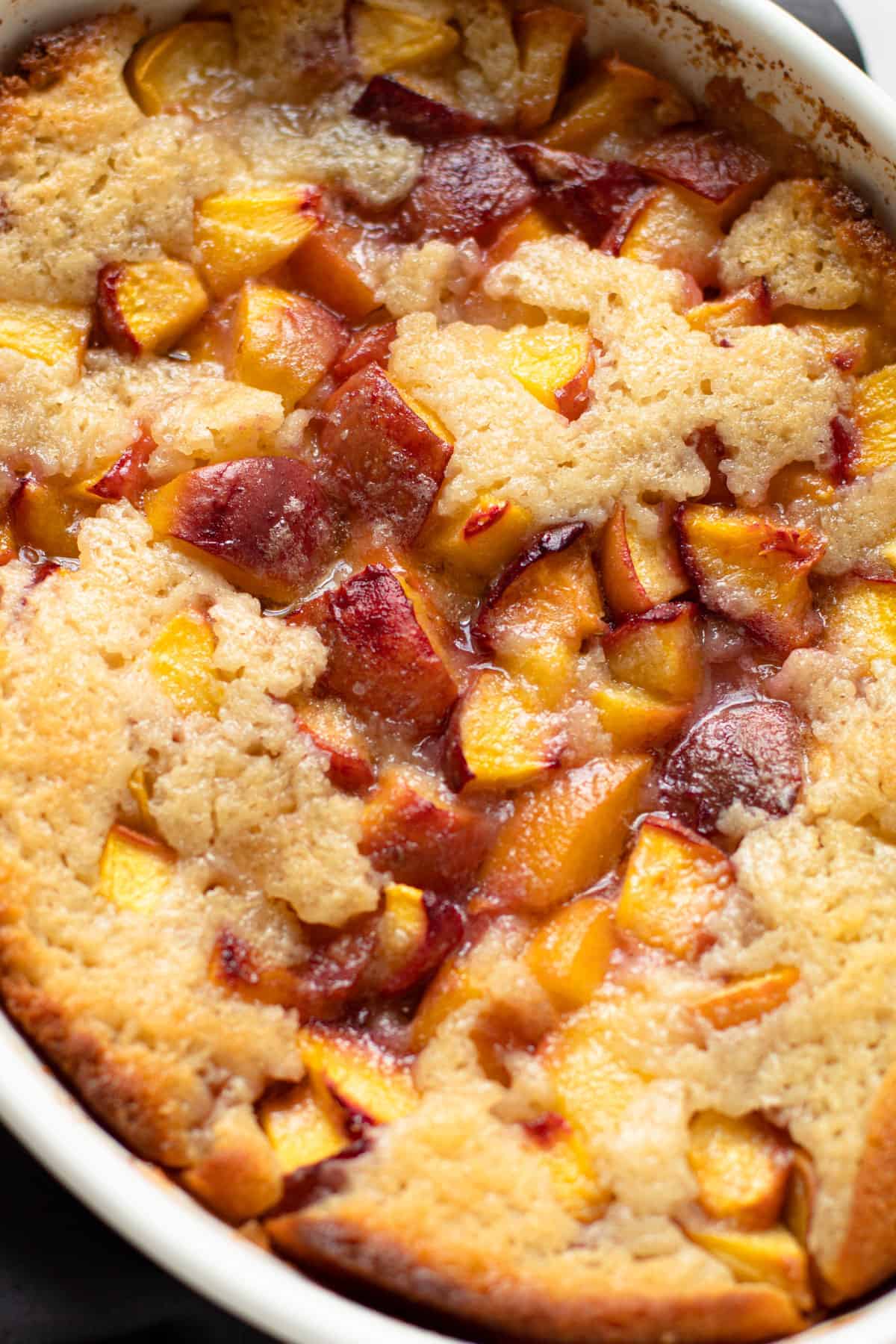 Perfect Peach Cobbler
Do you know it's said that they named a cobbler because of it's resemblance to the cobbled streets back in the day? I just love this little fact about cobblers!
This classic American dessert is just the thing to make when you've got a few ripe peaches that need a home. This rustic and homey dessert features a buttery, yet delicate almond cake baked up together with ripe peaches to make for the perfect summer dessert. It's like a cross between a cake, a dutch baby, and a pie and it's just so delicious.
So, let's get to making it, shall we? The text below offers tons of tips and helpful notes, or you can scroll to the bottom to grab the recipe and get started!
More of a visual person? Check out the video of me making it below, located right above the recipe!
But first, what is a cobbler?
There is much controversy as to what actually constitutes a cobbler, and it will change depending on what region or state you are in in the US. A cobbler at it's very basic is a fruit dessert baked with some type of pastry made from butter, flour, and sugar. Cobblers have been around since the 1800s (see more history here) and like many early desserts of this country, they were made out of whatever Americans had on hand. A cobbler is thought to have been a variation of a pie, and so this fits in nicely here on this website.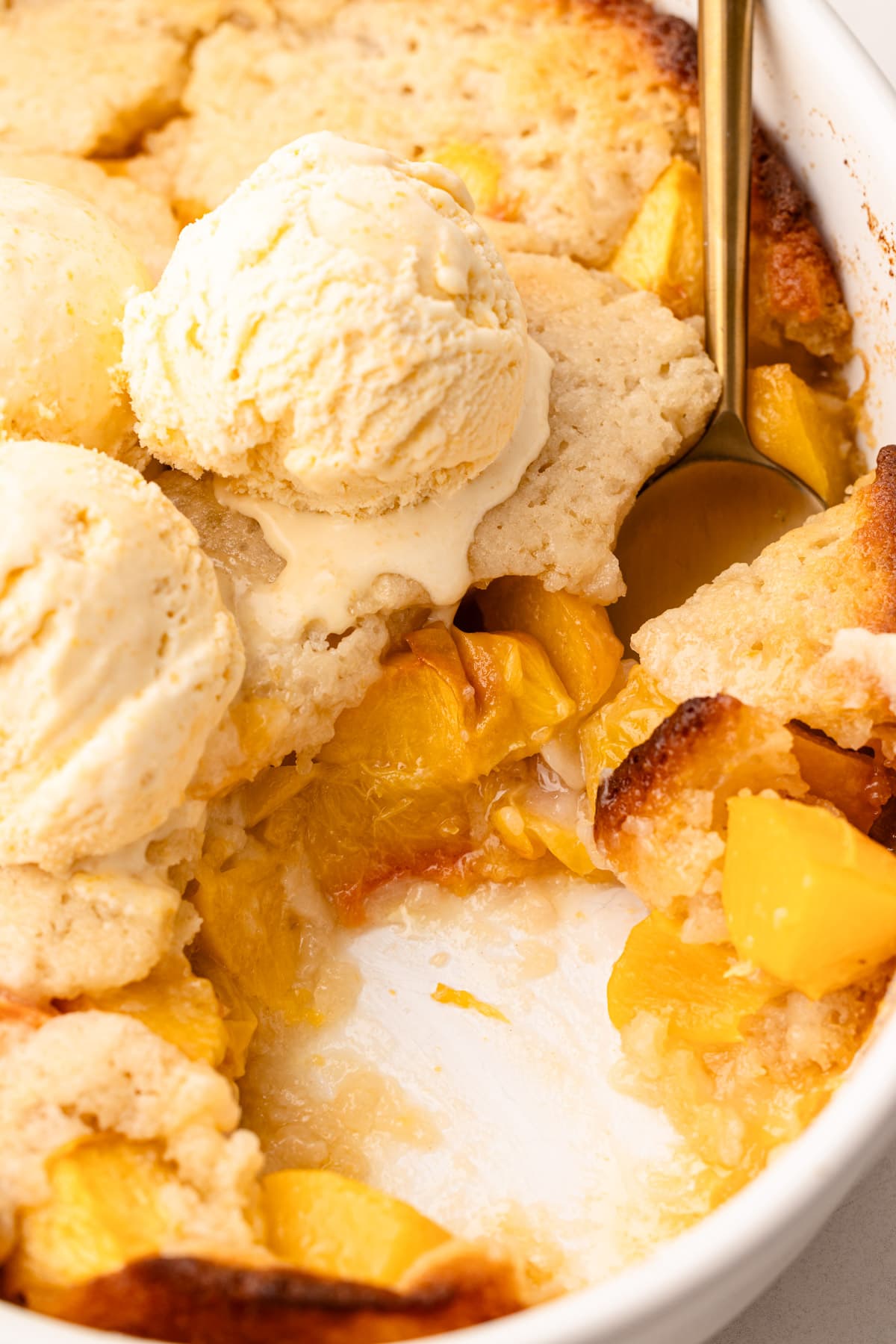 Variations of Cobblers
Among the different types of cobblers you might see recipes for: cobbler with a biscuit topping, with a crisp topping, or in the case here, with more of a cake topping. Let's just agree that nearly all cobbler variations are likely delicious, but I've decided that for this peach cobbler, the best and most delicious path forward was to enrobe the sugared peaches in a semi-delicate almond cake batter. It bakes up with both crispy edges, soft pillowy cake batter, and juicy ripe peaches. While I'm a fan of all cobblers I've met along the way, this recipe is not one to miss.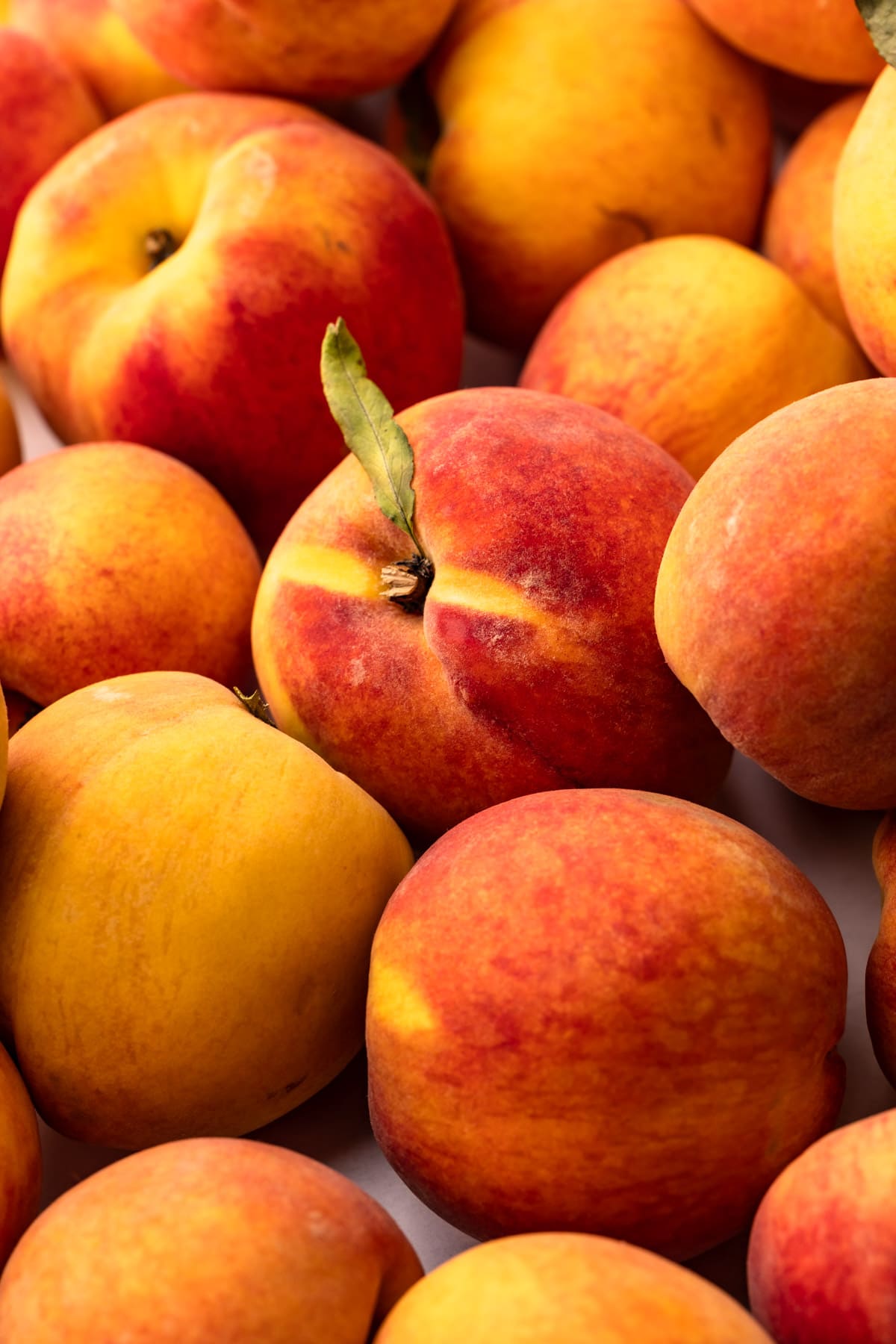 Ingredients Needed
ripe peaches: universally the best peaches for baking are ripe and soft, but not so soft that they are mushy.
granulated sugar
unsalted butter
all-purpose flour
baking powder
salt
buttermilk
vanilla extract
almond extract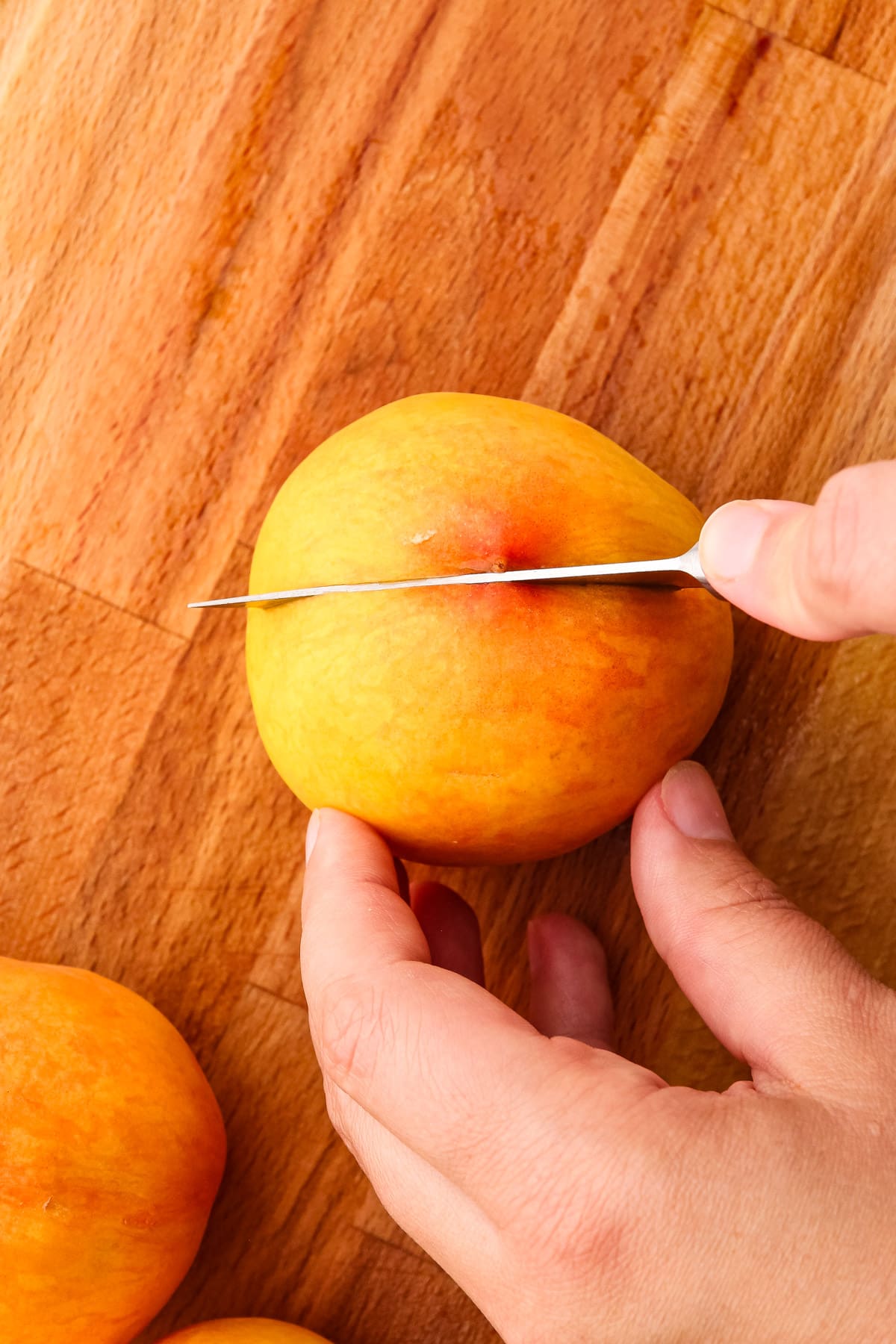 Preparing the Peaches
This recipe calls for whole fresh peaches. I prefer to leave the skin on the peaches, as it adds color to the dish, as well as a flavor and nutritional benefit. However, if you wanted to peel the skin off, there are two ways to do it. You can either peel it off with a peeler, or you can submerge the peaches in boiling water for 30 seconds, then place them in an ice bath. Check out this post about Peeling Peaches for more information on that. Once they are cool, the skin will peel right off.
The recipe also calls for dicing the peaches. This is another optional step, but I prefer to have the peaches diced; that way they are bite-sized and easier to pick up with a spoon, as opposed to leaving them as wedges, which is a bit more traditional.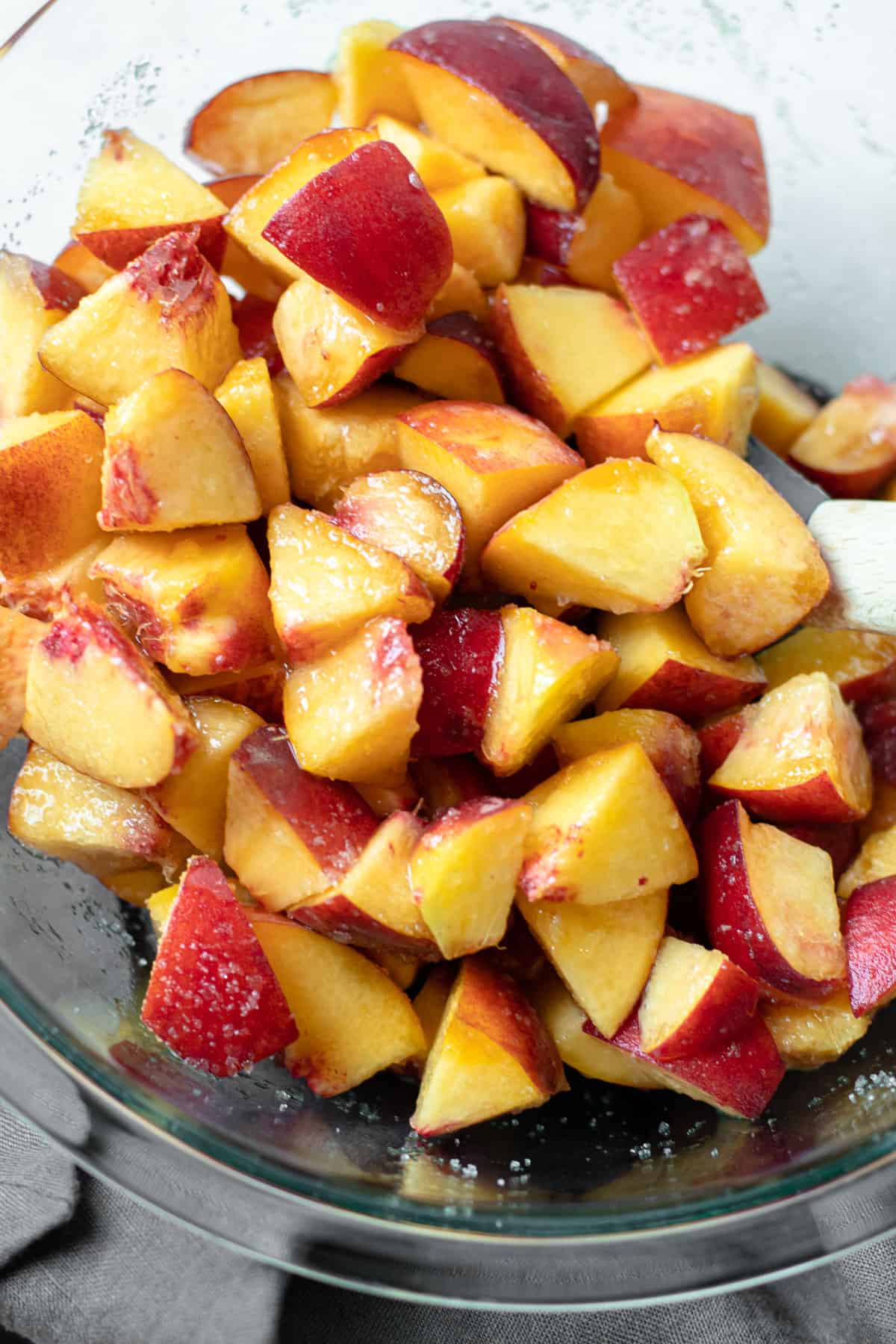 How to Make Peach Cobbler
Honestly, it couldn't be easier to make this recipe! There are three small steps needed to make this recipe including:
Dicing the peaches and letting them macerate in sugar
Making the very quick and simple cake batter
Melting the butter
And finally, layering in the butter, cake batter, and the peaches in the baking dish and baking.
The whole thing bakes up together, with the cake batter baking up around the peaches to form the actual look of a cobbled street! How cool is that?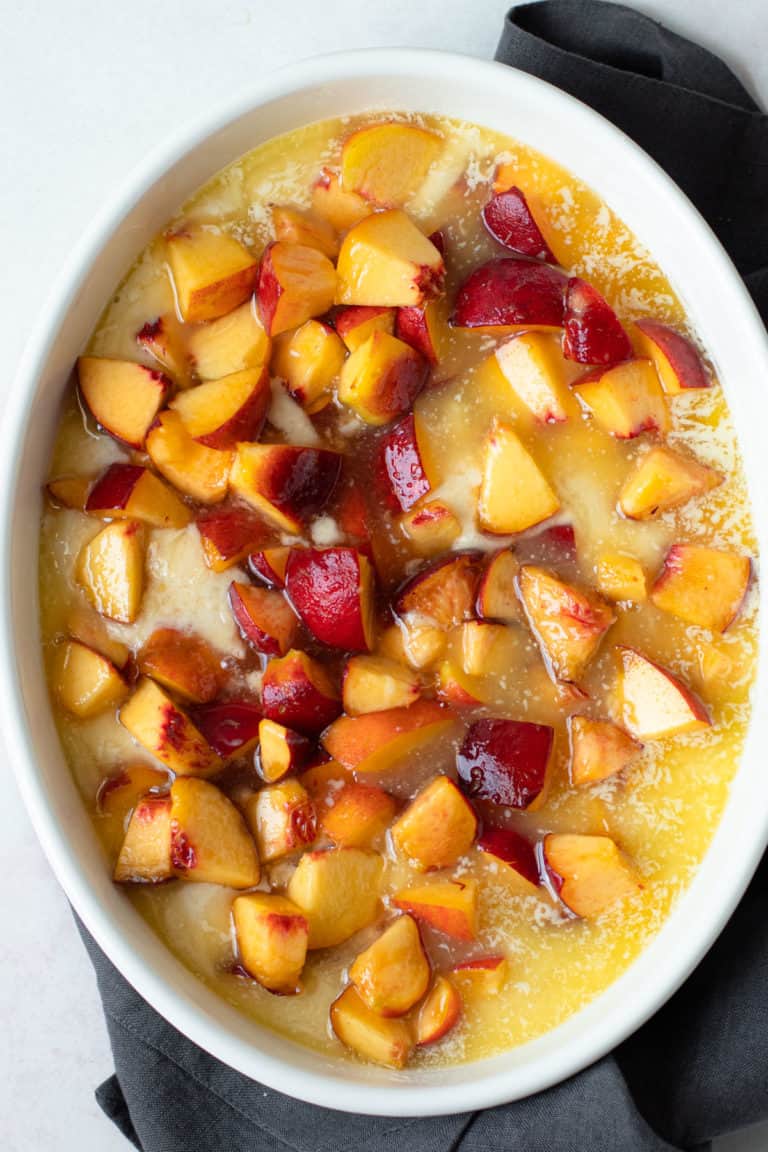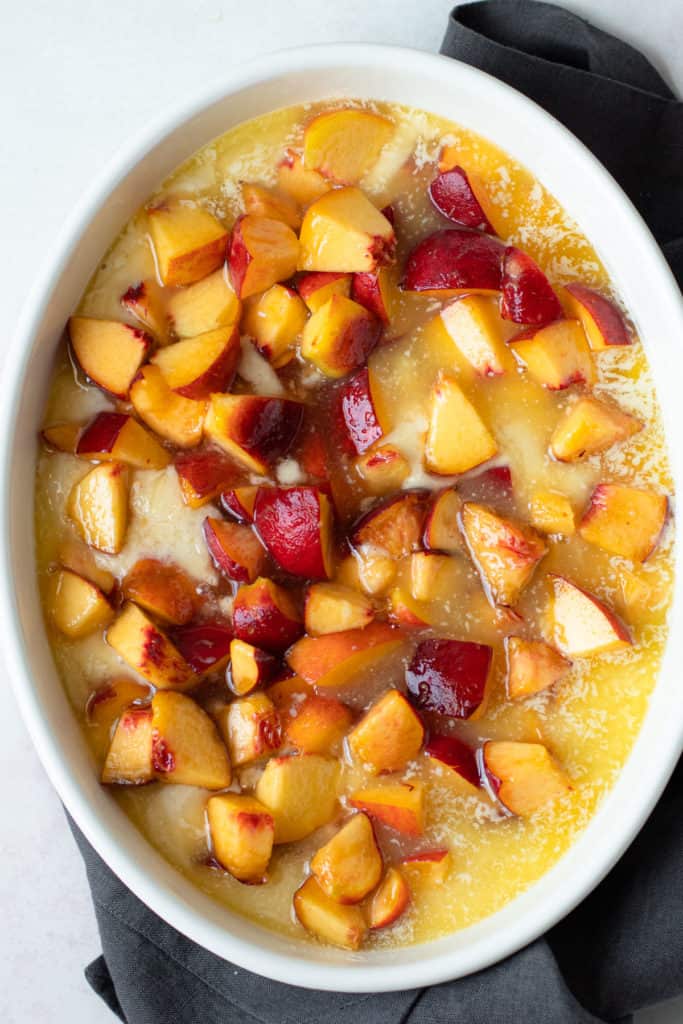 How to Serve Peach Cobbler
If you ask me, there is only one way to serve peach cobbler, and that is slightly warm with a big scoop of ice cream on top. It's a magical combination that simply can't be beaten. Let the cobbler cool just slightly, scoop it into a bowl, and top with cold ice cream. Want to to take it a step further? Serve it with homemade Vanilla Bean Ice Cream or better yet, Peach Ice Cream.
It's heaven.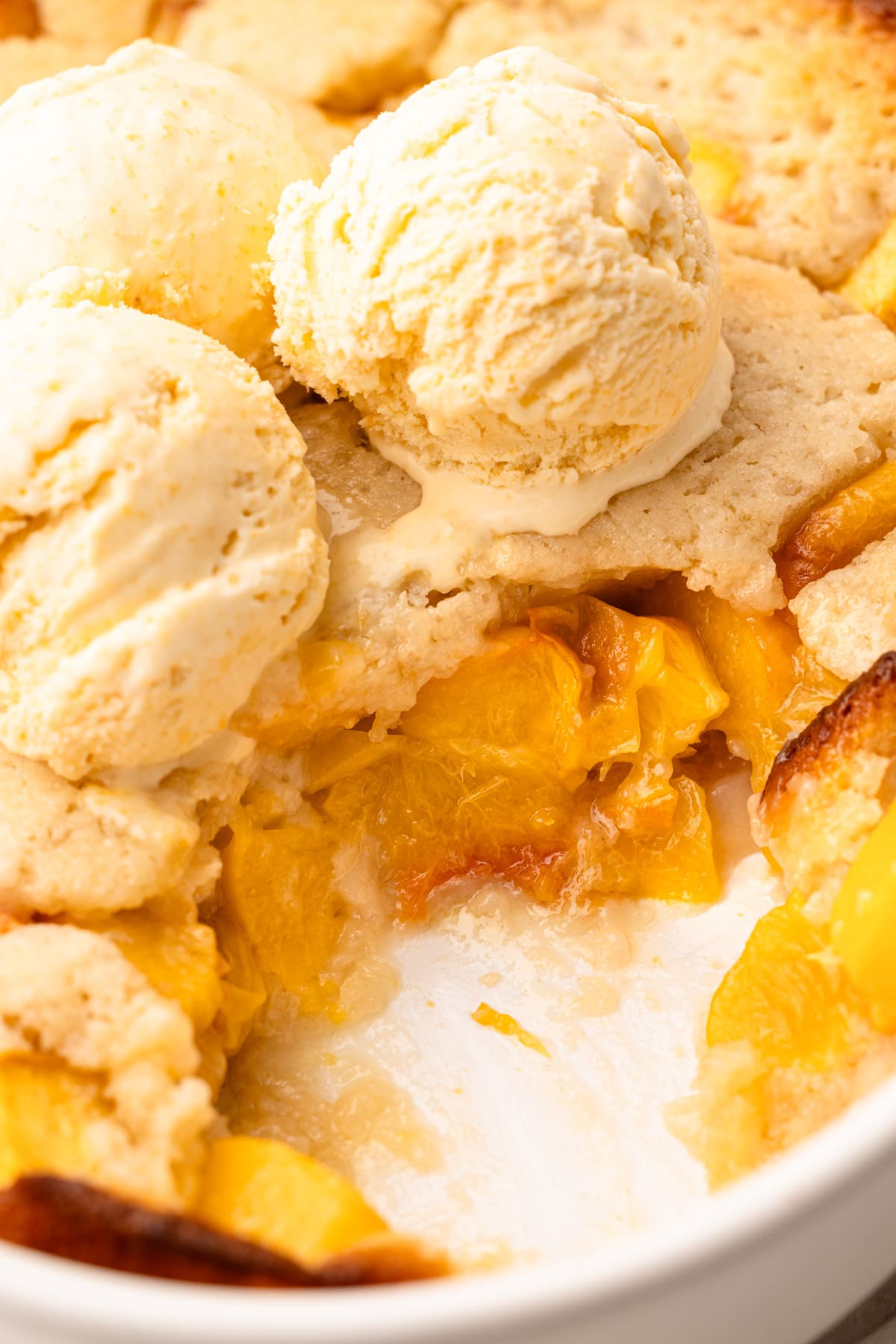 Peach Cobbler FAQs
Please find some common questions about making a peach cobbler below. If you have a question that isn't answered here, please feel free to leave a comment I'll be sure to answer it and include it here!
Why do you have to layer the butter, batter and peaches?
This is quite simply how the magic of this cobbler happens! During the process of baking, the layers bake up to form the "cobbled" look of this dish. This baking process is similar to how a "dump cake" recipe works!
Can you use frozen peaches?
Yes! Let the peaches defrost (don't drain the liquid) with the sugar in the bowl, as instructed in the recipe.
Do you have to dice the peaches?
Nope. I prefer diced peaches in this recipe as it's easier to pick them up with a spoon, but if you'd like to keep them as slices, feel free to do so.
I don't have buttermilk, what can it be replaced with?
Buttermilk is used here to mimic some of the classic taste of a biscuit. But it's not essential, you can replace it with whole milk. Or make your own faux-buttermilk by adding a tablespoon of lemon juice to whole milk and letting it sit for 10 minutes.
Can this be made ahead of time?
Sadly no. I recommend eating and making this dish fresh. It is just at it's absolute best served warm from the oven. It can reheat, but it really doesn't taste the same the next day.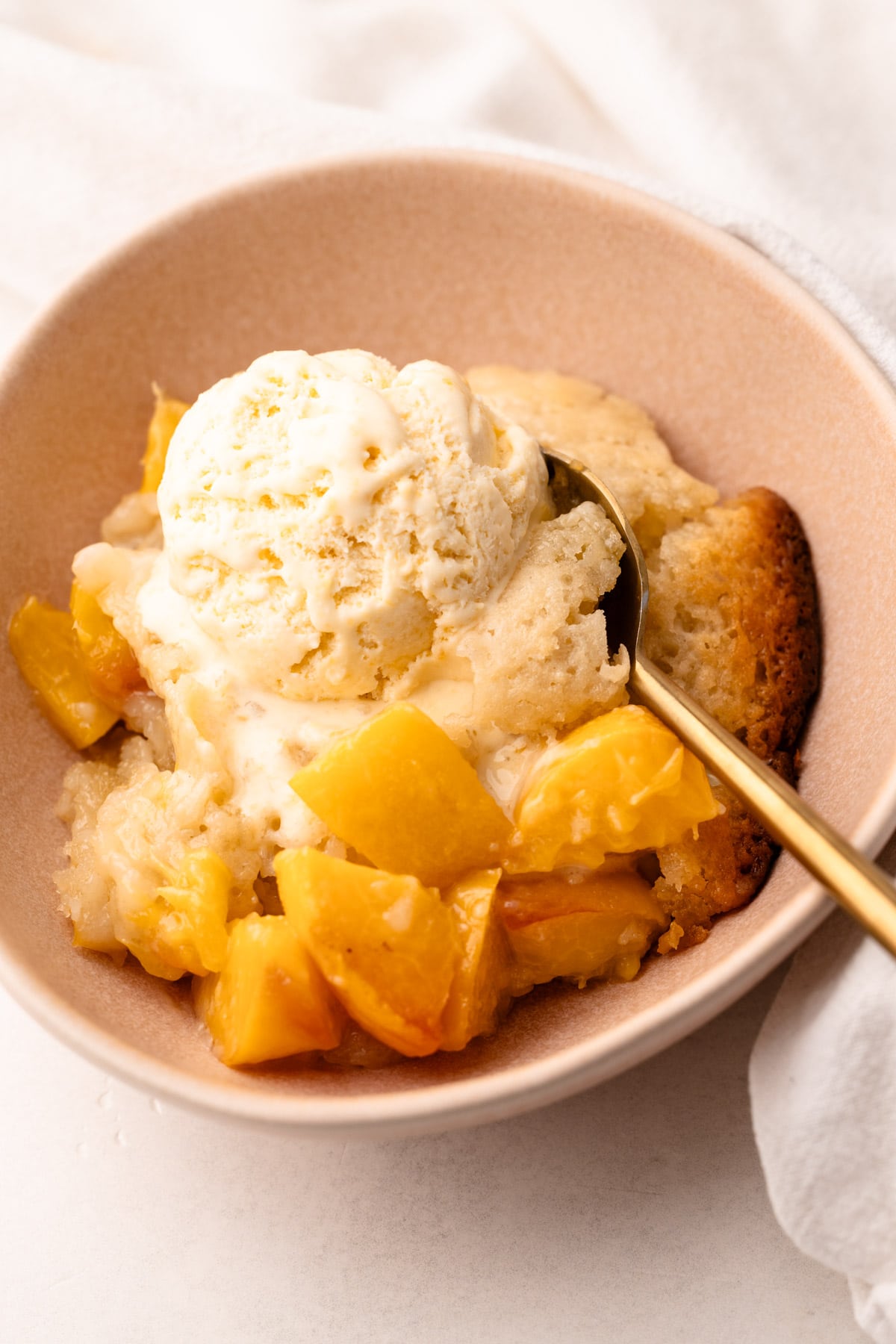 Peach Cobbler Video
More Summer Fruit Recipes:
I am so honored when you make a recipe from my site! If you make this Peach Cobbler, please leave a comment and a star rating with your experience! If you have any questions about this recipe, feel free to comment here, too!
Print
Full Recipe
Peach Cobbler
Summertime comfort food at it's finest, this Peach Cobbler is of the cake variety and is so delicious. Juicy ripe peaches are baked together with a buttery almond-scented cake batter. Serve it warm with a scoop of ice cream, and it's the best way to savor summer peaches.
Author: Kelli Avila
Prep Time:

00:10

Cook Time:

00:45

Total Time:

55 minutes

Yield:

Serves 6-8

Category:

Cobbler

Method:

Bake
5

peaches (about 1½ lb.), peeled (optional), pitted and diced

1

-

¼

cup (

250 grams

) granulated sugar, divided

1

-

½

cups (

180 grams

) all-purpose flour

1

-

½

teaspoons baking powder

¼ teaspoon

salt

1

-

¼

cups (

285 grams

) buttermilk

1 teaspoon

pure vanilla extract

1 teaspoon

pure almond extract

¾ cup

(

140 grams

) unsalted butter
Instructions
Preheat the oven to 375ºF and set aside a 2-quart 11x7" baking dish (see notes for alternatives).
Combine peaches and ¼ cup sugar to a bowl. Let sit while assembling the cobbler batter.
Add flour, remaining 1 cup of sugar, baking powder and salt to a bowl and whisk to combine. Add in the buttermilk, vanilla and almond extract and stir together until combined.
Melt butter, and immediately pour into the baking dish. Next pour in the cobbler batter in the middle. Take a knife and swirl the butter around into the batter.
Scatter the peaches and the juice evenly over the top of the batter.
Bake in the center of the oven for 45-55 minutes, or until the middle is bubbling and the top is lightly browned.
Let cool slightly, about 10 minutes, then serve warm with a scoop of vanilla ice cream.
Notes
This recipe fits a rough 2-quart baking dish, or roughly 8 cups. This is typically a 7x11" baking dish. If you didn't have a 2-quart baking dish, you can bake this in a 9x13, but it will be thinner, and likely cook quicker. So check in on it after 35-40 minutes.
Some of the links on this page may be affiliate links. Everyday Pie is a participant in the Amazon Associates Program. As an Amazon Associate I earn from qualifying purchases, at no extra cost to you.