This is the best Vanilla Bean Ice Cream recipe, made using simple ingredients like eggs, cream, and milk to make for an ultra-creamy and vanilla-forward taste and consistency. This guide for making vanilla ice cream talks through the science behind ice cream, which steps are absolutely necessary (and which aren't), and tips for success with every batch.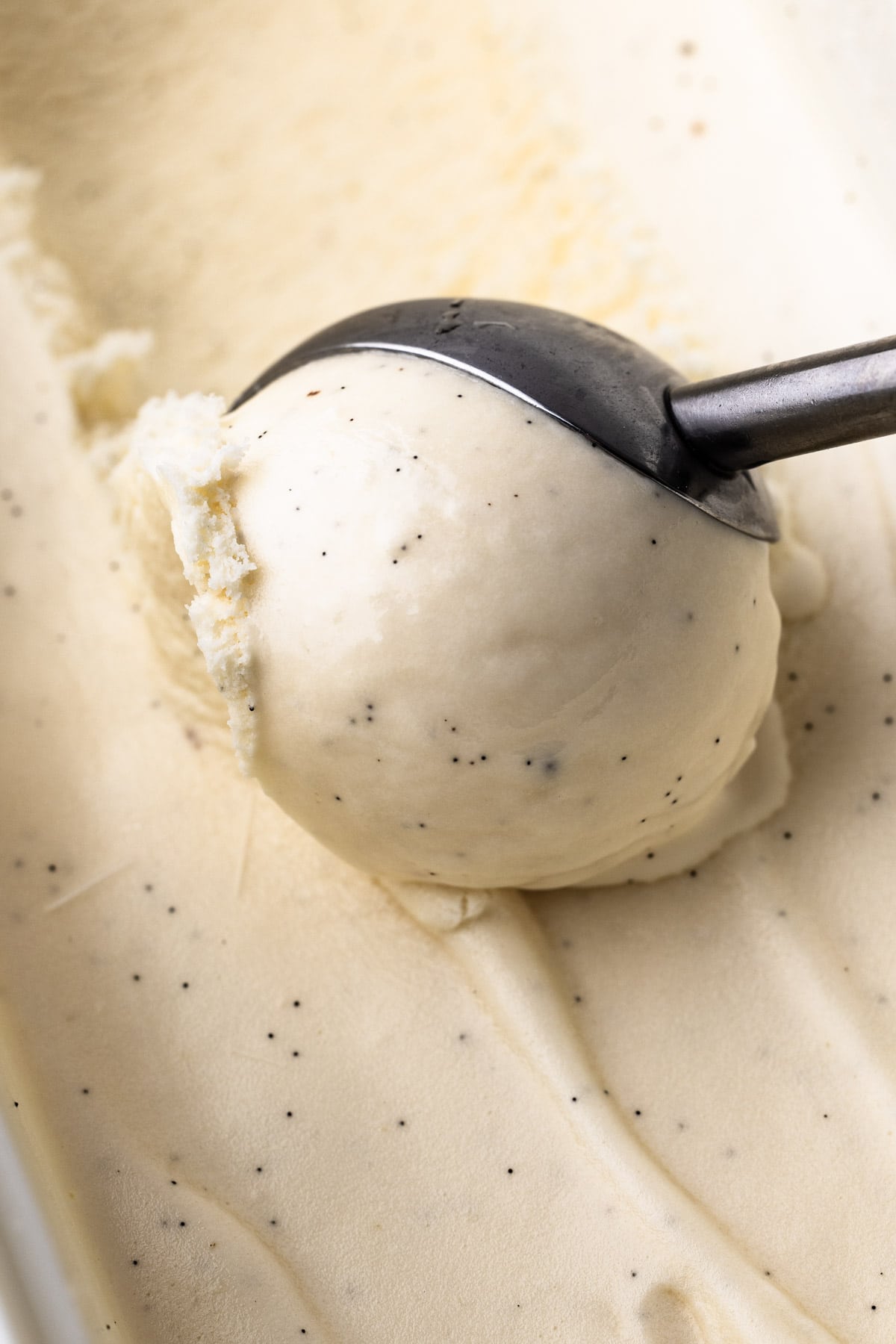 I'm so thrilled to be sharing my very first ice cream recipe here. When I started this website I always knew that I wanted to share ice cream, and while it's taken a few years to publish this first one, I have a long list of ice cream flavors I can't wait to share.
And this Vanilla Bean Ice Cream is the perfect recipe to start with. It's simple in its nature, but profound in its flavor. It uses a custard base to result in perfectly creamy ice cream, yet the use of whole eggs (instead of just egg yolks) allows for the vanilla bean flavor to shine through. I'll go deeper into the science and thought behind this further below.
Because this is the first ice cream recipe published on EP, the accompanying article serves more as a guide. If you are looking just for the recipe, feel free to skip on down to it by clicking here.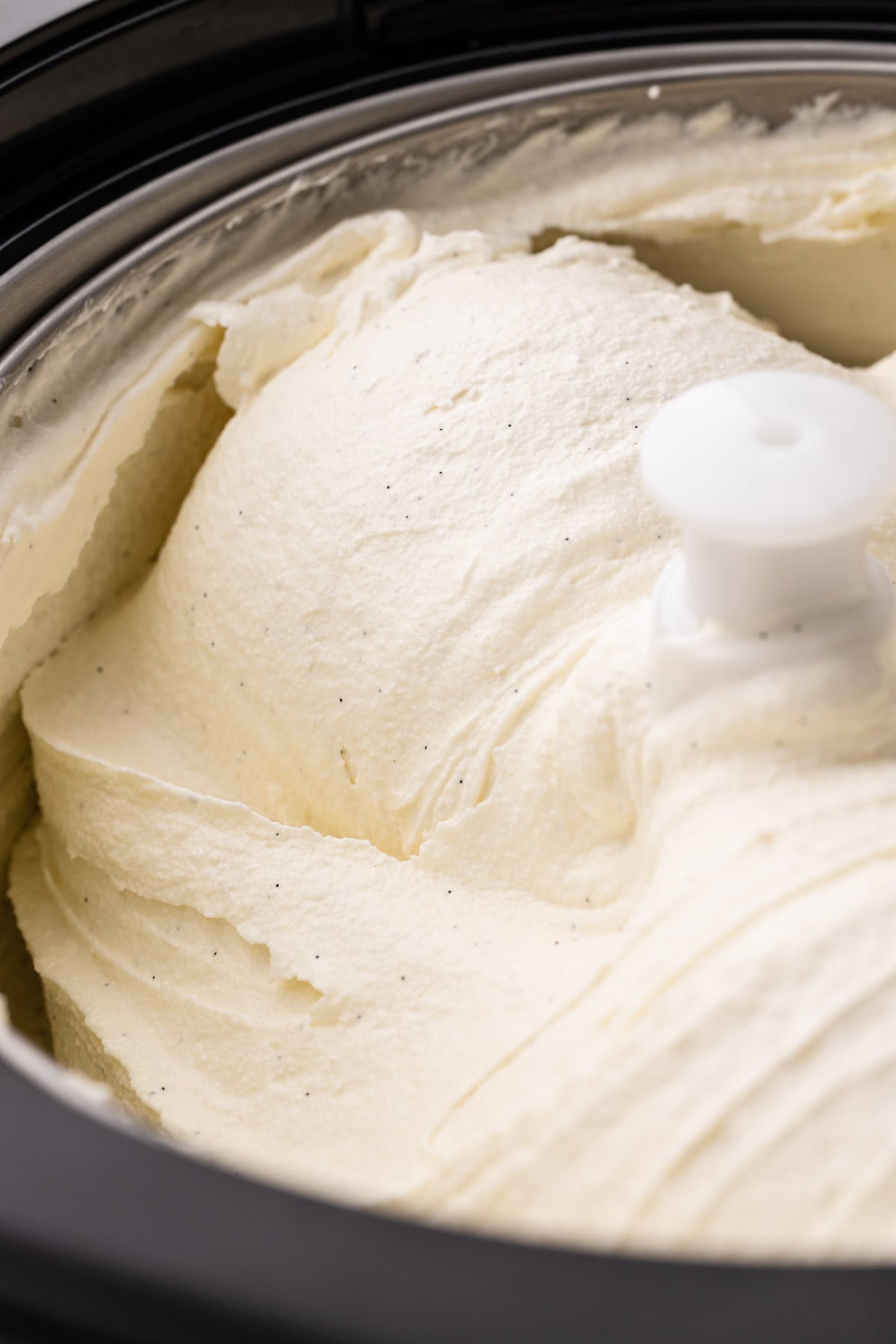 Homemade is Better
I've actually been making ice cream longer than I've been making pie, which means, I've been making ice cream for a long time! The production of Ice cream was part of my responsibilities as the garde manger (or the cold / appetizer station), at my very job in a professional kitchen back in 2010, and it sparked my love of homemade ice cream.
If you've had handmade ice cream you already know that it is worlds away different from anything you can buy commercially produced in large batches at a store, and for a few reasons.
The first is because of the quality of the ingredients. Making ice cream on a small scale at home allows for better quality ingredients, obviously.
The second is for the ingredient choice. Despite what most people think, ice cream doesn't have that long of a shelf life, due to the formation of ice crystals over time.
Most (but not all) store-bought ice creams have stabilizers and preservatives. These additives serve to keep the ice cream creamy and smooth, even if it experiences temperature changes during shipping.
When comparing homemade ice cream without stabilizers to standard store-bought ice cream, the difference is undeniable. Homemade ice cream allows the natural flavors to shine with a much superior texture and mouthfeel.
Ingredients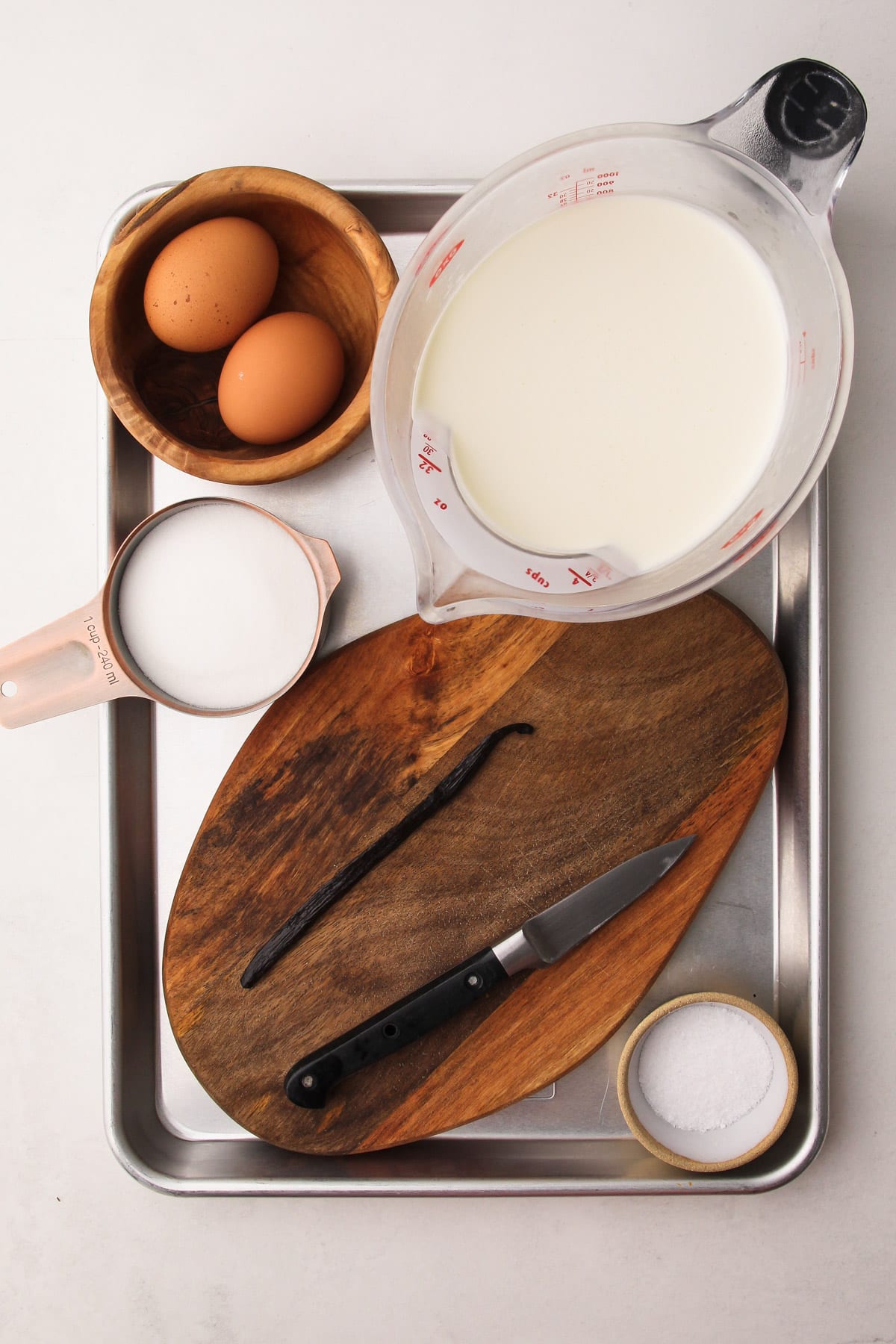 Ingredients Needed
Here is an overview of the ingredients needed for this recipe. The full recipe is listed below in greater detail.
granulated sugar
grade A vanilla bean (see below for more on vanilla beans)
eggs
coarse kosher salt
heavy cream
whole milk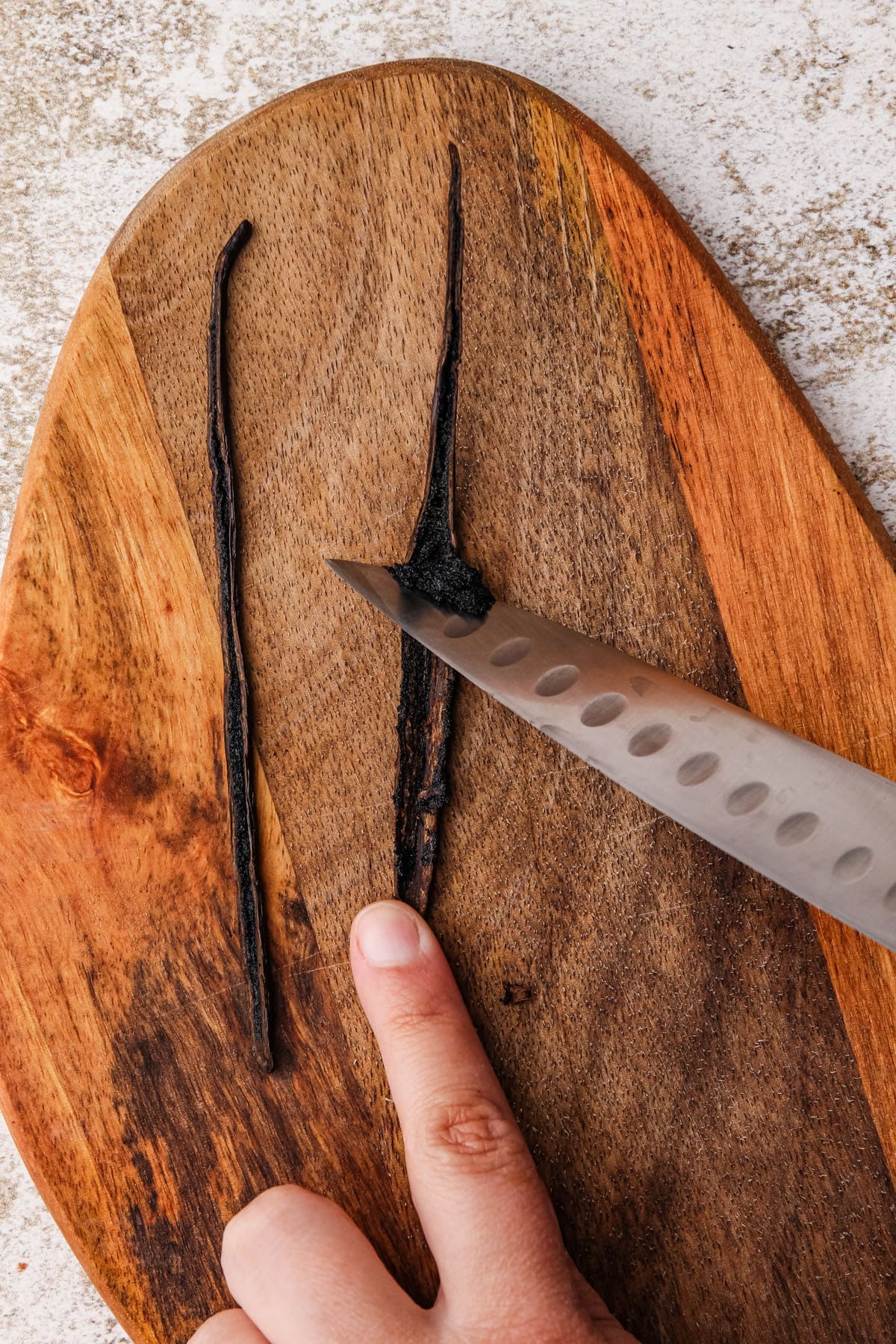 Let's Talk Vanilla Beans
You will need one Grade A vanilla bean for this recipe. It's essential you use a high-quality bean that is plump and fresh looking.
Vanilla beans are classified into two categories: Grade A and Grade B.
Grade B contain less moisture than Grade A and therefore have a higher concentration of flavor. However, because they are dry, they require a longer period of time to transfer the flavor. Sometimes, Grade B will be labeled as "split". This is because Grade B are more dry, and they are more susceptible to splitting during the drying process.
For this recipe, the vanilla bean is infused in the cream for only one day. As a result, if you use grade B vanilla beans, you may not extract as much flavor compared to grade A beans. Grade B vanilla beans are typically preferred for making vanilla extract, where the flavor is extracted over a longer period of time.
Grade A (also known as "prime" or "gourmet") beans contain more moisture in the beans, and are generally desired for extracting the vanilla seeds, also known as the "caviar". This is the type of bean you want to use to make this vanilla ice cream.
The vanilla bean "caviar" (aka the stuff you remove from the vanilla pods) tends to coalesce in this ice cream, especially from fresh and plump vanilla pods. This doesn't leave a good mouthfeel in the finished ice cream. To prevent this from happening the recipe instructs rubbing the vanilla bean into the sugar.
The Different Names of Vanilla Beans
Beyond the grade of the beans, vanilla can be labeled with several different names. The name often refers to the region where they come from.
Regardless of the label, vanilla beans can generally be divided into two different varietals: Planifolia beans (commonly listed from Madagascar or Mexico) and Tahitensis beans (commonly listed from Tahiti or Indonesian).
Bourbon Madagascar vanilla beans have that classic vanilla flavor that most store-bought vanilla beans have. Tahitian vanilla beans have a more nuanced, floral flavor.
All grade A varietals will work for this ice cream recipe.
Vanilla is precious and therefore expensive, and there is no way around it. However, it's more cost-efficient to purchase vanilla beans online, instead of buying them in the store. They can cost upwards of $10 for one vanilla bean when you purchase them in a store, which feels a steep price to pay.
I typically buy vanilla beans in bulk to save cost.
My favorite brand to buy Grade A beans is Slo Food Group.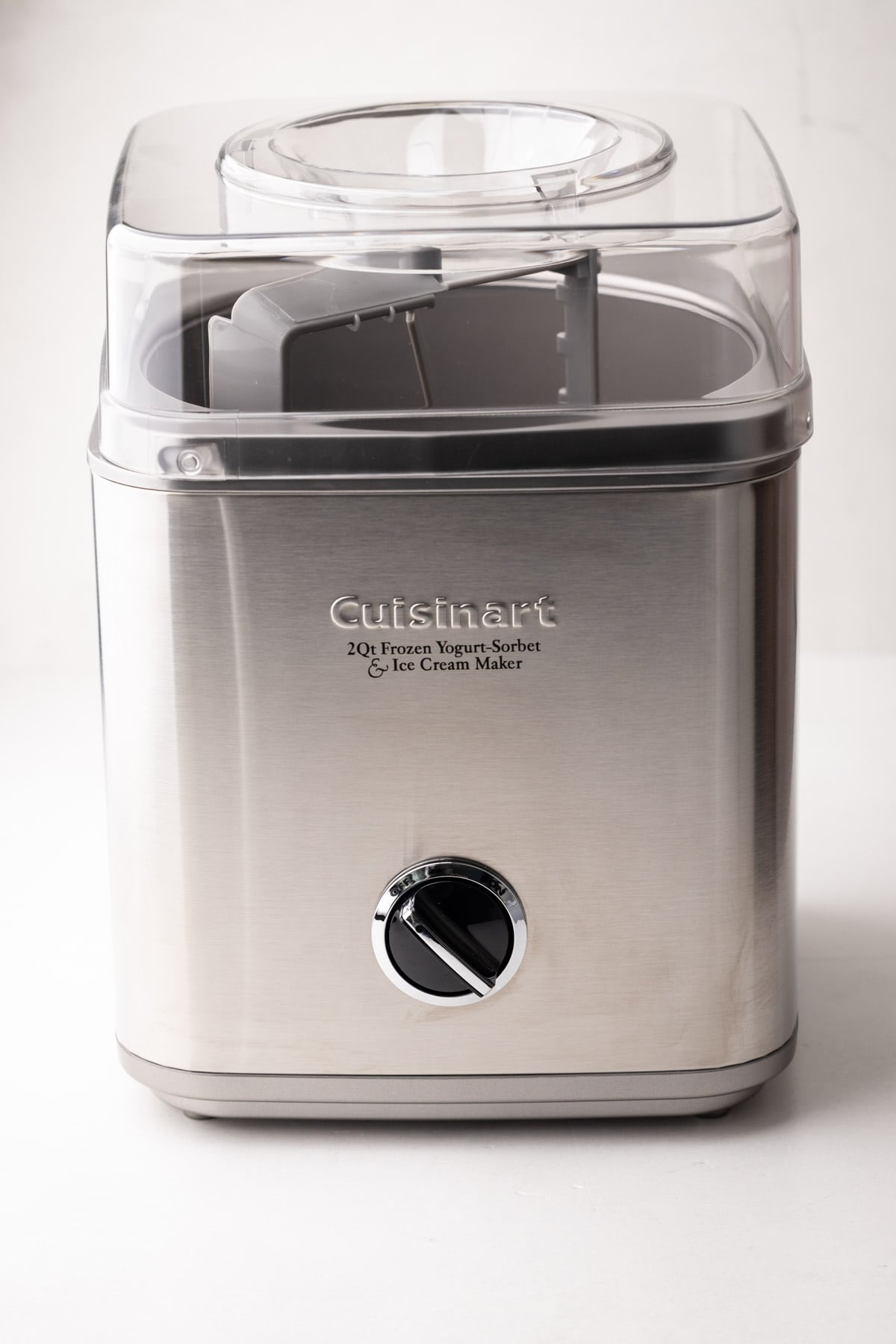 Useful Tools to Make This Recipe
Here is a list of some of the primary tools I use in this recipe. You won't necessarily choose to use them all, but they are exactly what I used. Any links may contain affiliate links.
instant-read thermometer (this is super useful when making custards, though it's possible to make it without one)
medium heavy bottomed sauce pan
one large metal bowl, one medium metal bowl
fine strainer
whisk and spatula
ice cream maker
containers to store ice cream
kitchen essentials: measuring utensils, wooden spoon
Custard Vs. Philadelphia Style Ice Cream
There are two distinct styles of ice cream: custard (or French style) and no-heat (or Philadelphia style).
Custard-style ice cream is cooked on the stovetop with eggs and Philadelphia-style ice cream is prepared by simply mixing the ingredients without eggs and chilling them.
Personally, I'm of the belief that custard-style ice cream is much better.
Custard ice cream is a fat-in-water emulsion, combining fat from milk and cream with a water-based mixture of eggs, milk, and flavors.
A custard base enhances ice cream by providing stability, smoothness, richness, and a longer shelf life. It adds depth of flavor, improves scoopability, and slows down melting due to its water-binding properties.
While many custard recipes use egg yolks for their lecithin content, which stabilizes the emulsion and prevents large ice crystal formation, I prefer to experiment with a mix of whole eggs and yolks for different flavors. The proteins in egg whites still contribute some stabilization even without lecithin.
Behind the Development of this Recipe
The goal I had in mind when developing this recipe was not to create a "base vanilla recipe", but instead embrace the vanilla bean as a whole flavor.
Although the overall ingredients for vanilla ice cream are typically consistent, I was determined to experiment with its texture and emphasize the rich flavor of the vanilla bean. This meant adjusting the number of eggs used.
Ultimately, I chose to use a small amount of eggs and instead, use two whole eggs instead of just yolks. Using a high quantity of egg yolks, of course aids the texture of the ice cream but it also masks the vanilla bean flavor and left the color of the ice cream extremely yellow, which is more in line with a French Vanilla ice cream.
Instead, this recipe has the perfect balance of lightness, creamy texture, and pure vanilla bean flavor.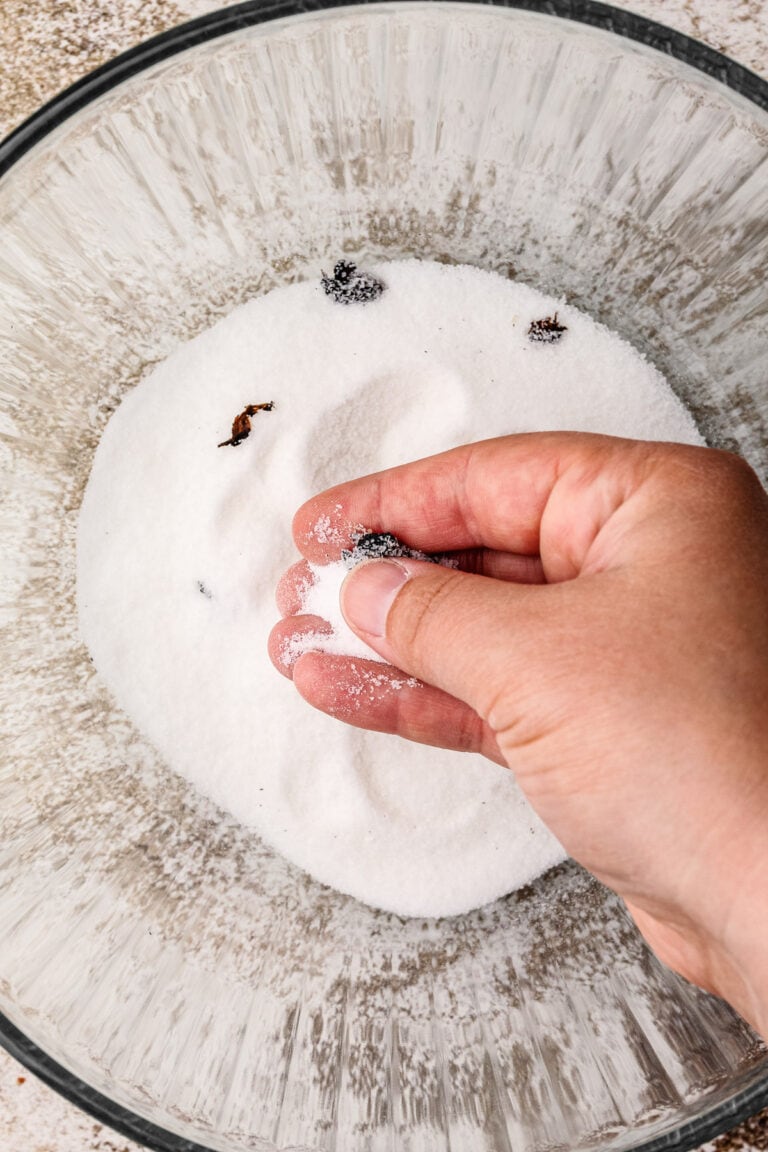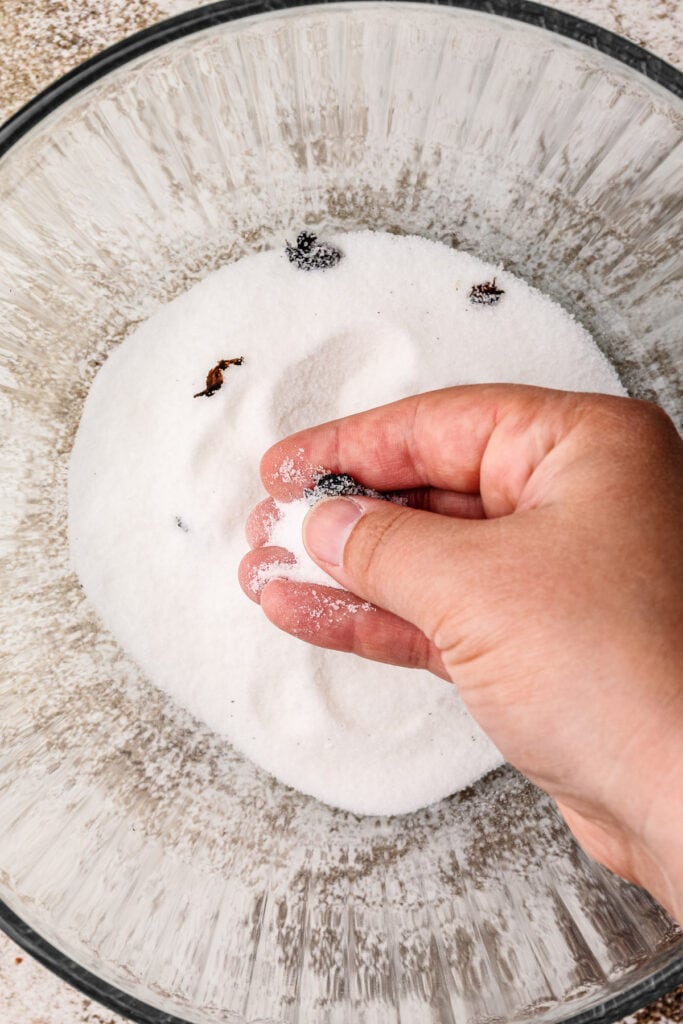 Overview of Steps for Making Vanilla Bean
Here is a shortened overview of the recipe. For the full recipe, scroll down to the end of this article.
Freeze the ice cream machine canister if necessary
Whisk together all vanilla bean ice cream ingredients
Heat on the stove top
Strain and immediately chill (and return the vanilla bean to the mix)
Chill and infuse the ice cream base overnight
Spin / churn the ice cream base to a soft serve consistency
Harden the ice cream to desire consistency in the freezer
Scoop and enjoy!
Why No Tempering is Needed
I'm all for streamlining processes, and I'm happy to share that tempering eggs is entirely unnecessary when making an ice cream base.
Even though almost all recipes call for it, when making stovetop custards it is unnecessary to temper since the eggs will be gradually heated from the get-go. In addition, the added sugar and even distribution beforehand (aka whisking really well) helps protects the eggs from scrambling before the custard has set.
However, whether you temper it or not, because there is no stabilizer in this custard, it is essential to consistently and evenly stir it while it is cooking to ensure uniform heat distribution and prevent any cooked egg bits. More on that below.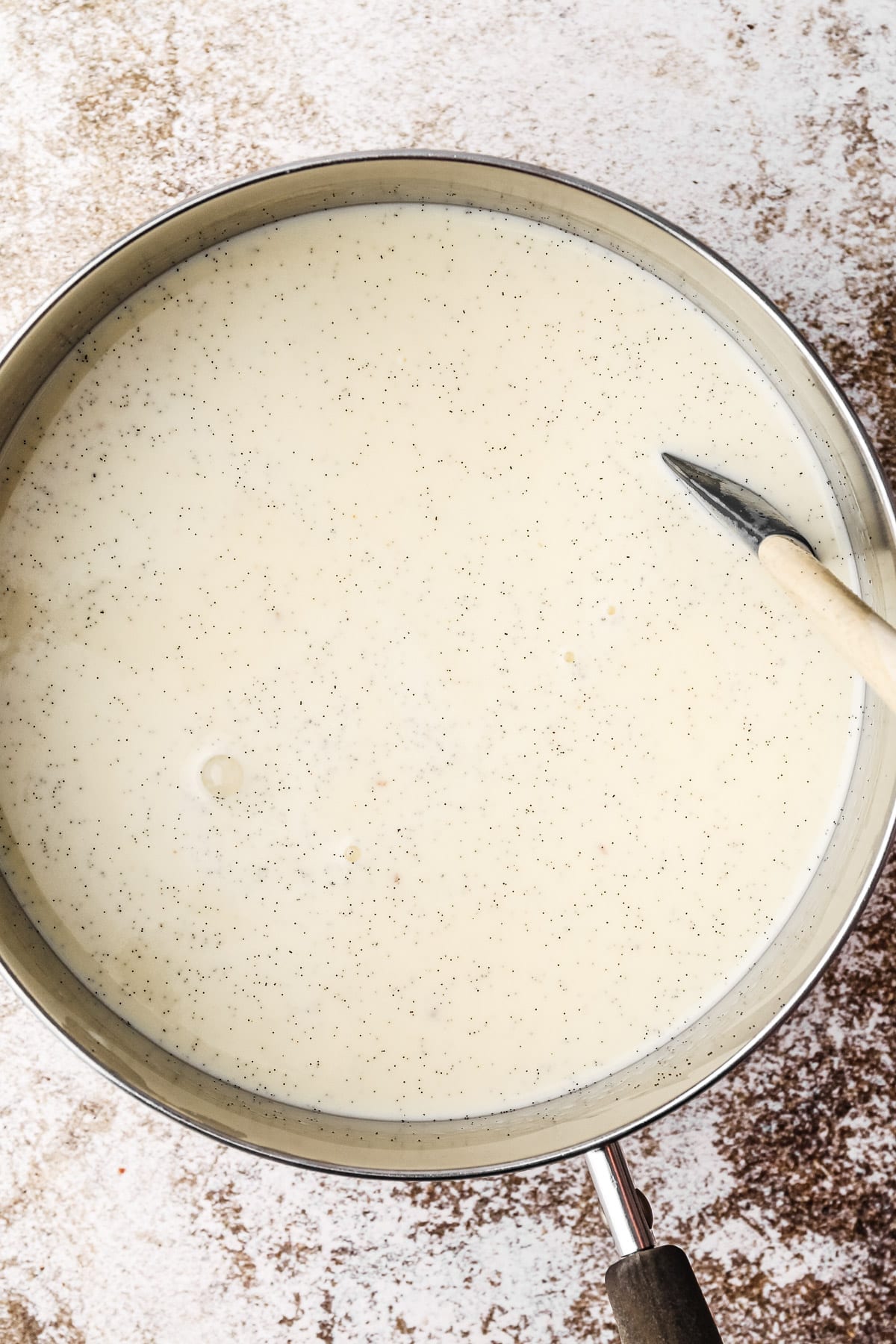 Tips for Successful Custard Making
The key components in custard are the eggs, which provide structure and richness, and stability, as well as the fat molecules that create a rich mouthfeel when they are suspended in the liquid. Slowly heating the custard to 175º causes the protein in the eggs to denature, where the egg proteins unravel and then eventually bond back together, resulting in a thickened texture.
As mentioned above, this recipe forgoes the typical call for tempering, because it's truly unnecessary, however, follow these tips to ensure success with your custard:
Whisk the eggs and sugar vigorously before cooking. The even distribution of the eggs and sugar helps keep the mixture homogenized during the cooking process.
Use a medium heavy-bottomed saucepan which helps distribute heat evenly and reduces the risk of scorching or burning the custard. Using too large of a pot can increase the speed at which the eggs cook due to increased surface area.
Use medium to medium-low heat. Controlling the temperature is important to avoid curdling, or cooking the eggs too quickly.
Stir constantly, taking care to get in the edges of the pan. A rubber spatula is best.
Don't walk away. At most, this process takes about 10 minutes. But the custard can go from perfectly done to boiled (ie curdled) in a few seconds.
Use a thermometer, if possible. The recipe calls for cooking the custard to 175Fº initially. Make sure that the thermometer is accurately taking the temperature from the middle of the liquid. Once it reaches 175Fº, pull it off the heat and stir for about a minute to let the custard slowly come up to 180Fº, before straining into an ice bath. 180Fº is an ideal temperature of the custard, but going over it is getting dangerously close to boiling it.
Speaking of straining, do strain the custard. Often the chalazae from the egg white tends to get cooked, and it's best to strain that out. Just don't use too fine of a strainer that would strain out the vanilla beans.
Use an ice bath: Using an ice bath will quickly bring the custard down to temperature, which is always a good idea. See below for more on this!
Tasting the Custard
If you are tempted to give the custard a taste after it's been cooked but before it's been frozen, remember that food tends to taste less sweet as it becomes colder. The cold temperatures tend to diminish the sensitivity of taste buds, resulting in a perceived decrease in sweetness. So don't freak out if you taste the warm custard and it tastes very sweet. It will be the perfect sweetness once the ice cream is frozen.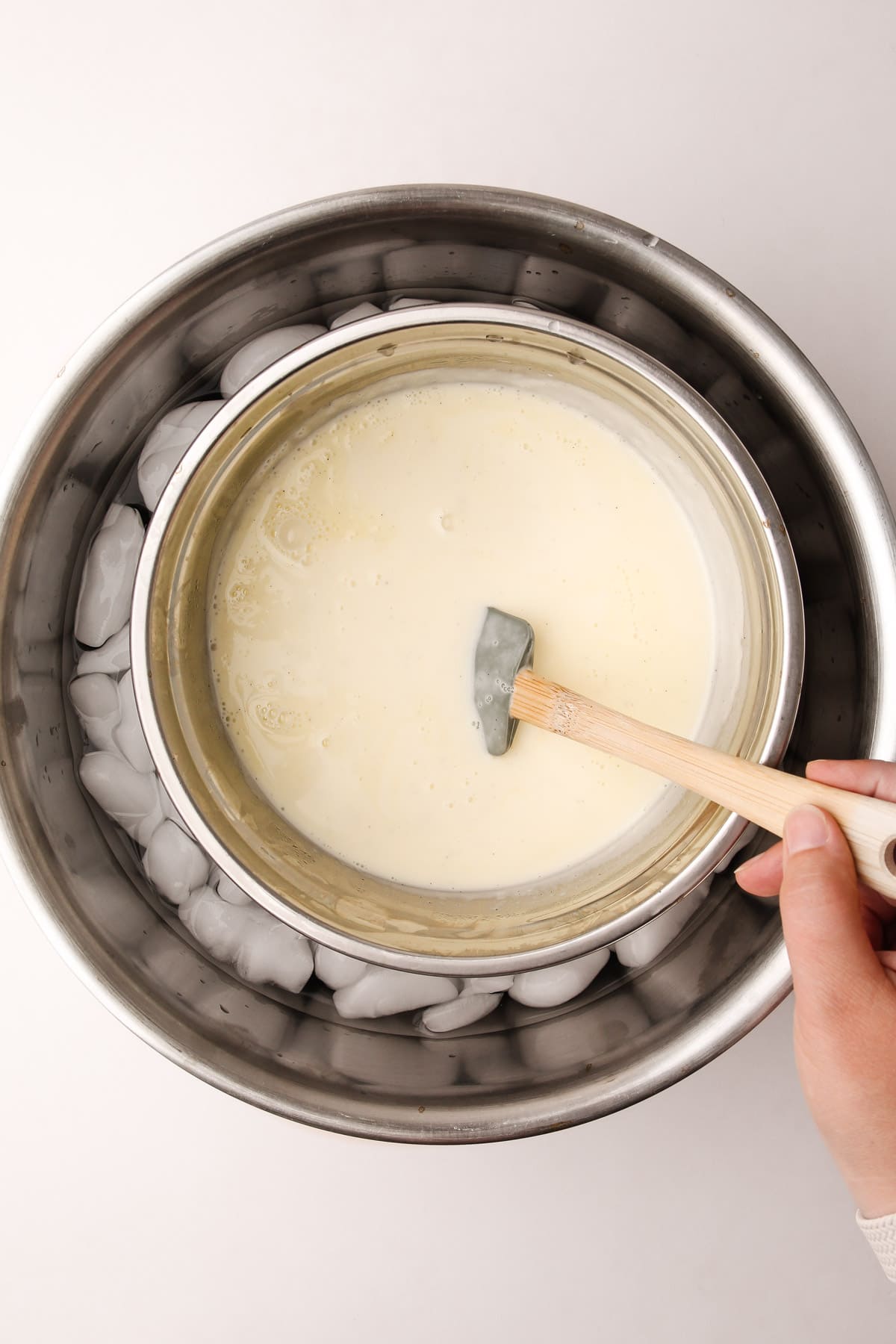 How to Make an Ice Bath
To quickly cool the custard, use an ice bath by placing the container in a larger bowl filled with ice and water. Metal containers work best for efficient heat exchange.
Ensure your ice bath has a bit of water in it as well, as water is a more efficient conductor of heat than air. Just be sure none of the ice water spills into the custard and be sure to stir the custard occasionally as it cools, which also helps speed up the process.
Once the custard is cool, immediately transfer the ice cream mix to an airtight container to let it "ripen" or chill, preferably overnight.
This chilling time is especially important for vanilla bean ice cream, as that resting period is an additional time period where the vanilla bean flavor is infused into the cream.
Plus, it's important to have a very cold ice cream base before it is churned, see more on that below.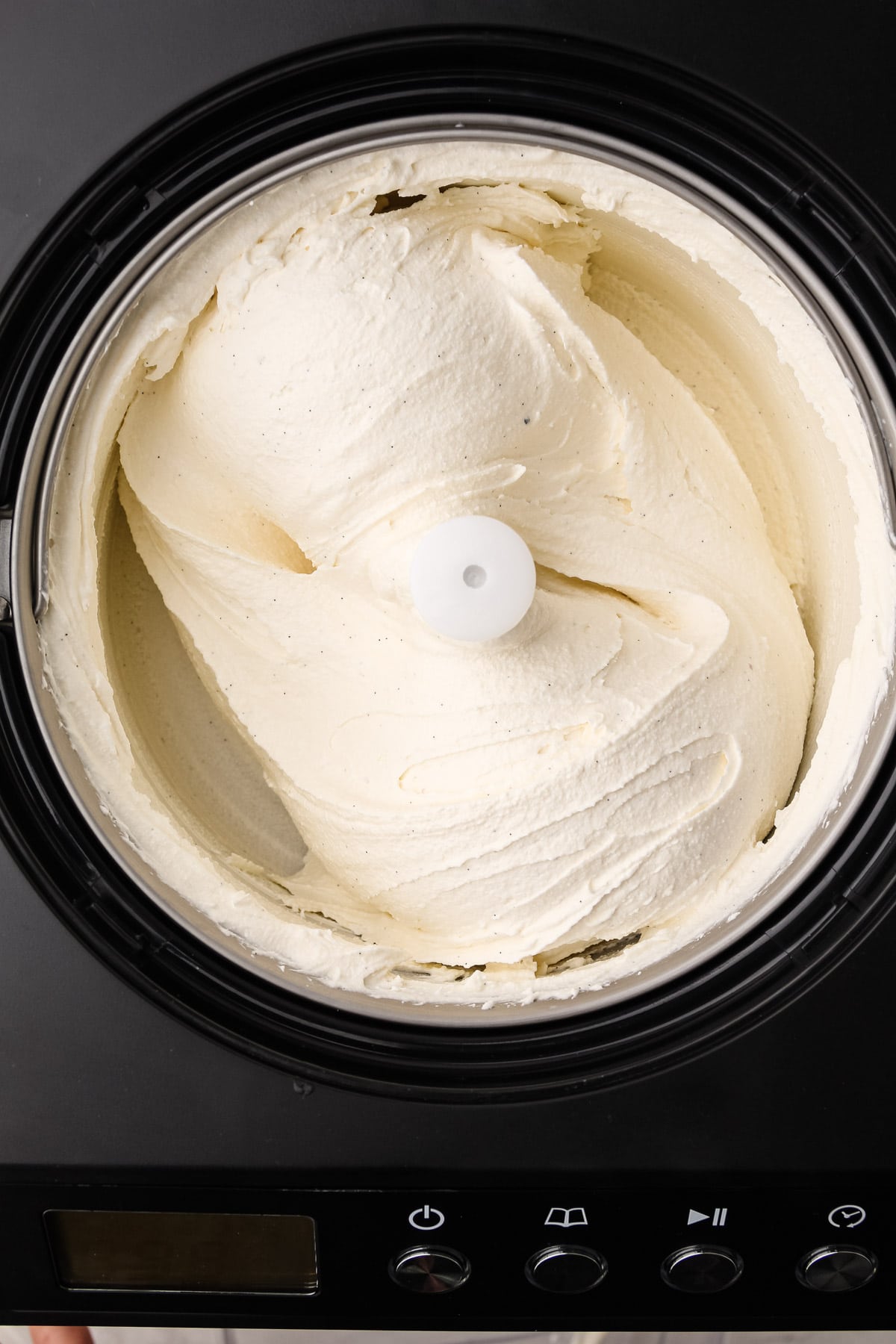 Freezing the Ice Cream
Now it's time for the magic!
Before freezing keep two things in mind: the ice cream base must be very cold (below 40ºF is a must, but the lower the better) and if your ice cream machine needs to be frozen, it should be in the freezer for at least 24 hours.
Speaking of, let's talk about ice cream machines.
I've owned and operated so many different types and brands of ice cream machines, ranging from the inexpensive countertop frozen canister ice cream machines to a kitchen aid attachment to my newest fancy compressor ice cream machine. While I'm definitely happy with my recent purchase, it is not necessary to make good ice cream.
The freezing rate of the ice cream base during churning determines the final texture. If either the ice cream base or the machine is not sufficiently cold, the freezing process can slow down, leading to the formation of large ice crystals resulting in gritty ice cream.
When you churn the ice cream, several important processes occur simultaneously. Churning helps achieve the goals of maintaining the emulsion, limiting ice crystallization, and incorporating air, all of which are essential for creating smooth and creamy ice cream.
Churning is accomplished by rapidly cooling the mixture while simultaneously agitating it, as it freezes.
When making ice cream at home, avoid over-churning the mixture. Excessive churning can introduce too much air into the ice cream, leading to a less dense and potentially less desirable texture.
Generally speaking, churn until the ice cream reaches the soft serve stage. In my machine, I notice a change in the noise it makes when the ice cream is ready.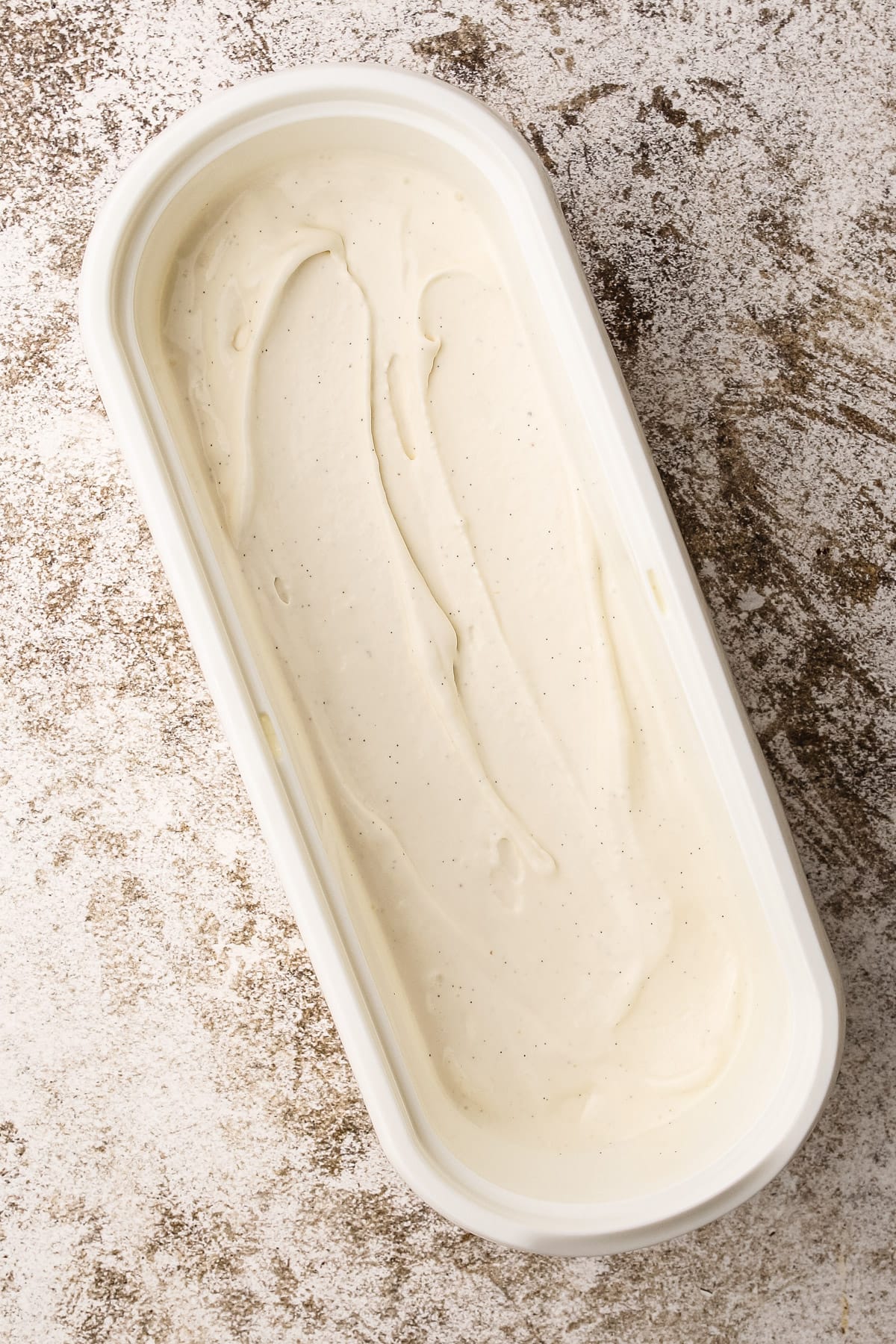 Storing the Ice Cream
The last step in making homemade ice cream is to store it properly. After the ice cream has been churned and frozen, it needs to "harden" in the freezer for a period of time. This chilling period fully sets up the ice cream to the correct consistency.
The faster it hardens, the smaller the ice crystals, the smoother the ice cream.
You can harden the ice cream in one large container or multiple small containers. While dedicated ice cream containers are convenient for frequent ice cream making, any container available in your home can be used.
Here are some things to consider in terms of storage:
It should be a container with a tight-fitting lid to help prevent air from entering and ice crystals from forming.
It should be a container that is safe to freeze, of course! As in, some plastic or glass containers might not be freezer-safe.
A shallow, or small container is best because it allows the ice cream to freeze and harden more evenly and quickly.
For best results, place a piece of parchment paper on the surface of the ice cream to minimize air exposure from the ice cream and freeze promptly and thoroughly.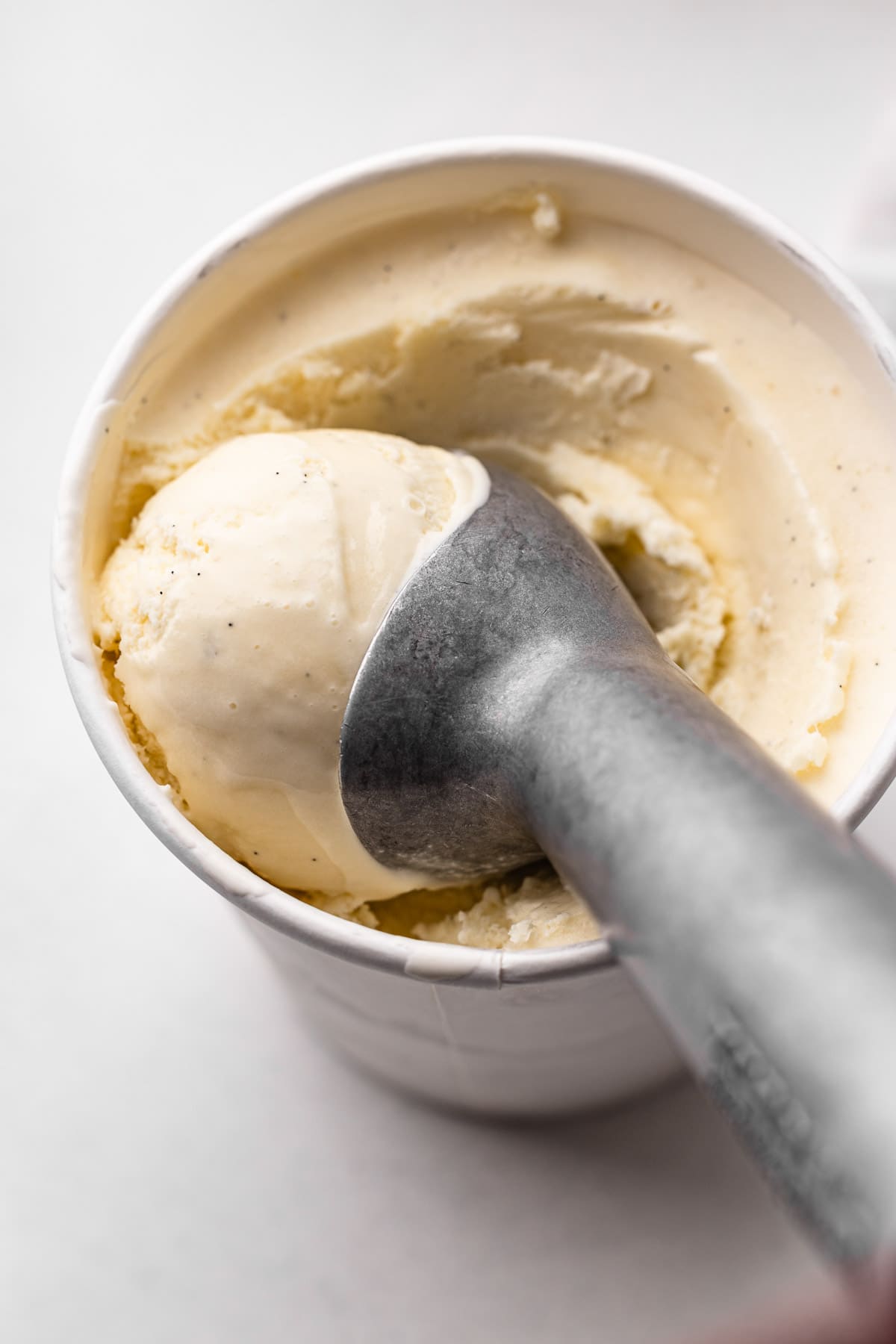 How Long Will Vanilla Bean Ice Cream Keep?
Homemade ice cream honestly doesn't keep as long as you might suspect, because as discussed before, it doesn't have any stabilizers or preservatives added to it.
Homemade ice cream is best consumed within a week or two of making it. Different factors can affect this timeline, including how cold your freezer is, what type of ice cream it is, what container it is kept in, and if it has thawed at any point in the freezing process.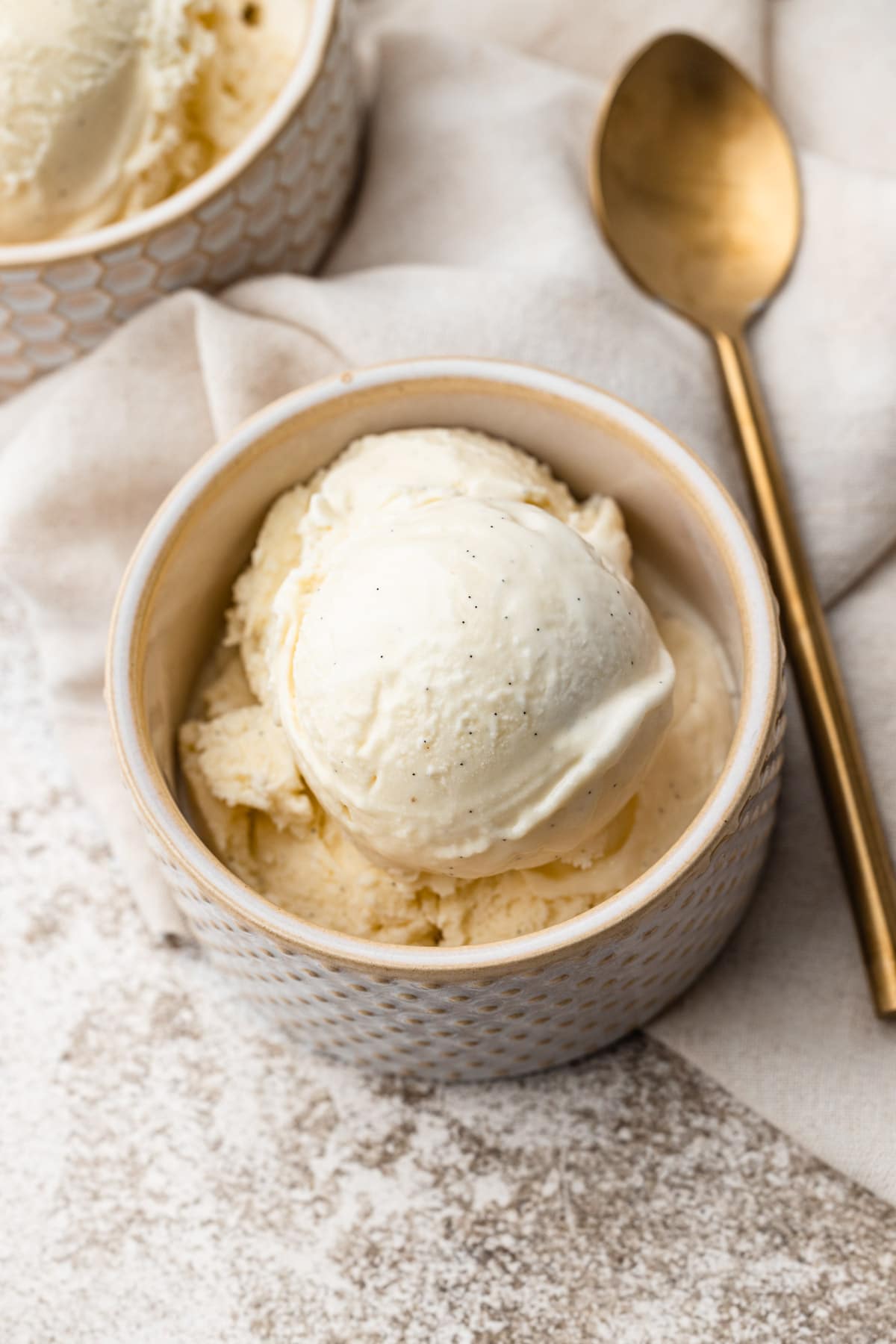 Troubleshooting Tips
Had some trouble in the ice cream making process? Check these out to see if you can figure out what went wrong and how to prevent it from happening next time.
The milk and cream mixture looked curdled and it didn't even boil.
Make sure your milk is fresh. If you accidentally use old milk the high acidity from spoilage will cause the mixture to curdle when it just slightly heats up.
I boiled my mixture and now it's clumpy!
Unfortunately, you might have to start over. If it just slightly curdled, it may be able to be saved by using an immersion blender. But if it's too far cooked, it might need to go in the trash. Not only will the texture be all wrong, but it will also have too eggy of a flavor to be worth it to continue. Next time, use a low heat, stir constantly and don't walk away from the mixture.
My custard is so thin!
A custard ice cream base should be cooked to about 170ºF - 180ºF. I prefer a method to gently bringing the custard up to 180ºF by cooking it precisely to 175ºF. At this point, I remove the custard from the heat but allow it to sit in the pan for a minute, as the residual heat continues to raise the temperature to 180ºF through carry-over cooking. This approach ensures that the custard reaches the desired temperature without overcooking.
If the custard turns out thin, it is an indication that it may not have been cooked enough. While the custard should have a slightly thickened consistency, it is not intended to be overly thick from the start. Striking the right balance is key, and ensuring that the custard reaches the appropriate temperature helps achieve the desired texture and consistency.
My ice cream never thickened up when I churned it!
This is likely a problem with the ice cream machine. The most probable culprit is that the freezing canister did not sufficiently freeze. Make sure to let it sit in a very cold freezer (at least 0ºF) for 24 hours. If your machine is a refrigerant model, there is likely an issue with the compressor. Some compressor models have an auto shut-off safety period after it's been turned off, to help preserve the motor. Ensure this is not the problem.
The finished ice cream is so hard to scoop!
If the recipe is followed correctly, the finished ice cream should be easy to scoop directly from the freezer. If you encounter difficulty in scooping, it indicates that something may have gone awry during the process. Possible factors could include an inadequate emulsion, insufficient rapid freezing, or the ice cream partially thawing and refreezing in the freezer. However, even if the ice cream is challenging to scoop, it doesn't necessarily mean it won't taste good. Just allow the ice cream to warm up slightly before continuing to scoop. And if that did happen, it's best to go through this guide and see if you can pinpoint where you had an issue with your ice cream making process.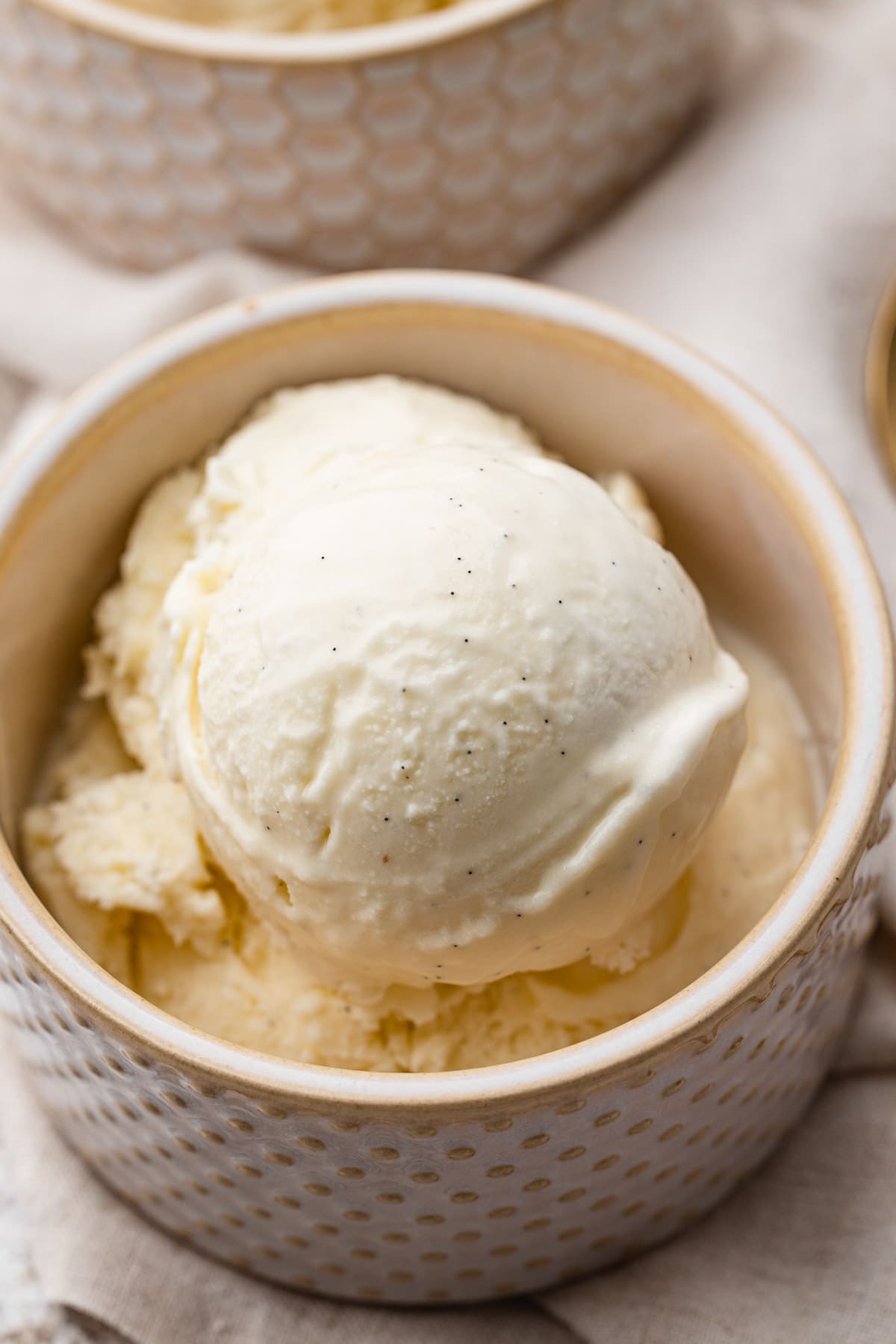 I am so honored when you make a recipe from my site! If you make this Brownie Pecan Pie, please leave a comment and a star rating with your experience! If you have any questions about this recipe, feel free to comment here, too!
Print
Full Recipe
Vanilla Bean Ice Cream
This is the best Vanilla Bean Ice Cream recipe, made using simple ingredients like eggs, cream, and milk to make for an ultra-creamy and vanilla-forward taste and consistency. This guide for making vanilla ice cream talks through the science behind ice cream, which steps are absolutely necessary (and which aren't), and tips for success with every batch.
Author: Kelli Avila
Prep Time:

00:10

Chilling Time:

16:00

Cook Time:

00:08

Total Time:

16 hours 18 minutes

Yield:

About 3 pints

Category:

Ice Cream

Method:

French-Style
¾ cup

(

150 grams

) granulated sugar

1

grade A vanilla bean

2

large eggs

¼ teaspoon

coarse kosher salt

2 cups

(

456 grams

) heavy cream

1 cup

(

227 grams

) whole milk
Instructions
Set up an ice bath with two nesting metal bowls
Add the sugar to a medium bowl
Remove vanilla bean "caviar" from the pods and add it to the sugar. Using your fingers, rub the beans into the sugar. This helps prevent any clumping of the vanilla.
Add in the eggs and salt and whisk vigorously for one minute, until the mixture is lightened.
Whisk in the cream and milk.
Transfer the mixture to a heavy-bottomed medium pot and add in the vanilla bean pod.
Cook over medium heat, stirring constantly, especially along the edges and the bottom of the pot. Cook until it reaches 175°F on an instant-read thermometer, about 8 minutes. The mixture will be slightly thickened. To check the custard is set without an instant-read thermometer, take a wooden spoon and coat it with custard. Draw a horizontal line on the back of the spoon with your finger. If the line "holds" then your custard is set. If the line collapses immediately, the custard needs another minute or so. Be careful not to bring the mixture to a boil; this will curdle the custard.
Immediately shut off and remove the pot from the heat. Continue to stir the custard for 1 minute. This helps bring it all the way up to 180ºF.
Strain the custard into the prepared ice bath through a fine-mesh strainer. Take the vanilla bean from the strainer and place it back in the custard, to allow it to continue to steep.
Cool the custard in the ice bath to room temperature, stirring occasionally.
Chill the custard thoroughly in the refrigerator, until at least 40ºF, but preferably overnight.
Freeze the custard, according to the recommended manufacturer's instructions of the ice cream maker, until the ice cream has reached a soft-serve consistency.
Transfer the ice cream to one or more airtight containers. Place a piece of parchment on the surface to prevent any freezer burn. Freeze until firm, at least a few hours.
Notes
Have a question or looking for tips? The text written above the recipe is always a great first place to start! This Vanilla Bean Ice Cream was developed with love, and I always include loads of explanations, tips, step-by-step photos and technical advice shared before the recipe.
Keywords: Vanilla bean ice cream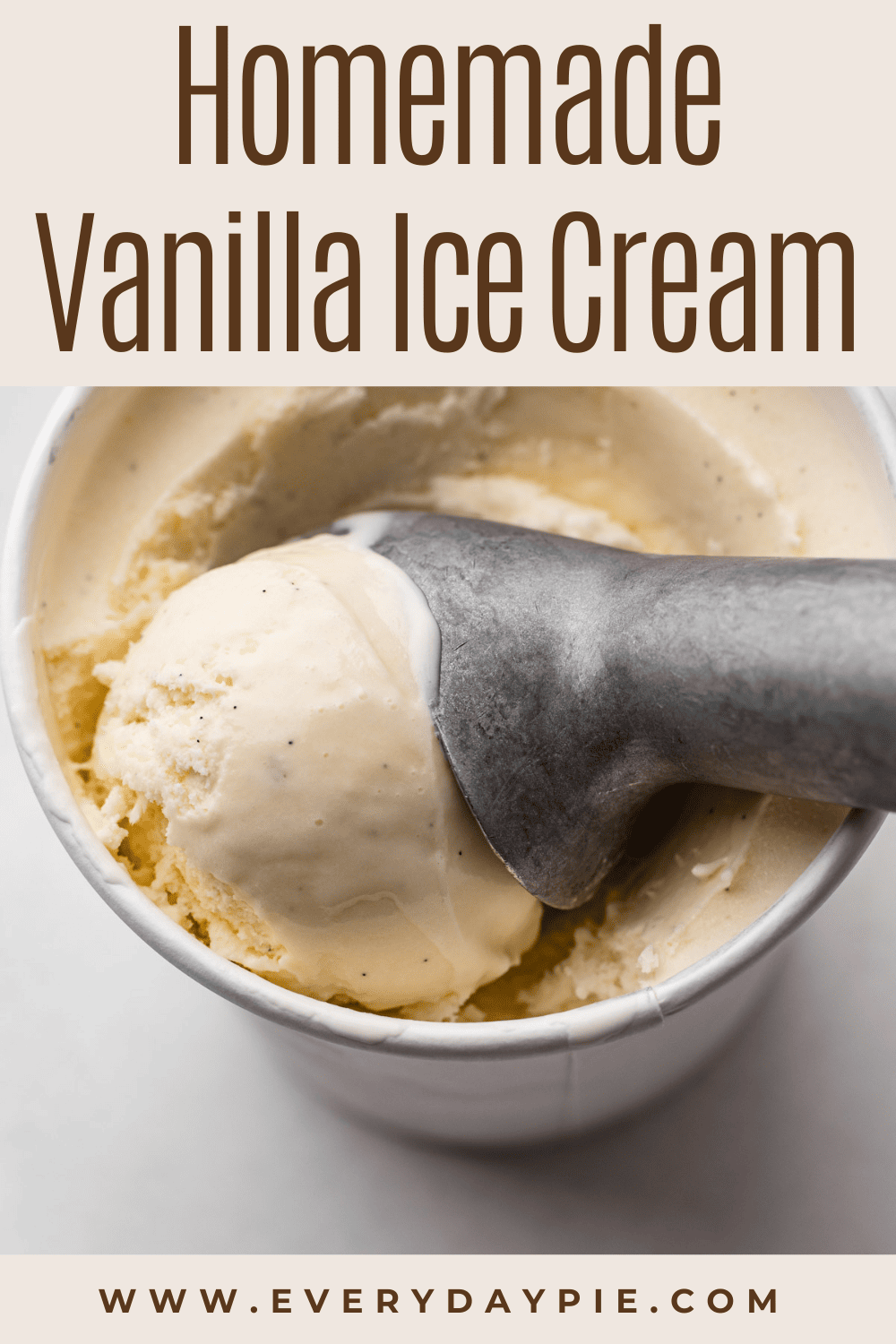 Some of the links on this page may be affiliate links. Everyday Pie is a participant in the Amazon Associates Program. As an Amazon Associate I earn from qualifying purchases, at no extra cost to you.