Fluffy and ethereal, Swiss Meringue is a versatile confection made up of cooked egg whites and sugar that's whipped up. It's a bit like a spreadable marshmallow and perfect for pies, cakes or baked into little cookies. Learn how to Make Swiss Meringue with this extensive tutorial!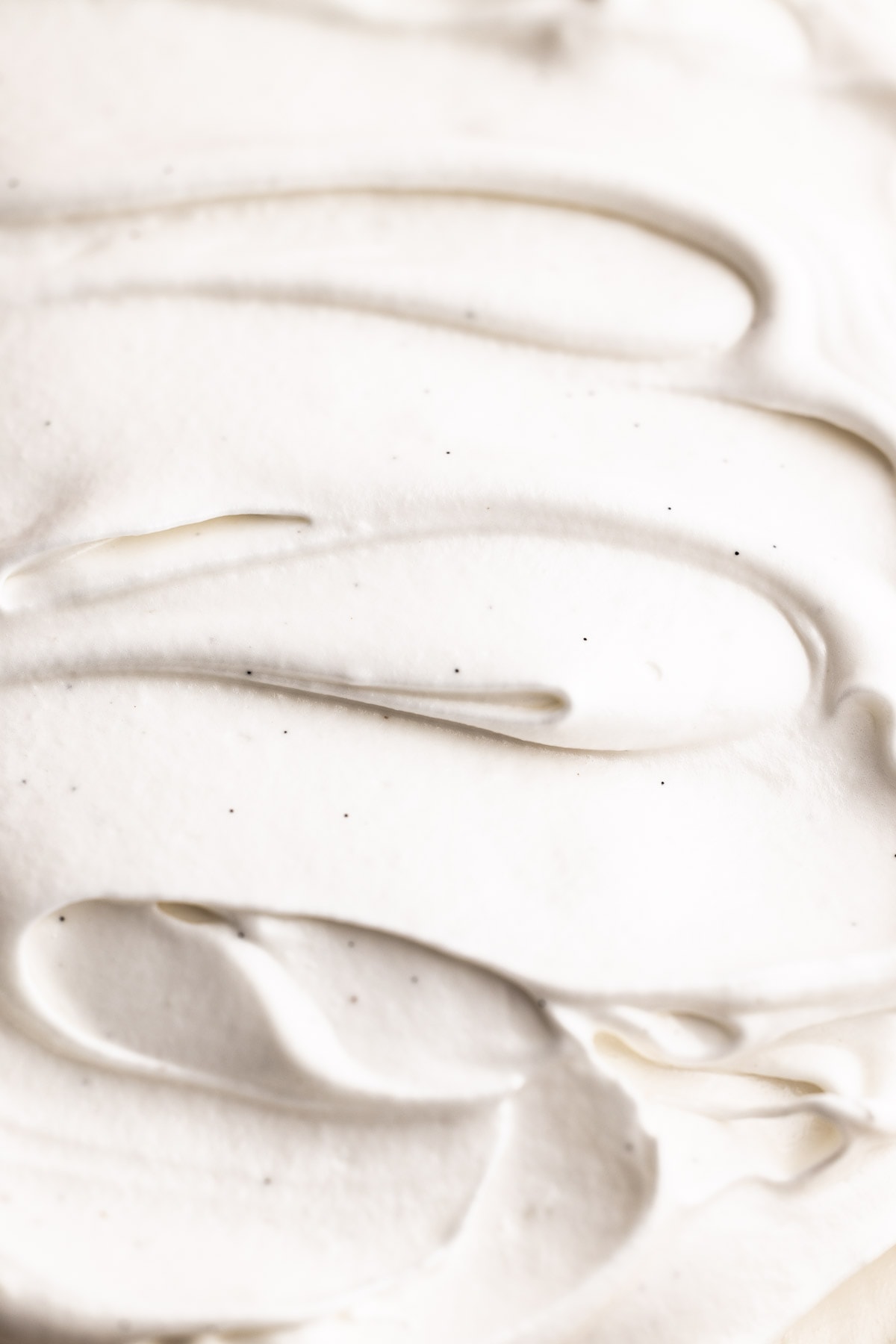 Swiss Meringue Recipe
There are a few different methods of making a meringue (see below for more details on each one), but in my humble opinion, a Swiss Meringue is the best one. Swiss meringue is made by cooking egg whites and sugar together over a double boiler and then whipping it until a super fluffy, billowy meringue emerges. The egg whites are cooked through which takes away any fear of consuming raw eggs, and it has a thick, glossy texture that can't be matched.
Use this swiss meringue in any recipe calling for a meringue that is uncooked if you are nervous about consuming raw egg whites (which I always am). And a Swiss Meringue is perfect for all meringue pies, too.
So, let's get to making it, shall we? The text below offers tons of tips and helpful notes, or you can scroll to the bottom to grab the recipe and get started!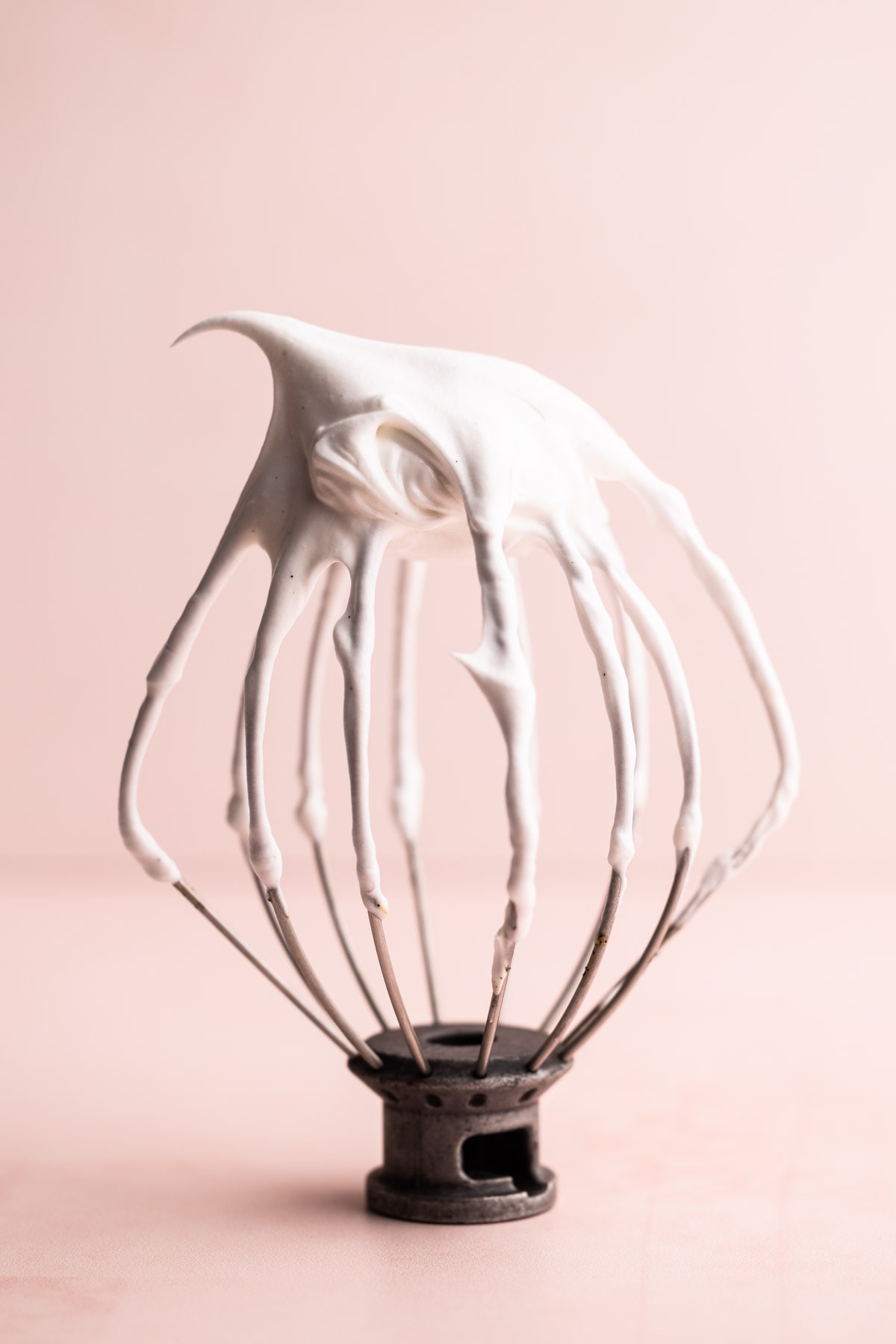 What is a Meringue?
A meringue is a mixture of egg whites and sugar that is beaten until light and fluffy. A meringue has many uses. It can be used to make cookies, or a pavlova, by baking up the meringue for a long period of time. It can be turned into buttercream by adding chunks of butter to the warm meringue while it is beating. Or, it can be used to top a pie. You can also take the meringue one step further by torching it, or placing it under the broiler. This turns the meringue a beautiful dark color and gives it a toasted flavor.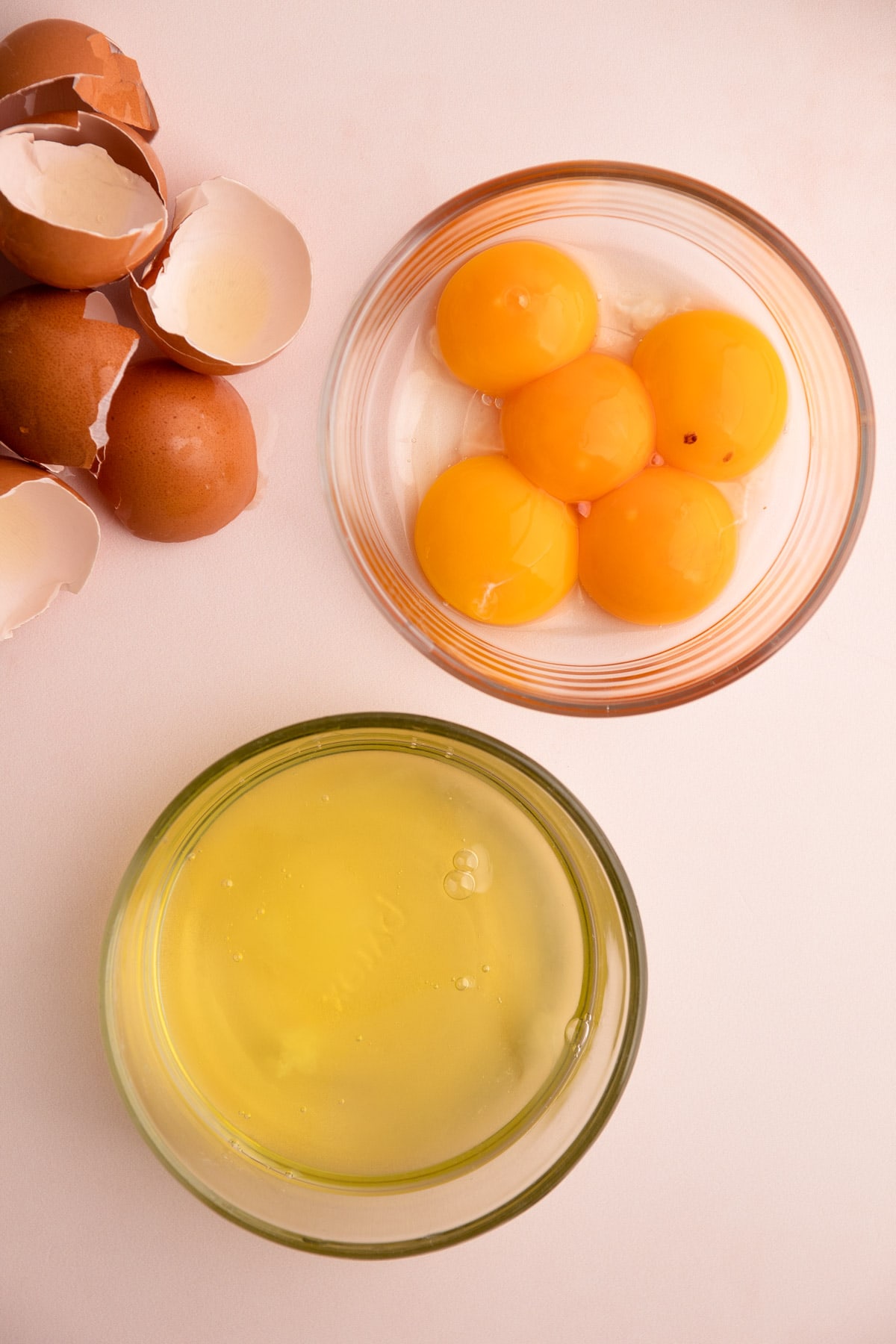 Overview of Ingredients
Here is an overview of the ingredients needed for this recipe. The full recipe is listed below in greater detail.
egg whites
granulted

sugar

cream of tartar
pinch of salt
vanilla extract or a scraped vanilla bean
Is Cream of Tartar Essential?
Cream of tartar is a white powder found in the baking aisle in most grocery stores. It is an acidic by-product of winemaking. It is commonly added to all types of meringues to assist in stabilizing the egg whites. If you have it on hand, definitely use it. If you've struggled with meringues in the past, I suggest you get it if you don't have it. If you are making a meringue that you'd like to have last longer (such as on a pie), use it.
But is it absolutely essential? Nope. I make perfect meringues all the time without using cream of tartar. It's simply a nice aid to use as an extra bit of security.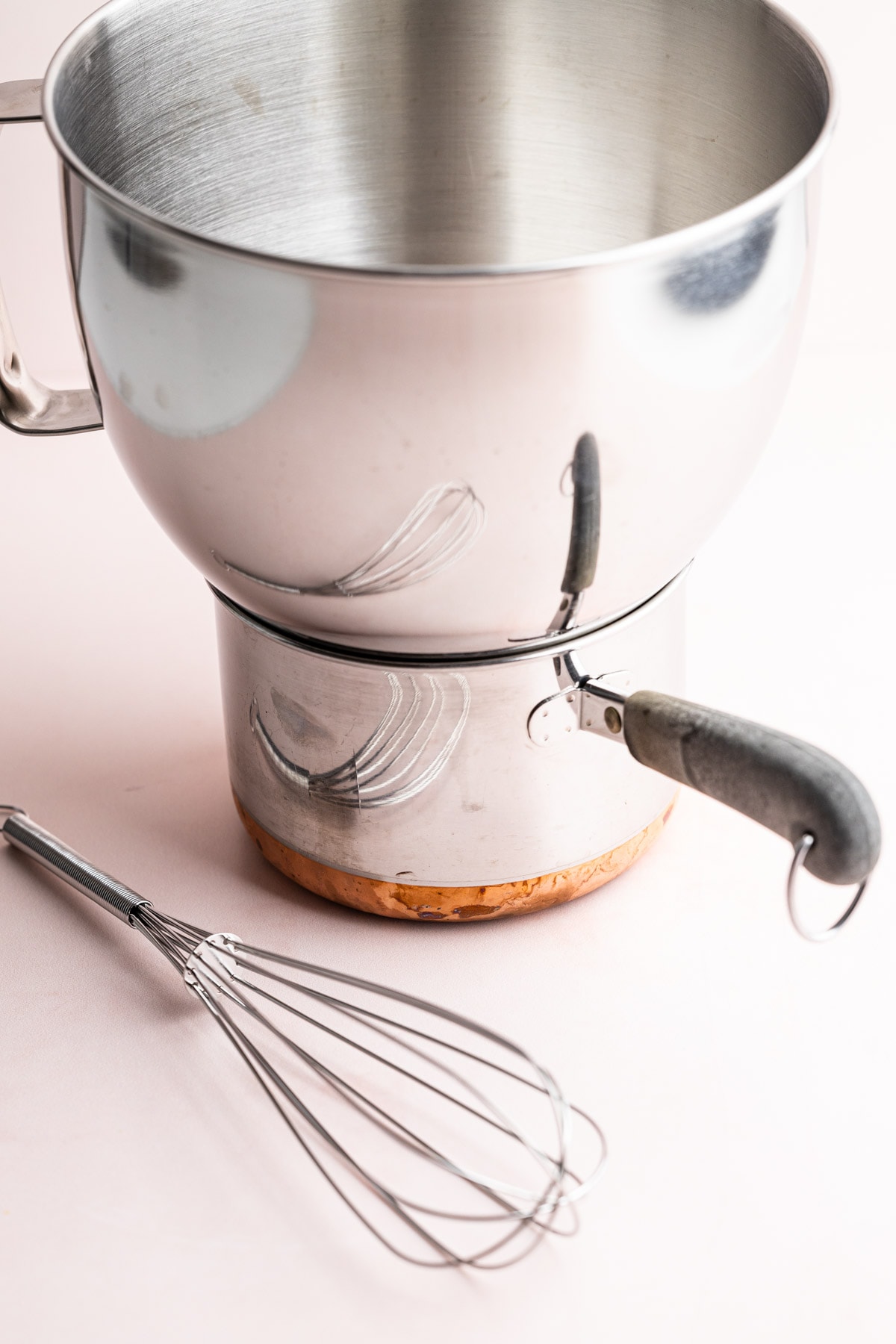 Special Tools Needed:
small pot (this is used to make a double-boiler)
metal bowl to fit on top of the small pot (I used the kitchen aid metal bowl for this)
electric mixer (an electric stand mixer is best here)
instant-read thermometer (my Thermapen is my most used kitchen tool)
What Makes a Swiss Meringue Different?
There are three common ways to make a meringue.
The French method is likely the one most people think of. Raw egg whites are whipped up with an electric mixer and the sugar is slowly added to it until it is light and fluffy. This is the easiest method, but the least stable, and it leaves the egg whites raw.
The Italian method is by far the most difficult. A sugar syrup is cooked up until it reaches a "soft ball stage" of 235ºF. It is then slowly added to beaten egg whites until it is light and fluffy. This is a very stable mixture, and the egg whites are cooked.
The Swiss method is somewhere in between the above two. The Swiss method is made by cooking egg whites and sugar together over a double boiler until it reaches 160ºF, or until it is thickened and all the sugar has dissolved. Next, the mixture is beaten with an electric mixer until light and fluffy. The egg whites are cooked through and safe to consume as is, and it is wonderfully stable and has a great texture. This is always my preferred way of making a meringue.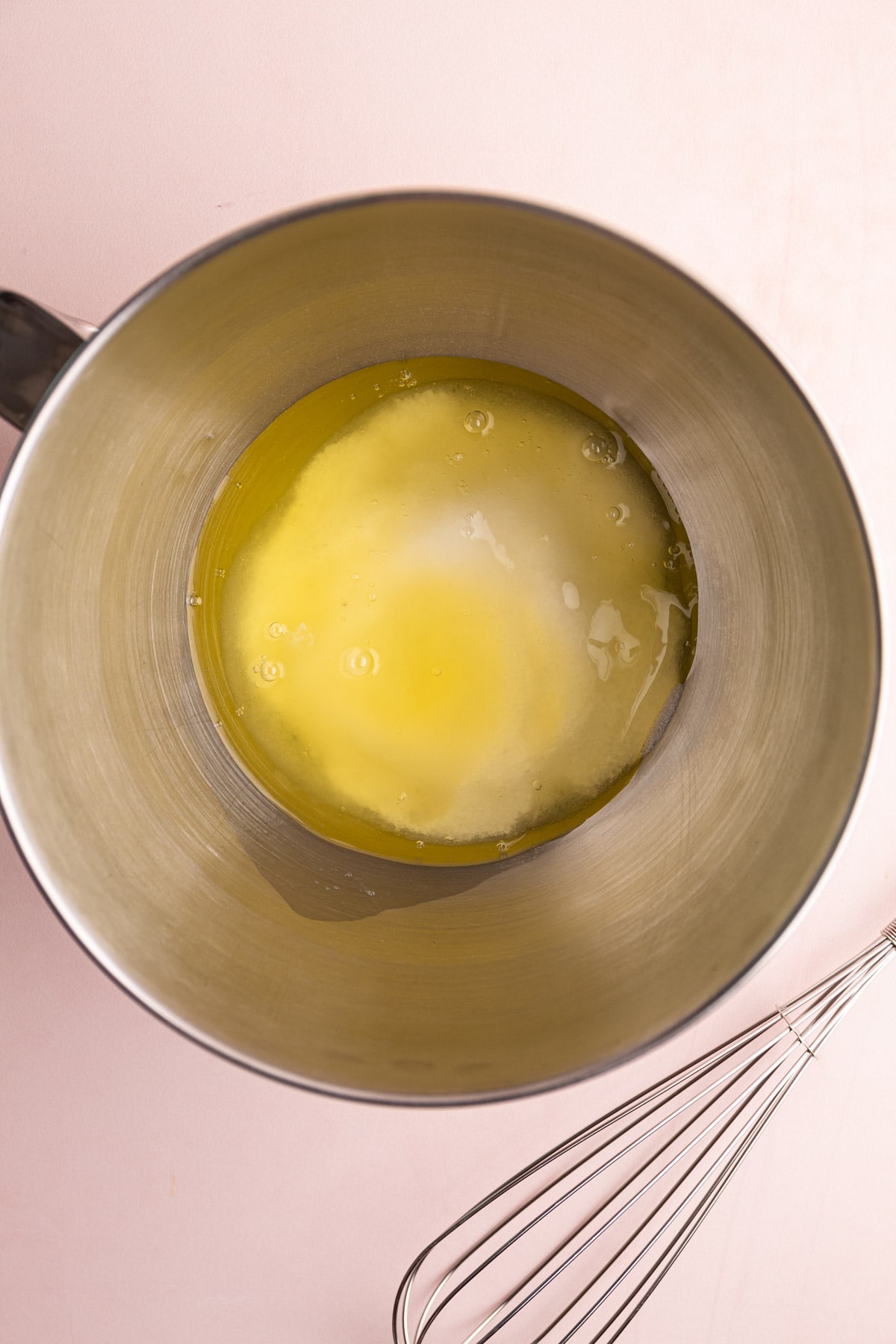 How To Make Swiss Meringue
Here is an overview of the steps needed to make this swiss meringue, along with some tips. The full recipe with specific details is listed below.
Set up a double-boiler:

This means to fill a pot with some water at the bottom to create a steam bath to slowly cook whatever is in the bowl on top. I use the bowl for my electric mixer and set it on top of a small pot. A small pot works best because it only heats the bottom of the bowl and not the sides, which I find useful for preventing any crystalized sugar.

Add ingredients to the metal bowl and whisk them together.
Cook the egg whites over the double boiler until they reach 160ºF: this takes no more than 10 minutes, and I don't recommend you walking away from this step, to avoid overcooking the eggs.
Whip the eggs: remove the egg whites from the double-boiler, add in the cream of tartar and slowly start to whip up the egg whites, until stiff and glossy.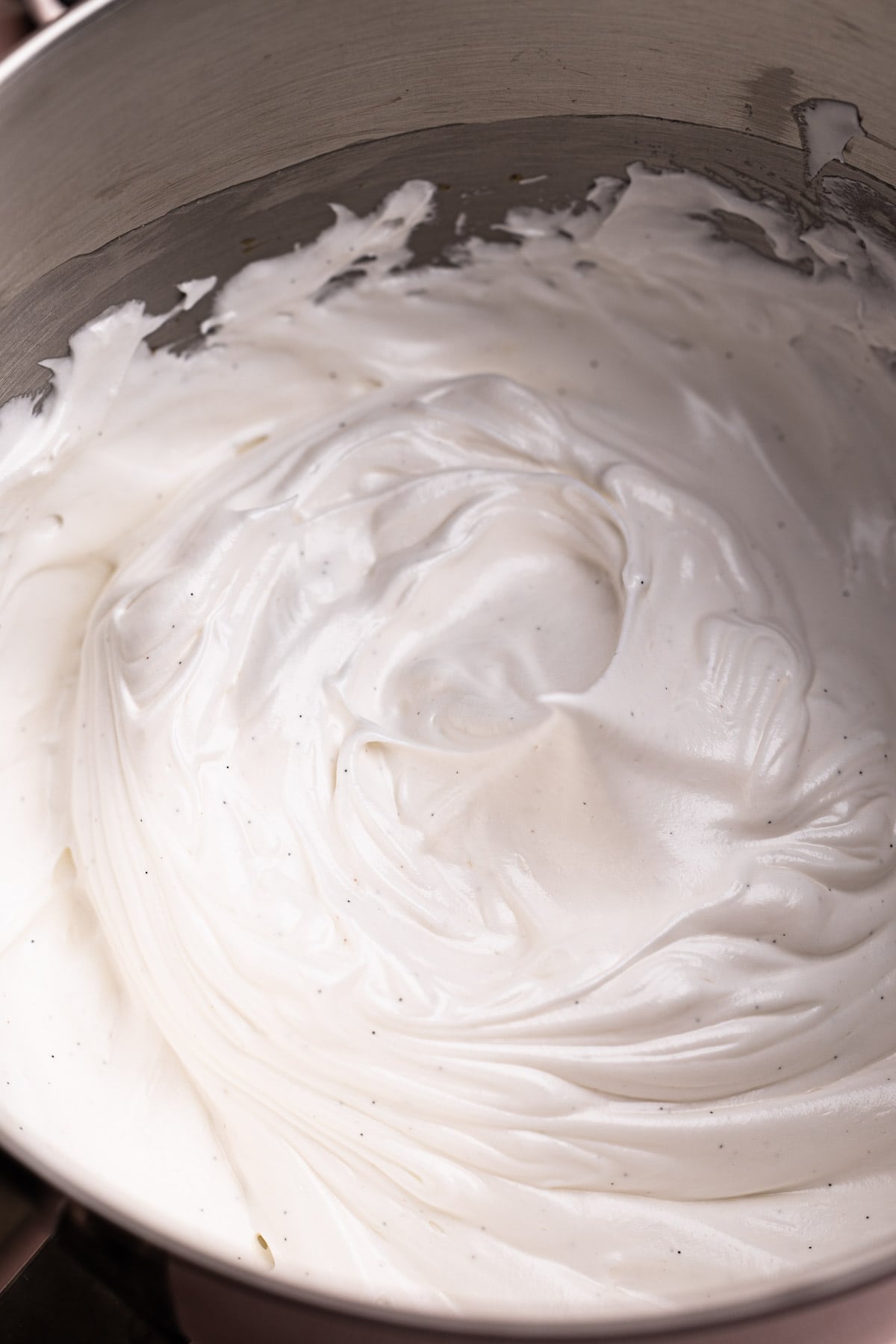 How to Tell When a Swiss Meringue is Done?
It is possible to underwhip and overwhip the meringue.
An under whipped meringue will be weepy, and not hold stiff peaks.
Soft peaks are when you pick up the whisk attachment and the meringue softly falls down, and eventually falls off the whisk in a heap. Medium peaks are when you pick up the whisk and the meringue holds a peak but just barely stays on the whisk without falling. And stiff peaks are when you pick up the whisk attachment and the meringue forms a peak that stays in its place.
A glossy stiff peak is what you are going for here. You'll know you are getting there when the meringue starts to pull away from the sides of the bowl and as the whisk drags through the meringue it leaves a very defined wake in its path. You'll also notice the bowl has cooled down significantly and this helps you know the meringue is ready. This whole mixing process takes roughly 8 minutes.
And an overwhipped meringue? This is a little bit harder to do, but an overwhipped meringue will break because all the air bubbles that have been created have started to pop. It will go from stiff peaks to a weepy mess. And unfortunately, there is no saving it. But this is less common, especially if significant sugar is added.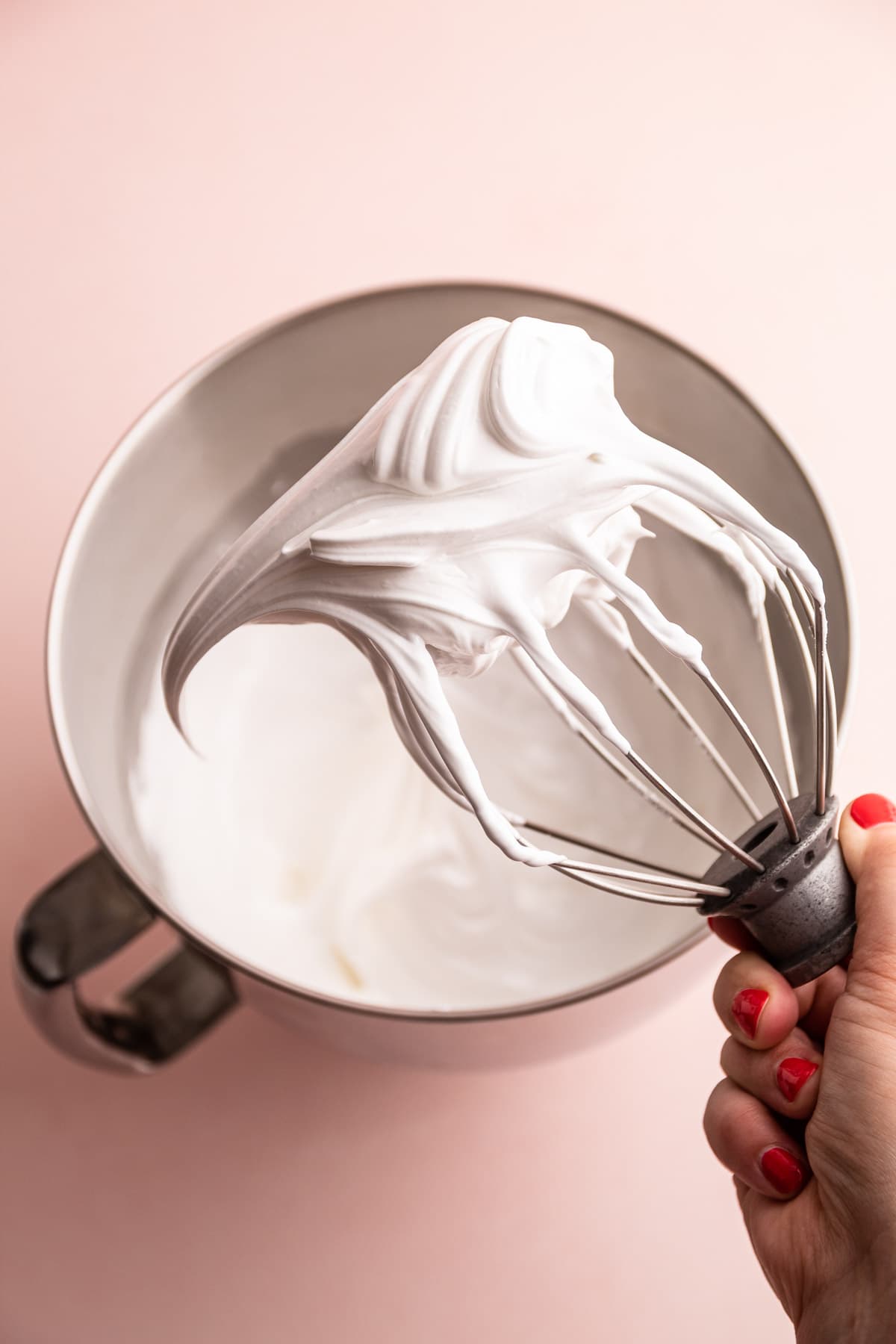 My Best Tips for Making Swiss Meringue
Clean your mixing bowl and whisk attachment well: Whenever making a meringue, I always rewash by hand my bowl and whisk with hot soapy water. I dry it, and then wipe it down with a thin coating of white vinegar. This ensures there are no leftover stops of grease, which could prevent the meringue from whipping up properly.
Use your hands to separate the egg: I find using my hands to be the easiest way to separate the eggs, but also to ensure not egg yolks get into the egg whites. Egg yolk streaks in the egg whites could prevent them from whipping up.
Use a smaller pot for the double boiler: You make have noticed in the photo above that I'm using a pretty small pot for my double boiler, and this is very strategically. I like to keep the heat on the bottom because it helps ensures no crystalized sugars on the side of the bowl (see my second tip below for an elaboration on this).
Make sure all the sugar is melted: Alternate between whisking the mixture and scraping down the sides of the bowl with a spatula when you are heating the egg whites and sugar. You want to be whisking the egg whites to ensure they evenly cook, and don't scramble. Just be sure none of the sugar has climbed up too high on the side of the bowl before it has a chance to dissolve. This runs the risk of cooking the sugar to the side of the bowl which could result in a grainy meringue. This is why you alternate between whisking and scraping down the side of the bowl to make sure all the sugar dissolves. Whisk and scrape, whisk and scrape.
Use an instant read thermometer: The egg whites need to be cooked to a temperature of about 160ºF to ensure the egg whites are cooked through to be safe to eat, and this makes it more stable. An instant read thermometer reads the temperature quickly and accurately. If you are really stuck and don't have a thermometer, cook the egg whites until the sugar has fully dissolved (you can rub the mixture between your fingers to check) and until the mixture is thickened and started to get glossy.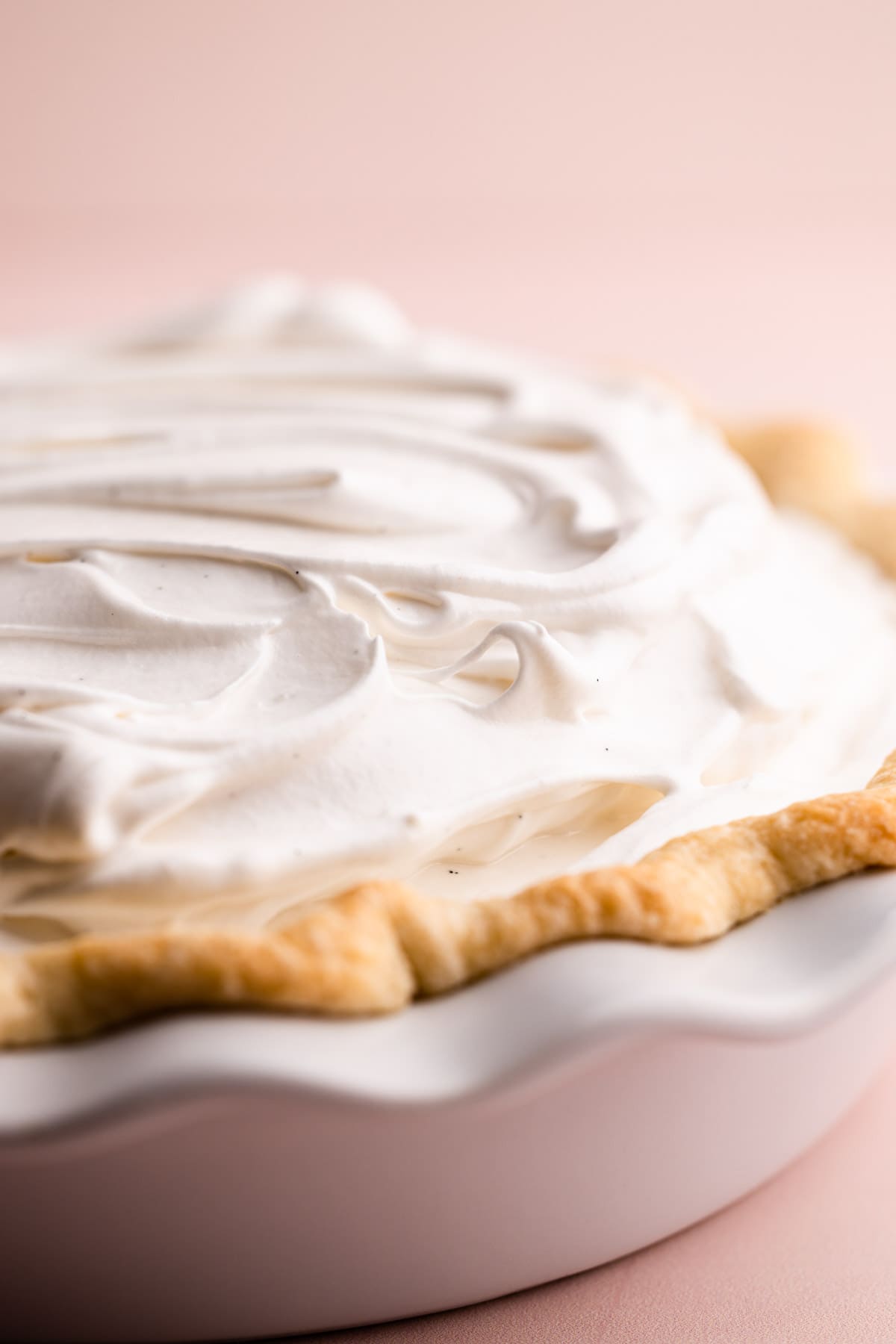 Popular Ways to Use Swiss Meringue
Given this is a pie website, I'm going to definitely tell you that a swiss meringue is best used on top of a pie (think: Lemon Meringue or Baked Alaska)! But aside from using it for any type of meringue pie recipe, it also swiss meringue can be used:
As a cake or cupcake frosting / filling
As a base for swiss meringue buttercream
To make a pavlova
To make meringue cookies
On top of ice cream
I am so honored when you make a recipe from my site! If you make this Swiss Meringue recipe, please leave a comment and a star rating with your experience! If you have any questions about this recipe, feel free to comment here, too!
Print
Swiss Meringue
Fluffy and ethereal, Swiss Meringue is a versatile confection made up of cooked egg whites and sugar that's whipped up. It's a bit like a spreadable marshmallow and perfect for pies, cakes or baked into little cookies.
Author: Kelli Avila
Prep Time:

00:08

Cook Time:

00:10

Total Time:

18 minutes

Yield:

2 cups

Category:

Cooking Tutorials
3

large egg whites

Pinch kosher salt

¾ cups

(150 grams) granulated sugar

¼

teaspoon cream of tartar

1

vanilla bean, scraped, or 2 teaspoons vanilla extract (optional)
Instructions
Fill a small sturdy pot with at least 1 ½ inches of water and turn on the heat to medium-high. This is the bottom of your make-shift double boiler.

Combine the egg whites, salt, sugar, and cream of tartar to a heat-proof bowl (the metal bowl from your electric mixer is perfect here) and whisk together until fully combined.

Set the bowl over the steaming water. Alternate between whisking the mixture and scraping down the sides of the bowl with a spatula, until egg whites reach a temperature at 160°F, roughly between 8 and 10 minutes, and all the sugar has dissolved (see note for troubleshooting).

Remove the mixture from the heat and attach the bowl to an electric stand mixer fitted with a whisk attachment. Turn the mixer on the lowest speed, and gradually increase the speed until it reaches medium-high speed. Add in the optional vanilla.

Whip until the meringue is glossy and is beginning to pull away from the sides and the bowl, about 8 minutes. It should have stiff peaks and be cooled down significantly.

Use immediately.
Notes
Alternating between a whisk and a spatula is useful during the cooking stage because it helps ensure all of the sugar melts. Generally speaking the egg whites should be consistently whisked while they're being heated, but occasionally scrape down the sides of the bowl with a spatula to make sure the sugar granules that naturally go up the sides are pushed down to melt. If any sugar granules get stuck to the side of the bowl they could crystalize and create hard granules in your finished meringue.
Meringue is best used immediately. But it can be re-whipped if you need to make it slightly in advance and it has begun to deflate.
Some of the links on this page may be affiliate links. Everyday Pie is a participant in the Amazon Associates Program. As an Amazon Associate I earn from qualifying purchases, at no extra cost to you.