Freezing an unbaked fruit pie has so many advantages! This is a guide on How to Bake a Frozen Pie, along with tips for properly freezing it.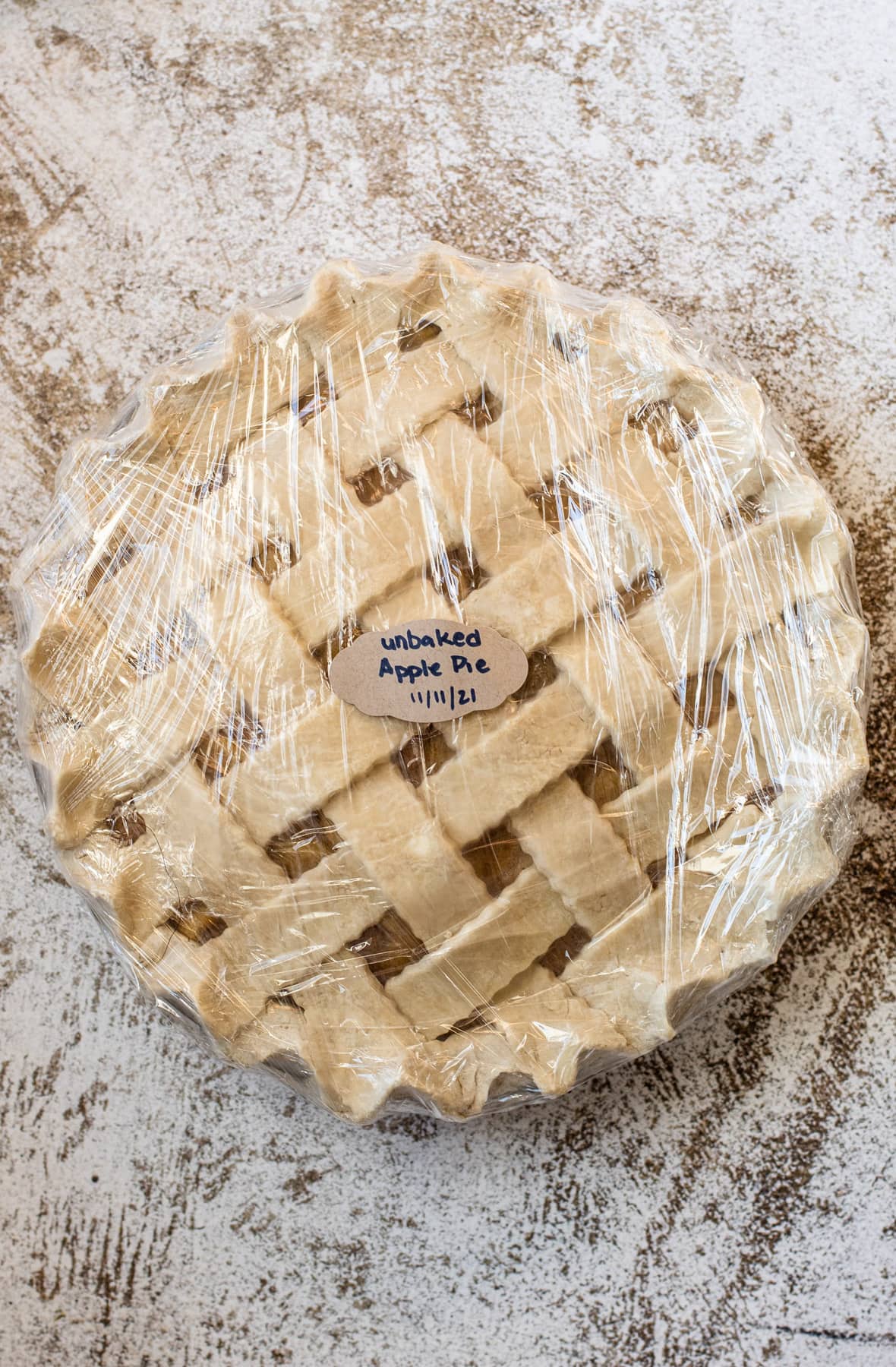 Baking a Pie from Frozen
There is a bad rep when it comes to the idea of freezing food; that somehow, fresher is always better. Well, when it comes to fruit pies, I can attest that freezing fruit pies before baking can result in a better-finished product. This is because the crust has a chance to cook first before the filling does (since it is frozen going into the oven), so you can ensure you have a beautifully crisp crust and perfectly cooked filling.
When I used to make dozens of pies a week for a restaurant, we always froze the fruit pies first before baking, and the results were always spectacular.
Additionally, using this method allows you to get some prep work out of the way, especially for holidays when you are otherwise very busy in the days leading up to the main event. So, while it's not essential to freeze your fruit pie before baking, it definitely can come in handy in certain situations!
What Pies are Ok To Freeze?
Double crust fruit pies are the perfect pies to freeze. The recipe shared below is only intended for use with a double crust fruit pie, such as Sweet Cherry Pie or Ginger Strawberry Rhubarb Pie. This method could work for a crumble topped pie, such as Apple Crumble Pie, but the exact baking time will vary slightly, and you'll need to cover the crumble topping with tinfoil to prevent it from burning.
Unbaked or Baked
This guide is intended for pies that are frozen and unbaked. That means that the pie is fully assembled, up until the point of baking, and then frozen.
However, it is possible to freeze fully baked pies too. A double crust fruit pie is perfect for baking, cooling completely, and then freezing. It can be defrosted, uncovered at room temperature for one day. Before serving, you can briefly reheat it in a 350ºF oven until the pastry is warmed through.
How to Freeze a Pie
While this may seem like common sense, it's important to briefly discuss how to properly freeze a pie while keeping a few things in mind.
The first is that if you have precooked your filling, make sure it is completely cooled before you fill the pie. Putting even a slightly warm filling inside of a pie crust will ruin it. And, you shouldn't put anything warm in the freezer.
The second is that you should not egg wash your pie before freezing. The egg wash is only done right before it is ready to bake.
Lastly, make sure you have a flat surface in your freezer for the pie. It has to be laid out completely flat while it freezes. Once it is frozen, you can move it around.
To freeze fruit pies:
Place the whole pie on a sheet pan first, and place it in a freezer on a flat surface. If you don't have room for the sheet pan, you can skip it.
Once frozen (around 8-12 hours), wrap the whole pie in plastic wrap very tightly twice. If you plan to leave it in the freezer for more than a month, also cover it with aluminum foil. Don't forget to label it!
It is best to cook any frozen pie within three months because the longer it is stored in the freezer, the less pronounced the flavor is. However, you can wait as long as about one year if frozen properly.
Baking Frozen Pies
Baking a fruit pie from frozen isn't all that different from baking a fruit pie that isn't frozen, except that it takes about 15% more time in the oven.
With that said, there are a few tips that I suggest when baking from frozen:
Hold off on adding any sugar on top of the pastry. You can if you really want, but it's going to get pretty dark since the pie could be in the oven for a significant amount of time.
The recipe instructs you to let the frozen pie sit at room temperature while the oven preheats. You want the dough to just slightly defrost. The dough should be a bit tacky to your touch. If that doesn't happen by the time your oven is preheated, let it sit out a few minutes longer until it does.
Bake the pie almost the entire time on the lowest rack in the oven. This really helps ensure the bottom pastry is baked through.
Don't rely on the timing of the recipe to know if your pie is done when baking from frozen; instead, you'll really need to rely on the physical cues and or temperature of the pie to ensure it's properly baked.
How to Tell When It's Done
There are a few signs to look out for to tell if your fruit pie is done.
The first is by sight. Look for the crust to be golden and crispy.
Another way to tell if your pie is cooked is to look for the filling to be bubbling from the middle of the pie. The bubbling doesn't need to be rapid, just watch for at least one bubble while checking the pie. If you are using a precooked filling (such as this apple pie filling), this rule doesn't necessarily need to apply.
If your fruit filling is raw, it's essential to make sure the filling has cooked through to the proper temperature and ensure the thickener is activated. The internal temperature of a fruit pie needs to be above 200ºF to ensure that the thickener is activated. An instant-read thermometer (affiliate link) is a great way to check this, or, you can look to see that the pie has puffed around the edges and the filling in the middle has at least one juicy bubble popping up.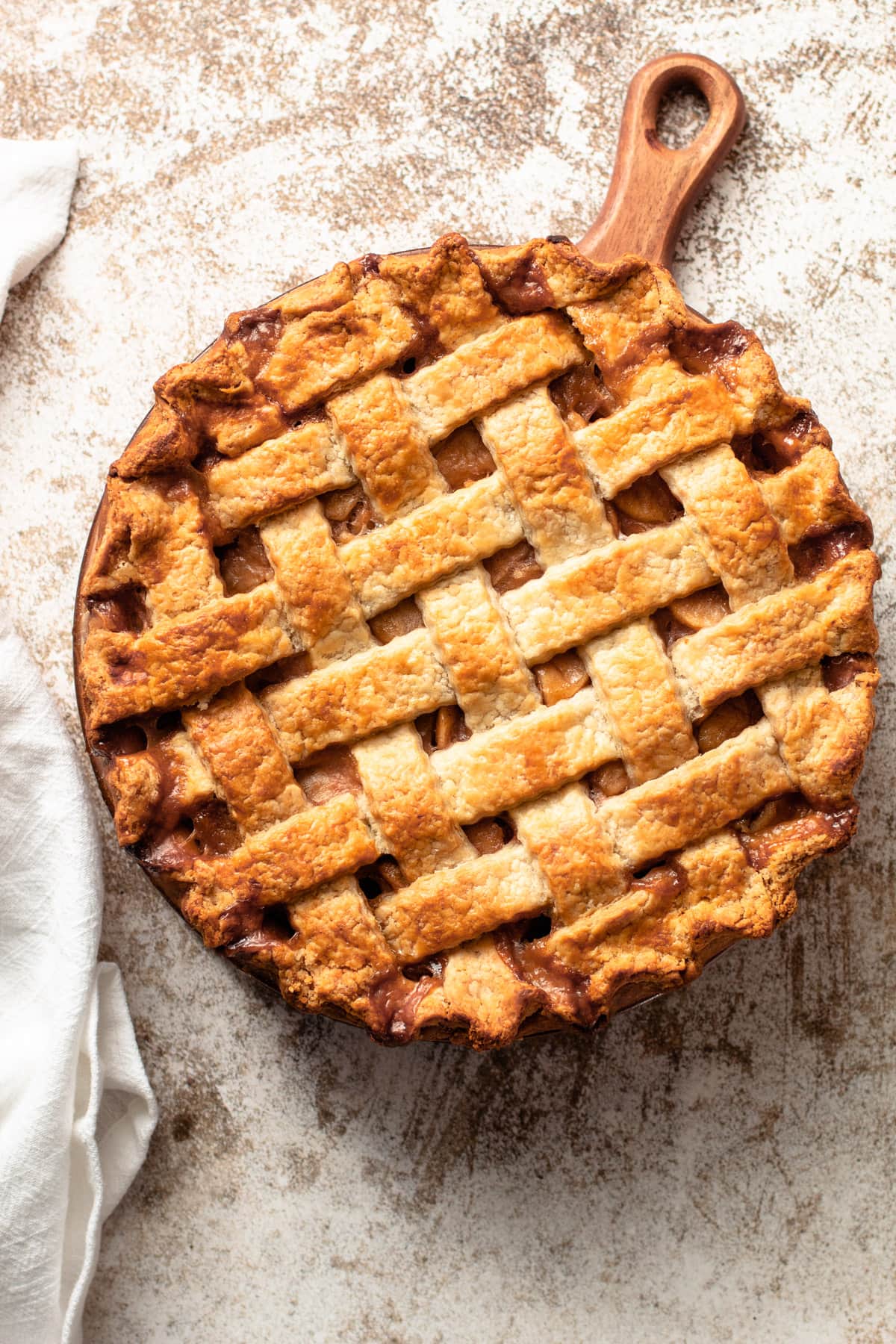 More Baking Tutorials:
Print
Full Recipe
How to Bake a Frozen Pie
Freezing an unbaked fruit pie has many advantages! This recipe shares how to bake an assembled and frozen fruit pie.
Author: Kelli Avila
Cook Time:

00:60

Total Time:

1 hour

Yield:

9" pie

Category:

Cooking tutorials

Method:

Bake
1

fully frozen double crust fruit pie
egg wash (1 large egg whisked together with 1 tablespoon water)
Instructions
Unwrap the frozen pie and let sit at room temperature until the oven is preheated. Pre-heat the oven to 425ºF. The pie dough should feel tacky at this point. If it doesn't, let it sit out a little bit longer until the dough has some give to it.
When the oven has reached 425º put an egg wash on the crust and sprinkle with sugar, if desired.
Bake on the middle lower rack for 20 minutes.
Lower the oven temperature to 400º and put a piece of aluminum foil around the outer edges of the pie to prevent it from burning. Cook for another 50-60 minutes, or until the middle of the pie is bubbling and the crust is golden brown. The fruit filling should reach a temperature in the middle of above 200ºF. If the top crust isn't as browned as you'd like, but the filling is ready, move the pie up to the middle rack and cook for another 10 minutes.
Notes
Have a question, or looking for tips? The text written above the recipe is always a great first place to start! There are always loads of explanations, tips, and technical advice shared before the recipe in every post.
Keywords: How to Bake a Frozen Pie
Some of the links on this page may be affiliate links. Everyday Pie is a participant in the Amazon Associates Program. As an Amazon Associate I earn from qualifying purchases, at no extra cost to you.