Have you ever had a recipe fail you when there was apple cider vinegar involved? Keep reading; you might be surprised by the mistake you could be making.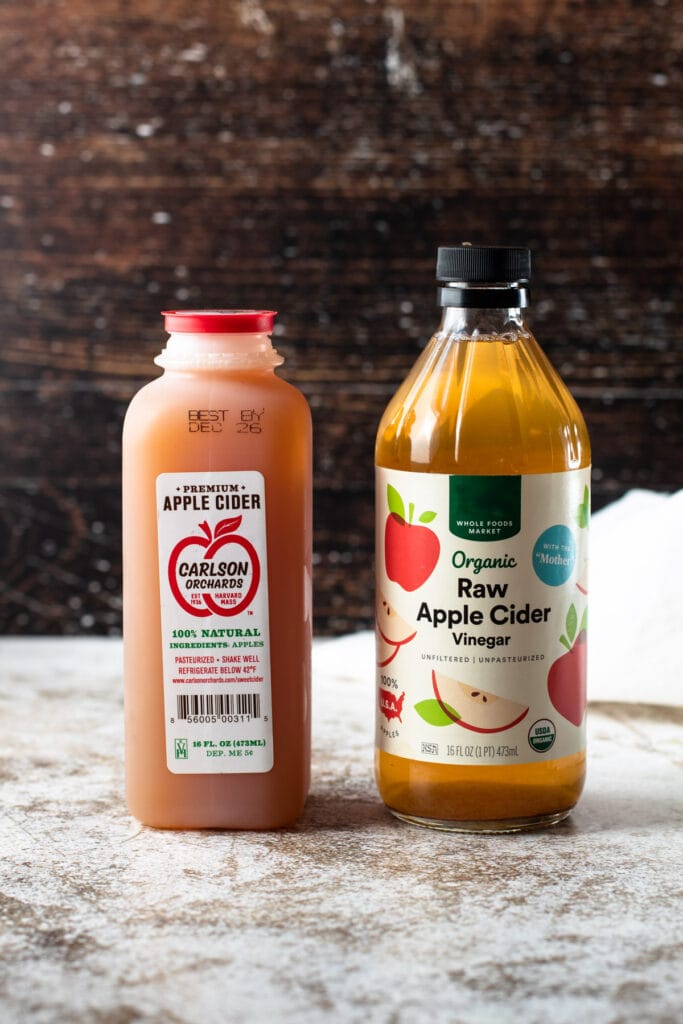 Sometimes in life, you don't know what you don't know until you learn it. And, this past year, since publishing my Apple Pie Filling recipe, I've learned that some people don't know there is an actual and factual difference between fresh apple cider and apple cider vinegar.
I learned this fact after a reader commented with a one-star review about how my recipe was awful because it tasted like vinegar. I was completely bewildered. Why would a recipe taste like vinegar when the recipe does not call for any vinegar? And then, another comment soon followed, describing a similar mistake. It became very clear to me that people were confusing the unfiltered apple cider juice with apple cider vinegar.
I considered putting a note in the comment section of the recipe, which would surely clear this whole thing up. However, the comments kept coming! It turns out; this is a widespread mistake people make. Not just with my recipe, but I've heard from many other recipe developers that they've had readers make similar mistakes.
So, while it may seem crazy to need to spell this out, after so many people making a mistake, I thought I'd clear this up once and for all.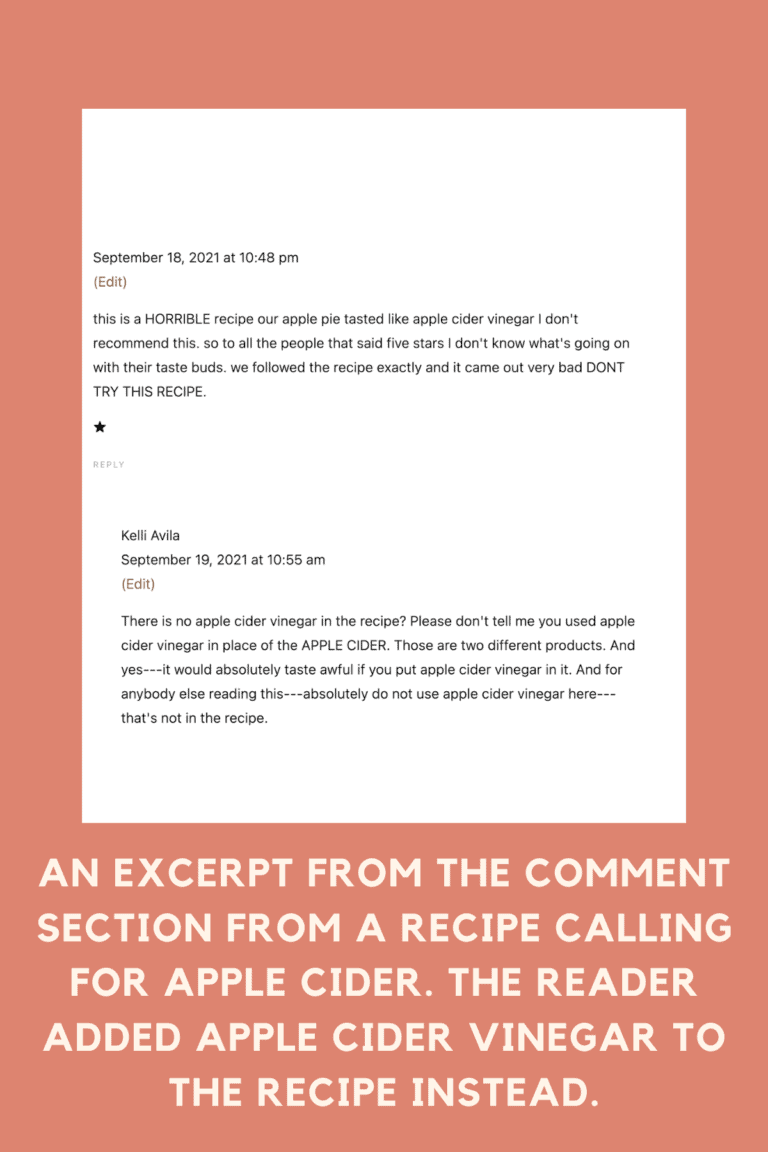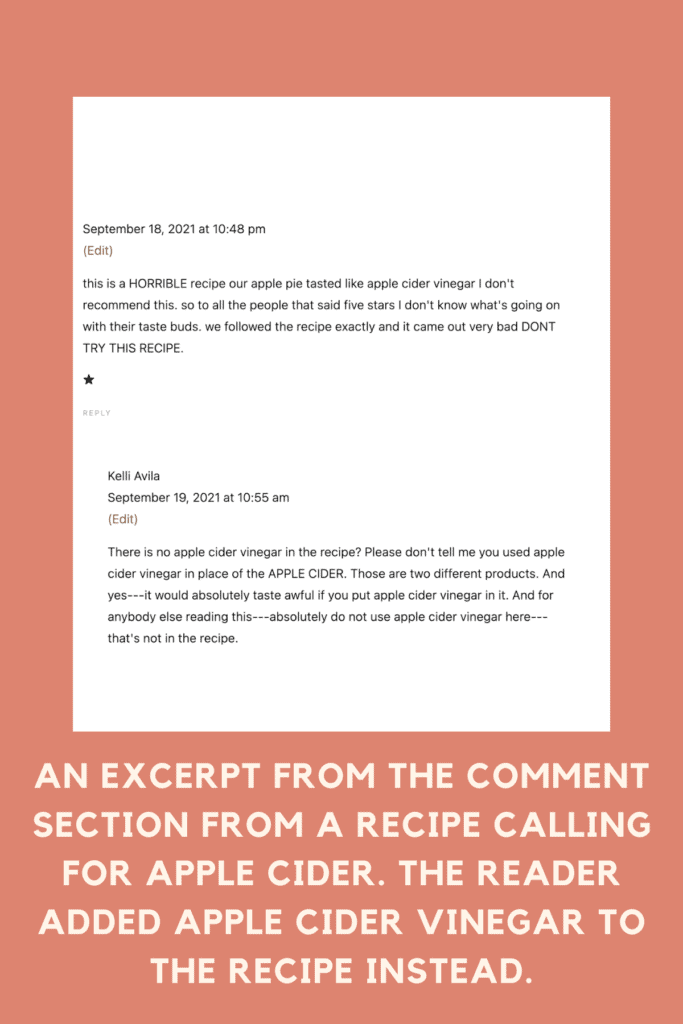 What is Apple Cider?
Fresh apple cider is unfiltered apple juice made from crushed whole apples. It is similar to apple juice, except it is not shelf-stable, is minimally processed, and has a much more robust and often tangier apple flavor. It is often used in cooking or baking to emphasize apple flavor. It can be found nearly year-round these days in most grocery stores' fresh produce or fresh juice section.
Its closest cousin would be apple juice, which is similar to apple cider but heavily filtered and heated at a high temperature to make it shelf-stable.
Also to note is that it is non-alcoholic. Cider refers to an alcoholic beverage in some countries, but the apple cider juice referenced here is fresh and not alcoholic.
What is Apple Cider Vinegar?
Apple cider vinegar is vinegar that is made from fermented apple cider. It is found with all of the other kinds of vinegar in the grocery store, though occasionally, you might find a very special apple cider vinegar used for health benefits in the refrigerated section.
Its closest cousin would be any other vinegar, such as white vinegar, white wine vinegar, or red wine vinegar.
Can I Use Apple Cider Vinegar instead of Apple Juice?
The answer is a hard no. While these two products share similar names, they are in no way interchangeable in any recipe unless it expressly says so in the recipe.
What Can I Use in Place of Apple Cider?
Try to stick to the recipe. If you truly cannot find apple cider, sometimes you might be able to use apple juice. If you can't find apple juice, water might be your best bet unless a recipe truly depends on the apple cider. If that's the case, I recommend finding a new recipe since you can't find the apple cider.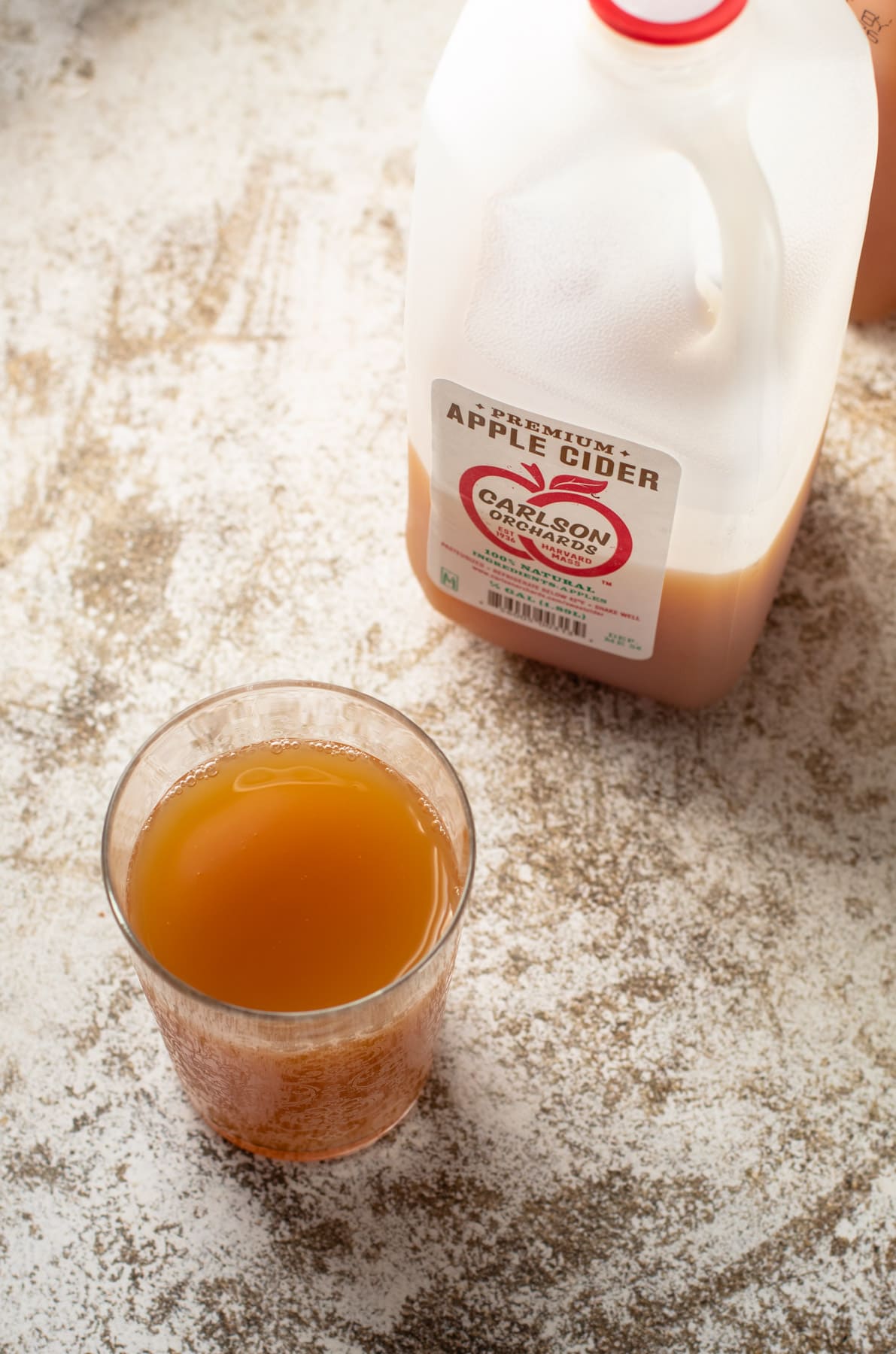 Some of the links on this page may be affiliate links. Everyday Pie is a participant in the Amazon Associates Program. As an Amazon Associate I earn from qualifying purchases, at no extra cost to you.