Apple pie filling is super easy to make at home, and perfect to have on hand or stored away in the freezer for whenever you need it. This apple pie filling recipe has a few hidden tricks to get the best apple flavor! This recipe is perfect for pies, desserts, or any other sweet treat that calls for apple pie filling.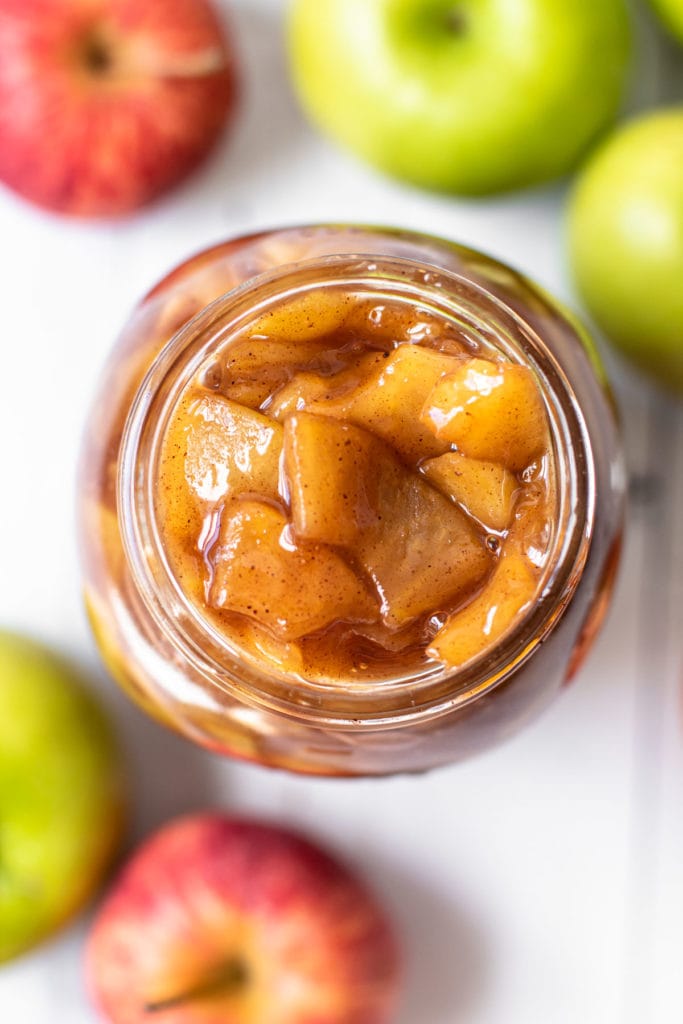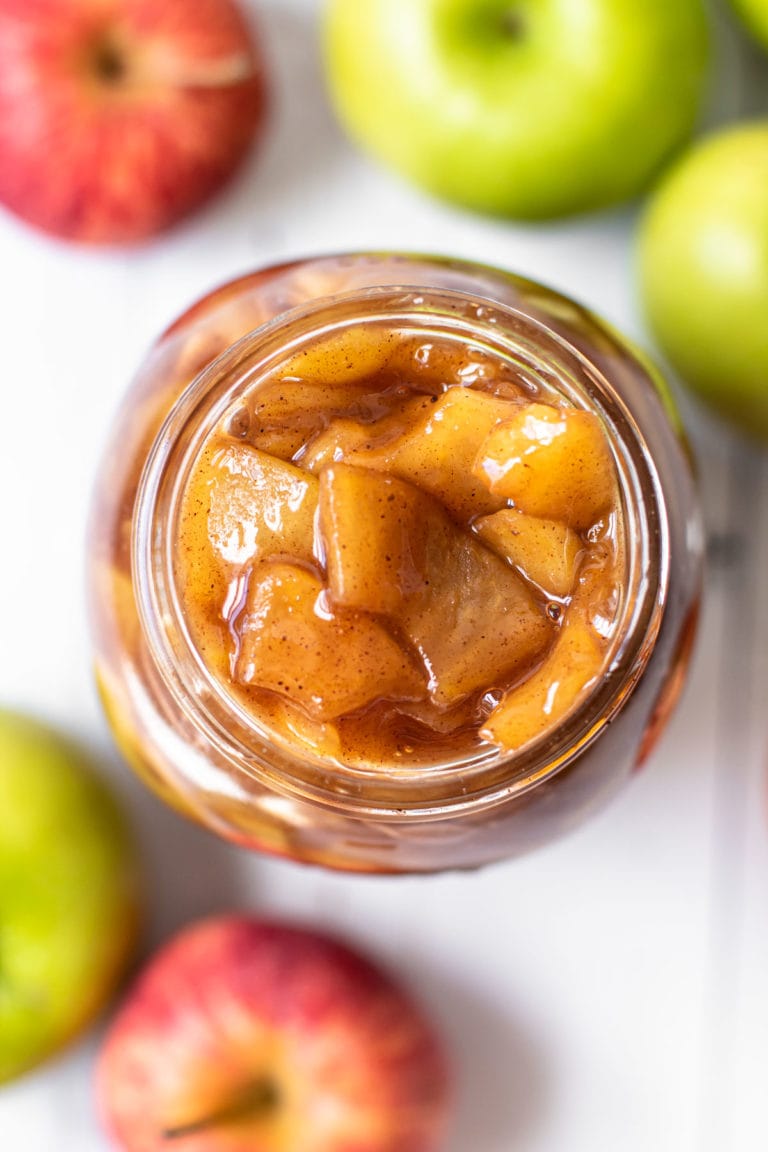 Apple Pie Filling Recipe
Let's just say it like it is: there is never an excuse to buy a canned apple pie filling when it's so easy to make and keep on hand at home! This homemade apple pie filling, made with apple cider, brown sugar, and warm spices is rich and delicious; obviously, a winner for any dessert needing apple pie filling.
In case you didn't know, using pre-cooked apple pie filling decreases the amount of time needed to bake an apple pie. It also prevents the crust from separating from the filling because the apples have already been cooked!
Apple pie filling is perfect for all kinds of baked goods, such as apple crisp, apple pastries, apple handles, an apple galette or, even as a cake filling. It's also delicious all by itself, or with a scoop of ice cream.
It freezes well too, so this recipe is one of the best ways to use up any large quantities of apples you might have from apple picking.
Looking for a full apple pie? Check out this Ultimate Apple Pie recipe!
So let's get to make it, shall we?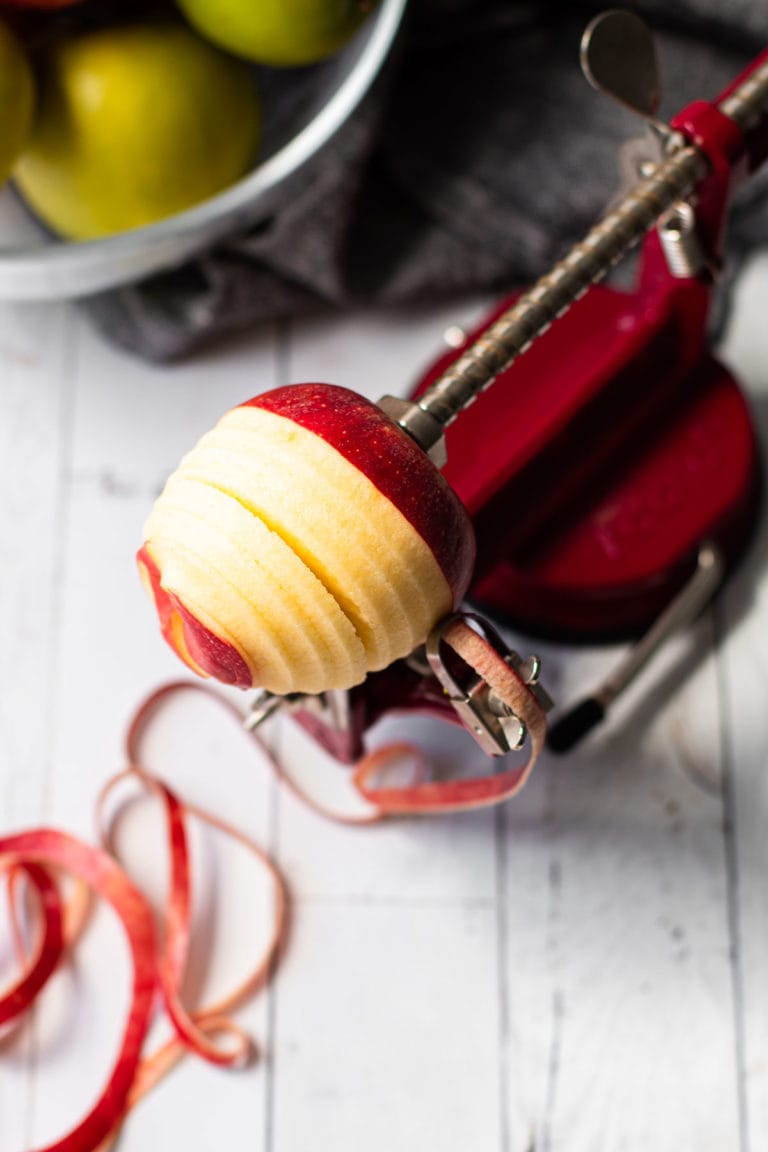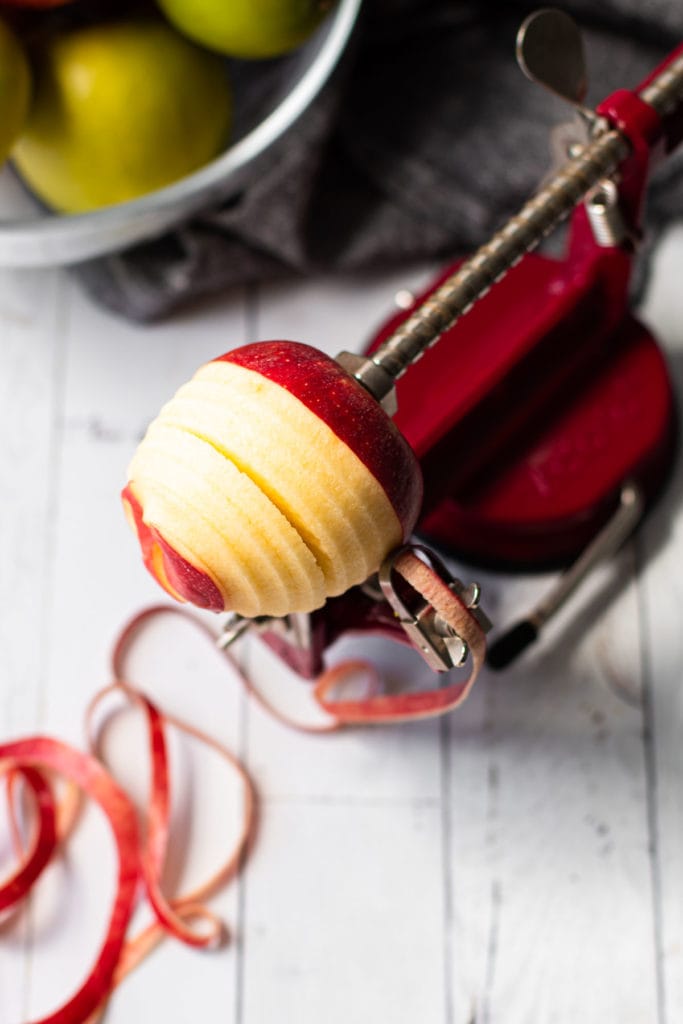 What kind of apples should you use for apple pie filling?
For just about any apple dessert, you want to have an apple that can hold it's shape, has a nuanced flavor and a slight tartness to break up the sweetness of the sugar. Using a combination of apples is helpful because it introduces a few different types of flavors and textures to the pie. Gala and Granny Smith apples are both good choices for apple crisp because they don't get mushy after a long bake in the oven, and because they have a sweet and tart flavor to them.
Other Good Baking Apples
Cortland
Yellow Delicious
Braeburn
Pink Lady
Ginger Gold
Jonagold
The Best Tool for Peeling and Slicing Apples
While some may not be bothered by peeling and slicing apples, I certainly am. I do not enjoy the task at all! So, years ago I purchased an inexpensive (affiliate link) apple peeler to make the job go by quickly. It has served me well for many years. Though it does take up space in your kitchen, I find it so worth it come the fall months when I'm often making apple recipes!
The only downside is that you can't control the size that the apples are sliced to. So if you needed your apples to be sliced a different width, you'd just use the peeling function, and slice them by hand.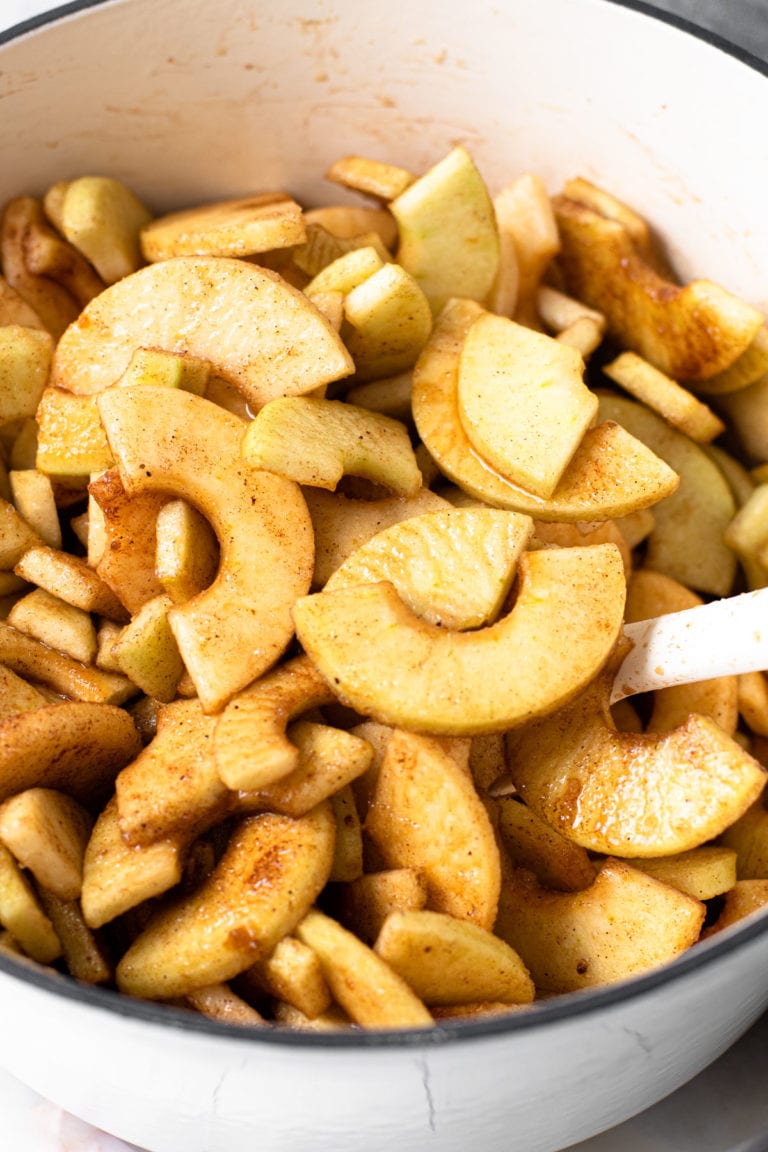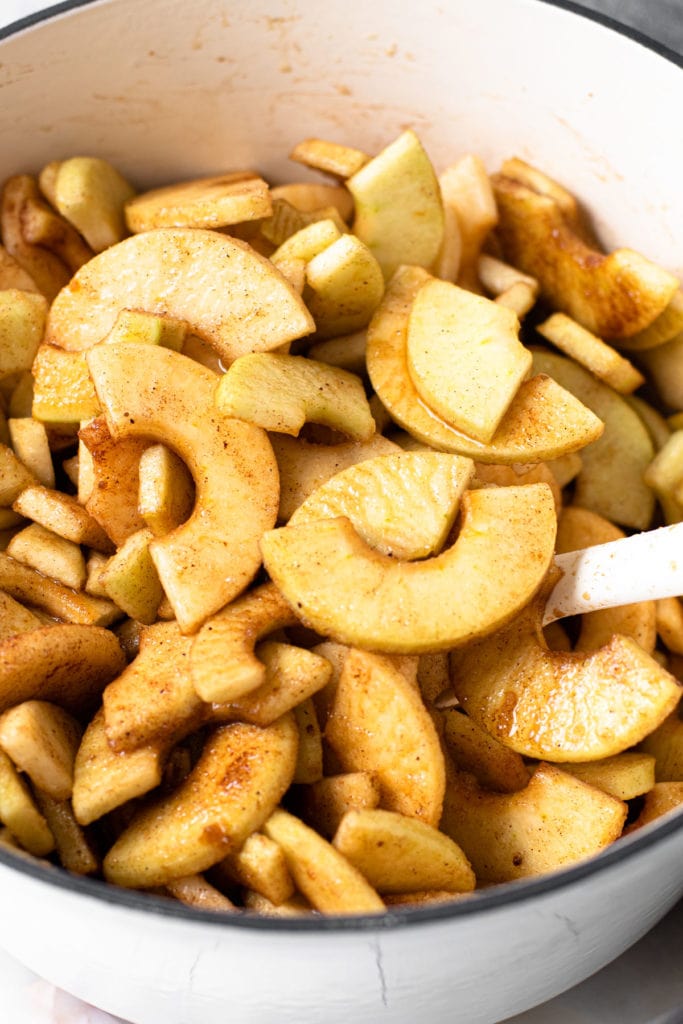 How to Make Apple Pie Filling From Scratch
This isn't a very complicated task. Essentially, apples are peeled and sliced, then mixed together with a few ingredients on the stove. They're cooked until softened, and then a cornstarch slurry is added to thicken them up! Overall you'll find this recipe very simple, but there are a few tricks you should follow to ensure you get the best flavor in your filling.
The first is that the recipe calls to macerate the apples for about 15 minutes. This helps bring out some of the natural juices in the apples, so the apples are a bit more firm.
Secondly, there is apple cider added into the mixture. This not only adds a boost of apple flavor to the filling, but it also adds in extra sauce around the apples. I just love that apple sauce that surrounds the apple slices, and this ensures it's plentiful.
And finally, the cornstarch is added later in the cooking process. I prefer to cook the apples to the correct consistency first, and then add the cornstarch to thicken it up. If the cornstarch is added in at the beginning, it can become a little thick or gloopy and possibly even burn, so I like to add it in right at the end, once the apples have fully cooked.
At the very end of the cooking process, some butter and vanilla are folded into the hot mixture. The butter adds a delicious richness, and the vanilla adds a depth of flavor that complements the apples very nicely.
If you wanted to keep your filling more about the pure apple flavor, you can omit the vanilla and tone down the spices entirely.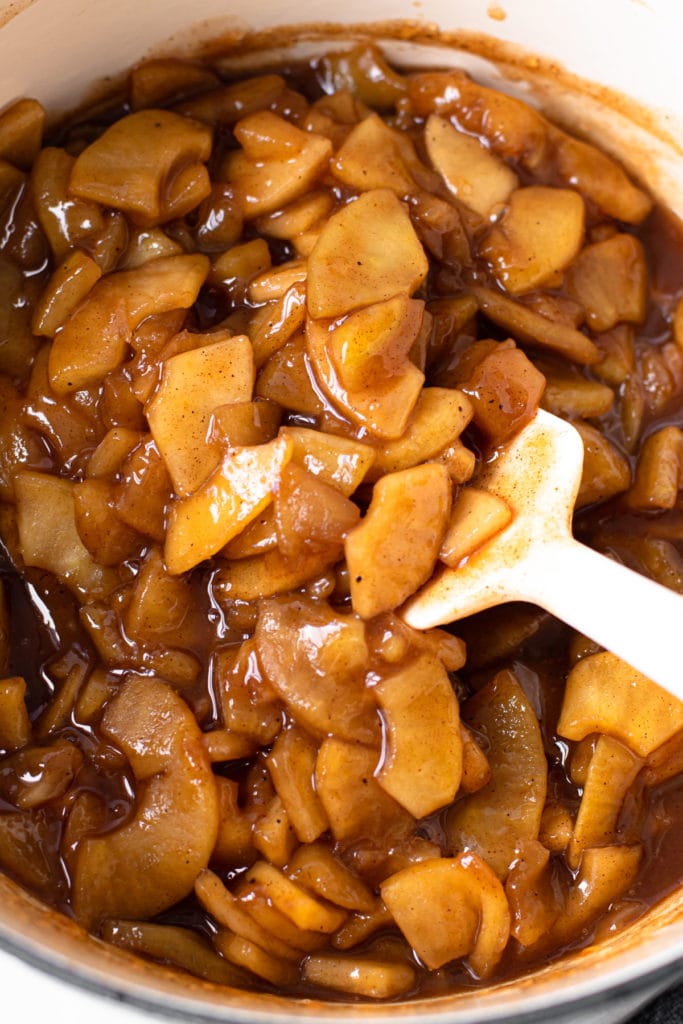 How to Use Apple Pie Filling
Okay, now you've got apple pie filling. What should you use it for?
pies (duh!)
apple crisp (use this crisp recipe or this crumble recipe for topping it)
filling for a cake
in a pastry
in a galette (use this dough)
in pop tarts (use this dough)
hand pies (use this dough)
over waffles or pancakes
with oatmeal
plain served with ice cream
How to Store It
Because it has a high sugar content, it will keep for quite a while in the fridge. I've never kept it for more than 7 days, as I've always used it up, but it likely could last a little bit longer than even that.
It will last for a minimum of 3 months in the freezer. After three months it will start to lose some of it's potent flavor, but it's still safe to eat for up 12 months, though it's not ideal.
I don't recommend canning this. Canning is so specific and I have not tested this to make sure it passes the amount of sugar and acidity needed to make it safe for canning. I'd recommend freezing it instead, for long term storage.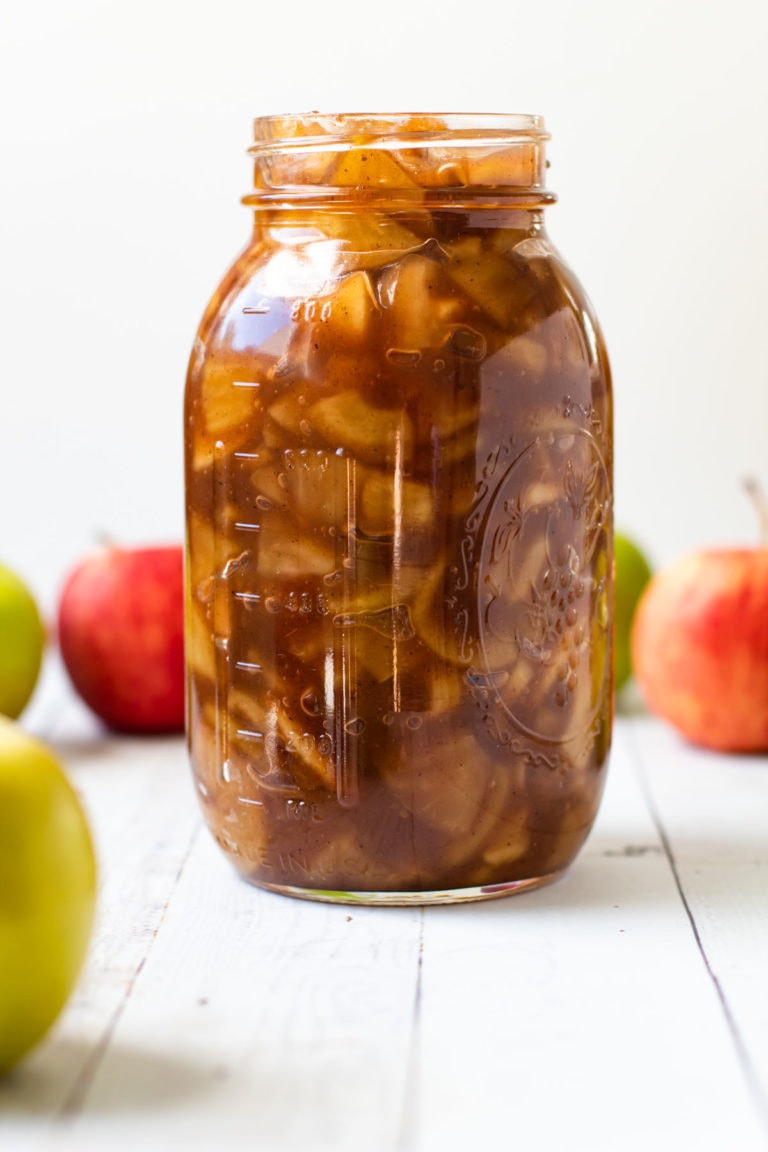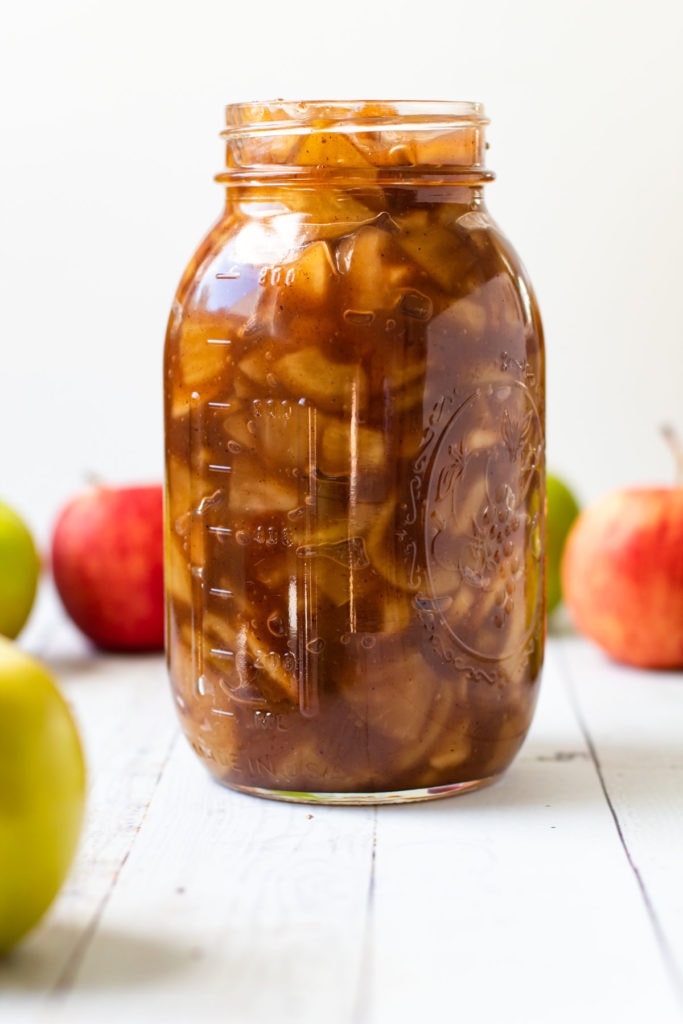 More Apple Recipes:
I am so honored when you make a recipe from my site! If you make this Apple Pie Filling, please leave a comment and a star rating with your experience! If you have any questions about this recipe, feel free to comment here, too!
Print
Apple Pie Filling
Apple pie filling is super easy to make at home, and perfect to have on hand or stored away in the freezer for whenever you need it. This apple pie filling recipe has a few hidden tricks to get the best apple flavor! This recipe is perfect for pies, desserts, or any other sweet treat that calls for apple pie filling. Many readers have mistakenly mixed up fresh apple cider with apple cider vinegar. Do not make this mistake. This recipe requires fresh apple cider, which is unfiltered apple juice, and is typically found in the produce or fresh juice section. Looking for a full apple pie recipe? Check out The Apple Pie Recipe.
Author: Kelli Avila
Prep Time:

00:25

Cook Time:

00:10

Total Time:

35 minutes

Yield:

6 cups

Category:

Sweet Pies

Method:

Stovetop

Cuisine:

American
3

pounds (about

7

-

9

apples) baking apples, peeled, cored, and sliced thinly

1 tablespoon

lemon juice

½ cup

(

100 grams

) packed light brown sugar

¼ cup

(

50 grams

) granulated sugar

1

–

½

teaspoon ground cinnamon

¼ teaspoon

grated nutmeg
Pinch salt

2 tablespoons

(

14 grams

) cornstarch

¾ cup

+ 2 tablespoon fresh apple cider, divided (see note)

2 teaspoon

vanilla extract

2 tablespoons

unsalted butter
Instructions
Add apples, lemon juice, brown sugar, granulated sugar, cinnamon, nutmeg and salt to a heavy bottom pot. Stir together and let macerate at room temperature for about 15 minutes. Add ¾ cup of apple cider to the pot, and stir the apples one more time.
Turn the heat to medium and begin to cook the apples, stirring occasionally to make sure the apples cook evenly. Cook until the apples have softened, about 10 minutes, making sure not to cook off all of the liquid. If the liquid does cook off quickly, add ⅓ cup more apple cider to the pot.
Create a slurry by whisking together the cornstarch and remaining 2 tablespoons apple cider together in a small bowl.
Pour the cornstarch slurry into apples and stir together until dissolved. Continue cooking until the mixture is thickened, about 2-3 minutes.
Remove from heat and stir in the vanilla and butter.
Let apple mixture cool completely, and then transfer apples to a glass storage container.
Looking to turn this into a pie? Check out this guide How to Bake a Double Crust Pie for some baking tips.
Notes
Do not, I repeat: do not use apple cider vinegar in this recipe. This recipe calls for fresh apple cider, as in the juice you find often in the fresh produce section. If you can't find apple cider, you can use apple juice. If you can't find apple juice, use water. But please, oh please, don't use apple cider vinegar.
Cooked apple pie filling will keep for up to 7 days in the refrigerator or up to 3 months in the freezer.
Looking for an actual from scratch apple pie recipe? Check out The Apple Pie Recipe. It's the ultimate apple pie recipe using a few different techniques and ingredients.
Want help turning this into a pie? Check out this guide on How to Bake a Double Crust Pie to give you time and temperature for doing so.
Keywords: Apple Pie Filling
Some of the links on this page may be affiliate links. Everyday Pie is a participant in the Amazon Associates Program. As an Amazon Associate I earn from qualifying purchases, at no extra cost to you.