An absolute classic, this Apple Crumble Pie is filled to the brim with juicy apples laced with cinnamon, inside of a buttery flaky pie crust and baked off with a delicious oat crumble.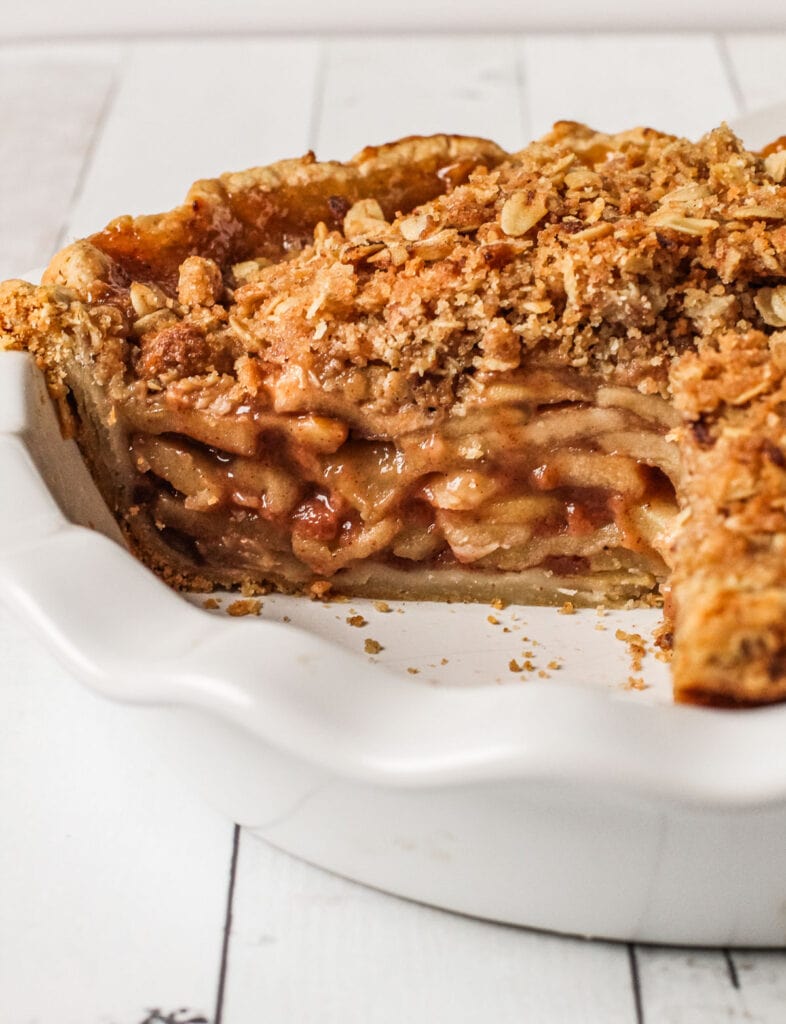 Apple Crumble Pie Recipe
Can I let you in on a secret? I failed at making a good apple pie the first few years into my baking career. Even after I was making pies full-time, I never could make an apple pie I was entirely happy with. Despite trying multiple recipes, I just felt the apples were never the right consistency and it lacked that oomph of flavor I was after. Looking back now, I realize I was using whatever apple came my way from the farmer's market, or whatever my chef would order for apples and that was a big part of the problem. Things changed when I started personally working with a local farm and I got into the nitty gritty research of apples in general. I learned a lot, but most importantly I learned which apples are truly best for apple pie. For me, the holy grail is a combination of Gala and Granny Smith. Now, having found this magical medley, I've never looked back; they are not my go-to's.
The blend of Gala and Granny Smith are perfect in this Apple Crumble Pie! This pie starts off with a flaky pie crust (this one or this one works well), filled with juicy and tart cinnamon apples, topped with a crunchy oatmeal crumble. This pie is classic elegance.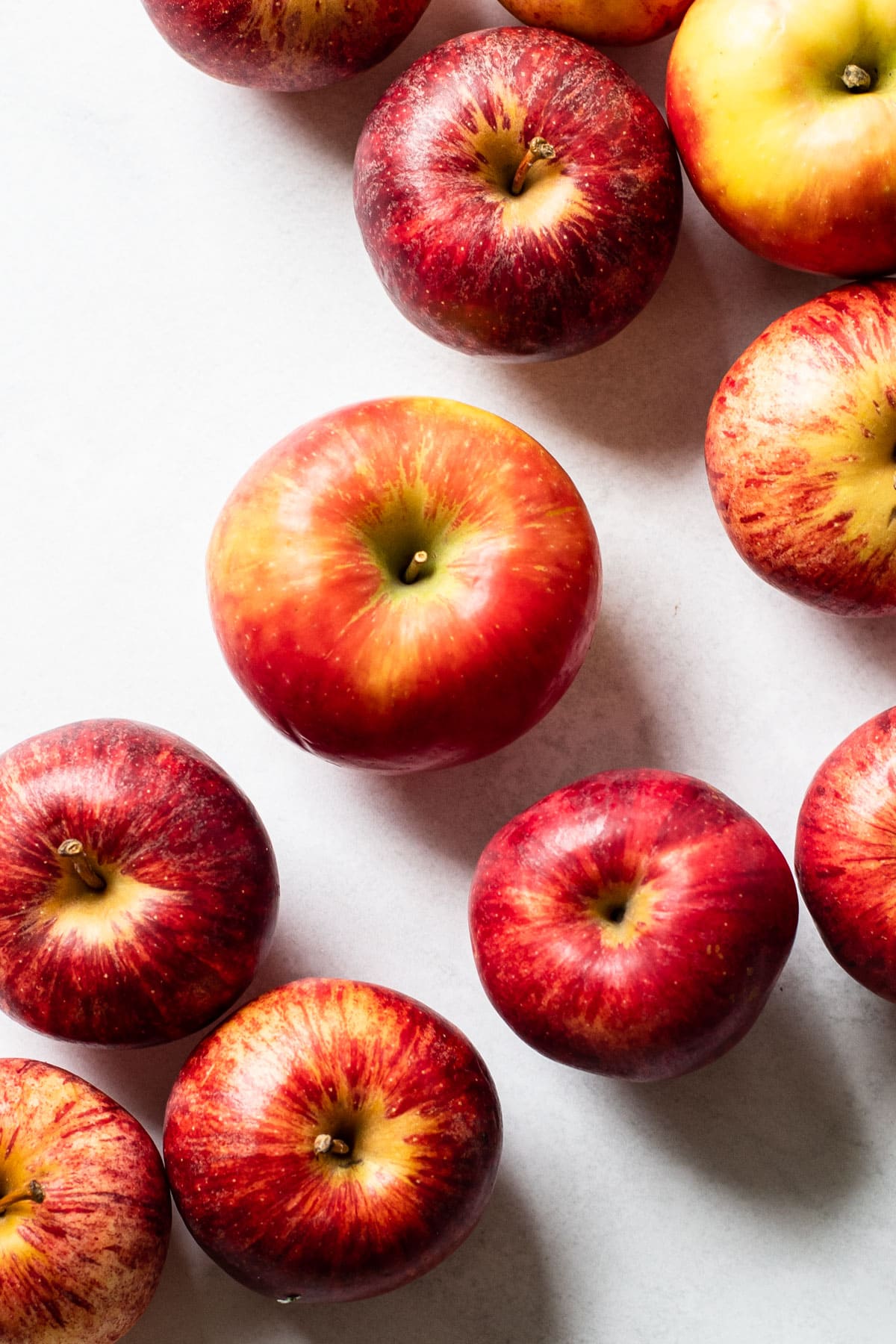 Apple Crumb Pie Ingredients
Here is an overview of the ingredients needed for this recipe. The full recipe is listed below in greater detail.
baking apples (see below for my recommendations)
flour
butter
brown sugar + white sugar
cinnamon + nutmeg
oats
lemon juice
salt
vanilla extract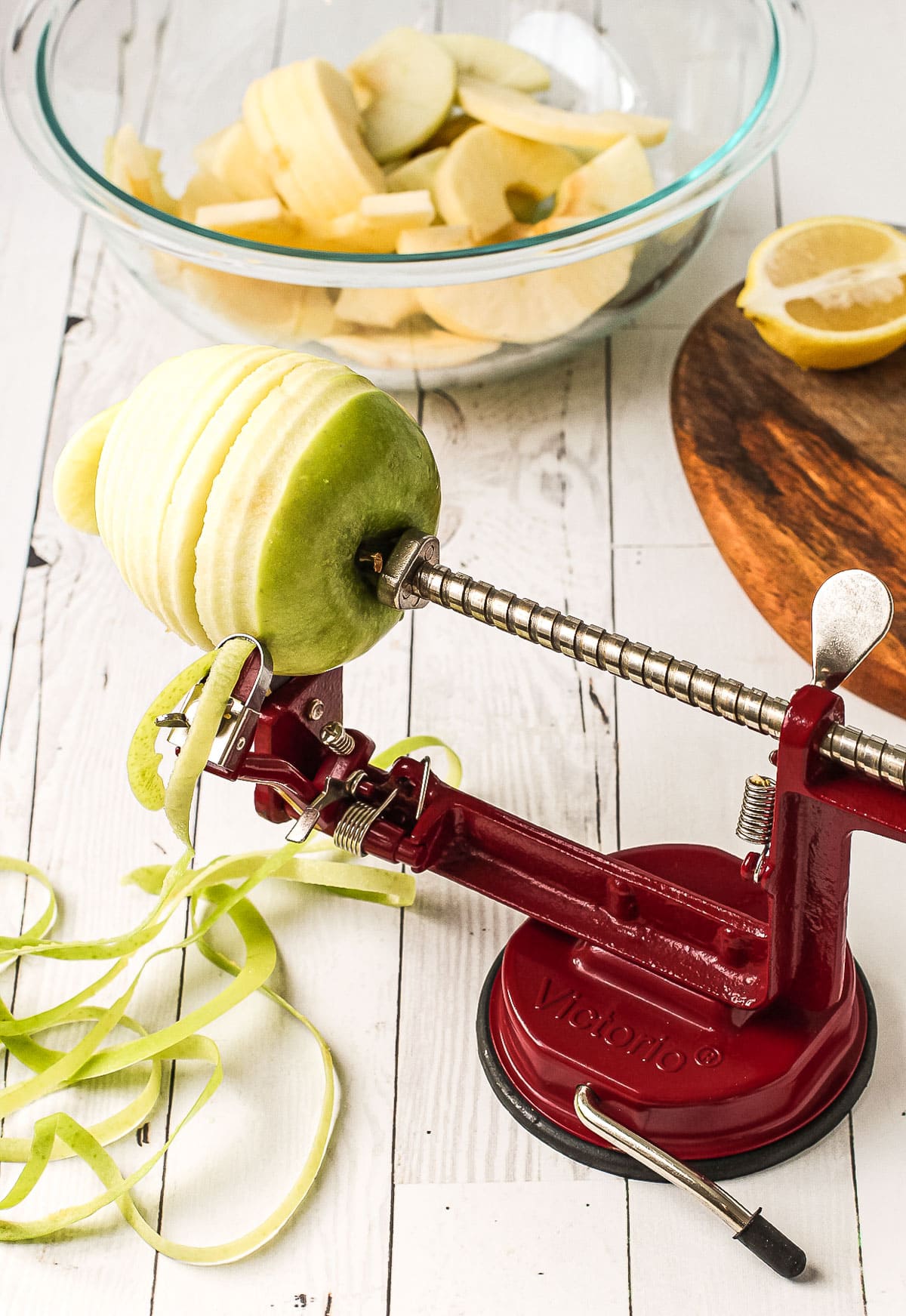 Best Apple for Apple Crumb Pie
For a pie, you want to have an apple that can hold it's shape, has a nuanced flavor and a slight tartness to break up the sweetness of the sugar. Using a combination of apples is helpful because it introduces a few different types of flavors and textures to the pie.
Gala and Granny Smith apples are both good choices for apple pie because they don't get mushy after a long bake in the oven, and they have a sweet and tart flavor to them.
Here are some of the best apples for baking:
Gala
Granny Smith
Cortland
Yellow Delicious
Braeburn
Pink Lady
Ginger Gold
Jonagold
Tips for Making Pie Crust
New to making pie crust? I suggest you take a look at my Ultimate Guide for All Butter Pie Crust. But here are some quick tips:
Let the dough rest. I never advise making dough the same day you plan to bake it. It gives the dough less time to hydrate, and makes it harder to roll out. However, in a pinch, if you aren't a pie crust novice, you can make it work.
Weigh your ingredients! Always weigh your dry ingredients, especially when it comes to baking. Check out this post on using a kitchen scale if you are new to weighing ingredients. If you absolutely refuse to weigh them, I recommend for my recipes (which use a standard 120 grams of flour per cup) that you spoon in the flour into your measuring cup, and sweep away once it's filled. If you scoop and sweep, your cup of flour will have much more than mine does. This can mess with the recipe.
Work quickly. Especially if your kitchen is hotter than 70 degrees. Melted butter is the enemy here. If the kitchen is hot, utilize the freezer or refrigerator through the dough-making process to ensure the butter doesn't turn soft.
The bigger the butter chunks, the flakier your pie will be. If you love the look of super flaky dough, that almost looks like puff pastry, leave at least some of your butter chunks the size of a marble. Though there is a limit for how big to leave your butter pieces, so take care to only leave a few pieces the size of a marble.
How to Make the Crumble Topping
Let's talk about that crumble topping. You can call it whatever you want: dutch apple pie, apple streusel pie, apple crumb pie; I just like to call it delicious! It's topped with a crunchy sweet oat streusel that is so straightforward to put together. Sometimes, streusel recipes call for you to cut the butter in the flour and sugar mixture. I've found that when you melt the butter, it produces a crisp crumble topping that partners so well with the juicy apple filling.
To make it you:
Melt the butter, then turn off the heat.
Then, stir in the streusel ingredients right inside the pot. That way you have 1 less dish to clean up!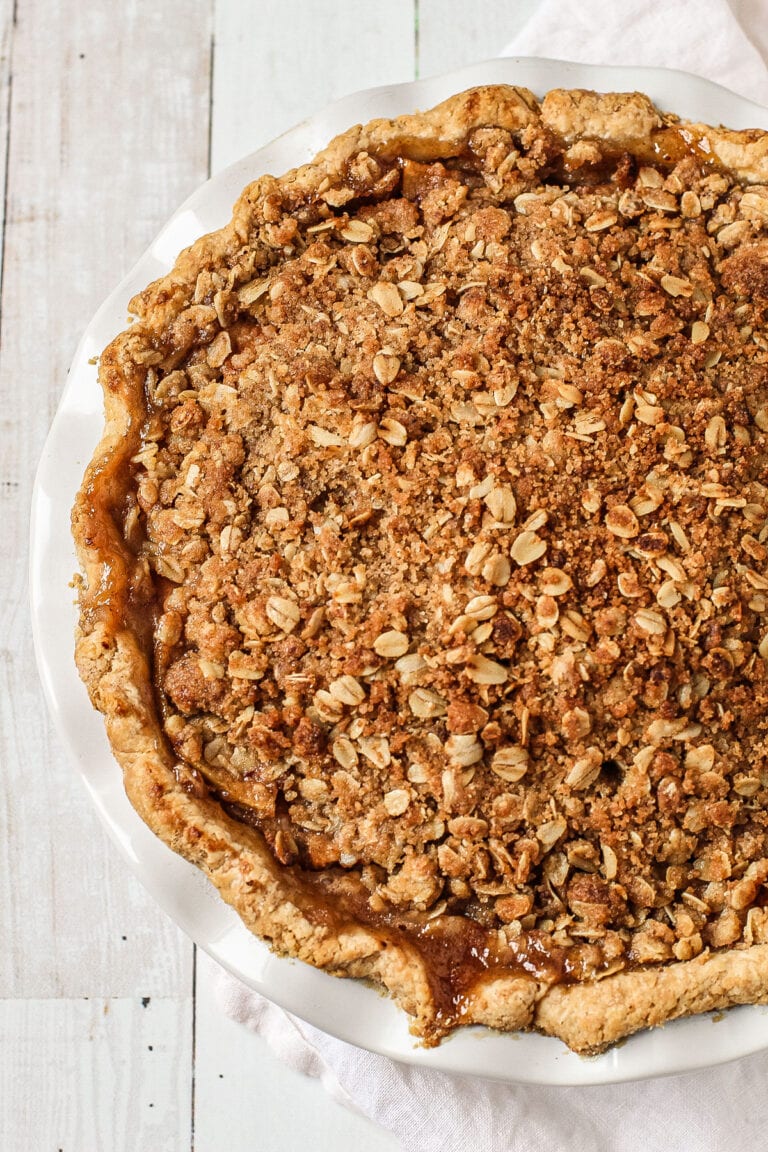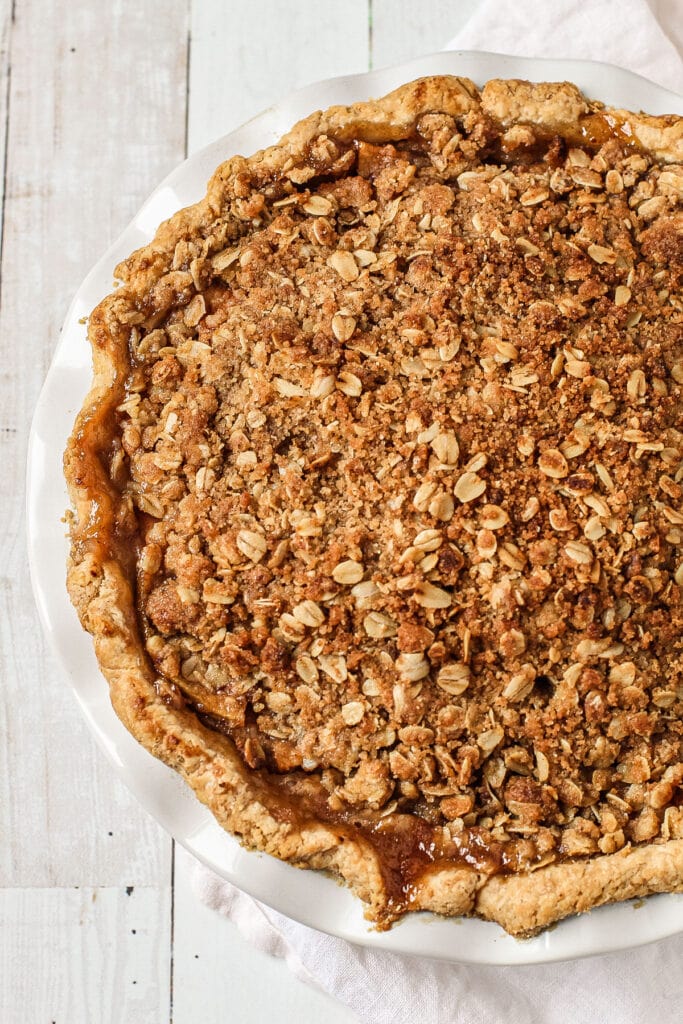 What Causes the Pie Filling To Sink?
Apples have a ton of moisture. When the apples are cooked, they release their moisture and then shrink. When you bake an apple pie, naturally the apple filling will first puff up and then as it cools, it shrinks.
To avoid the filling from sinking too much there are a few tips to keep in mind.
First, you want to make sure your fruit is cut into semi-thin slices of apples, that are all similar in size. Aim to slice your apples no bigger than ½" thick. I use this apple peeler (affiliate link), and I highly recommend it. It's worth the money and space in the kitchen, even if you only use it a few times a year.
Second, you can macerate the fruit before you begin to bake. Macerating the fruit in sugar helps draw out the moisture from the fruit, causing the fruit to soften and shrink before it enters the pie. This step alone will drastically reduce any gap between the crust and the filling with the fruit. A trick I sometimes use (that I learned from Rose Levy Beranbaum) is to let the apples macerate longer, then strain the juice into a pot and boil it down until it has slightly thickened. This will heighten the apple flavor and ensure you don't have a thin filling.
And finally, layer in your fruit. Instead of just pouring in apple slices haphazardly, you want to literally layer in the slices of apples and try to eliminate gaps between the slices of apple. If there are large gaps between the apples, once they cook and soften that space will be filled in with the juices and cooked fruit and the pie will sink further.
If you really wanted to avoid sinking fruit filling all together, you could cook pre-cook the apple filling all together. Check out this post about making a Mile High Apple Pie for how to cook fruit filling beforehand.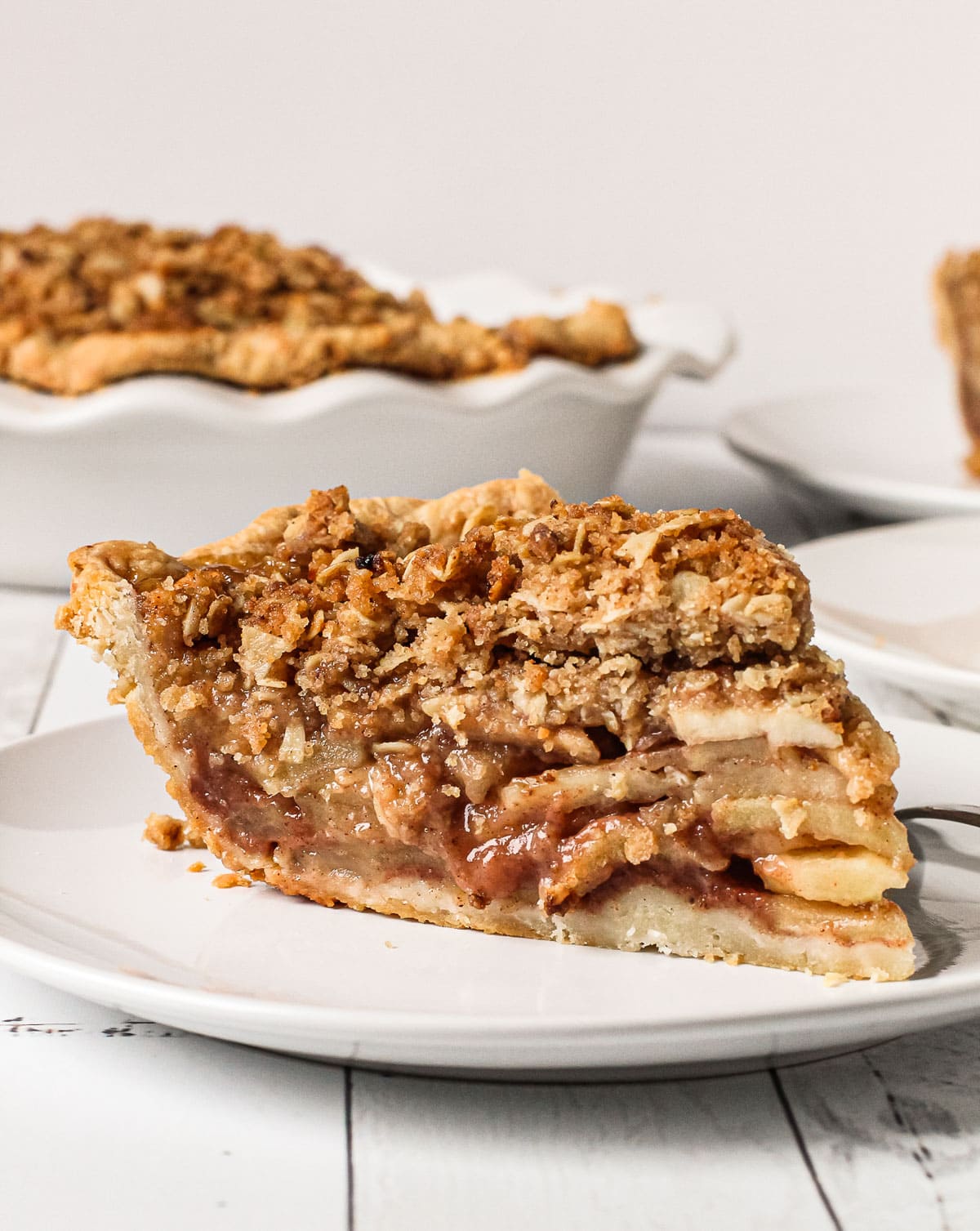 Make-Ahead Tips
Pies are one of the easiest desserts to prepare ahead of time!
As with most pies, there are a few steps you need to complete to get to the finished product. A lot of these components can be broken down into steps and done days (or weeks) in advance.
You can make the pie dough ahead of time. You can prepare the dough up to 2 days ahead, or up to 3 months in the freezer.
You can roll out the pastry up to 1 day ahead of time. Roll out the bottom crust and place in a pie pan. Keep in the refrigerator, covered completely, until you are ready to make the pie.
Can this be made ahead of time and frozen?
Apple Crumble Pies are great to prepare ahead of time in totality, up until the point of baking.
To freeze this pie: place the whole pie on a sheet pan first, and place it in a freezer. Once frozen (at least 12 hours), wrap the whole pie in plastic wrap very tightly twice, and then cover with aluminum foil. Don't forget to label it!
It is best to cook any frozen pie within 3 months, because the longer it is stored in the freezer, the less pronounced the flavor is. However, you can wait as long as about 1 year if frozen properly.
How to Bake this Apple Crumb Pie From Frozen
You can actually bake a fruit pie directly from the freezer. In my opinion, doing this is even better than a fruit pie baked fresh. The reason is that the crust has a chance to cook first before the filling does, so you can ensure you have a beautifully crisp crust and perfectly cooked filling.
Unwrap the frozen pie and let sit at room temperature for 10-15 minutes, or until the dough is tacky. Pre-heat oven to 425ºF.
Bake on the lower middle rack for 10 minutes.
Lower the oven temperature to 400º for another 50-60 minutes, or until the pie filling is bubbling or has reached an internal temperature of above 200ºF. Cover the pie with aluminum foil if it is browning too quickly.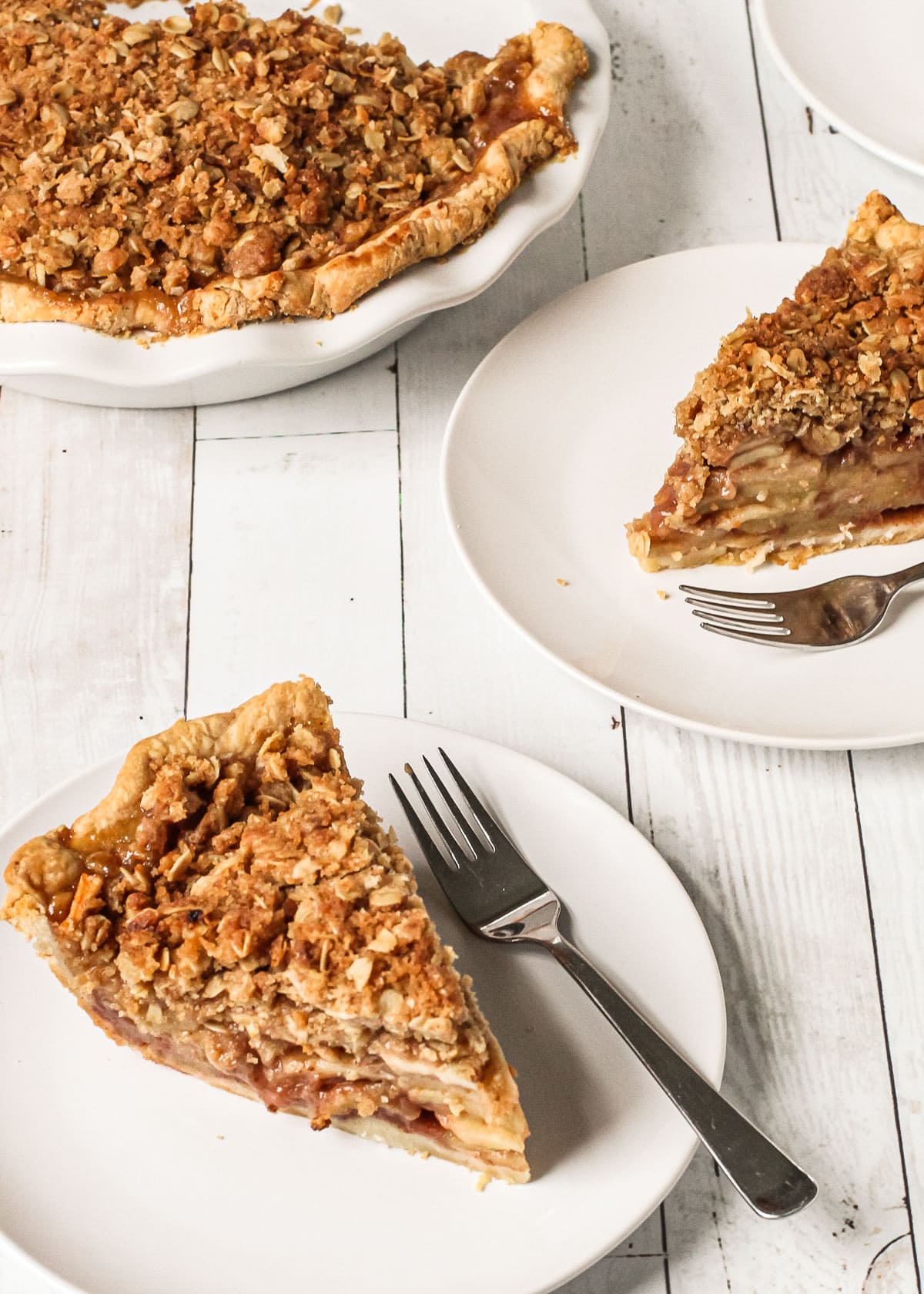 How to Serve and Store It
Serve this pie slightly warm or at room temperature. It can be served as is, with whipped cream, or a la mode with vanilla ice cream!
To store the pie, you can leave at room temperature, covered, for 1 day. For longer storage cover and place in the refrigerator.
More Apple Recipes
---
I am so honored when you make a recipe from my site! If you make this Apple Crumble Pie, please leave a comment and a star rating with your experience! If you have any questions about this recipe, feel free to comment here, too!
Print
Apple Crumble Pie
This Apple Crumble Pie starts with a flaky pie crust, filled with juicy cinnamon laced apples and topped with an oat crumble. It's a classic, and for good reason! Be sure not to skip the step of macerating the apples, for at least 20 minutes. You can let them macerate longer, for a better texture, if time allows. If you do macerate them for longer and you find you have a lot of juice in your bowl, you can strain the juice into a pot and boil it down until it has slightly thickened. This will heighten the apple flavor and ensure you don't have a thin filling. When you are placing the apple filling in the pie, layer the apples closely together helps prevent the crumb topping from sinking in from shrinkage from the apples.
Author: Kelli Avila
Prep Time:

00:40

Cook Time:

01:00

Total Time:

1 hour 40 minutes

Yield:

8-12 servings

Category:

Sweet Pie

Method:

Bake
For Pastry:
1

-

½

cups (

180 grams

) all-purpose flour

½ teaspoon

salt

8 tablespoons

(

112 grams

) unsalted butter, chilled and cut into 1" pieces

1 tablespoon

(

15 grams

) apple cider vinegar

3

-

4

tablespoons (

60 grams

) ice water, more as needed
For Apple Filling:
4

lbs. (about

9

) baking apples, peeled, cored and sliced thinly

1 tablespoon

lemon juice (about

half a

lemon)

¼ cup

(30 grams) all-purpose flour

⅓ cup

(70 grams) light brown sugar, packed

¼ cup

(50 grams) granulated sugar

1 teaspoon

salt

1

-

½

teaspoon cinnamon

¼ teaspoon

grated nutmeg

1 teaspoon

vanilla

2 tablespoon

unsalted butter, cut into pieces
Crumble Topping:
8 tablespoon

(113 grams) unsalted butter

¼ cup

(50 grams) granulated sugar

½ cup

(110 grams) packed brown sugar

¾ cup

(90 grams) all-purpose flour

¾ cup

rolled oats

½ teaspoon

cinnamon

Pinch salt
Instructions
Prepare the pastry:
Add the flour and salt to the bowl of a food processor.
Pulse 2-3 times until combined.
Add in the butter and pulse 5 times.
Add the vinegar to the water. With the motor running, slowly pour the water into the flour. The dough should be crumbly and it should hold together when squeezed. Drip in more water and toss together if needed.
Empty the flour mixture onto a work surface. Quickly form the dough pile together. If there are any dry spots, drip a bit more water on them and knead together if you have to. Place each in a piece of plastic wrap and wrap tightly. Using a rolling pin, roll the dough out until it stretches to the corner of the plastic wrap.
Refrigerate for at least 2 hours, but preferably overnight.
Roll out pie dough to an 11" circle. Fit pastry in a 9" pie plate, tucking in and crimping the edges as desired. Set in the refrigerator to chill until ready to use.

Pre-heat oven to 425ºF and place oven rack on the second to lowest level.
Make the filling and crumble topping:
Combine the sliced apples and lemon juice in a large mixing bowl. Add in the flour, brown sugar, granulated sugar, salt, cinnamon, nutmeg and vanilla and mix together. Let sit until the apples have released some of their juices, at least 20 minutes.

Melt butter in a medium pot, then turn off the heat. To the pot add granulated sugar, brown sugar, flour, oats and cinnamon and mix until completely combined.
To assemble and bake:
Place the macerated apple pieces inside of the pie, taking care to layer them together, leaving very little space in between the apple pieces. Pour any remaining apple juices inside of the pie pastry. Place the pieces of butter on top of the filling and then sprinkle the crumble mixture on top of the pie.

Bake the pie on a rimmed baking sheet on the lowest rack for 15 minutes. Lower oven temperature to 400ºF and bake for an additional 45-55 minutes, or until pie filling is bubbling and it's reached an internal temperature of above 200ºF. If the crust or streusel is browning too quickly, loosely cover with aluminum foil.

Let pie cool for at least 4 hours, or preferably overnight. Serve at room temperature.
Notes
Use a mix of baking apples, such as gala and Granny Smith.
Pie can be stored, covered, at room temperature for up to 1 day. For longer than 1 day, store in the refrigerator.
Want to make this apple pie without the crumble? Make the recipes as is but top it with another pie crust to make it a double or lattice crust pie.
Keywords: apple crumble pie
Some of the links on this page may be affiliate links. Everyday Pie is a participant in the Amazon Associates Program. As an Amazon Associate I earn from qualifying purchases, at no extra cost to you.