Using a few simple ingredients along with a straightforward folding technique, you can make a super flaky pie crust. This recipe yields a flavorful puff pastry-like flaky crust that will leave everyone impressed.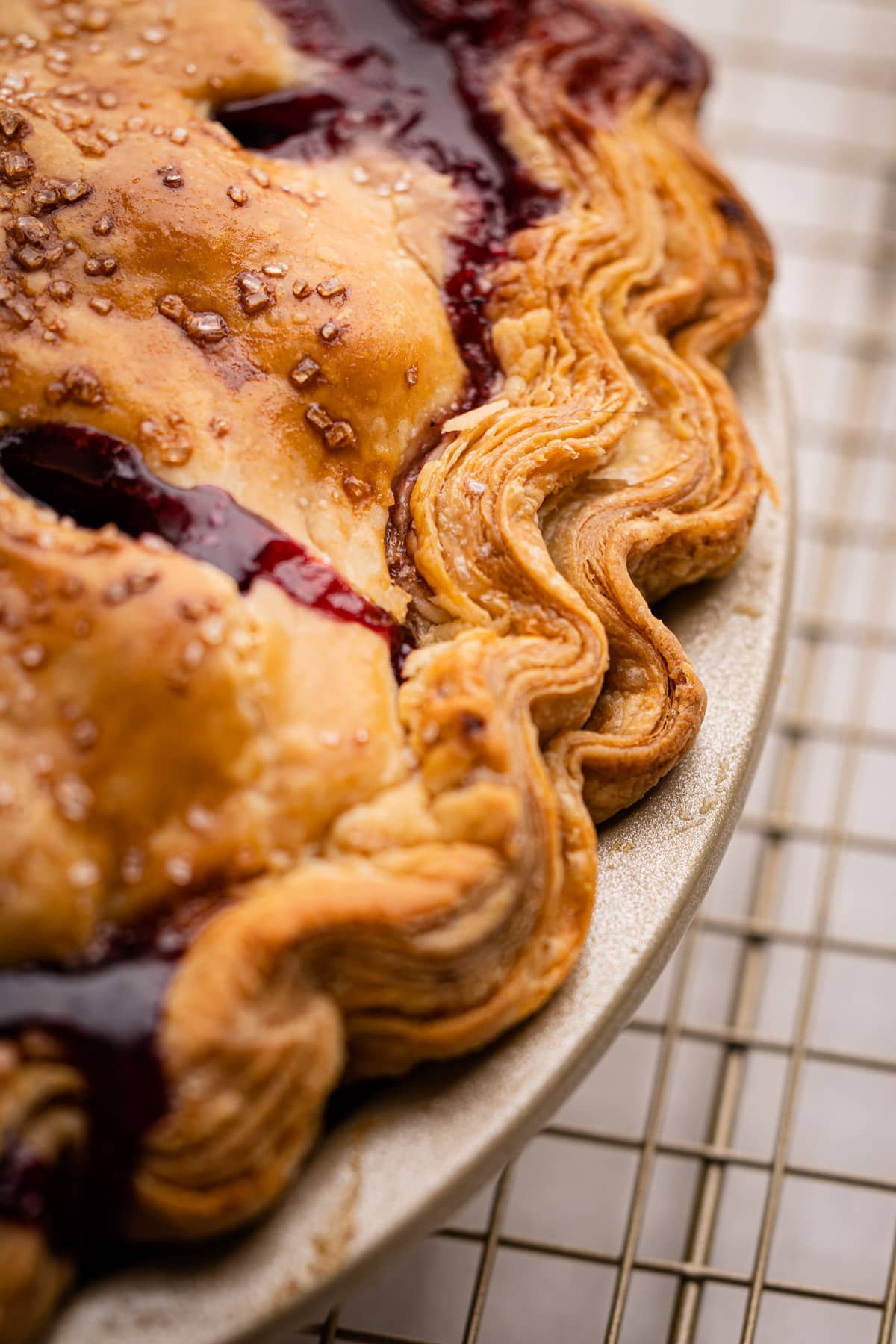 Ultra-Flaky Pie Crust Recipe
This pie crust is different from the average pie crust.
Admittedly, being a pie recipe developer, I spend a lot of time thinking about the nuanced differences between pie crusts.
There are so many different techniques and ingredients you can use to make a million different types of pie crusts. However, I feel like most people these days are just after one type: a super flaky pie crust.
While I have a few recipes that will result in a lovely flaky pie crust (such as this butter pie crust, this cream cheese pie crust, or this sour cream pie crust), I wanted to share a recipe for the absolute flakiest pie crust around. This recipe yields a super flaky crust, almost like puff pastry.
After spending the last year working on some puff pastry recipes, I experimented with "marrying" my pie crust recipe to my puff pastry recipe, which resulted in a simple, yet ultra flaky pie crust any home baker can make.
So, let's get to making it, shall we? The text below offers tons of tips and helpful notes, or you can scroll to the bottom to grab the recipe and get started!
More of a visual person? Check out the video of me making it below, located right above the recipe!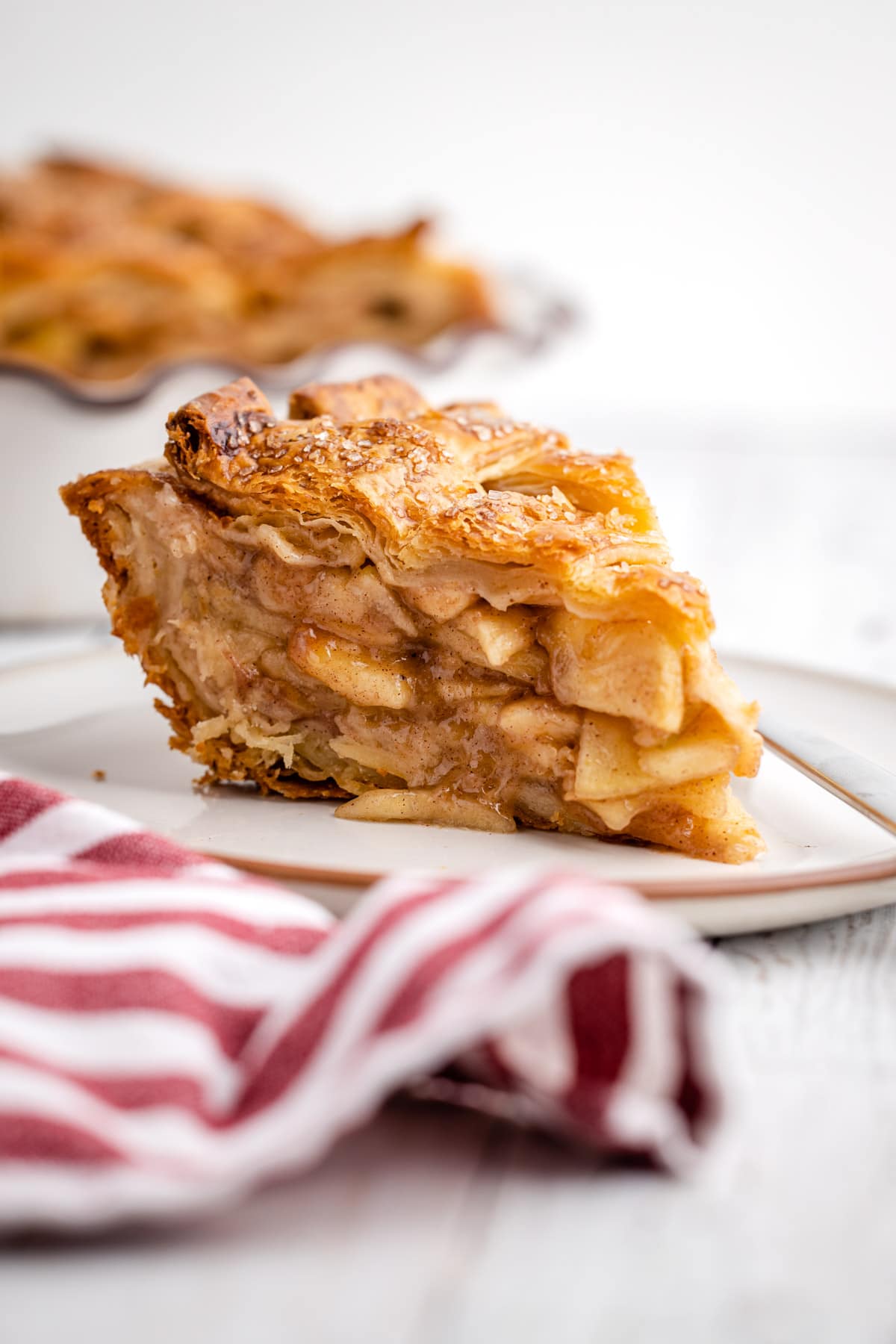 Why This Recipe Makes the Flakiest Pie Crust
This recipe stands apart from traditional pie crust recipes because it uses more butter, and leaves said butter in larger chunks. Because of this, more water is needed to bring it together. To keep it tender, a stand mixer is used to bring the dough together quickly. The dough is then folded to create a faux lamination effect which will result in an uber-flaky pie crust.
The trade-off with this crust is while it isn't tough, it isn't the most tender pastry. Because it is folded, some gluten formation occurs. However, the crust is delicious and a wow-worthy pastry.
If you prefer a more traditional pie crust, there are plenty on this website. The butter pie pastry is more like a classic pie crust, with a nice balance of tenderness, flavor, and flakiness. This flaky pie crust and the butter pie crust can be used interchangeably in pie recipes and have almost the same ingredients, but it's the technique of making them that is the most significant difference.
If you are new to pie dough and want a real deep dive into the nitty gritty of making pie dough, you can check out my Pie Crust tutorial. You can start there and come back here if you want.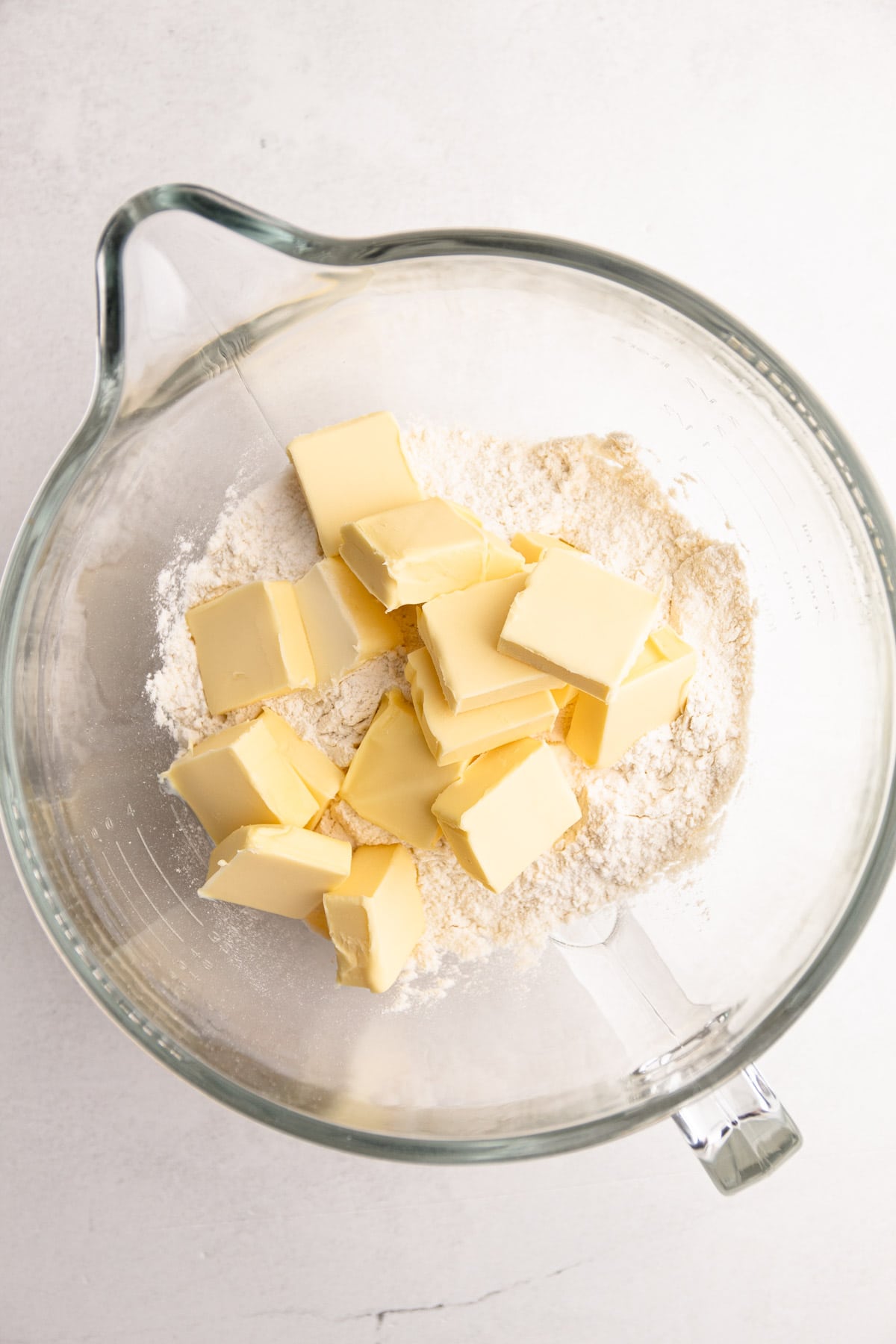 Ingredients Needed
Here is an overview of the ingredients needed for this recipe. The full recipe is listed below in greater detail.
all-purpose flour
salt
sugar (just a touch, as it improves the flavor, texture, and look of the final pastry)
unsalted butter
apple cider vinegar (this helps tenderize the dough by inhibiting too much gluten formation and it brings a nice subtle tang to the crust that keeps it nicely balanced)
ice water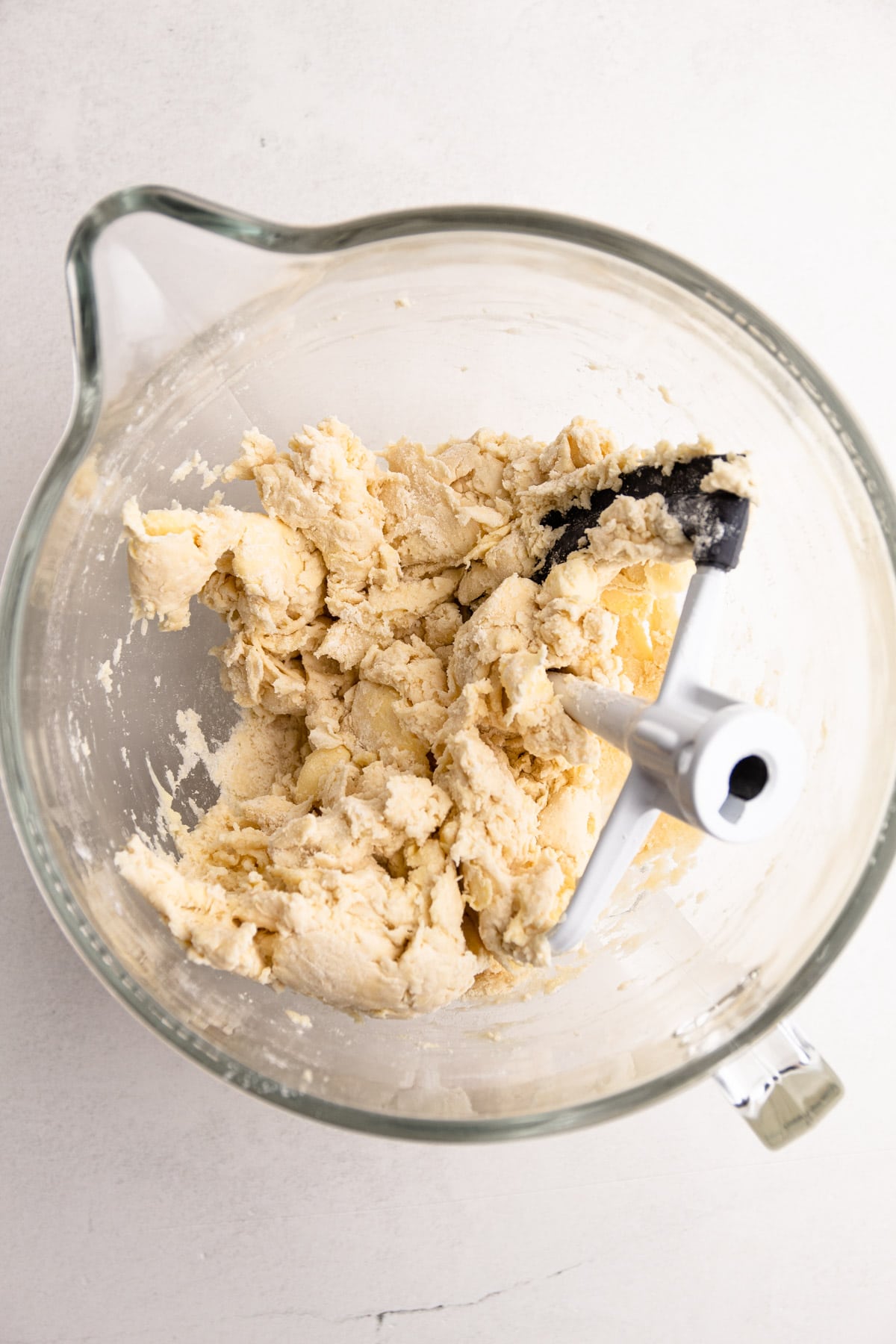 Steps for Making Flaky Pie Crust
As stated above, there are a few additional steps to make this super flaky crust, but none that are too difficult or time-consuming. Here is an overview of the steps needed to make this recipe, and then if you read on after this, there will be a deeper dive into these topics and some helpful tips for making this recipe.
Add the dry ingredients to a stand mixer bowl and whisk together.
Add in the butter and briefly combine on low speed. We're talking just 30 seconds of mixing. The butter should still be in very large pieces.
Stream in water and apple cider vinegar until the dough is thoroughly hydrated and starts to come together around the paddle.
Place in plastic wrap and wrap tightly, and let it rest for at least 2 hours in the refrigerator.
Roll out the dough to a large rectangle and then make 3 folds.
Wrap it again, and let it rest for at least 30 minutes, or up to two days until ready to use.
Why A Stand Mixer is the Best Method for Flaky Pie Dough
There are so many methods for making pie dough, the top three being: by hand, in a food processor, or in a stand mixer. You can use hand tools, such as a pastry blender, to make it as well.
This recipe calls for a stand mixer.
This recipe--when compared to traditional pie crust recipes--uses more butter and leaves it in larger chunks. Because of this, more water is needed to bring it together. Adding water means that more gluten will be formed.
To keep the dough from being tough, a stand mixer is used to bring the dough together quickly and without too much handling. I have found that making this type of dough by hand increases the toughness of the final product. So a stand mixer is the best method to make this dough.
However, it's essential to follow the recipe and not let the machine run for too long, either while "mixing the butter in" or after the water has been added and the dough has come together.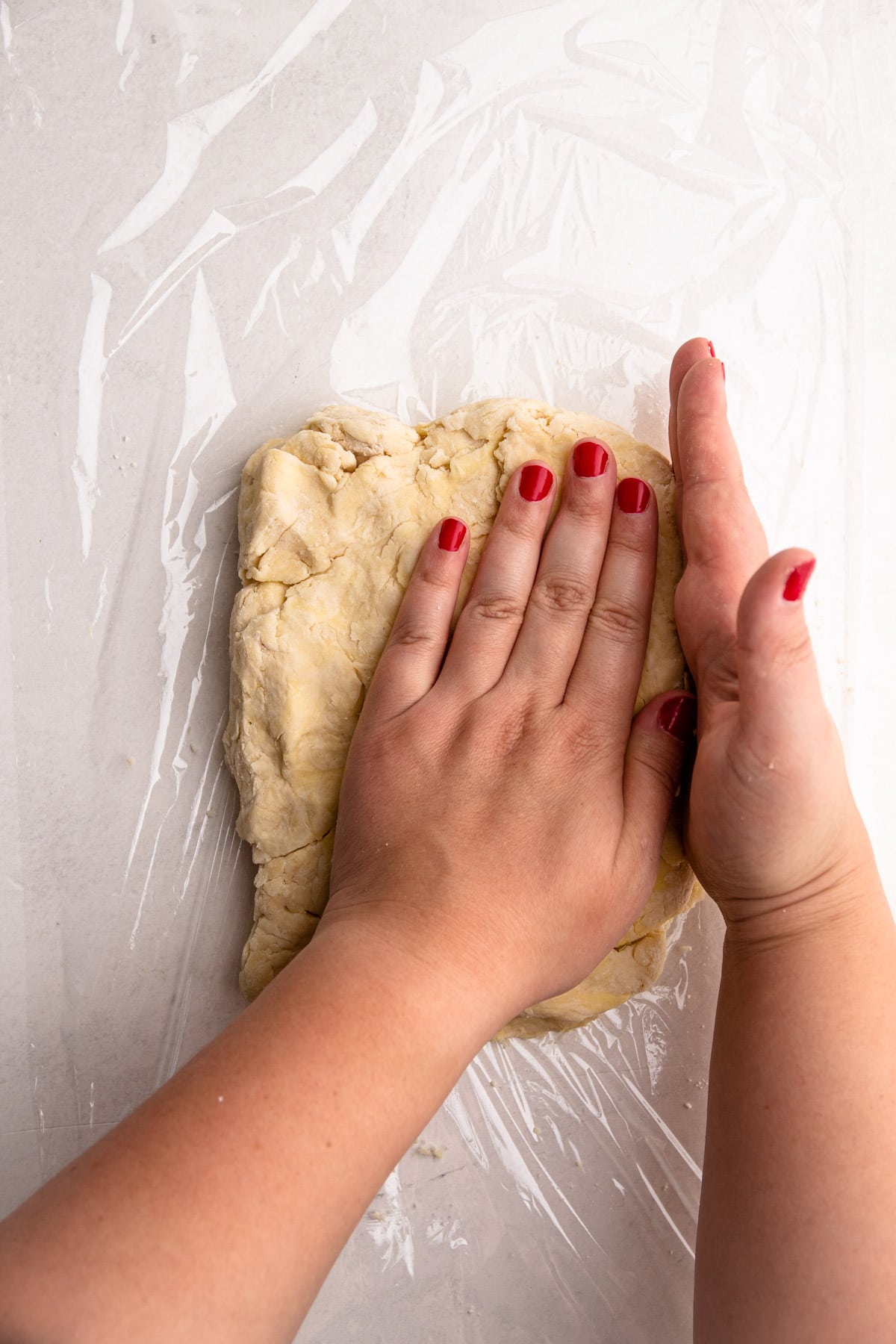 Folding the Pie Dough
Let's talk about the most exciting (and different) part of this pie crust recipe! Folding this pie crust is the key to making those flaky layers. First, let me talk a little bit more in-depth about how and why it works!
This recipe is based on the technique of laminating pastry. If you don't already know, pastry lamination refers to the technique of layering butter and dough together. It is achieved by rolling the dough and then folding it over itself several times.
When laminated pastry bakes, the moisture in the butter evaporates, and the dough puffs up, creating all those flaky layers.
This pie crust recipe is a version of that. Large chunks of butter are left in the dough. Then the dough is rolled out semi-thin to a large rectangle and folded three times, creating six layers.
Find a rolling pin that feels comfortable to you. I prefer a dowel rolling pin, as opposed to one with handles, but the type of rolling pin really doesn't matter; what matters most is you are able to direct the dough properly with it.
The best tip for rolling out pastry is to ensure the dough is at the proper temperature (meaning not too hot and not too cold) and to properly flour your work surface! See more on this below.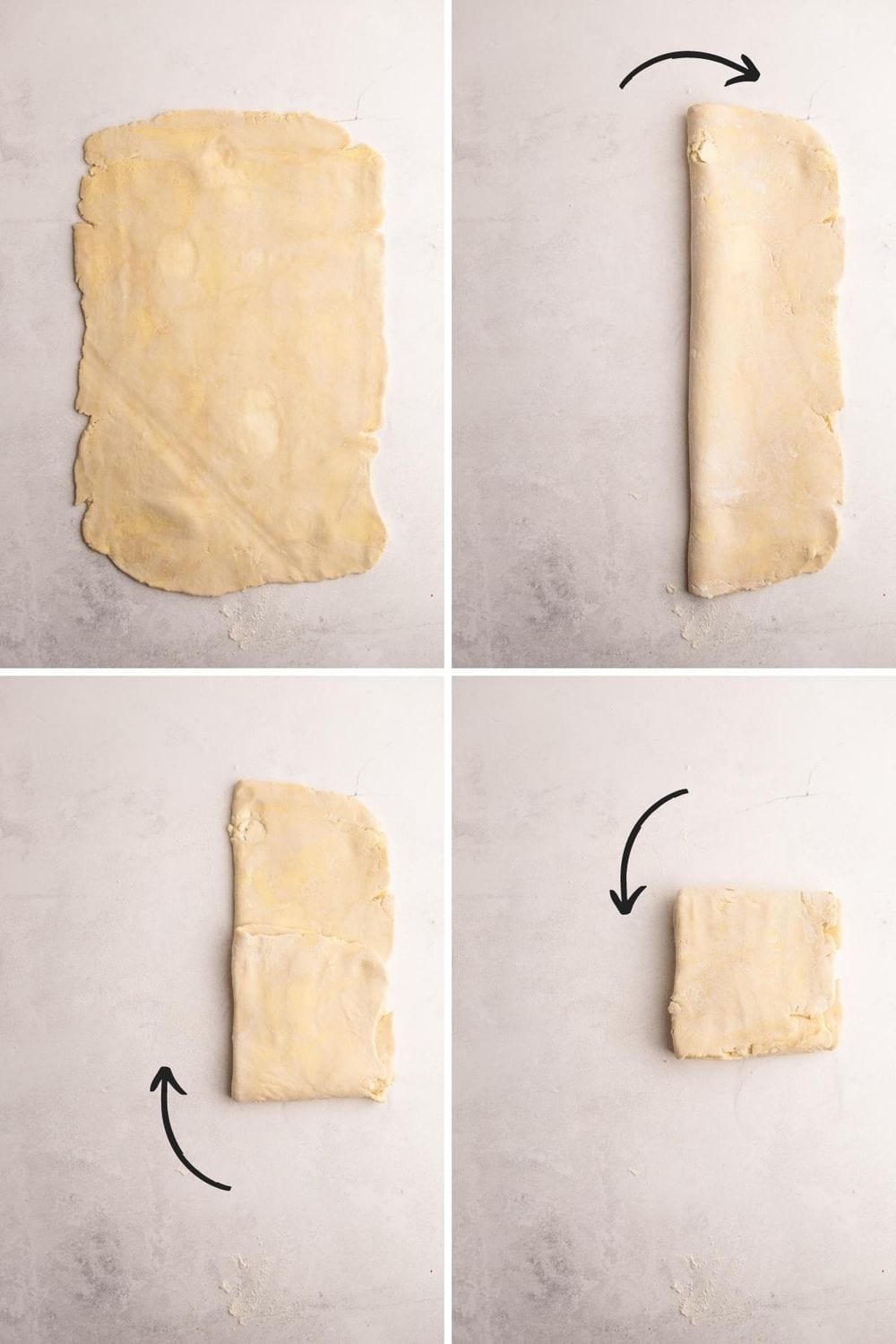 Temperature Matters
The ambient temperature of your home, as well as the temperature of your dough, can affect the flakiness of your baked pie crust.
One of the keys to keeping that lamination intact is to make sure the butter doesn't melt. If it melts or gets too soft, it will be incorporated into the dough, as opposed to staying as a thin layer in the dough.
If your house is very hot, you may need to chill your dough longer before folding it and or even before using it!
Alternatively, if your dough is too cold (this would happen from a long chilling time) and you find it is cracking when you are rolling it, let it sit for a few minutes at room temperature. This is unlikely to happen though, as this recipe calls for enough water that it should be malleable even at a very cold temperature.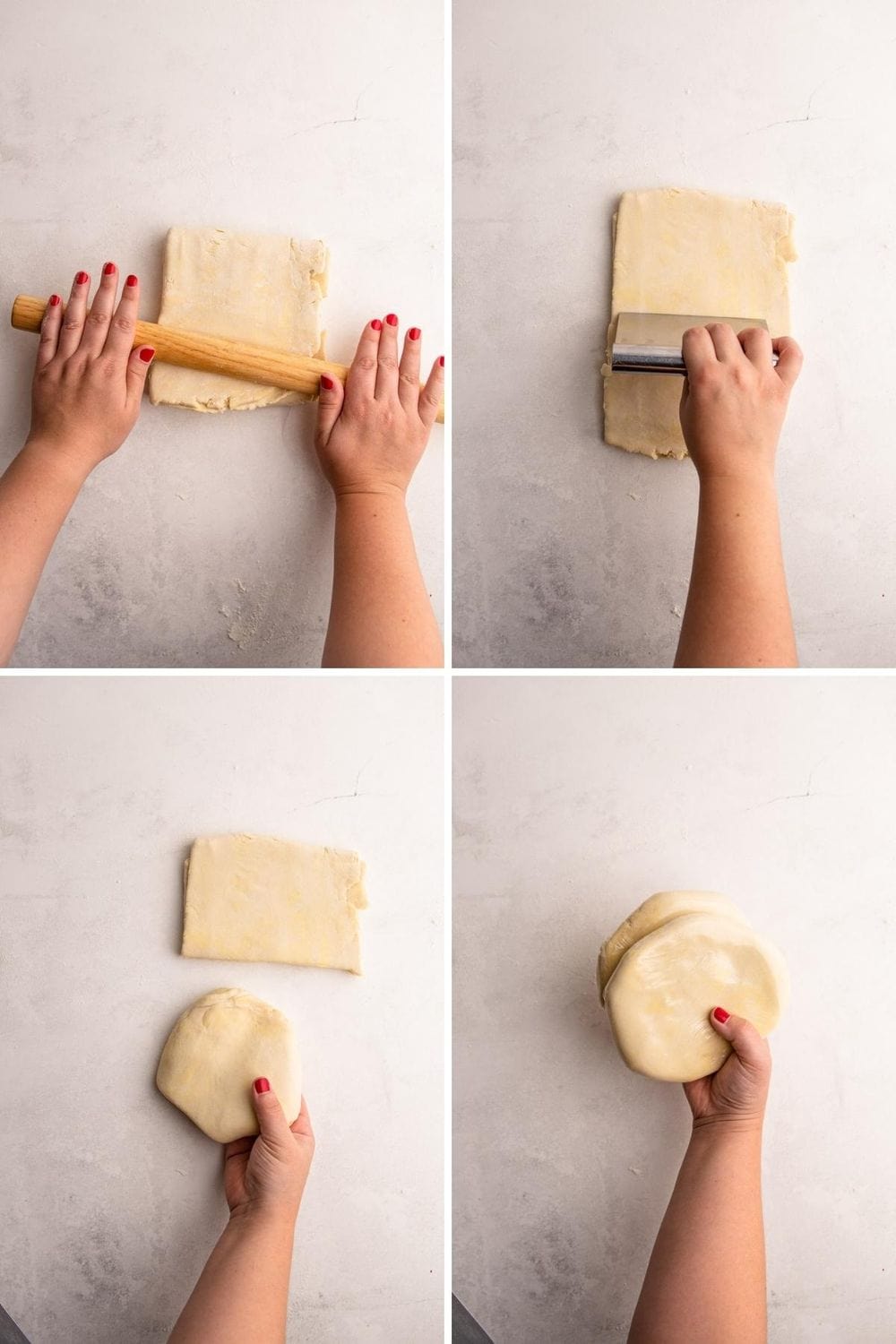 Resting Time
Resting the dough ensures the butter maintains the proper chilled temperature, but it also allows some of the built-up gluten to relax. Gluten develops naturally when the dough is handled and rolled out.
When developing this recipe, I wanted to ensure the gluten had enough time to relax, but I also didn't want this to be such a fussy recipe that required long periods of rest. With that in mind, I tried to strike a bit of a balance.
Allowing the dough to rest makes it easier to roll out during lamination, and it prevents it from shrinking too much when baked.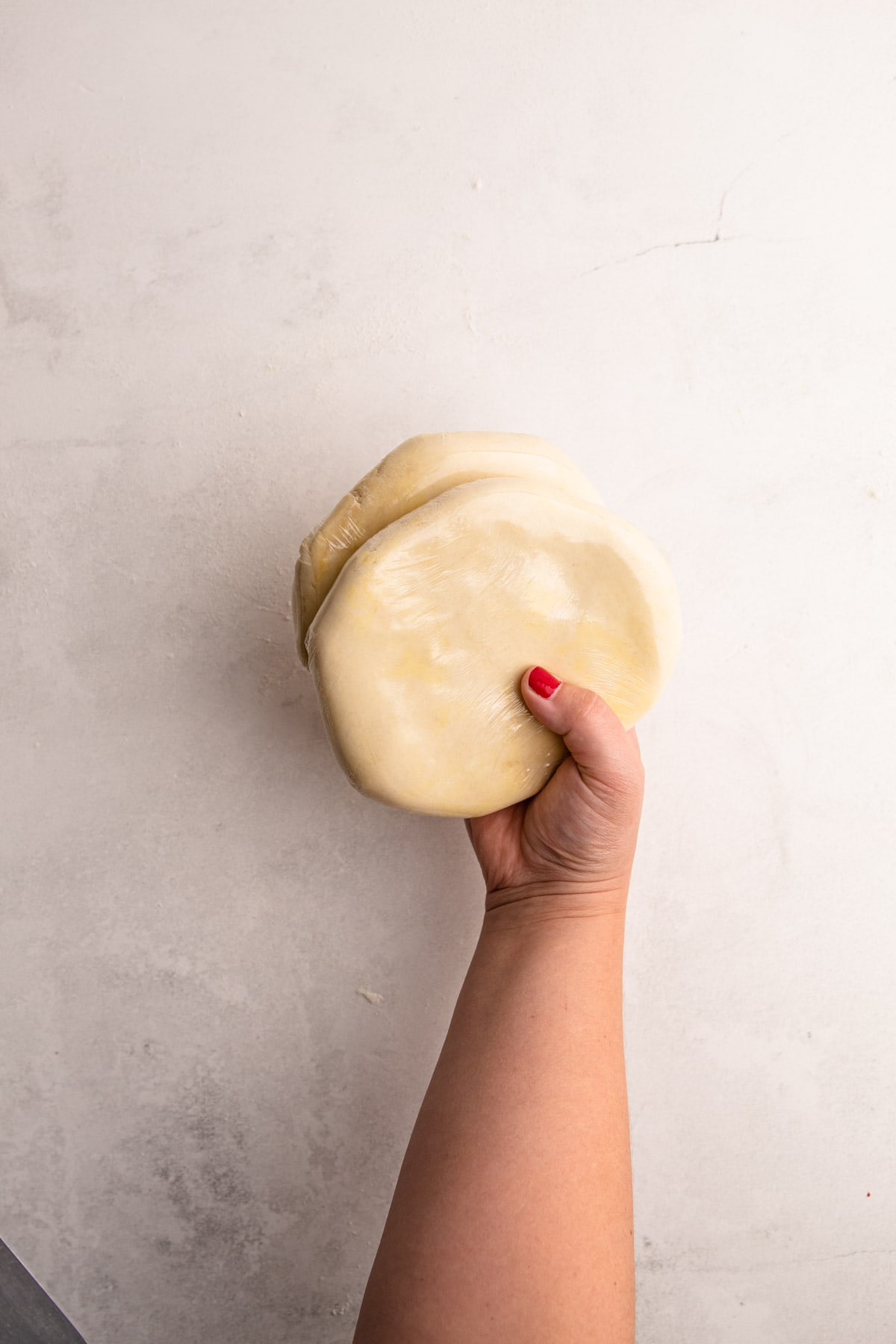 Tips for Success
Did you skip through all of the text above but want to know a few quick tips for making this recipe? Here are the cliff notes:
Let the dough rest, if you can. I personally never make and use pie dough the same day it's made. That goes for this recipe too. Even though the recipe says you can, it's best to let it rest overnight after you have rolled it out, if feasible. Dough that is made the same day it's rolled out and baked can be more difficult to handle and possibly deform in the oven because the butter hasn't chilled enough and the gluten hasn't had time to relax. It will still taste good and will still be flakier than your typical pie crust, but you'll get the best-tasting and prettiest flake if you let it rest. Don't you feel better after a good night's sleep? Same for pie crust!
Weigh your ingredients. An electronic kitchen scale is not a huge investment. You can get one for around $25. I can't recommend enough that if you want to get good at baking, get a scale.
Use high-quality butter and flour. Both of these ingredients can vary wildly in quality. Poor quality butter is going to have higher water content and less fat. Lower quality flour can vary in the protein structure and that can affect your final pie crust. In the end, I'd still choose a homemade pie crust made with cheap butter and flour over anything store-bought, but if you are looking for a really amazing pie crust buying quality ingredients will help.
If your kitchen is hotter than 70 degrees you'll need to move quickly! If your house is very hot, you may need to chill your dough longer before folding it and or before using it! Melted butter is the enemy here. If the kitchen is hot, utilize the freezer or refrigerator through the dough-making process to ensure the butter doesn't turn soft. If it's very hot in the kitchen, freeze the butter for 15 minutes before working with it. Soft butter will not allow your dough to come together evenly.
The bigger the butter chunks, the flakier your pie will be so don't overwork it in the stand mixer.
Storing Flaky Pie Crust
Pie dough keeps really well either in the refrigerator or the freezer. But first, you need to wrap it well!
Wrap the pie dough as tightly as you can, and then use a rolling pin to roll out the pie dough into a disc and flatten it out so it fills any empty space, which essentially makes an airtight seal with the plastic wrap. This helps prevent it from oxidizing (or turning a muddled gray color).
You can store this flaky pie crust in the refrigerator for about 2 days or in the freezer for up to 3 months. If you plan to store it for an extended period of time then wrap it up twice!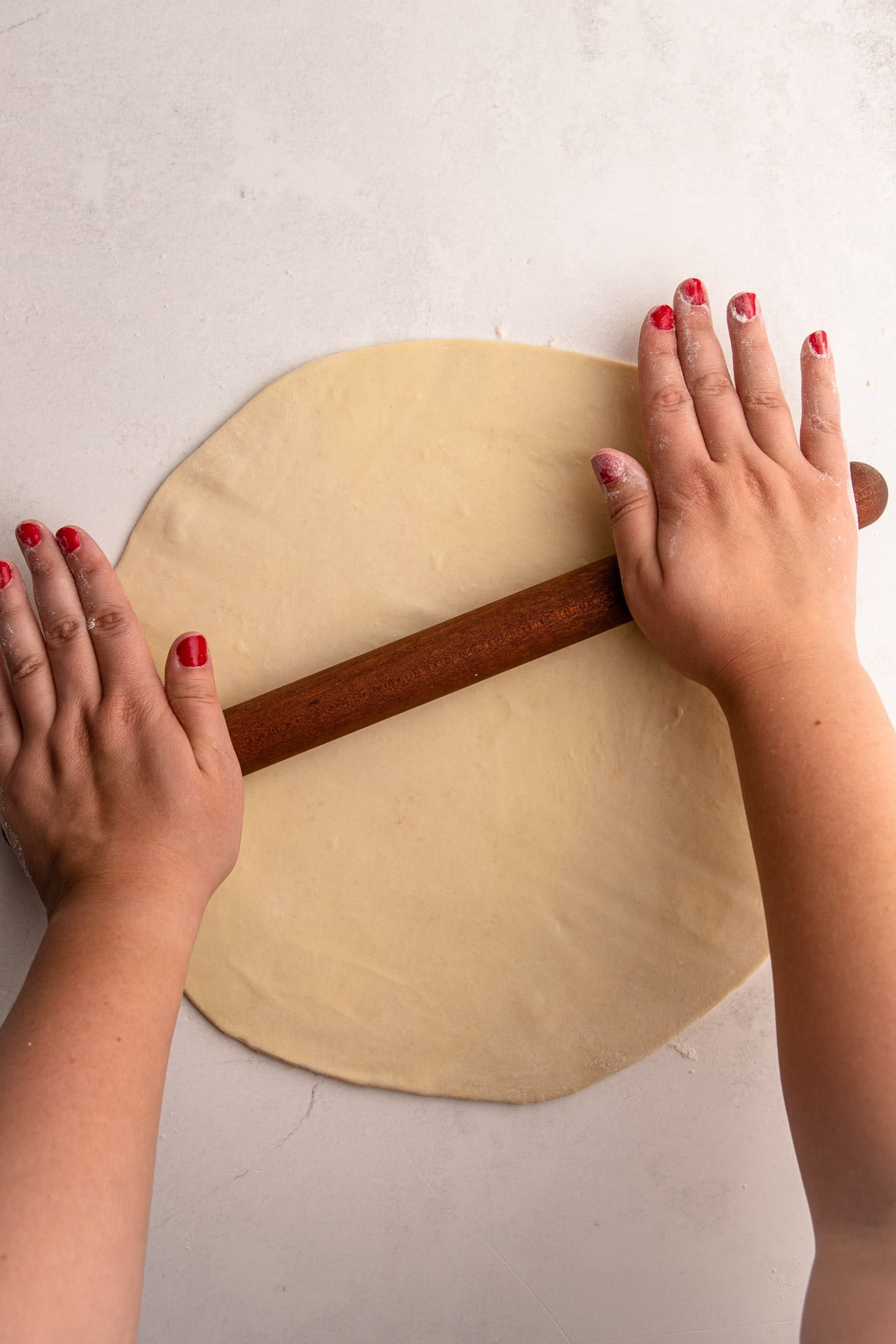 Rolling It Out
When you are ready to roll out your dough, remove it from the refrigerator and liberally flour your work surface and rolling pin. If the pie dough is too cold (or possibly under-hydrated) it can crack when you roll it out. Let it warm up for 5 minutes before trying again. However, this pastry recipe as written is well hydrated, so it should be easy to roll out straight from the refrigerator.
As you are rolling, periodically check to make sure it isn't stuck, and spread more flour underneath the pie crust. It's useful to have a bench scraper by your side for this, just in case it does get stuck. If you have excess flour on your dough you can brush it off with a pastry brush.
Use caution if your kitchen is warm. If the pastry becomes too warm it can be difficult to work with.
If at any point you feel like your pie dough is too warm, place it back in the refrigerator for 10-15 minutes.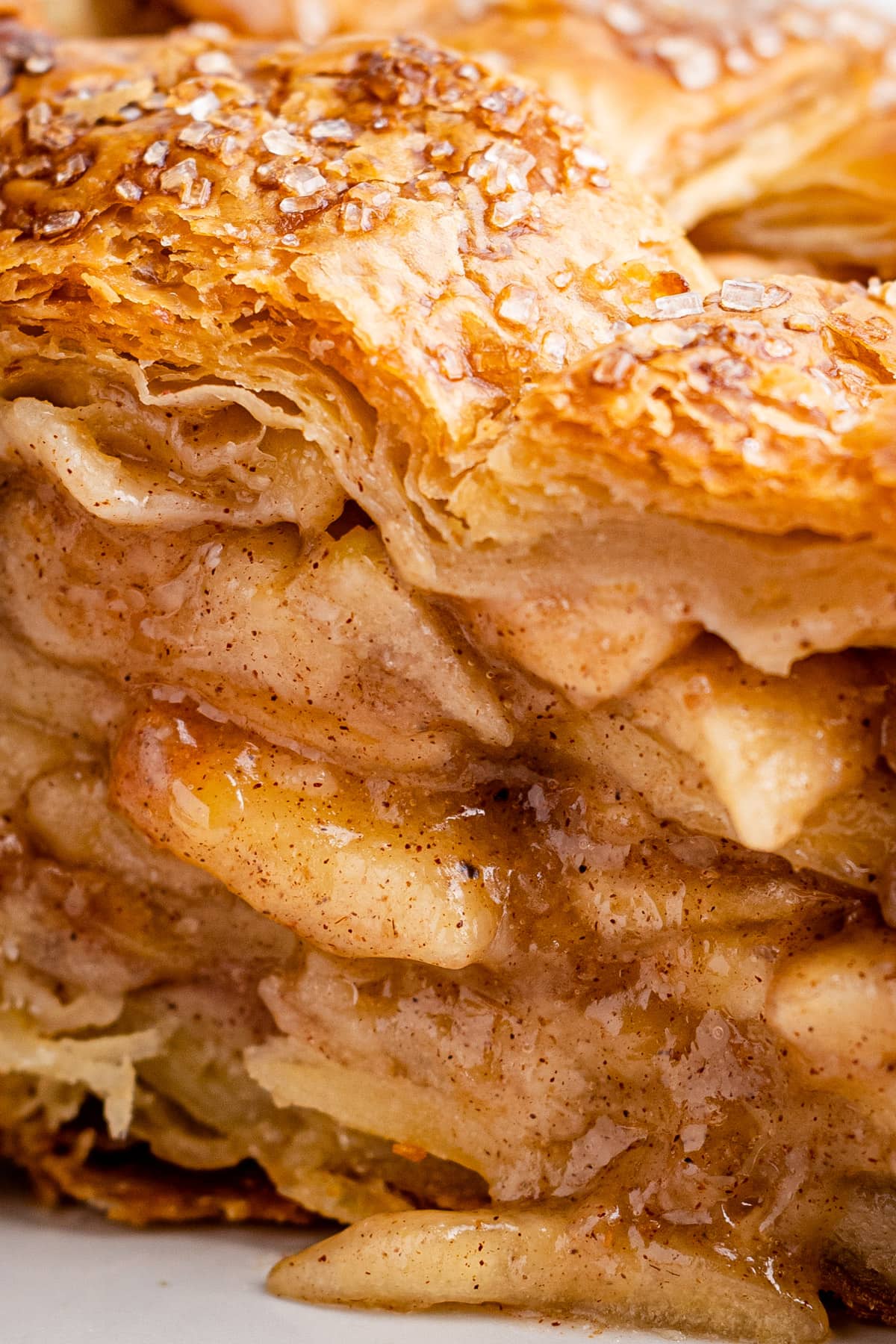 What Pie Recipes Pair Well with Flaky Pie Crust
This pie is perfect for classic fruit pies or savory pies that will be served at room temperature or warm. This is a highly opinionated piece of advice, but this pie dough is not ideal for any pie that is to be served cold, like a cream pie. If you are looking for a pie crust that is good for a pie that is to be served cold, check out this Pâte Sucrée (Sweet Pie Crust) recipe.
The reason I don't recommend using this pie dough for a pie meant to be served cold is that it can taste stale when served straight from the refrigerator, the same way a croissant or puff pastry might taste stale when very cold.
A properly made pastry, which is buttery and flaky, is at its best when it's at room temperature. The primary reason is because of the butter within the crust. Once it goes into the refrigerator it solidifies, the crust becomes more solid, and it loses that ethereal softness to it.
Does that mean I'm saying you can never eat an Apple Pie made in this crust straight from the refrigerator? Absolutely not! I know many people love it! But a fruit pie has a lot of juices and it transforms this crust when it is hanging in the refrigerator.
But a Coconut Cream Pie or a Banana Cream Pie doesn't transform this pastry the same way as an Apple Pie would, and I wouldn't recommend using this crust on those meant-to-be-served-cold pies!
How to Bake a Flaky Pie Crust
I hesitate to give instructions for how to use this pie crust with your own recipe, because how the crust is baked will depend on what the filling is! But generally speaking, this pie crust bakes best at a higher temperature. For a general double fruit pie, I suggest 425ºF for 20 minutes and then lower it slightly to 400ºF for the remainder of the bake. How long it will take will again, depend on the filling and many other factors. A general guideline will be about an hour. But the truth is, it is best to follow the instructions for the filling you plan to use. Or you can check out this guide How to Bake a Double Crust Pie.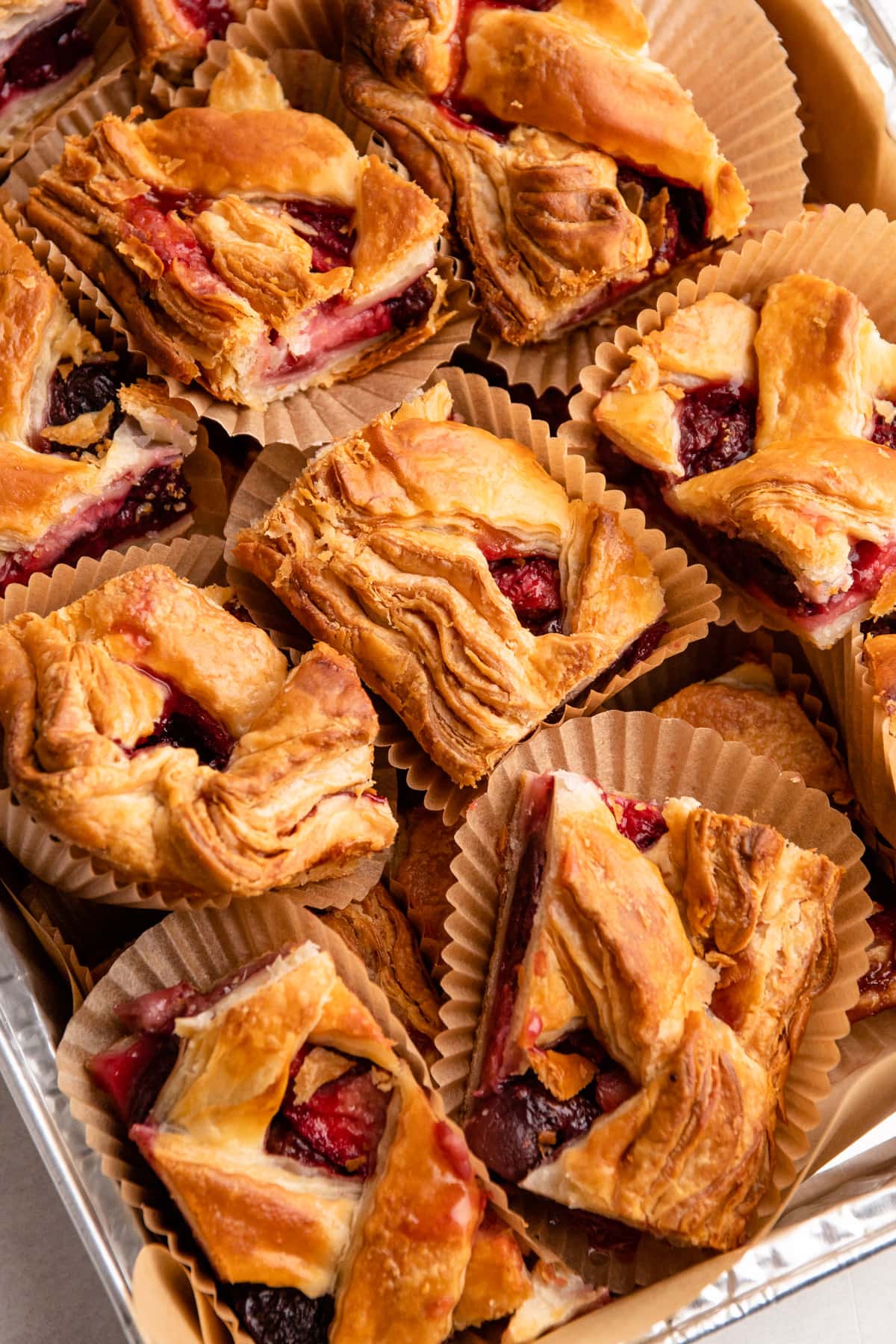 How to Maximize the Flake Factor
This may sound silly to say, but the best way to make sure your pastry is super flaky is to follow the directions as instructed. Each tip and instruction truly serves a purpose. Changing anything can alter the final outcome, so swap and ignore this advice at your own flakeless risk.
One critical component of baking flaky pie dough is not to compress the edges of the pastry before baking. That means if you want to achieve visual flaky layers you should cut as many of the pastry edges with a sharp knife or a sharp pastry wheel. Also, it's acceptable to egg wash pie crust to get that good shine going, but never egg wash the cut sides if you want them to flake up. It will act like glue and prevent the pastry from creating those visual layers.
Almost as important as how you prepare pie pastry is how you bake it. There is one main rule to remember when it comes to baking all butter pie dough: very cold dough should be put in a very hot oven. Flaky pie pastry should be thoroughly chilled before baking and baked at a high temperature, ideally around 425ºF at least at the beginning of the bake.
As a general rule of thumb, it's always best to chill a pie crust either in the freezer for 10-20 minutes or in the refrigerator for 30 minutes to 1 hour before you bake it. While this is an extra step, it makes all the difference in the world, especially when it comes to flaky pastry.
One of the most common problems bakers ask me about is why their pie crust melted or lost its shape, or sank in the pie pan. And the most common reason for this is because the crust was too warm, or the oven wasn't at the right temperature.
So make sure to chill your pie crust and fully pre-heat your oven!
However, not all pie fillings can be baked at that high of a temperature, which means that sometimes the pie crust will need to be partially or fully blind baked. Usually, a pie recipe indicates how the pie crust should be baked, so reference those directions for pies using this flaky pie crust.
More Resources:
For more reading and resources, check out these recipes and tutorials:
More Pie Crust Recipes:
I am so honored when you make a recipe from my site! If you make this Flaky Pie Crust, please leave a comment and a star rating with your experience! If you have any questions about this recipe, feel free to comment here, too!
Print
Full Recipe
Flaky Pie Crust
Using a few simple ingredients and an easy folding technique, you can make super flaky pie crust at home. This recipe yields a flavorful puff pastry-like flaky pie crust that will leave everyone impressed. Be sure to check out the full text above for a more in-depth analysis and instruction of this recipe, or watch the video for a visual overview.
Author: Kelli Avila
Prep Time:

00:15

Total Time:

15 minutes

Yield:

2 (9") pie crusts

Category:

Pie Crust
3 cups

(

360 grams

) all-purpose flour

1 tablespoon

sugar

1 teaspoon

kosher salt

18 tablespoons

cold unsalted butter

2 tablespoons

apple cider vinegar

¾ cup

cold ice water, more or less as needed (see note)
Instructions
In the bowl of a stand mixer fitted with a paddle attachment, combine the flour, sugar, and salt on low speed.
Dice the cold butter into large chunks (one stick should be cut into 8 pieces). Add in the butter, and turn the mixer on low (cover the bowl with a towel if flour starts to spill out). Let the paddle cut the butter into the flour for about 30 seconds. Do not overwork the butter here. There should still be large chunks of butter, with most of them being the size of a walnut, in the flour.
Pour the vinegar into the water.
With the mixer running, slowly stream half the water into the dough. Add remaining as needed. Please see the photos and videos for more reference. Mix until most of the dough comes together around the paddle and then immediately shut off the mixer to not overwork the dough. Scrape together the dough and transfer it to a work surface. The dough should hold together easily when it is picked up. Quickly shape the dough in a 1" thick rectangle and wrap in plastic.
Transfer to the refrigerator and let it rest for at least 2 hours. If your kitchen is hotter, you may want to let it rest longer.
On a lightly floured work surface, roll the dough, dusting with flour if necessary, until 16 inches long, and 10 inches wide. Brush off any flour with a dry pastry brush from the surface of the dough.
Fold the dough in half vertically. Then, grab the bottom side of the long thin dough and fold it up ⅓ of the way. Repeat with the top side. You should now have a thick semi square layered piece of dough. Please see the step-by-step photos above, or the video for a visual tutorial, if needed.
Roll out the dough until it is about 8 inches in length. Cut the dough in half to make two pieces of pie dough. If desired, the dough can be folded to be shaped into a circle, or left as a square. Wrap tightly in plastic wrap and let it chill for at least 30 minutes or up to two days. It is easiest to roll out if it has chilled/rested overnight.
When ready to use, roll out each piece of pie dough to a thickness of about ¼", and use as desired or directed in a recipe. See notes in the post for more information about how to store it, freeze it, use it and bake it!
Notes
You can store this flaky pie crust in the refrigerator for about 2 days or the freezer for up to 3 months. If you plan to store it for an extended period of time, than wrap it up twice!
Have a question or looking for tips? The text written above the recipe is always a great first place to start! This Flaky Pie Crust was developed with lots of love, and I always include loads of explanations, tips, step-by-step photos and technical advice shared before the recipe.
Weighing your flour is the most accurate way to measure. If you aren't going to weigh it, spoon it into the cup, and then level it off. If you scoop the flour out with the measuring cup and then level, it could change the outcome of the final product.
Some readers have needed less water than ¾ cup. This is likely due to how much the butter is worked into the flour. If too much butter is worked into the flour, it impacts the flours ability to absorb the water. Do your best to just barely work the butter in (as the recipe instructs) so that the flour can absorb the prescribed amount of water. However, start with half the amount at first, and see where your dough is. If It's still dry, add in the full amount of water. When I make this recipe, I usually add in more than the ¾ cup, because my butter is barely worked into the flour, and that makes for a flakier pie crust.
Looking for baking instructions for this pie? See section titled: How to Bake a Flaky Pie Crust, or check out this How to Bake a Double Crust Pie.
Keywords: Flaky Pie Crust
Some of the links on this page may be affiliate links. Everyday Pie is a participant in the Amazon Associates Program. As an Amazon Associate I earn from qualifying purchases, at no extra cost to you.