Maybe you're under the impression that making pie dough is difficult, but after learning this easy method, you'll be a pro! Making pie crust by hand will result in the flakiest crust. It's a method you'll come back to over and over.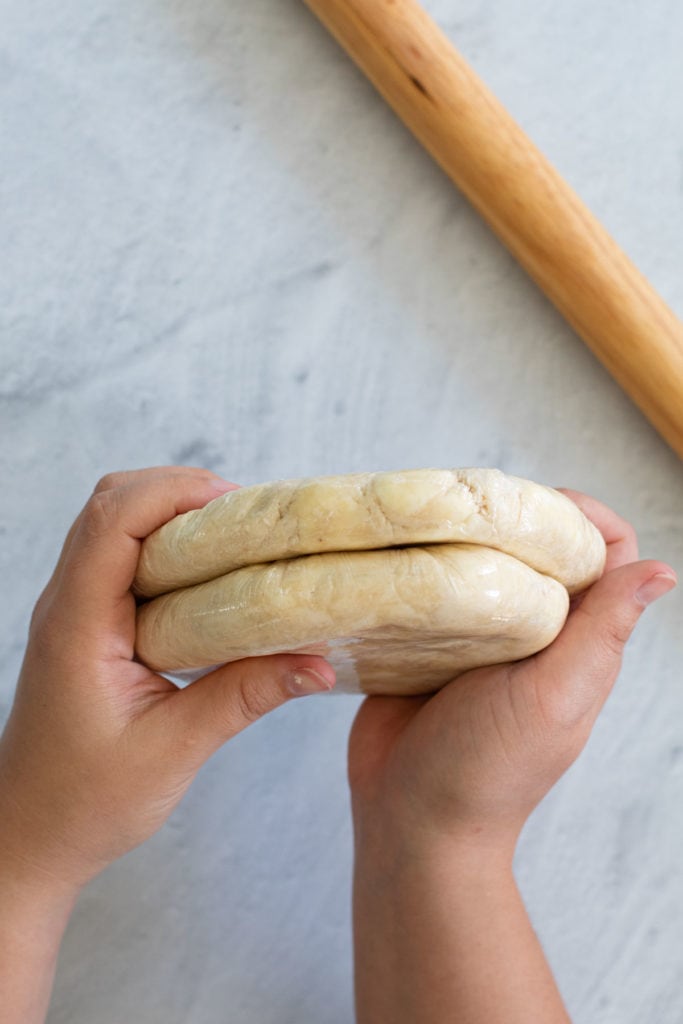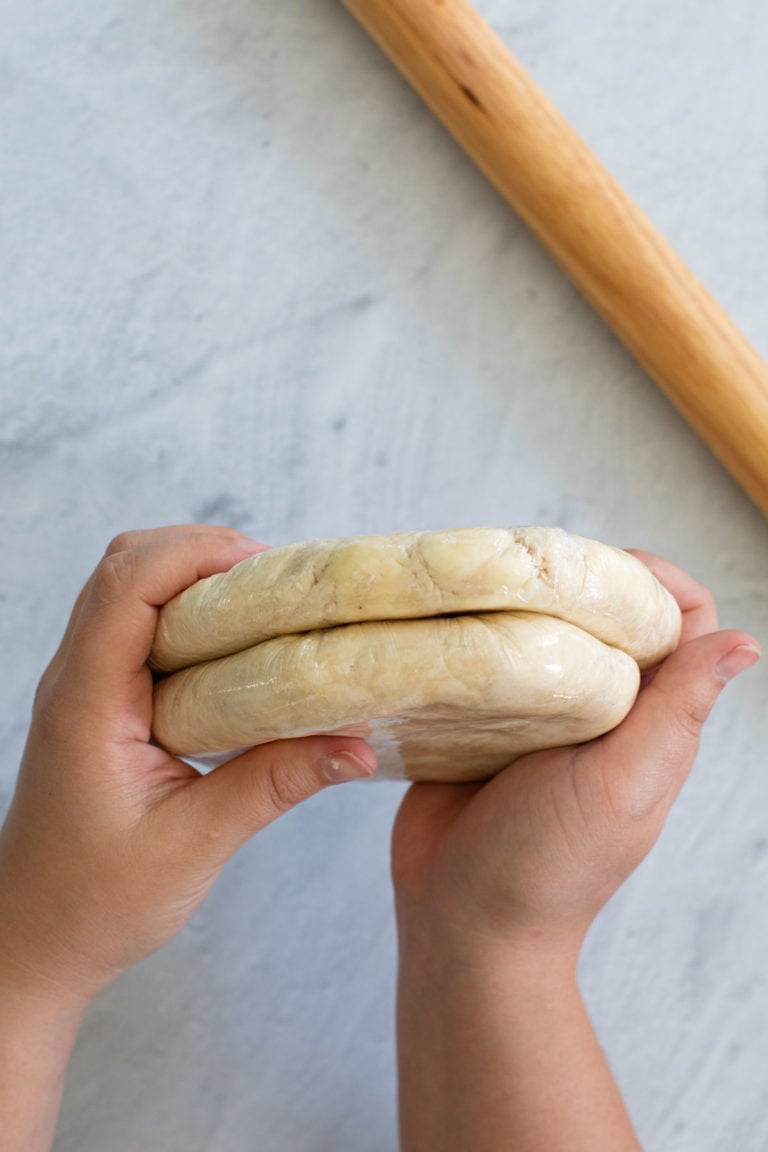 How to Make Pie Crust from Scratch by Hand
After baking in large batches in professional kitchens for many years, I forgot how simple and quick it was to make pie crust by hand until I started this website. Often times, people can be intimidated by all the "rules" associated with making pie crust (move quickly! don't let it get too warm! don't breathe!...kidding on that last one, kinda) that they turn to the machines to do the work for them. Myself included. But, after spending the better part of the last year working on this website, I've fallen back in love with the art of making pie crust by hand.
There is a connection to feeling the flour, butter, and water with your hands and using all your senses to know when the pie crust is done. I'm sharing all my tips for easily making pie crust by hand, and some tricks and techniques to make it work for you each and every time.
But aside from the ethereal sensation of making pie pastry by hand, I'm here to argue that pie dough made by hand is in fact the best pie dough. Handmade pie pastry results in the flakiest crust because the butter naturally stays in larger pieces than if it was made by a machine.
Basically, bigger butter chunks = flakier dough. And, you should keep this in mind when making your pastry. So let's get to making it, shall we?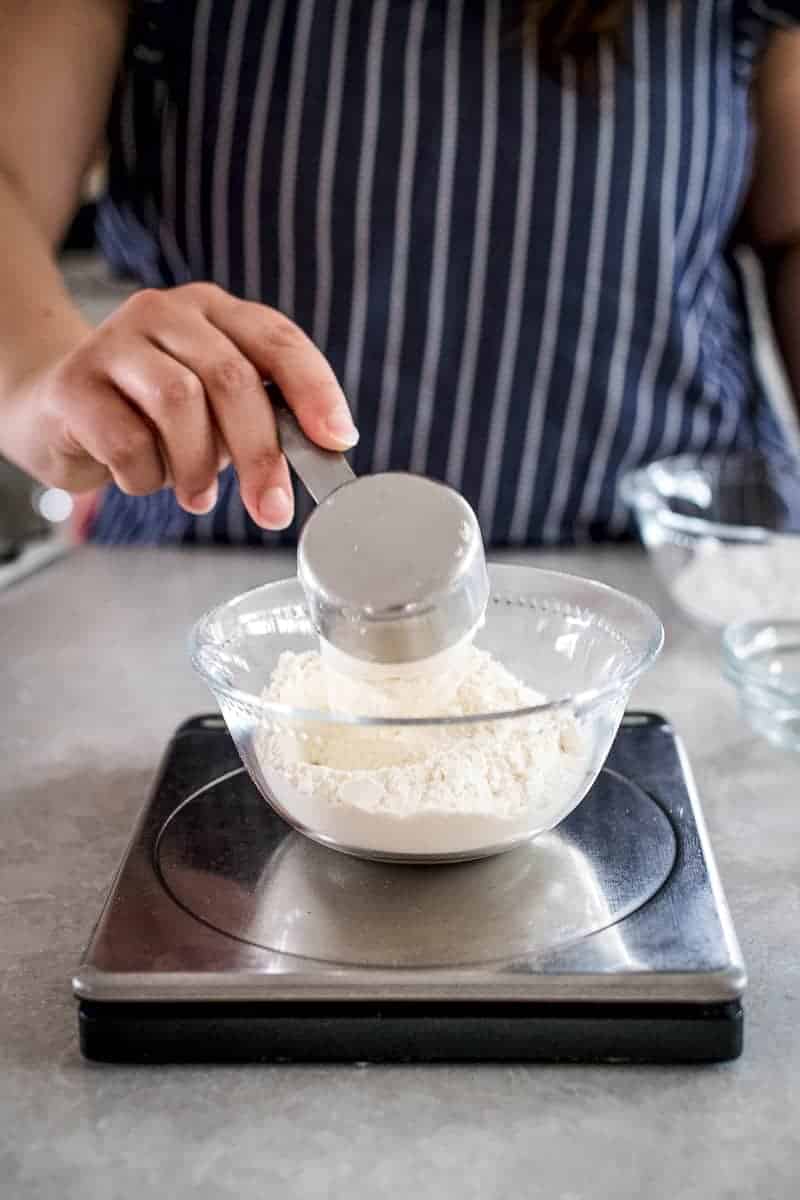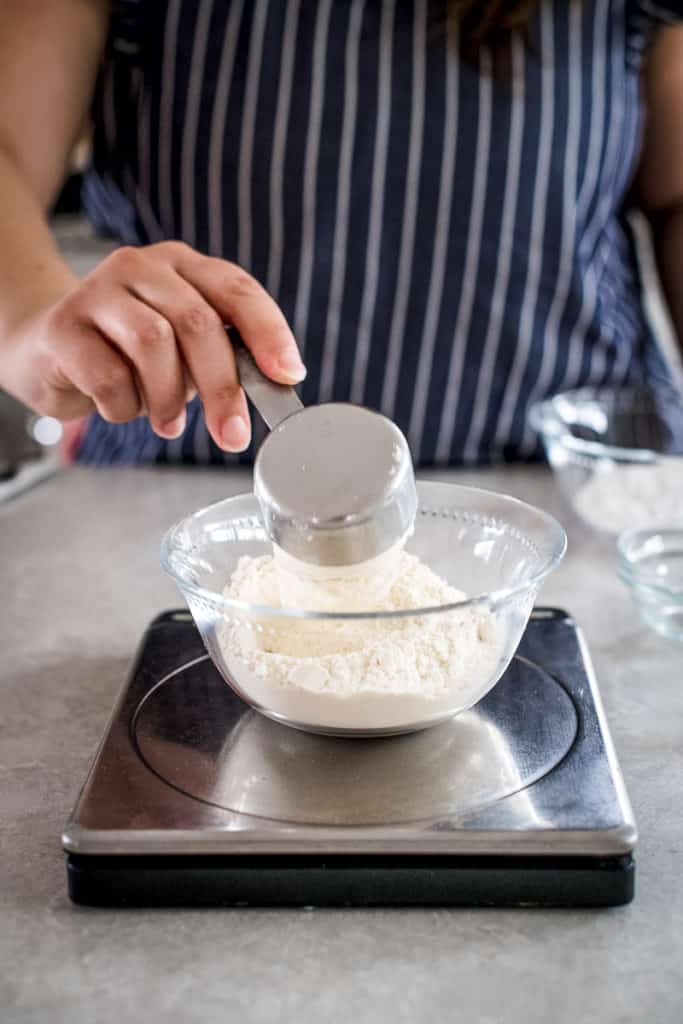 But first, let's talk about some general rules about making pie crust from scratch...
As I mentioned, there tends to be a lot of mystery and rules involved in the art of pastry making. It's important to understand the fundamentals about making pie pastry in order to be successful. Don't let the rules intimidate you; remember, knowledge is power. The more you know, the better your dough will be.
So first, let's cover what you are actually doing when you are making pastry.
At its heart, a good pie pastry is a balance of three key ingredients: flour, butter and water. My pie pastry recipe contains a few other ingredients that make it the best it can be, but the aforementioned three are what makes up the base of the dough.
Flour
The flour is obviously the base of this recipe. It adds structure and texture to this recipe. In baking, the amount of flour that a recipe uses will determine the quantities of the other ingredients needed. So it's important to measure your flour accurately.
Water
The water interacts with the flour to form the gluten that helps creates the structure for the dough. You want to develop just enough gluten that it has some strength to hold its shape but not so much that it's tough.
Butter
The butter coats the flour, helping to keep the dough together. It also creates pockets of air once it melts during the cooking process which then creates that flakiness we all love.
Each ingredient added to this pie dough recipe is there for a reason, and with a recipe like this, it's best to follow the instructions as closely as possible.
But truth be told? Any homemade pie dough you make is worlds away better than anything you can buy at the store, so don't be worried if you are a beginner: you're going to do great!
Cornstarch and Apple Cider Vinegar
This recipe calls for flour and cornstarch. Generally speaking, pastry flour is the best flour for making pastry because it has a lower protein content. However, most people don't keep it in their kitchen, so for this recipe, I call for all-purpose flour and the addition of cornstarch to mimic pastry flour. You can totally skip this and add in equal parts flour if you wish, but cornstarch helps make this pie dough delicate.
Apple cider vinegar is added because it helps make the dough tender by inhibiting too much gluten formation. It also brings a nice subtle hint of acid to the crust that keeps it nicely balanced.
Basics Steps to Make Pie Crust from Scratch
Regardless of what method you use to make pie dough, these are the essential steps:
Whisk together the dry ingredients, so they are thoroughly combined.
Combine the butter into the flour evenly. The butter should be no smaller than the size of a pea and no larger than a marble.
Add the water/vinegar into the flour mixture and combine it all together. When making it by hand you'll likely need to briefly knead the dough together once or twice. If there are any dry spots in the pie dough (and your struggling to get it together), drizzle a bit more water on it as needed until it can be formed together.
Divide the dough in half.
Place in plastic wrap and wrap tightly.
Roll out the dough in the plastic wrap to create an airtight seal and let rest at least 2 hours, or better overnight.
Tips for Making Pie Crust
Let the dough rest. I never advise making dough the same day you plan to bake it. It's essential for the dough to hydrate properly so it needs an overnight rest. If you absolutely need to, you can make the dough and bake it all in the same day, but you must let it rest at least 2 hours before you roll it out. Dough that is made the same day it's rolled out and baked can be more difficult to handle and possibly deform in the oven because the butter hasn't chilled enough and the gluten hasn't had time to relax. It will still taste good, though.
Weigh your ingredients! An electronic kitchen scale is not a huge investment. You can get one for around $25. I can't recommend enough that if you want to get good at baking, get a scale.
Use high-quality butter and flour. Both of these ingredients can vary wildly in quality. Poor quality butter is going to have a high water content. Low-quality flour can vary in the protein structure and that can effect your final pie crust. In the end, I'd still choose a homemade pie crust made with cheap butter and flour over anything store-bought, but if you are looking for a really amazing pie crust buying quality ingredients will help.
If you kitchen is hotter than 70 degrees you'll need to move quickly! Melted butter is the enemy here. I work in a home that doesn't have air conditioning so in the summer months I have to use the freezer or refrigerator often through the dough-making process to ensure my butter doesn't turn soft. If it's quite hot in the kitchen I'll freeze the butter for 15 minutes before working with it. Soft butter will not allow your dough to come together evenly.
The bigger the butter chunks, the flakier your pie will be. If you love the look of super flaky dough, that almost looks like puff pastry, leave at least some of your butter chunks as big as possible. The biggest pieces of butter can be about the size of a marble.
Storing Pie Crust
As I said above, I don't recommend making pie pastry the same day it needs to be rolled out or baked! Pie pastry keeps really well either in the refrigerator or the freezer. But first, you need to wrap it well! I use plastic wrap to store it. Wrap the pie crust as tightly as you can, and then use a rolling pin to roll out the pastry and flatten it out so it fills any empty space and essentially makes an air tight seal with the plastic wrap.
You can store it in the refrigerator for 3-4 days or the freezer for up to 3 months. If you plan to store it for an extended period of time then wrap it up twice!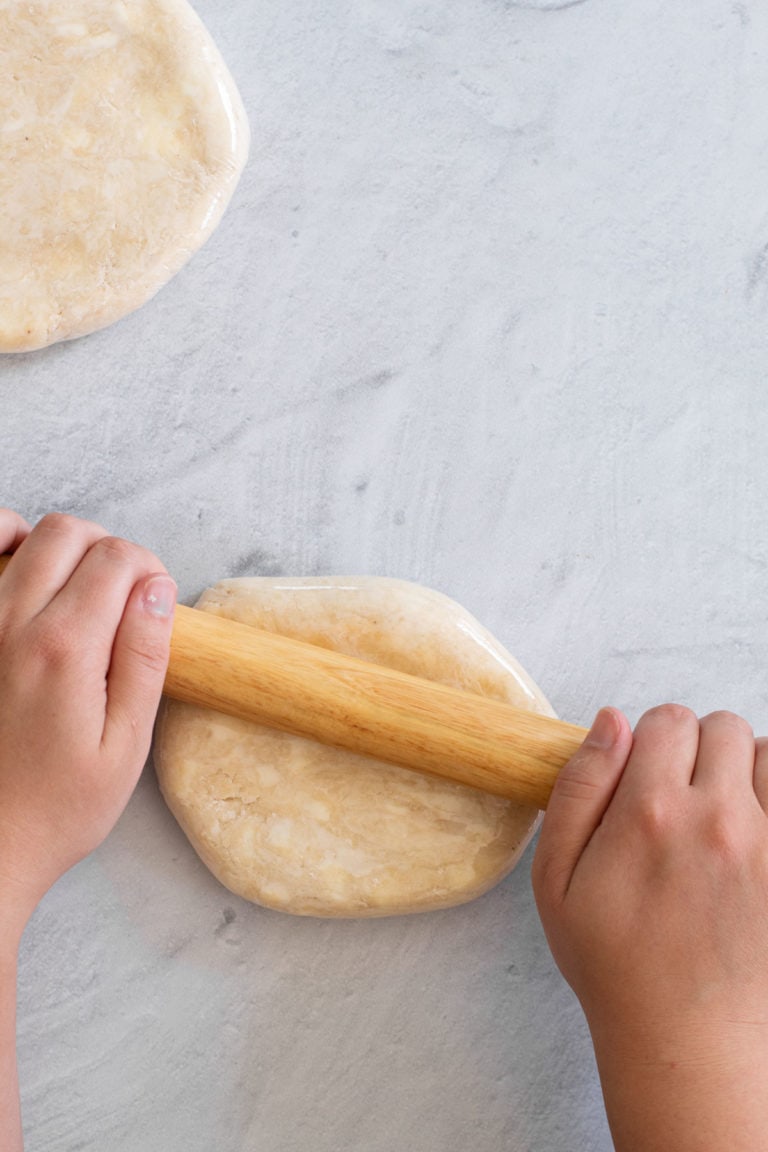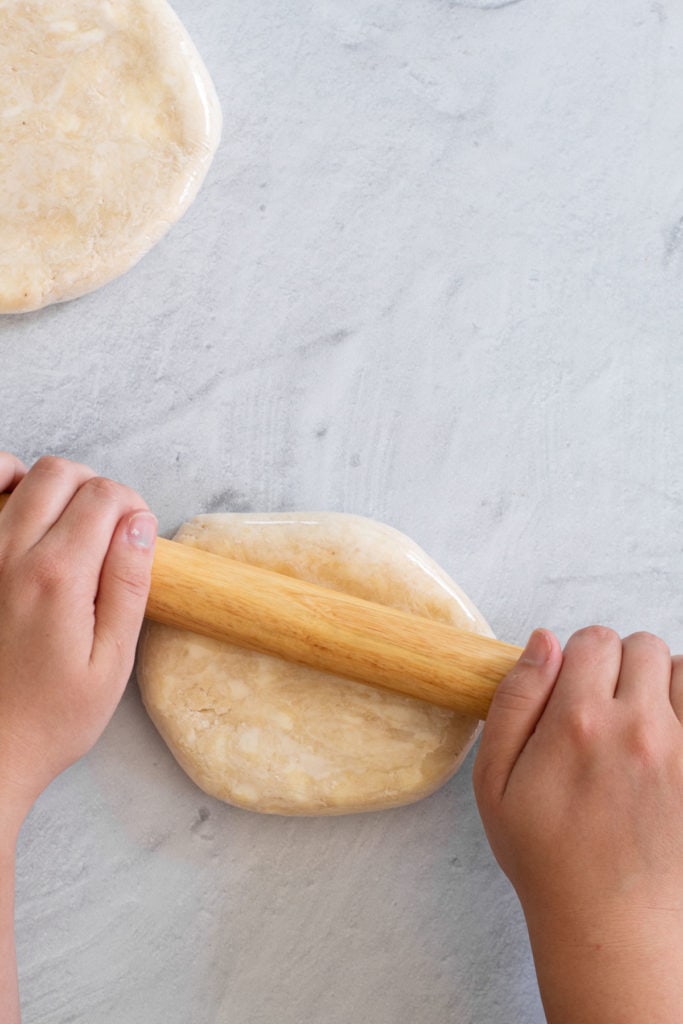 More Pie Crust Recipes:
Print
Full Recipe
How to Make Pie Crust By Hand
Maybe you're under the impression that making pie dough is difficult, but after learning this easy method, you'll be a pro! Making pie crust by hand will result in the flakiest crust. It's a method you'll come back to over and over.
Author: Kelli Avila
Prep Time:

00:15

Total Time:

00:15

Yield:

2-9" Pie Crusts
2

–

¾

cups (330 grams) all-purpose flour

2 tablespoons

(

14 grams

) cornstarch

½ teaspoon

salt

18 tablespoons

(

250 grams

) unsalted butter, chilled and cut into 1" pieces

1 tablespoon

(

15 grams

) apple cider vinegar

⅓ cup

– ½ cup (

80

-

120

grams) ice water
Instructions
In a large bowl whisk together the flour, cornstarch and salt.
Toss in butter and coat with flour. Using your fingers, squeeze and work the butter into the flour. Continue until most of the butter looks shaggy. Some larger pieces can remain, up to the size of a marble.
Add the vinegar to the water then drip in ¾ of it throughout the dough and toss together with your fingers. If there is enough water the dough should easily squeeze together with your hands. Drip in more water as needed, switching to a spatula if needed to make sure to get any dry spots moistened. Add just enough water to bring the dough together.
Using your hands gently bring the dough together as one large ball. Transfer the pastry to a work surface and divide it into two pieces, each about 12 ounces. Shape into a rough disk shape.
Place each in a piece of plastic wrap and wrap tightly.
Using a rolling pin, roll the wrapped dough out until it stretches to the corner of the plastic wrap.
Refrigerate for at least 2 hours, but preferably overnight
Notes
This post contains a ton of helpful information and tips. Please reference that if you have any questions, or feel free to comment below if you have one that is not answered.
This recipe makes enough pastry to make one double-crust pie or two single-crust pies. If you just want to make one single-crust pie, you can halve the recipe.
Keywords: How to Make Pie Crust by Hand
Some of the links on this page may be affiliate links. Everyday Pie is a participant in the Amazon Associates Program. As an Amazon Associate I earn from qualifying purchases, at no extra cost to you.