Pies can be daunting, especially if you've never baked one before. Having the right tools is key to setting yourself up for success. As a professional pie baker, I'm sharing the 9 most essential pie baking tools to have in your collection, along with a few optional items and 3 pie tools you can skip.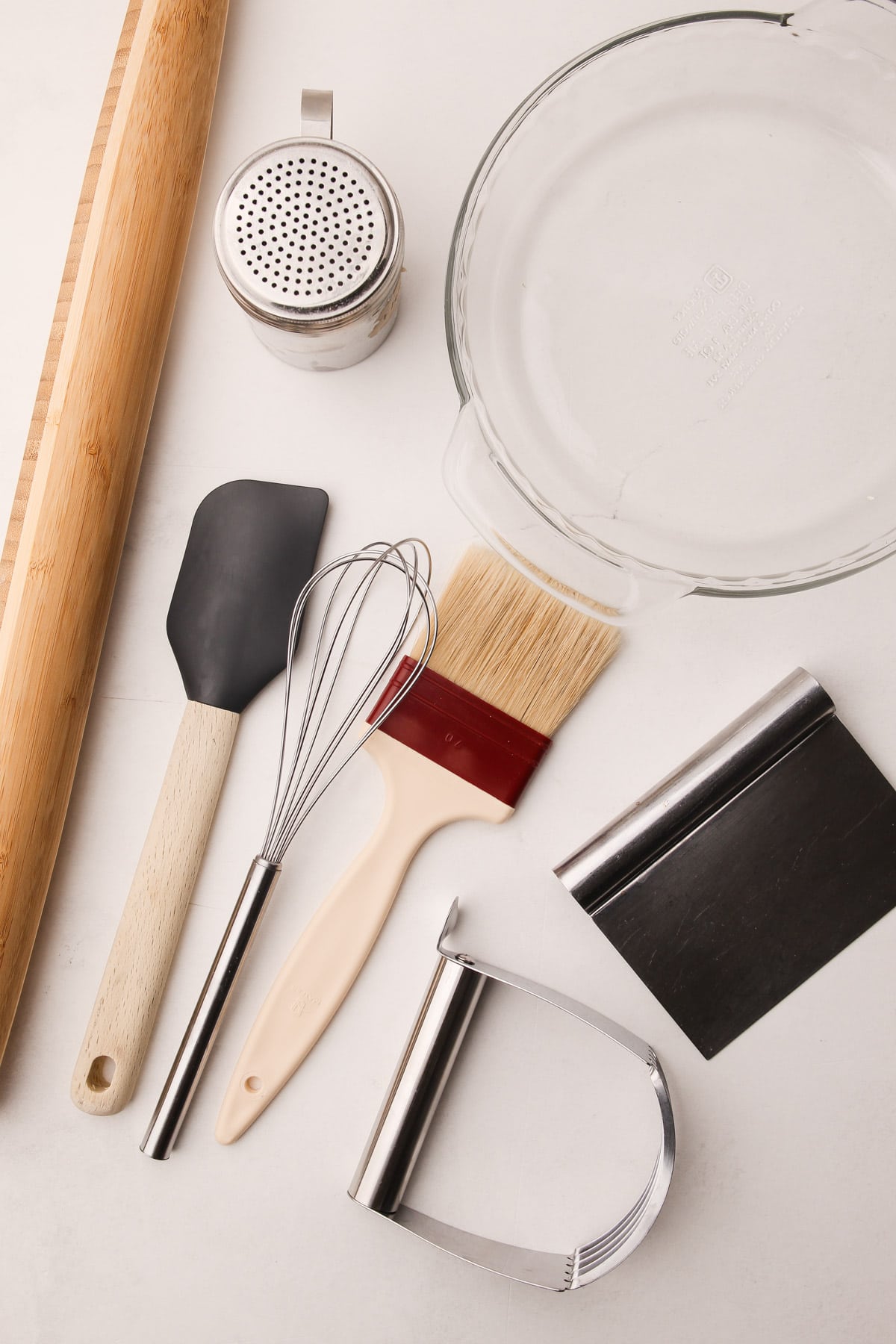 In culinary school, our chef instructors always emphasized how important it was to "have the right tool for the right job." In professional settings, where time is of the essence, it's even more essential. In the home kitchen, having the right tools can help a reluctant pie baker overcome their intimidation and set themselves up for success. The right tools will save you time and help you craft a beautiful and delicious pie.
After well over a decade making pies professionally in restaurants and bakeries and over the course of the many hundreds of pie recipes I've developed, I've compiled a list of 9 essential pie making tools, as well as a few "nice-to-have" tools that you might purchase over time. And since less is often more, I'm also sharing a few items I recommend against purchasing, and I'll explain why.
A Word on How This List Came Together
All of the tools I'm sharing here are truly ones I've been using both in and out of professional kitchens for a long time. However, because some of my tools are so old, the brand of product I recommend here might not be the exact version that is pictured. Instead, I've curated suggestions for those tools that are as similar as possible and from brands I know and trust.
I've also tried to keep the list short, and have therefore not included items that most basic kitchens already have, such as bowls, whisks, spatulas and measuring utensils.
Affiliate disclaimer: Most of the links on this page are affiliate links, meaning I may make a very small commission from products purchased at no extra cost to you.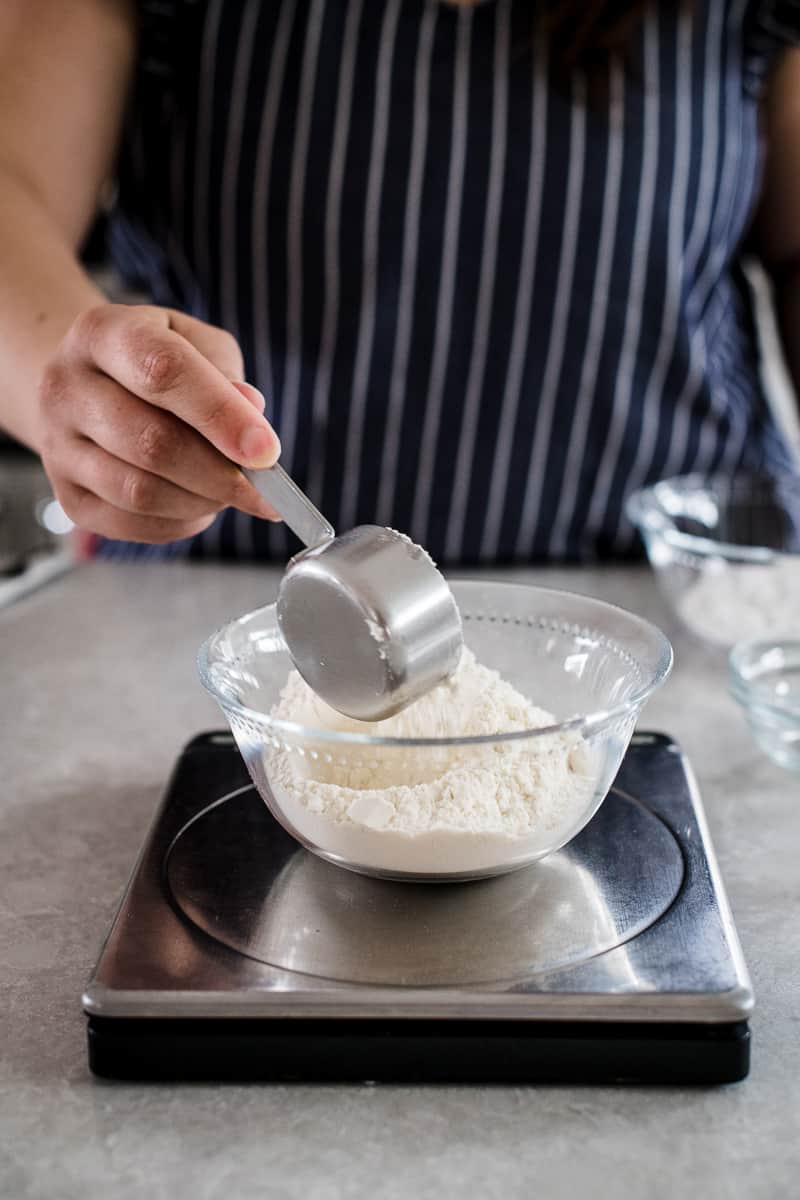 Kitchen Scale
Recommended Kitchen Scale: Here is the kitchen scale I use, and here is a less expensive option from the same brand.
There is no doubt about it: if you want to bake like a pro, you need to use a kitchen scale. Using a kitchen scale for baking (and cooking) is more accurate and leads to better baking results. They are not a big investment but will fundamentally change your baking and your baking routine for the better.
While I do list the cup measurements for the ingredients in my recipes, I personally never ever measure flour or other dry ingredients that way. I only use grams or ounces for measurement because there is too much room for error otherwise.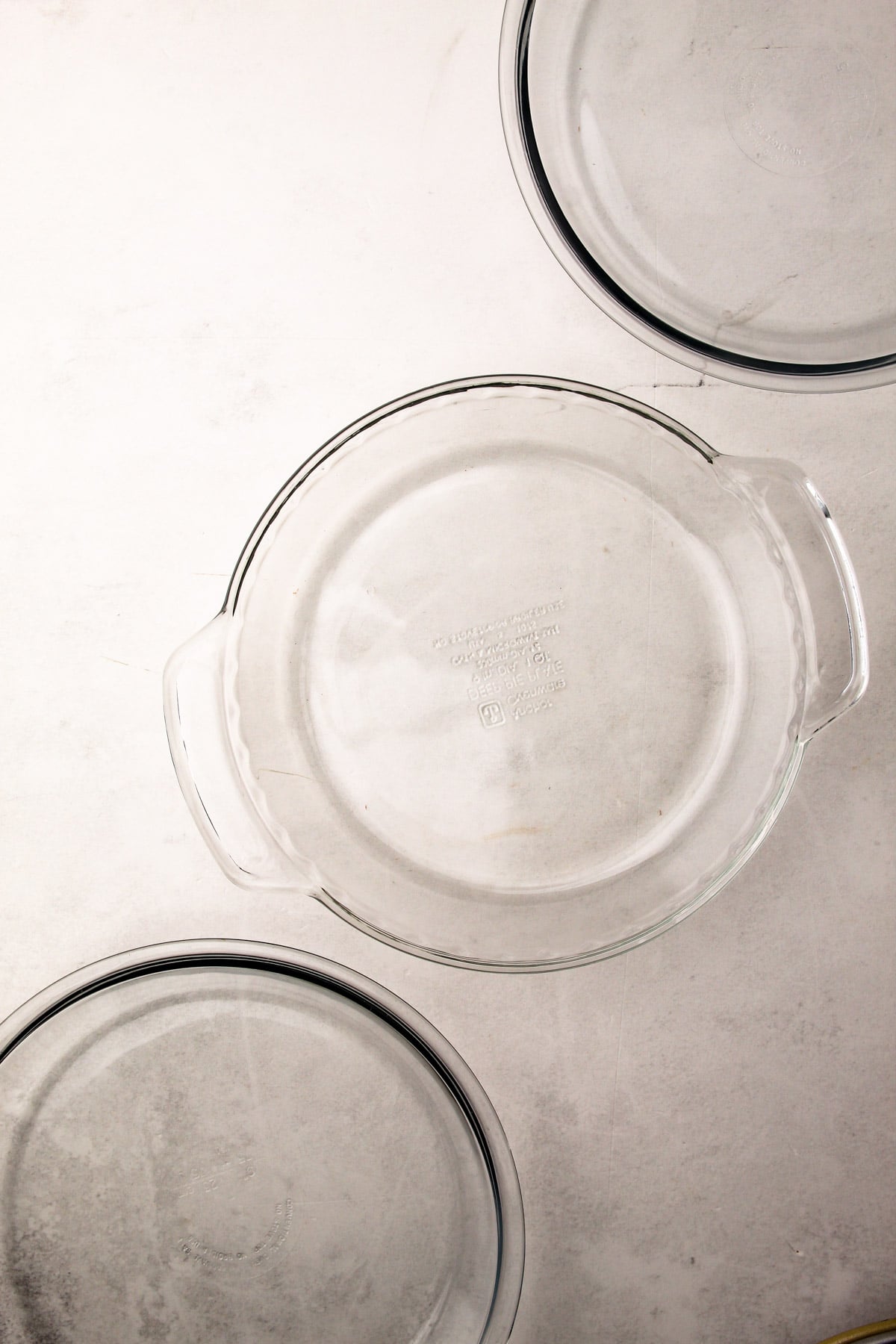 Pie Dish
Recomended Pie Dish: A 9-inch glass pie plate from Pyrex or from Anchor Hocking. Please note, it is so much less expensive to purchases these from a local thrift store. Many times, they're less than a dollar!
Overall, a glass pie plate is the quintessential pie plate no kitchen should be without. While I'd argue it's possible to successfully bake a pie in any pie pan if you follow the recipe and best pie baking practices, choosing the "wrong" type of pie pan can make that task an uphill battle.
Glass pie plates are cost-effective, so if you have to leave them behind at a party, it's nbd. The transparency of the glass allows for easy monitoring of pie doneness (though this shouldn't be the only thing you look for to tell when a pie is done baking). Although they might not conduct heat as efficiently as other materials like metal, their versatility makes them suitable for a variety of pie types, eliminating the need for multiple pans.
Want more details about pie plates? Check out this Guide to picking the best one for you.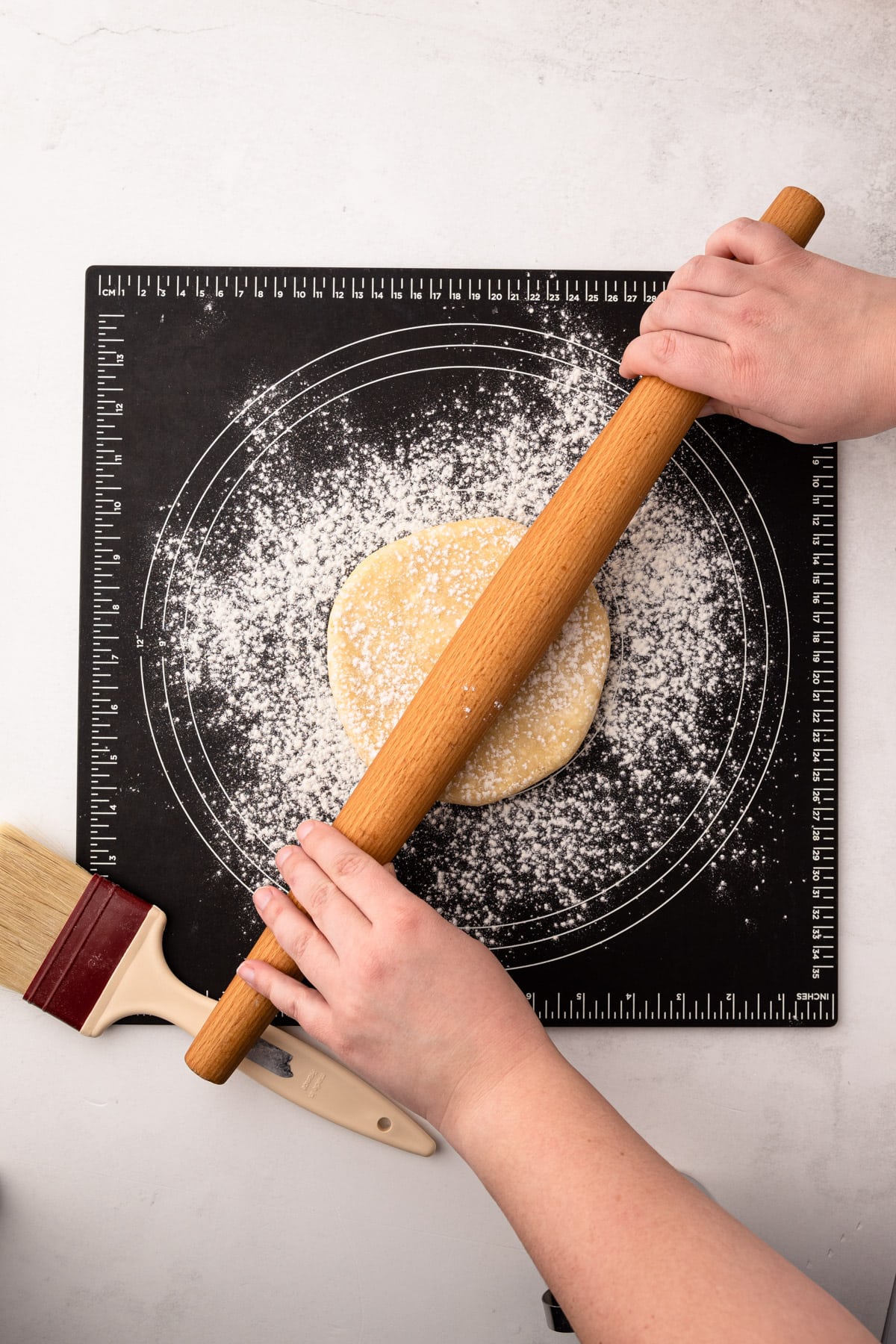 Rolling Pin
There are many different styles of rolling pins out there. My ultimate advice is to use the one you are most comfortable with, though I do have some opinions on which ones work the best.
Recommended Rolling Pins: Tapered Dowel and Straight Dowel
I actually use two rolling pins nearly every time I roll anything out, one tapered French dowel rolling pin and one straight dowel rolling pin. The tapered rolling pin gives me the best control over the pastry that I'm rolling out, and allows me to "send" the dough where I want it to go. For pies, that means in a nice circle shape (so I don't lose any pie pastry). The straight dowel rolling pin helps me get the pastry into an even thickness after it's in the shape that I want. If I had to pick one, it would be the tapered rolling pin.
I personally dislike the rolling pins with handles because they do not allow for very much control over the dough. But again, if that is what you are comfortable with, that is what is most important.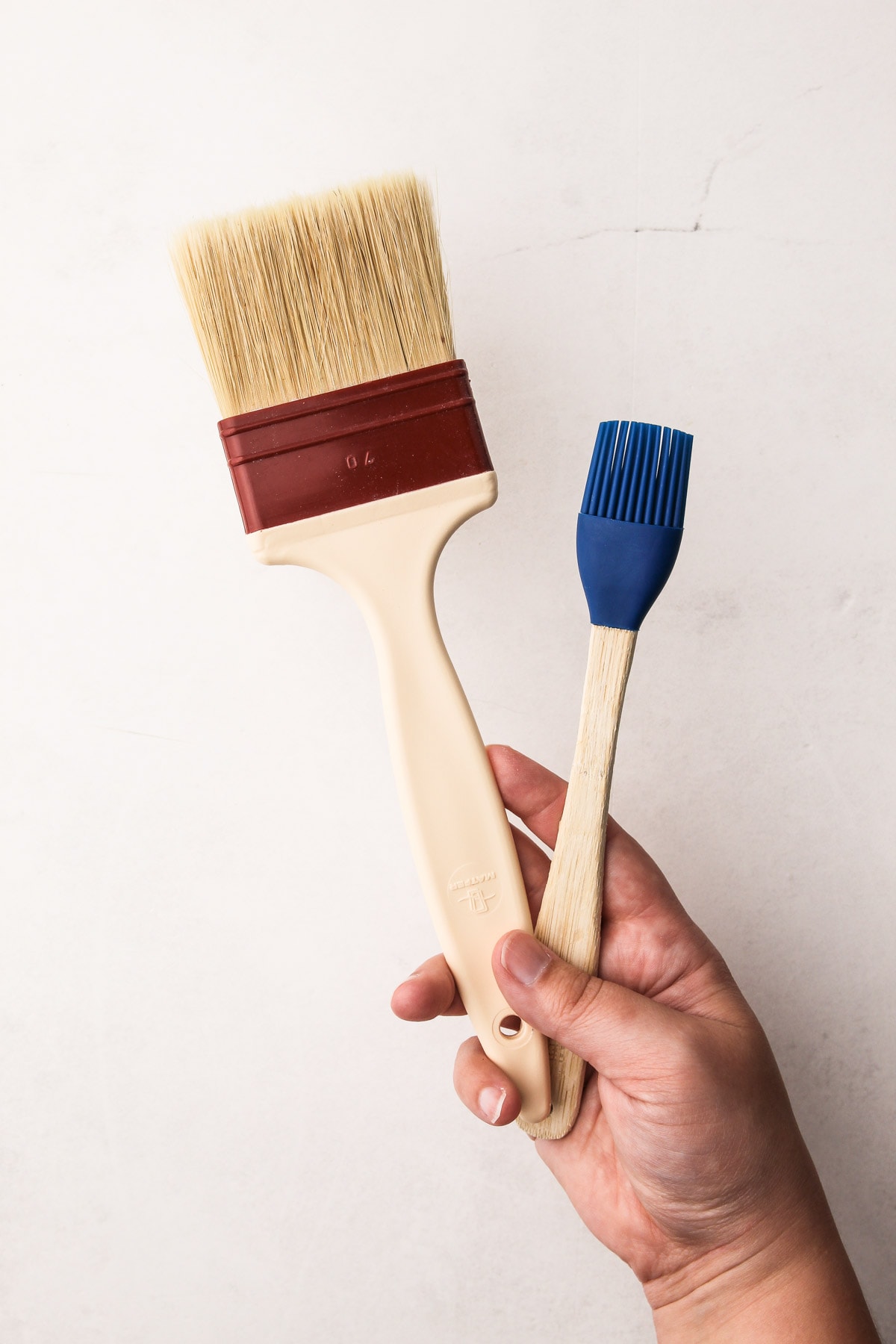 Pastry Brush
Whenever I roll pastry I have a dry pastry brush by my side.
Recommended Pastry Brushes: This is the best dry brush that will last a very long time, and this small silicone brush works well for applying an egg wash and similar tasks.
The dry brush is essential for brushing off excess flour from the pastry. This is especially true if you're working with a sticky dough that needs a lot of flour to roll out successfully. The dry pastry brush should be a natural bristle, it should always and forever stay a dry, and should only be used for working with pastry. It should be a one trick pony to ensure the bristles stay in good condition.
A second essential pastry brush is a silicone brush used for brushing on egg wash or cream. A small silicone brush is the perfect tool for this job because it easily can go in the dishwasher to get clean. Natural bristle pastry brushes are difficult to clean either by hand or in a dishwasher after getting wet or oily, and I don't recommend using them for any wet tasks.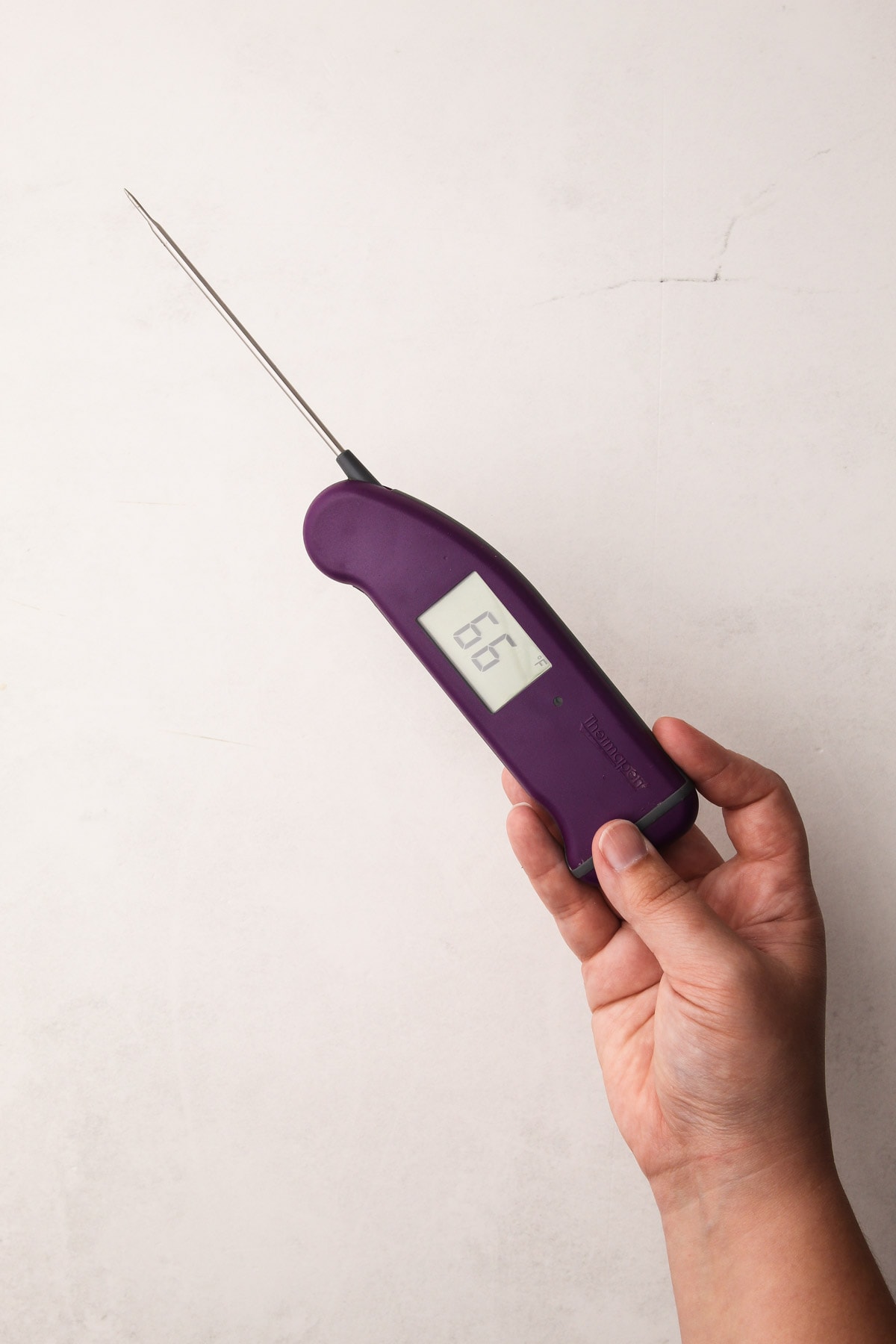 Instant Read Thermometer
A trustworthy instant-read thermometer is an indispensable tool in the kitchen, and especially with pies.
Recommended thermometer: Thermapen Classic
I take the temperature of nearly every pie that comes out of my oven, with the exception of pies that might not look great with a hole poked in them.
A fruit pie should reach an internal temperature of above 200ºF to ensure that the thickener is activated, and a thermometer is a great way to check.
I also use my Thermapen nearly daily for many other cooking tasks; this definitely isn't just for pie.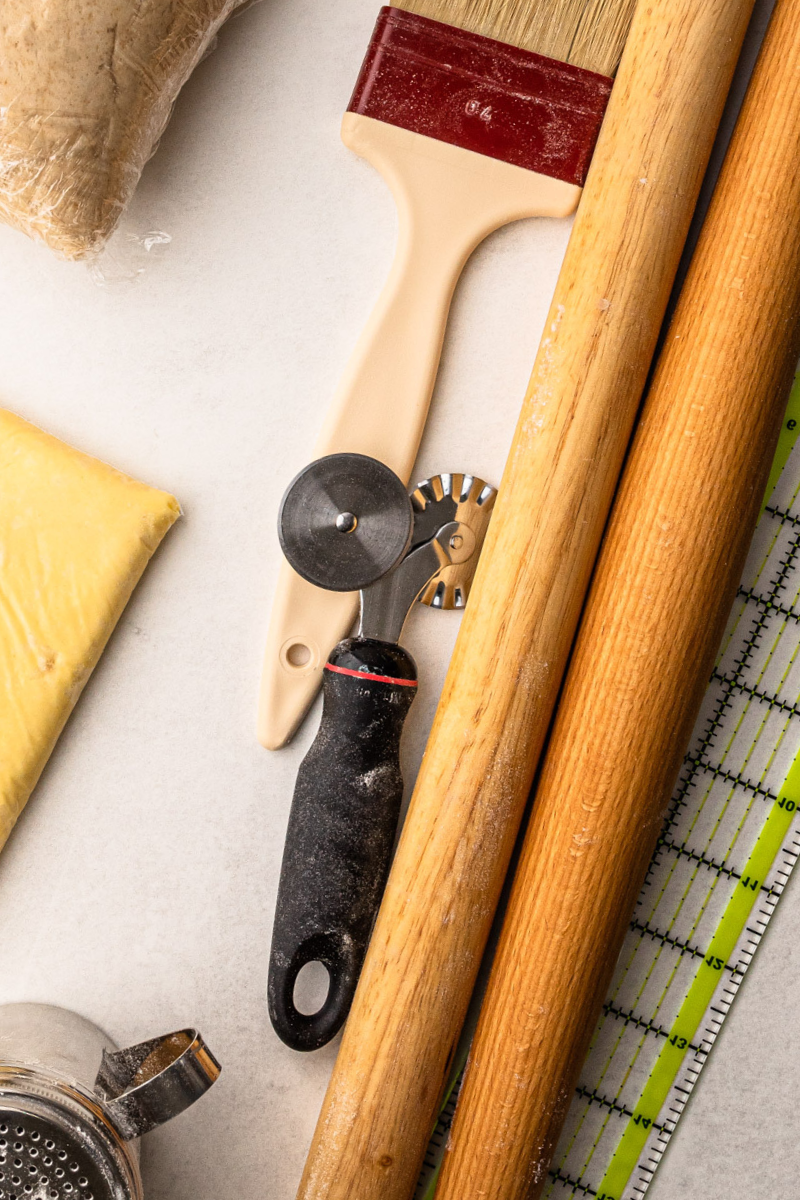 Ruler
Recommended Ruler: This quilting ruler is my favorite because it's large, clear, and has multiple line measurements. But any 12-inch clear ruler is also a great tool to have on hand.
A ruler is essential for ensuring your pie is rolled out to the correct diameter and thickness. It is also very helpful for making neat lattice strips. A ruler is also an incredibly useful tool for other pastries, such as croissants or homemade pop tarts.
Pastry Wheel
Recommended: Pastry Wheel
A pastry wheel is the best tool for cutting pie dough and making lattice strips. You could absolutely use a knife, but a pastry wheel makes the task easier and more precise. Bonus: if you get the one I recommend with a fluted cutter, you can make pretty scalloped edges as well.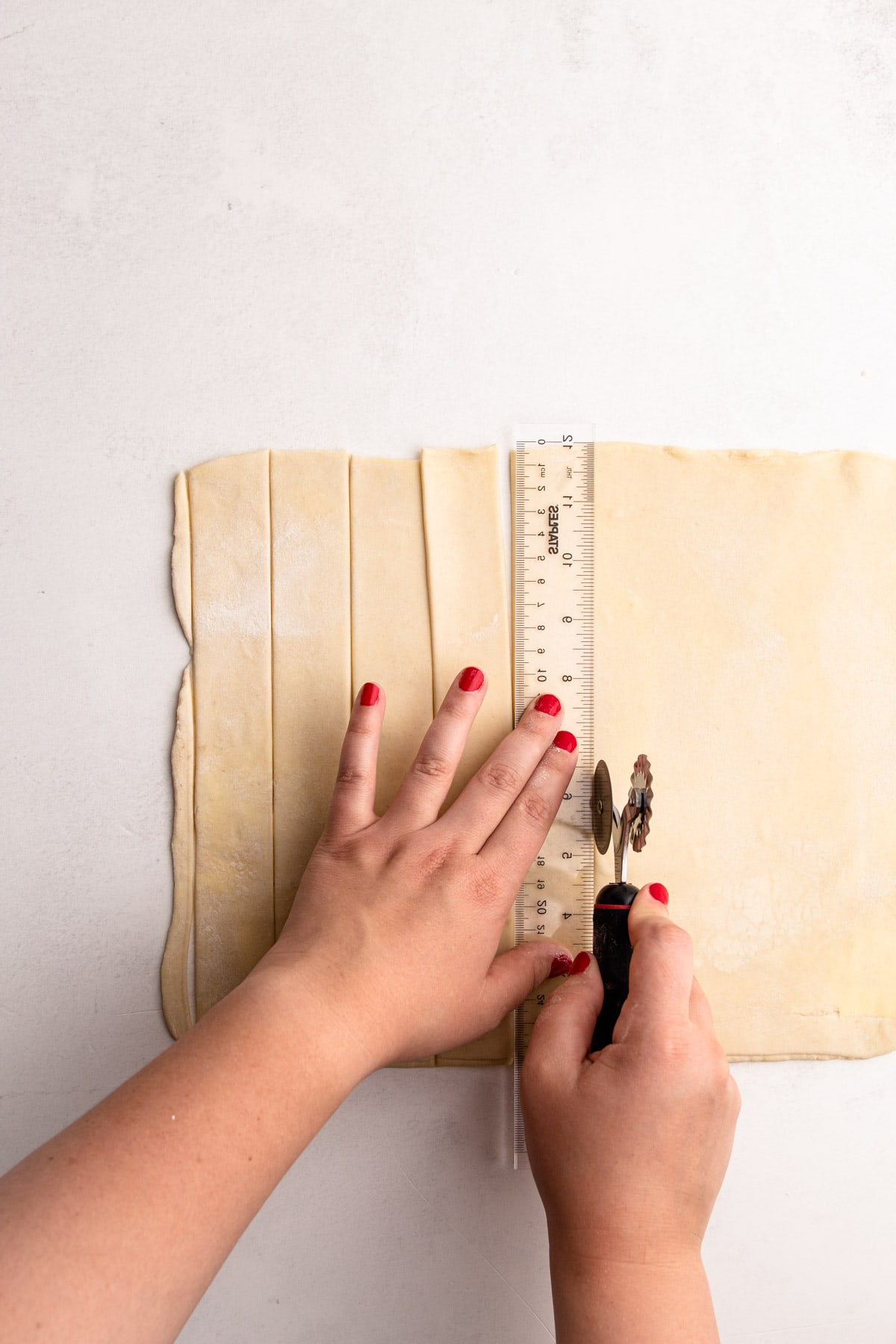 Rimmed Baking Sheet
Recommended baking sheets: I like this Nordicware half sheet pan for its versatility. I also have many sheet pans from a restaurant supply store that have kept in good shape for the last 15 years.
Never ever put a pie in the oven without a rimmed baking sheet underneath it. Double crust fruit pies are almost always going to have some juicy pie filling bubbling over the edges, and you don't want that on the bottom of your oven. It's also much easier to take a rimmed baking sheet out of the oven versus a hot pie plate with bubbling juices.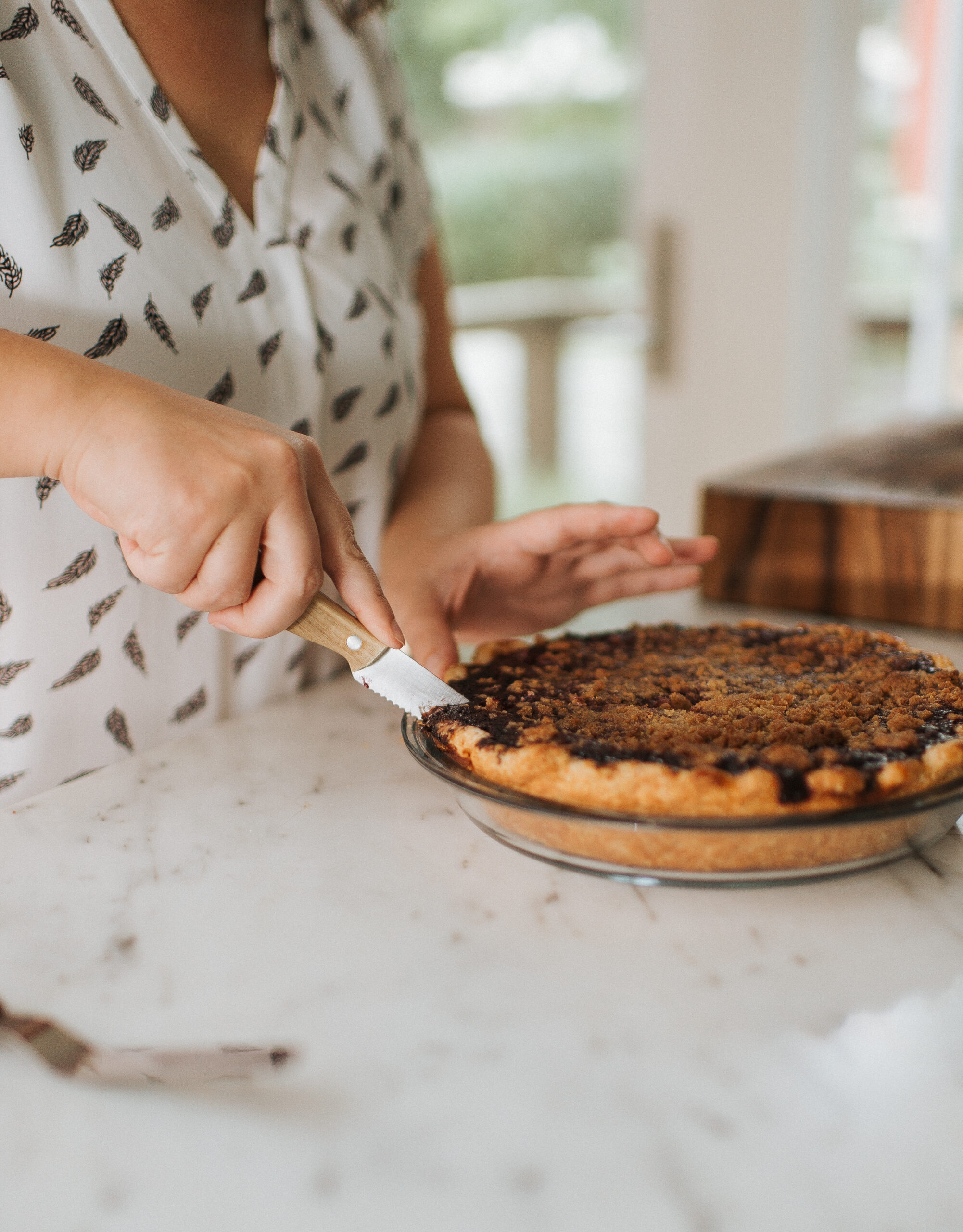 Serving Utensils
Recommending pie serving utensils: Serrated Knife and Mini Offset Spatula
What is a pie without some tools to cut into it and serve it? I almost always use a small serrated knife to slice through a pie, especially when it has a well-done crust. And I use a mini offset spatula that can bend to grab out the slice. I never ever use a pie server to remove slices because they don't bend well.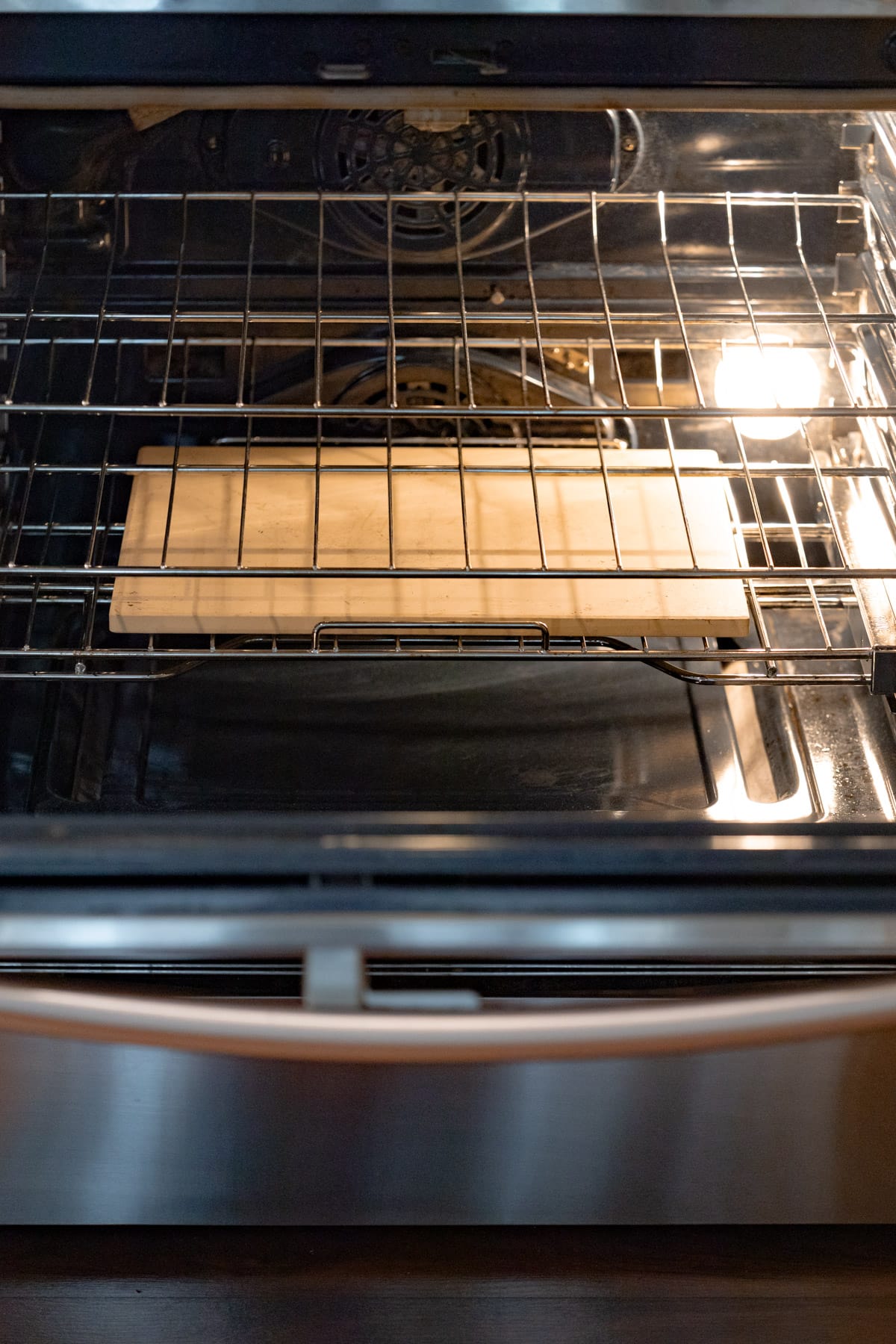 Not Essential, but Nice to Have
Here are a few extra items that aren't essential, but I use them quite frequently to make pies: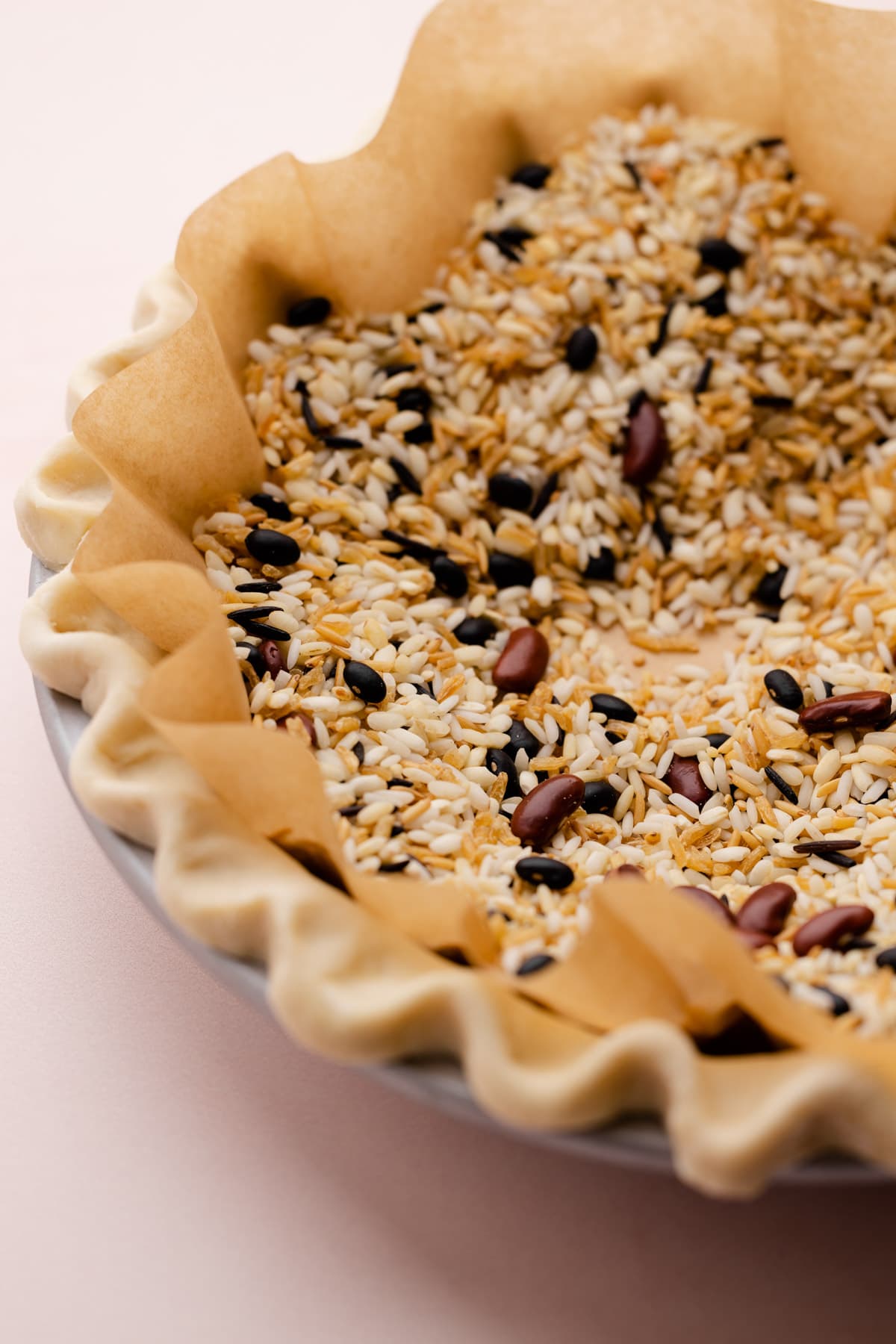 Tools to Skip
Now that we've talked about which tools I recommend for your kitchen, let me share a few items you can skip!
purchased pie weights: these are a waste of money, and they don't work well! It's best to use dried rice/beans/legumes or granulated sugar! Check out this blind baking article which goes into more detail.
pie shield: I have one, and I do use it occasionally, but using aluminum foil is just as effective!
pastry work surface: I have a few of these and find them unnecessary. Unless you don't have a good counter to work on at home, these can be skipped!
Pin it for later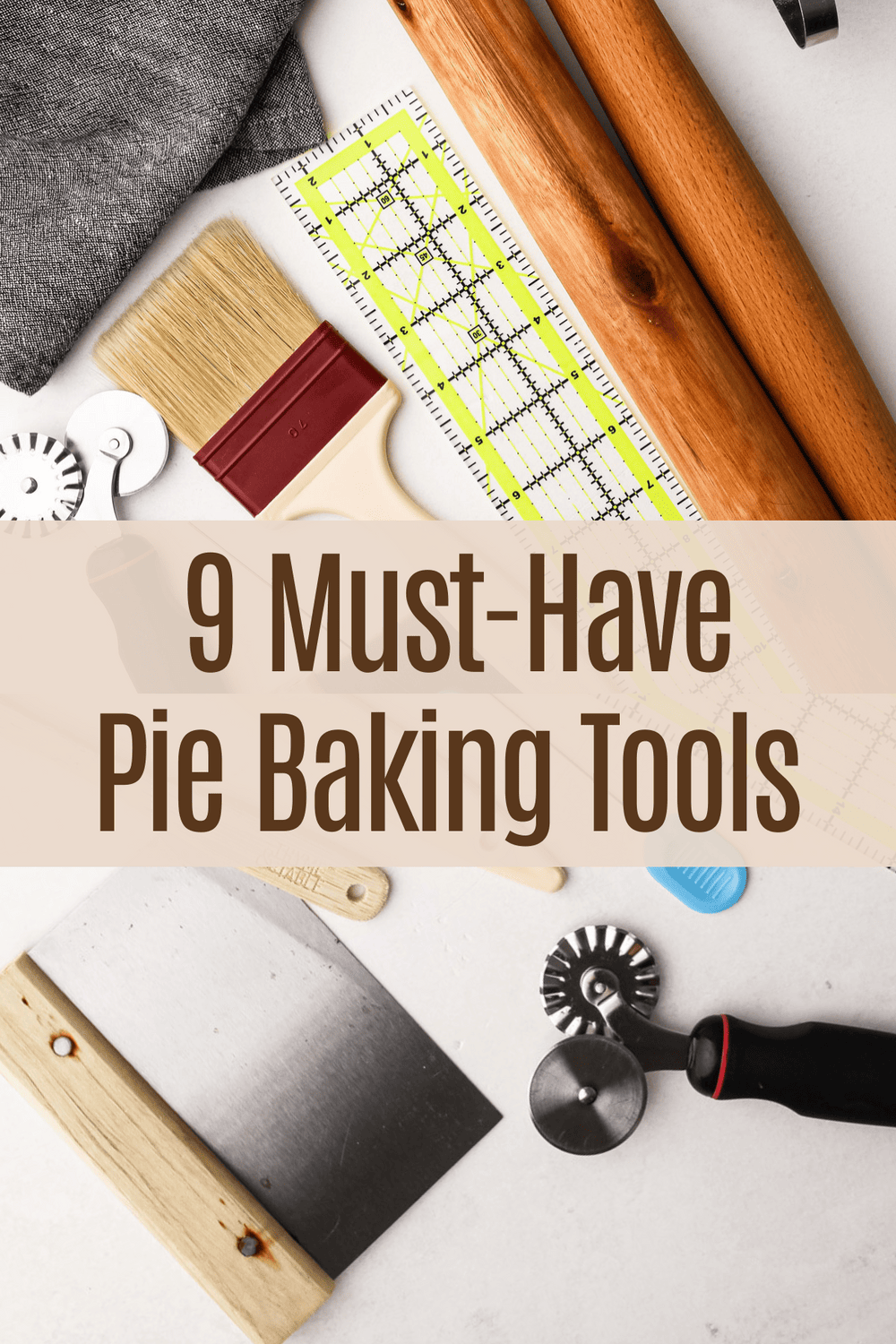 Some of the links on this page may be affiliate links. Everyday Pie is a participant in the Amazon Associates Program. As an Amazon Associate I earn from qualifying purchases, at no extra cost to you.