There is no doubt about it, if you want to bake like a pro you need to use a kitchen scale. Using a kitchen scale for baking (and cooking) is more accurate and leads to better baking results. They are not a big investment but will fundamentally change your baking and your baking routine.
Bake Like a Pro: Use a Kitchen Scale
If there is one tip I could give you to improve your baking it would be this: start using an electronic scale! Despite the large amount of resources out there telling you exactly how you can measure your flour with a cup measurement accurately, it simply cannot be done. When you fill a cup or spoon with any number of ingredients, the actual amount you measure out can vary greatly depending on many different factors. You can have two people standing next to each other with the same bag of flour and tell them to use one particular method for measuring it and those two people are still going to end up with two different amounts of flour per the 1 cup measurement.
So I'm here to tell you if you want to step up your baking game and come up with consistently good results you need to buy yourself a kitchen scale and undergo the very simply learning curve and start using one. I started using a kitchen scale 10 years ago and I've never looked back. While I do list the cup measurements for the ingredients listed here on this site I never ever personally measure flour or other dry ingredients that way, I only use grams or ounces for measurement because there is too much room for error otherwise.
Why You Should Be Using an Electronic Scale
It is more accurate: Measuring flour accurately with a cup measurement is hard. You can try to get the correct amount whether you scoop and level off, or sift and spoon it in, but there is just too much room for error. The next question then may be: why does it matter if the flour isn't measured correctly? Well simply put, it will mess up the recipe. Scooping out flour can be anywhere from 4 ounces of flour to 6 ounces of flour and that is a large range. Sometimes recipes are so precise that that extra 3 ounces (which is more than ½ cup flour) can make or break a recipe. But if you measure 5 ounces of flour on a scale it is always going to be 5 ounces, no matter what!
It uses less dishes: When you measure ingredients directly into a bowl using only 1 scoop or spoon it obviously uses less dishes than having to measure in all sorts of different cups and spoons. While I typically use a ½ or 1 cup measurement when I'm actually scooping the flour into the bowl on the scale, I stick to that same vessel for each thing I measure.
It's less messy: Aside from using less dishes, it's also much cleaner to primarily measure ingredients directly into the bowl. Who hates measuring out sticky ingredients like honey or molasses or olive oil? Using a scale eliminates the mess, plus it ensures all of the ingredient actually ends up in the recipe instead of on the measuring spoon or cup.
You can increase or decrease a recipe with each: How hard is it to increase or decrease a recipe when the measurements include something like 1-⅓ cup of flour? When you measure ingredients in ounces or grams can easily half the number of flour or increase!

How to Use an Electronic Scale
Place your empty bowl on the scale and press "tare" or "zero" or simply place the bowl on the scale and then press on. Before you measure the scale should read out as "0".
Add your ingredient until it reaches the number you would like. If your scale allows (and hopefully it does) you can easily switch between grams and ounces.
Before adding your next ingredient press the "tare" or "zero" button!
Trust me, it will become second nature before you know it! I have very little mathematical skills but with time I've memorized what I needed in order to cook and bake with a scale. But for this site, if it makes sense to use a scale instead of a cup or spoon measurement I will have given you the exact number you need in order to do it. If I don't include an ounce or grams number it's because I'm suggesting it's easier to measure it out a different way. For the record, I rely on King Arthur Flour's standards when I calculate how much an ingredient should weigh. I frequently rely on their Ingredient Weight Chart as a resource.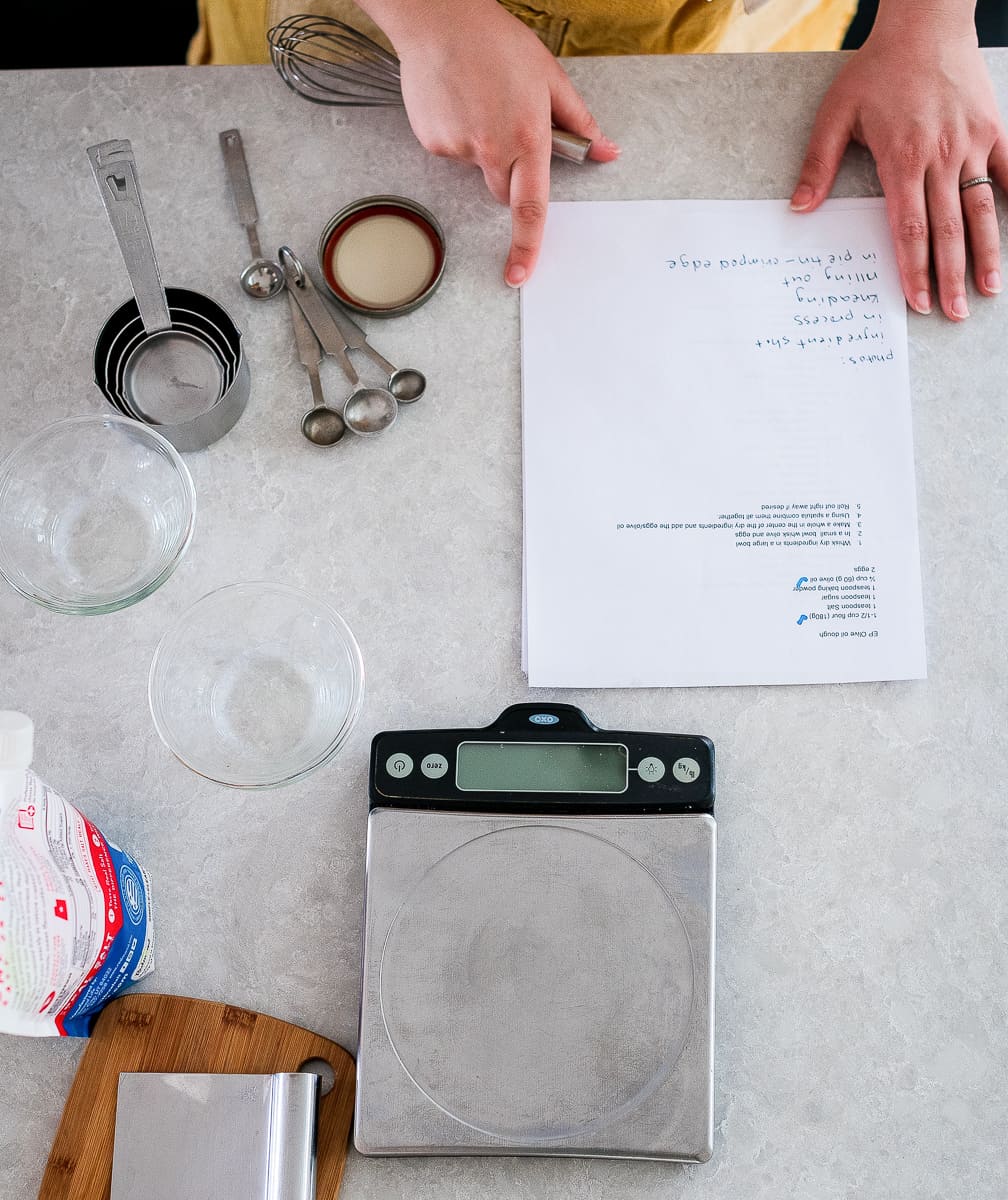 Why Type of Scale you Should Buy
Scales are not that expensive and they last a long time, even with frequent use. The model I use, and the one seen here in pictures, was purchased at least 5 years ago and has survived a lot of wear and tear (including being dropped on the floor several times). Look for an electronic one that has the ability to measure in both grams and ounces.
Which measurements are better made with standard measuring cups or measuring spoons?
There are some measurements that are easier to do without the scale. I do not measure baking powder, baking soda or salt on the scale. It is easy to get an accurate measurement with the measuring spoons but because it is such a small amount it can be difficult to get the same measurement on a scale, depending on the brand and model you are using. So I do use measuring spoons for those ingredients.
I also find it easy to measure small amounts of liquids in a measuring cup, though larger amounts tend to be easier on the scale.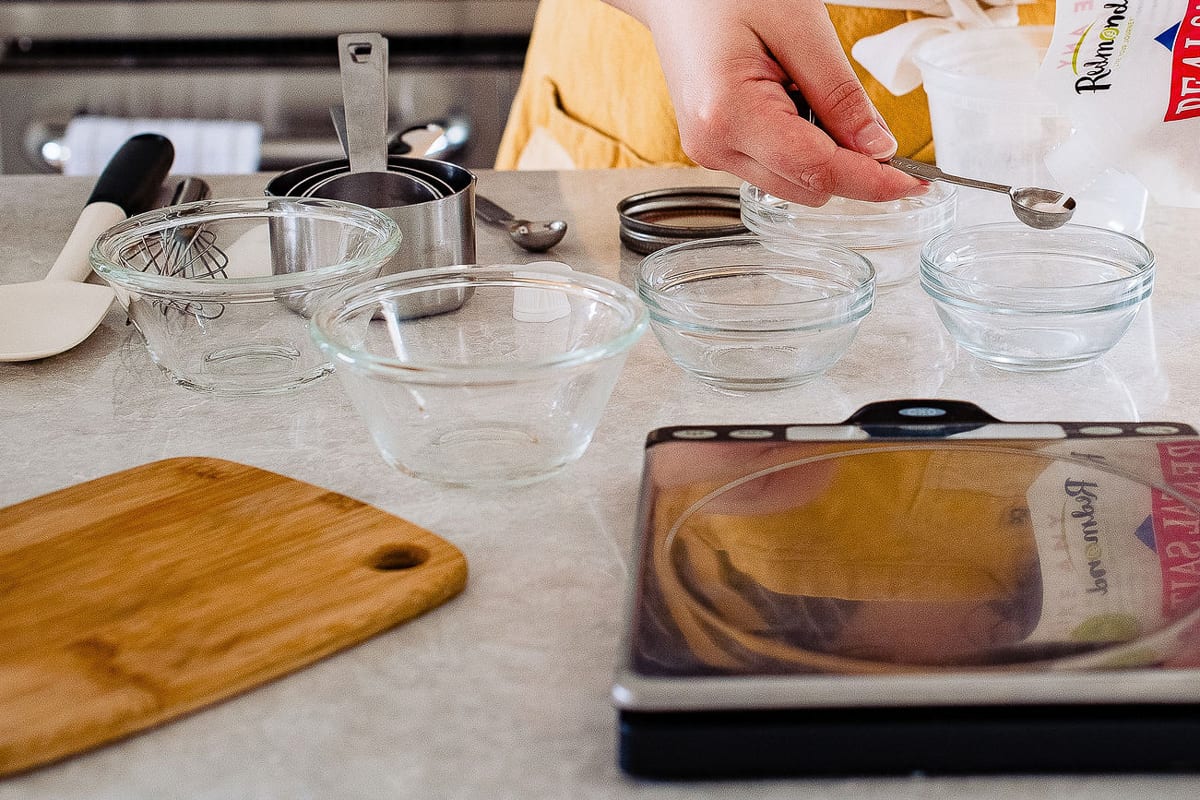 Do you have any questions about using an electronic kitchen scale? Drop them below and I'll be happy to answer them!
Some of the links on this page may be affiliate links. Everyday Pie is a participant in the Amazon Associates Program. As an Amazon Associate I earn from qualifying purchases, at no extra cost to you.