Step aside plain old apple pie, this Cinnamon Roll Apple Pie will win out every time. A flaky crust is filled with the best apple pie filling and topped with mini cinnamon rolls made from pie crust and baked up perfectly. Drizzle it with a cream cheese glaze and prepare to be blown away by how amazing this pie is. It tastes as good as it looks!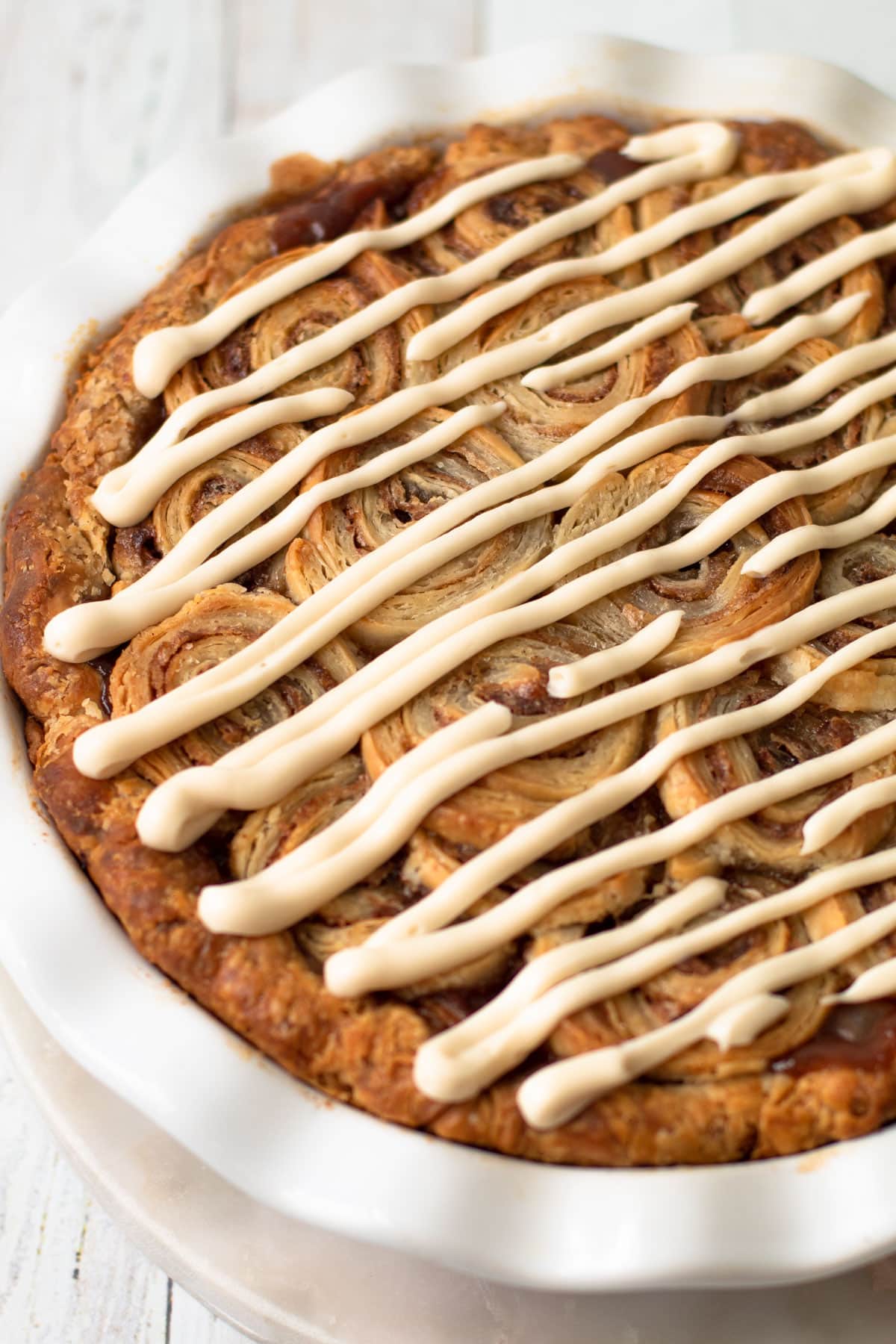 Cinnamon Bun Apple Pie
We all can agree that Apple Pie is one of the best pies out there. And we all know, cinnamon rolls are amazing. So, when you combine these two flavors in one pie, it's guaranteed to be a huge hit! This Cinnamon Roll Apple Pie may be a bit over the top, but it'll prove it's worth after the very first bite.
The cinnamon rolls are actually just made from the pie crust, simply by rolling out the dough and filling it with a thin layer of butter, cinnamon, and brown sugar. They're sliced to look like little cinnamon rolls and baked directly on top of a classic apple pie filling. The whole thing is drizzled with a quick cream cheese icing to really gild the lily.
This pie really brings that wow factor. It's a fun baking project, easily broken down into steps that are worth the effort needed to make it. Let's get baking, shall we?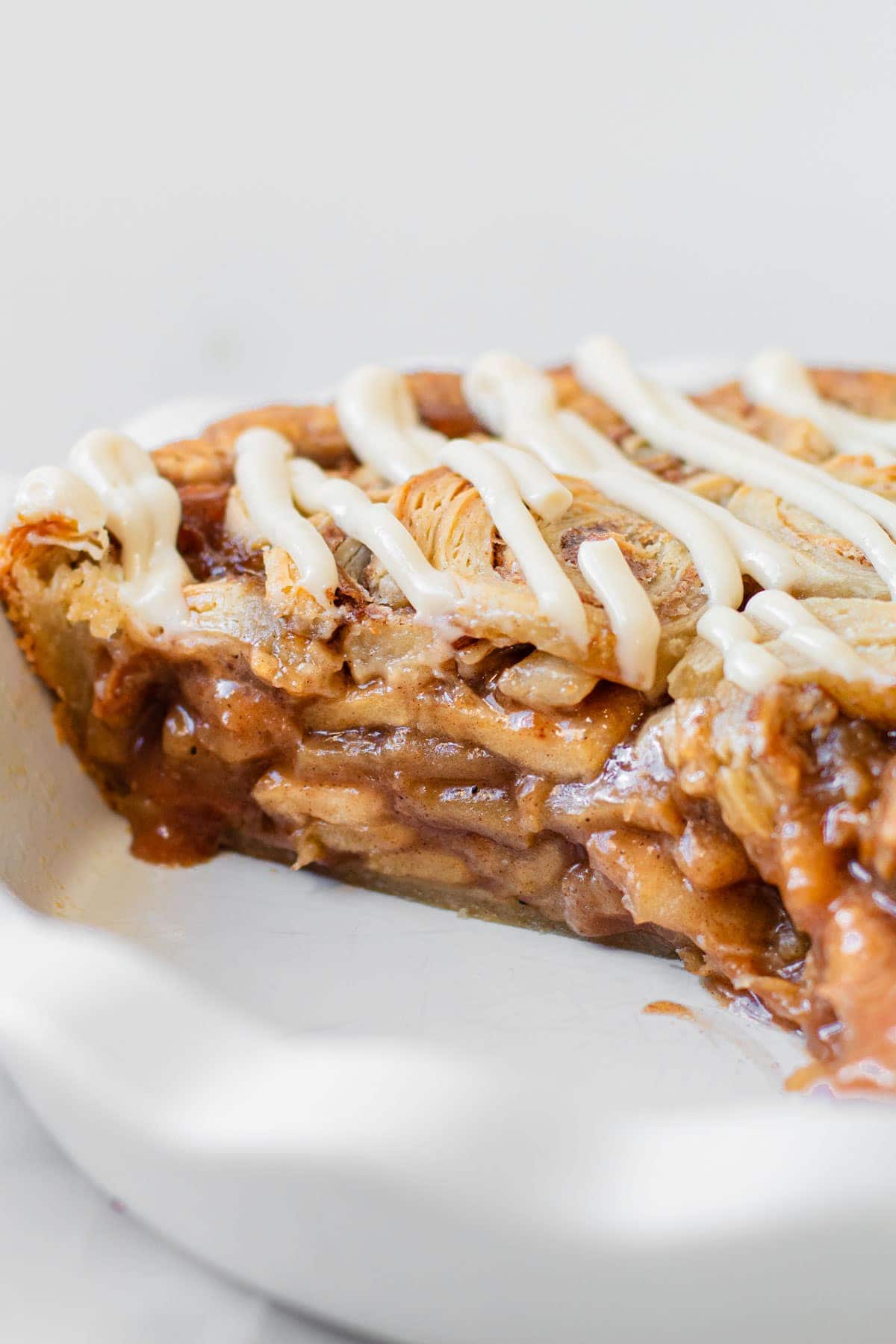 Overview of Steps to Make Cinnamon Roll Apple Pie
First, you need to make the crust! This recipe calls for 1 batch of Butter Pie Crust, which yields enough for a bottom and top crust. As always, I recommend you make the pie dough and let it rest at least overnight.
On the same day you make the pie crust, make the apple filling for this recipe. It needs to be as chilled as possible before baking. If you put the apple pie filling in the pastry while it's hot, it will melt the pastry!
Then, you'll need to roll out the bottom pie crust, and roll out the top to make the cinnamon rolls. To get the best-shaped cinnamon rolls, place the rolled-up cinnamon pie crust log in the freezer for about 15 minutes to chill before slicing.
Finally, the pie needs to be assembled and baked!
While it's baking you can assemble the cream cheese glaze. This pie should cool slightly before serving, just until it's slightly warm.
Tools Needed for this Recipe
Here is a list of some of the primary tools I used in this recipe. You won't necessarily choose to use them all, but they are exactly what I used here. Any links may contain affiliate links.
ruler
baking basics: knife, heavy pot, bowl, spatula, sheet tray, measuring cups, etc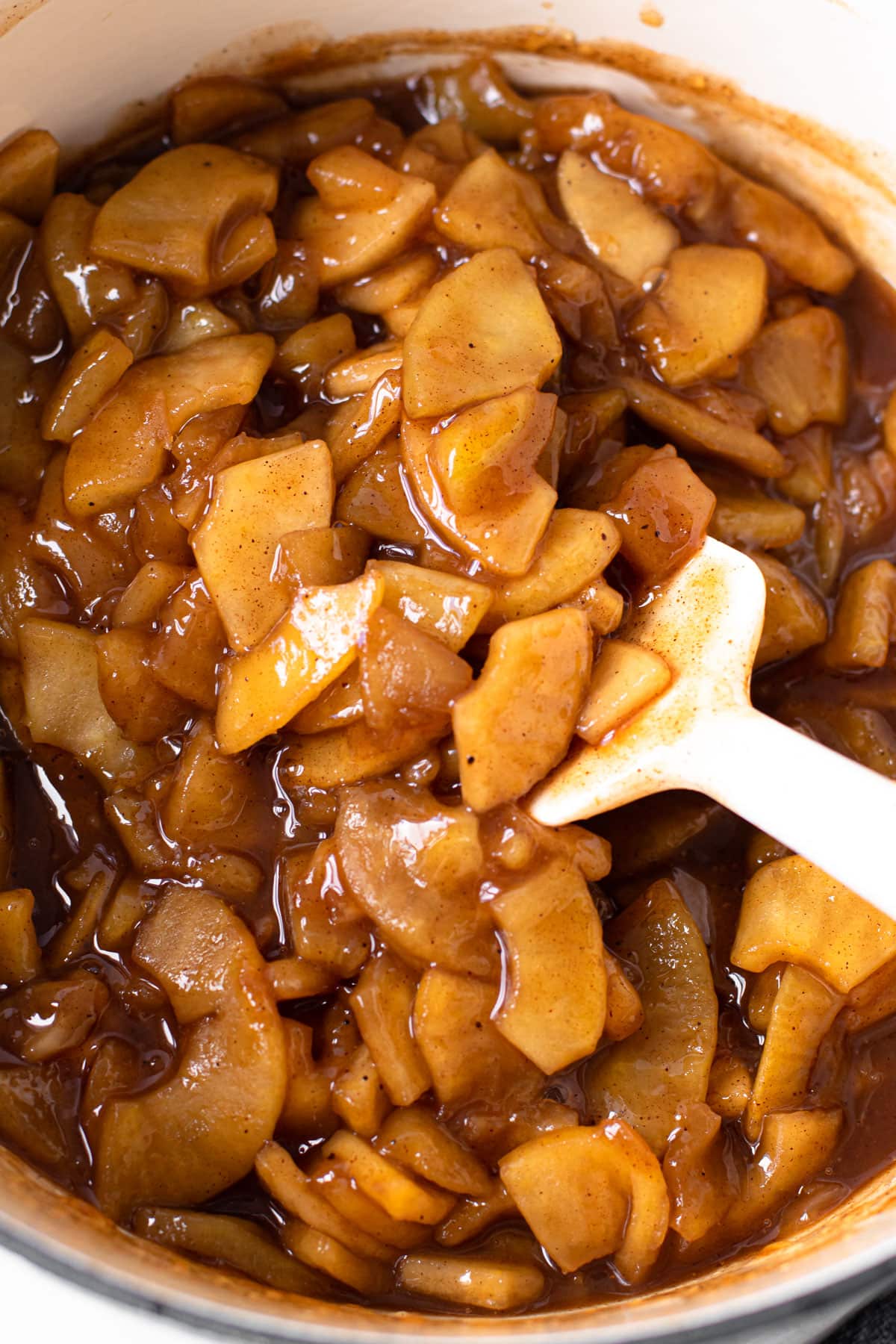 Best Apples for Baking
For pie, you want to have an apple that can hold it's shape, has a nuanced flavor, and a slight tartness to break up the sweetness of the sugar. Using a combination of apples is helpful because it introduces a few different types of flavors and textures to the pie. Gala and Granny Smith apples are both good choices for apple pie because they don't get mushy after a long bake in the oven, and they have a sweet and tart flavor to them.
Here are some options for baking apples:
Gala
Granny Smith
Cortland
Yellow Delicious
Braeburn
Pink Lady
Ginger Gold
Jonagold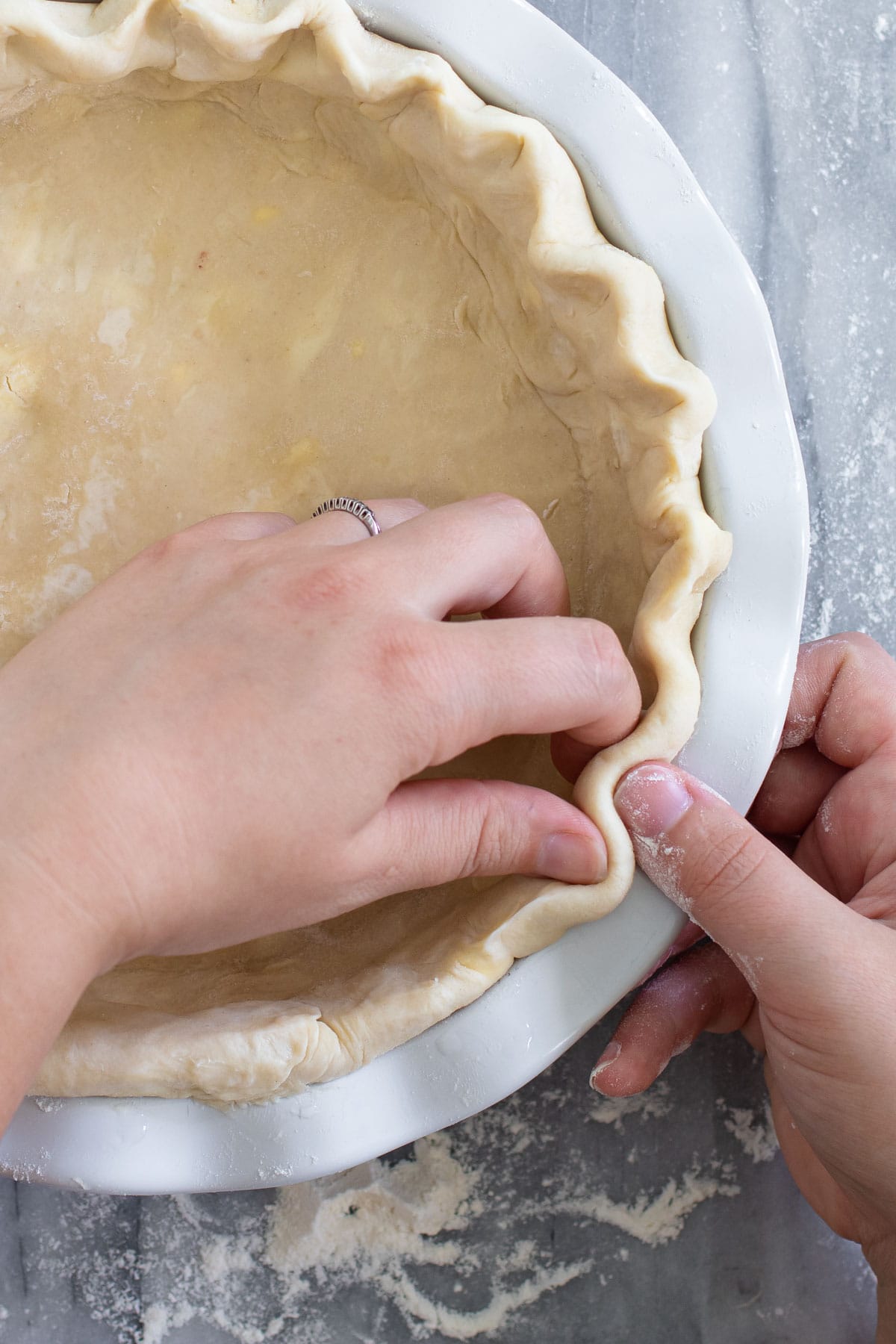 What causes apple pie filling to sink?
Apples have a ton of moisture. When the apples are cooked, they release their moisture and then shrink. When you bake an apple pie, naturally the apple filling will first puff up and then as it cools, it shrinks.
To avoid the filling from sinking too much and destroying the cinnamon rolls, it makes sense to pre-cook the filling.
Precooking the filling ensures that the apples are properly cooked, with the correct added thickener amount. This not only helps prevent any large gap between the crust and the filling, but it also reduces the actual baking time of the pie.
Without precooking, it might take more than an hour for this pie to fully bake. Because the apples are already cooked, the only thing you need to be concerned with during the bake in the oven is that the top and the bottom crust are fully browned and baked.
Making the Cinnamon Rolls
The little cinnamon rolls on top of the crust are created by rolling out pie dough to a rectangle, lightly spreading on butter, sprinkling it with cinnamon brown sugar, then rolling them up.
After the cinnamon roll log has been rolled up, it's best to place it in the freezer to firm up for about 10-15 minutes. This step ensures that when you slice into the pie dough it doesn't squish the cinnamon rolls down. This will help to form a rounded cinnamon roll. However this is optional and can be skipped if you don't care about how the cinnamon rolls look, or you just don't have the time.
Next, the cinnamon rolls are placed in a concentric circle on the pie. It's okay to overlap slightly to try to eliminate any large air holes.
The Cream Cheese Glaze
Just trust me when I say, don't skip the glaze! I tried to make this step as simple as possible by putting it together by hand, especially since it's a small amount of cream cheese glaze needed.
To make it, mash together the cream cheese and powdered sugar. When you get started, you'll feel like it will never come together, but it will. Once it looks like a paste, take a whisk and vigorously whip it together until it's creamy.
It's best to pipe this glaze. If you don't have a piping bag, you can simply fill a plastic storage bag with the glaze and cut off a little hole in the corner, then pipe it on.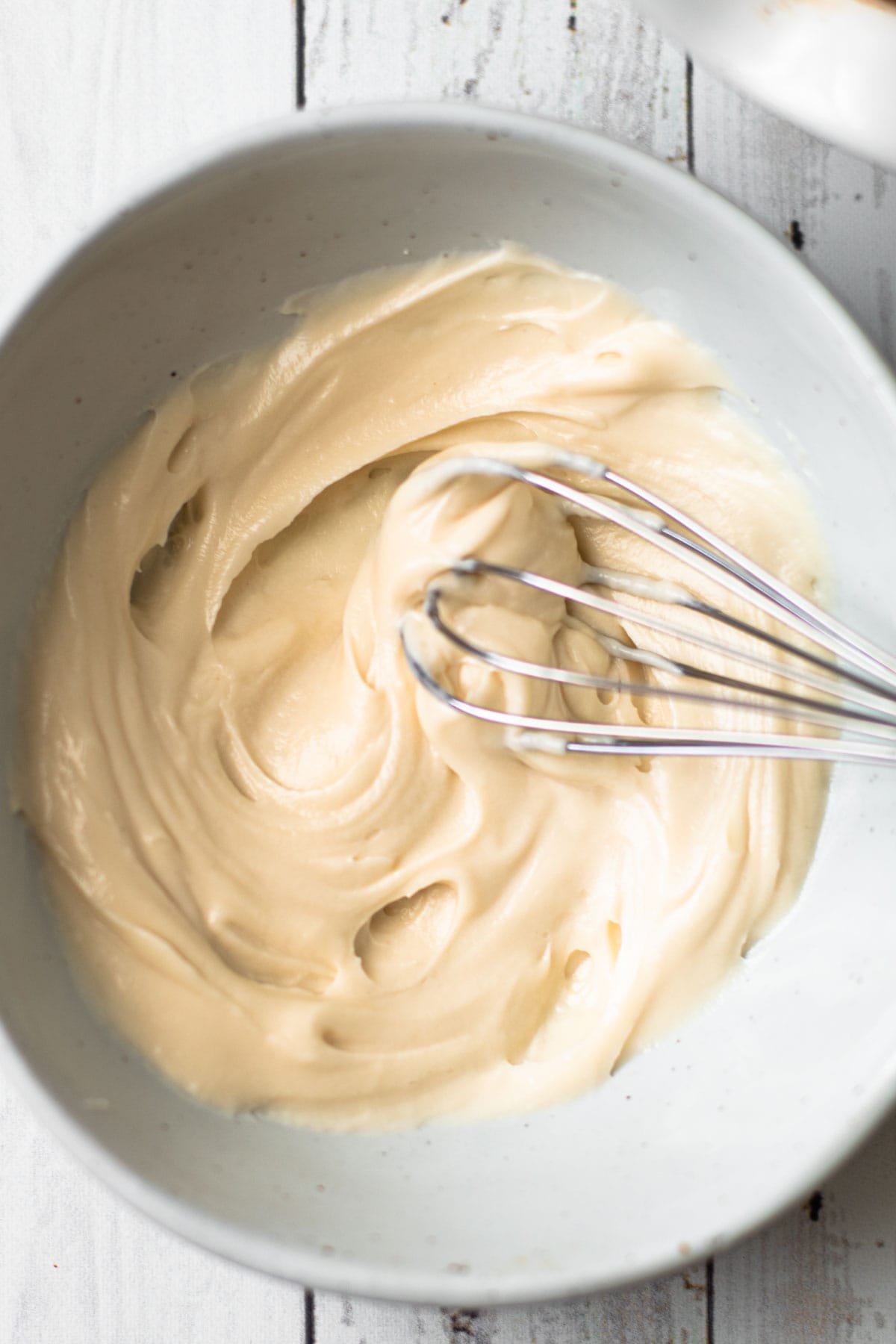 Make Ahead Tips
As with most pies, there are a few steps you need to complete to get to the finished product. A lot of these components can be broken down into steps and done ahead of time.
Make the Pie Dough Ahead
You can make the pie dough ahead of time. You can prepare the dough up to 2 days ahead, or up to 3 months in the freezer. You can roll out the pastry up to 1 day ahead of time. Roll out the bottom crust and place in a pie pan. Keep in the refrigerator, covered completely, until you are ready to make the pie. And make the cinnamon rolls at the same time, and cover completely.
Make the Apple Pie Filling Ahead
The entire filling can be made up to 7 days ahead of time. It can even be frozen for up to 3 months!
Prepare the Entire Pie Ahead of Time
Fruit pies are great to prepare ahead of time in totality, up until the point of baking. To freeze this pie, place the whole pie on a sheet pan first, and place in the freezer. Once frozen (at least 12 hours), wrap the whole pie in plastic wrap VERY TIGHTLY twice, and then cover with aluminum foil. Don't forget to label it!
It is best to cook any frozen pie within 3 months, because the longer it is stored in the freezer, the less pronounced the flavor is. However, you can wait as long as about 1 year if frozen properly.
How to Bake it From Frozen
You can actually bake a fruit pie directly from the freezer. In my opinion, doing this is even better than a fruit pie baked from fresh. The reason being that the crust has a chance to cook first, before the filling does, so you can ensure you have a beautifully crisp crust and perfectly cooked filling, even for this pie with a pre-cooked filling.
Unwrap the frozen pie and let sit at room temperature for 10-15 minutes, or until the dough is tacky. Pre-heat oven to 425ºF.
Bake on the lower-middle rack for 10 minutes.
Lower the oven temperature to 400º for another 50-60 minutes, or until the pie filling is bubbling or has reached an internal temperature of above 170ºF. Cover the pie with aluminum foil if it is browning too quickly.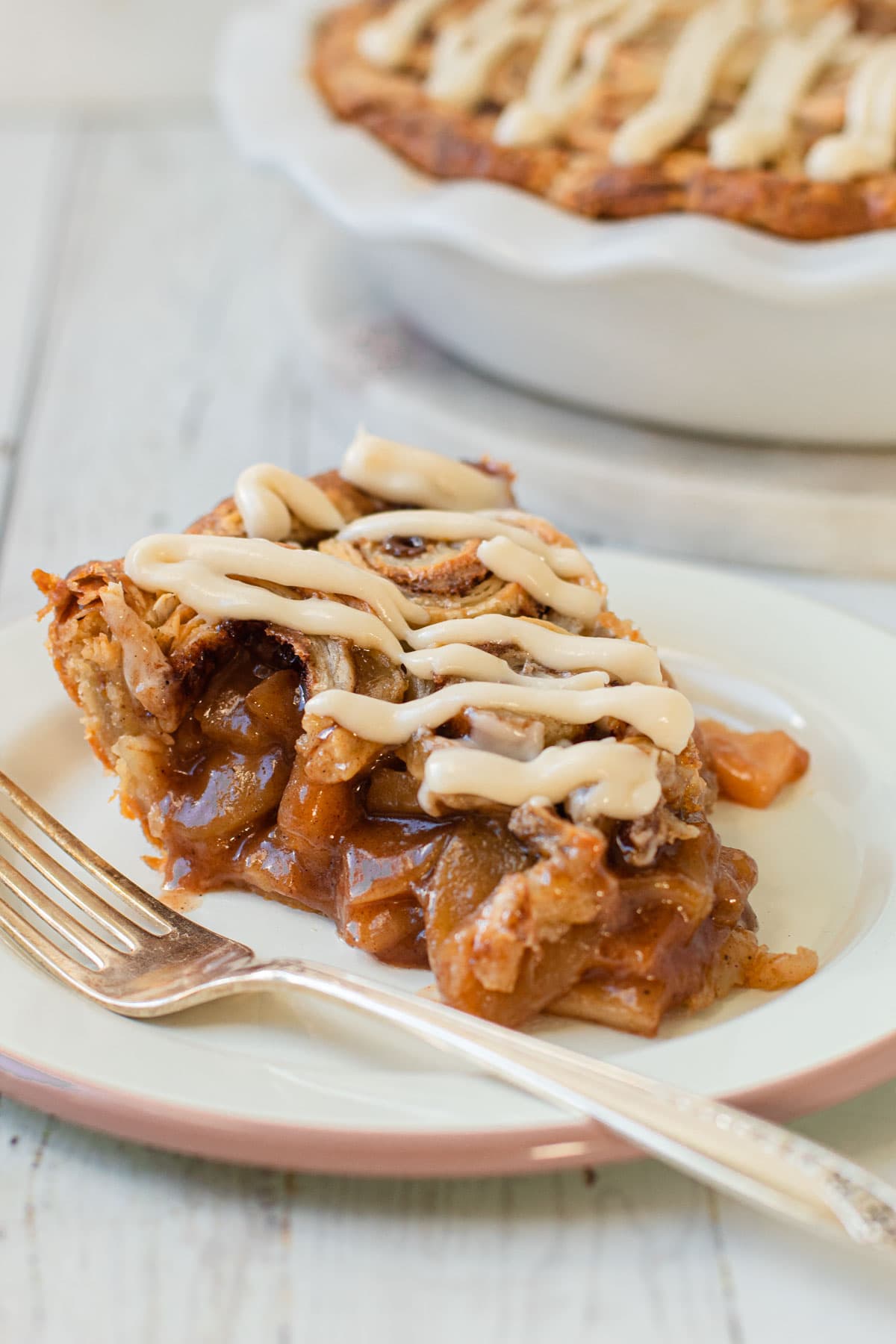 Other Apple Pie Recipes:
Print
Cinnamon Roll Apple Pie
Step aside plain old apple pie, this Cinnamon Roll Apple Pie will win out every time. A flaky crust is filled with the best apple pie filling and then topped with mini cinnamon rolls made from pie crust and baked up. Drizzle it with a cream cheese glaze and prepare to be blown away by how amazing this pie is. It tastes as good as it looks!
Author: Kelli Avila
Prep Time:

00:30

Cook Time:

1:00

Total Time:

01:30

Yield:

Serves 8-10

Category:

Sweet Pie

Method:

Bake
For Pie Dough:
For Apple Filling:
3

pounds (about 7-9 apples) baking apples, peeled, cored and sliced thinly (Gala and Granny Smith are best)

1 tablespoon

lemon juice

½ cup

(

100 grams

) brown sugar, packed

¼ cup

(

50 grams

) granulated sugar

1

–

½

teaspoon ground cinnamon

¼ teaspoon

salt

¼ teaspoon

grated nutmeg

2 tablespoons

(

14 g

) cornstarch

¾ cup

+

2 tablespoons

fresh apple cider, divided

2 teaspoon

vanilla extract

2 tablespoons

(

30 grams

) unsalted butter
For Cinnamon Rolls:
1 tablespoon

(

15 grams

) unsalted butter, softened

⅓ cup

(

70 grams

) brown sugar, packed

½ teaspoon

cinnamon
Pinch salt
Cream Cheese Glaze:
2 tablespoons

(

30 grams

) cream cheese, softened

4 tablespoons

(

30 grams

) powdered sugar

1

-

2

teaspoons cream
Instructions
Make pie crusts, and let rest overnight.
Make Apple Filling:
Add apples, lemon juice, brown sugar, granulated sugar, cinnamon, salt, and nutmeg to a heavy bottom pot. Stir together and let macerate at room temperature for about 15 minutes. Add ¾ cup of apple cider to the pot, and stir the apples one more time.
Turn the heat to medium and begin to cook the apples, stirring occasionally to make sure the apples cook evenly. Cook until the apples have softened, about 10 minutes, making sure not to cook off all of the liquid. If the liquid does cook off quickly, add ⅓ cup more apple cider to the pot.
Create a slurry by whisking together the cornstarch and remaining 2 tablespoons apple cider together in a small bowl.
Pour the cornstarch slurry into apples and stir together until dissolved. Continue cooking until the mixture is thickened, about 2-3 minutes.
Remove from heat and stir in the vanilla and butter.
Let apple mixture cool completely, and then transfer apples to a glass storage container.
Roll Out Pie Crust and Make Cinnamon Rolls
Roll out one pie dough to a 12 inch circle. Fit pastry in a 9" pie plate, making sure to press the pastry into the sides and the bottom, tucking in and crimping the edges as desired. Place in the refrigerator.
Roll out the top crust to a rough 12 x 6 inch long rectangle. Using your hands, rub softened butter on top, leaving a ½" border on one side.
Mix together brown sugar, cinnamon and salt in a small bowl.
Sprinkle the brown sugar mixture on top of the butter.
Starting on one side, tightly roll up the dough. Place on a baking sheet and place in the freezer for 10-15 minutes, until quite firm.
Then slice into ½ inch slices.
Fill and Bake the Pie
Preheat the oven to 425ºF and set the rack in the lowest part of the oven. Stick a baking sheet in the oven while it's preheating.
Pour the cooled apple pie filling inside of the pie crust, making sure to press down on the filling to eliminate any possible air gaps.
Place the cinnamon rolls on top of the filling in a concentric circle, or as desired, leaving little to no gaps in between them. It is ok to slightly overlap.
Bake the pie on a hot sheet pan in the preheated oven on the lowest rack for 45-55 minutes, or until the cinnamon rolls are nicely golden brown.
While the pie slightly cools, mash together the cream cheese and powdered sugar until it is combined. Add in the cream and vigorously whisk until it is smooth. Place the glaze in a pastry bag (or a plastic sandwich bag with the corner cut off) and pipe the glaze over the top.
Notes
The body of this post has a lot of information about this pie, reference that if you have any questions!
Keywords: Cinnamon Roll Apple Pie
Some of the links on this page may be affiliate links. Everyday Pie is a participant in the Amazon Associates Program. As an Amazon Associate I earn from qualifying purchases, at no extra cost to you.