A rich supreme pizza filling is sandwiched between flaky pie dough, sprinkled with parmesan cheese and Italian seasoning and then baked off to make for a flaky iteration of pizza night! Supreme Pizza Hand Pies work just as well for dinner, or even for a fun lunchbox treat for the kids.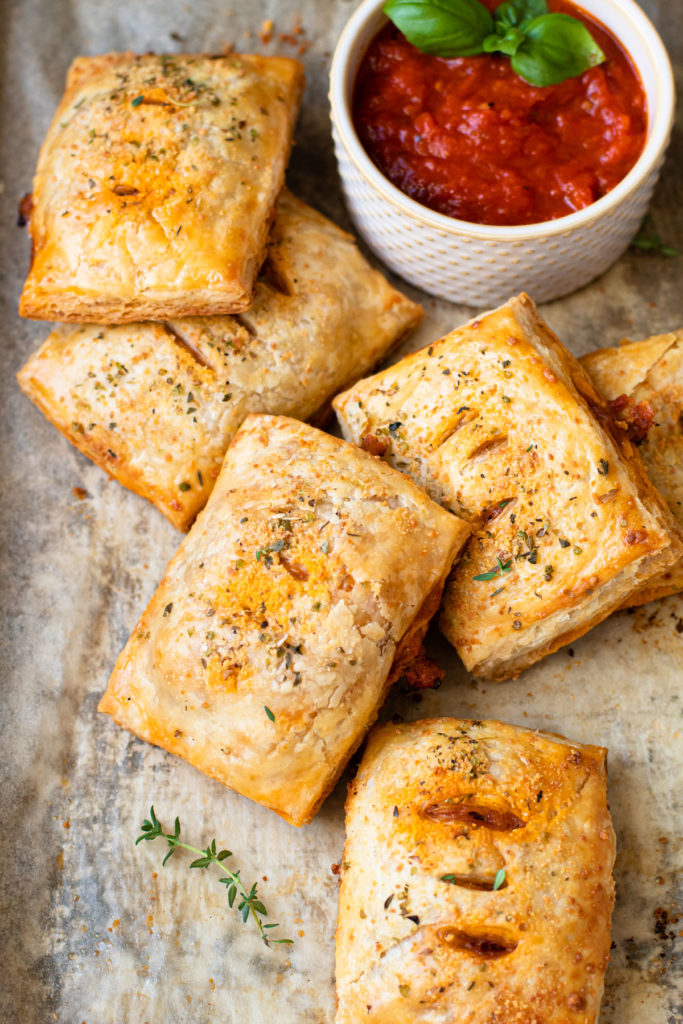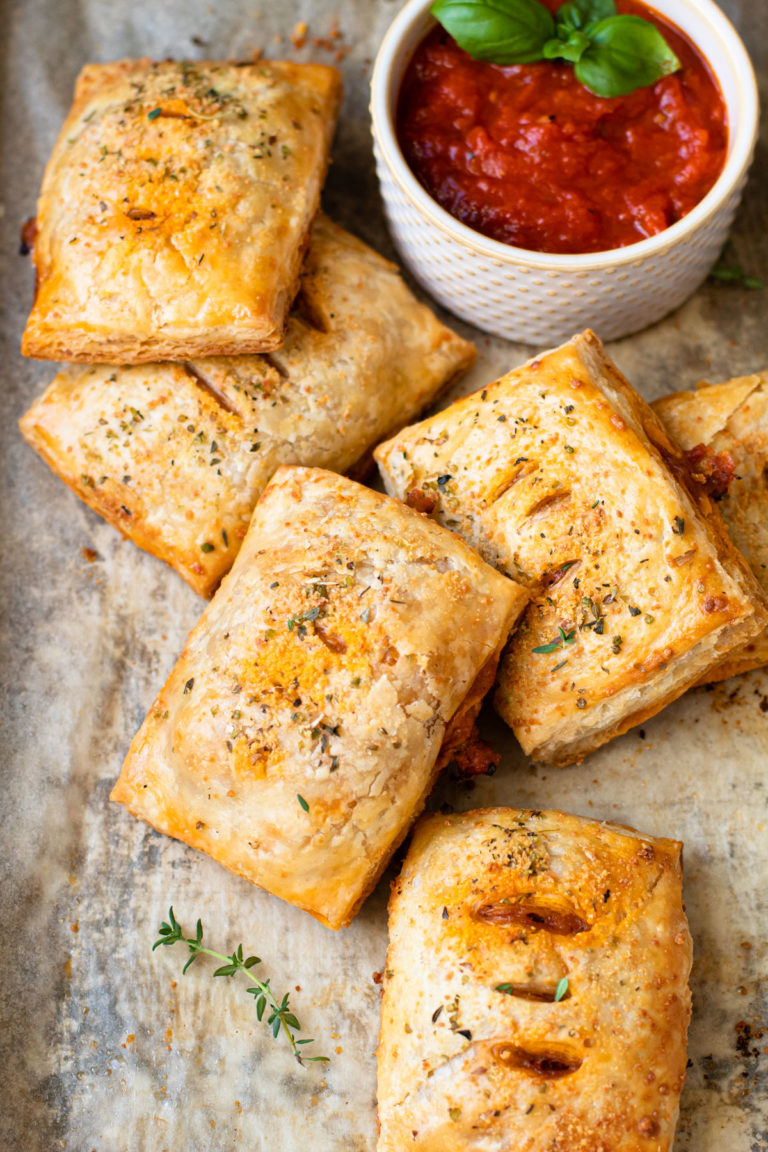 Pizza Hand Pies
Pizza is sometimes referred to as a pie, so it just makes sense to actually make them into a pie. At least, on this website it does! These Supreme Pizza Hand Pies are out-of-this-world good. The filling consists of Italian sausage, pepperoni, veggies, pizza sauce, and (of course) lots of cheese. It's flaky and hearty and a fun take on pizza night that everybody is going to love.
They also work equally well for party appetizers, or as a school lunch for kiddos. This recipe makes a batch of 12 hand pies. They are freezer-friendly, too. You can freeze them and have them ready whenever you need them.
It's easy to customize what goes inside of these hand pies, based on what your personal take is on the "ultimate supreme pizza". So, feel free to switch up your meat and veggie combinations!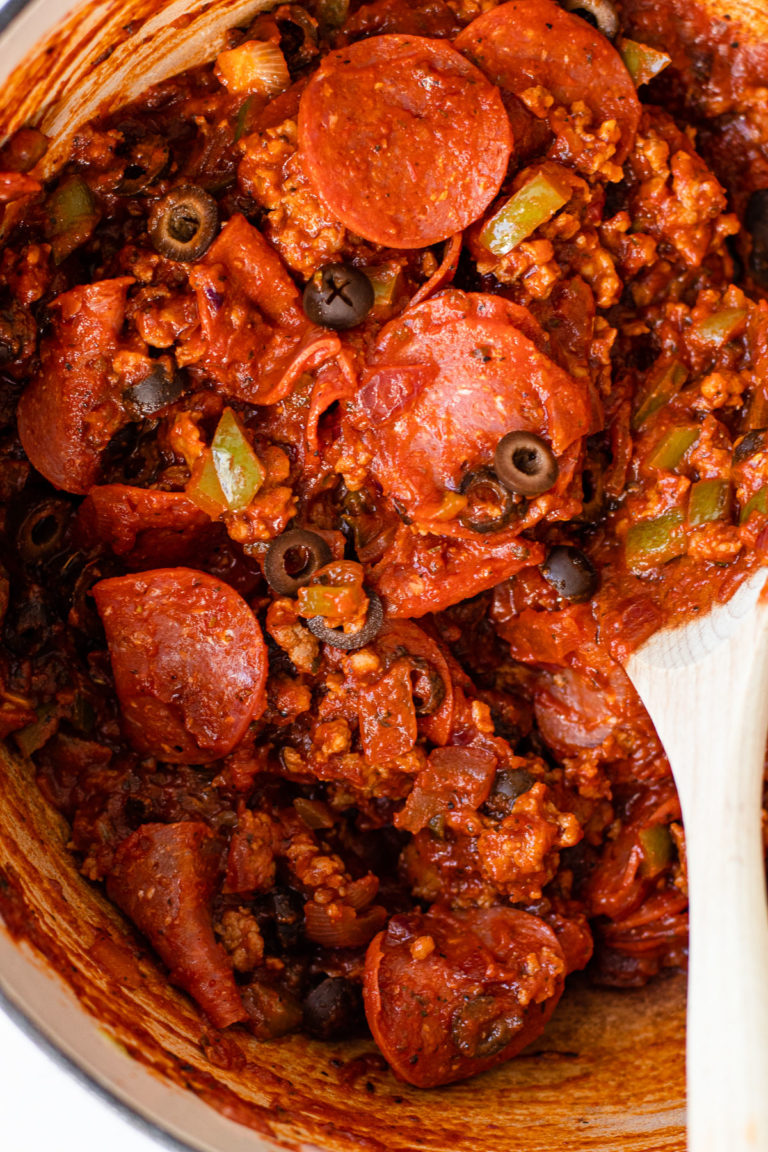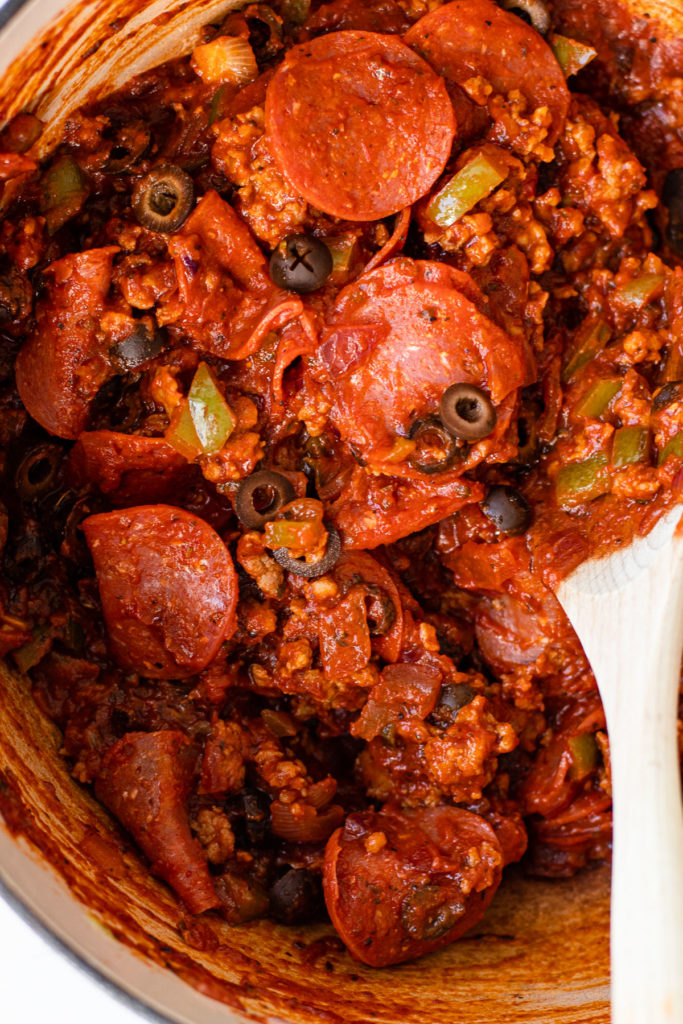 Ingredients Needed
Here is an overview of the ingredients needed for this recipe. The full recipe is listed below in greater detail.
homemade pie dough (recipe below)
ground Italian sausage (or links with casing removed)
pepperoni
onion
garlic
green bell pepper
garlic
olive oil + salt + pepper
store-bought pizza sauce
Italian seasoning + garlic powder
mozzarella cheese
parmesan cheese
Recommended Tools
ruler
baking basics: bowl, spatula, sheet tray, measuring cups
Overview of Steps to Make Hand Pies
While you can certainly eat a hand pie super fast, it takes a bit longer to actually make them. Luckily, the steps can be broken down and spaced apart, so in the end, it will seem very easy.
First, you have to make the pie dough. This recipe has a slightly altered recipe for my Basic Butter Pie Dough recipe to adjust the amount of dough. This recipe makes 12 hand pies. If you want to learn more in-depth about making pie dough, go ahead and check out that recipe.
You can make this gluten-free, by using this gluten-free pie dough. Whatever dough you choose, it needs to chill, preferably overnight.
Next, the filling needs to be prepared. This can be done a day ahead, if you want. Then, the pie dough needs to be rolled out. And finally, the last step is assembling the filling, which you'll find is fairly simple.
At this point, once the hand pies are assembled you can either bake them or you can freeze them for later use. There is more information about freezing hand pies below.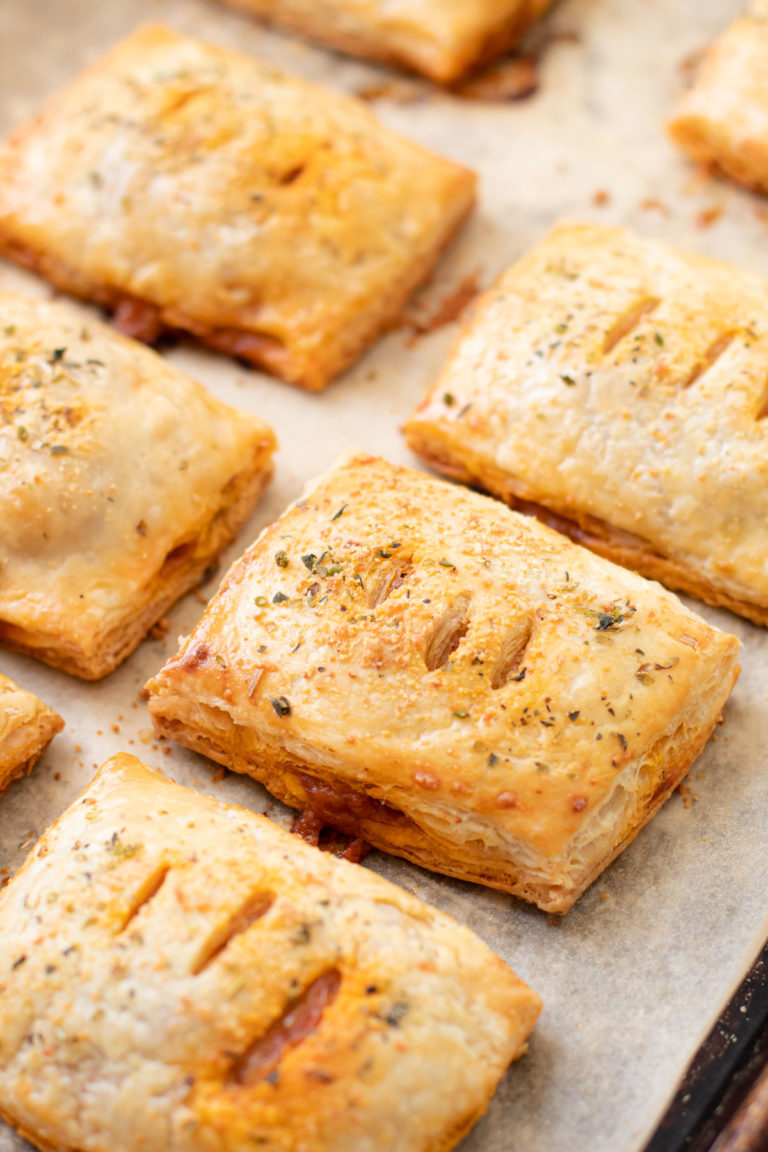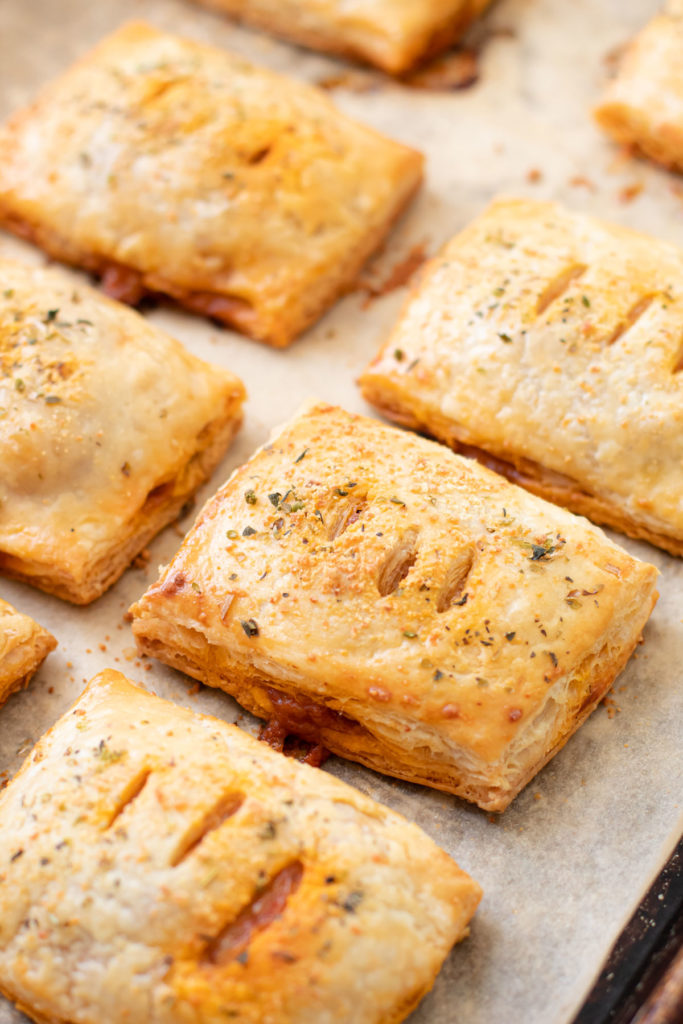 Rolling out the Dough
Like any pie, you'll need to roll out the dough. This recipe is based on a 4x3" hand pie that is hand cut with a pastry wheel and a ruler. However, if you wanted to simplify things by using a large circle cutter making these round hand pies, go ahead and do that. These are the circle cutters I use for other hand pies, and I recommend using the 4" cutter from this set.
The dough needs to be thoroughly chilled before rolling out. Once it's chilled (I always recommend making dough the day before and letting it rest overnight), remove from the refrigerator and let it soften up for 5-10 minutes.
The dough is ready to roll out when it makes an indentation when you gently press your finger into the dough.
Generously flour your work surface, as well as your rolling pin. Roll out the dough to a rough rectangle with a thickness of ⅛″ thick. I recommend having a ruler on hand. Then, using either a knife or a pastry cutter, cut the dough into 4 x 3-inch rectangles.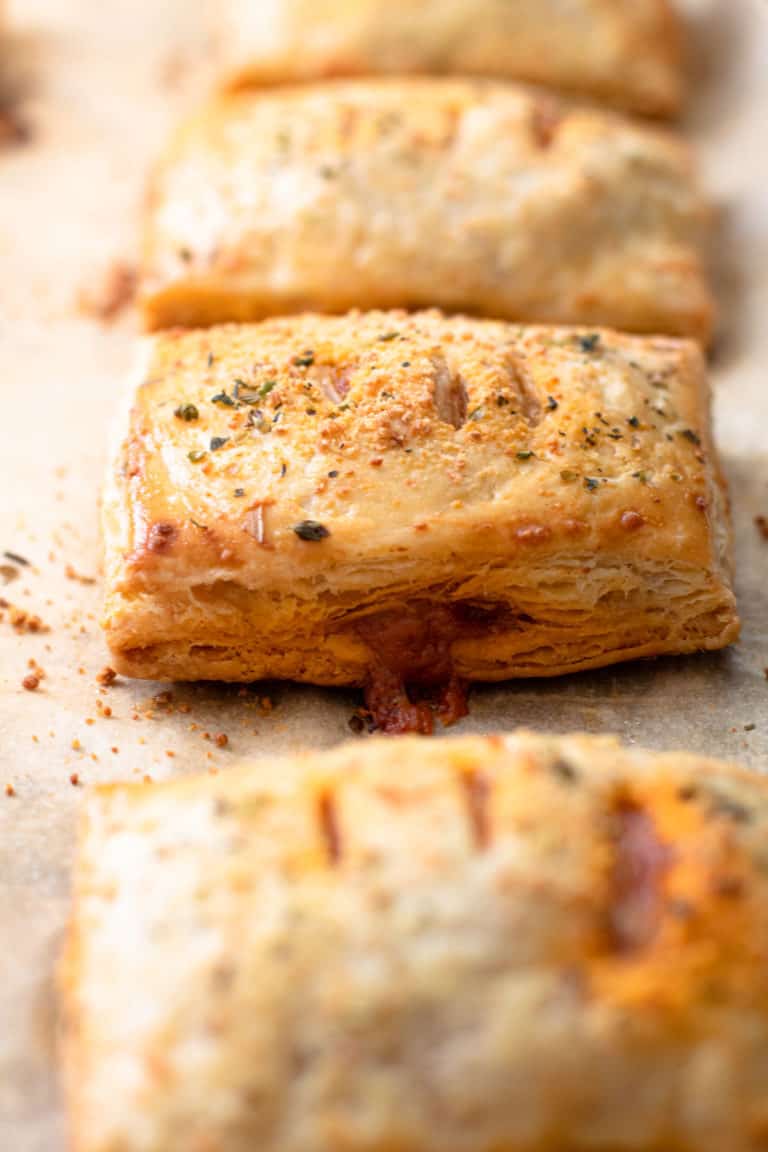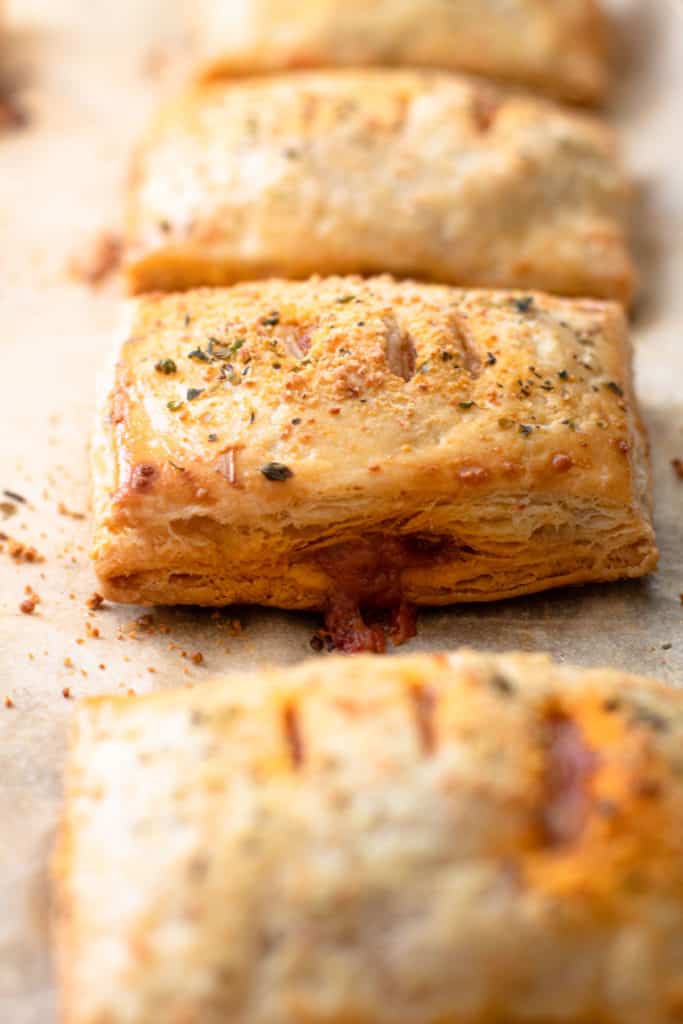 How to Seal Hand Pies Well
It's important to seal the hand pies well so that the filling does not leak out. There are quite a few tricks used in this recipe to make sure all that delicious filling stays inside. I recommend you follow them all for the best result!
Brush the bottom pastry with water. This helps seal the dough together.
After you place the second piece of dough on top of the filling, start on one edge of the pastry and press the two pastry rectangles together.
As you move around the edges, gently press down on the top of the dough to push any trapped air out of the filling and pastry.
And finally, the most important step: use a pastry bench scraper to slice off the very tip of the pastry edges. This not only cleans up the edges so the hand pies look neat, but it also acts to truly seal the two pieces of pastry together. Using a knife doesn't work the same, because knives are sharp and instead of mashing the two pieces of pastry together it just cuts right through them. If you don't have a pastry bench scraper, I recommend using another tool that is dull, but not so dull that it can't cut through the soft pastry. Even a ruler might work well!
Freezing Hand Pies
Hand pies can be frozen, unbaked or baked, for up to 3 months.
Freeze unbaked hand pies flat on a sheet tray for 24 hours. Then, transfer to a bag with as much air removed as possible. The pies can be baked from frozen. Follow the instructions, but the total baking time will increase. Doesn't get much easier than that!
Similarly, they can also be frozen after being fully baked! When ready to eat, it's best to let them defrost overnight, and then toasted up until crisp. However, in a bind, they can be toasted until fully heated, just be careful they don't burn on the outside before they are cooked on the inside. They should reach an internal temperature of at least 180ºF.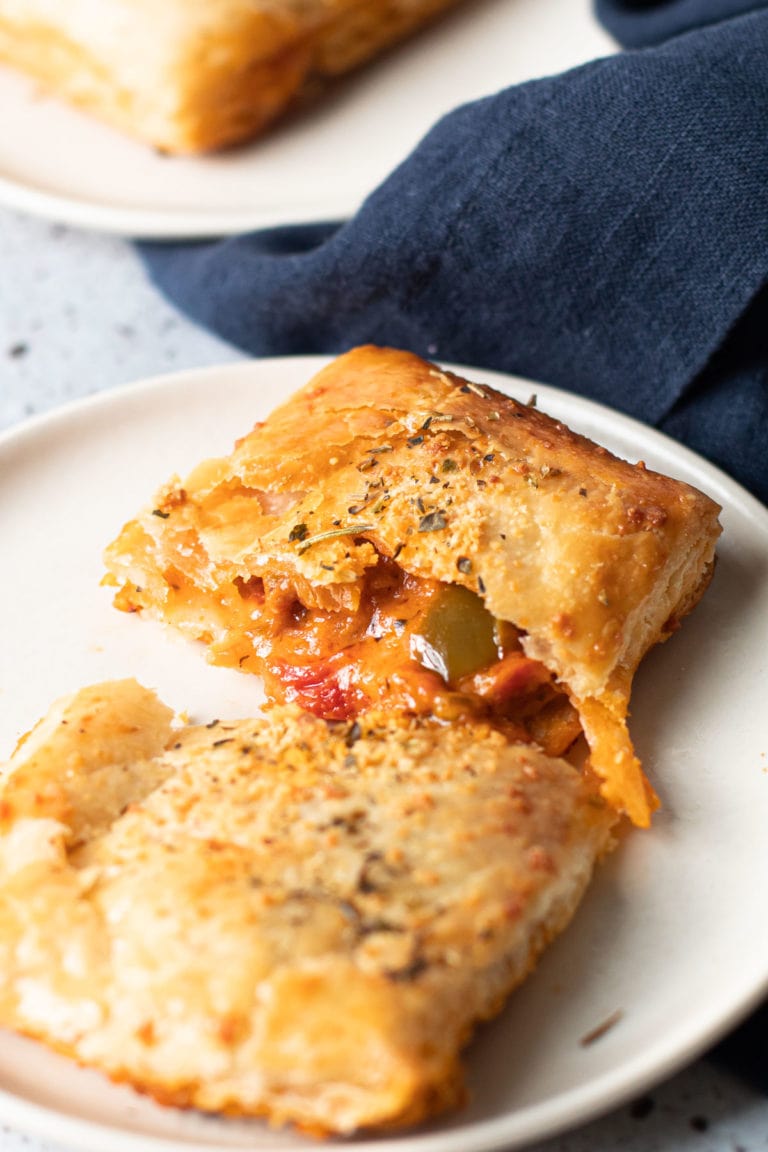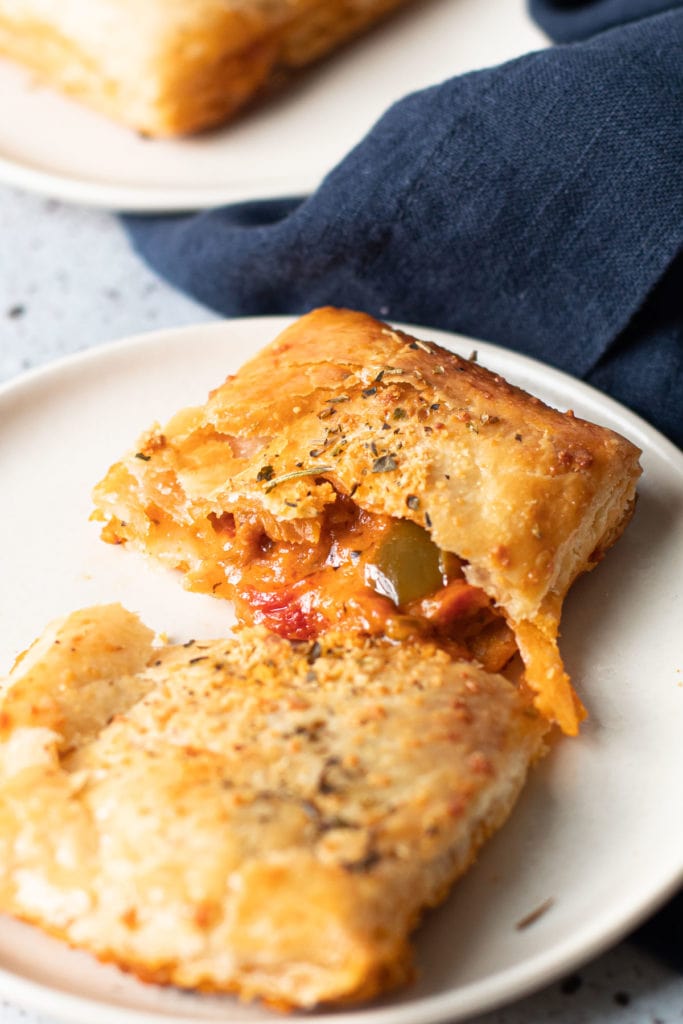 More savory pies:
Print
Full Recipe
Supreme Pizza Hand Pies
A rich supreme pizza filling is sandwiched between flaky pie dough, brushed with parmesan cheese, and Italian seasoning, and then baked off to make for a flaky iteration of pizza night! Supreme Pizza Hand Pies work just as well for dinner, or even for a fun lunchbox treat for the kids.
Author: Kelli Avila
Prep Time:

00:35

Cook Time:

00:37

Total Time:

1 hour 12 minutes

Yield:

12 Hand Pies

Category:

Savory

Method:

Bake
For Hand Pie Crust:
4

–

¼

cups (510 grams) all-purpose flour

¾ teaspoon

salt

1

-

½

cups butter (

340 grams

) unsalted butter, chilled and cut into 1" pieces

2 tablespoon

(

30 grams

) apple cider vinegar

½ cup

- ¾ cup (

80

-

120

grams) ice water
For Supreme Pizza Filling:
2 teaspoons

olive oil

½

pound ground Italian sausage (about

2

links with casing removed)

1

yellow onion, finely diced

1

green bell pepper, diced

4

cloves garlic, minced

1

-

½

cups pizza sauce (or

1

(14-ounce) jar)

1 cup

pepperoni

1 teaspoon

Italian seasoning

½ teaspoon

garlic powder
Salt and pepper to taste (don't salt until you taste!)

1

-

½

cup shredded mozzarella cheese
Italian seasoning
Parm cheese for sprinkle pizza crust
Instructions
For Hand Pie Crust:
Add the flour and salt to the bowl of a food processor. Add in the butter and pulse 5 times.
Add the vinegar to the water. With the motor running, slowly pour in half the water / vinegar into the flour. The dough should be crumbly and it should hold together when squeezed. Drip in more water and toss together as needed.
Empty the flour mixture onto a work surface and divide into two piles.
Quickly using your hands form each dough pile together. If there are any dry spots drip a bit more water on them and knead together if you have to. Place each in a piece of plastic wrap and wrap tightly.
Using a rolling pin, roll the dough out until it stretches to the corner of the plastic wrap.
Refrigerate for at least 4 hours, but preferably overnight
Make Supreme Pizza Filling:
Heat olive oil in a large pot over medium heat. Add sausage, and cook until no pink remains, about 5 minutes.
Add in onion, pepper and garlic and cook until softened, about 5 minutes.
Add in pizza sauce, pepperoni, italian seasoning and garlic powder. Cook until bubbling, about 2-3 more minutes.
Shut off heat. Let cool slightly, then taste and adjust seasoning, adding salt and pepper as needed.
Let cool completely, and then mix in the mozzarella. Set aside in the refrigerator until ready to use.
Roll Out Dough:
Remove the chilled dough from the refrigerator and let rest at room temperature for 5-10 minutes, or until the dough is slightly softened, so it is easier to roll.
On a well-floured work surface, roll out one piece of dough to a rough rectangle, about ⅛" thick. Using a pastry wheel or a knife, cut out 3 x 4-inch rectangles. Repeat with remaining dough. Then gather up the scraps and roll out the dough in the same manner, cutting out as many rectangles as possible. This dough should yield about 24 rectangles.
Line two baking sheets with parchment paper and place 6 rectangles down on each of the baking trays.
Place roughly 3 tablespoons or so of filling in the middle of a rectangle. Place one pastry rectangle on top, taking care to seal the edges. Take a fork and crimp the edges. Using a pastry bench scraper, press down to cut off the edges of the pastry. This makes the final product look neat, but it also seals the hand pies well. If you are having trouble successfully closing them up, adjust the amount of filling. Repeat with the remaining rectangles for both baking sheets.
Chill the tray of hand pies in the refrigerator for at least 30 minutes. Once chilled, using a knife, gently cut holes through the top of the dough to let the steam escape during baking.
Bake:
Preheat the oven to 400 degrees and place a rack on the lowest rack and the middle rack.
Make an egg wash, and brush on top of the hand pies. Sprinkle the tops with italian seasoning and parmesan cheese.
Bake the hand pies in the oven for 25-35 minutes, switching the trays halfway through, until the pastry is a deep golden color.
Let the pies cool slightly before serving. Serve with pizza sauce, for dipping, if desired.
Notes
Hand pies can be frozen, unbaked or baked, for up to 3 months.
Keywords: Pizza Hand Pies
Some of the links on this page may be affiliate links. Everyday Pie is a participant in the Amazon Associates Program. As an Amazon Associate I earn from qualifying purchases, at no extra cost to you.