Reminiscent of the classic French pastry, this Eclair Pie is a beautiful, yet deliciously uncomplicated dessert. It starts off with a crisp pâte sablée pastry shell, filled with a stunning vanilla pastry cream, and finished off with a dark chocolate ganache topping. The decorative design is totally optional, however, it's pretty simple to achieve.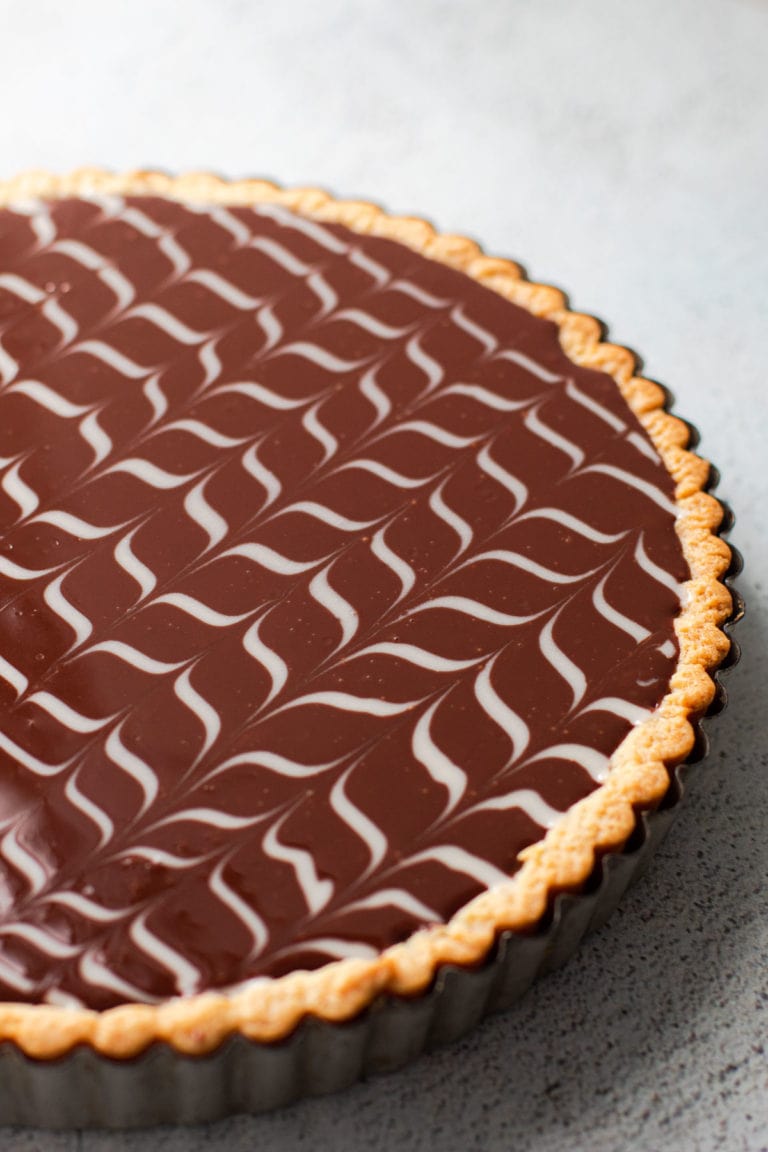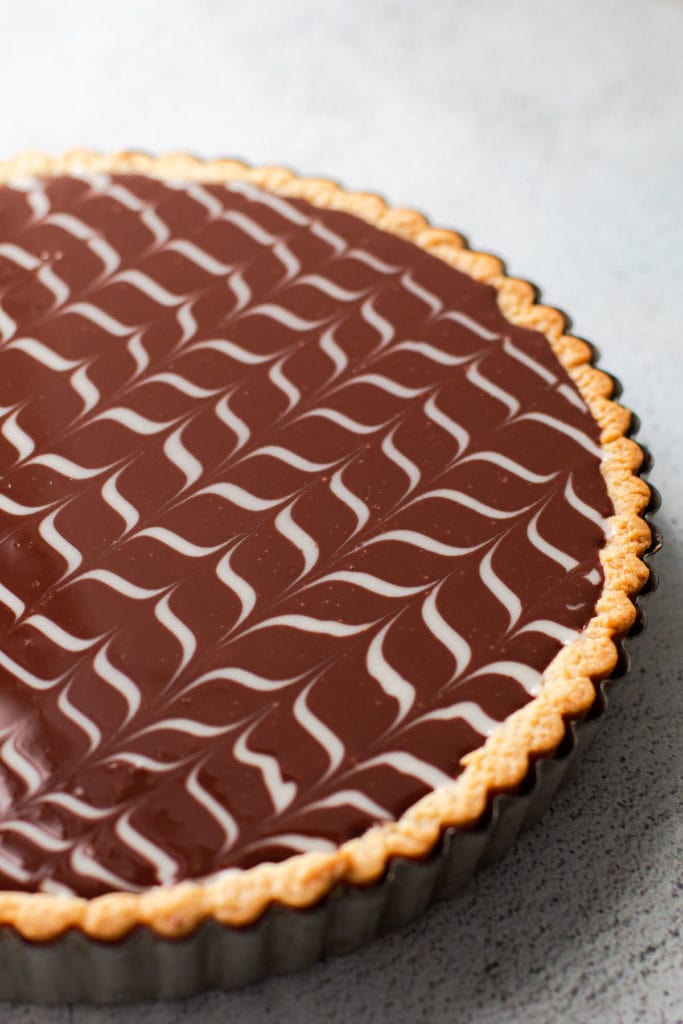 Eclair Tart
If there was ever a dessert to conjure up childhood memories, it would have to be the Eclair. They were always perfectly lined in the pastry case of your neighborhood bakery, practically begging to be bought and consumed on the spot. With a crisp choux pastry shell, a silky pastry cream, and, of course, that irresistible chocolate ganache finish, it's a treat loved by so many.
This pie is a play on all of those well-known flavors and textures. A sweet and crisp pie crust is filled with a luscious vanilla pastry cream and topped with a simple ganache for a beautiful presentation that tastes as good as it looks.
There are a few steps to make this pie, but all involve pretty simple techniques (no choux pastry making required) and are definitely worth the effort.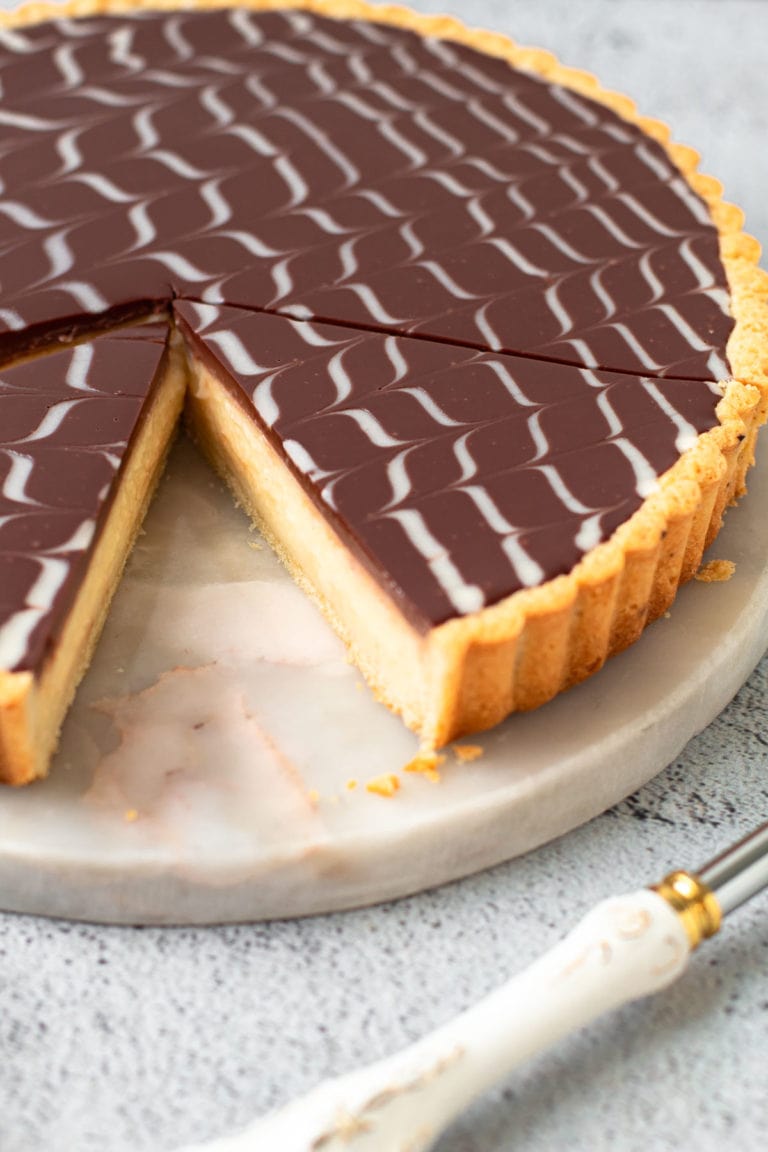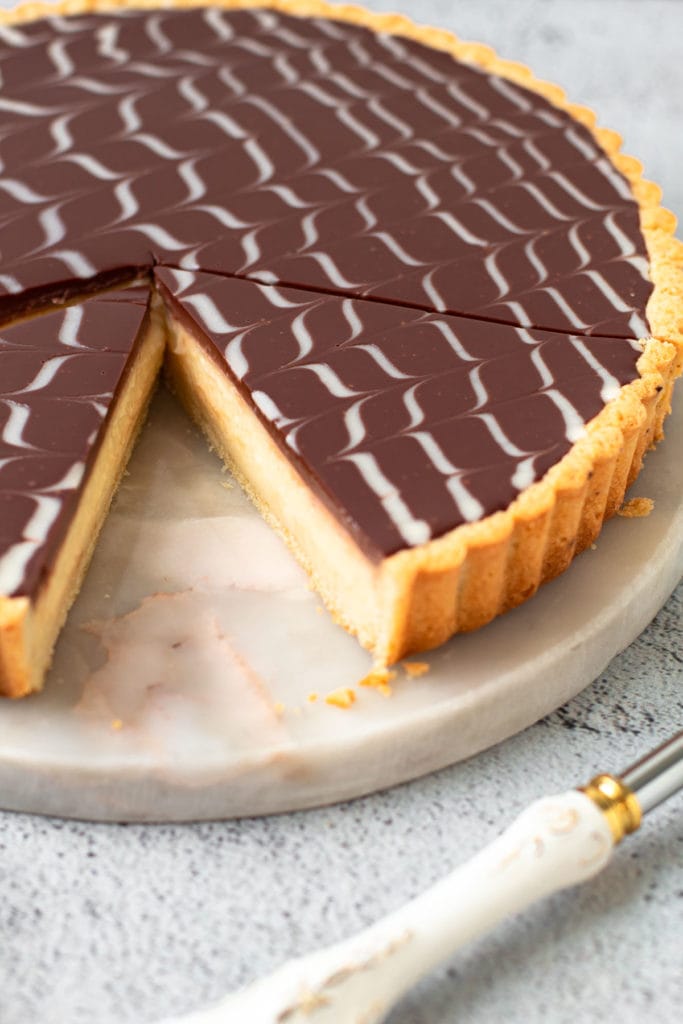 Overview of Ingredients
Here is an overview of the ingredients needed for this recipe. The full recipe is listed below in greater detail.
all-purpose flour
almond flour
powdered sugar
salt
unsalted butter
eggs
cornstarch
whole milk
vanilla extract or vanilla bean
dark chocolate
heavy cream
Tools Needed
pie weights (I prefer to use dried rice/beans for this, but you can also buy pie weights)
piping bag and toothpick (if you want to make the decorative design)
baking essentials: pot, whisk, spatula, measuring cups, strainer
Tips for Making the Pastry
This tart requires a dedicated tart dough, also known as pâte sablée (pronounced pat sah-BLAY). It is sturdy crust, and it will hold up to a heavier tart filling, but delicate enough to have that light buttery crispness to it. It's made in a food processor and comes together quickly.
For more information about working with this pastry, check out the Pâte Sablée recipe!
Here are a few quick tips:
Let the dough rest. I never advise making pastry the same day you plan to bake it. It's essential for the dough to hydrate properly, therefore the dough should rest at least overnight. If you absolutely need to, you can make the dough and bake it all in the same day, but you must let it rest at least 2 hours before you roll it out. Try to plan accordingly.
Weigh your ingredients! An electronic kitchen scale is not a huge investment. You can get one for around $25. I can't recommend this enough if you want to get good at baking, get a scale.
This dough is stickier because of the sugar. You can either roll it on plastic wrap, which I find useful or roll it out as you normally would; however, you'll need to use more flour than you typically would so it doesn't stick. If there is an excess amount of flour on your dough after it has been rolled out, you can brush some of it off with a dry pastry brush.
Bake this crust at a lower temperature. This pastry has a high sugar content and almond flour, so I recommend baking it at 375º to ensure it doesn't burn. Cover the edges if they're are browning too quickly.
The Easiest Pastry Cream
Pastry cream, also known as crème pâtissière, is essentially a thick custard. It is perfect for many different fine pastries but especially this dessert tart!
The recipe is made a bit different than traditional pastry cream. This recipe is made in one pot and doesn't require any tempering of the eggs, which is a win in my book!
Also, this recipe is a bit thinner than traditional recipes, because I based it off my own personal preferences. With that being said, it still thickens up pretty well once chilled, and it's just perfect in this Eclair Pie.
A few quick tips:
Make sure to have a rubber spatula and a whisk handy. I use both to make sure the mixture cooks evenly. I swap between using them while I'm cooking the pastry cream, to make sure I'm getting all the mixture out of the crevices of the pot while whisking to ensure a consistent cook.
Don't walk away from the pot while you are cooking it. It takes no more than 10 minutes to cook. Also, it's especially important to stir almost constantly in the beginning when you are cooking it to ensure no egg yolks get stuck to the bottom of the pot and scramble.
Strain the cream to get rid of any small bits of cooked eggs you might have. It makes the final cream smoother.
This cream will set pretty firm. Whisk it once it is chilled to achieve a smooth, silky consistency.
Pastry cream is best used within two days after it has been made. As the days go on, the cream might release some moisture. This is fine to consume, just stir it back up.
For more detailed information about making it, check out this dedicated post all about working with pastry cream!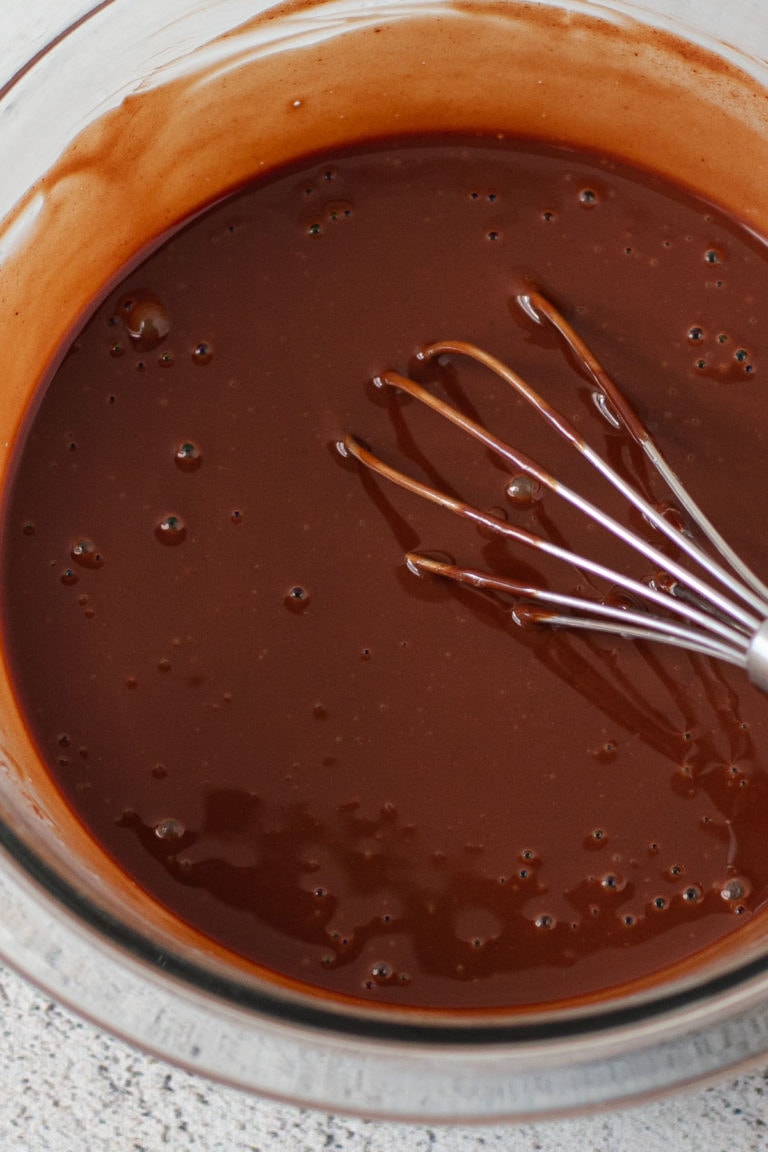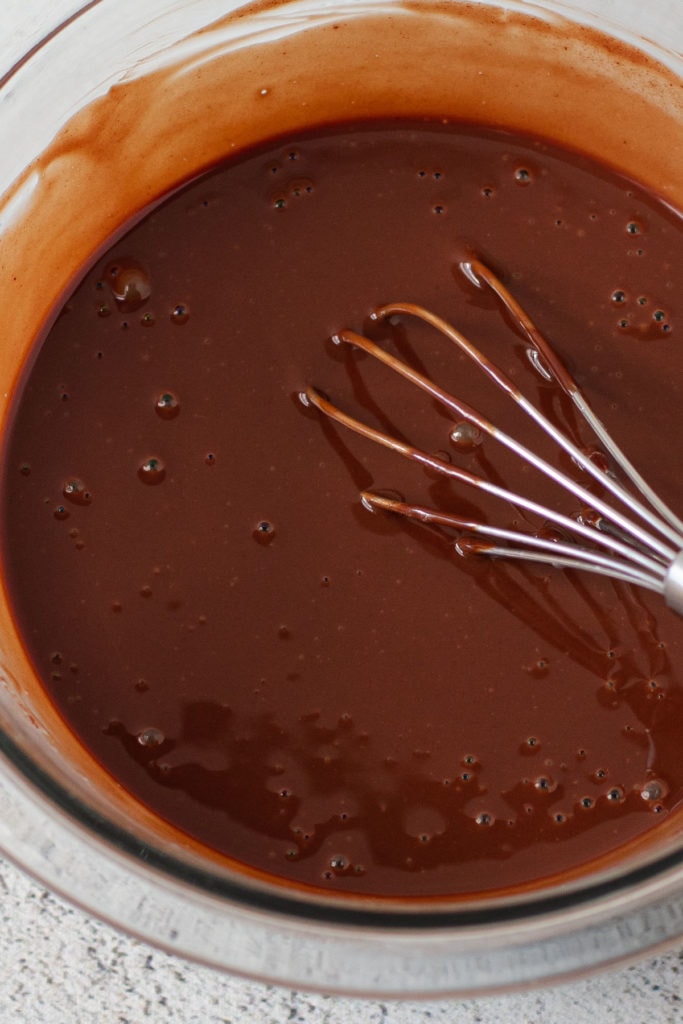 Tips for Working with Chocolate Ganache
A ganache is simply chocolate melted with some heavy cream. The viscosity can differ, depending on your ratio of cream to chocolate. Generally speaking, it is 1 part cream to 1 part chocolate. But for this recipe, I call for a bit more cream than chocolate because I wanted to ensure a really smooth and creamy top. All that means is that the chocolate will be thinner, and therefore, when you pour it on the pastry cream, it can naturally float out to the edges of the pie without needing any assistance from an off-set spatula.
To make the ganache, you simply heat the heavy cream and pour it over the chocolate. The heat from the cream melts the chocolate. Let it sit for 4-5 minutes before whisking. Once it's whisked, it will be thin, so let it set up for a few minutes. Then, gently pour it on top of the pastry cream and tilt the pie to let the ganache sail out to the edges of the crust.
The recipe calls for chopped chocolate, as that is always ideal to use when you are working with chocolate for ganache. But good-quality chips are ok to use too. Try to avoid inexpensive chocolate chips with a lot of added ingredients because they sometimes contain too much stabilizer and will inhibit the chocolate from fully melting.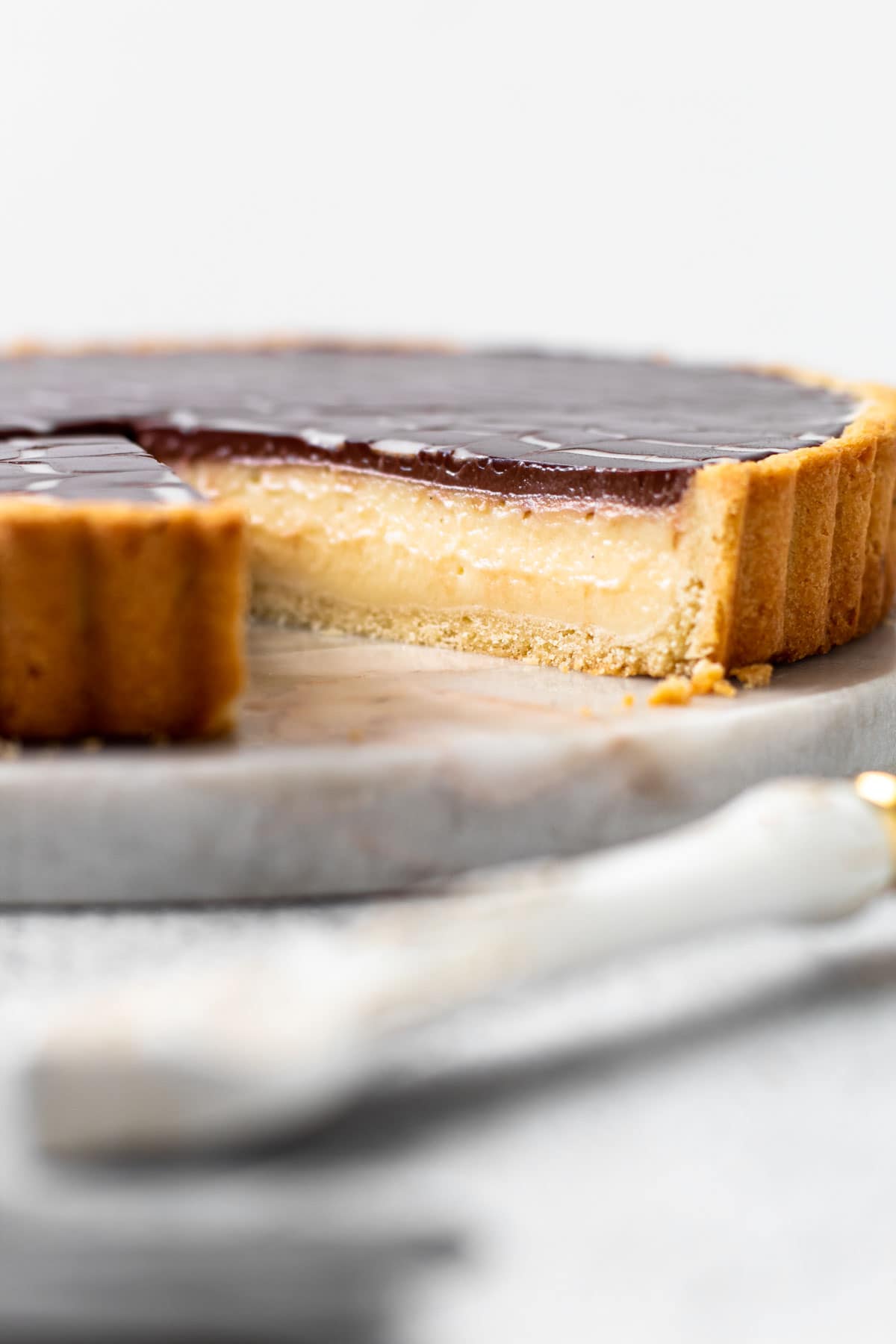 How to Assemble an Eclair Pie
So just to recap, there are three main steps to making this pie:
Making, rolling out, and baking the pie crust (this can be done up to 3 days ahead)
Making and chilling the pastry cream (this can be done 1 day ahead)
Making the ganache top and decorating the pie (this should be done right before assembling the pie)
Totally doable, and easy enough to break down into steps. This is a project, but a simple one! Once the first two steps are completed, to assemble transfer the pastry cream to the pastry shell. Smooth over the top and let it sit in the refrigerator.
Then, make the ganache and gently pour it over the pastry cream.
Want to Make that Pretty Swirl?
It's actually quite easy to make. Start by piping horizontal lines across the pie. Do your best to make them as straight as possible, with a similar amount of space between them.
Then, take a toothpick or a knife and run a vertical line through them. Alternate starting from the top and bottom to achieve that signature pastry look.
This should be done within minutes of setting the ganache on top of the pastry cream in order for it to work properly.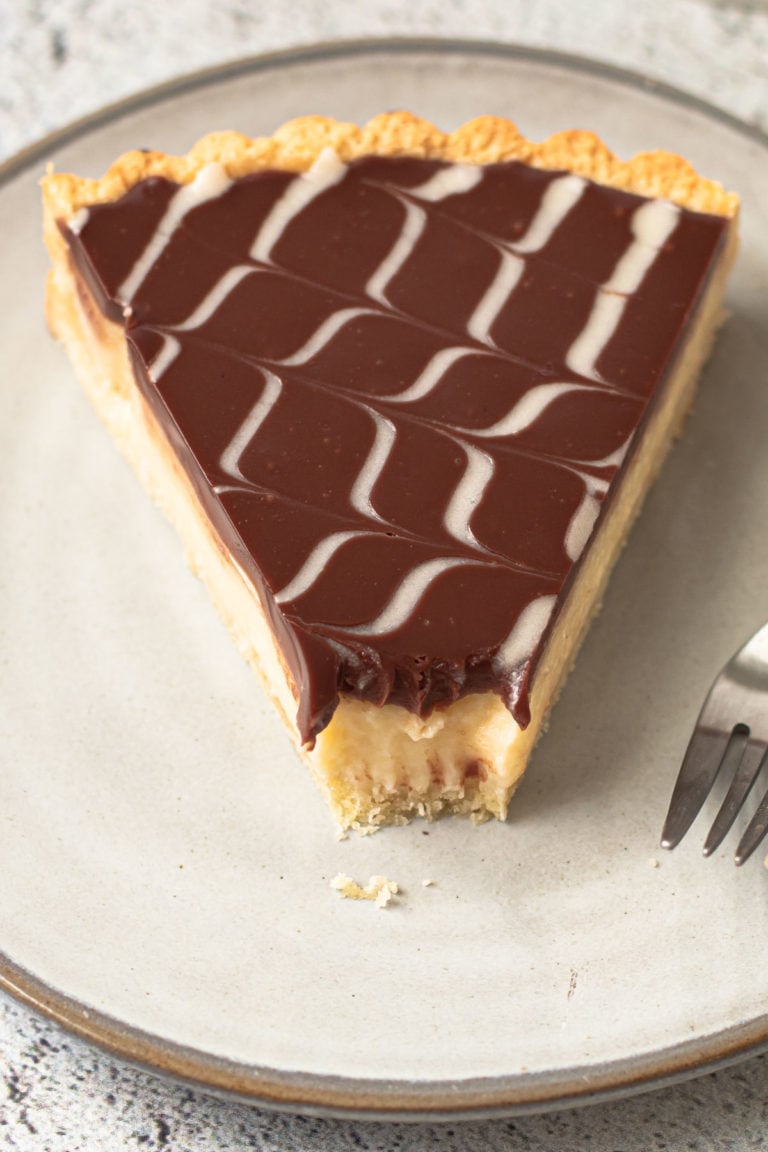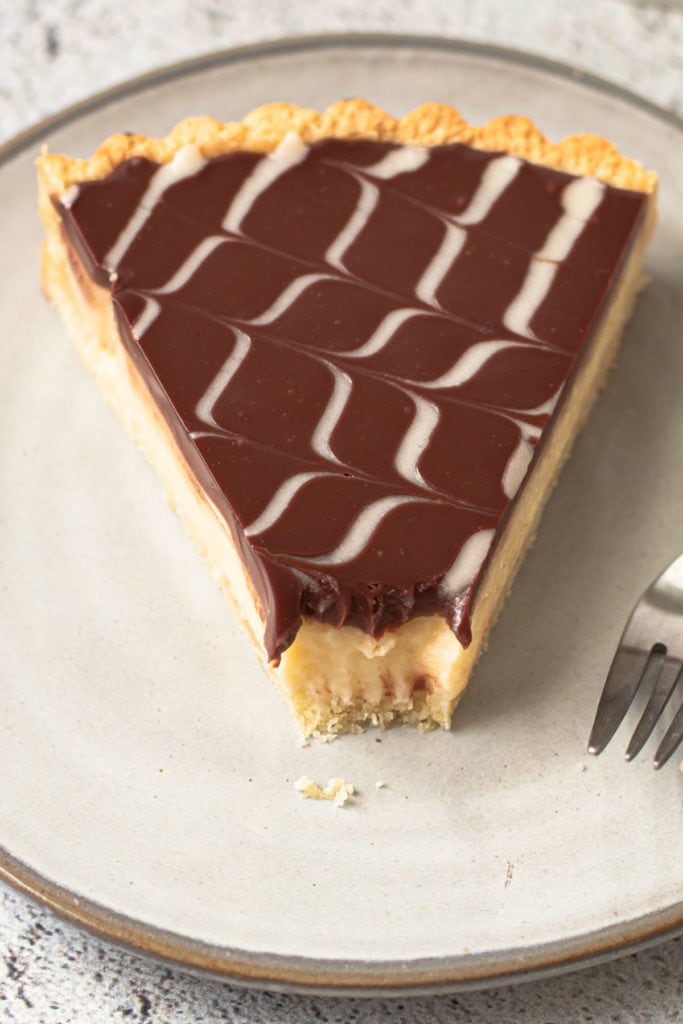 How to Serve and Store it
This pie is best served the day it is made.
Leftovers can be stored in the refrigerator for up to 2 days, but the pie may start to release a bit of liquid as time goes on.
More Chocolate Recipes:
Make sure to comment below and tag @everydaypie on Instagram if you make this recipe or if you have any questions
Print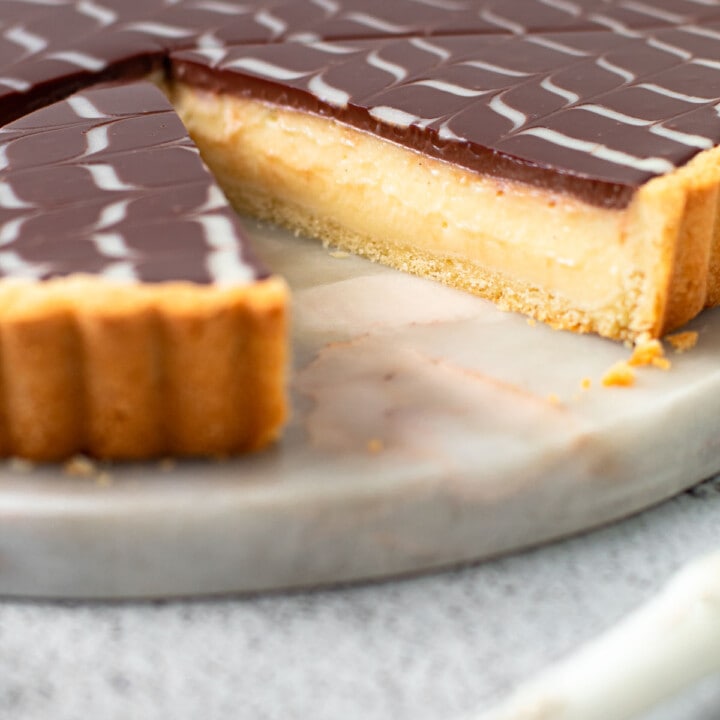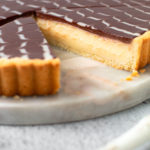 Eclair Pie
Author:

Kelli Avila

Prep Time:

00:25

Cook Time:

00:40

Total Time:

1 hour 5 minutes

Yield:

Serves 8-10

Category:

Sweet

Method:

Bake
---
Description
Reminiscent of the classic French pastry, this Eclair Pie is a beautiful yet deliciously uncomplicated dessert. It starts off with a crisp pâte sablée pastry shell, filled with a stunning vanilla pastry cream, and it's finished off with a dark chocolate ganache top. The decorative design is totally optional but pretty simple to achieve.
---
For Tart Dough:
1 cup

(

120 grams

) all-purpose flour

½ cup

(

50 grams

) almond flour

⅓ cup

(

40 grams

) powdered sugar

½ teaspoon

salt

½ cup

(

113 grams

) unsalted butter, softened

1

large egg, whisked together
Pastry Cream:
⅓ cup

(

70 grams

) granulated sugar

3 tablespoons

(

21 grams

) cornstarch
Pinch salt

4

egg yolks

2 cups

(

480 grams

) whole milk

2 teaspoons

vanilla extract or

1

vanilla bean, split

2 tablespoons

unsalted butter
For Ganache:
⅓ cup

(

2 ounces

) bittersweet chocolate, chopped

2 tablespoons

(

26 grams

) butter

⅔ cup

(

5 ounces

) heavy cream

2 tablespoons

granulated sugar
For Decorative Swirl:
¼ cup

(

28 grams

) powdered sugar

2 teaspoons

(

10 grams

) heavy cream
---
Instructions
For the Pastry Shell:
Add the all-purpose flour, almond flour, powdered sugar and salt to the bowl of a food processor.
Process for 30 seconds to combine.
Add in the butter and pulse 5 times.
With the motor running pour in the egg and let the dough process until the dough forms together into a cohesive ball around the blade.
Scrape the dough from the bowl and place it in a piece of plastic wrap and form into a disk and wrap tightly.
Using a rolling pin, roll the dough out until it stretches to the corner of the plastic wrap to ensure a tight seal.
Refrigerate for at least 2 hours, but preferably overnight. 
When ready to bake the pastry shell, preheat the oven to 375ºF
Roll out the dough to a rough 11″ circle and place inside of a 9″ tart pan. Pierce the bottom of the pastry with a fork to allow the steam to escape when baking.
Place the pastry in the freezer for 10-30 minutes, while the oven preheats to 375ºF.
Line the pastry with a round piece of parchment paper and then add pie weights to fill (or dry rice or beans or lentils), making sure to push pie weights to the edges. Bake for 20 minutes on the lower rack, then remove from the oven and remove the parchment and pie weights. Return to the oven and bake for an additional 5 minutes 10 minutes for a full blind bake. If the edges start to brown at any point cover them with pieces of aluminum foil.
Remove from the oven and let cool entirely.
Make the Pastry Cream:
Whisk together sugar, cornstarch, and salt. Whisk in egg yolks and milk until fully combined. 
Turn on the heat to medium and cook the mixture, whisking constantly, and occasionally taking a spatula and scraping up any thickened cream in the edges of the pan. Cook until the pudding has completely thickened and large bubbles are forming and popping, about 5-8 minutes.
Remove from heat; immediately pour the cream through a fine mesh strainer into a bowl, using a spatula to push all the pudding out while leaving behind any bits of cooked egg.
Whisk the butter and the vanilla extract (or scrape the vanilla bean) into the pastry cream until fully combined.
Pour the cream into a bowl and place a piece of plastic wrap directly on the top of the cream. Let cool at room temperature before chilling in the refrigerator for at least 3 hours or overnight.
When ready to use, whisk together until smooth and silky.
Assemble (with Ganache):
Remove the pastry cream from the refrigerator and whisk together until smooth and silky. Transfer the pastry cream in the baked shell and smooth over the top.
Add chocolate and butter to a heatproof glass or metal bowl.
Heat the cream and sugar on the stovetop until just simmering around the edges.
Pour the cream over the chocolate, making sure it is completely submerged. Let the cream sit for 2 minutes without disturbing it.
Gently whisk the cream until it is fully combined and the result is a shiny, silky chocolate ganache.
Let the ganache sit for a few minutes until it starts to slightly thicken. Gently pour the ganache on top of the pastry cream and shimmy the pie to send the ganache out to the edges of the pastry.
Whisk together the powdered sugar and cream. Transfer to a piping bag and pipe horizontal lines across the ganache. 

Take a toothpick and drag it vertically through the white lines. Alternate where you start the toothpick from top to bottom to create the look pictured in the photos.

Let the pie chill in the refrigerator for one hour before serving.
---
Notes
1. The body of this post is very full of information and tips for making this recipe.
Some of the links on this page may be affiliate links. Everyday Pie is a participant in the Amazon Associates Program. As an Amazon Associate I earn from qualifying purchases, at no extra cost to you.