With flavors that match the childhood classic sandwich, this pie will surely bring you back in time. A dense peanut butter custard filling is baked inside of an oat shortbread and topped with fluff (either homemade or store-bought) for a nostalgic taste everyone will love.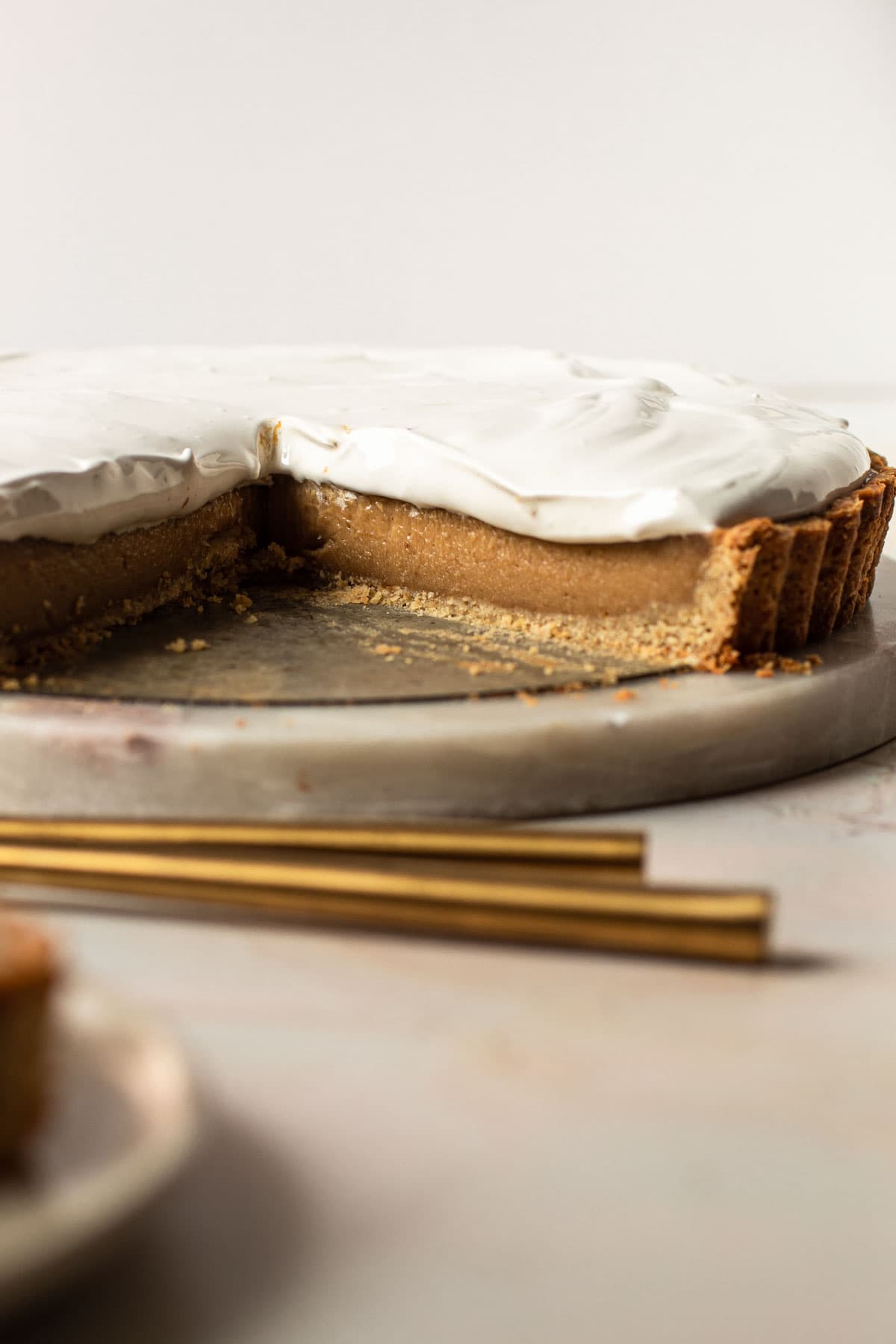 Peanut Butter and Fluff Pie
I am a New Englander, through and through. Which means fluff was a big part of my childhood. I actually grew up in Lynn, Massachusetts where they still make fluff to this day. It was only in adulthood that I realized that not everyone grew up eating fluff, or fluffernutter sandwiches.
A fluffernutter sandwich is usually made with fluffy white or oat bread, peanut butter, and fluff. It's sweet, and sticky, and hardy, and just so good. Peanut butter and fluff is such an iconic flavor combination that I just had to make it into a pie.
This Fluffernutter Pie has a crumbly and sweet oat shortbread, a creamy and dense peanut butter custard filling and it's topped off with either homemade fluff (it's easier than you think!) or store-bought fluff. The flavor combination and texture are everything you'd want in a Fluffernutter Pie and more.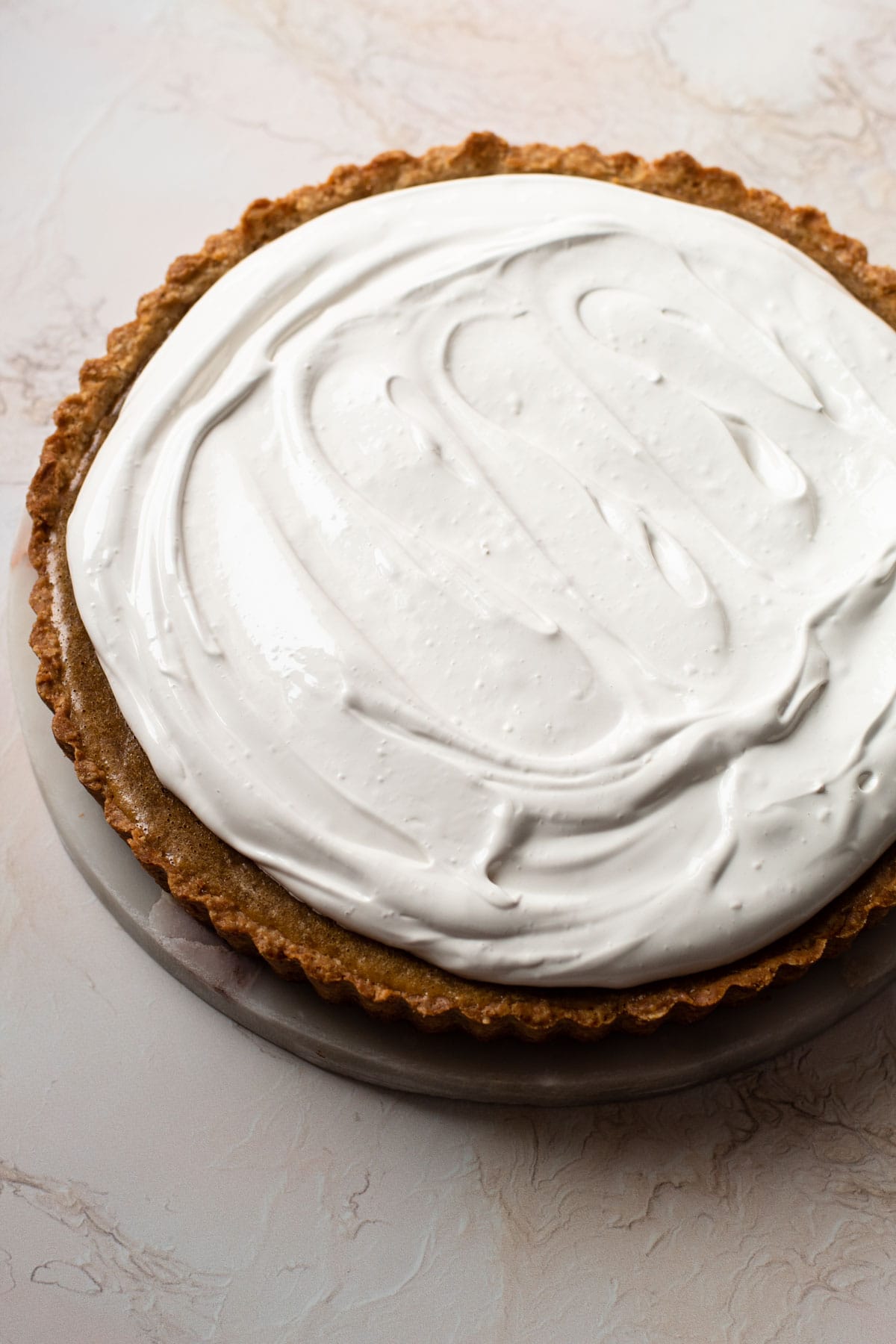 Ingredients Needed
Here is an overview of the ingredients needed for this recipe. The full recipe is listed below in greater detail.
quick cooking oats
creamy peanut butter (see below for specifics)
brown sugar + granulated sugar
half and half
butter
eggs
vanilla extract
cream of tartar (only if making fluff)
marshmallow fluff (if not making fluff)
Types of Peanut Butter
Something I have learned over the years as a recipe developer is that not all kinds of peanut butter are created equal. In fact, the most commonly purchased peanut butter in grocery stores is not technically peanut butter, but instead "peanut butter spread". This is because it contains a lot of other ingredients such as oil and sugar, that help stabilize and homogenize the peanut butter so it's ultra-creamy. I'm referring to popular brands such as Jif or Skippy. It's sometimes called spread, or sometimes just referred to as "creamy peanut butter". Because most people buy this type of peanut butter, and because nostalgically it's what I grew up on, it is what I have tested this recipe with.
I have not tested this recipe with peanut butter made from only peanuts and salt. I suspect it should work just fine, but if possible, stick with creamy peanut butter that does not need to be stirred together before using.
Steps for Making Fluffernutter Pie
There are a few steps needed to make this pie. Some can be done ahead of time!
Make and blind bake the oat shortbread. This can be done up to 1 day ahead of time.
Mix together and bake the peanut butter custard.
Make the fluff and top the pie or buy the fluff and top the pie! You choose!
Devour!
How to Make the Oat Shortbread
First off, I baked this pie in a tart pan. The reason for this is because like the traditional fluffernutter sandwich, it's rich and dense in flavor, so a slice of a tart is a better fit than a thicker slice of pie.
The oat shortbread crust is relatively easy to make in a food processor, but uses an unusual technique by spreading it into a tart pan instead of rolling it out.
Because I wanted to simplify the steps here, I found that the shortbread could be spread into the tart pan using a small offset spatula. Alternatively, you could also pat it into the pan. This means that you don't need to wait to chill and roll out the dough.
Making the Peanut Butter Custard
Making the custard only requires a bowl, a spatula, and a whisk. The recipe instructs you to mix together the yolks, peanut butter, and sugar first, which should help loosen up the peanut butter. Be careful not to overmix as peanut butter can seize up.
Then, you slowly whisk in the half and half, a little at a time. Take your time here, because if you dump all the half and half in at once, it might be tricky to get the custard smooth.
If you find you're having trouble getting all the lumps out of the custard mixture, you can always use an immersion blender or pour the custard into a blender to smooth it out.
To Make the Fluff or to Buy It
This here is a personal choice! Making the fluff isn't as hard as you might think and has a really delicious vanilla flavor. It also holds up better as leftovers when compared to store-bought.
However, using store-bought fluff gives it that super nostalgic taste and it's quite frankly a lot easier.
The fluff that we are making is actually a swiss meringue. While the recipe gives all the instruction you need for making it, if you've never made a meringue before, check out this Swiss Meringue recipe for more guidance.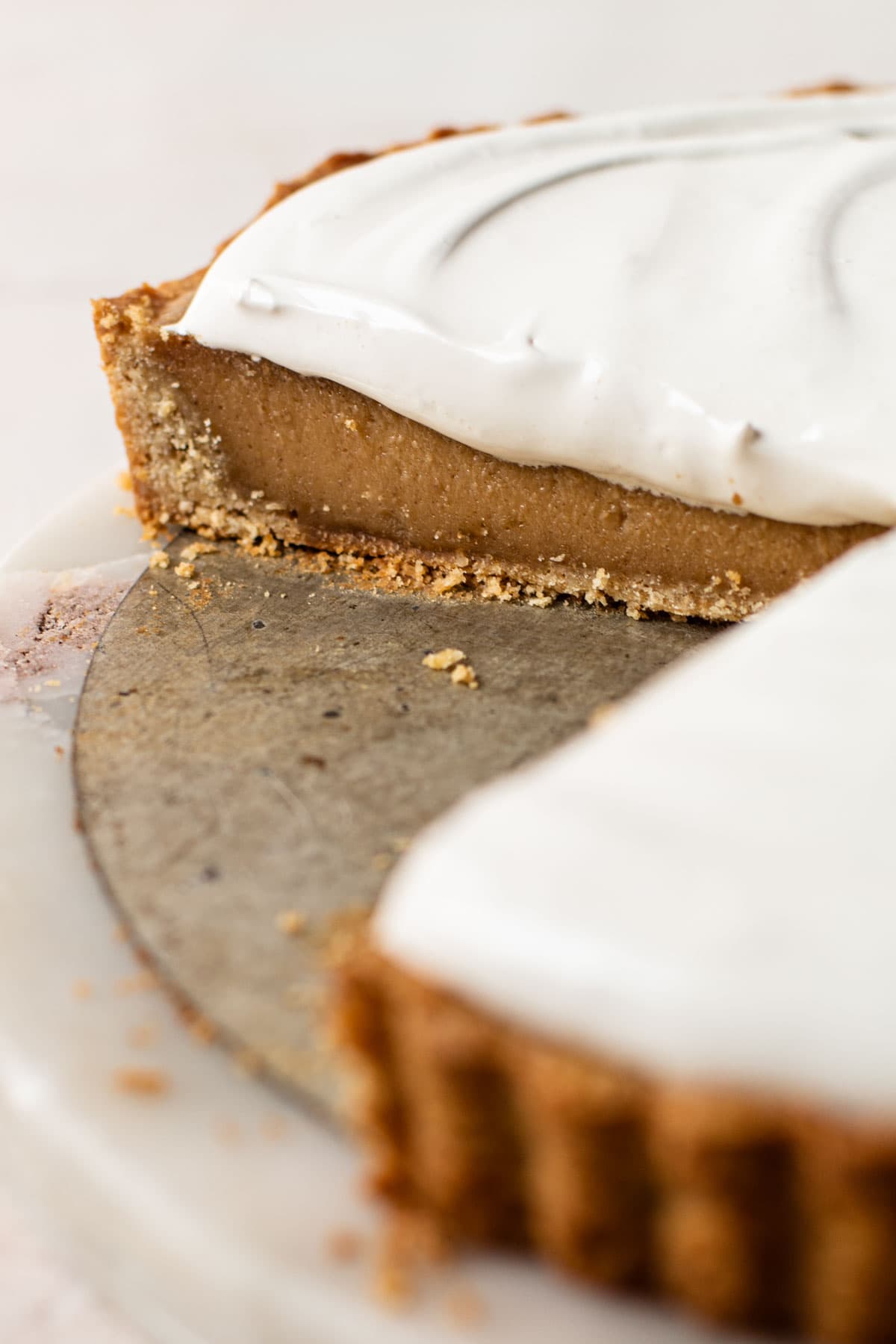 Serving Fluffernutter Pie
This pie should be consumed right after adding the fluff. If you wanted to make it partially ahead of time, you can make the peanut butter custard and store in the refrigerator for up to 2 days.
If you do have leftovers, store them in the fridge. I found that homemade fluff held up better as leftovers than store-bought fluff. The store-bought fluff disintegrated in the refrigerator after 1 day.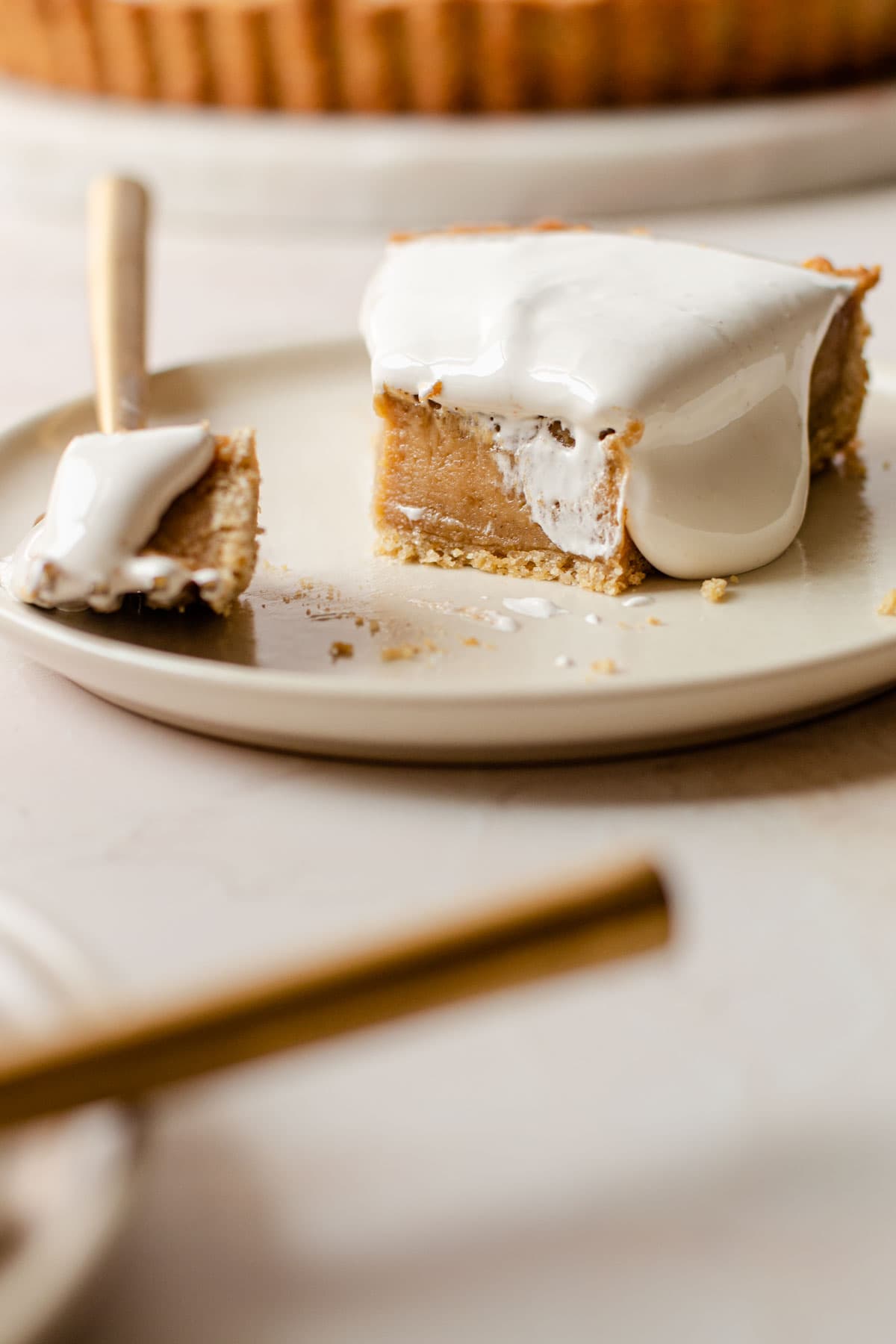 More Sweet Pie Recipes:
I am so honored when you make a recipe from my site! If you make this Fluffernutter Pie, please leave a comment and a star rating with your experience! If you have any questions about this recipe, feel free to comment here, too!
Print
Full Recipe
Fluffernutter Pie
With flavors that match the childhood classic sandwich, this pie will surely bring you back in time. A dense peanut butter custard filling is baked inside of an oat shortbread and topped with fluff (either homemade or store-bought) for a nostalgic taste everyone will love.
Author: Kelli Avila
Prep Time:

00:20

Cook Time:

00:30

Total Time:

50 minutes

Yield:

8-10

Category:

Sweet Pie

Method:

Bake
Oatmeal Shortbread Crust:
¾ cup

(

60 grams

) quick oats (see notes)

½ cup

(

60 grams

) all-purpose flour

2 tablespoons

light brown sugar, packed
Pinch salt

½ cup

butter, cold, cubed

1

large egg
Peanut Butter Filling:
3

egg yolks

1 cup

creamy peanut butter

⅓ cup

granulated sugar
Big pinch of salt

1

-

¼

cup half and half

1 teaspoon

vanilla extract
Fluff:
3

egg whites
Pinch salt

¾ cup

(

150 grams

) granulated sugar

¼ teaspoon

cream of tartar

1

vanilla bean, scraped, or

2 teaspoons

vanilla extract
Instructions
Make the Shortbread Crust:
Add the quick oats, all-purpose flour, light brown sugar and salt to the bowl of a food processor. Process for 1-2 minutes, or until the oats break down into fine pieces.
Add in the butter and pulse 5 times.
With the motor running pour in the egg and let the dough process until the dough forms together into a cohesive ball around the blade, about 1 minute.
Scrape the dough from the bowl and place it in a 9" non-stick tart pan with a removable bottom.
Using a small offset spatula, smooth down the soft dough to an even layer, including up the sides.
Place in the freezer to harden while the oven preheats.
Preheat the oven to 375ºF.
Remove the tart pan from the freezer, and pierce holes into the bottom of the crust with a fork. Cut out a parchment paper circle and place it in the tart pan over the dough, taking care to push it into the edges of the pastry.
Add dry rice / beans or pie weights to the parchment, making sure to push the weights all the way to the edges.
Bake for 20 minutes, then remove from the oven and remove the parchment and pie weights. Return the pie crust to the oven and bake for an additional 5-10 minutes or until the crust is very dry and light golden brown. Lower the oven to 350ºF.
Make the Filling:
In a medium bowl, add the egg yolks, peanut butter, sugar and salt. Gently mix together (you don't want to overwork the peanut butter) until just combined. Slowly whisk in the half and half, a little at a time, until it's fully combined. Whisk in the vanilla.
Transfer the filling to the blind baked tart shell.
Bake the peanut butter tart in the middle rack for 20-30 minutes, or until the filling is set around the edges at least 2-½" in, and just barely wiggly in the middle.
Let cool completely, at least 4 hours, at room temperature.
Make the Fluff:
If you are using store-bought fluff, you can place it on just before serving.
To make the fluff, fill a small pot with at least 1 ½ inches of water and turn on the heat to medium-high.
In a metal stand mixer bowl, combine the egg whites, salt, sugar, and cream of tartar and whisk together until fully combined.
Set the bowl over the steaming pot of water. Alternate between whisking the mixture and scraping down the sides of the bowl (so no sugar gets stuck to the sides and hardens) with a spatula, until egg whites reach a temperature at 160°F, roughly between 8 and 10 minutes. The mixture should be light and fluffy and be completely smooth with no granules of sugar remaining.
Transfer to a stand mixer fitted with a whisk attachment, whip on low speed for 1 minute, scraping down the sides with a clean spatula. Increasing the speed to medium and whip until the meringue is glossy and beginning to pull away from the sides and the bowl has cooled down significantly, about 8 minutes. Add in the optional vanilla extract and whip until combined.
Add the fluff to the top of the pie.
Serve immediately.
Notes
Quick oats work best here. If you can't find quick oats, then use old fashioned rolled oats, but process the mixture for longer.
Don't have half and half? You can substitute ½ cup cream and ¾ cup whole milk.
Have a question or looking for tips? The text written above the recipe is always a great first place to start! There are always loads of explanations, tips and technical advice shared before the recipe.
Keywords: Fluffernutter Pie
Some of the links on this page may be affiliate links. Everyday Pie is a participant in the Amazon Associates Program. As an Amazon Associate I earn from qualifying purchases, at no extra cost to you.