Managing the perfect balance between sweet and tart, homemade Lemon Curd is a bright citrus spread that is perfect to use in a variety of desserts. It's simple and quick to make on the stove, requiring just a handful of ingredients and about 10 minutes of your time.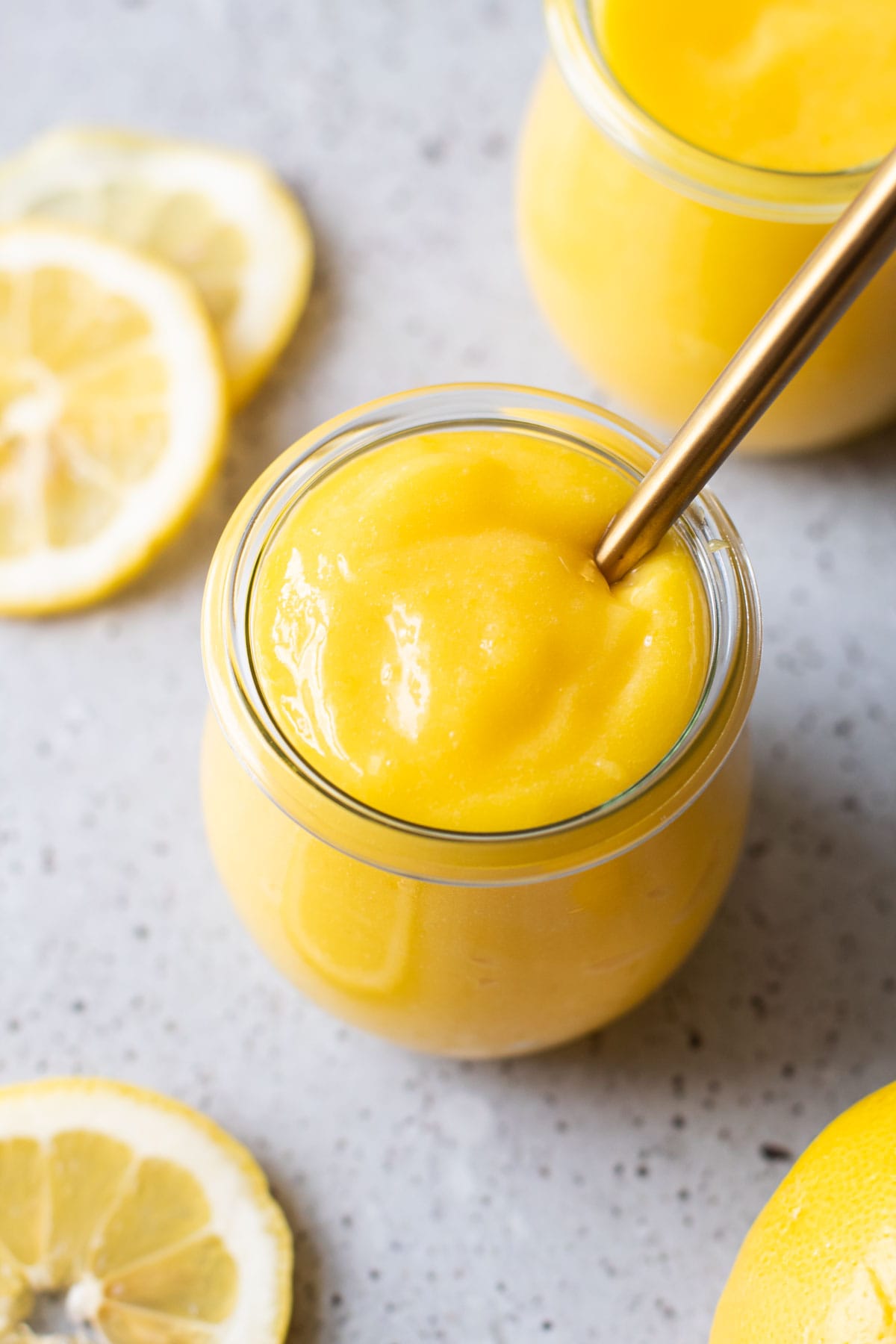 Lemon Curd Recipe
Lemon curd is one of those recipes that you assume is too fancy to make at home, but in reality, it's quite simple to do. Also, there is a high likelihood that you already have all the ingredients needed to throw it together at a moment's notice.
This bright citrus spread can be used in so many ways, with eating it straight from the spoon among them. Lemon curd can be used as a spread on muffins or scones, used in recipes like this Creamy Icebox Lemon Pie, stirred into yogurt, or baked into your favorite pastry.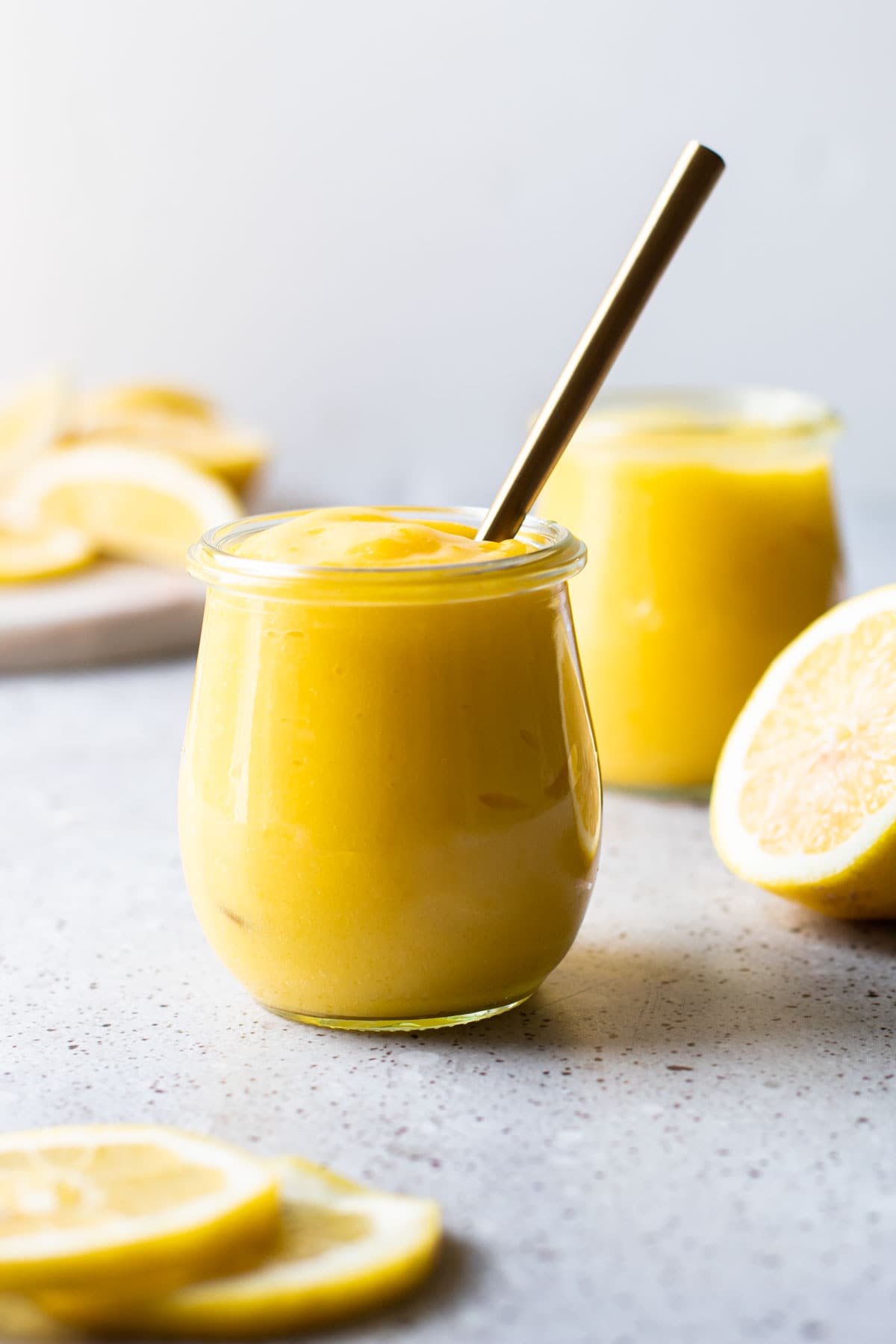 Here is What You Need to Make It
Here is an overview of the ingredients needed for this recipe. The full recipe is listed below in greater detail.
egg yolks
granulated sugar
freshly squeezed lemon juice and zest
salt
unsalted butter
Here are the Tools You Need
Here is a list of some of the primary tools I use in this recipe. You won't necessarily choose to use them all, but they are exactly what I used. Any links may contain affiliate links.
lemon juicer
pot
whisk and spatula
jar (for storing lemon curd)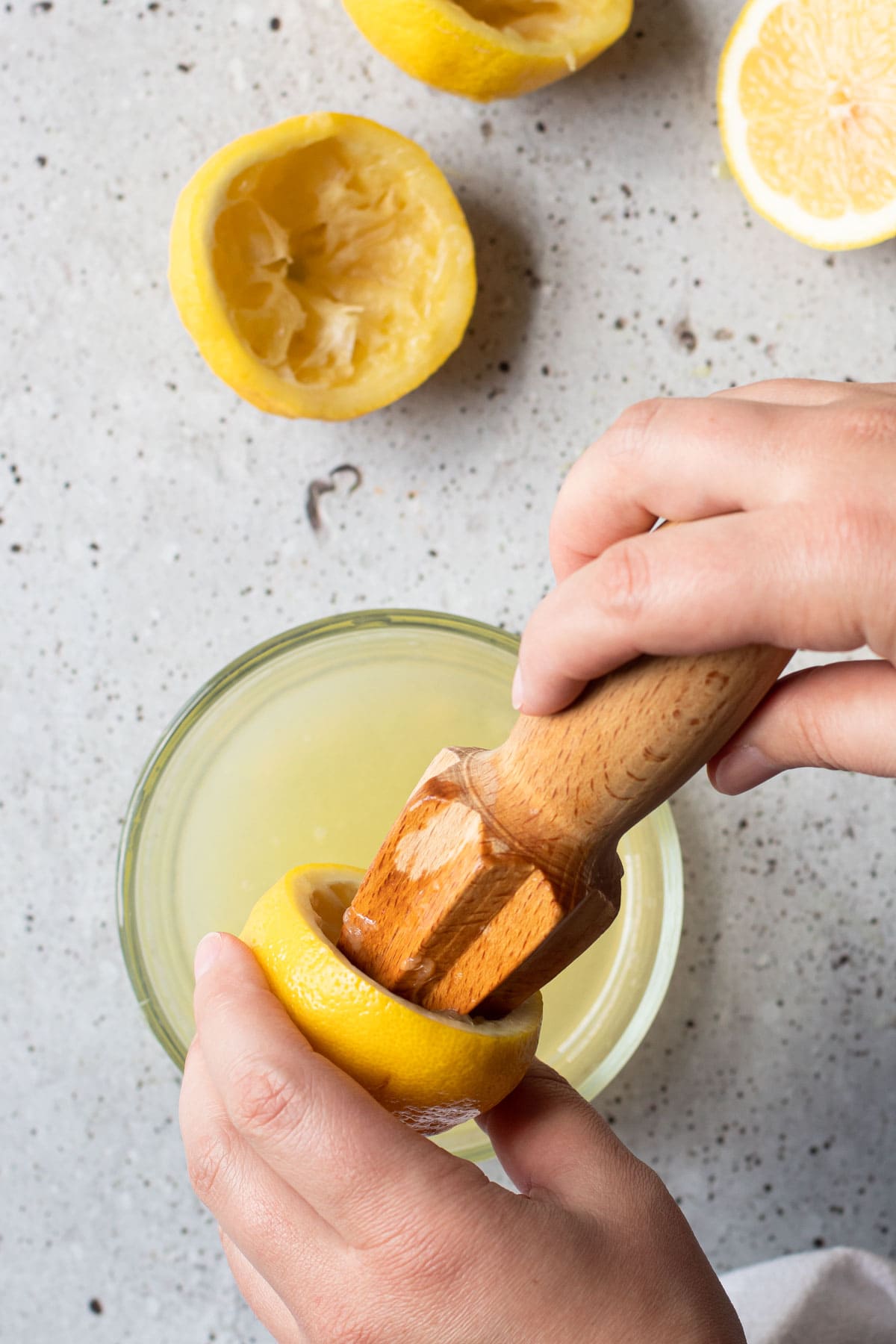 Steps for Making Lemon Curd
Here is a quick overview of the steps needed to make lemon curd:
Whip up the eggs and sugar until lightened.
Add the remaining ingredients.
Cook the mixture over a double boiler, until thickened.
Whisk in the butter.
How Long Does Lemon Curd Take To Thicken?
The whole mixture shouldn't take more than 10 minutes to make on the stove, often a few minutes less than that.
The curd needs to be cooked to a temperature between 170ºF-180ºF. It's easiest to measure this with an instant-read thermometer, and I swear by my Thermapen (affiliate link). Cooking the curd to this temperature thickens it just enough to make it safe to eat, and super creamy. Cooking it any longer than that will result in a curd that is not silky smooth and maybe be a bit lumpy.
If you don't have a thermometer, use the spoon test. Coat the back of a wooden spoon. Run your finger through the mixture. If the curd holds the line, then it is properly thickened. If it does not, you should cook the curd for another minute or two until it does.
You might feel at this point that it isn't the correct thickness of lemon curd, but rest assured, it will thicken much more as it cools in the next 24 hours. But your best bet for making sure the curd is properly thickened is to probe the temperature as instructed above.
Tips for Cooking Lemon Curd
The biggest piece of advice when you are cooking the mixture is to never stop stirring. This is not a recipe to walk away from, even briefly. Egg yolks are naturally attracted to heat, and if they sit for too long without stirring they will migrate to the bottom or sides of the pot, where it is the hottest, and they will overcook. This can result in pieces of cooked egg yolk in your mixture. While you can strain them out, it also can result in a more pronounced eggy flavor in your final lemon curd.
Also, use a rubber spatula when cooking the mixture. The reason to use a rubber spatula is to avoid any long exposure to anything metallic. If the acidic mixture becomes exposed with a metal that isn't lined or stainless steel, it can react and cause a metallic taste. And since I do not know all the materials of each of my metal whisks (and you likely don't either), using a rubber spatula during the cooking phase is the safest bet.
Troubleshooting Lemon Curd
When I say this recipe is easy, I truly mean this recipe is easy. But that doesn't mean there aren't a few things that can trip people up.
My lemon curd didn't thicken!
The most common reason this may have occurred is that the curd wasn't cooked long enough. The egg yolks must reach a temperature between 170ºF and 180ºF in order for the yolks to change their structure and for the curd to thicken. See the section above for more tips on making sure the lemon curd is properly thickened. Also, be aware that the lemon curd continues to thicken as it cools. Warm curd will be much thinner than the cooled final product.
My lemon curd has chunks in it.
This likely means that the egg yolks cooked too much. This can happen for two reasons. Either the mixture wasn't constantly stirred and the egg yolks got cooked on the bottom of the pot. Or, the entire mixture was cooked too much and reached close to the boiling point. You can try to strain it out, but it might have an eggy aftertaste.
My lemon curd is too sour.
Double-check that you measured the correct ingredients. This recipe should make for a slightly sweet lemon curd, with an option listed in the notes to make a more sweet-tart curd. If you measured correctly according to the instructions and still feel it is too sour, you can add about ¼ cup more sugar next time you make it.
My lemon curd tastes metallic.
Lemon juice is very acidic. Use only stainless steel or enameled pans and utensils when making this mixture, especially when it comes to the pots and whisks you use. If you use an unlined metal or copper material, it will react with the acid and can result in a metal taste in the lemon curd or even it can turn green.
I want a completely smooth lemon curd.
For a completely smooth lemon curd, strain your lemon curd after it has finished cooking on the stove. This will remove the bits of zest in the curd, as well as any accidentally cooked egg yolks.
What should I do with my leftover egg whites?
First off, did you know you can freeze egg whites? Whenever I make lemon curd, if I don't have an immediate use for the egg whites I'll stick them in the freezer. When I'm making a big batch of eggs or a frittata, I'll defrost the egg whites the night before and add them to that. You can also make a meringue to serve with your lemon curd or use them in another recipe such as a souffle, angel food cake, cocktails or any other number of recipes.
How to Store Lemon Curd
Store lemon curd in the refrigerator, in a glass jar, or glass container for up to two weeks. Do not store it in a metal or plastic container as the high acidity can break down those materials.
Lemon curd can also be frozen for up to 3 months.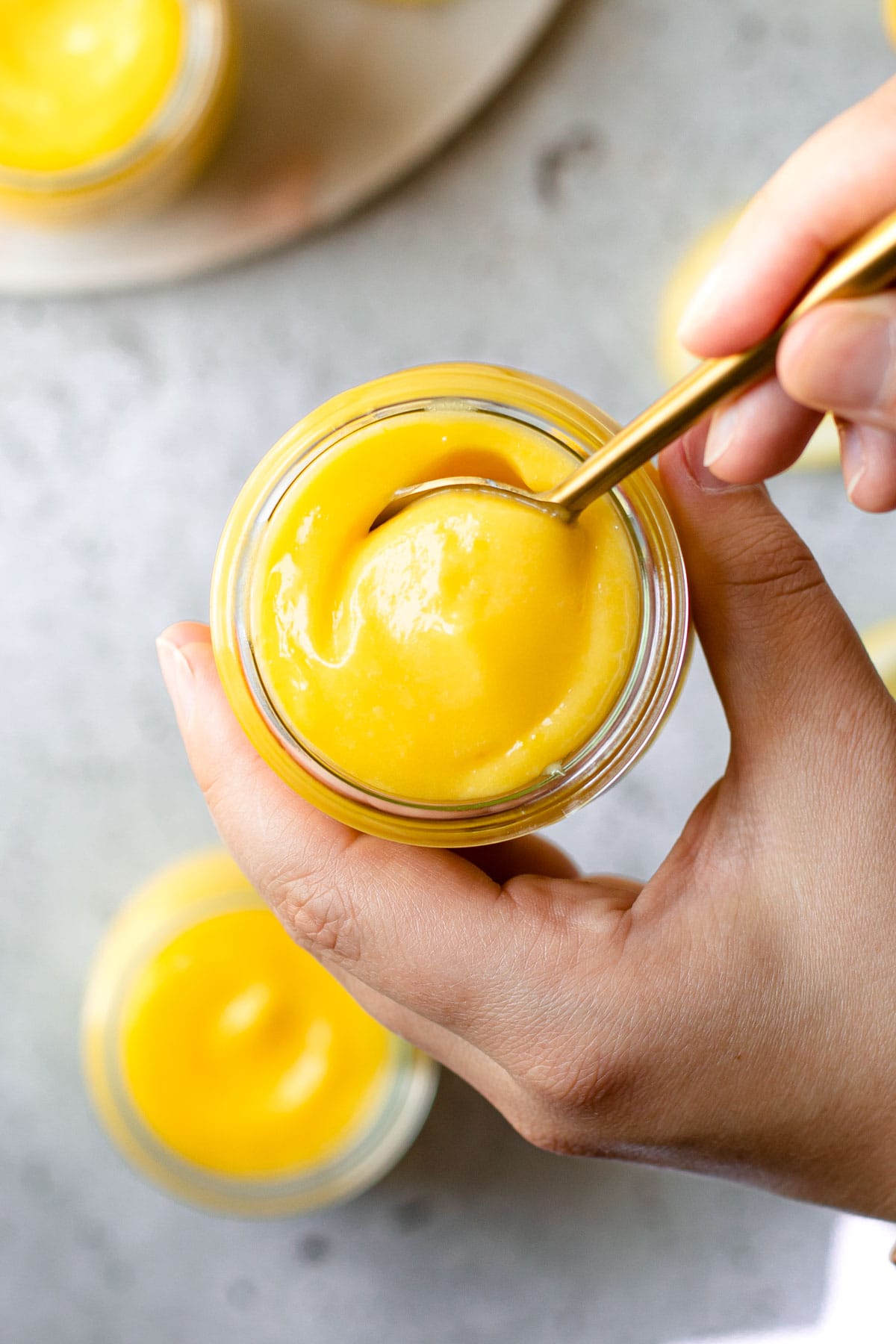 What Do You Do with Lemon Curd?
This silky citrus spread is so versatile!
Use it as a topping: on waffles or pancakes, over a scone or a muffin, with ice cream or yogurt, or spooned over a cheesecake.
Use it in recipes: many recipes (including this Icebox Lemon Pie) call for lemon curd!
Use it as a filling: all by itself, lemon curd makes a great filling in cakes, pies, crepes or other pastries.
Just grab a spoon! Seriously it's so good.
More Citrus-y Recipes
Print
Full Recipe
How to Make Lemon Curd
Managing the perfect balance between sweet and tart, homemade Lemon Curd is a bright citrus spread that is perfect to use in a variety of desserts. It's simple and quick to make on the stove, requiring just a handful of ingredients and about 10 minutes of your time.
Author: Kelli Avila
Prep Time:

00:05

Cook Time:

00:10

Total Time:

15 minutes

Yield:

1 Pint

Category:

Cooking Tutorials

Method:

Stovetop
6

large egg yolks

¾ cup

(

150 grams

) granulated sugar (see notes)

½ cup

(

112 grams

) fresh squeezed lemon juice

1 tablespoon

very finely grated lemon zest
Pinch salt

8 tablespoons

(

112 grams

) unsalted butter, cold, diced into pieces
Instructions
Bring a small saucepan of water to a simmer on medium on the stove, which will act as a double-boiler.
Add egg yolks and sugar to a medium heat-proof bowl. Vigorously whisk the yolks into the sugar until the mixture is lightened in color and increased in volume. Whisk in the lemon juice, lemon zest and pinch of salt.
Set the bowl over the simmering saucepan.
While stirring with a rubber spatula constantly, cook the mixture for 8-10 minutes, until the mixture has just thickened and reached a temperature between 170ºF-180ºF. To double-check the curd has thickened properly, take a wooden spoon and coat it with the curd. Draw a horizontal line on the back of the spoon with your finger. If the line "holds" then your curd is set. If the line collapses right away, the curd needs another minute or so. However, do not bring the mixture to a boil, this will overcook it.
Take the curd off the heat. If desired, to make it completely smooth, pour the hot curd through a fine-mesh strainer. This is entirely optional.
Whisk the cold butter into the curd, a few pieces at a time, until it is fully emulsified.
Transfer the curd to a jar, and let cool completely before covering.
Notes
To make for a slightly less sweet, and more equally tart curd, reduce the amount of sugar to ½ cup. This will make for an equal parts sweet and tart lemon curd.
Make sure to only use stainless steel or lined metal pots or utensils. If you don't know if your whisk is stainless steel, make sure to only use it briefly when whisking together the ingredients. Use a rubber spatula when stirring the pot to prevent any prolonged contact with unlined metal.
Keywords: How to Make Lemon Curd
Some of the links on this page may be affiliate links. Everyday Pie is a participant in the Amazon Associates Program. As an Amazon Associate I earn from qualifying purchases, at no extra cost to you.