This Lemon Meringue Pie offers a lemon-scented shortbread pastry, perfectly balanced with a bright and vibrant lemon filling and finished with the fluffiest swiss meringue top. Make this once, and you'll find your forever Lemon Meringue Pie recipe.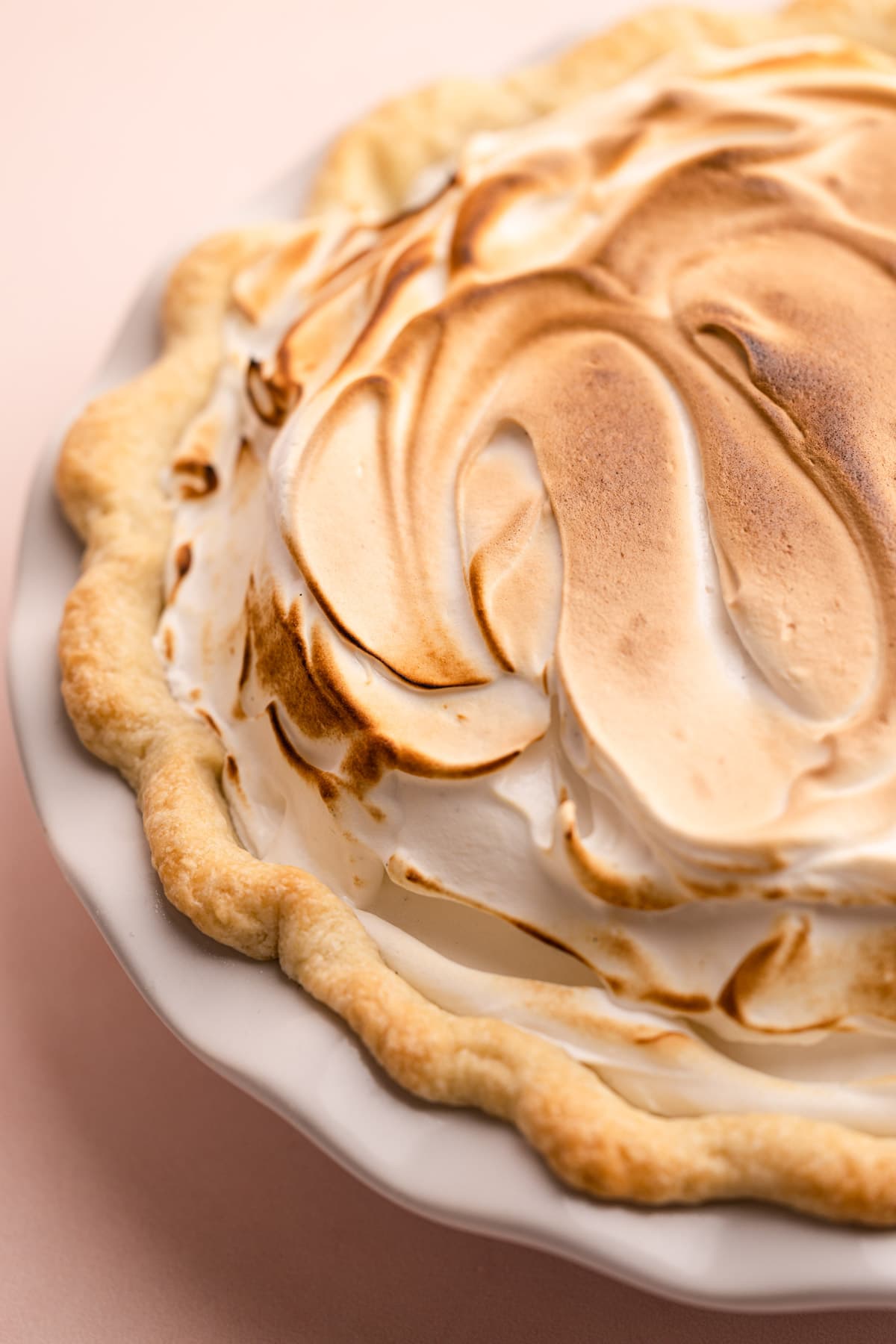 This Lemon Meringue Pie recipe is not your standard recipe. While the taste is classic, I have thrown out all the typical rules when it comes to making this pie to ensure the very best flavor and texture.
And, that's because I have a secret to share: before I developed this recipe, I didn't like Lemon Meringue Pie.
All the versions I had sampled before had bland pastry, a dull, somewhat metallic lemon filling that was too gloopy, and a flavorless meringue with a weird texture. Plus, most recipes tell you to add the meringue onto the hot filling, but then instruct you to let the pie cool before serving, which means the meringue isn't fresh and silky anymore. That never made sense to me, since meringue is best served fresh. I just knew I had to find a better way. Alas, after having fallen in love with Lemon Meringue Pie after countless experiments, I believe I have found the perfect recipe.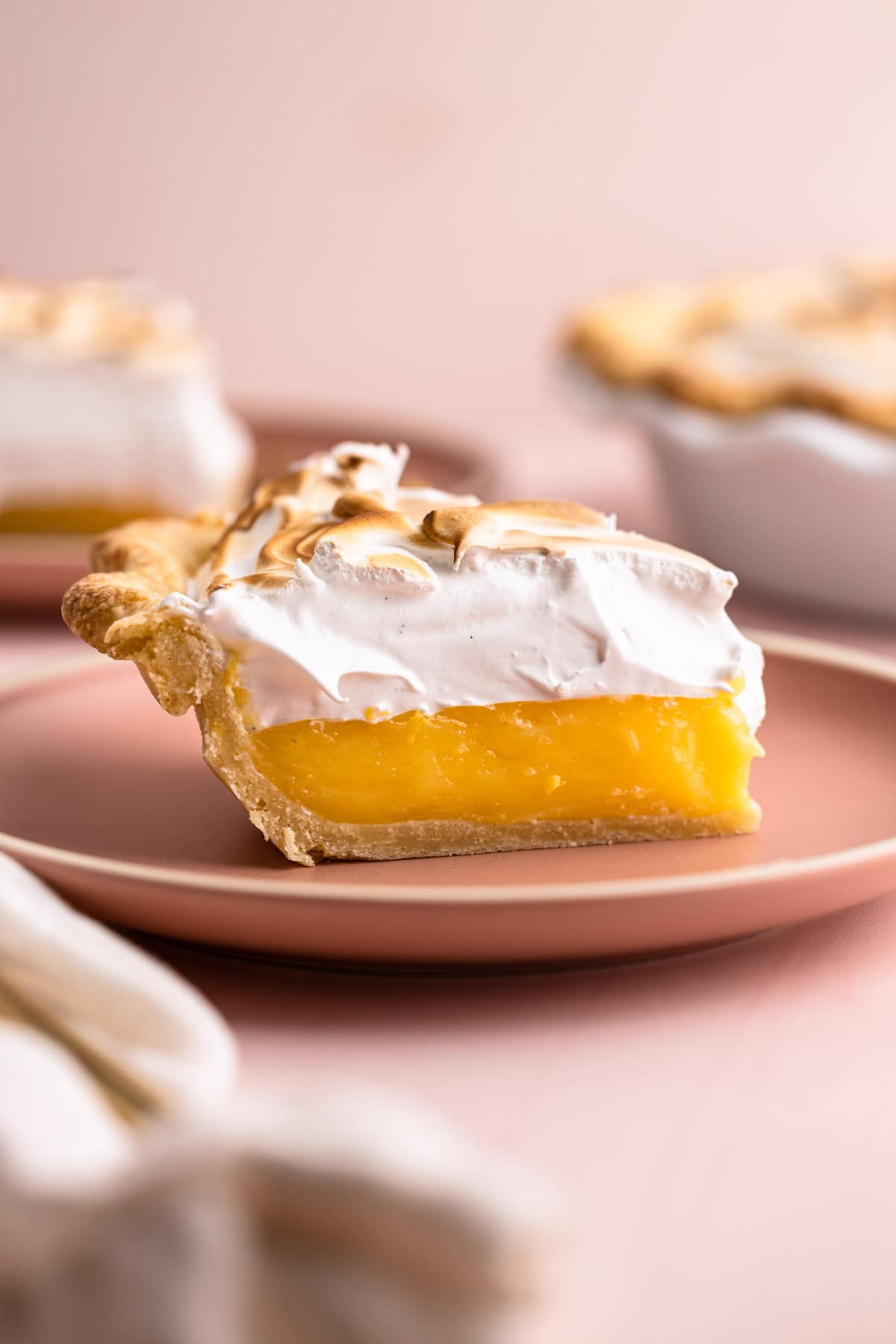 Why this is the Best Lemon Meringue Pie Recipe
Let's start with the crust. My version has a thick lemon-scented shortbread pastry. It's thick so that it can hold up that hefty lemon filling and a big pile of meringue. It's buttery and crisp and super tasty.
The lemon filling uses fresh lemons and zest (always) and is perfectly balanced between sweet and tart. Below I share tips on how to avoid any metallic taste in the lemon filling. In addition, my recipe has absolutely no need to temper any eggs! I'll explain more below if you want to find out why. This recipe is very different from most in that the lemon filling is made first, and then chilled before adding the meringue topping. It allows for less of the thickener to be used since the lemon filling has time to firm up and chill. And, it means the pie can be served right away after the meringue is put on top (which means an overall better pie).
Finally, that fluffy silky meringue. This recipe uses a Swiss Meringue top. To make it you need to cook the egg whites and sugar to a certain temperature, before whipping them in a stand mixer. This means that it's completely safe to eat the meringue with no concern about eating raw eggs. Also, a swiss meringue is more stable so you don't have to worry about weeping. We'll get into that more below.
So, let's get to making it, shall we? The text below offers tons of tips and helpful notes, or you can scroll to the bottom to grab the recipe and get started!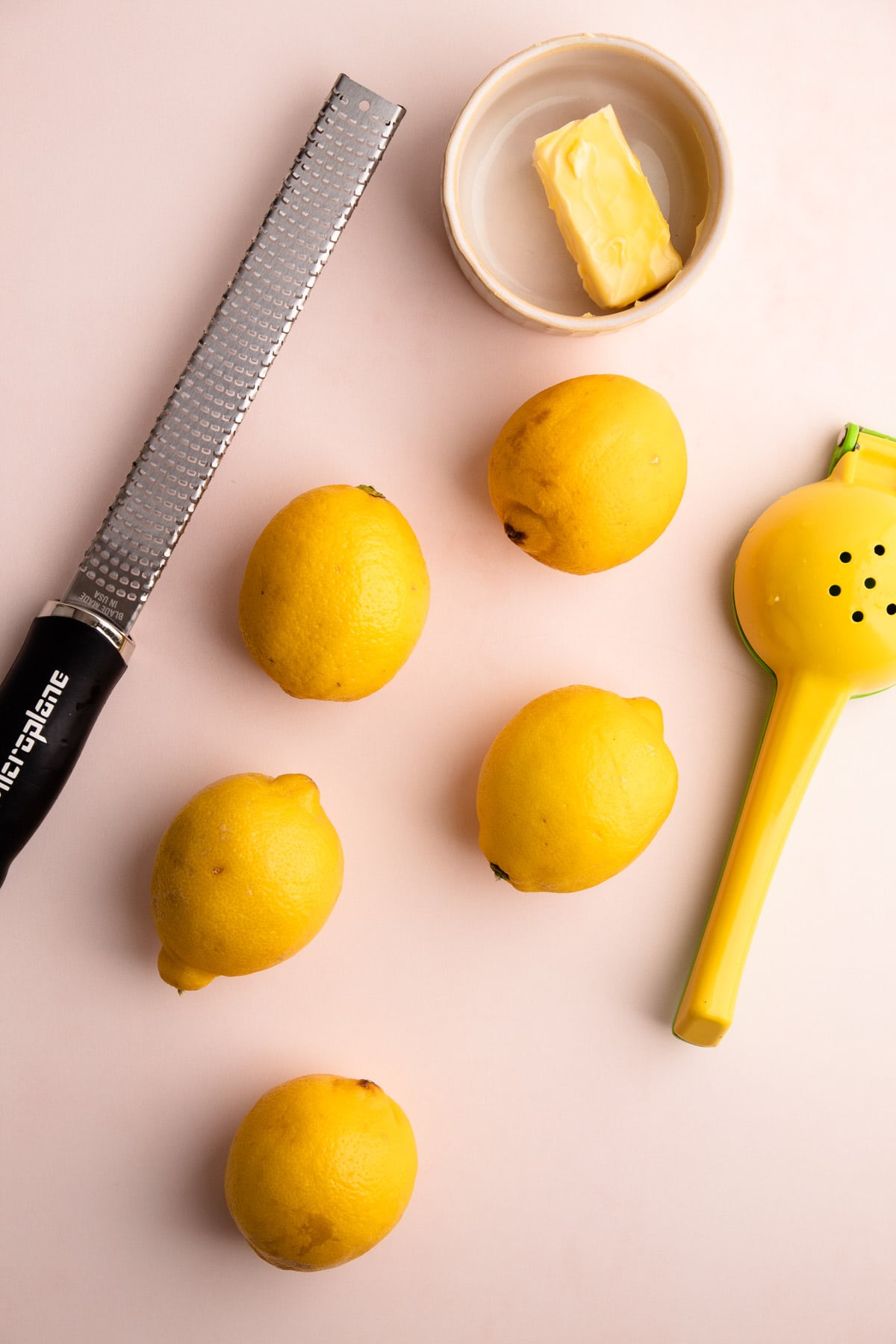 Lemon Meringue Pie Ingredients
Here is an overview of the ingredients needed for this recipe. The full recipe is listed below in greater detail.
lemons
granulated sugar
eggs
all-purpose flour
butter
cream cheese (this is added to the pie crust, but can be swapped with additional butter)
cornstarch
cream of tartar
vanilla paste or vanilla extract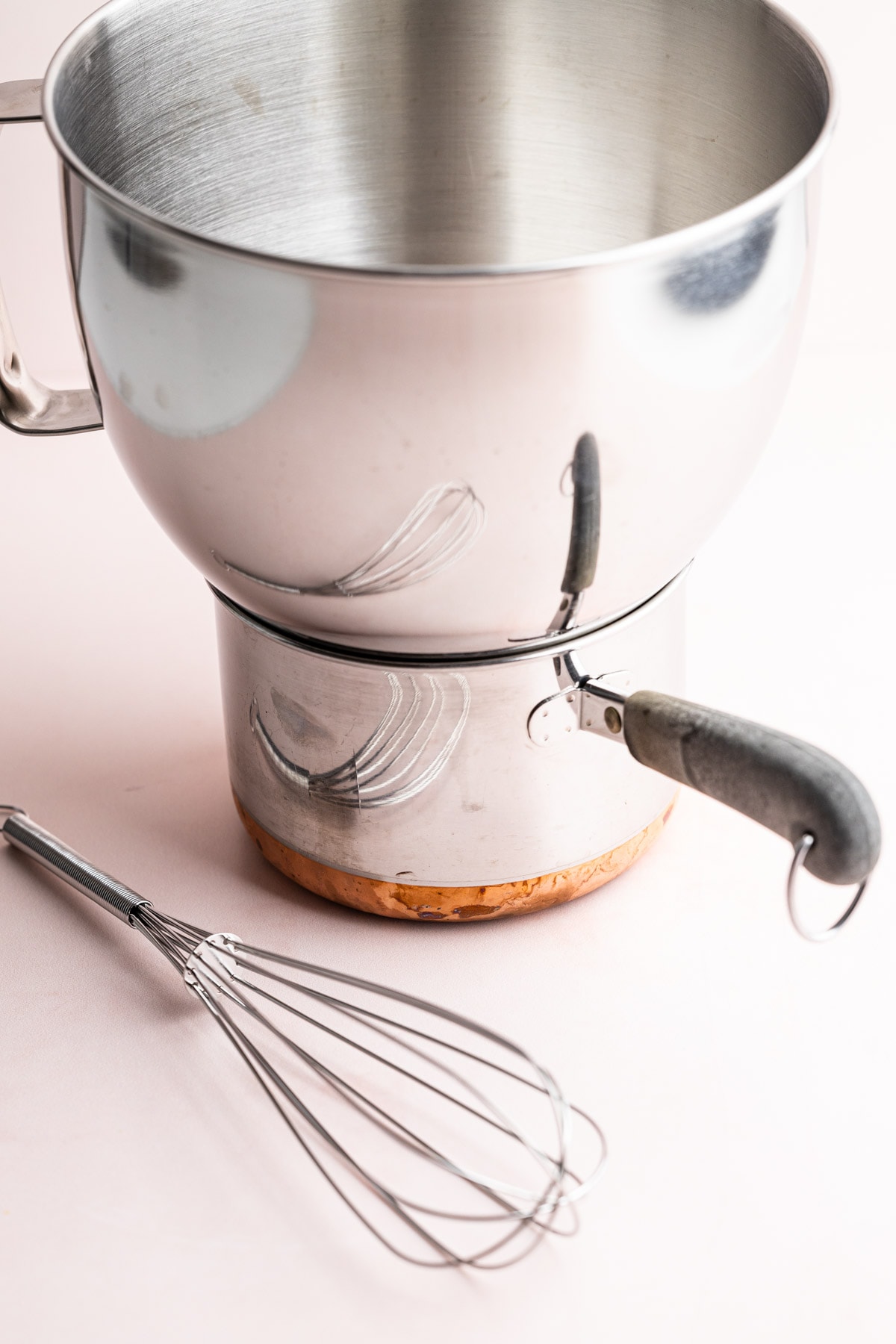 Helpful Tools
Here is a list of some of the primary tools I used in this recipe. You won't necessarily choose to use them all, but they are exactly what I used here. Any links may contain affiliate links.
food processor (to make the pie dough)
instant-read thermometer (to check the temperature of the meringue)
citrus zester or microplane (to get the zest from the lemons)
citrus squeezer / citrus juicer
electric stand mixer with a metal bowl
small pot (to make a double boiler)
stainless steel whisk or silicone whisk
rubber spatula
fine-mesh strainer (preferably nylon)
9" deep dish pie plate
kitchen torch (to toast the meringue, though this is completely optional)
baking essentials: kitchen scale, measuring cups/spoons, bowls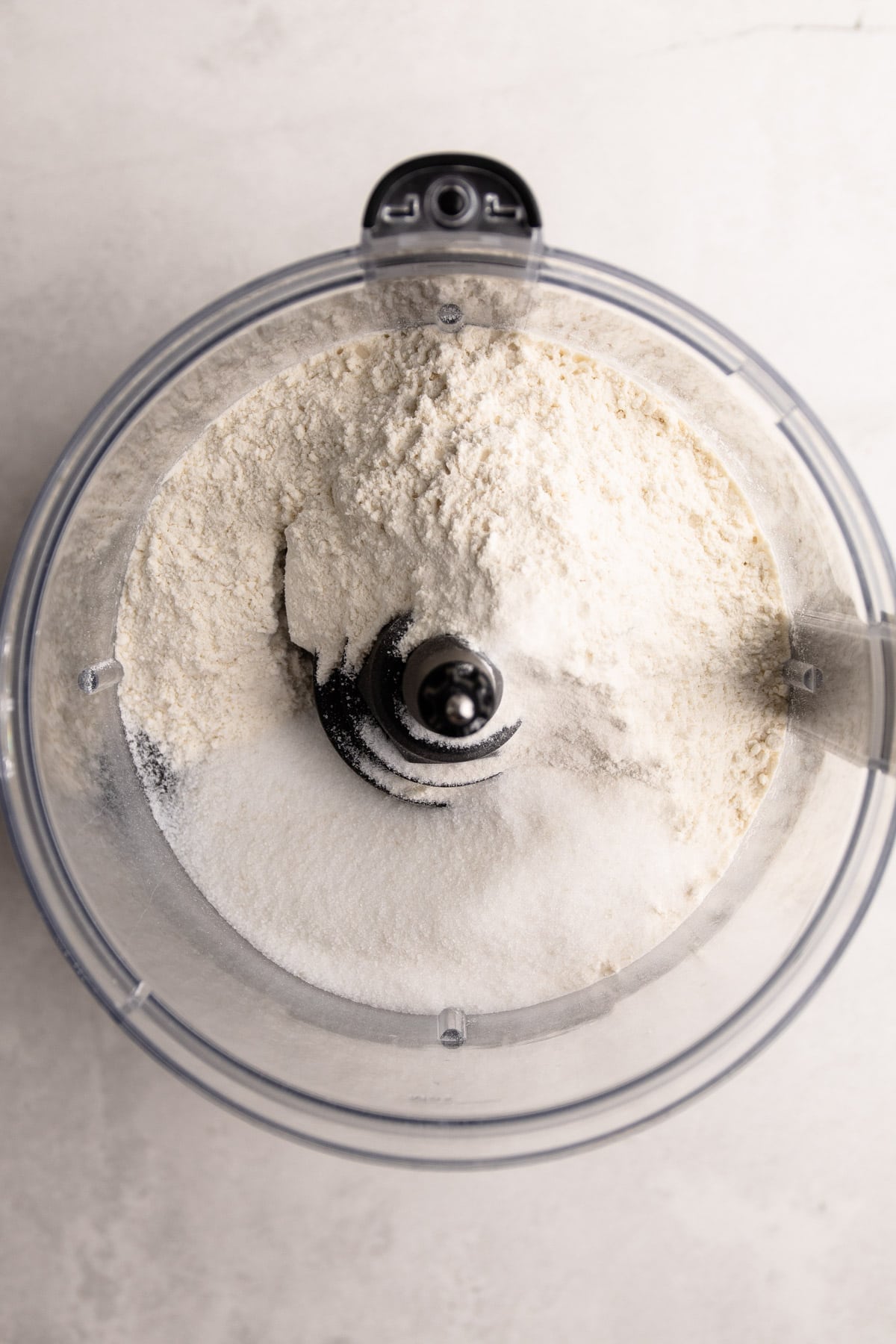 Making the Lemon Pie Crust
This pie is heavy, and that means it needs a sturdy crust that can hold up the weight of the lemon filling and the meringue. The pastry is a bit thicker than a typical pie crust for that reason, and it's a shortbread crust that has a great buttery flavor. Lemon zest is added in to lend a punch of pucker to the overall citrus taste.
It's easily made in the food processor and can be made up to two days ahead of time.
And yes, it does need to be fully blind-baked. New to blind baking? Check out this Blind Baking tutorial, though the recipe below gives you all the details you need to know.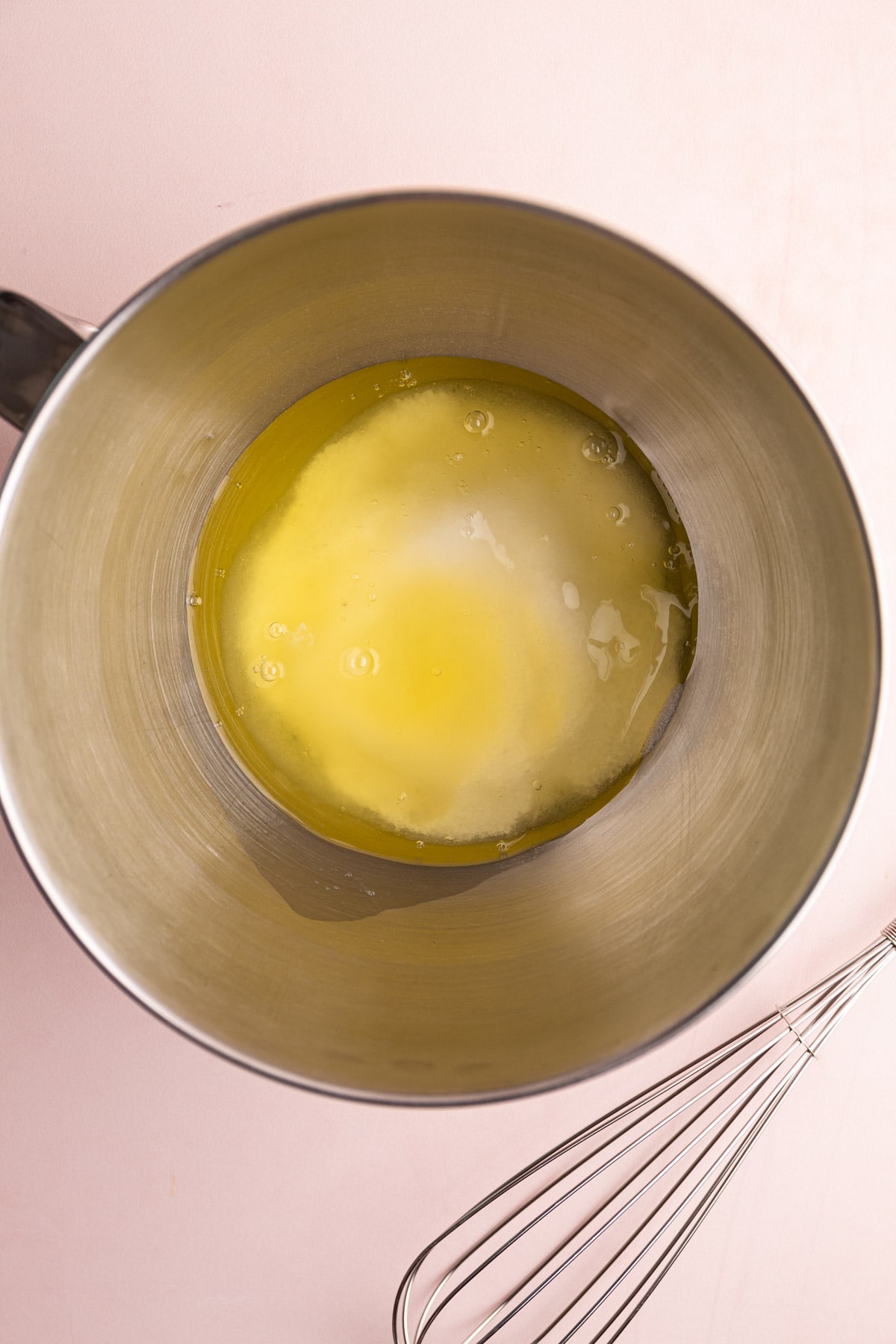 Let's Talk About the Meringue
One of the biggest problems people have when making the meringue in a Lemon Meringue Pie is that it weeps, or just doesn't keep its silky texture. This tends to happen because most recipes call for a french style meringue (made with raw egg whites) that is placed on top of a hot filling, and then broiled or baked in the oven. Yet, those recipes also instruct you to wait for the lemon filling to chill and set up, before serving the pie. This means the meringue isn't served fresh (when it's at its absolute best). Well, I'm flipping the script completely, and switching up meringue methods and instructions for assembly. This recipe uses the swiss method to make for a more delicious, more stable, and safe meringue.
The Swiss method is made by cooking egg whites and sugar together over a double boiler until it reaches 160ºF, or until it has thickened and all the sugar has dissolved. Then, the mixture is beaten with an electric mixer until light and fluffy. The egg whites are cooked through and safe to consume as is, and it has a thick, glossy texture that is completely unmatched.
How to Know when the Meringue is Done
It is possible to under whip and overwhip the meringue. For a swiss meringue, you want to look for a glossy stiff peak. You'll know you are getting there when the meringue starts to pull away from the sides of the bowl, and as the whisk drags through the meringue, it leaves a very defined wake in its path. You'll also notice the bowl has cooled down significantly and this helps you to know the meringue is ready. This whole mixing process takes roughly 8 minutes.
Want more in-depth knowledge about swiss meringue? Head to my extensive Guide to Making Swiss Meringue.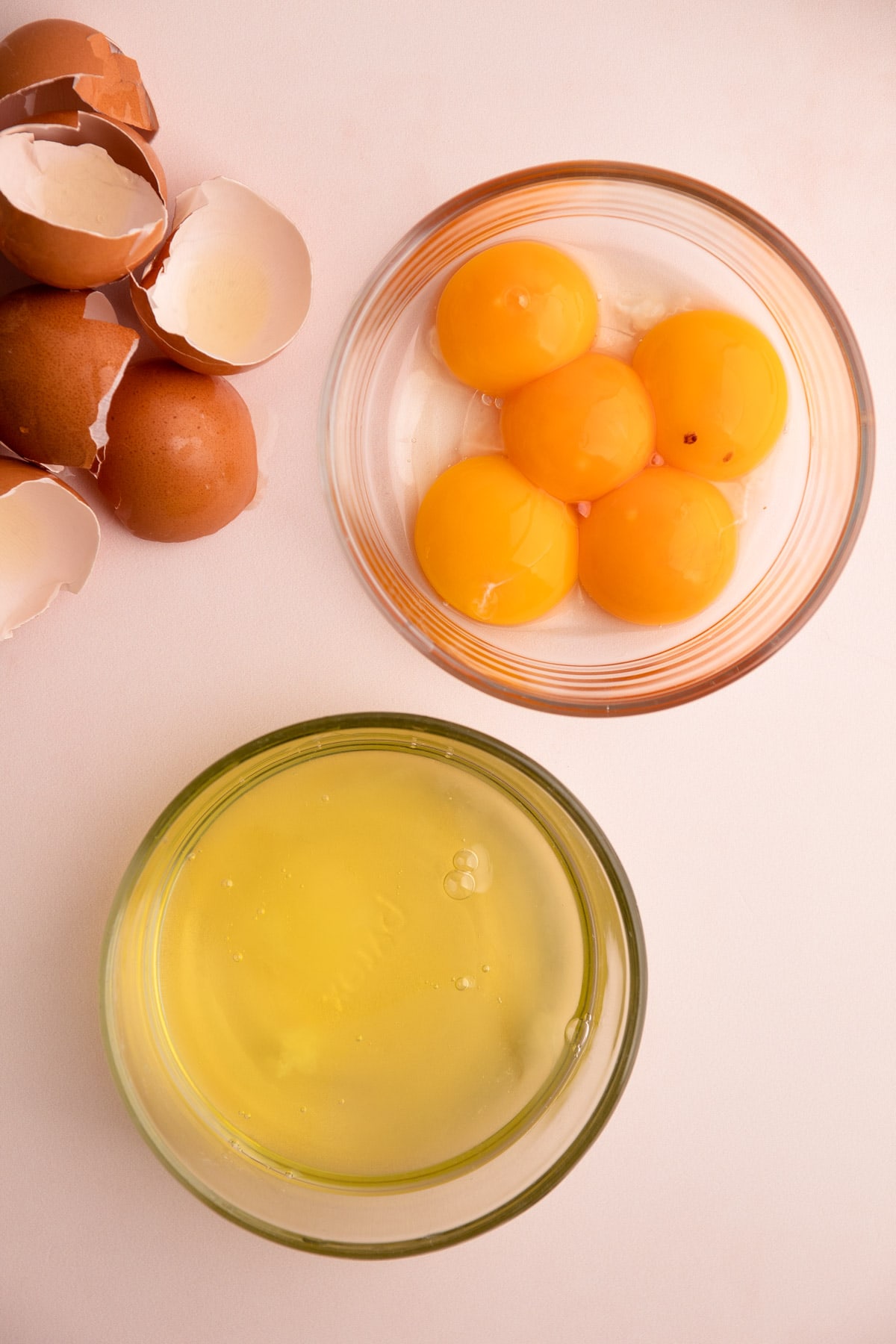 Overview of Steps
Included below is an overview of the steps for the recipe, followed by a few tips for you so you can have success with this recipe. As I stated, this recipe is quite different from the usual Lemon Meringue Pie recipes, so if you've made it before you might notice that many of the main tasks are switched up.
make, roll out and fully blind bake the pie crust
make the lemon filling
pour the filling into the fully baked pie crust and let it set up in the refrigerator for at least 4 hours, or overnight
make the swiss meringue, transfer to the top of the lemon filling, and torch or toast it
Why Tempering the Egg Yolks is Unnecessary
There is one step missing from the above directions that most Lemon Meringue Pie recipes call for, and that is to temper the egg yolks.
When I first started making recipes that involved the "pudding" technique, I followed the tradition of tempering the egg yolks for fear of accidentally scrambling them. But after a while, I wondered if it was truly necessary since the eggs are added into the liquid with cornstarch, which helps stabilize them. I ditched the pudding technique and never ever had a problem with cooked egg yolks.
That means there is absolutely no need to temper the egg yolks, which takes a lot of the intimidation out of making the lemon filling. However, I do call for straining the cooked lemon filling. This gets rid of any bit of egg whites that tend to hang on to the egg yolks (this is a protein called chalaza).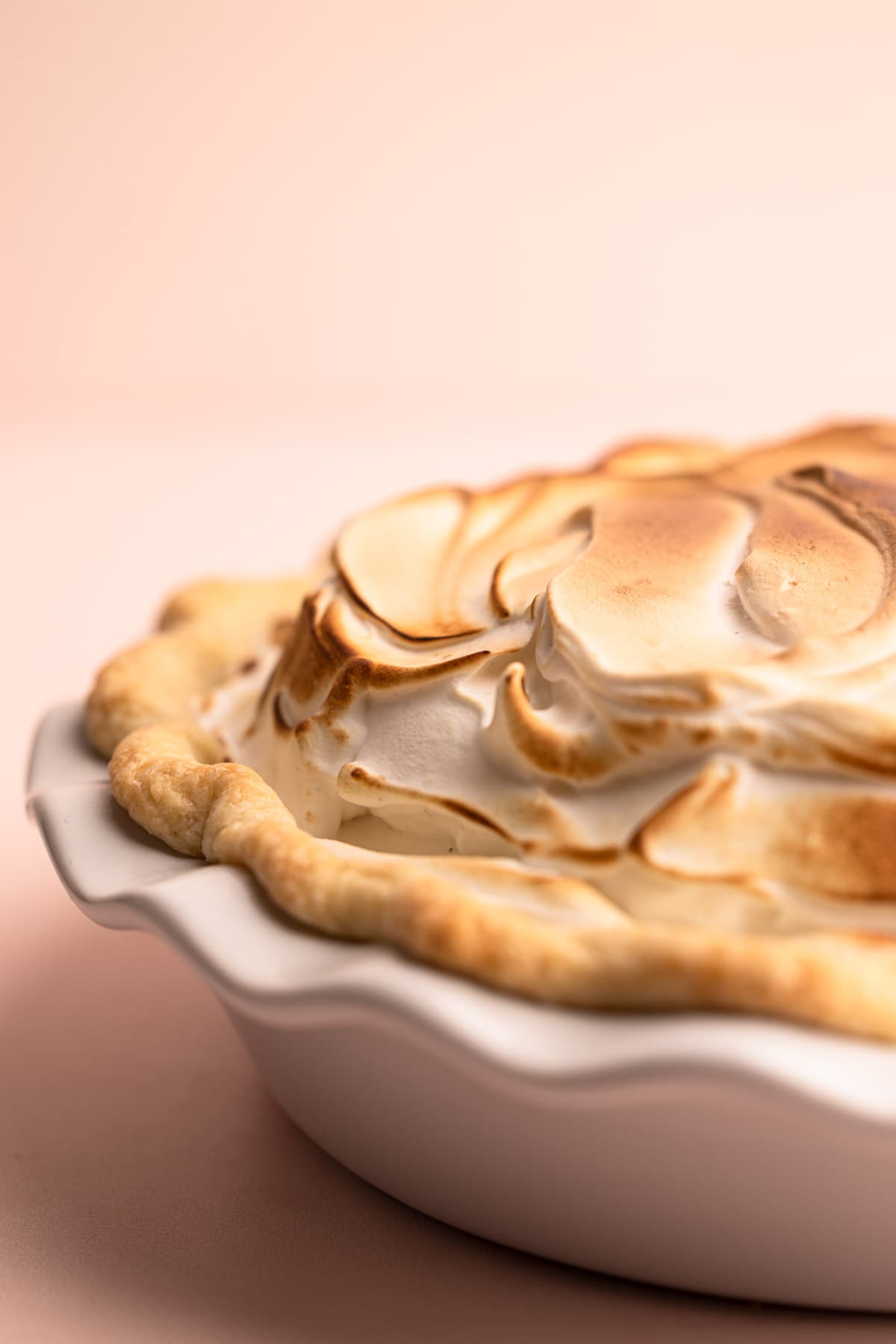 Serving Lemon Meringue Pie
This pie is best served on the same day that the meringue is made. However, the pie can be made up until the part of the lemon filling is poured into the baked pie crust up to one day ahead. It can last a little longer than that, but it's best to let it sit for no more than a day.
You can toast the meringue under the broiler (just make sure to watch it closely) or with a kitchen torch.
Since this recipe uses a swiss meringue--if properly made--it will stay stable for a minimum of a few hours.
The longest I've had a Lemon Meringue Pie last in my refrigerator was about 3 days before it started to weep a little bit. So leftovers can be kept for a few days.
Common Lemon Meringue Pie Problems Solved
Lemon Meringue Pie can be super tricky, and many of the components can trip people up. Below I share some of the common problems people have with making it, and some tips for how to avoid it. I'll also address how this recipe is different than most to avoid these common problems.
The crust is soggy!
Make sure to fully blind bake the crust, especially for this recipe. This recipe has an extra thick pastry to stand up to the heavy lemon and meringue filling, and it will need extra time to fully bake through. You'll know it's done with the pastry is no longer shiny, and has begun to puff up in areas.
The lemon filling is too sweet!
This recipe has a well-balanced lemon filling, with more than ¾ cup of fresh-squeezed lemon juice and lemon zest. With each bite, you can taste the pucker of the lemon, but it's not too sour that it's overwhelming. If you want your lemon filling to bend more to the side of sour, you can reduce the amount of sugar in the lemon filling to ¾ cup sugar, which will make the amount of lemon juice and added sugar equal.
The lemon filling isn't thick enough!
This recipe flips the script of the traditional way to make lemon meringue pie by making the lemon filling first and then chilling it fully before adding on the meringue. This means less of the thickener can be used since the lemon filling has time to firm up before the meringue is put on and that the pie can be served right away once the meringue is added on. That solves two problems at once!
The meringue is weepy!
This is by far the most common problem people complain about when it comes to this pie. And truly, switching up the type of meringue is the easiest solution to a weepy pie. First, a swiss meringue is much more stable than a french meringue. Second, the meringue is added after the lemon filling is cooled, so it can be served right away. Meringues start to weep after sitting for a long period of time, so no concern there. And, the filling is chilled before the meringue is added, which means that the hot filling won't destabilize the meringue. One thing to note is that when spreading the meringue on top of the lemon filling, it's best to avoid any pockets of air. This also helps prevent any premature weeping.
The lemon filling has a metallic taste!
There is a lot of acid in this pie, thanks to the lemon juice. In order to avoid any metallic taste, avoid any metal tools or pans when making the filling, except for stainless steel. When lemon juice comes into contact with a non-stainless steel metal surface, its corrosive properties react on the metal and the lemon juice can take on a metallic taste. It's best to use glass bowls, nylon strainers, and stainless steel pots when making the lemon filling. Also, don't let the lemon juice sit in any non-glass bowl for any period of time, even stainless steel.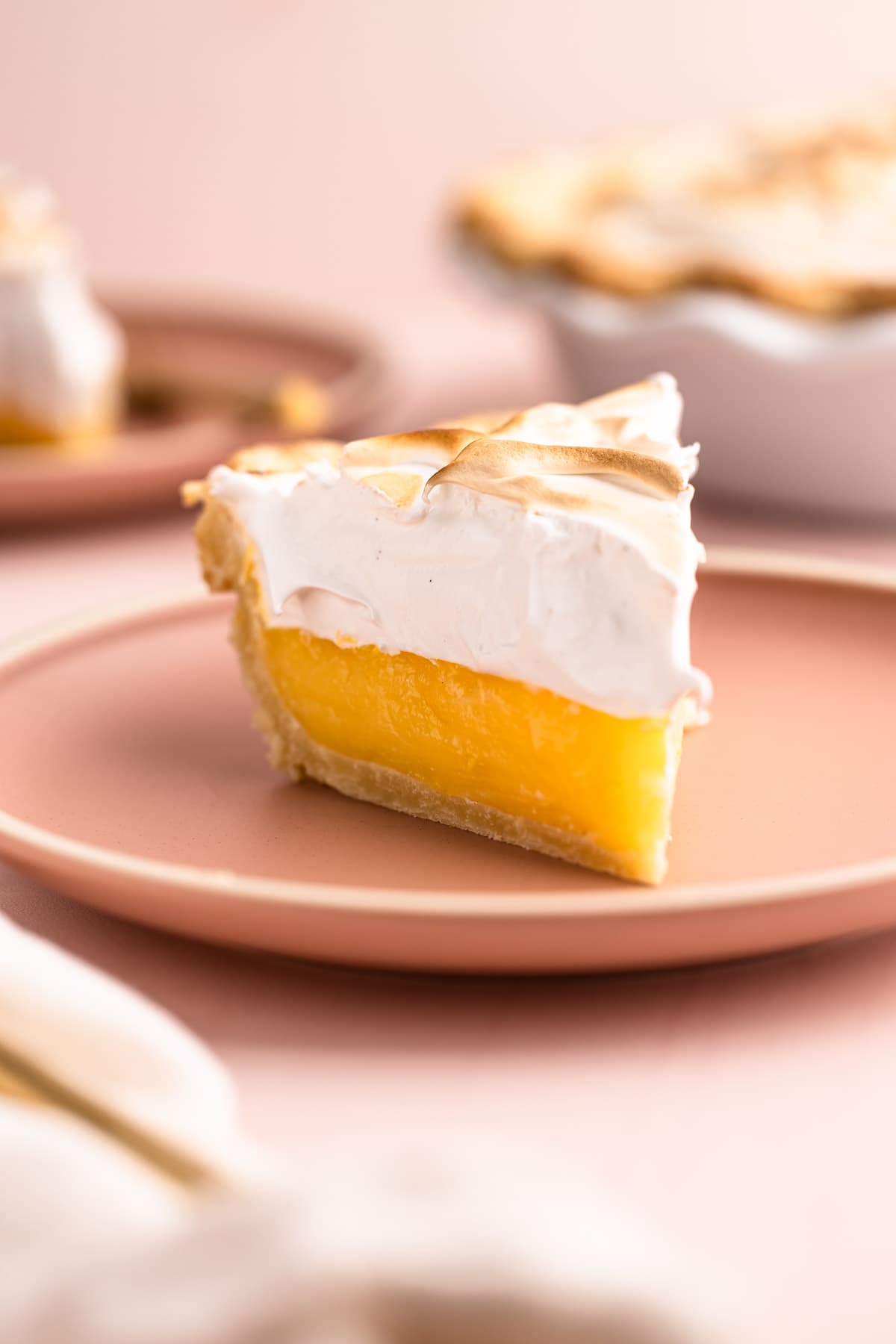 Tips for Making this Recipe
Okay, okay I know this is getting long now, but there is a lot to say when it comes to Lemon Meringue Pie. Finally, I'm sharing below some tips for making this recipe!
Have everything ready to go before making the lemon filling: Be sure to have both a rubber spatula and a whisk handy. I use both to make sure the mixture cooks evenly. I swap between using them while I'm cooking the pudding to be certain I'm getting all the mixture out of the crevices of the pot while whisking to ensure a consistent cook.
Don't let the eggs and sugar sit too long together: Sugar can coagulate egg yolks. Straining it at the end can fix this if it does accidentally happen.
Don't walk away from the lemon filling. It takes no more than 10 minutes to cook. Also, it's incredibly important to stir almost constantly in the beginning when you are cooking it to ensure no egg yolks get stuck to the bottom of the pot and scramble.
Strain the cooked filling to get rid of any small bits of cooked eggs you might have. Use a nylon mesh strainer if possible.
Lastly, put the cooked filling directly into the prepared pie crust. It will set pretty firm; you want to make sure the lemon filling sets inside of the pie crust instead of a bowl. You can make it ahead of time, and place it into the pie plate later, but it won't set quite as nicely as it would immediately after making it.
Watch How to Make Lemon Meringue Pie
More Lemon Recipes
I am so honored when you make a recipe from my site! If you make this Lemon Meringue Pie, please leave a comment and a star rating with your experience! If you have any questions about this recipe, feel free to comment here, too!
Print
Lemon Meringue Pie
This Lemon Meringue Pie has a lemon-scented shortbread pastry, a balanced and bright lemon filling and the fluffiest swiss meringue top. Make this once, and you'll find your forever Lemon Meringue Pie recipe.
Author: Kelli Avila
Prep Time:

00:25

Cook Time:

00:50

Total Time:

1 hour 15 minutes

Yield:

Serves 8

Category:

Sweet Pie
Pie Crust:
1

-

¾

cups (

210 grams

) all-purpose flour

2 tablespoons

(

24 grams

) granulated sugar

1 tablespoon

lemon zest (see note)
Pinch of kosher salt

8 tablespoons

(

115 grams

) unsalted butter, cold

2 tablespoons

(

25 grams

) cream cheese, cold

⅓ cup

(

75 grams

) cold water
For the Lemon Filling:
1 cup

(

200 grams

) granulated sugar (see notes)

4 tablespoons

(

28 grams

) cornstarch
Pinch kosher salt

5

large egg yolks

1

-

¼

cups (

283 grams

) water

¾ cup

(170 grams) fresh squeezed lemon juice (about

5

-

6

lemons)

1 tablespoon

lemon zest

4 tablespoons

(

65 grams

) unsalted butter, cold, diced into pieces
For the Meringue:
5

large egg whites

1 cup

(

200 grams

) granulated sugar
Pinch kosher salt

¼ teaspoon

cream of tartar

½ teaspoon

vanilla bean paste or

1 teaspoon

vanilla extract
Instructions
Prepare the Pie Crust:
Add the flour, sugar, lemon zest and salt to the bowl of a food processor, and pulse until well combined. Add in the cream cheese and butter and pulse 5-7 times, or until the butter is broken down into tiny pebbles.
With the motor running, add in the water and let the dough process until it forms together into a cohesive ball around the blade, about 1 minute.
Remove the dough from the processor. You can roll it out now, or roll it out later, just chill it in the refrigerator for up to 2 days.
On a well-floured work surface, roll out the pie dough to an 11″ circle, line a 9" pie plate, and crimp the edges as desired. Prick the bottom of the dough all over with a fork. Place the pie in the freezer while the oven preheats, at least 15 minutes.
Preheat the oven to 375ºF.
Once chilled, line the pie dough with a round piece of parchment paper and then add pie weights (or dry rice or beans or lentils), making sure to push pie weights to the edges.
Blind bake the crust for 20 minutes, then remove from the oven and carefully remove the parchment and pie weights. Return the empty pie shell back to the oven to continue to bake for an additional 10-12 minutes, or until the pastry is fully cooked through. Set aside until ready to use.
Make the Lemon Filling:
Whisk together cornstarch, sugar, and salt. Whisk in the egg yolks, water and lemon juice until fully combined. Turn on the heat to medium and cook the mixture, whisking constantly, and occasionally taking a spatula and scraping up any thickened lemon filling in the edges of the pan. Cook until the filling has completely thickened and large bubbles are forming and popping, about 8 minutes.
Remove from heat; immediately pour through a fine-mesh strainer into a bowl, using a spatula to push all the filling out while leaving behind any bits of cooked egg. Whisk in the zest and butter until fully combined.
Pour the pudding into the prepared pie crust and smooth over the top. Let cool at room temperature before chilling in the refrigerator for at least 3 hours or overnight.
Make the Meringue:
Fill a small sturdy pot with at least 1 ½ inches of water and turn on the heat to medium-high. This is the bottom of your make-shift double boiler.
Combine the egg whites, salt, sugar, and cream of tartar to a heat-proof bowl (the metal bowl from your electric mixer is perfect here) and whisk together until fully combined.
Set the bowl over the pot of steaming water. Alternate between whisking the mixture and scraping down the sides of the bowl with a spatula, until egg whites reach a temperature at 160°F, roughly between 8 and 10 minutes, and all the sugar has dissolved (see note for troubleshooting).
Remove the mixture from the heat and attach the bowl to an electric stand mixer fitted with a whisk attachment. Turn the mixer on the lowest speed, and gradually increase the speed until it reaches medium-high speed. Add in the vanilla.
Whip until the meringue is glossy and begins to pull away from the sides of the bowl, about 8 minutes. It should have stiff peaks and be cooled down significantly.
Transfer half of the meringue on top of the pie. Using an offset spatula spread it evenly on top of the lemon filling. Transfer the remaining meringue on top, and swoosh around with a spoon.
To torch the top of the meringue, use a kitchen torch or place the pie under the broiler for 2-4 minutes, watching closely so it does not burn.
Serve within 4 hours, keeping chilled until ready to serve.
Notes
Helpful tip: zest your lemons before you squeeze them.
Don't want to use cream cheese? You can replace it with additional butter.
The longest I've had a Lemon Meringue Pie last in my refrigerator was about 3 days before it started to weep a little bit. So leftovers can be kept for a few days.
This lemon filling, in my opinion, is well balanced between sour and sweet. If you want your lemon filling to bend more to the side of sour, you can reduce the amount of sugar in the lemon filling to ¾ cup sugar, which will make the amount of lemon juice and added sugar equal.
Alternating between a whisk and a spatula is useful during the cooking stage because it helps ensure all of the sugar melts. Generally speaking, the egg whites should be consistently whisked while they're being heated, but occasionally scrape down the sides of the bowl with a spatula to make sure the sugar granules that naturally go up the sides are pushed down to melt. If any sugar granules get stuck to the side of the bowl they could crystalize and create hard granules in your finished meringue.
Keywords: Lemon Meringue Pie
Some of the links on this page may be affiliate links. Everyday Pie is a participant in the Amazon Associates Program. As an Amazon Associate I earn from qualifying purchases, at no extra cost to you.